Need to add a little excitement to your day? This sandwich delivers in all the right ways. In lou of steak, ground beef is studded with green bell pepper and caramelized onions. Sandwiched between two layers of melted provolone cheese on perfectly toasted bread, this Ground Beef Philly Cheesesteak Grilled Cheese is the sandwich thrill-eaters have been longing for.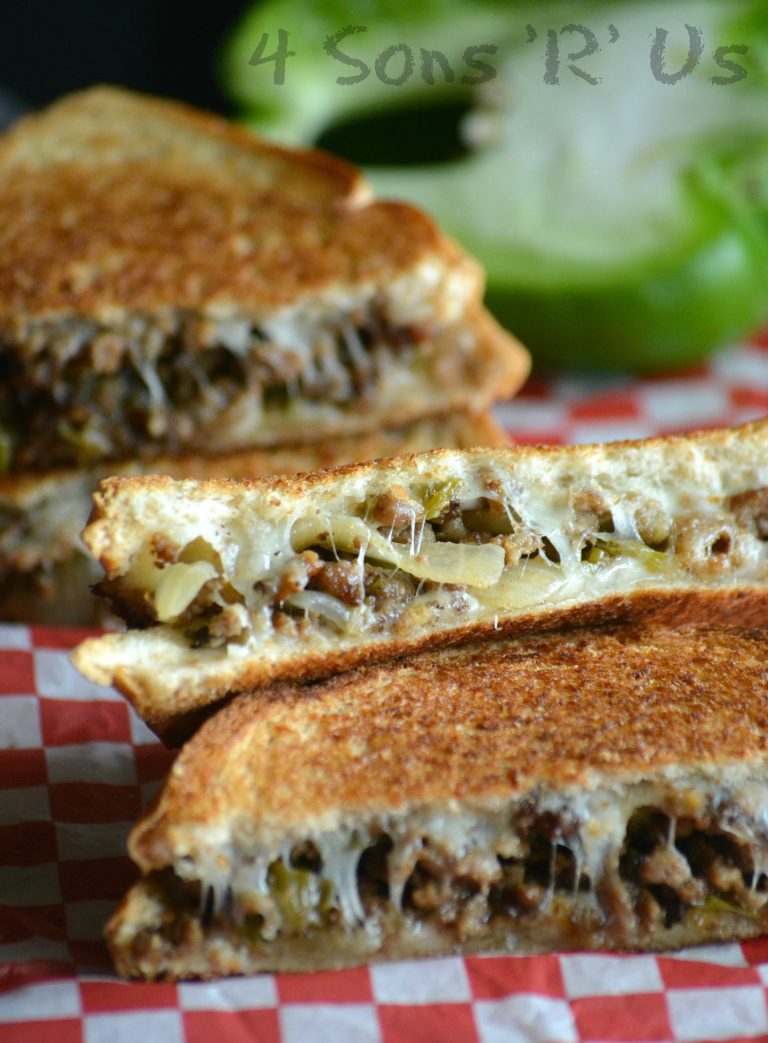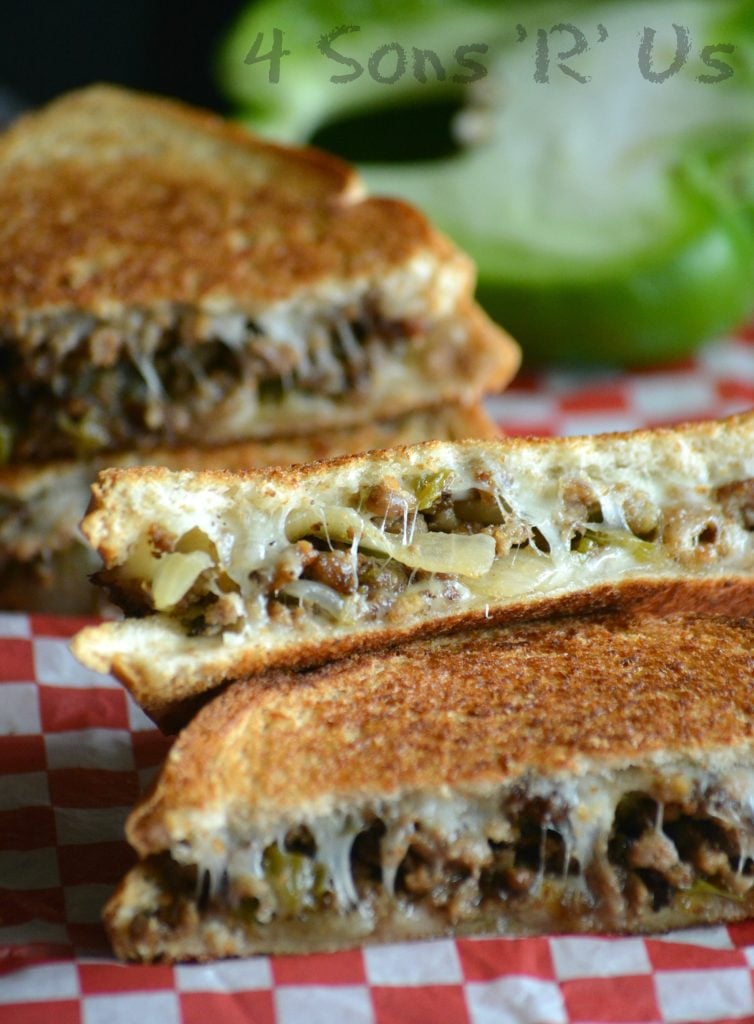 Did you ride roller coasters when you were young? Do you remember that feeling of invincibility? That adrenaline rush that came with the drops, the loop de loops, and the speed?
My husband's company hosts an employee appreciation day every year at one of the local amusement parks. This year our youngest was finally 49 inches, one inch above the minimum height to go on the basic roller coasters.
23 years ago I went on the same wooden roller coaster for the first time and was the same age as my son.
I remember it as scary, but so much fun. Going on it as an adult and fully aware of every rickety creak in 40 year old wood– it was terrifying!
Needless to say, despite the look of terror on his face, the son LOVED it.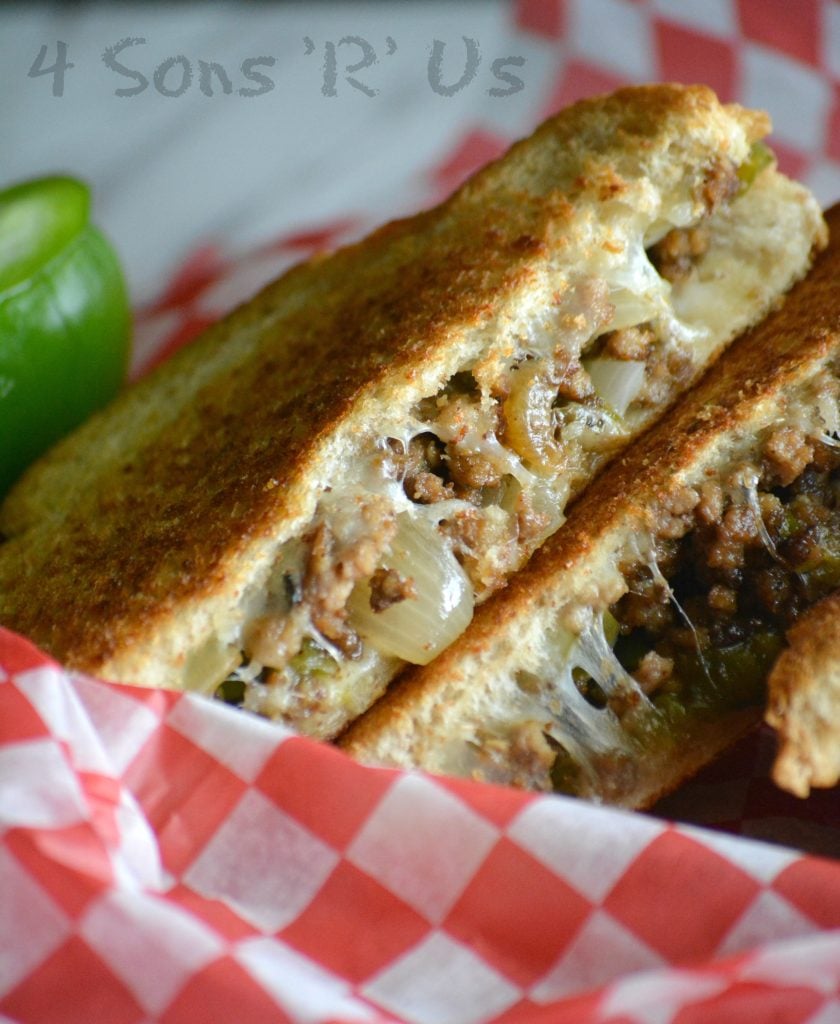 I drew the line at any coaster that went upside down, at least until I was 18 and didn't want to be the only friend stuck on the sidelines since all the new fun stuff was in that vein.
I vividly remember it as not that bad. I got this. And it wasn't so bad when we took the son on his first upside down coaster this year.
That wonderful feeling of centrifugal force kept us firmly in place throughout each loop.
I wasn't too fond of being reacquainted with the corkscrew that makes you feel like the ride's just going to dump you out though, but again– not too bad.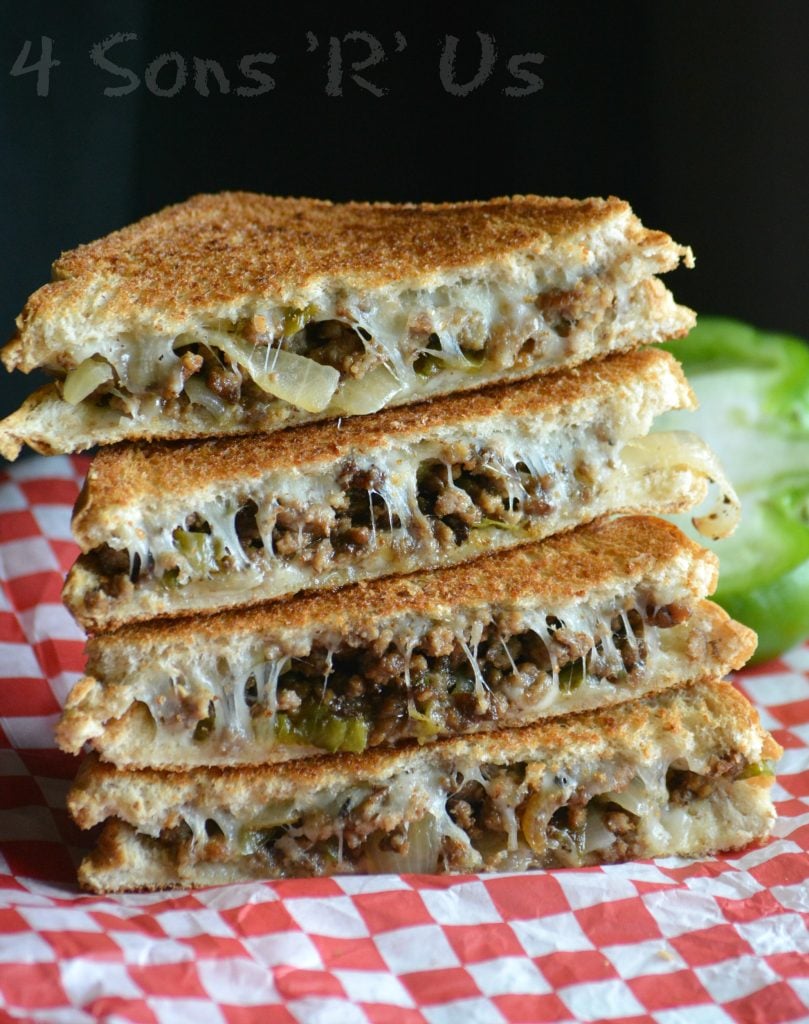 Then my husband had the bright idea to take us on the upside down, rocking ship ride on our way out of the park that night. Hanging upside down, three times, completely off the seat and pressed against the chest straps with gravity pulling against you.
You know that wonderful moment when you think you're never too old to try something new? Yeah, except the problem with that is that moment when you do and you immediately regret that idiotic way of thinking.
The son was scared. I was more scared. I had a full blown panic attack.
The husband was trying his hardest not to laugh because he knew my terror was genuine while also reaching across the son and trying to offer what reassurance he could. The son ended up crying because my evident terror convinced him that I wouldn't survive the ride too.
Obviously we all made it through the ordeal, me violently shaking as we disembarked.
The son? He was all smiles again once he double checked that his Mama was OK. The hubs took that as his cue to double over and let out all the suppressed laughter.
I wasn't even mad, but we've all made a mental note that Mom never ever EVER goes on that ride again.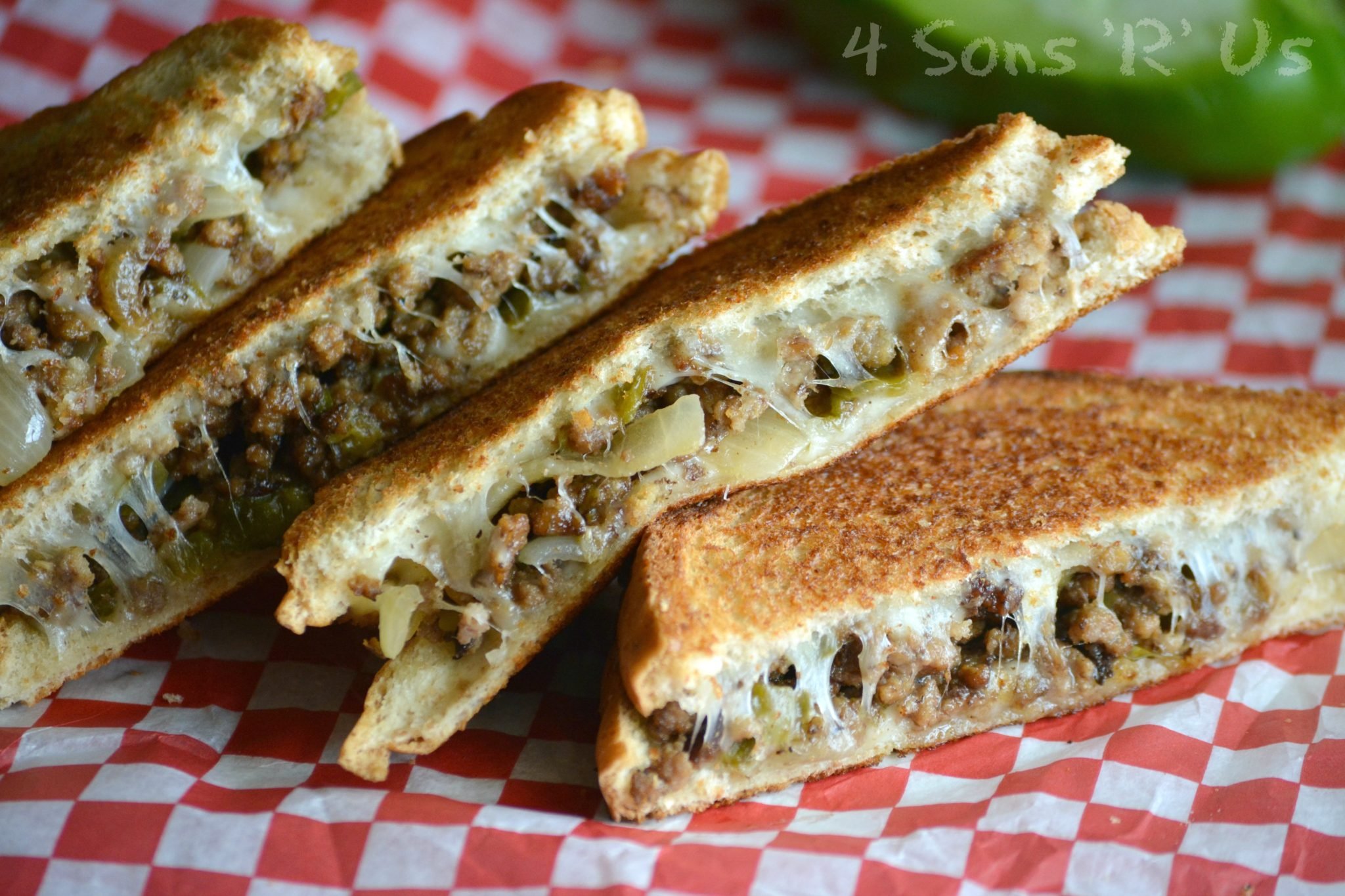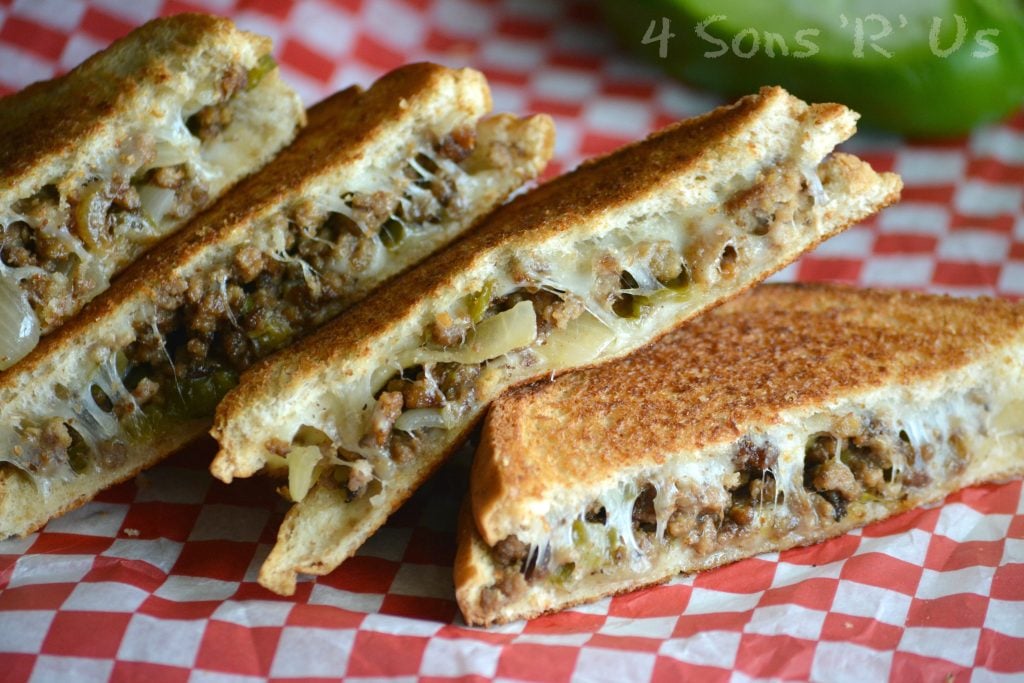 I don't know about y'all but I stress eat, and the after affects of surviving such a harrowing adventure demand something super yummy, and soothing for lunch and/or dinner- even on the day after.
Luckily, a good grilled cheese has always been there for me in such moments.
This time was no different, except this time my grilled cheese was made of sterner stuff than I was.
Seasoned ground beef mixed with diced green peppers and caramelized onions is sandwiched between a layers of smoked provolone cheese and to pieces of beautifully toasted bread for a grilled cheese sandwich of epic proportions.
Thick and hearty with enough cheese pull to induce drool, this Ground Beef Philly Cheesesteak Grilled Cheese is true comfort food. Save it for a day when copious amounts of comfort are needed, or just enjoy it on a day where you ant a little something special for lunch or dinner.
It's a surefire way to add a nice little thrill to any meal, any day.
If you've tried this GROUND BEEF PHILLY CHEESESTEAK GRILLED CHEESE, or any other recipe on my site, let me know in the comment section how it turned out, we love hearing from our readers! You can also follow along with me on PINTEREST, FACEBOOK, and INSTAGRAM to see more amazing recipes and whatever else we've got going on!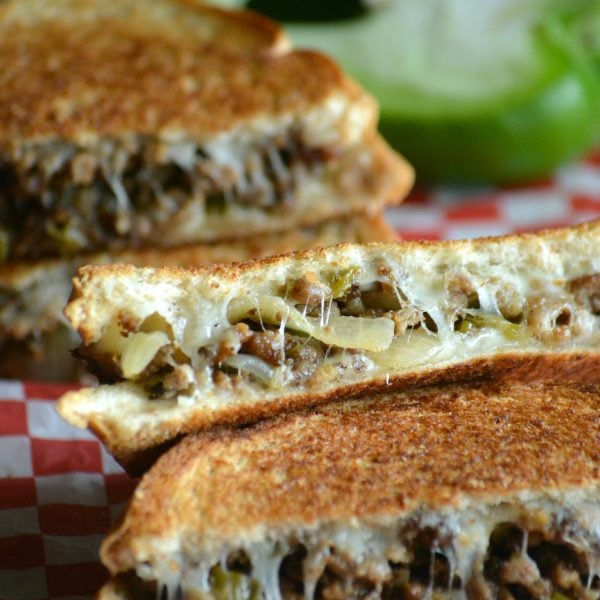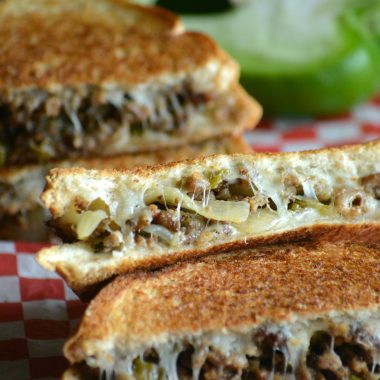 Ground Beef Philly Cheesesteak Grilled Cheese
Grilled Cheese meets Philly Cheesesteak in this ultimate sandwich hybrid recipe.
Print
Pin
Rate
Ingredients
1

lb

ground beef

salt & pepper

to taste

1

tbsp

Worcestershire sauce

2

tbsp

butter

1

white onion

diced or thinly sliced

1/2

green bell pepper

chopped

8

slices

of Provolone Cheese

8

slices

of your favorite white bread

sourdough will also work

4

tbsp

butter
Instructions
Add the ground beef to a hot medium to large-sized skillet over medium heat. Let the meat cook for a minute or two, developing a nice sear. Flip the chunk of meat, repeating to sear the other side. Once both sides are seared use a spatula to break the meat up as much as possible. Drain the meat and return to the skillet.

Add in the salt, pepper, and Worcestershire, stirring occasionally and cooking until fully browned. Remove the meat from the pan, and set it aside.

Add the 2 tablespoons of butter to the same pan and melt. Add in the pepper and onion and cook, stirring occasionally, until the onions have caramelized. Remove the pan from heat, stir in the cooked ground beef until everything's evenly incorporated, and set the mixture aside.

Butter the outsides of all the slices of bread.

Flip four slices of buttered bread over onto a clean work space. Add a slice of cheese to the un-buttered side. Top that with a quarter of the meat mixture. Top the meat mixture with another slice of provolone. Finish it off with the un-buttered side of one of the other pieces of bread. Press the top slice of bread down gently to 'seal'. Repeat until all four sandwiches are assembled.

Heat a clean skillet or griddle to medium heat. Add one sandwich to the pan and cook until browned and the cheese on that side has melted, about 3-4 minutes. Use two spatulas to 'hold' the sandwich, and flip it cooking the other side until browned as well.

Repeat until all the sandwiches are done.