There's nothing better than biting into a buttered, salted corn on the cob at a Summer meal. Ditch the juices running down your chin, but enjoy those same flavors you love in this yummy Corn Off The Cob Soup.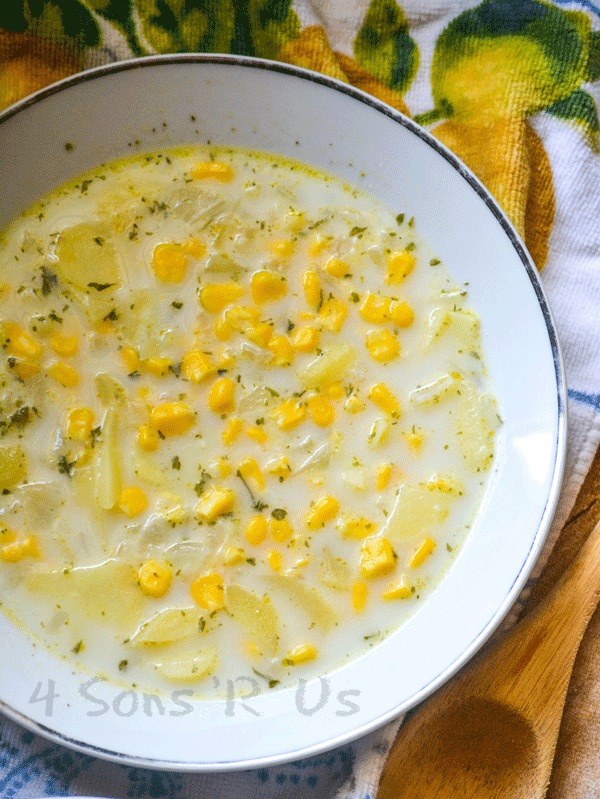 A good piece of corn on the cob is a loyal side kick to just about any meal.
Seriously, it's one of our go – to's.
Who can resist a yummy cob slathered in butter and lightly salted?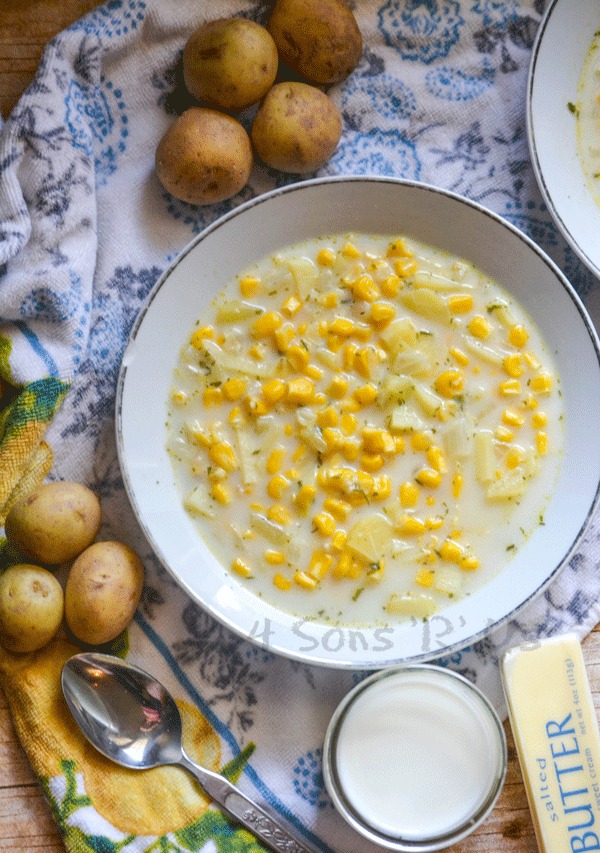 If you can turn it down, you're better than me.
That being said, we purposefully stock up on them in the Summer season and freeze them so we can enjoy their deliciousness alllllllllll year long.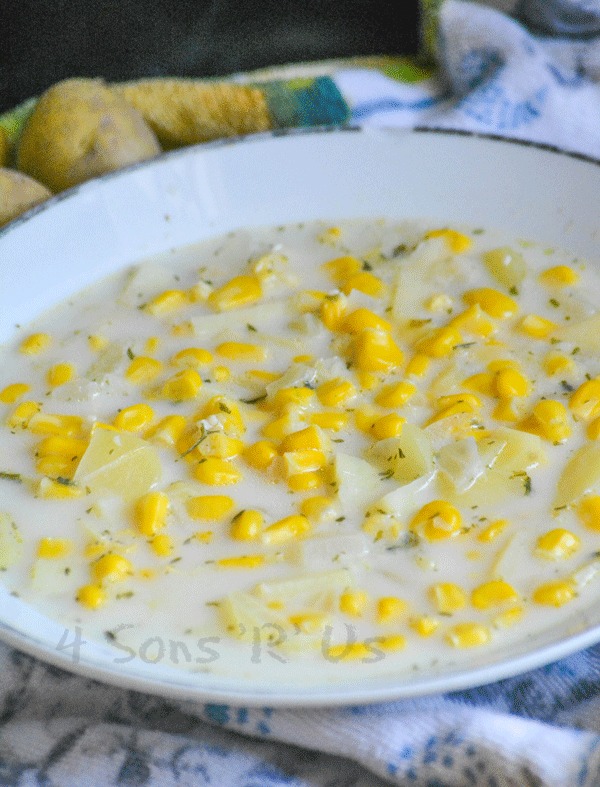 And we DO stock up.
It's no joke around here. Fresh sweet corn is ah-maze-ing. A- freakin' – mazing.
Mostly because I've been spoiled by the best of the suburb life.
I've grown up in the same suburb that I was born in, the same one I'm currently raising my own kids in. It's wonderful. It's even nationally ranked in the Top 20 best places to raise a family. Which is why we've made it a point to stay.
Luckily for us, snug as bugs in our community, we're still only about 15 minutes from the 'country' and fresh fruits and vegetables harvested each season.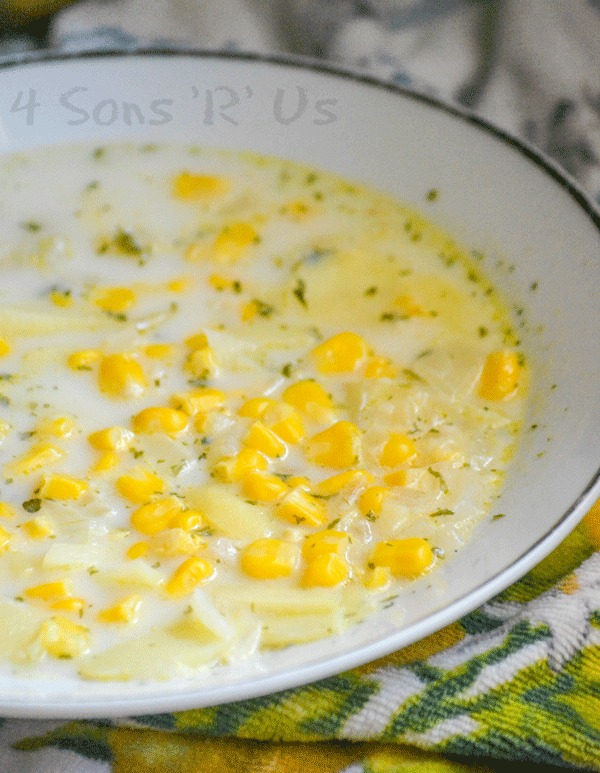 We also live within a few minutes radius of plenty of pick your own farms.
The local farmer's markets are always a King's ransom with their bevy of edible gold.
Seriously, I know I've said it before. But, it's awesome. We are so conveniently located to all these great things. I am grateful every day for this being the place my parents chose to settle down, and that we've been able to raise our own brood here too.
So again, we take full advantage of our privileged access and stock up the pantry and the deep freezer with locally sourced fresh fruits and veggies. And we savor every bite. We also throw them into some of our family favorites, particularly this deconstructed Corn Off The Cob Soup.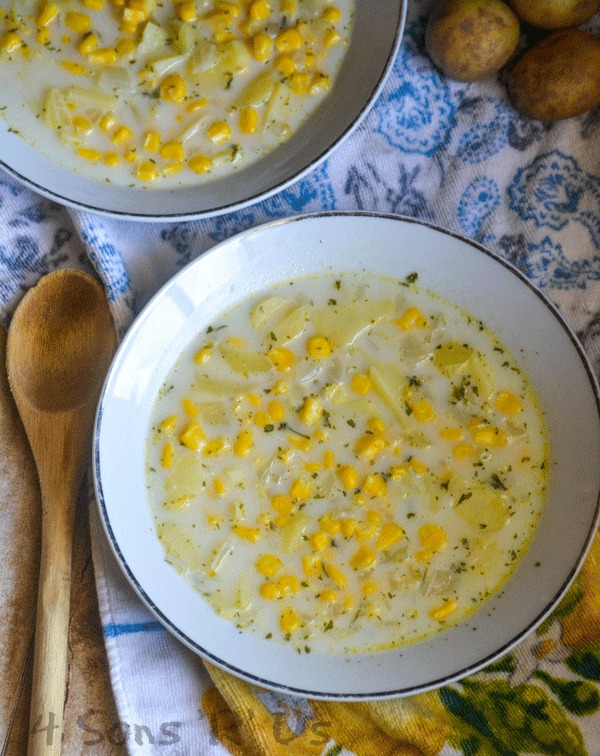 Corn on the cob is great, but it can be sooooo much more. And Summer is the perfect Season to enjoy it in this flavorful dish.
Corn Off The Cob Soup is the perfect dish to enjoy sip, savor, slop, slurp.
It's the perfect soup of Summer, and an easy way to enjoy the season's flavors all year long.
If you've tried this CORN OFF THE COB SOUP, or any other recipe on my site, let me know in the comment section how it turned out, we love hearing from our readers! You can also follow along with me on PINTEREST, FACEBOOK, and INSTAGRAM to see more amazing recipes and whatever else we've got going on!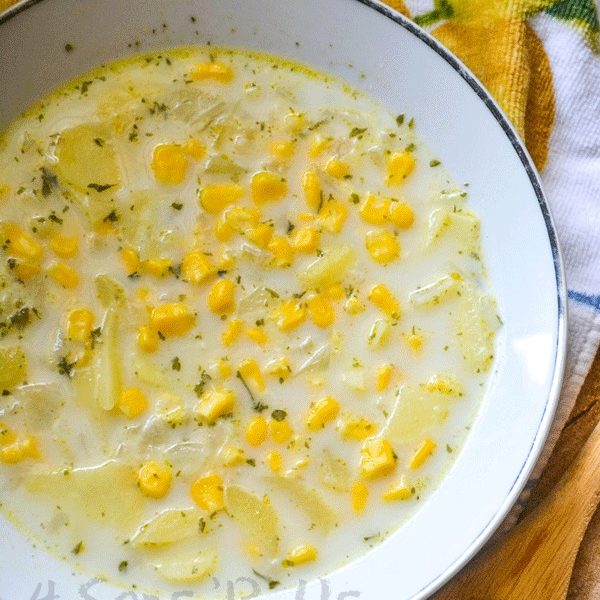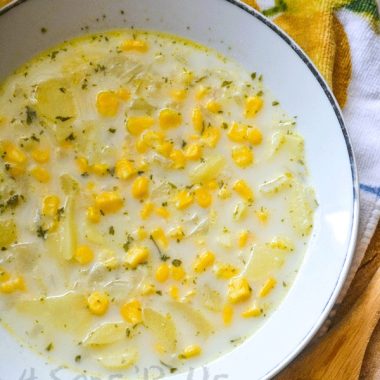 Corn Off The Cob Soup
A flavorful summer soup featuring one of the season's best vegetables.
Print
Pin
Rate
Ingredients
1

tsp

olive oil

1/2

cup

white onion, diced

2

tbsp

minced garlic

1/2

tsp

cumin

4

cups

fresh corn, cut off the cob

2

potatoes, washed, peeled, and diced

4

cups

chicken broth, or vegetable if vegetarian

3/4

cup

cream

1

tbsp

dried parsley

salt & pepper, to taste
Instructions
Heat a large dutch oven, or other pot, over medium heat. Add the olive oil and saute the onions until tender and translucent.

Add the garlic and cumin, cooking just until fragrant.

Stir in the corn, potatoes, and broth. Bring the soup to a rolling boil, and immediately reduce the heat to keep the mixture at a simmer. Cook for 20 minutes, or until the potatoes are fork tender.

Stir in the cream and parsley, cook for 5 more minutes- or until the soup's heated through.

Salt and pepper the soup to taste, and serve warm with a side or crusty bread.
Nutrition
Calories:
386
kcal
|
Carbohydrates:
48
g
|
Protein:
10
g
|
Fat:
20
g
|
Saturated Fat:
11
g
|
Cholesterol:
61
mg
|
Sodium:
915
mg
|
Potassium:
1133
mg
|
Fiber:
6
g
|
Sugar:
11
g
|
Vitamin A:
945
IU
|
Vitamin C:
42.6
mg
|
Calcium:
95
mg
|
Iron:
5
mg