A good fritter is a Southern staple, and these Corn & Cheddar Cheese Fritters are a true delicacy. Easy to whip up and using pantry staples, they're the perfect side dish for any home cook. After all, you only need a can of corn!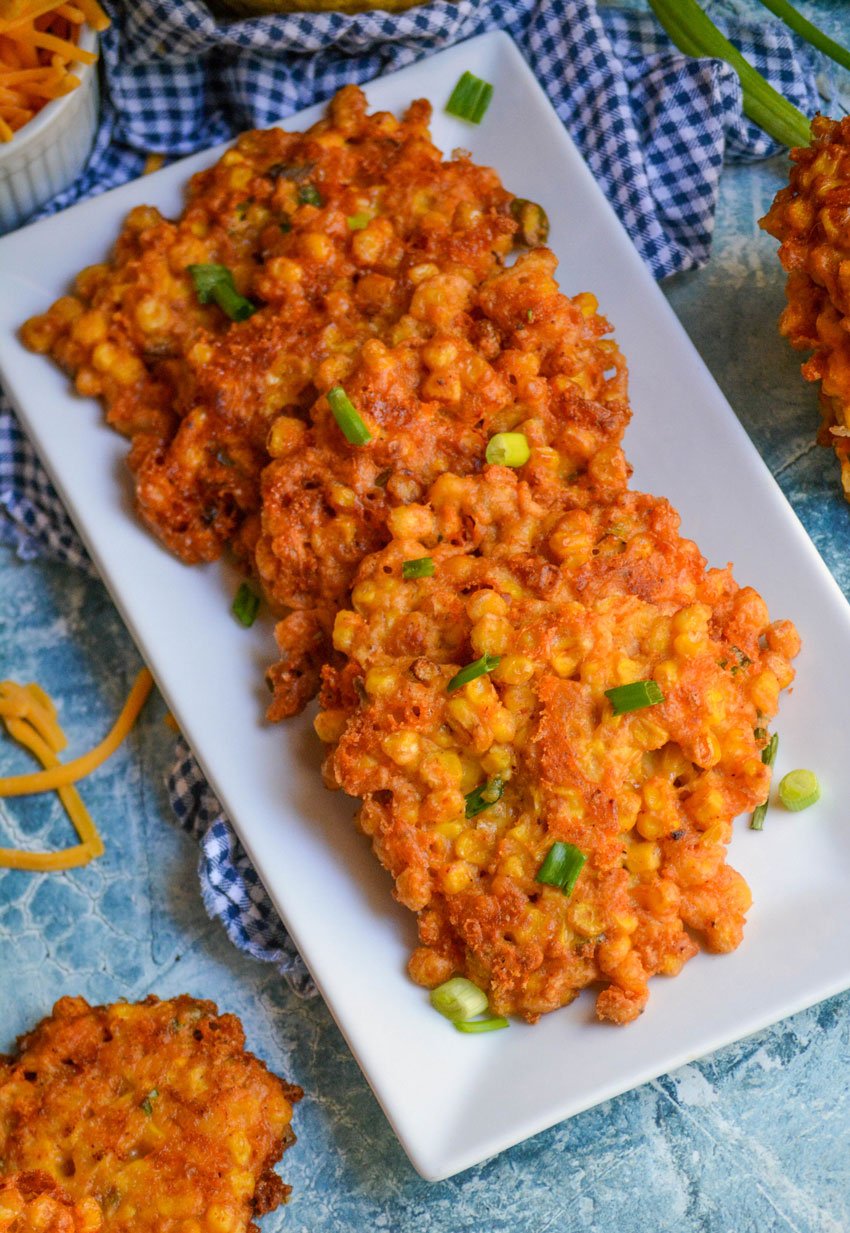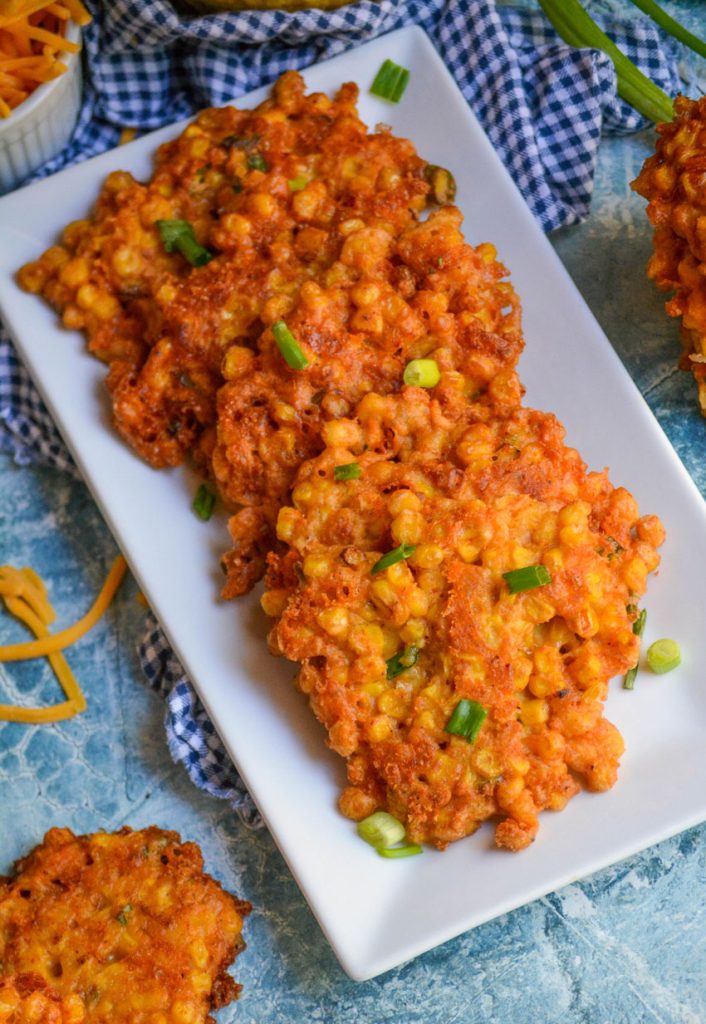 Every time the sons ask what's for dinner and I rattle off the menu that includes fritters, I always get somebody asking exactly what's a fritter (again) and whys it called a 'fritter' exactly.
Like I tell the boys, I'm gonna have to be honest. I don't really know.
What I DO know is that for me, a good fritter is one where our favorite veggies are seasoned, battered, and fried up with love into a crispy, golden patty that begs to be eaten.
They won't be denied.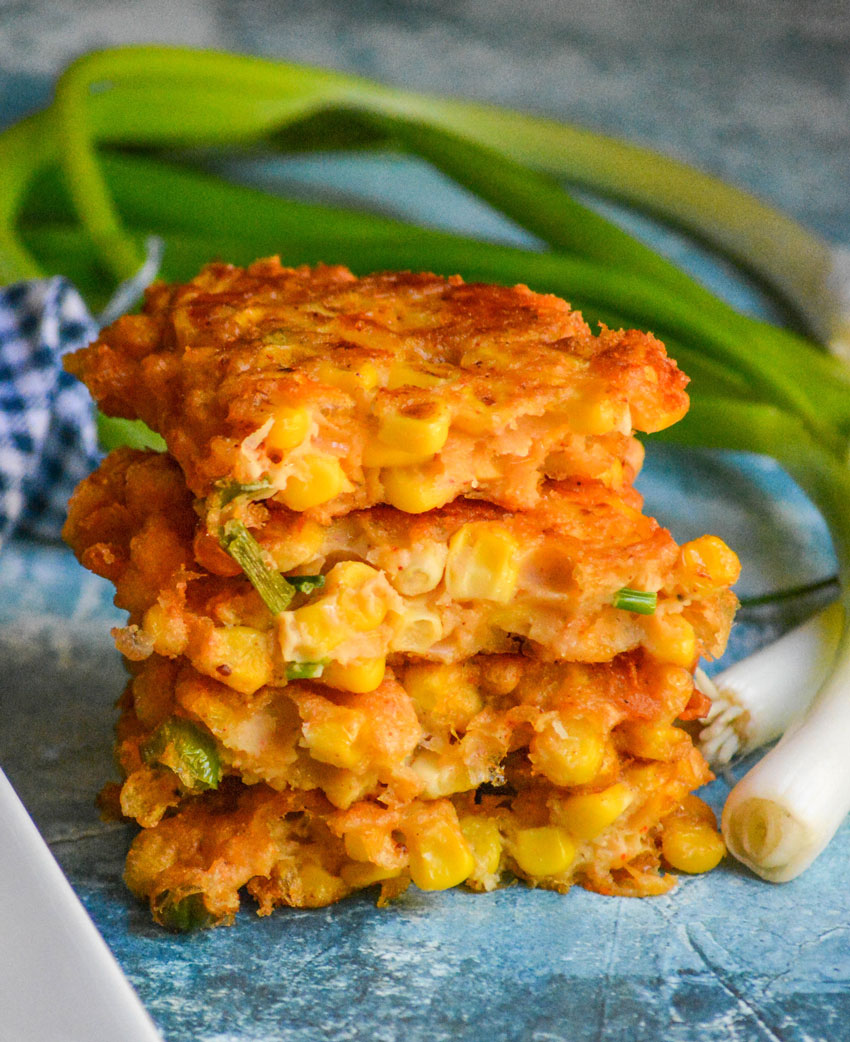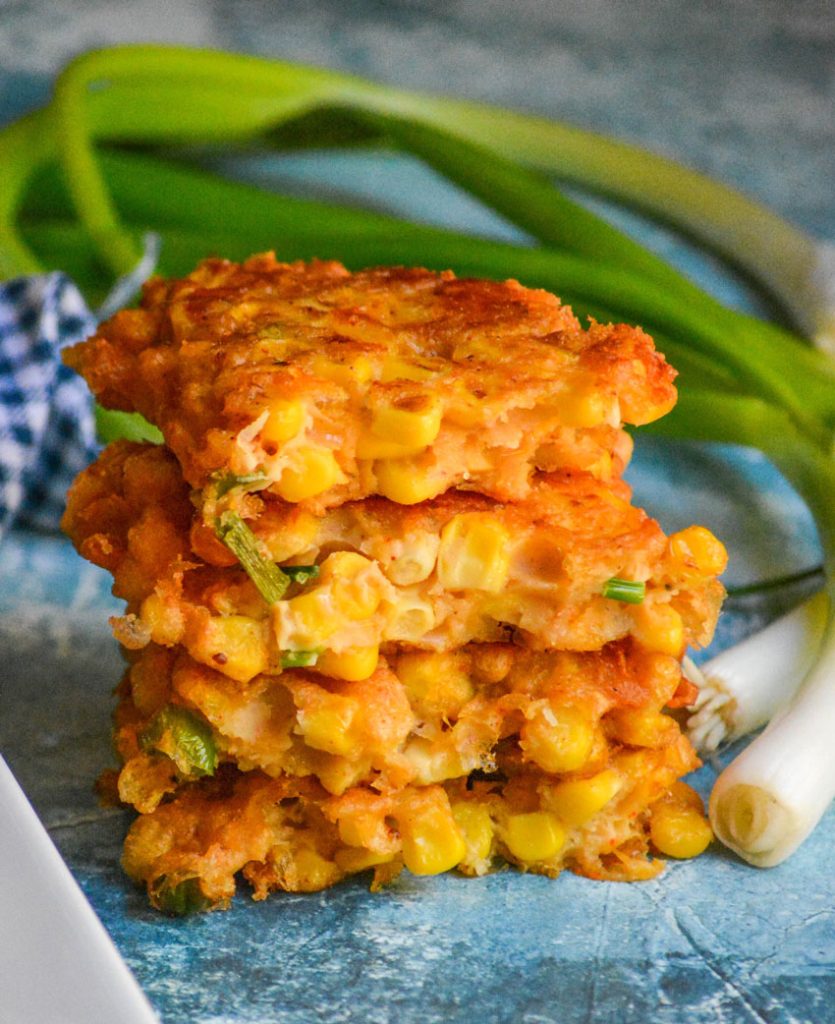 So What Exactly Makes A Vegetable Fritter?
Fritters have different connotations around the word.
Some have fruit, some have vegetables.
Fritters are bits of vegetables (in this case) surrounded by a seasoned dough mix that puffs when fried.
Transforming them from otherwise plain veggies into a fried cake.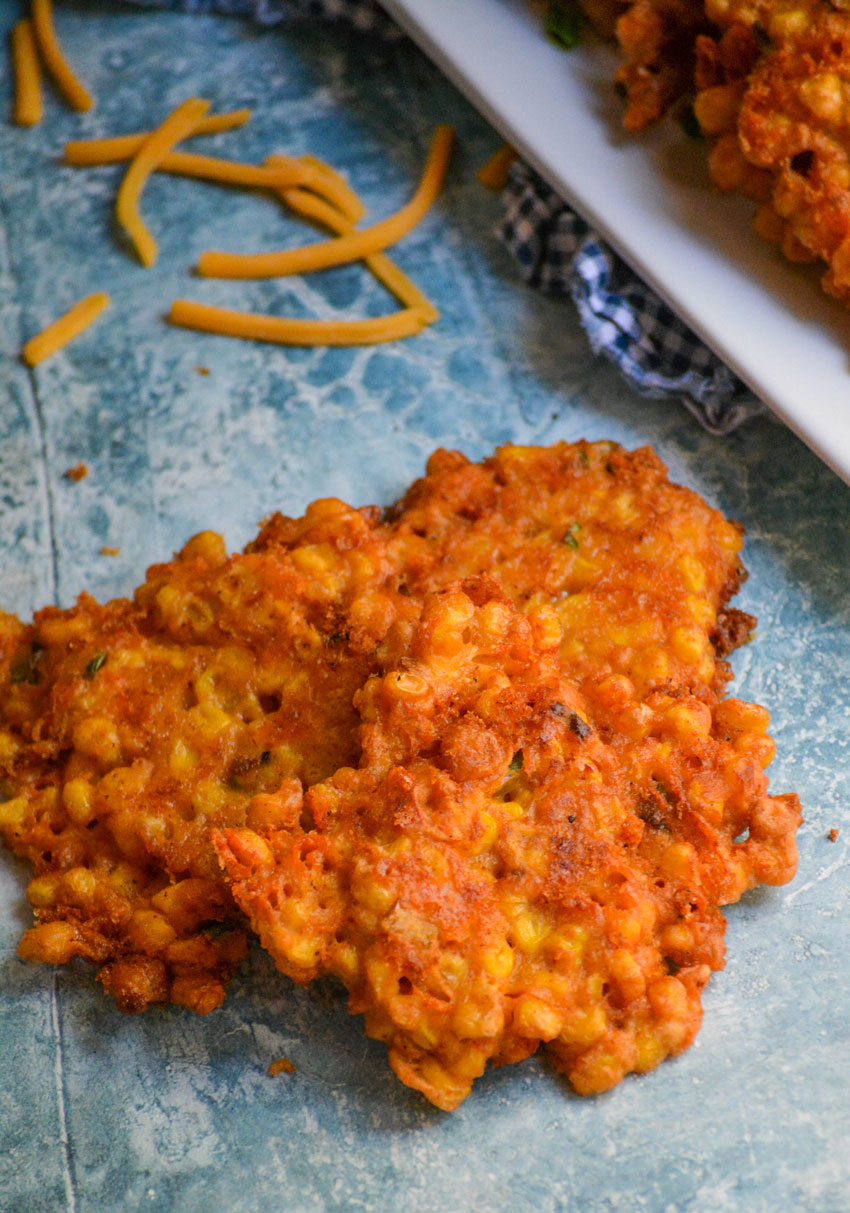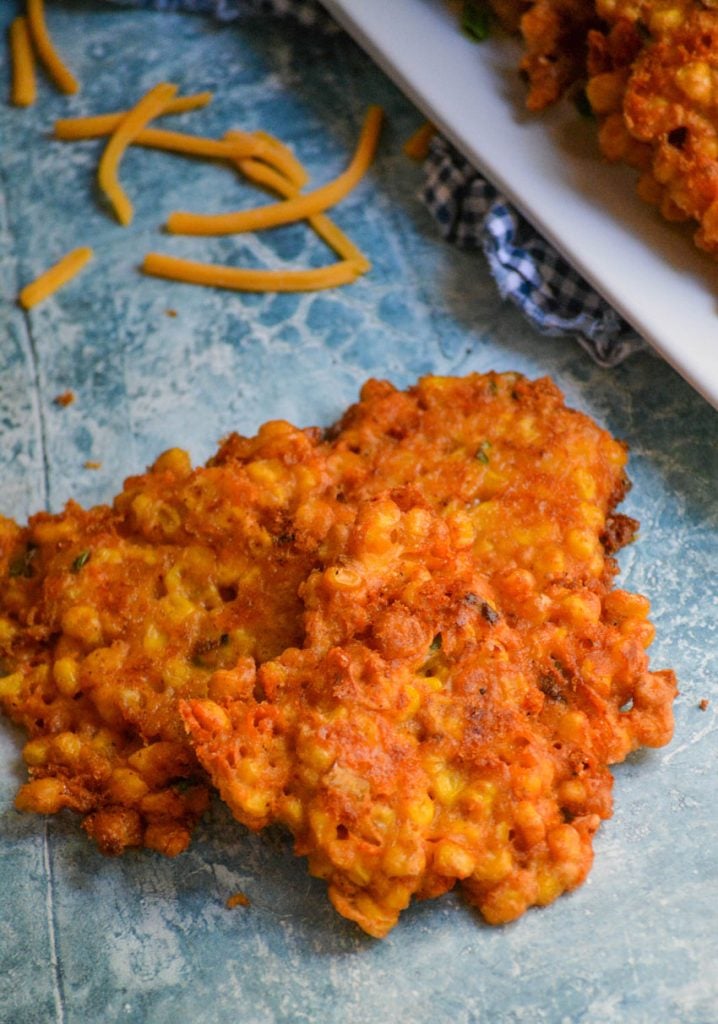 We've shared our famous zucchini fritters, and now we're back with another equally tried and tasty version.
Sweet corn kernels and cheddar cheese are the stars.
They're backed up with some green peppers and a handful of spices for a show stealing side dish.
How To Make
Fritters aren't all that hard to make.
It basically comes down to tossing your desired ingredients in batter, and then frying them to crispy perfection.
These corn & cheddar cheese fritters aren't any different.
To begin add corn kernels, pepper, eggs, water, and cheese to a large mixing bowl. Toss them together to combine. Set aside.
In a separate mixing bowl, whisk together flour, sugar, chili powder, salt & pepper until combined. These are your 'dry' ingredients.
Add the wet ingredients to the dry, and stir just until everything is moistened.
When baking it's often important not to over mix things, and this recipe is no different.
Add the melted butter, again stirring just until incorporated.
You can't really under mix the fritter batter, but you can 100 % over mix.
Over-mixing will deflate the batter and keep it from puffing up properly during cooking. This will give you sad floppy fritters.
Fry the fritters in a skillet with oil.
You're not deep frying them, so no need to fill a pot or anything- just 1/4 of an inch or so will do.
The oil's ready when it reaches roughly 350 degrees. I like to use a cooking thermometer to measure this, once specifically designed for oil.
Another good rule of thumb is that the oil's ready when flour flecked into the pan starts ti simmer and bubble.
Drop the fritters in by the spoon full, using a serving spoon. This will ensure they're patty-sized but not too big.
You may have to work in batches to not over crowd the pan depending on the size of your skillet. That's ok.
Fry the fritters for roughly 2 minutes per side, until golden brown and crispy, and then carefully flipping to fry the other side.
Be careful when flipping to avoid flinging any hot oil droplets.
Remove the cooked fritters from the skillet using a slotted spoon or spatula, and transfer them to a layered stack of waiting paper towels.
The paper towels will suck up any excess grease, and trust me- there is always excess grease.
This will lead to crispier fritters over all, especially while you add another batch to finish cooking them all.
You should have roughly 16 corn & cheddar cheese fritters when done.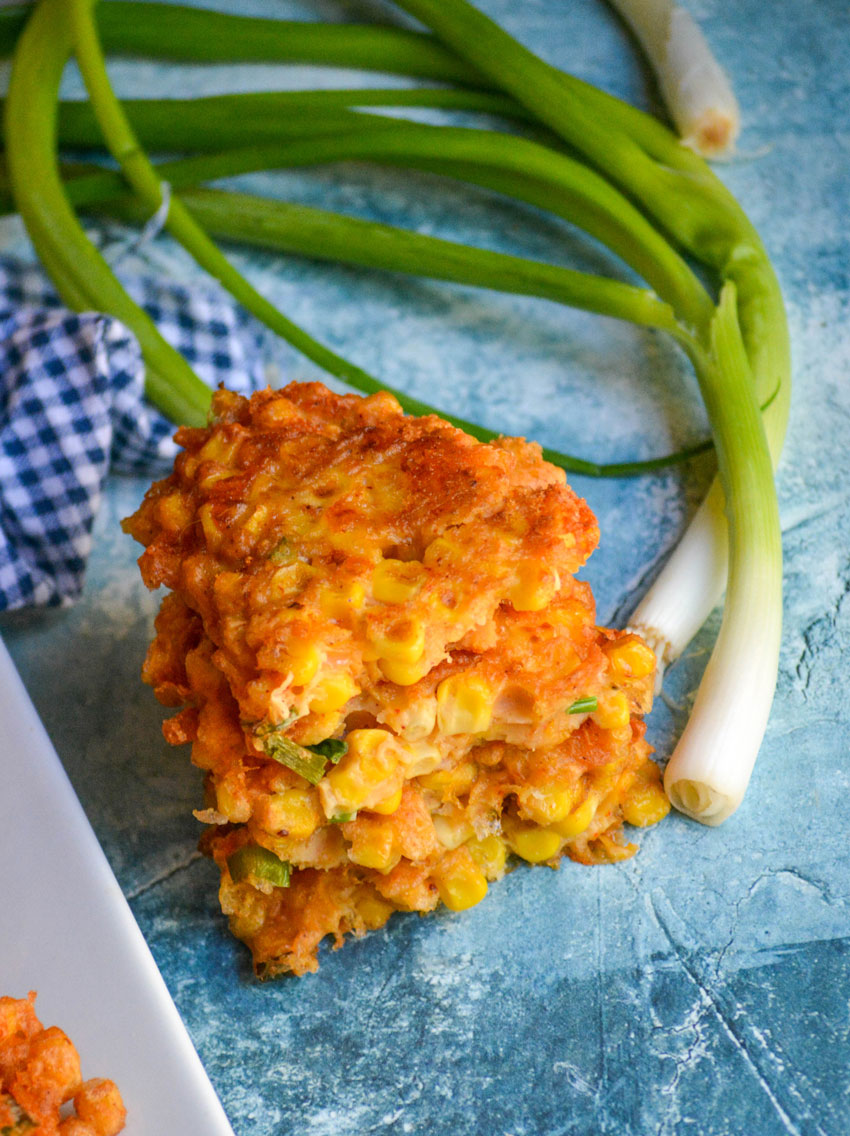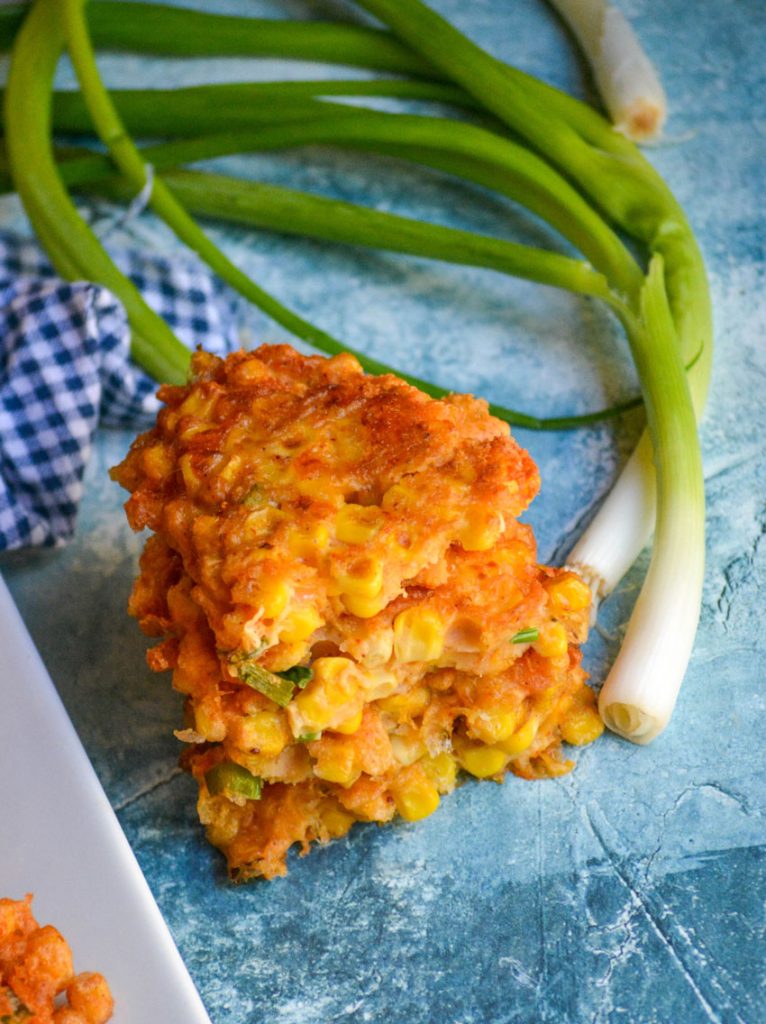 Why Add Cheese
Other than because it plain delicious?
I mean do we need another reason to add cheese to any recipe?
Probably not, but in fritters cheese is a common addition.
Not only does it add to the overall flavor, it also acts as a binding agent- helping everything stay together during the frying & cooling processes.
What Other Cheeses Can I Use?
You won't be able to replicate the tangy cheddar flavor using another cheese, but there are substitutes you can use.
Most often I have found I need a sub when I'm whipping dinner up last minute.
Fly by the seat of my pants cheese options include
mozzarella
feta
Monterrey jack
pepper jack
Just do not use a super soft cheese like ricotta or even Velveeta.
You still need a cheese that hold's it's shape.
Anything that would normally give you a good cheese pull should be safe. Melting cheeses should not be considered contenders.
Fresh Corn Vs. Canned Corn
This is totally where personal preference comes in.
For me, I typically go by the season. If fresh corn is in and cheap from the local farmer's market then it's fresh corn all the way.
However, I'm not going to wait half a year to enjoy these cheesy golden corn nuggets.
So in the Fall or Winter, I'm totally whipping up a batch of these fritters using canned corn.
If using canned corn, just make sure it's very well drained before including in the recipe so no excess liquid messes with the batter or the oil.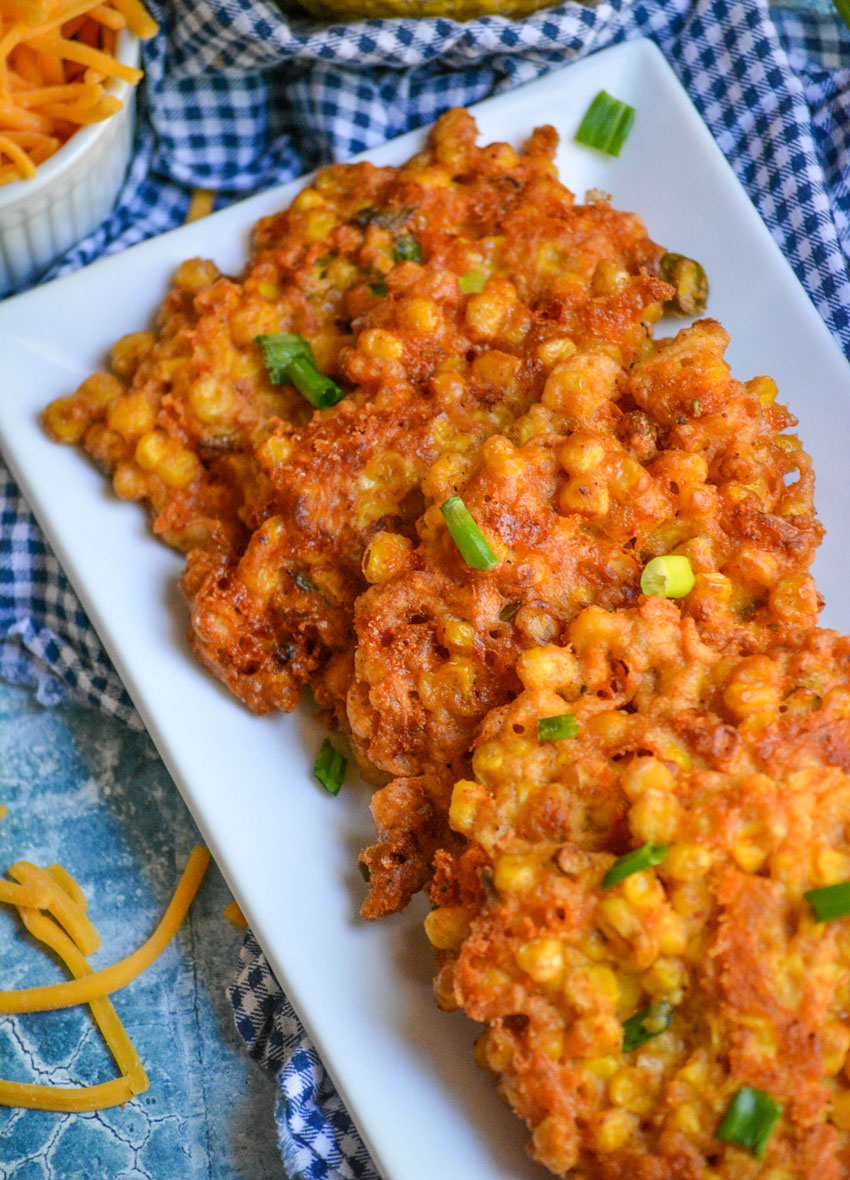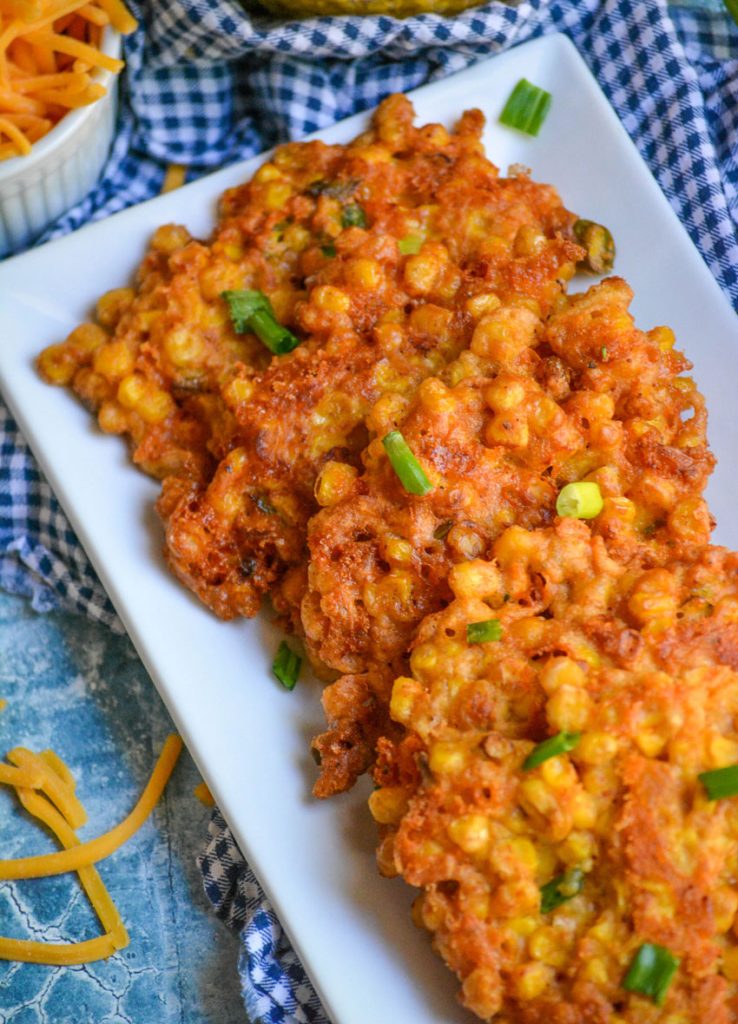 Can You Freeze Fritters?
Now that most of the sons' aren't home all the time, I find myself needing to store lots of leftovers. Luckily, these fritters freeze beautifully.
This means I can make a full size batch, and freeze any leftovers to pull out later for a quick lunch or even a snack.
To freeze them, first you need to let them cool completely.
Once cooled, store them in a even layers with paper towels between the layers. Freeze flat.
The paper towels will also make them easier to pull out and use as needed.
To heat & eat, remove your desired number of fritters and cook them in a toaster oven until cooked through.
Alternatively, you can heat them in a hot skillet. Flipping half way through.
Other Fritter Recipes You Might Also Enjoy:
Find a new way to not only eat your veggies, but to enjoy them too. These corn & cheddar cheese fritters are the perfect bridge to up your side dish game!
Looking for other ways to do fritters? Check out these tasty ideas:
If you've tried these SWEET CORN & CHEDDAR CHEESE FRITTERS, or any other recipe on the site, let me know in the comment section how it turned out, we love hearing from our readers! You can also follow along with me on PINTEREST, FACEBOOK, and INSTAGRAM to see more amazing recipes and whatever else we've got going on.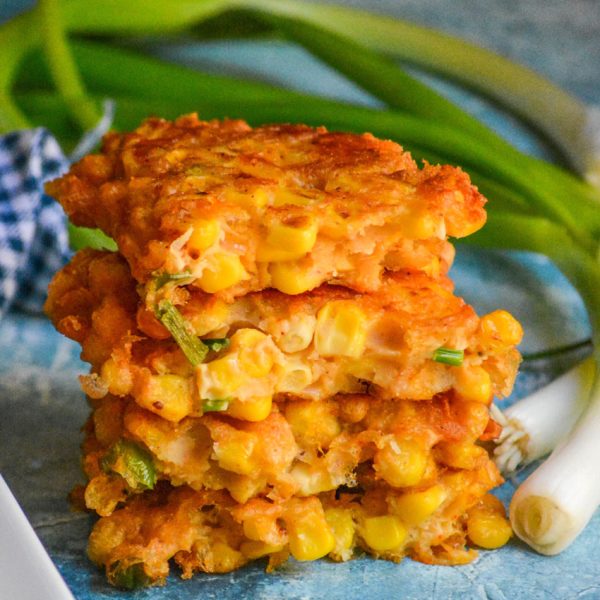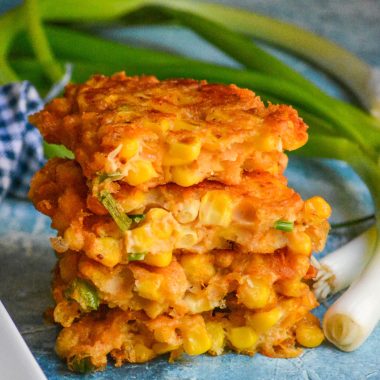 Sweet Corn & Cheddar Cheese Fritters
A good fritter is a Southern staple, and these Corn & Cheddar Cheese Fritters are a true delicacy. Easy to whip up and using pantry staples, they're the perfect side dish for any home cook. After all, you only need a can of corn!
Print
Pin
Rate
Ingredients
2

cups

corn kernels

3/4

cup

flour

2

tsp

sugar

1

tsp

chili powder

salt and pepper

to taste

3

tbsp

diced green bell pepper

2

large eggs

lightly beaten

1/2

cup

water

1/2

cup

Cheddar cheese

grated

2

tbsp

butter

melted

Vegetable oil for pan frying
Instructions
If using fresh corn, bring a large pot of water to a boil. Add the shucked and cleaned corn to the water and boil for 3 minutes. Remove from water. Cut the kernels from ears of corn and then scrape the cobs with a table knife to release all the milk. Catch this milk in a bowl and add to the batter. In a large bowl, use a fork to stir together the dry ingredients (flour, sugar, chili powder, if using, salt, and pepper) until evenly incorporated, and set aside.

In another bowl, stir together the corn, corn milk, bell pepper, eggs, water and cheese. Add the wet ingredients into the dry bowl, all at once. Stir just until batter is evenly moistened. Stir in the melted butter.

Pour the oil into a large skillet, up to about a 1/4 inch deep. Heat the skillet over medium heat until it registers 350 degrees on a deep-frying thermometer. Using a serving spoon and working in batches to avoid crowding, drop spoonfuls of batter into the hot oil. This will make about 16 fritters total. Pan fry on the first side until golden brown and crisp, about 2 minutes. Turn once and fry until golden brown on the second side, about 2 minutes more. Remove cooked fritters from the pan and set on stacked paper towels to drain off excess oil. Season the fritters with salt, to taste.

If needed, you can keep the first batches of fritters warm in an oven at 200 degrees while you finish frying the rest. Serve all the cooked fritters warm, at once.
Nutrition
Calories:
150
kcal
|
Carbohydrates:
18
g
|
Protein:
5
g
|
Fat:
7
g
|
Saturated Fat:
4
g
|
Cholesterol:
56
mg
|
Sodium:
168
mg
|
Potassium:
104
mg
|
Fiber:
1
g
|
Sugar:
3
g
|
Vitamin A:
350
IU
|
Vitamin C:
3
mg
|
Calcium:
60
mg
|
Iron:
1
mg
recipe originally published 6/24/2015