A sweet and savory breakfast muffin, these sausage, egg, and cheese muffins with grits feature several breakfast favorites. Crumbled sausage, stone ground grits, eggs, & cheddar cheese flavor every bite. Perfect to make ahead for a hearty breakfast on the go.
.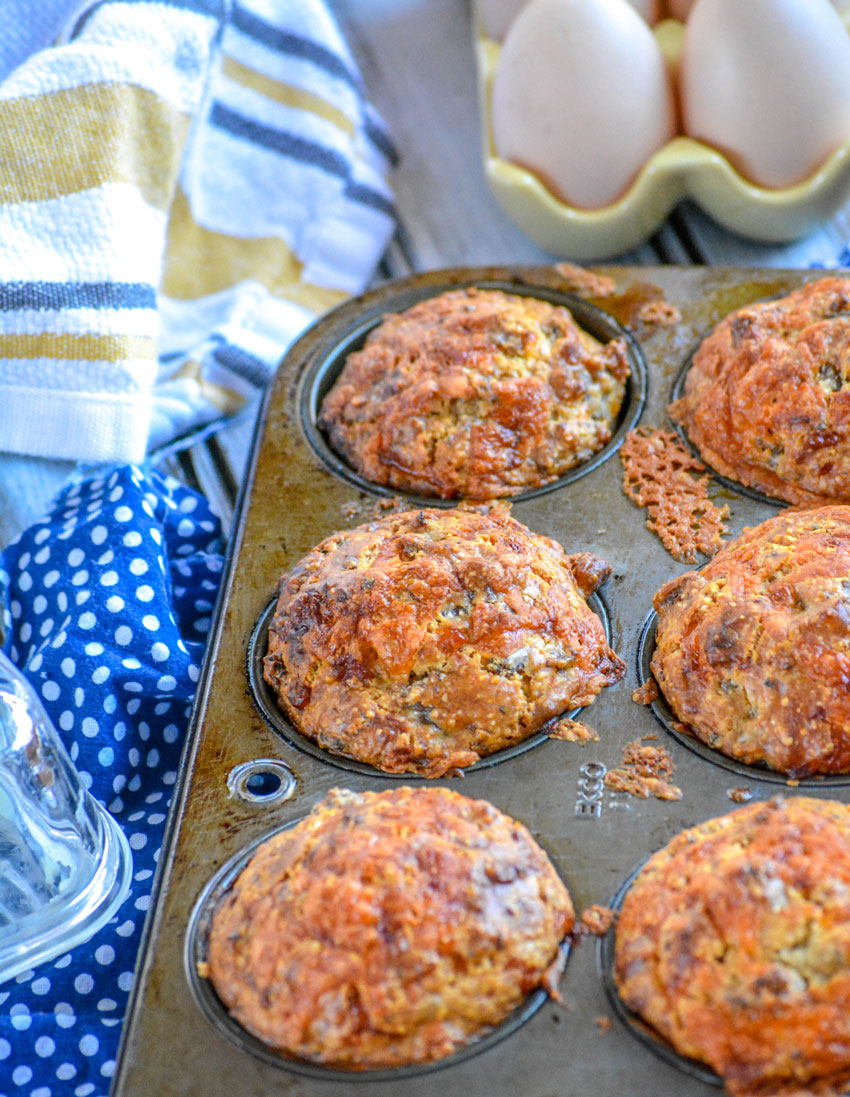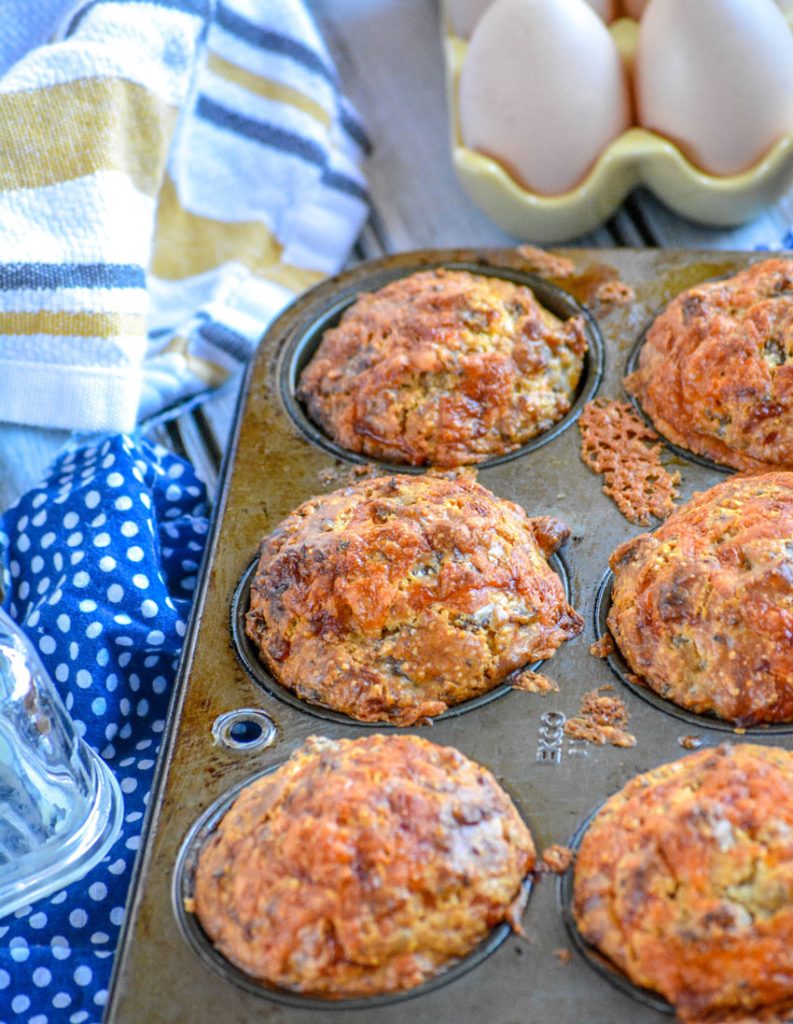 I love having real breakfast when I get the chance. The key words there: when I get the chance.
With a busy family on the go, I don't get the chance to sit down to a pile of strawberry shortcake pancakes or a hearty slice of breakfast lasagna very often.
Heck, most mornings I don't even sit down. I need a hearty meal for my family that we can eat on the go.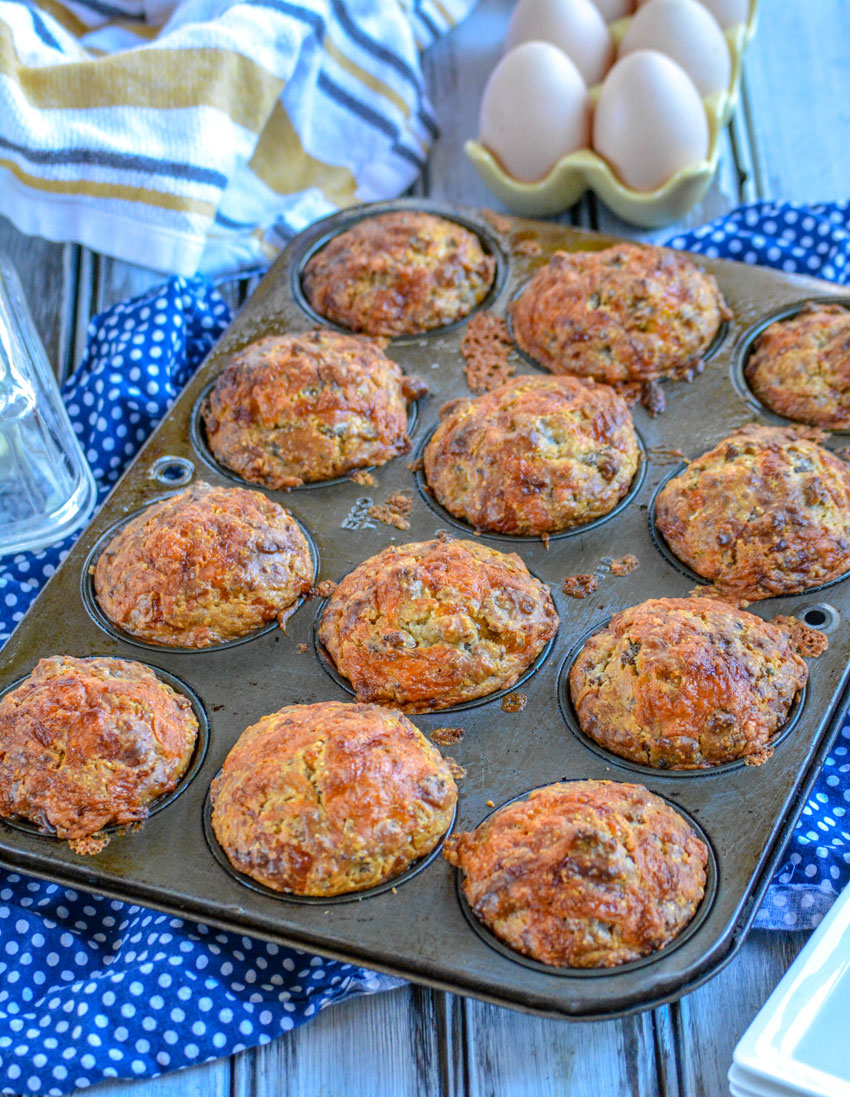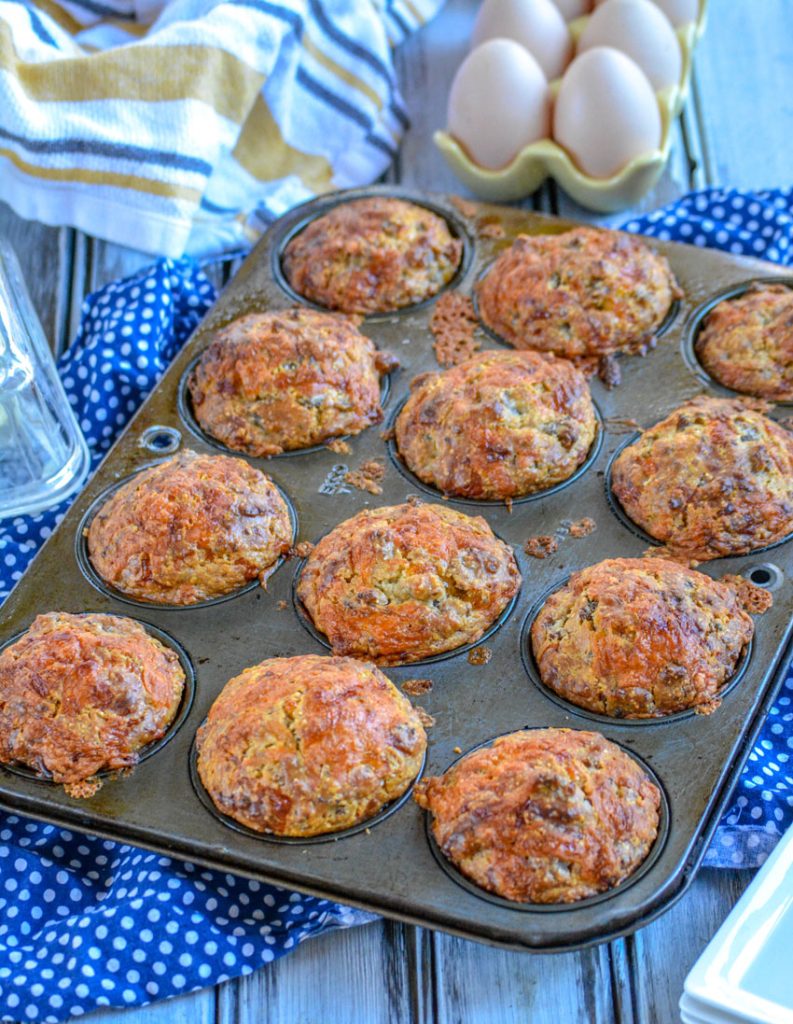 Even better if I can make it ahead of time like with these egg muffins.
Then I make it the night before or over the weekend and when I need breakfast all I need to do is just heat these sausage, egg, and cheese muffins with grits up the next morning.
Then, boom, we're all on our way with breakfast to go.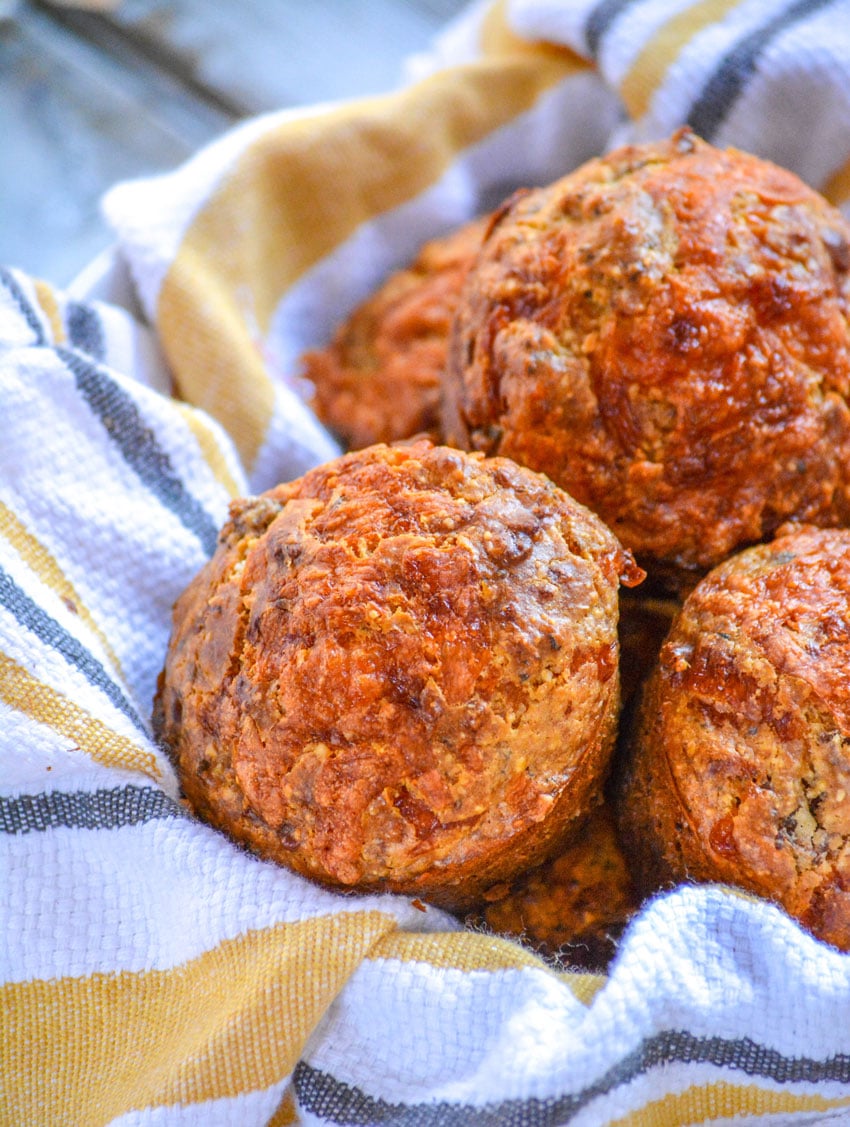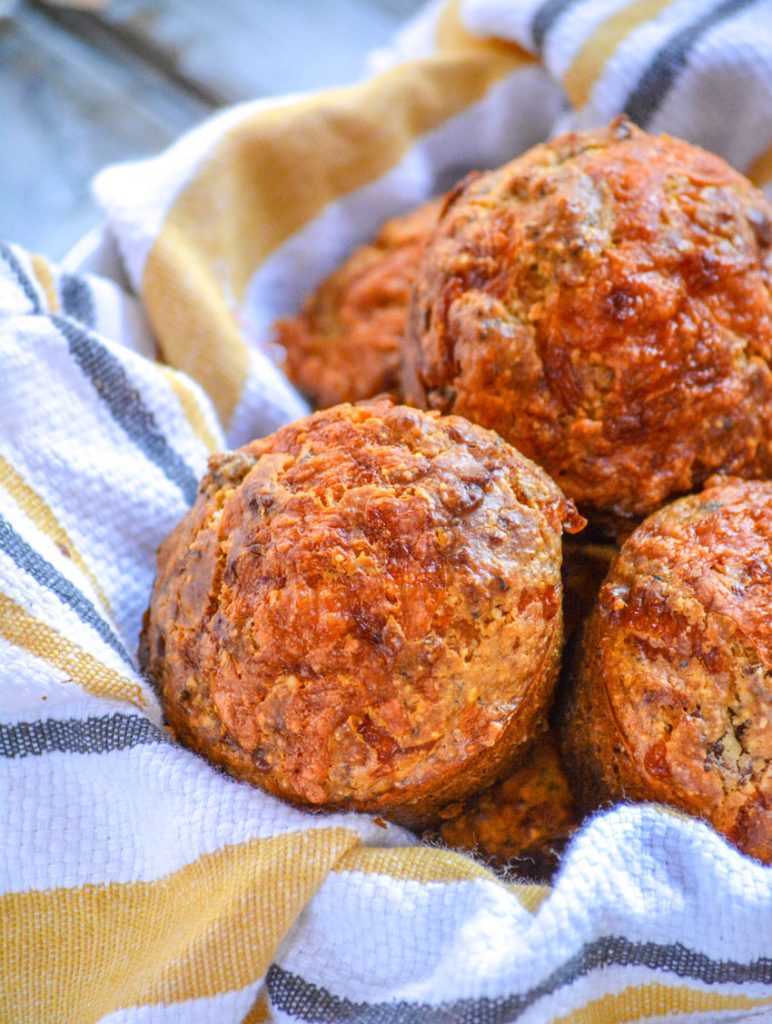 Having an easy breakfast ready to go just sets me up for success in the morning. Plus, eating something so delicious and hearty puts me in a great mood to start my day. And these egg muffins are so delicious they'd make even the grumpiest morning person smile.
They are mostly savory with the flavors of sausage and cheese, but they have an unexpected hint of sweet from the honey that's just so good.

INGREDIENTS NEEDED TO MAKE THESE BREAKFAST MUFFINS:
sausage
flour
grits
baking powder
baking soda
salt
buttermilk
butter
eggs
honey
cheddar cheese
I grew up eating grits for breakfast and brunch, sometimes even for dinner's and snacks. Naturally my own pantry is stocked with them, but sometimes I want to enjoy them in different ways.
Don't get me wrong, they're amazing when simply prepared with a little bit of butter or shredded cheddar. Change is always welcome in my kitchen though.
Naturally, that led to searching for recipes that use grits- which is how I eventually came across the idea of including them in hearty Southern-style breakfast muffins. Not only was the ingredients list a simple one, but so were the steps to pull them together.
HOW TO MAKE SAUSAGE, EGG, AND CHEESE MUFFINS WITH GRITS:
Making these sausage, egg, and cheese muffins with grits is fairly easy. To make them, cook the ground sausage on the stove top until it's cooked through and brown. Then drain the excess grease and set the sausage aside.
When you're done, whisk together the flour, grits, baking powder, baking soda, and salt in a mixing bowl. Then add the wet ingredients into the dry ingredients and stir them together gently until they are just combined.
The last step? Fold the cheese and sausage into the muffin batter gently before you spoon the batter into 12 muffin tins that have been sprayed with nonstick spray.
Pop them into the oven and bake them at 400 degrees for about 20 minutes or until a toothpick inserted in the center of the muffins comes out clean.
You can serve them immediately or refrigerate or freeze to serve later. I always love it when a recipe gives me options like that. Versatility is a great thing to have.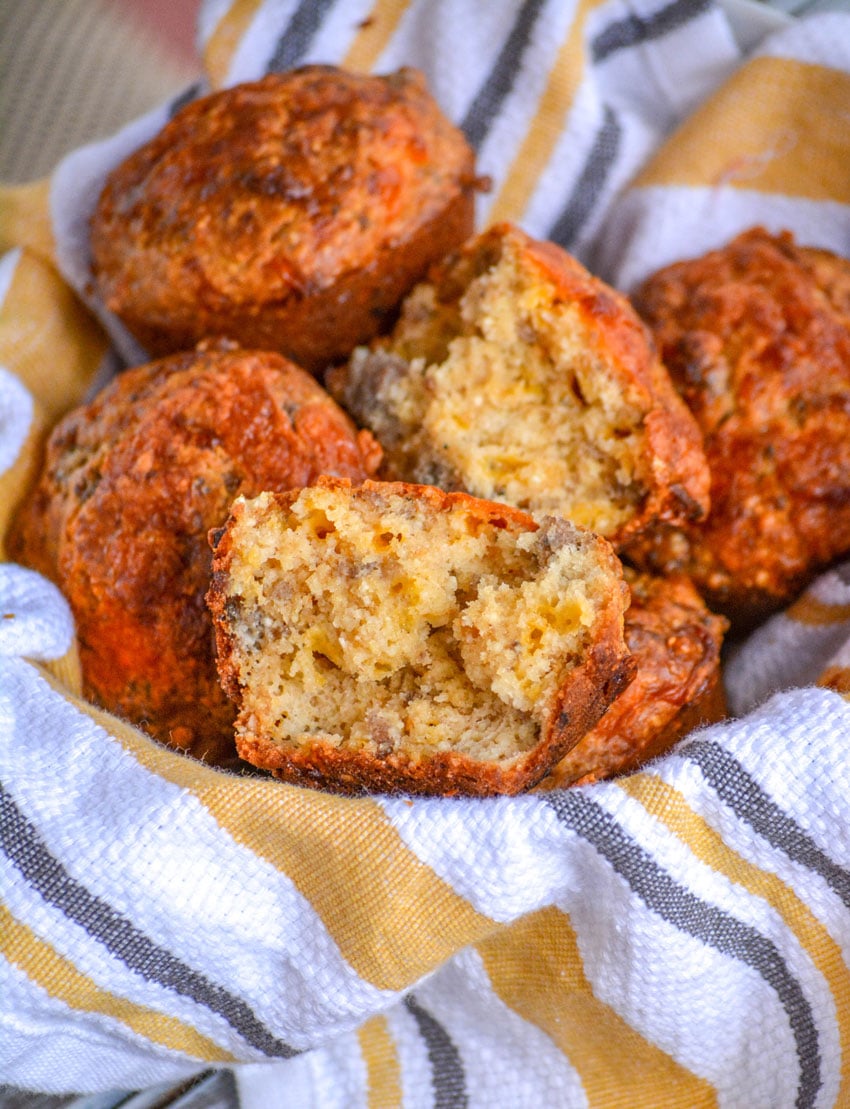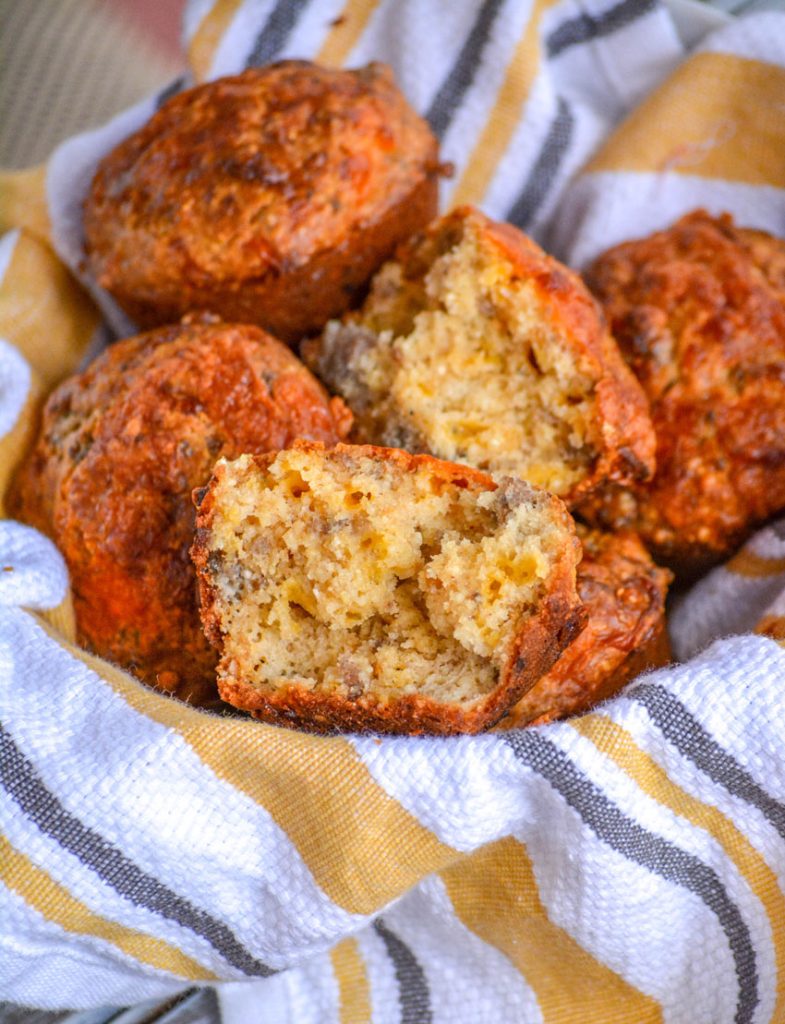 HOW TO MAKE EGG MUFFINS AHEAD OF TIME:
If you want to make these sausage, egg, and cheese muffins with grits ahead of time, you can make them as instructed. Then you can let them cool completely and freeze them in a large freezer bag, so you can reheat them one at a time. They'll last in the freezer for about 3 months.
If you wanted to store them in the fridge, you can cover them well and serve them for 3-4 days afterwards. To reheat the sausage, egg, and cheese muffins with grits, you could microwave them or heat them up in a toaster oven.
Both result in tasty muffins to grab & go, but with different results. If heated in the microwave, the muffins are soft & moist all over. If reheated in the toaster oven, the outside will have a crunchier texture but still a soft & moist muffin texture inside.
TIPS & TRICKS FOR MAKING BREAKFAST MUFFINS WITH GRITS:
Don't make the rookie mistake of confusing corn meal with stone ground grits. Yes, they both come from grits- but they're very different. Only using grits will result in these muffins turning out as promised.
If you don't have honey on hand, or if you happen to be allergic to it, maple syrup makes a delicious substitute.
If buttermilk isn't readily available you can make your own by measuring out the cup of milk, removing a tablespoon worth & adding in a tablespoon of white vinegar. Let it sit for 2-3 minutes before using.
Plain old milk can also be subbed for buttermilk in a pinch.
We recommend shredded cheddar, and cheddar does pair best flavor wise with this recipe. However, we've also made it using colby jack cheese and mozzarella with delicious results.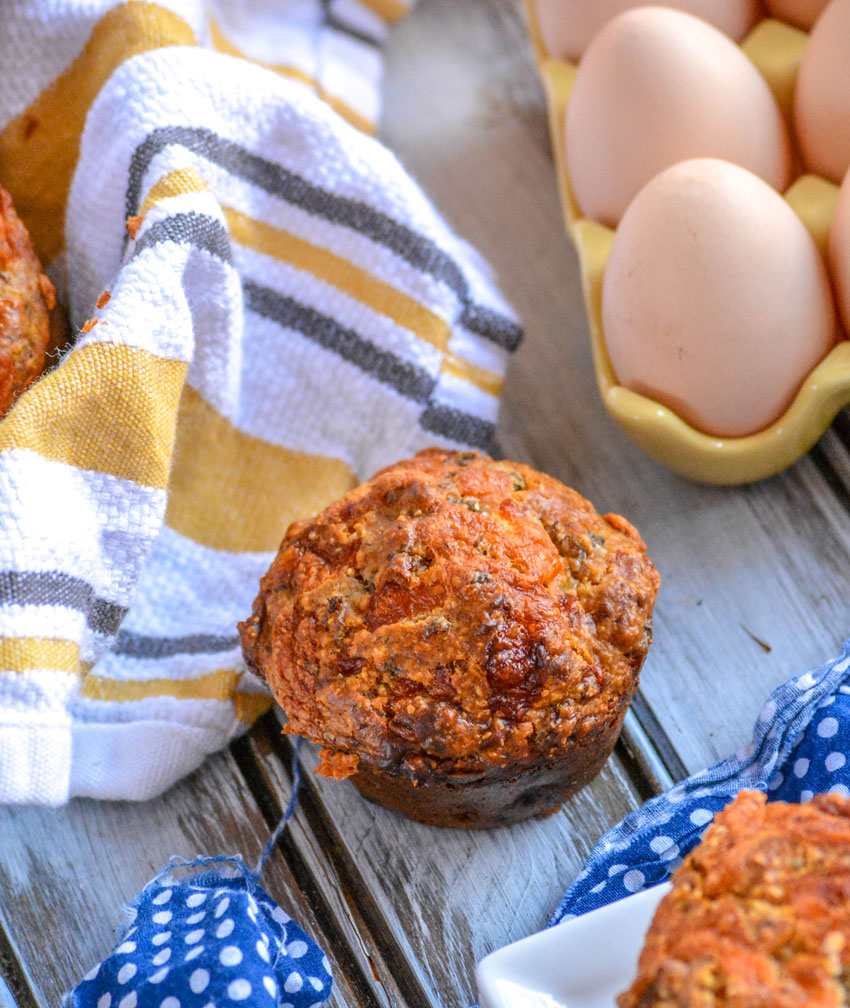 Whether you make them ahead of time or make them and serve them same day, these sausage, egg, and cheese muffins with grits are a delicious, hearty breakfast you can grab and go.
OTHER RECIPES USING GRITS TO GIVE A TRY:
If you've tried these SAUSAGE EGG AND CHEESE BREAKFAST MUFFINS WITH GRITS, or any other recipe on my site, let me know in the comment section how it turned out, we love hearing from our readers! You can also follow along with me on PINTEREST, FACEBOOK, and INSTAGRAM to see more amazing recipes and whatever else we've got going on!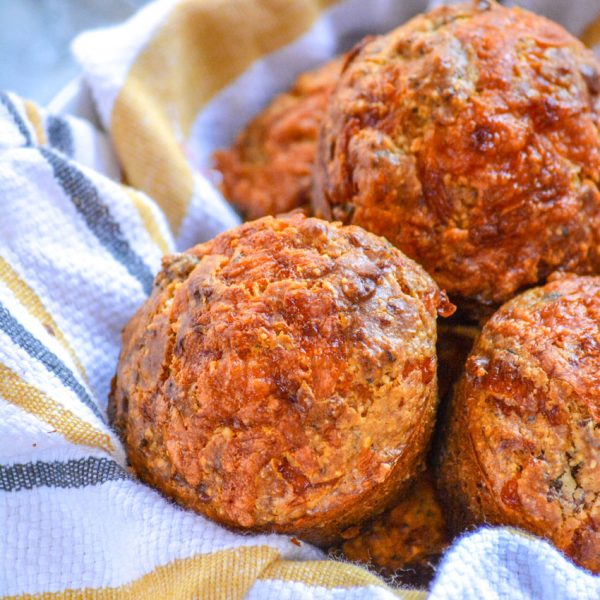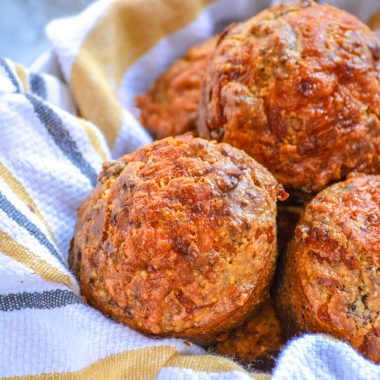 Sausage Egg and Cheese Breakfast Muffins with Grits
A sweet & savory breakfast muffin, this one features several breakfast favorites like crumbled sausage, stone ground grits, eggs, & cheddar cheese in every bite.
Print
Pin
Rate
Ingredients
1

lb

ground sausage

1 1/2

cups

flour

3/4

cup

quick cooking grits

2

tsp

baking powder

1

tsp

baking soda

1

tsp

salt

1/4

cup

butter, melted

2

eggs

1

cup

buttermilk

2

tbsp

honey

1

cup

shredded cheddar cheese
Instructions
Cook the sausage in a skillet, breaking it up as it cooks. When fully cooked through & crumbled, drain the sausage. Set aside.

In a large mixing bowl, whisk together the dry ingredients- flour, grits, baking powder, baking soda, and salt- until evenly combined.

Add the wet ingredients- butter, eggs, buttermilk, & honey- stirring just until evenly mixed.

Using a spatula, add the sausage & cheese to the bowl, and fold it into the batter.

Spray a 12 count muffin tin with non stick cooking spray.

Add the batter to the muffin tins, dividing it as evenly as possible between all twelve.

Bake at 400 degrees for 20-25 minutes, or until a toothpick inserted in the center comes out clean.
Nutrition
Calories:
310
kcal
|
Carbohydrates:
24
g
|
Protein:
12
g
|
Fat:
19
g
|
Saturated Fat:
8
g
|
Cholesterol:
77
mg
|
Sodium:
664
mg
|
Potassium:
254
mg
|
Fiber:
1
g
|
Sugar:
4
g
|
Vitamin A:
315
IU
|
Vitamin C:
0.2
mg
|
Calcium:
138
mg
|
Iron:
1.7
mg