Dips don't have to just be savory. They can most definitely be sweet too. Sweet enough for dessert even. Half the work but with all the flavor- this cannoli dip comes straight from Nonna's Italian kitchen.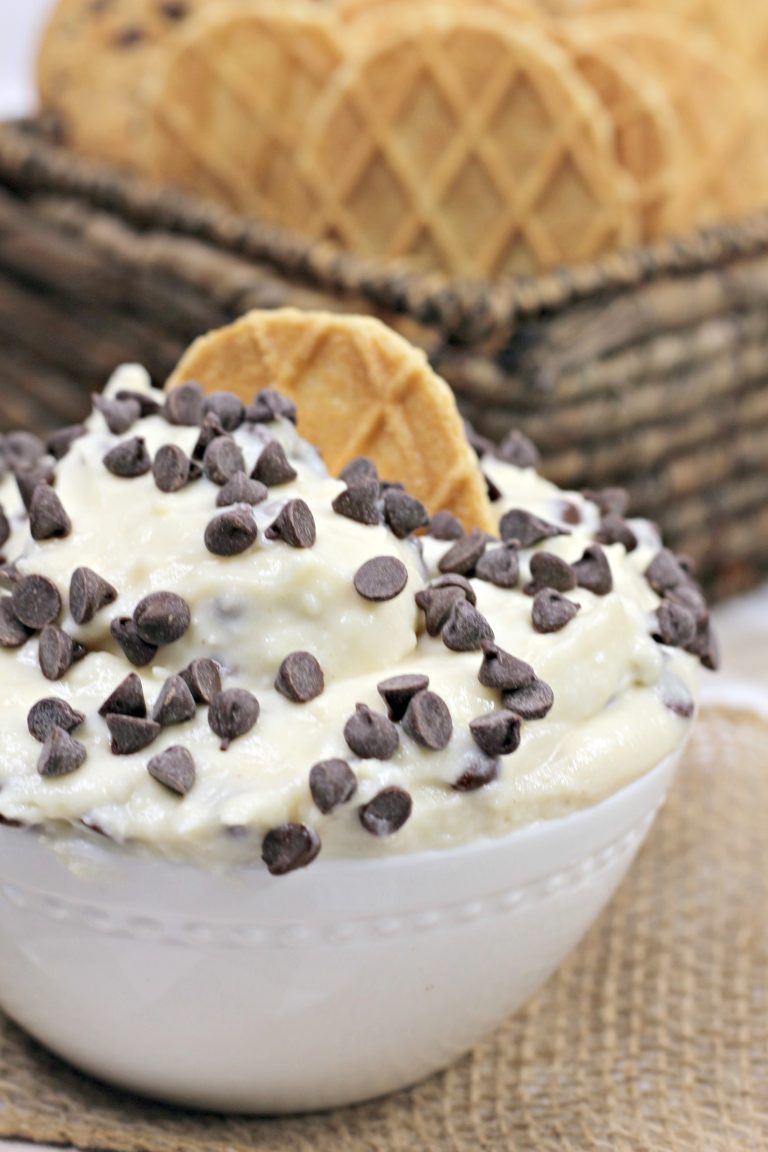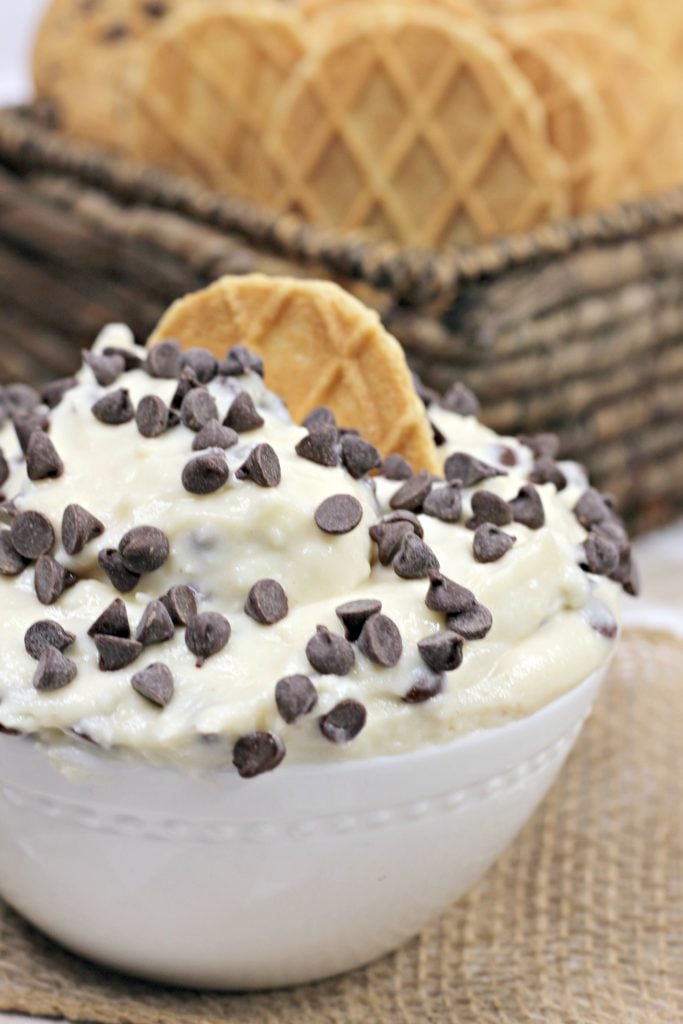 I am not, and really never have been, a sweets person. Give my crunchy, salty, savory all day long. Desserts have just never interested me much.
I dutifully tried to fake it til I made it while dating the Hubs. His sweet tooth is notorious & totally unrivaled. It didn't take long for the truth to come out. I mean one bite of my actual favorite dessert (cheesecake) and I was done.
We both knew it was right, and headed to marriage very quickly which meant he took me home to meet his extended Italian family early on. I think his jaw may have hit the floor when I asked what the unfamiliar pastry on the dessert platter was.
Turns out it was an Italian specialty I'd never heard of called a cannoli. I hope you all aren't like me. I hope you've been introduced to the Italian delicacy that is the pastry dessert called cannoli, but if you haven't we're fixing that today!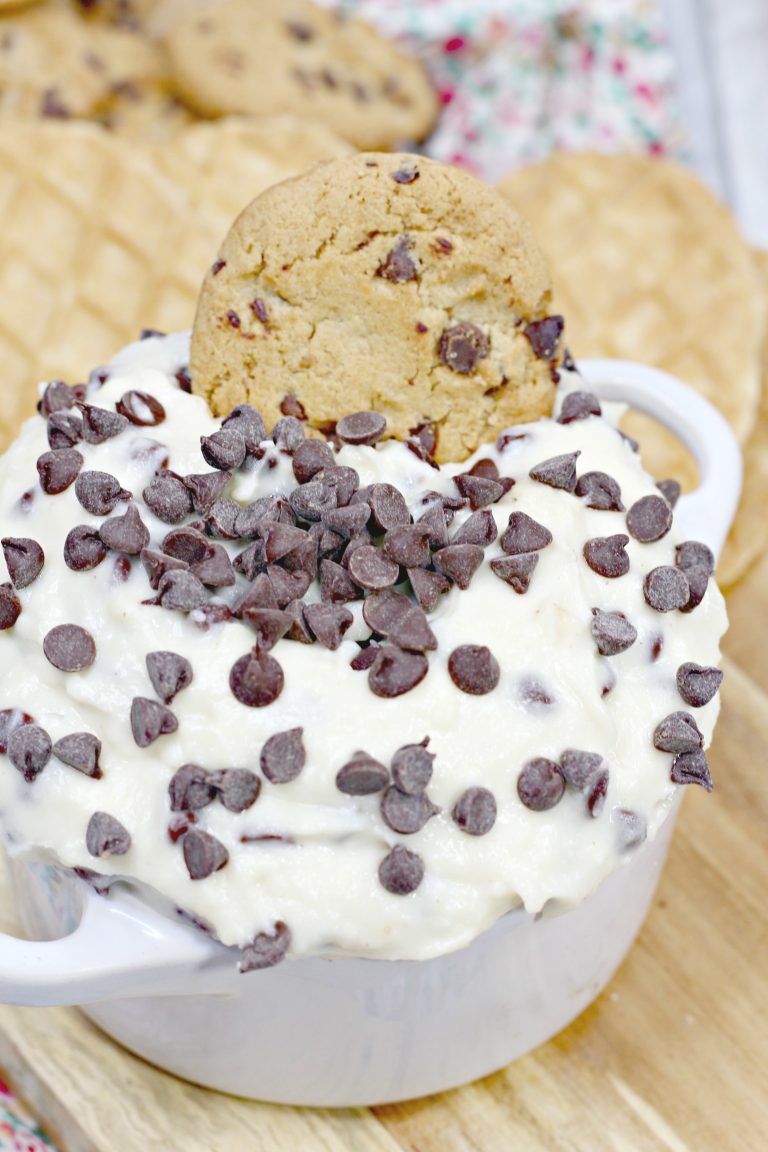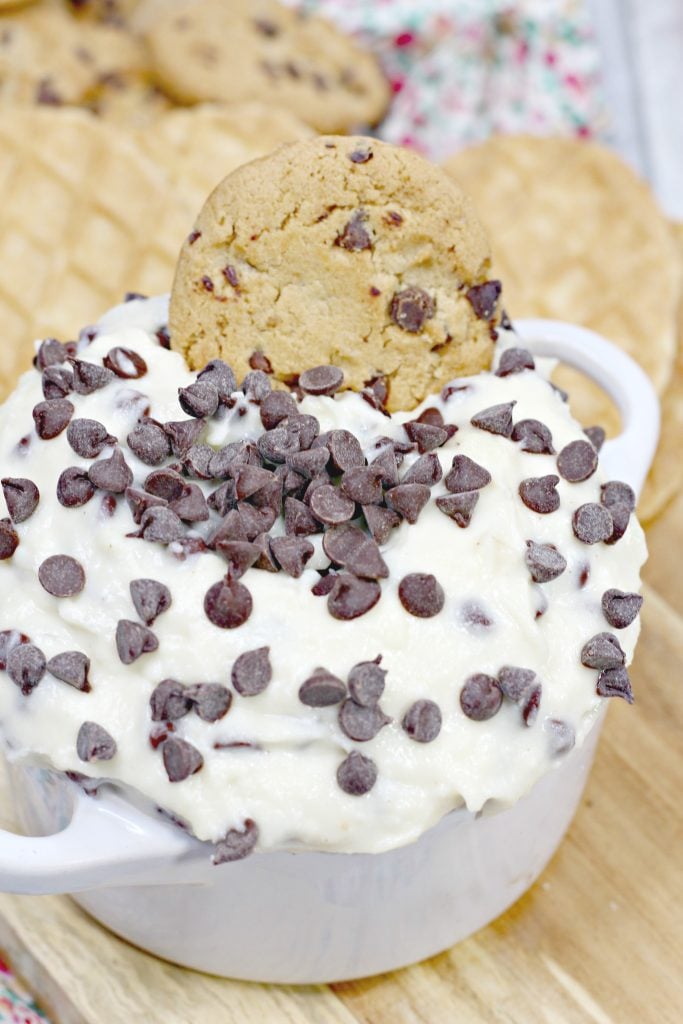 WHAT IS A CANNOLI:
Cannoli is a dessert. It's an Italian specialty in fact of the pastry variety. Well pastry and cream. Like the eclair is to France, the cannoli is to Italy. Specifically, Sicily.
Basically it consists of a tube shaped shell of fried pastry dough piped full of a sweet cream filling with a ricotta cheese base. Chocolate chips are often in the mix, either folded into the filling or as a garnish.
Cannoli, like many other things, are either small or large. It's very Italian, and there's rarely an in between. The original go big or go home thing.
Small ones have a cute name too, cannulicchi. Other places on the mainland, you can find them made in fist sized proportions. Sign me up for those!
As with virtually every other thing another country does well, this sweet treat eventually made it's way to the states. And again, it adapted. To the point where some versions are so far from the original, they aren't actually cannoli dip. They're just a sweet dessert cream dip. Still tasty, but not the read deal.
CAN YOU MAKE CANNOLI DIP WITHOUT RICOTTA CHEESE:
I'm going to head this subject off at the pass. While opinions may differ, I'm going to err on the side of caution. AKA, my 100% from the Mother country, Italian grandmother-in-law and affirmatively say the answer is no. No, nothing cannoli can truly be cannoli without the inclusion of ricotta cheese.
Without it, no matter how tasty, it is not authentic. This cannoli dip recipe was designed to deconstruct the dessert, not transform it in any way. Ironic coming from me whole loves new spins on just about everything.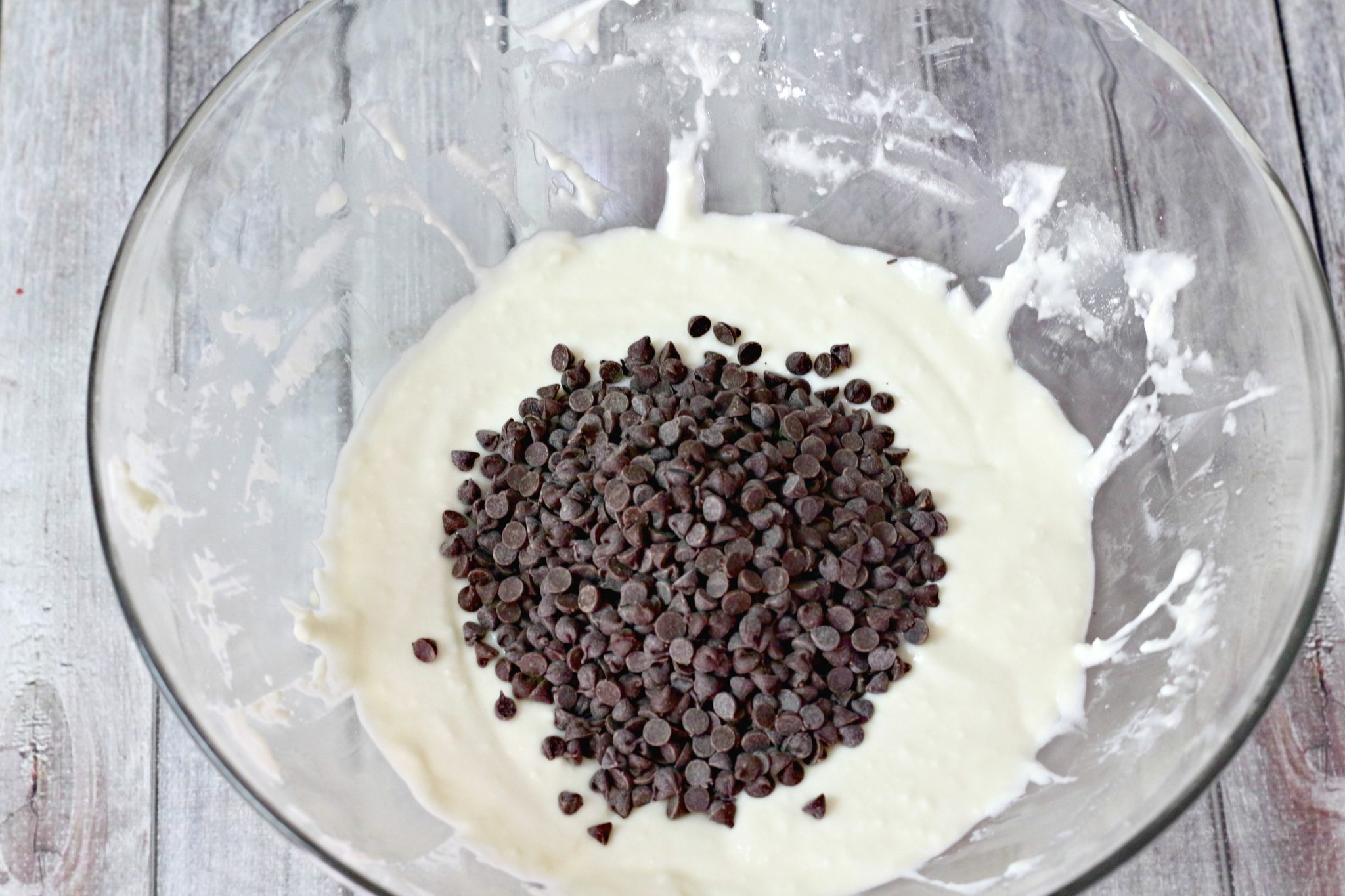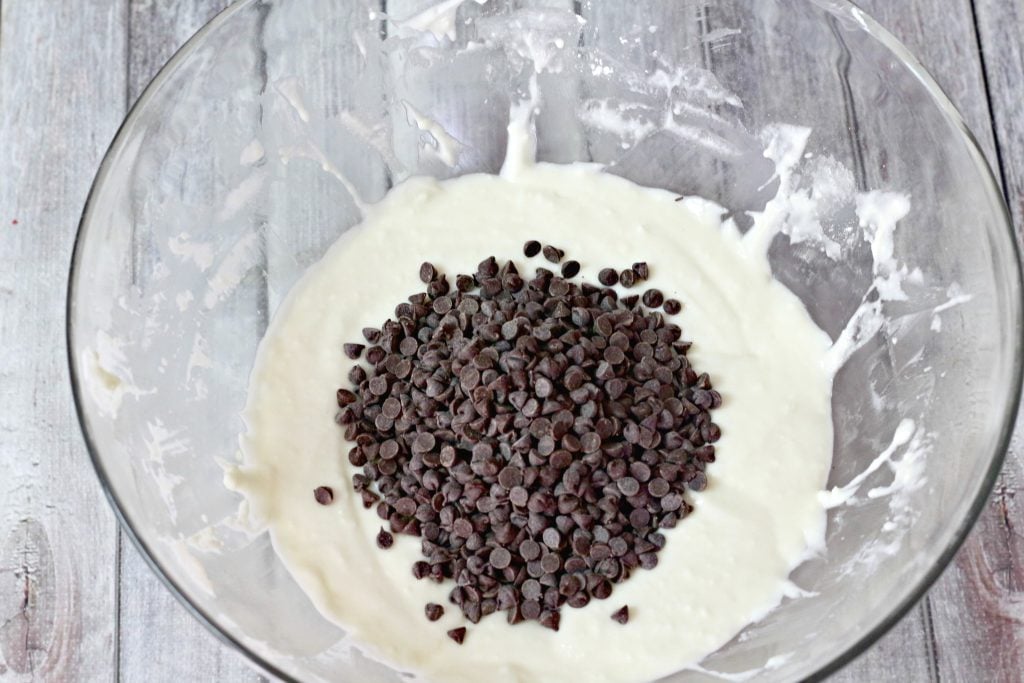 WHAT IS CANNOLI DIP MADE OF:
ricotta cheese
cream cheese
powdered sugar
vanilla extract
chocolate chips
waffle cone cookies
That's it, a shockingly simple ingredient list for something so delicious. Hard to believe that it's even easier to whip together!
In the bowl of a stand mixer, add the ricotta cheese, cream cheese, and the powdered sugar. Whip the ingredients together until the mixture's smooth. Add in the extract, and mix again.
Taste the mixture at this point. From here on out the result is totally subjective. Is the cannoli dip sweet enough? You're done then.
Not sweet enough? Whip in more powdered sugar, working with two tablespoons at a time. I wouldn't suggest going higher than 8 additional tablespoons though. That's max level, and should appease even the most outrageous of sweet-toothes.
Fold in the mini chocolate chips until completely incorporated. Transfer the mixture to a serving dish, and a serve as is with waffle cone chips, chocolate chip cookies, pretzels, or fruit. If you don't want to serve it right away, cover it and chill. It's great both ways, this comes down to personal preference.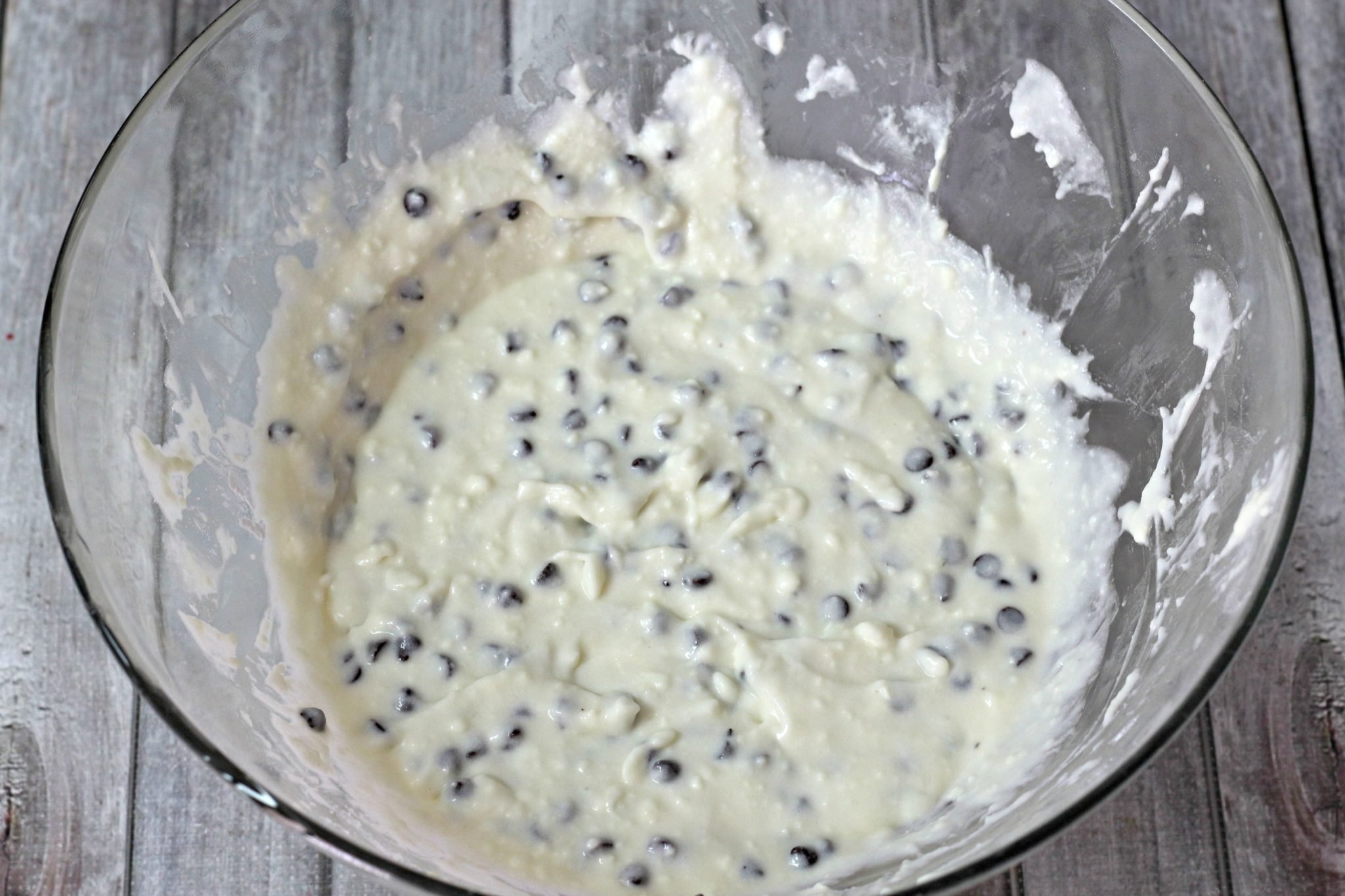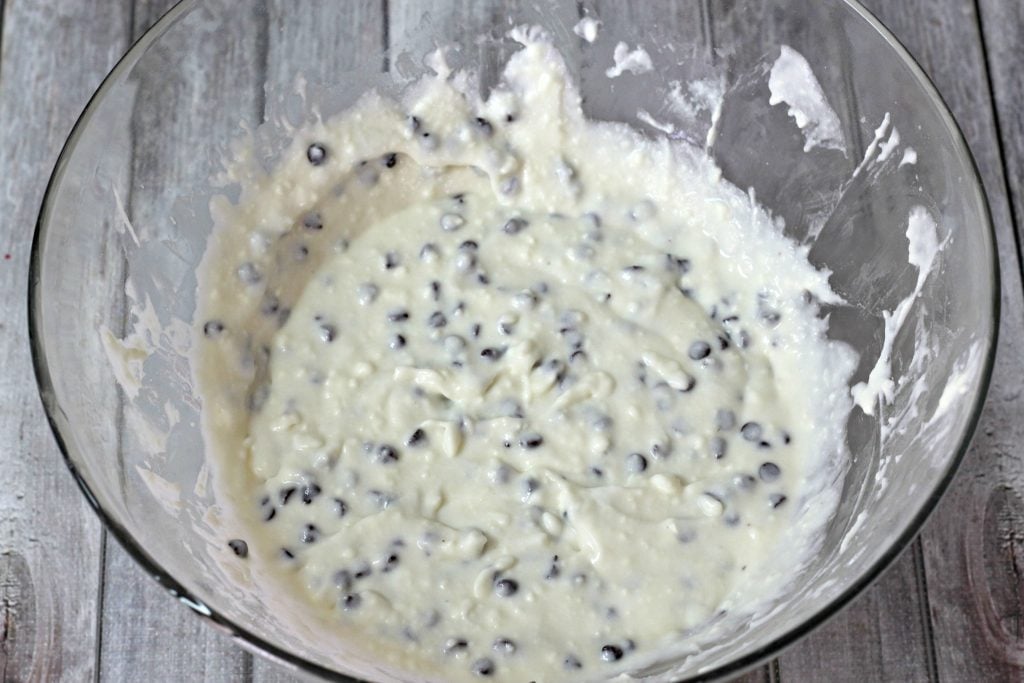 HOW LONG DOES CANNOLI FILLING & DIP LAST:
Unfortunately, the answer is not nearly long enough. This Italian cream dip can be safely stored in he refrigerator up to four days. Just make sure it's stored in a sealed container. I suggest glazz pyrex over plastic tupperware.
Channel your inner Italian with this delicious cannoli dip, or go all the way and buy some cannoli shells to pipe it into. It won't disappoint however you choose to serve it. One bite, and it will seal the deal. In my sons' words, it's like cheesecake without the cake.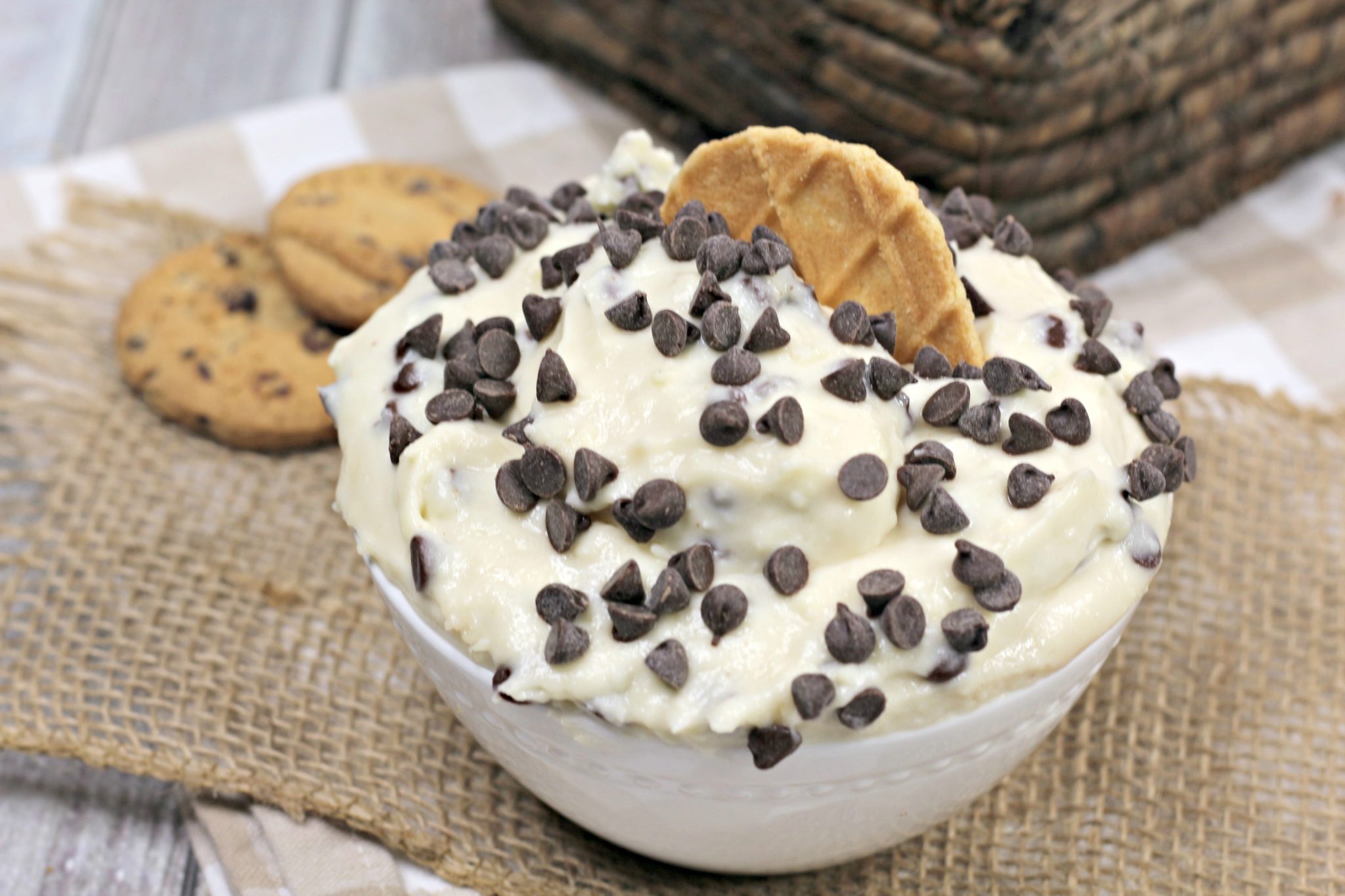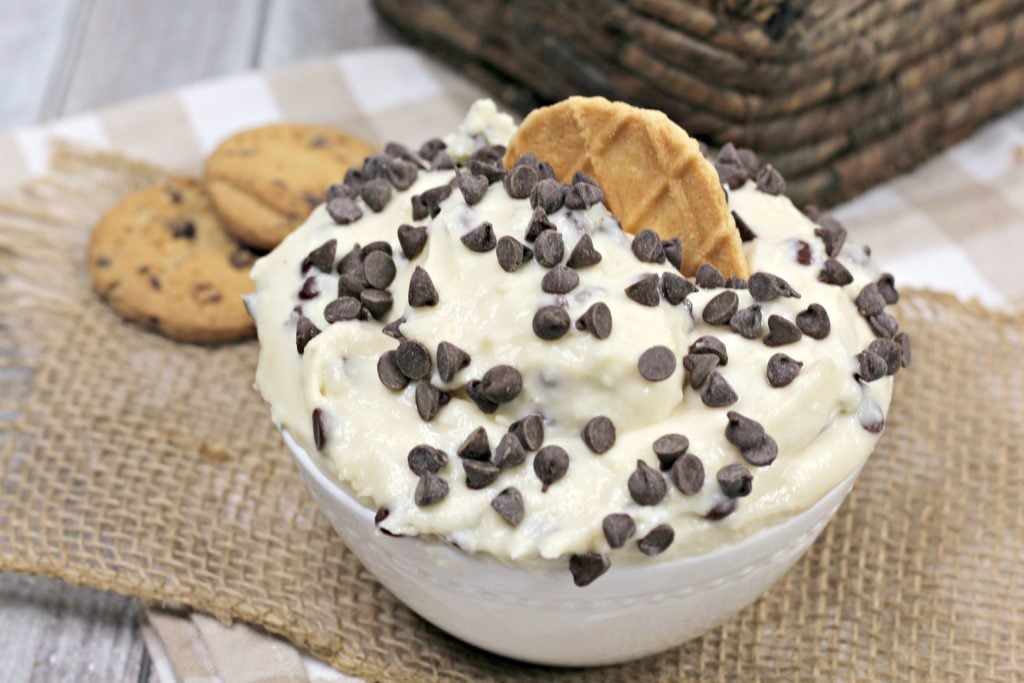 This cannoli dip dessert is the one you were meant to find and fall in love with, kinda like the Hubs and I- except this one is so much simpler. All the flavor, none of the hard work!
OTHER DELICIOUS WAYS TO DO DESSERT:
If you've tried this ITALIAN CANNOLI DIP, or any other recipe on my site, let me know in the comment section how it turned out, we love hearing from our readers! You can also follow along with me on PINTEREST, FACEBOOK, and INSTAGRAM to see more amazing recipes and whatever else we've got going on!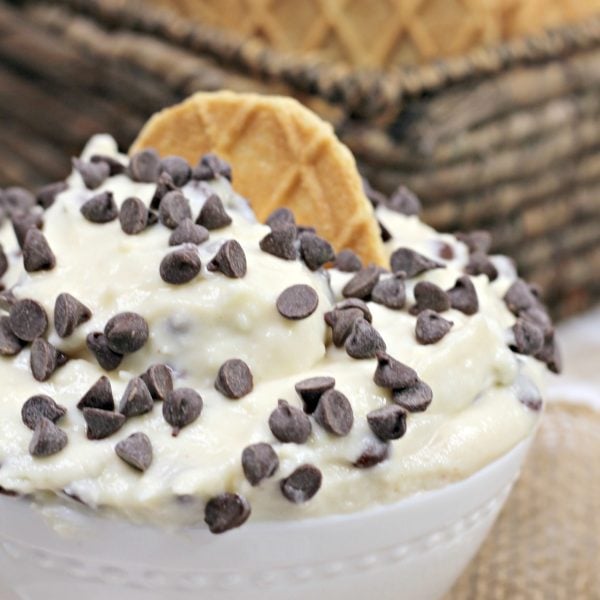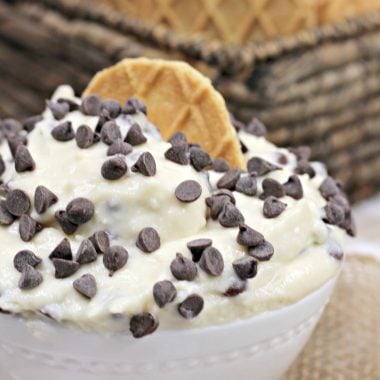 Cannoli Dip
A sweet cream dessert dip this version's studded with chocolate chip morsels and tastes like my Nonna's freshly baked authentic Italian cannolis. Serve them with waffle cookies for a complete deconstructed cannoli experience.
Print
Pin
Rate
Ingredients
1

cup

whole milk ricotta new container

not previously opened

8

oz

cream cheese room temperature

1

cup

powdered sugar

1

tsp

vanilla

2/3

cup

mini chocolate chips

1

pkg small chocolate chip cookies

1

pkg waffle cones cookies

1

whole cone for garnish for the dip
Instructions
Add ricotta, cream cheese, and powdered sugar into the bowl of an electric mixer beating on medium-high speed until smooth. (3-5 minutes.)

Add in the vanilla, whipping for another 30 seconds.

Taste the dip - if you'd like it sweeter, add more powdered sugar, about 2 tablespoons at a time. (up to 8 tablespoons)

Add in mini chocolate chips stirring with a spatula.

Keep some of the mini chocolate chips to garnish the dip top.

Put a waffle cone in the center of the dip for additional garnish.

Serve dip immediately with broken waffle cones and/or small chocolate chip cookies.

Store in a container with a lid and place in the refrigerator.
Nutrition
Calories:
286
kcal
|
Carbohydrates:
27
g
|
Protein:
6
g
|
Fat:
17
g
|
Saturated Fat:
10
g
|
Cholesterol:
49
mg
|
Sodium:
127
mg
|
Potassium:
71
mg
|
Fiber:
1
g
|
Sugar:
25
g
|
Vitamin A:
551
IU
|
Calcium:
109
mg
|
Iron:
1
mg