Too hot for pasta? Think again with this creamy cold tortellini salad with ranch dressing. Loaded with big bites of cheddar cheese, pieces of crumbled bacon, and cheese tortellini, this pasta salad recipe is anything but ordinary. A handful of ingredients and a quick 20 minutes and this cold tortellini salad is ready to go.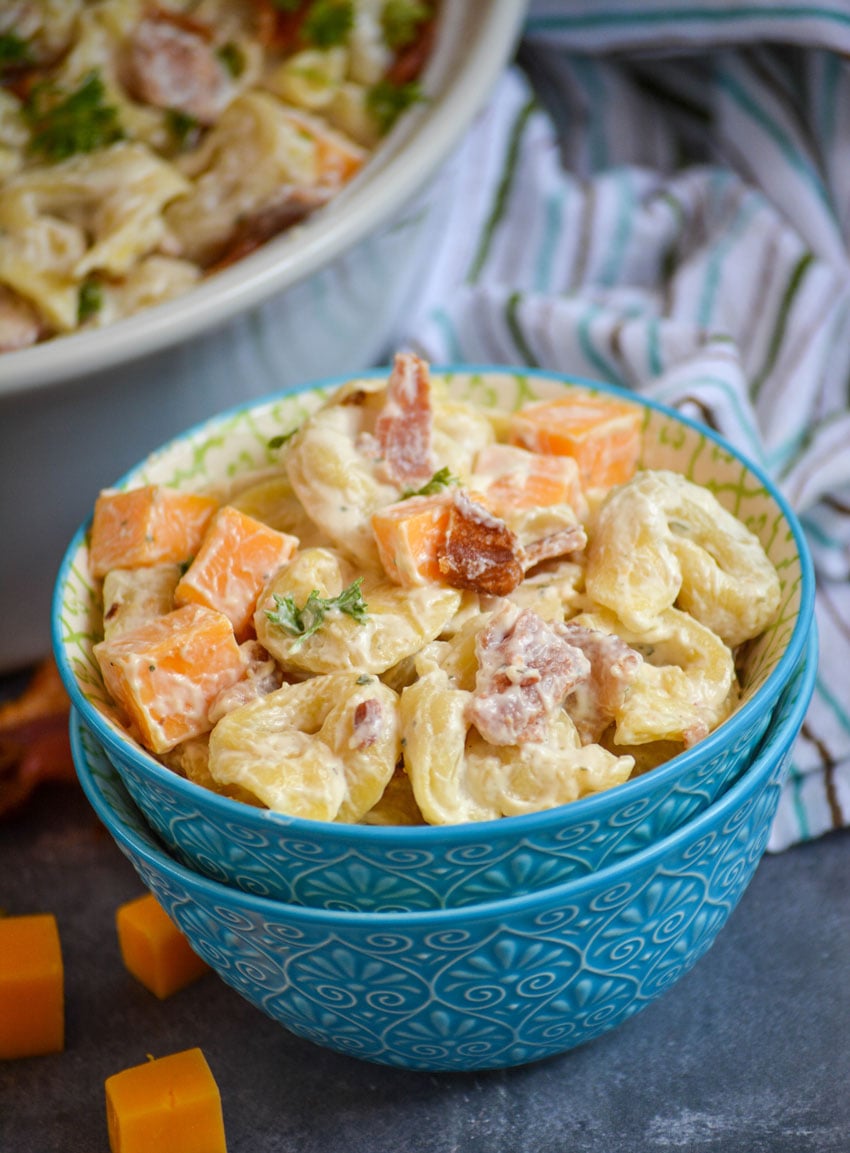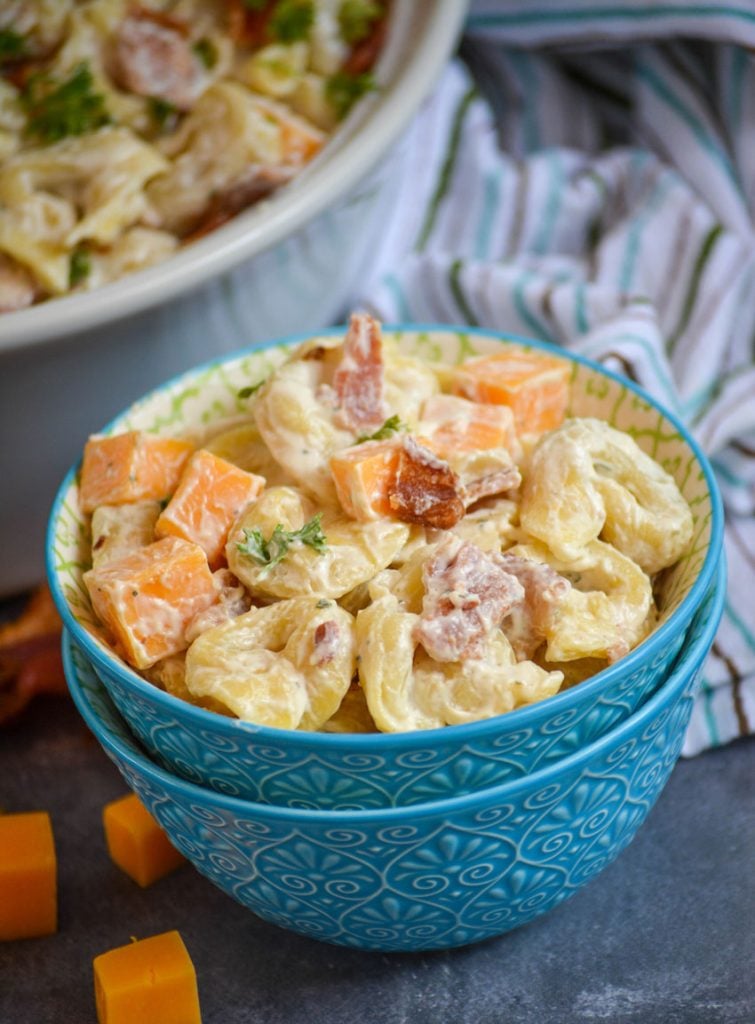 Is it hot by you? Not a little hot, but unbelievably melt your face off when you step outside the door hot?
That's how it has been here for several days this week. A record heat wave, the worst since 2012! And I'll tell you what, it makes everything feel more challenging. Even cooking and eating.
Because really, who wants to eat a hot meal when your air conditioner is no match for the hundred degree heat outside? Not me, and believe it or not, not my boys.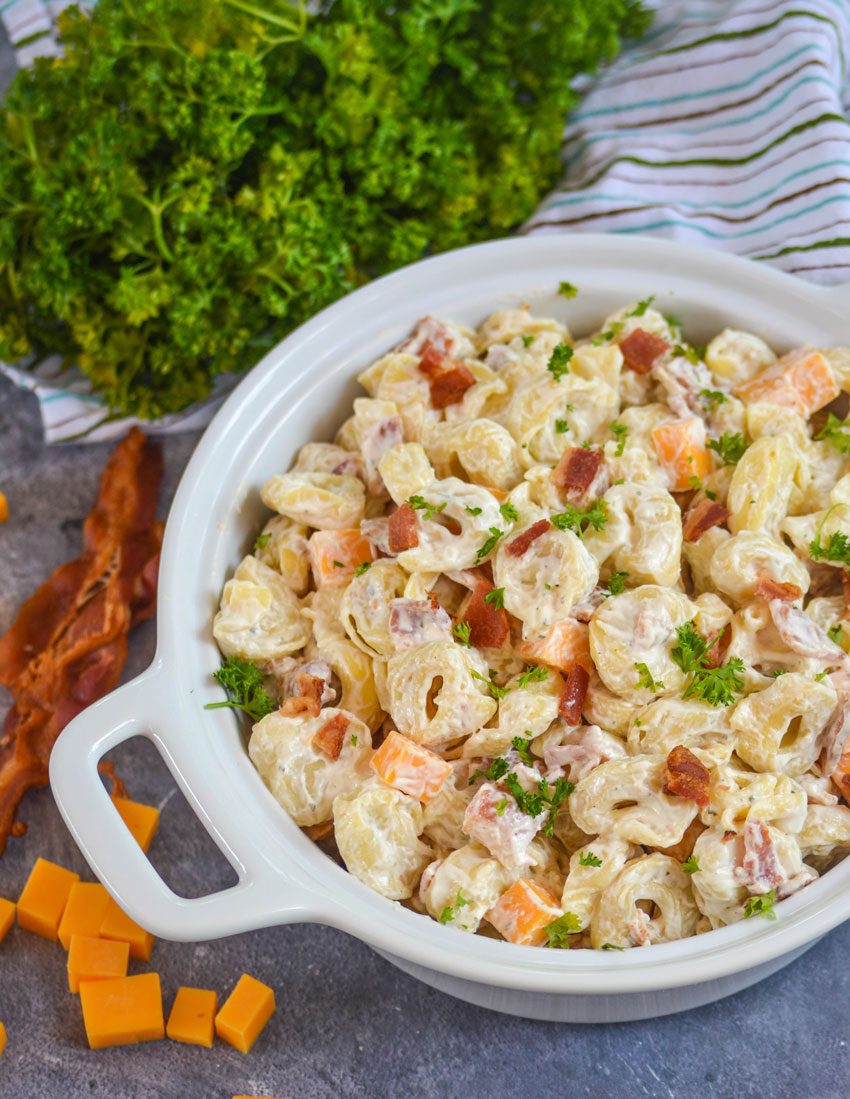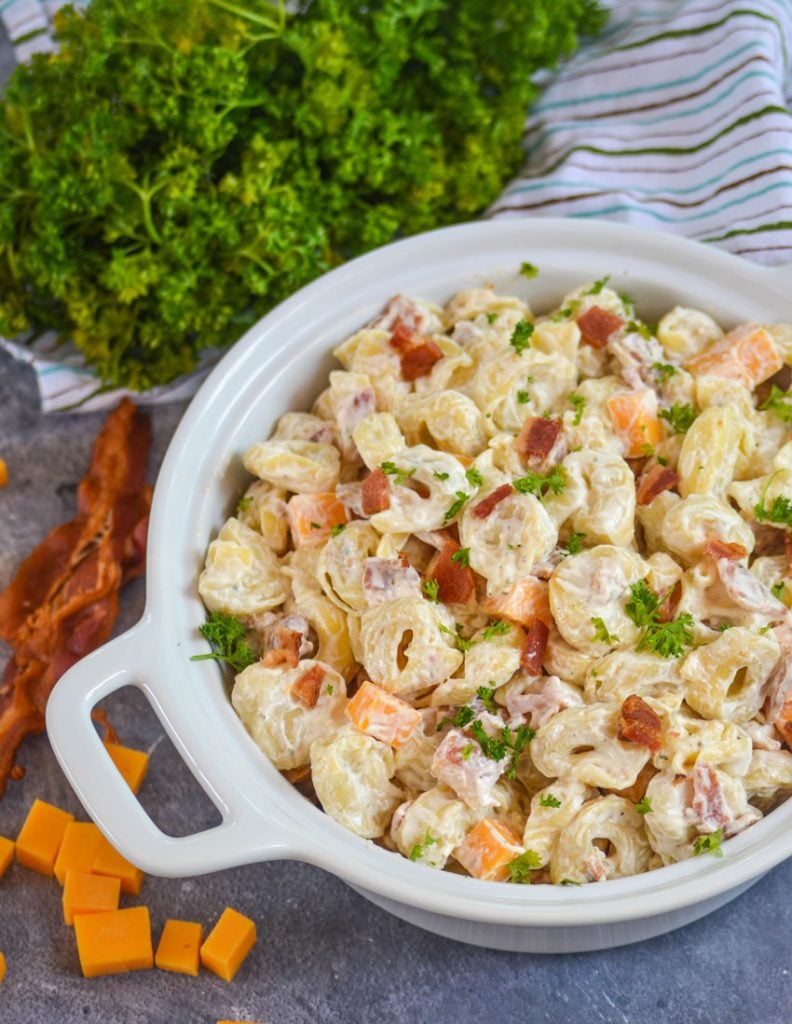 So during the dog days of summer, when the temperature rises to the extreme levels it's been at lately, I look for dishes that are cold and refreshing like this cold tortellini salad with ranch.
This take on pasta salad feels extra refreshing since the cheese tortellini are dressed in the coldest, creamiest, dreamiest Ranch ever.
While it's refreshing feeling, it's still a hearty enough take on ranch pasta salad to make it a meal.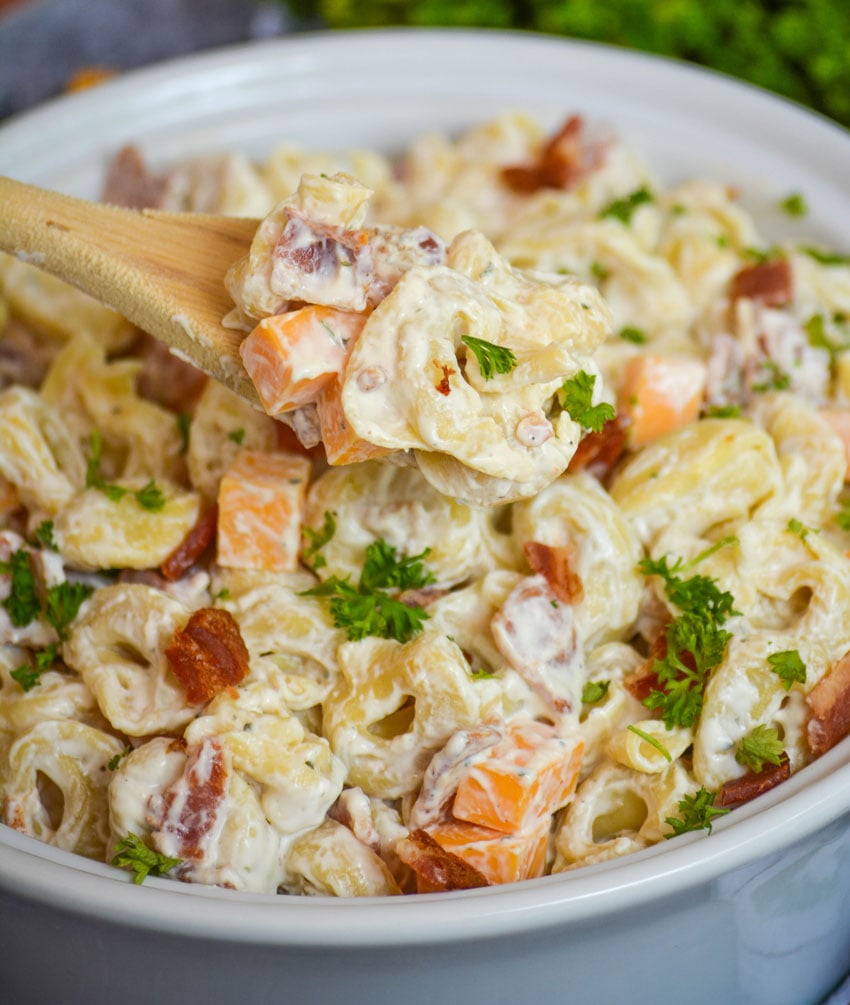 WHAT MAKES THIS COLD TORTELLINI SALAD SO GOOD?
I'm not kidding when I say this pasta salad is all about the ranch.
Rather than using a store bought bottle of dressing, I use a combination of sour cream, mayonnaise, and buttermilk seasoned with a tablespoon and a half of dressing mix.
The combination of sour cream and mayo make the dressing ultra rich and creamy. The buttermilk thins it just enough to coat each and every nook and cranny of the tortellini and allow it to cling to the salty bacon and sharp cheddar.
It has body and lusciousness that store bought dressing simply doesn't have. Oh and did I mention? Not only does this cold tortellini salad have pillowy cheese tortellini and the best ranch dressing ever, but there are bites of smoky, salty bacon and sharp cheddar cheese running throughout this salad.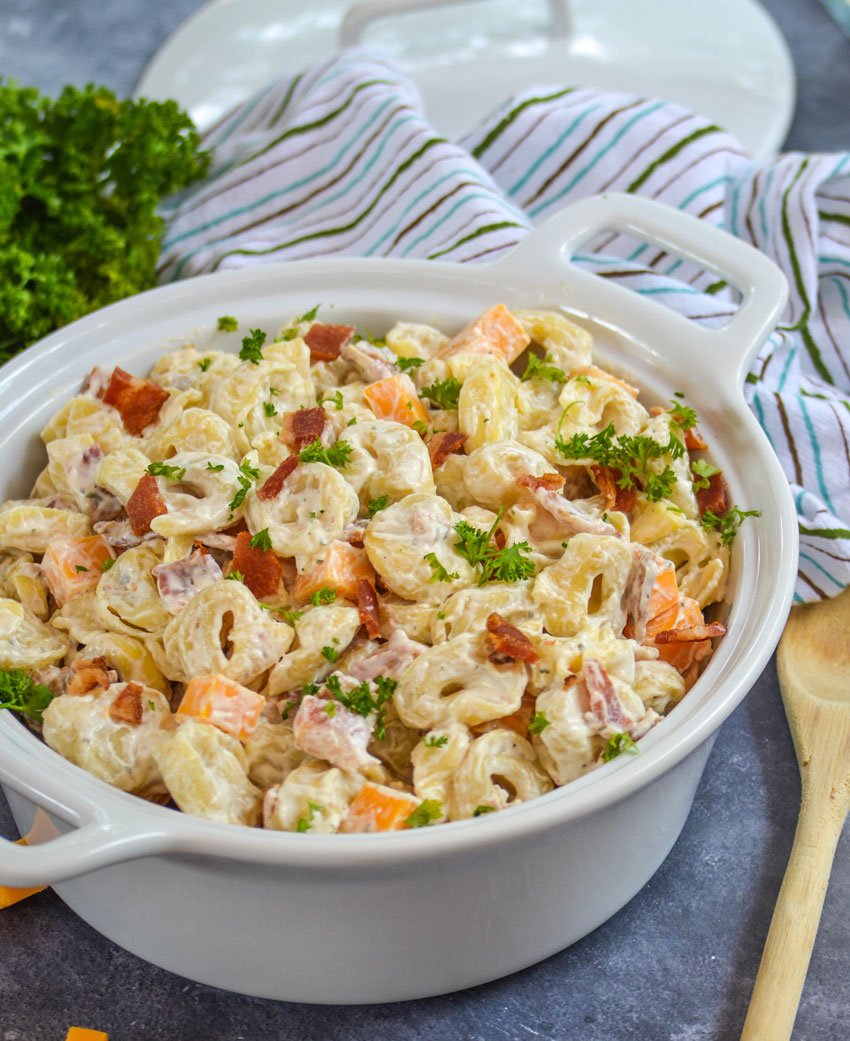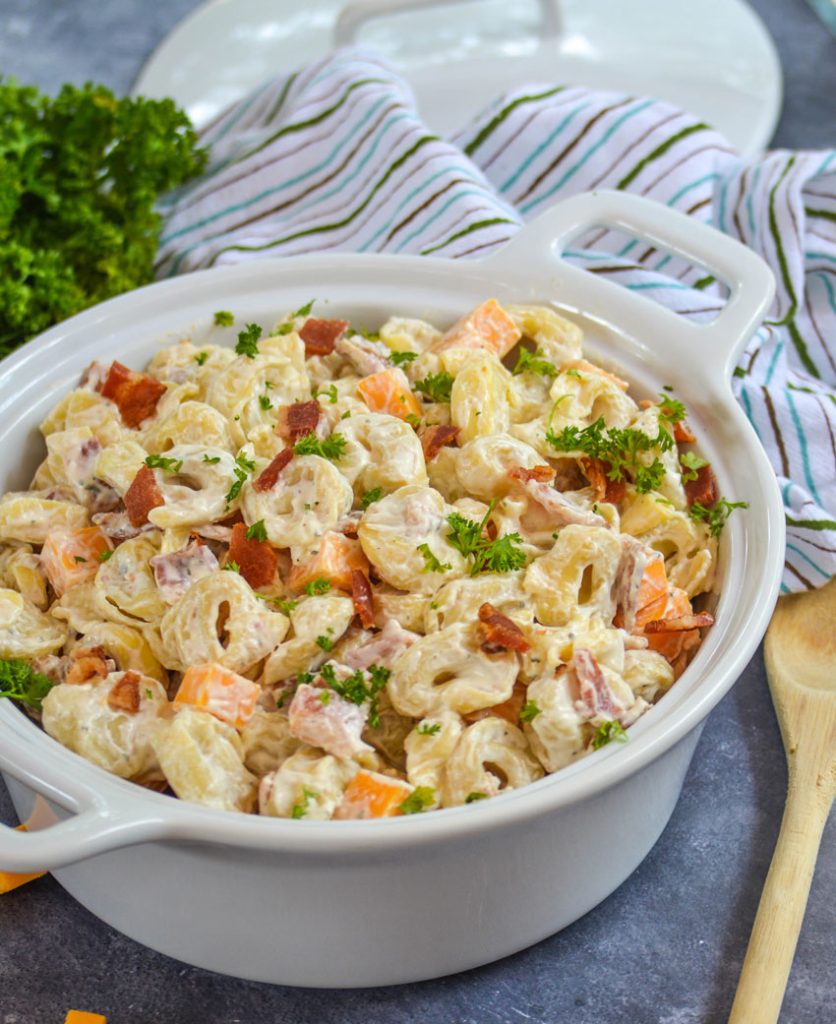 Making Cold Tortellini Salad
I love serving this cold tortellini salad on a hot day not only because it is fully of refreshing ranch goodness but also because it's so easy to make.
To make this salad, you just need to cook some of the refrigerated tortellini. You can buy this in the cheese or deli case in the grocery store. Normally this kind of tortellini only needs a couple minutes of cook time.
While you're boiling the water and cooking the tortellini, crisp up some thick cut bacon that you've cut into bite sized pieces. When the bacon is cooked, set it aside.
Meanwhile, you can mix together the sour cream, mayo, buttermilk, and ranch seasoning in a bowl. Once you've cooked the tortellini, you can add it to the bowl of dressing along with the cooked bacon and cheddar cheese cubes.
To finish it off, you can just toss it all together until the dressing coats everything. Then you can serve it immediately or refrigerate for a few hours prior to serving it.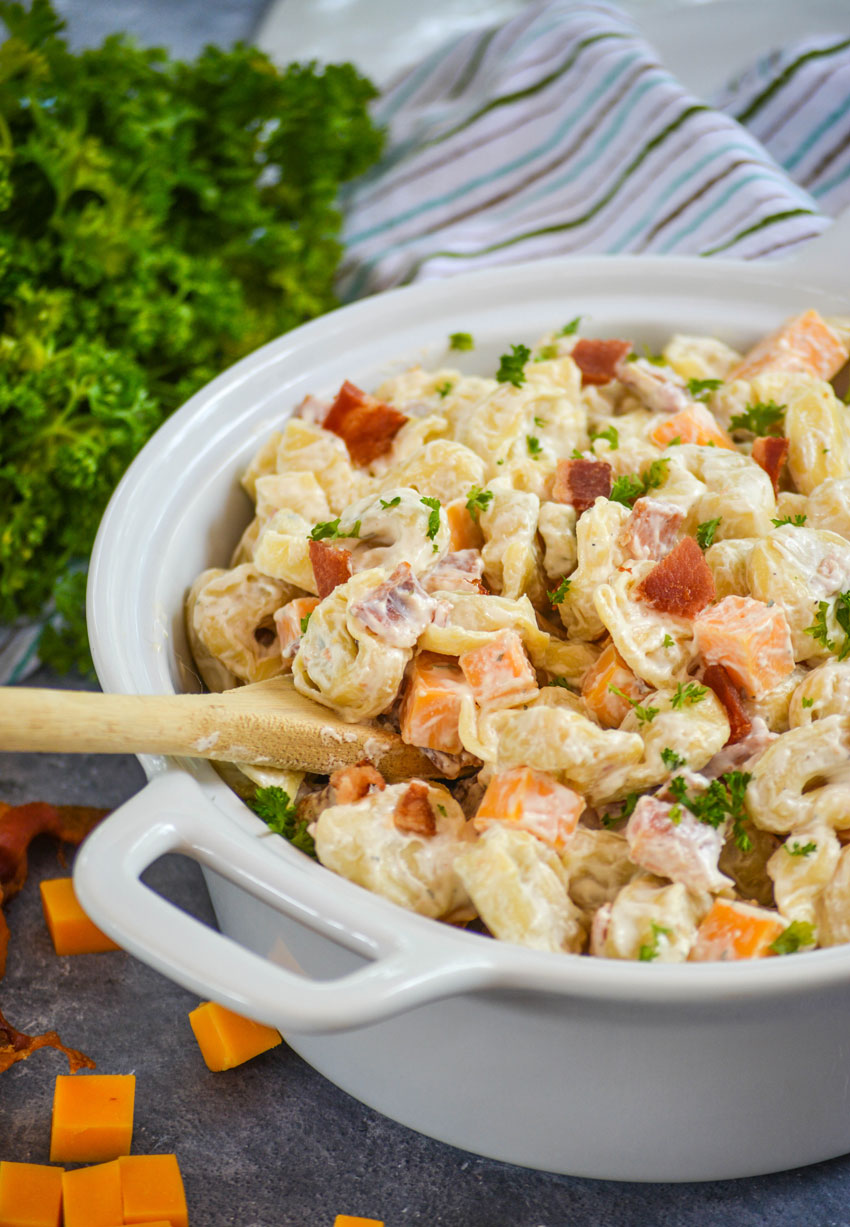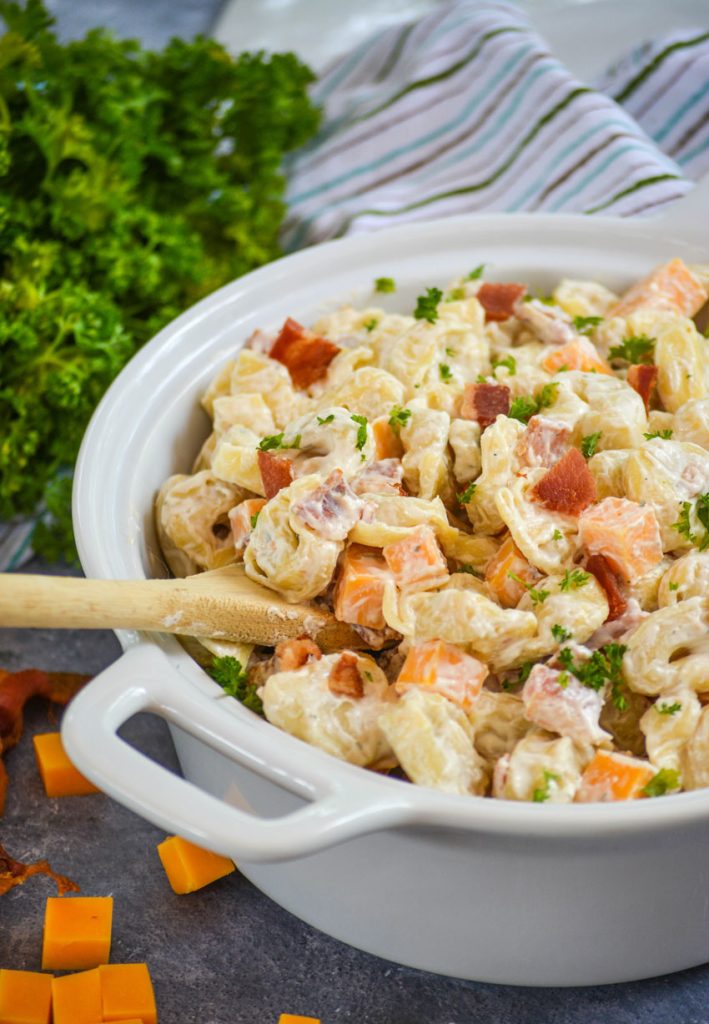 THE PERFECT SIDE DISH OR EASY MEAL
You can serve this cold tortellini salad on its own as a meal. I like to do this for lunch during the summer.
This salad also makes a fantastic side dish at any barbecue or picnic. It pairs particularly well with meats like brisket and other side dish salads like this apple broccoli bacon salad.
TIPS & TRICKS FOR MAKING THIS CREAMY TORTELLINI PASTA SALAD WITH RANCH DRESSING:
While this recipe calls for tortellini, we have made it with small cheese-filled ravioli and my kids love it. So in a pinch, you've got options
The same can be said for if you don't have tortellini in the fridge, you can sub plain pasta. The sauce will obviously be a bit thinner. It will look thin initially regardless, but it thickens considerably when chilled.
If you don't want to take the time to whip up your own homemade ranch dressing, you can sub store bought. However, don't go for the cheap stuff on the shelves in the condiment aisle. Go for a quality dressing, preferably one of the ones in the refrigerator of the produce aisle.
This pasta salad is written to be served immediately, so not super cold but also not warm. However, if chilled pasta salads are more your thing, then cover tightly and refrigerate for at least 2 hours before serving.
To make ahead of time, make the tortellini salad as written- with one exception. Don't add the bacon in until just before serving. You want it to be crisp when eaten, not soggy.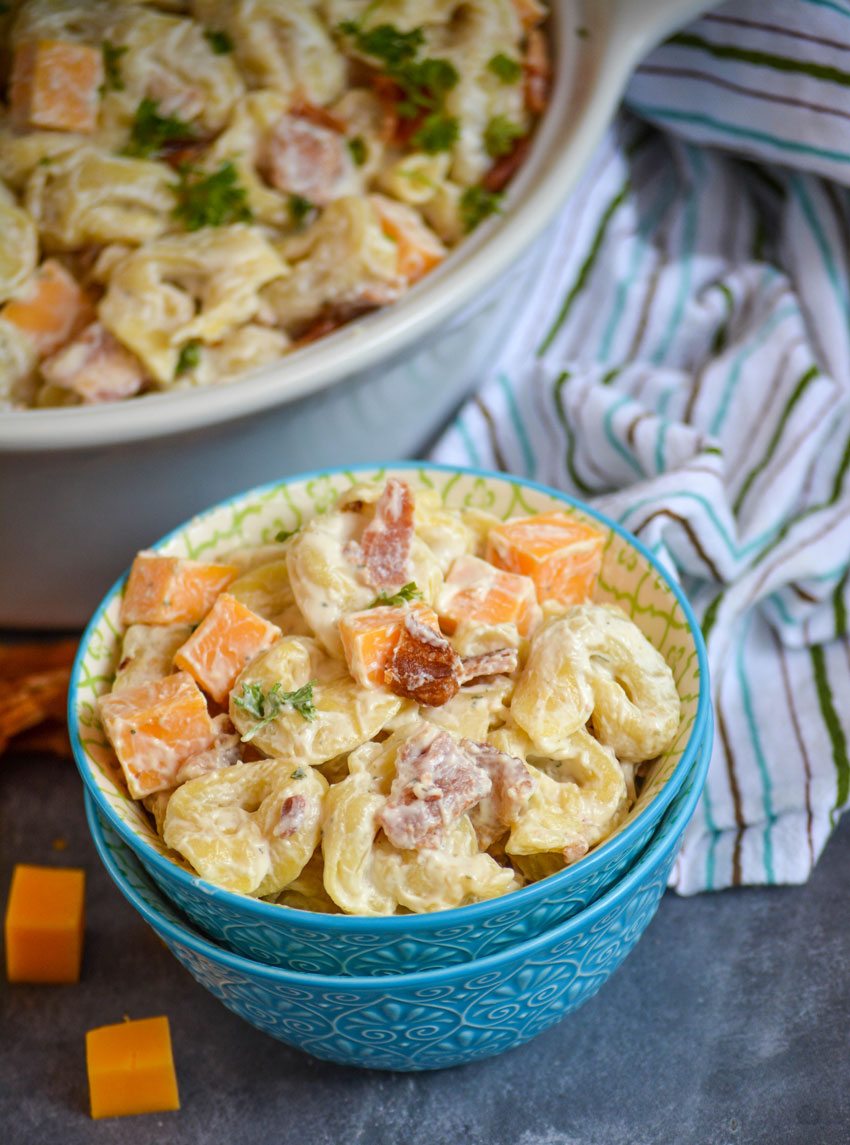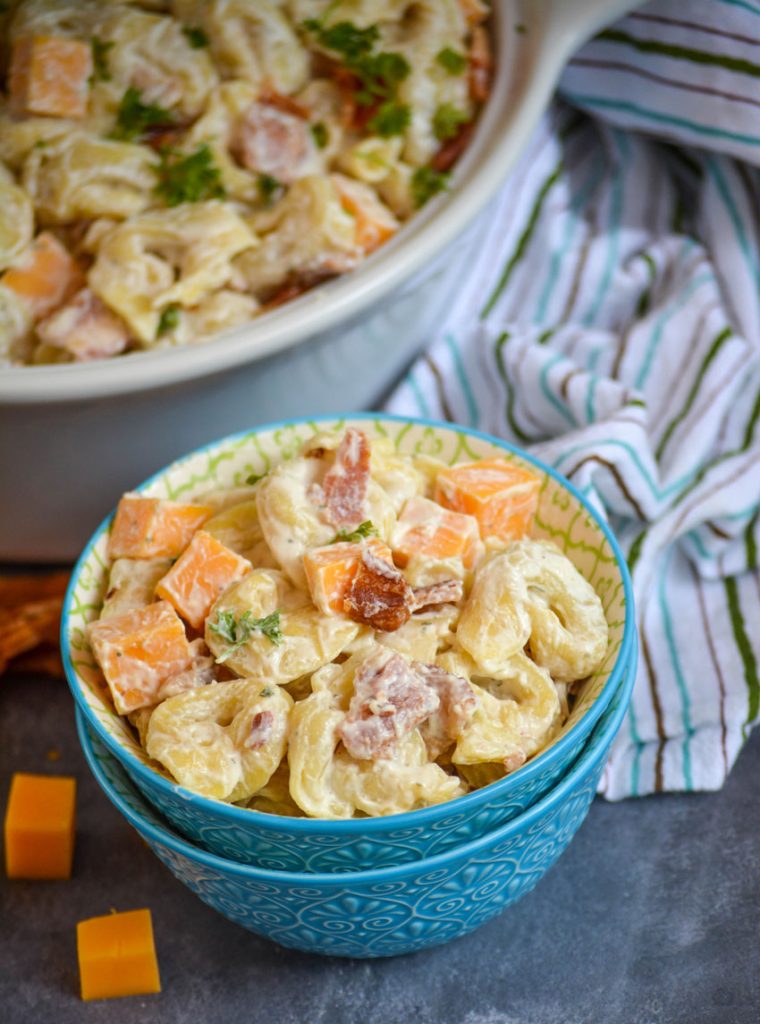 Whether you choose to serve it on its own as a meal or as a side dish at a barbecue or picnic, this cheddar bacon cold tortellini salad with ranch will be a crowd pleaser for sure!
OTHER CREAMY TORTELLINI PASTA SALAD RECIPES TO TRY:
If you've tried this COLD TORTELLINI SALAD WITH RANCH DRESSING, or any other recipe on my site, let me know in the comment section how it turned out, we love hearing from our readers! You can also follow along with me on PINTEREST, FACEBOOK, and INSTAGRAM to see more amazing recipes and whatever else we've got going on!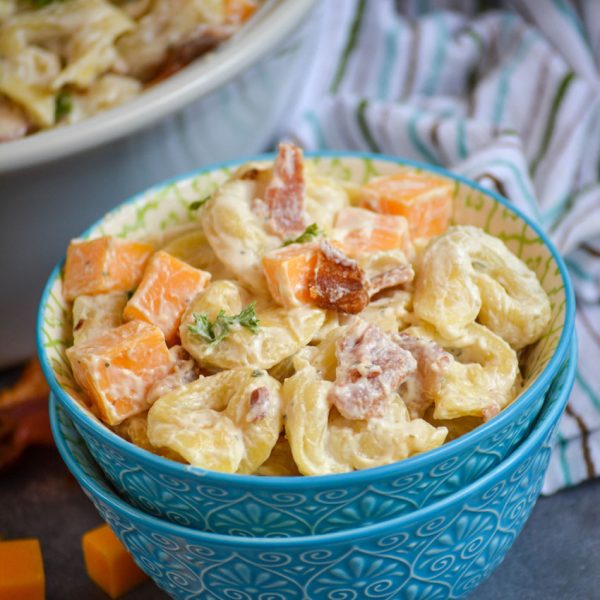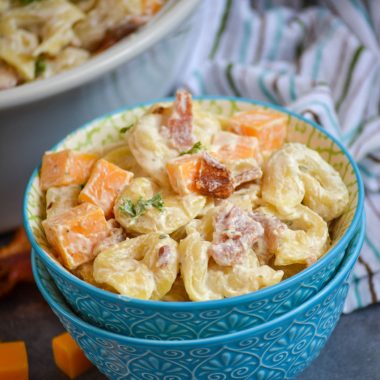 Cold Tortellini Salad with Ranch
cheese tortellini tossed with a tangy homemade ranch dressing, smokey bacon and sharp cheddar makes the perfect summer lunch or barbecue side dish
Print
Pin
Rate
Ingredients
1

20 oz package

refrigerated cheese tortellini

1

8 oz

block of sharp cheddar cheese

cubed

1

lb

thick cut bacon

cooked crisp & roughly chopped

1/2

cup

sour cream

1/4

cup

mayonnaise

1 1/2

tbsp

Ranch dressing mix

3

tbsp

buttermilk
Instructions
Cook the tortellini according to the package instructions. Strain, and run under cold water gently tossing until cool to the touch. Set aside.

In a small mixing bowl, add the sour cream, mayo, Ranch mix, and buttermilk. Whisk together until the sauce is smooth.

Transfer the tortellini to a serving bowl. Add the sauce, stirring until the pasta's evenly coated.

Add in the bacon & cheese, tossing until evenly combined.

Serve immediately, or cover & refrigerate a couple hours until the pasta salad's chilled through.
Nutrition
Calories:
324
kcal
|
Carbohydrates:
3
g
|
Protein:
8
g
|
Fat:
31
g
|
Saturated Fat:
10
g
|
Cholesterol:
49
mg
|
Sodium:
649
mg
|
Potassium:
140
mg
|
Sugar:
1
g
|
Vitamin A:
120
IU
|
Vitamin C:
0.2
mg
|
Calcium:
25
mg
|
Iron:
0.3
mg
I love hearing from all of you so please leave a comment! I do my absolute best to answer all the comments. For immediate help, please message me on 4 SONS R US Facebook Page.