When pasta & potato salads begin to sound a bit played out, you can turn to this simple Sweet Apple Broccoli & Bacon Salad. It's quick and easy to throw together, and a great way to get more greens on the picnic table!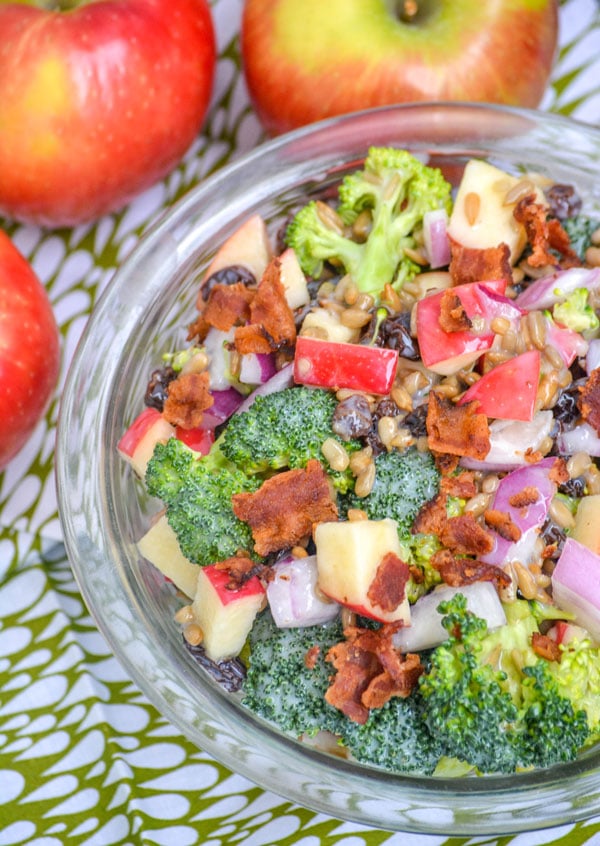 Summer salad season is here. The time of year where potatoes & pasta reign supreme. The powers behind the side dish throne in the realm of picnics, potlucks, & backyard barbecues.
They're great. There's a reason they've maintained their position & popularity over the years. But, y'all know me and I how I don't always want the same old, same old.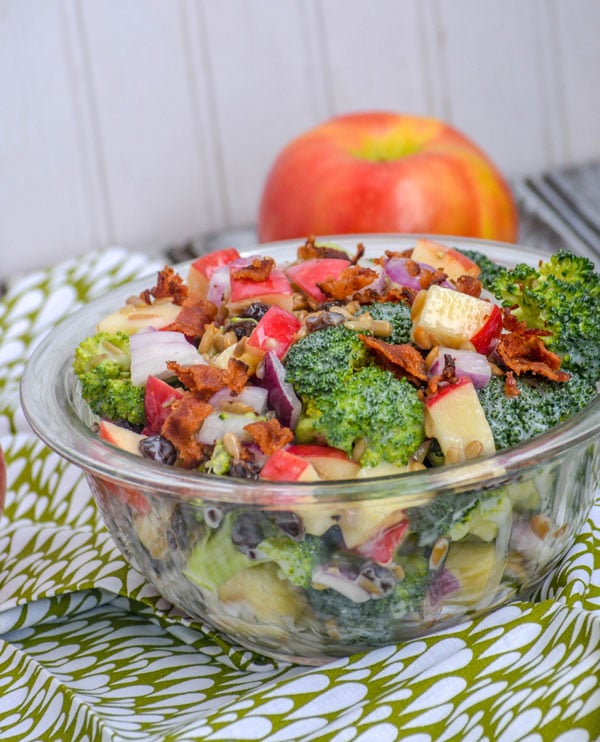 I like different flavors, different textures. Surprise me.
Plus there's also the fact that everyone I know is always volunteering to bring their Grandma's Aunt's best friend's family recipe for one or the other. Unless carefully planned, you're guaranteed to end up with at least four different varieties of each. That just doesn't work for me.
Luckily, I have yummy ideas like this Sweet Apple Broccoli & Bacon Salad to keep things interesting. It's a real crowd pleaser, and it's almost always a 'surprise' hit. I don't mind any, I love helping people discover new things.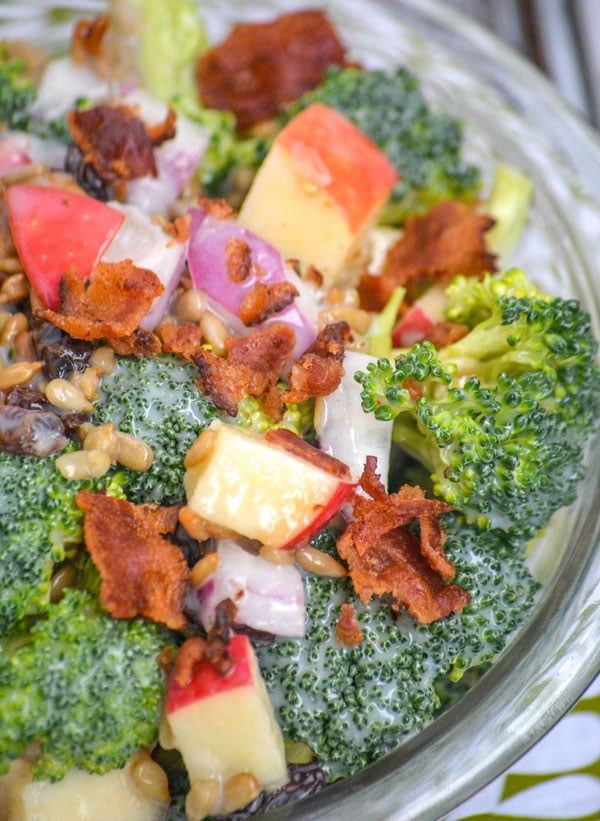 I've had a couple people react a bit surprised when this dish is uncovered, for a couple reasons. Almost all though have been pleasantly surprised to find they thoroughly enjoyed it once they gave it a try. The biggest reason is me explaining it's a cold side salad made with fresh broccoli florets as the main ingredient. Maybe they don't love broccoli as much as I do. I can easily sit down and devour a whole bowl of the raw veggie with nothing more than a couple tablespoons of cool ranch dressing for flavoring.
The other thing that has surprised guests is the addition of fruit. Depending on the kind of fruit and the dish it's going in, this is actually a perfect Spring & Summer pairing. Sweet fruit adds a bit of texture and undertone that enhances the savory notes in this dish. It really helps them pop. Combined with the other ingredients, it takes an otherwise drab broccoli bowl and transforms it into this fab sweet apple broccoli & bacon salad.
Ingredients Needed For This Sweet Apple Broccoli Salad:
broccoli florets
red onion
bacon
apples
craisins
sunflower seeds
mayonnaise
sugar
apple cider vinegar
Tell me that isn't a super simple ingredients list! All great things I love on their own, but when combined it's a heavenly side salad. Plus, there's guaranteed to be a ton of carb loaded dishes already. This gets me excited to get a little more green on everybody's plates.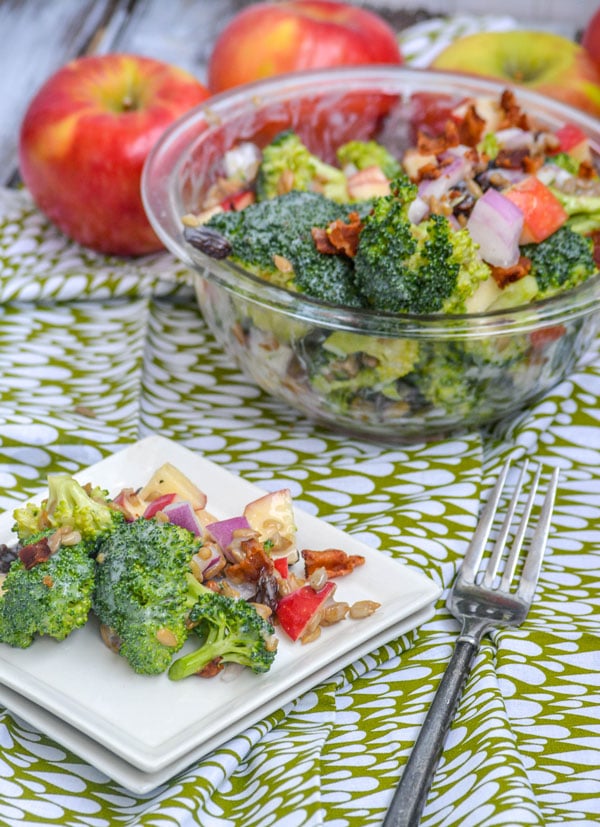 This dish breaks down into two parts, the salad ingredients & the sweet creamy dressing. First, start by assembling the salad ingredients in a large mixing bowl. That includes the broccoli, bacon, red onion, apples, craisins, & sunflower kernels. Lightly toss everything to evenly mix.
In a separate mixing bowl, add the dressing ingredients. Using a whisk whip the mayo, sugar, and vinegar together until smooth and creamy. Pour the dressing evenly out over the salad. Using a spoon, or spatula, toss everything well to combine and ensure everything's well coated with the dressing.
At this point, you can transfer the sweet apple broccoli & bacon salad to a pretty serving dish of your choice. It's ready to go. Otherwise, you could cover the bowl with cling wrap & chill the salad for two hours before serving. It's totally personal preference at this point. Taste it warm, get a feel for it, and then go from there. I prefer it chilled, but that's just me. My guys could care less. They're just scrambling for the salad. Regardless of hot or cold, they just want it in a bowl asap.
My Tips & Tricks For This Recipe:
While I love the tart bit of sweet the craisins add, they aren't necessary to the recipe. You can leave them out, or love them and leave them in.
As written the recipe uses broccoli florets. I can't stress 'florets' enough. You don't want thick, chunky excess stalks in this recipe. Cut them off, if need be.
This salad features raw broccoli, which as I've said isn't a problem for us. I do realize though that others still enjoy a good crunch texture, but with a softer side. If that's the case, this salad is also yummy with branched broccoli. Drop the called for amount of broccoli into a pot of rapidly boiling salted water. Let it cook for two minutes. Strain it, and immediately transfer it to an ice bath. Let the broccoli soak for 3 minutes, then drain well. Let it sit in the colander to rid itself of excess water before proceeding with the recipe as written.
I hate dirtying extra dishes, that includes when making this dressing. When making the dressing I measure the mayo out into a 2 cup glass measuring jar. Add the other two ingredients to the same jar, and whisk briskly to create the dressing. Then pour it straight into the salad. Alternatively, if you want a super creamy dressing- mix the dressing in a blender.
I prefer sweet apples in this recipe, honeycrisp & fuji being my top picks. My guys however prefer that tart tang of Granny Smith when tossed with the sweet creamy dressing. I encourage you to experiment & find what works best for you and your family.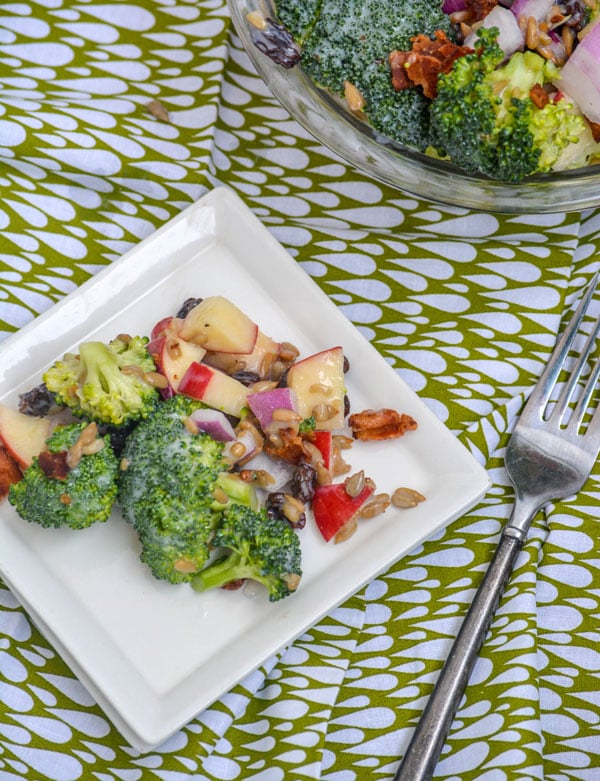 Shake off the traditional pasta or potato salad yolk, and take on a new mantle. Summer side salads can be so much more, and they can include so much more green. That doesn't mean any sacrifices in the creamy, flavorful depts though- not with this sweet apple broccoli & bacon salad.
Other Fun New Takes On Side Salads: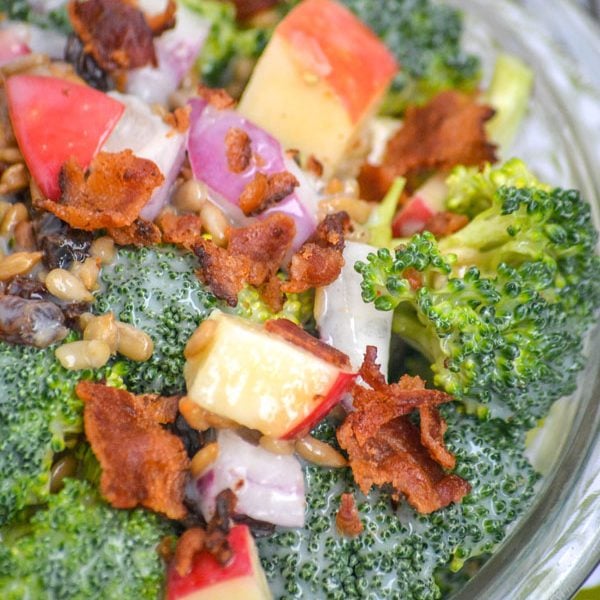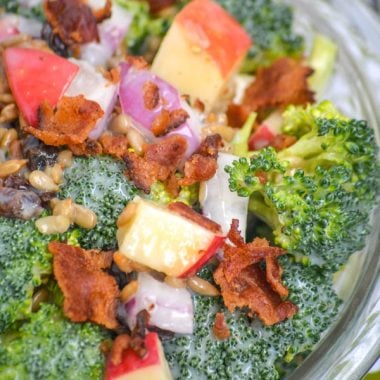 Sweet Apple Broccoli & Bacon Salad
A crunchy side salad, this one's chock full of fresh produce like broccoli florets, sweet apples, and tangy red onion. It's studded with crisp bits of bacon and tossed in a simple sweet dressing
Print
Pin
Rate
Ingredients
For The Salad
5

cups

fresh broccoli florets

1/2

cup

red onion

diced

8

slices

bacon

cooked crisp & roughly crumbled

1-2

fresh

apples

cored & diced

2/3

cups

craisins

or other brand dried cranberries

1/2

cup

sunflower seeds
For The Dressing
1

cup

mayonnaise

3

tbsp

sugar

2

tbsp

apple cider vinegar
Instructions
Add all of the salad ingredients to a large mixing bowl. Gently toss them to evenly combine.

In a separate bowl, whisk the dressing ingredients together until the mixture's smooth and completely incorporated.

Pour the dressing out over the salad, again gently tossing until everything's evenly coated.

Serve the salad immediately, or refrigerate and serve chilled.
Nutrition
Calories:
323
kcal
|
Carbohydrates:
16
g
|
Protein:
5
g
|
Fat:
27
g
|
Saturated Fat:
5
g
|
Cholesterol:
21
mg
|
Sodium:
275
mg
|
Potassium:
238
mg
|
Fiber:
2
g
|
Sugar:
11
g
|
Vitamin A:
305
IU
|
Vitamin C:
41.3
mg
|
Calcium:
30
mg
|
Iron:
0.8
mg