We gave the age old classic soup a makeover, and turned it into a creamy chicken casserole. This cheesy Chicken Noodle Soup Casserole is the magical, home made (with love) cure for whatever ails you that even Grandma would be proud of. Serve up a warm bowlful for lunch or dinner, and send your worries packin'!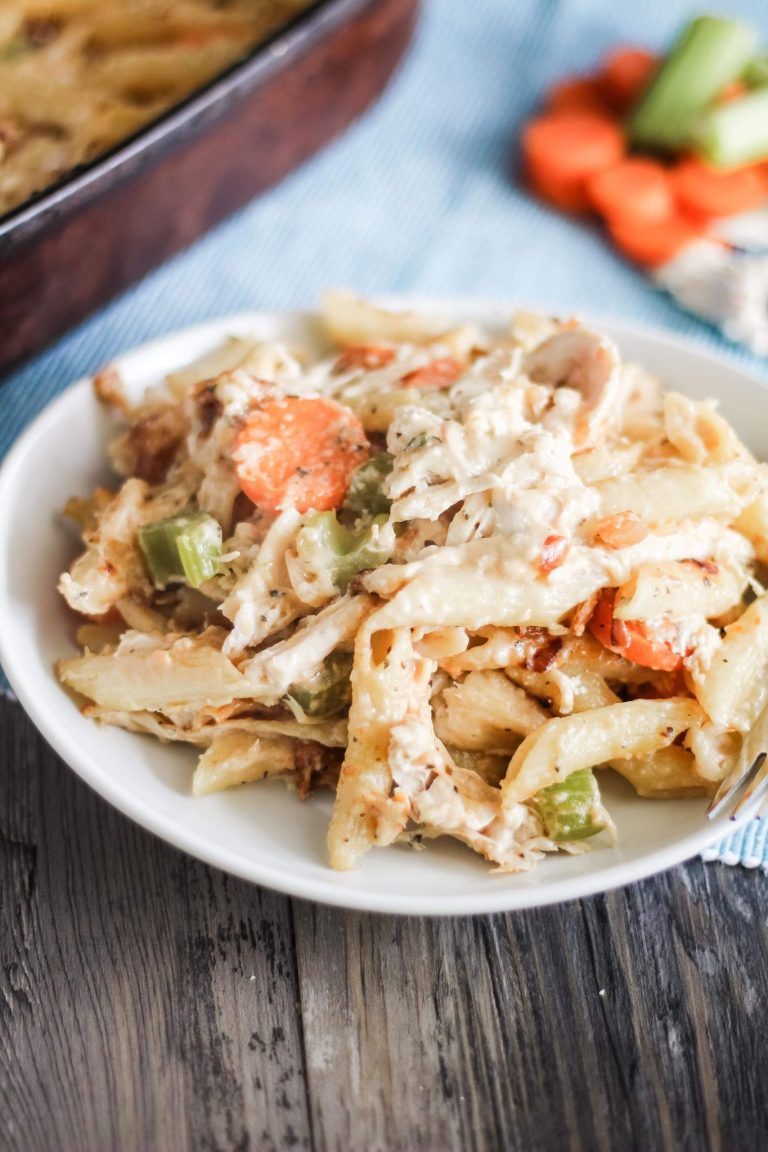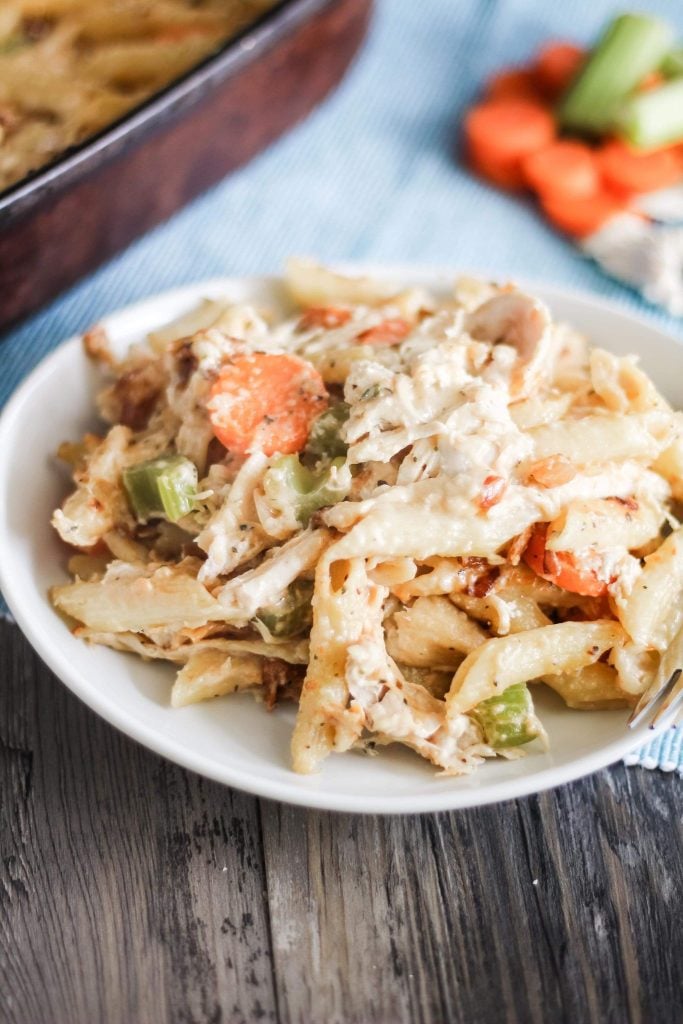 Cold & flu season is no joke, especially not when you have a bunch of kids.
Kids who seem like magnets prone to catching everything.
Normally, I try to stay prepared. Like a head of the game with preventative measures.
We buy local raw honey and everyone gets a tablespoon/day.
Same with the Elderberry syrup we make.
We each take a daily vitamin, and of course drink OJ for plenty of Vitamin C.
We also have our trusty, old reliable recipes on hand to ward off anything that might be lurking. A lot of them are soups.
Like Warm Sausage & Kale Soup, or even this Asian Chicken Noodle Soup.
Of course, as always, there's my Italian husband's tried & true, beloved Italian style chicken noodle soup, too.
That's like old faithful for us, making a regular appearance.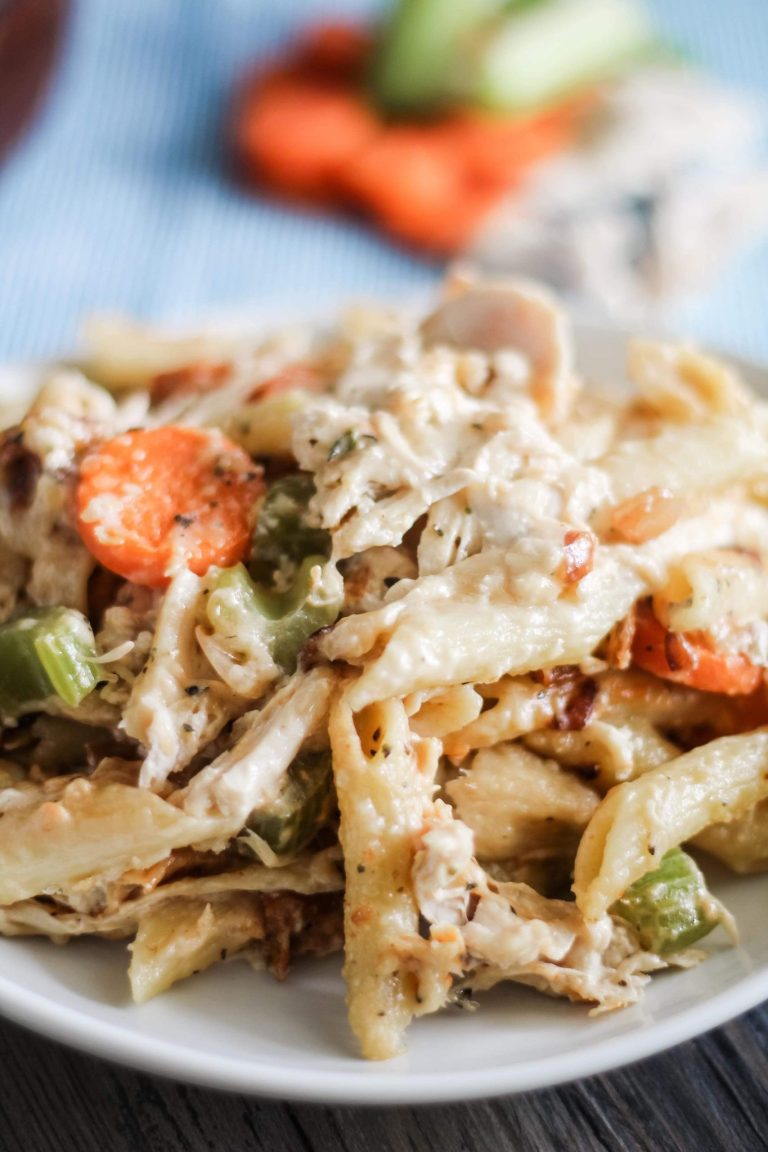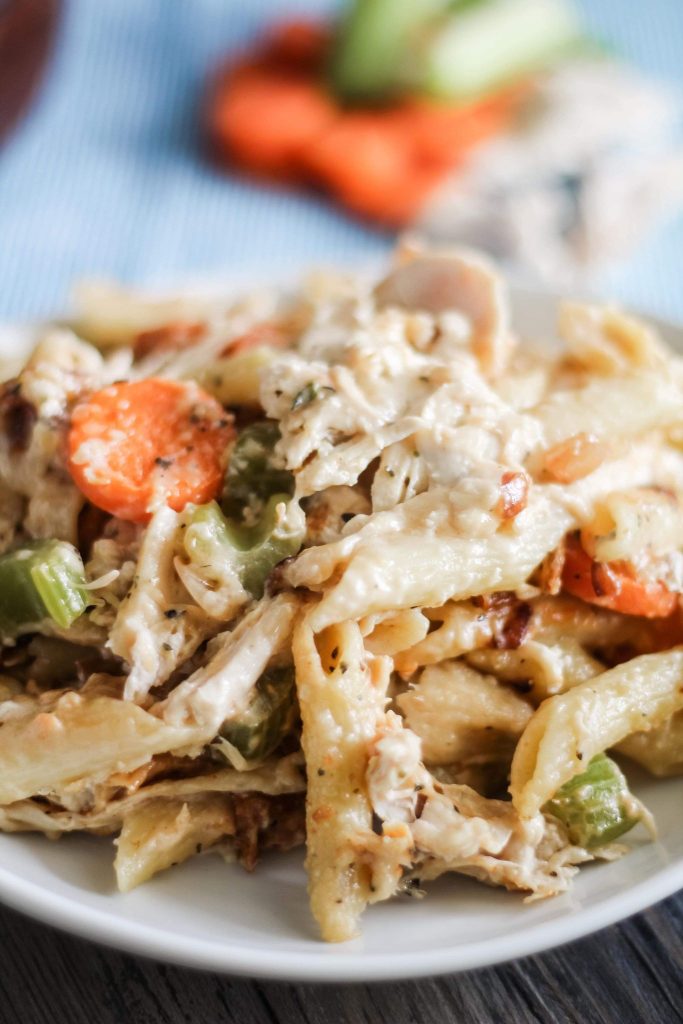 And while they all may help boost our immune systems some, dinner still has to be something we get excited for.
Too much of anything, isn't always a great thing at the supper time.
The burn out can be real around here.
So when I came across an idea for getting those same great flavors we love about classic chicken noodle soup, but in a creamy casserole instead- I was on a mission to make it AND love it.
Ingredients Needed
The list may seem a tad long, but it's pretty straight forward- most everything you'd find in any Grandmother's chicken noodle soup recipe.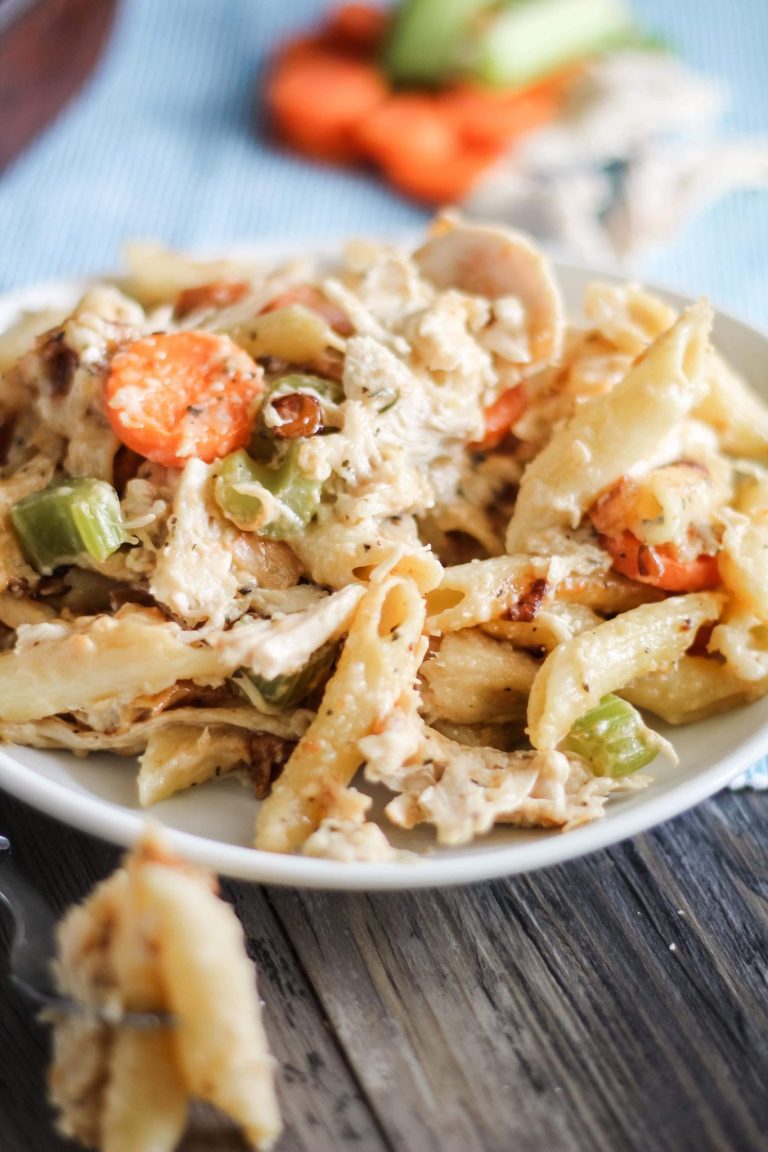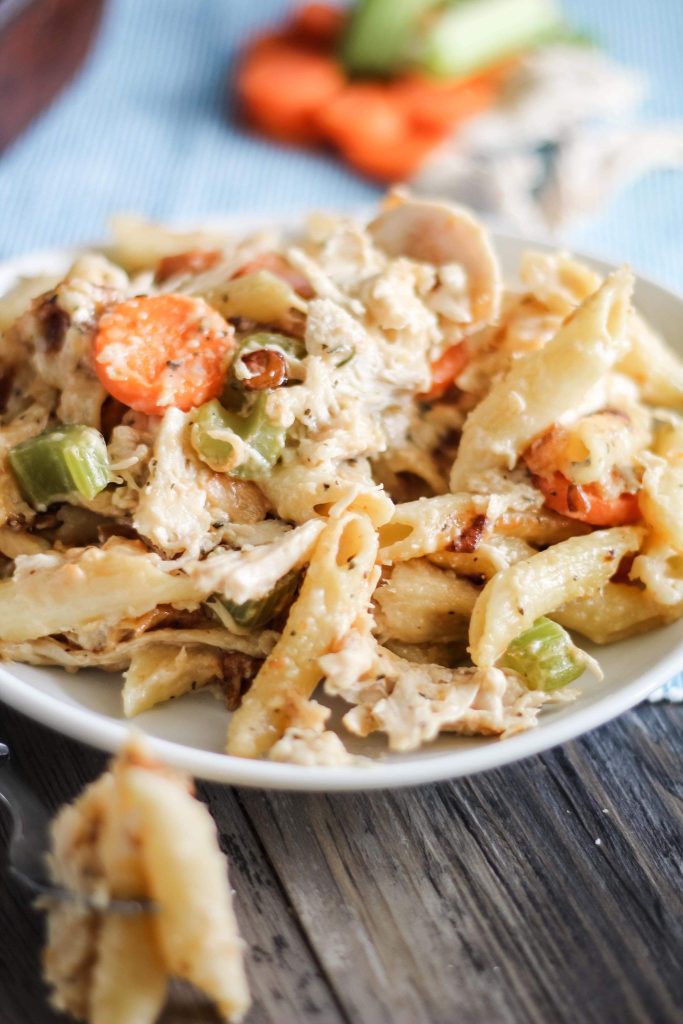 pasta – 8 ounces worth, using your favorite small shaped pasta- such as penne, rotini, medium shells, or even egg noodles
butter
vegetable blend – an even mix of diced celery, carrots, and white (or yellow) onion
garlic
flour – while not usually in the soup pot, this helps thicken up the sauce that brings this creamy casserole together
half & half – don't have half and half? You can substitute whole or 2% milk in its place
spices – a blend of dried thyme, basil, and oregano leaves + salt & pepper, to taste
rotisserie chicken – this is a great way to use up leftover rotisserie chicken!
cheeses – you'll need both shredded mozzarella and shredded Parmesan for this dish
How Does Chicken Noodle Soup Make You Feel Better?
It's a question I've asked myself so many times.
I mean, just looking at the ingredients by themselves- these are things we eat all the time.
What's so special about bringing them together in one pot that makes the magic happen?
For the longest time I just assumed it was a placebo effect from my mother & grandmother serving us our own bowls of the golden broth-ed good stuff when we were little and sick.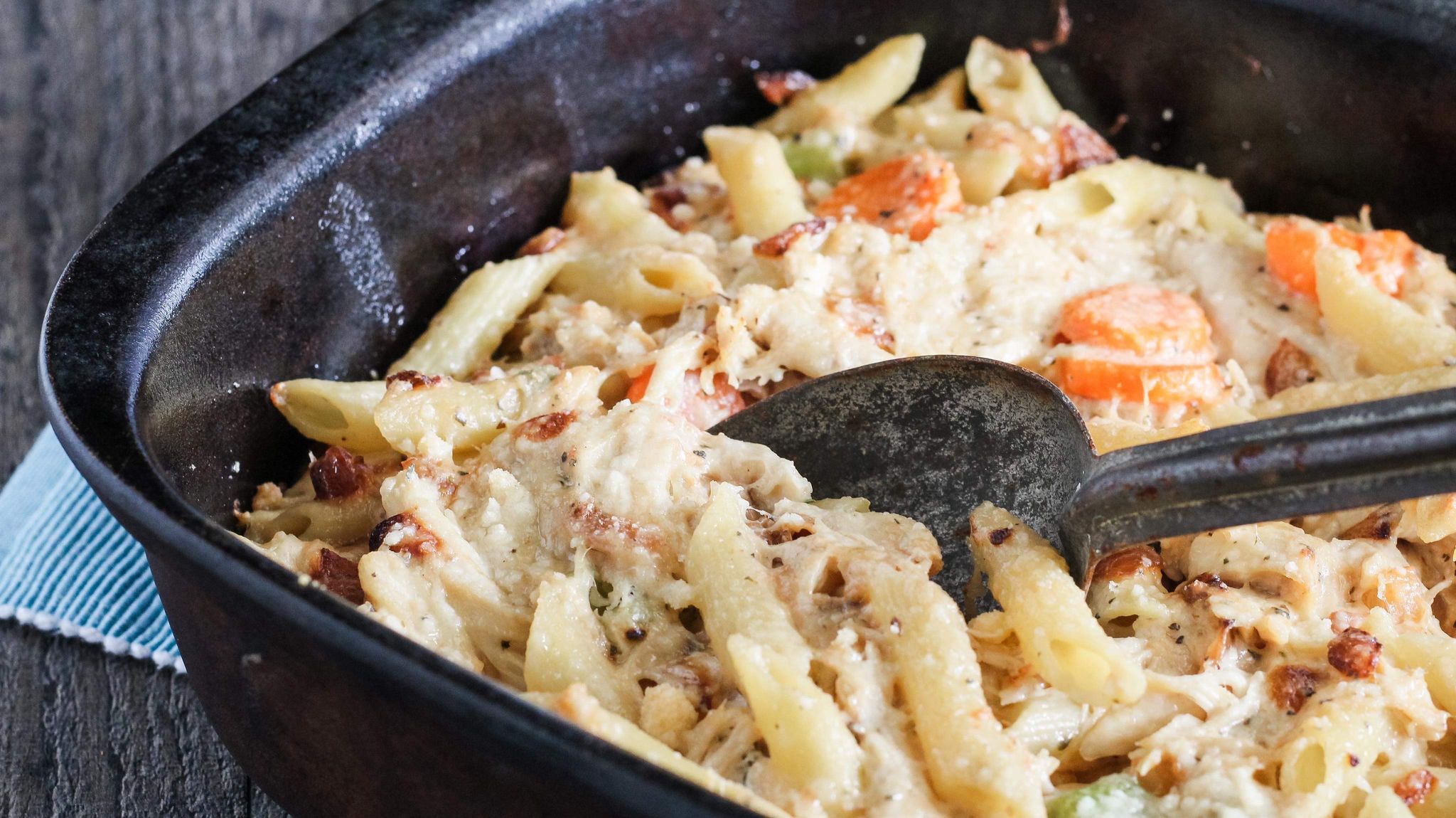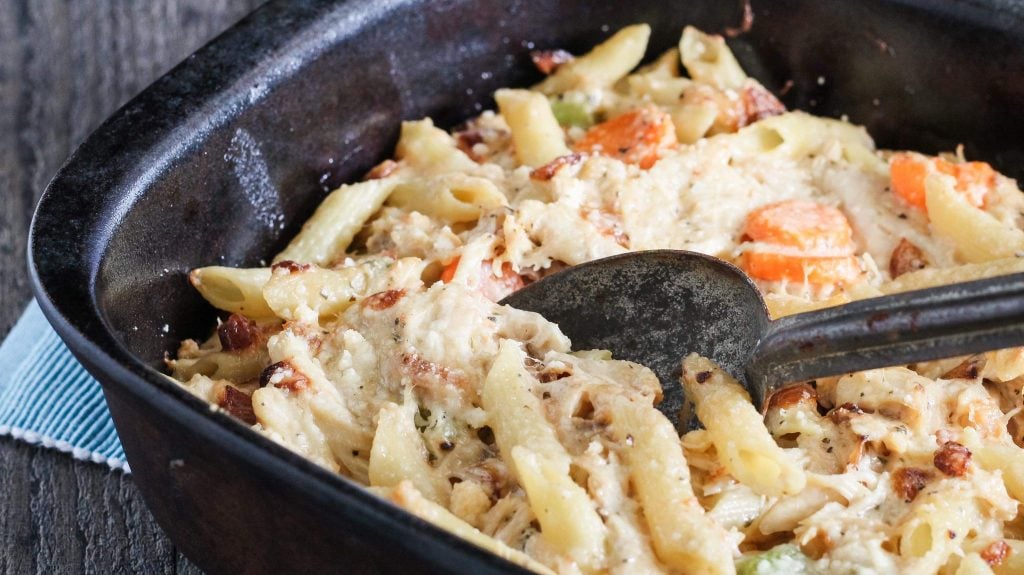 Now I know, while that certainly adds to it's comforting effect, there's a bit more to it.
Believe it or not, studies have shown that chicken noodle soup actually helps clear nasal congestion.
And not just because the soup's hot as I first assumed.
Also, it's been shown to have a mild anti-inflammatory effect which helps to ease cold symptoms and discomfort.
Finally, due to it's ingredients- basic chicken noodle soup tends to be chock full of nutrients which in turn can help give an immune system a little boost.
While we may continue the trend in this house, it turns out our Grandmother's really did know what wonders a bowl of this soup could do for someone feeling under the weather.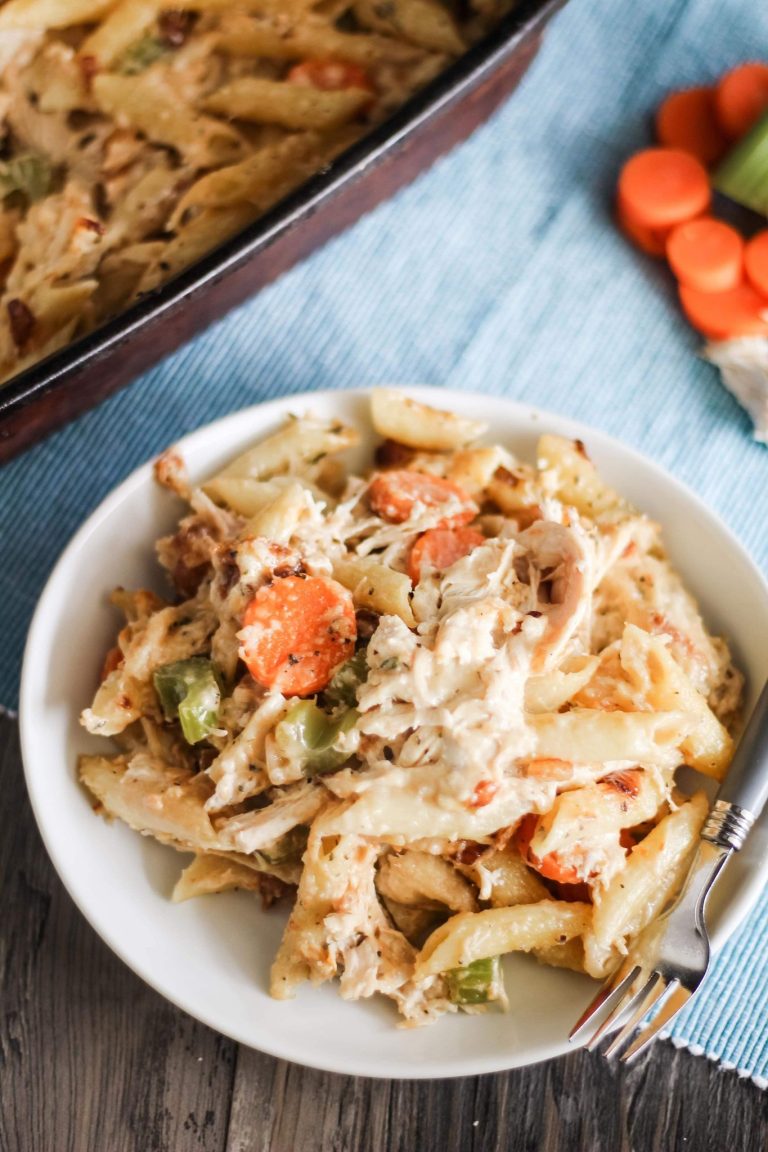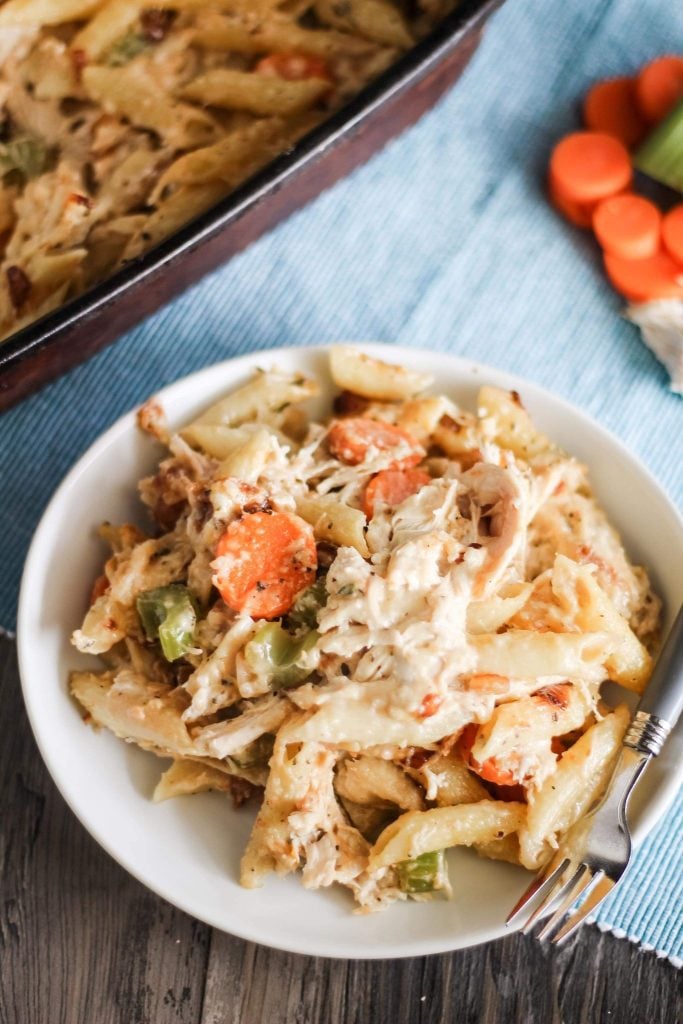 How To Make
Switching gears from soup to a casserole wasn't hard- the classic was practically begging for an update.
To start, you'll need to prepare the pasta.
Instead of cooking in water, the pasta should be cooked in chicken broth with a bay leaf added to the pot.
Time-wise, cook it according to the package instructions.
When done, run it under cold water to stop the cooking process & prevent the noodles from sticking together. Set aside.
Heat a large skillet over medium heat, and add the butter.
Once the butter's melted, it's time to add in the veggies- carrots, celery, and onion.
Let the vegetable blend cook, stirring occasionally, just until tender.
Stir in the minced garlic, and let it cook just until fragrant- roughly 30 seconds.
Sprinkle the flour evenly out over all the veggies, and stir to coat.
It will form a paste-like mixture, and that's exactly what you're looking for.
Whisk in the half and half, or milk, a little bit at a time. I whisk it in 1/4 cup at a time.
Whisk until everything's come together, then add a little more, and repeat until it's all been added and the thickened mixture's smooth.
Let this mixture simmer for 2-3 minutes, stirring once or twice to prevent anything from sticking.
Add the remaining ingredients (EXCEPT for the Parmesan cheese) to the skillet, including the cooked pasta, and stir everything together until evenly combined.
Lightly spray a 9×13″ baking dish with non stick cooking spray, and then transfer the chicken noodle soup casserole mixture into it.
Gently spread the mixture out evenly to fill the dish.
Spread the Parmesan cheese evenly out overtop of the casserole.
Bake at 375 degrees for 20 minutes.
Remove the casserole from the oven, and let it sit & rest for a couple minutes before scooping and serving on plates.
My kids don't always appreciate a bowl of soup for supper, especially when they aren't sick.
All that flavor, all the coziness, and the benefits are still there- just without all the extra broth.
This Chicken Noodle Soup Casserole was a hit from the first time it graced our family table, and our love for it has only grown as time's gone on.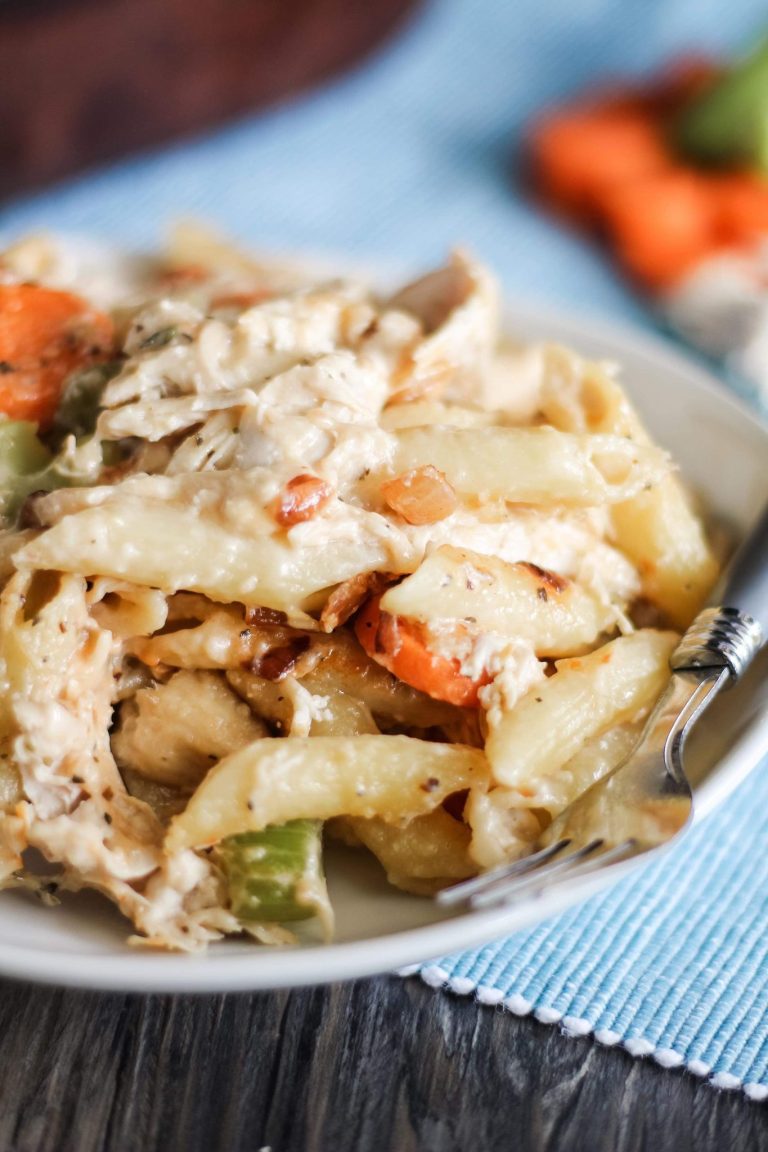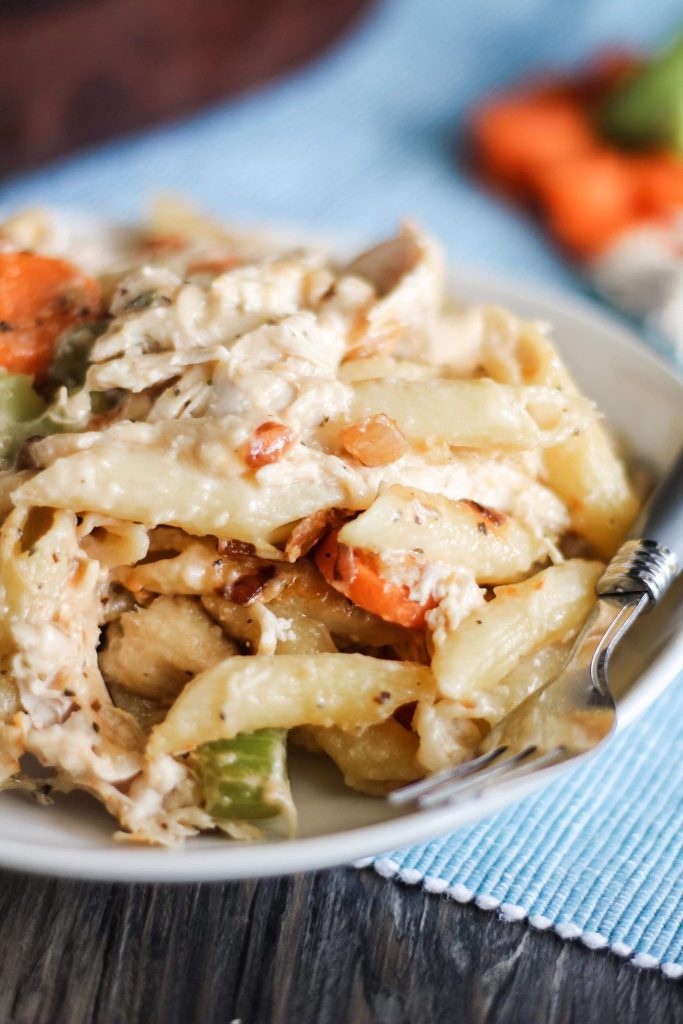 TIPS & TRICKS
Use your favorite small shaped pasta: rotini, cavatappi, farfalle, medium shells, rigatoni- anything similar will work
Don't have half & half? As earlier stated- milk can be substituted as long as it's a fattier version- like whole or 2%
Give this a touch of gourmet flavor by adding a splash of white wine to the veggies while they sauté
Got other veggies on hand you need to use? Broccoli, asparagus, etc can all be added and sautéed with the other veggies
Other Chicken & Noodle Recipes To Try:
This easy Chicken Noodle Soup Casserole is a full, hearty meal in one dish.
Loaded with fresh veggies, chunks of rotisserie chicken, seasonings and held together with creamy cheese- it's a perfect dinner when the cold weather hits, or when a little cold has you feeling down.
Looking for other cozy chicken & noodle style recipes?
Give these delicious recipes a try:
If you've tried this CHICKEN NOODLE SOUP CASSEROLE, or any other recipe on my site, let me know in the comment section how it turned out, we love hearing from our readers! You can also follow along with me on PINTEREST, FACEBOOK, and INSTAGRAM to see more amazing recipes and whatever else we've got going on!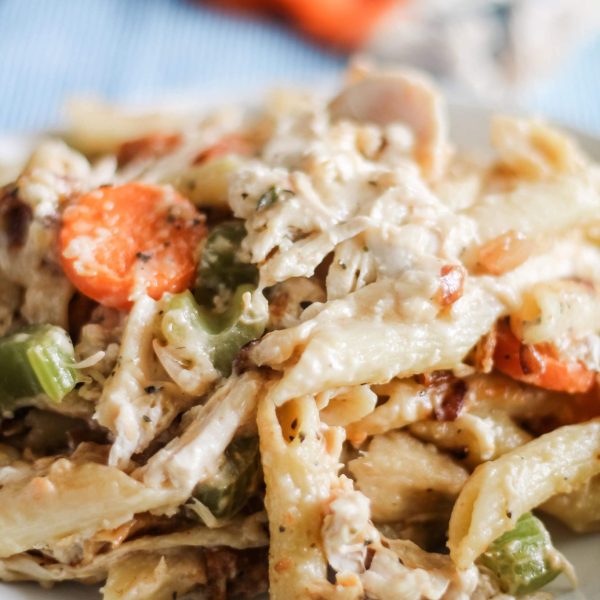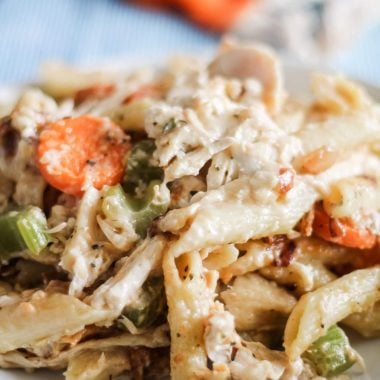 Chicken Noodle Soup Casserole
A creamy, cheesy chicken & pasta casserole that tastes just like a big old bowl full of Mama's comforting soup.
Print
Pin
Rate
Ingredients
8

oz

pasta, cooked in chicken broth with a bay leaf-according to the package directions

3

tbsp

butter

1/2

cup

peeled, chopped carrots

1/2

cup

chopped celery

1/2

white onion

diced

4

tsp

minced garlic

2

tbsp

flour

1

cup

half & half, or milk

1

tsp

dried thyme leaves

1

tsp

dried basil

pinch

of oregano

salt & pepper, to taste

2-3

cups

chopped rotisserie chicken

1 1/4

cups

shredded mozzarella cheese

1/3

cup

shredded Parmesan cheese
Instructions
In a large skillet over medium heat, melt the butter. Stir in the carrots, celery, and onion, and cook stirring occasionally until tender. Stir in the garlic and saute for 30 seconds, or just until fragrant.

Whisk in the flour until it's coated everything, and formed a paste-like mixture. A little bit at a time, whisk in some of the half and half until the mixture's come together and thickened. Add a bit more, repeating until it's all been evenly incorporated. Allow the mixture to simmer, 2-3 minutes, until nice and thick.

Stir in the seasonings, chicken, pasta, and mozzarella until all's evenly mixed/incorporated.

Transfer the mixture into a greased 9x13" casserole dish, and spread it out evenly. Sprinkle the Parmesan evenly out over top.

Bake the casserole at 375 for 20 minutes. Let rest 1-2 minutes before scooping and serving.
Nutrition
Calories:
401
kcal
|
Carbohydrates:
26
g
|
Protein:
31
g
|
Fat:
19
g
|
Saturated Fat:
10
g
|
Trans Fat:
1
g
|
Cholesterol:
110
mg
|
Sodium:
496
mg
|
Potassium:
175
mg
|
Fiber:
1
g
|
Sugar:
2
g
|
Vitamin A:
1760
IU
|
Vitamin C:
1
mg
|
Calcium:
190
mg
|
Iron:
1
mg
recipe originally published February 3, 2018