This One Pot Creamy Chicken & Vegetable Pasta is the meal every busy parent's week night dreams are made of. Chock full of healthy veggies, pasta the kids love, all tucked up in a savory cream sauce. It's comfort food made simple.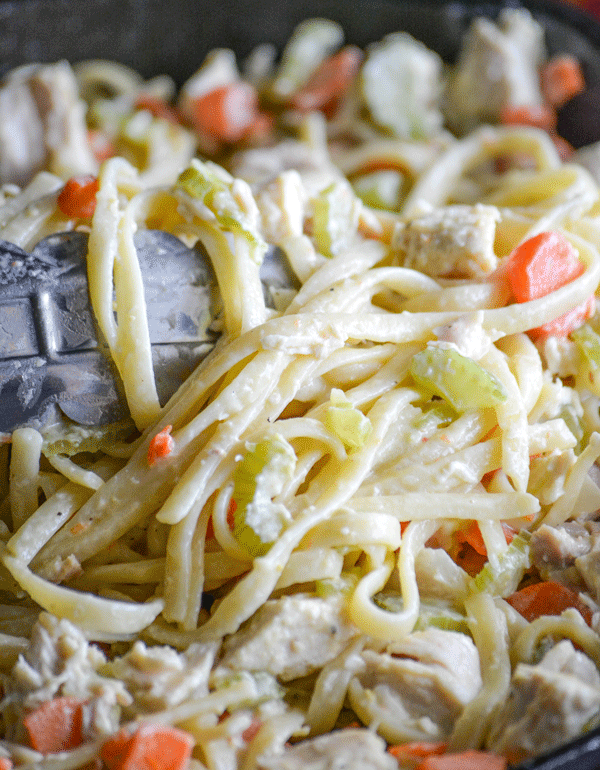 We moved recently, it was hard. I mean, all those guys moving big stuff.
I was a lot to take. Like how in the world did we manage to accumulate so much stuff in the past decade?
Seriously, I threw out a ton- and we still had so much crap.
I mean a lot of it is actually really nice things we need, use, and love. But when you've got to cart it all down 4 flights of stairs and then strap it down to take to a new house- it all looks like crap in that giant moment of extreme frustration.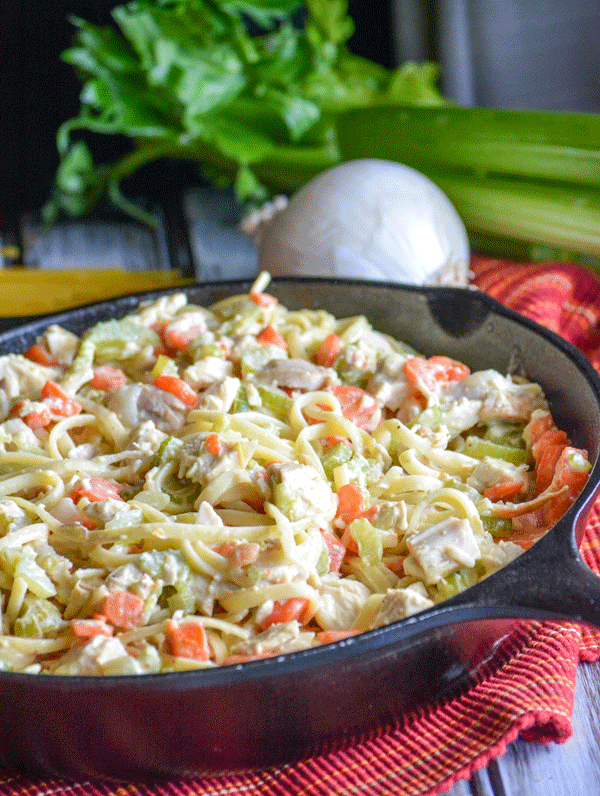 Luckily, I was given a few good tips along the way that actually did help make the whole process less stressful.
Pack room by room, beginning with the most unnecessary. We packed our living room and dining rooms first. All stuff we don't use on a regular basis.
Also, making sure to clearly label each box first by room it's meant to go in, and then a sub heading with contents.
We also removed all pictures/art work from walls and bubble wrapped and packed that, including in bed rooms and bathrooms. Spackling and sanding any holes as we went.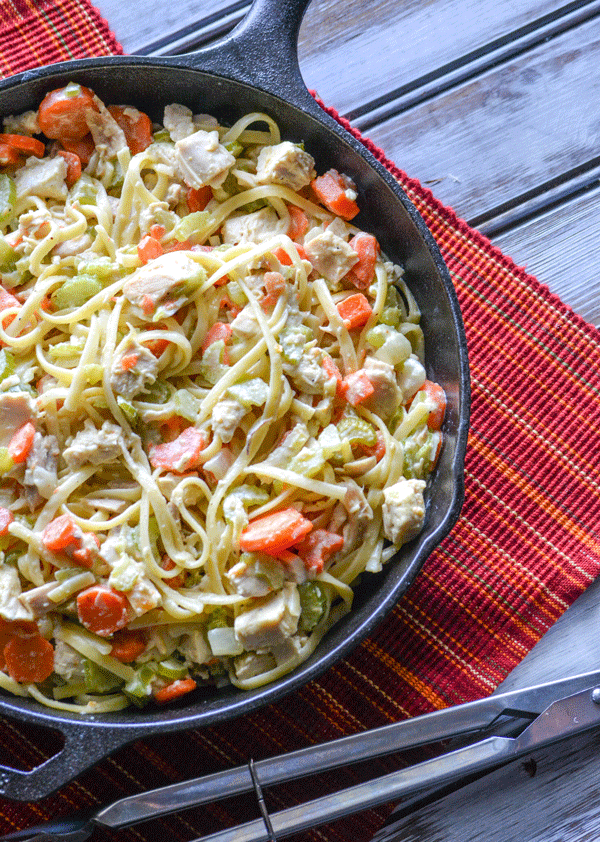 Invest in paper plates and throwaway utensils so you can pack your kitchen before the last week is up. I had to suck it up, and be OK with delivery pizzas and the fast food life that last week.
Oh and lots and lots of cold cuts and pb & j sandwiches- but it was so worth it.
Make life simple, put all boxes immediately into their new homes and unpack them as you bring them in.
So basically our last two days at the old place, all we had to move out was bare bones furniture and it was immediately ready to be put in it's places in our new home, which meant only a few things (like a box of books waiting on their book shelf) still needed to be put away upon settling in.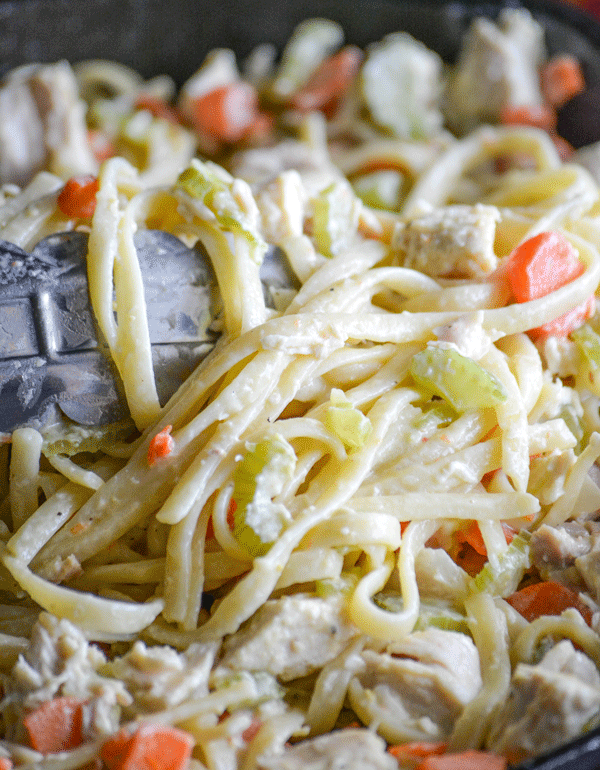 Packing with a bit of planning, meant that in only a couple of days my kitchen was completely transferred and up and running.
Which I was super worried about, being that it's so essential to my business and to feeding my kids wholesome meals as opposed to pepperoni pizza and McDonald's constantly.
After all that stress, I needed something cozy to settle into my new kitchen with. It doesn't get anymore comforting than with this easy recipe for our One Pot Creamy Chicken & Vegetable Pasta.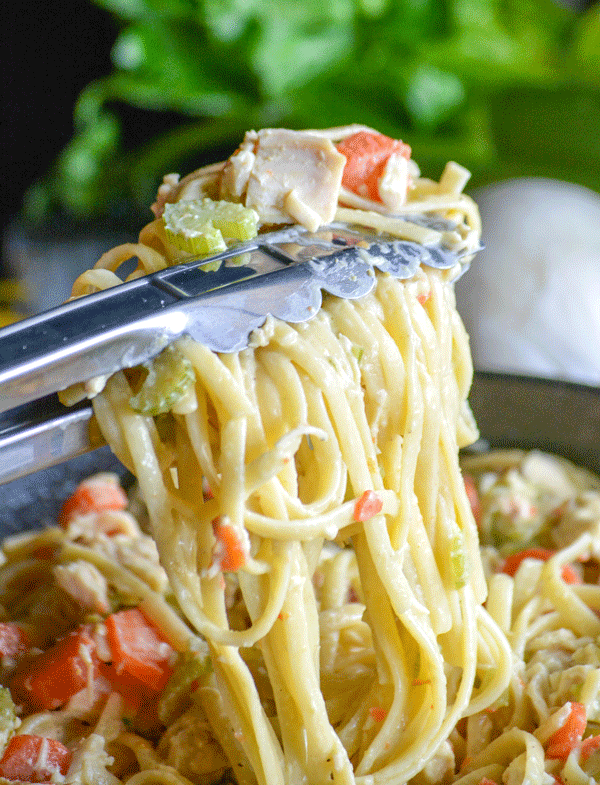 One pot pastas are the best thing to happen to your kitchen and your dinner menu since sliced bread. Talk about making putting a hot meal on the family table on busy school nights a breeze!
Everything goes into one gorgeous pot, cooks together, which means the flavors really blend together and absorb & infuse every single bite.
Loaded with fresh veggies, and chunks of rotisserie chicken- it's a real meal you can feel good about making and serving.
With just a little bit of creamy comfort stirred in, it's a cozy meal that's just the right amount of yum the whole family can enjoy. This One Pot Creamy Chicken & Vegetable Pasta is one of the few meals the kids have never had any complaints about (and all the veggies magically get eaten)!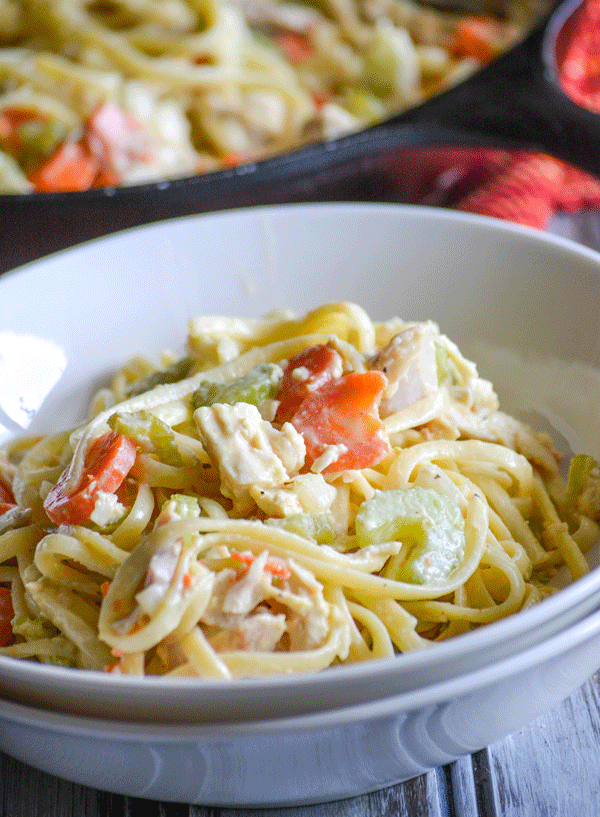 Other recipes you might enjoy: Crockpot Cheesy Buffalo Chicken Pasta, Chicken Bacon Caesar Pasta, Chicken Noodle Soup Casserole, One Pot Jambalaya Pasta, & One Pot 15 Minute Taco Pasta.
If you've tried this ONE POT CREAMY CHICKEN & VEGETABLE PASTA, or any other recipe on my site, let me know in the comment section how it turned out, we love hearing from our readers! You can also follow along with me on PINTEREST, FACEBOOK, and INSTAGRAM to see more amazing recipes and whatever else we've got going on!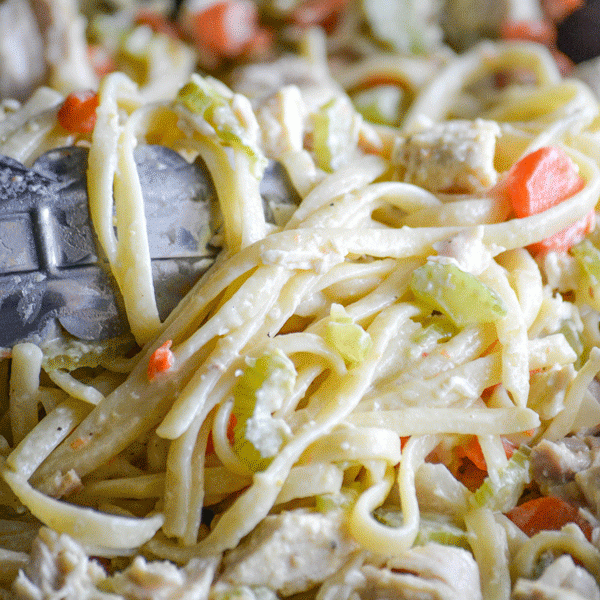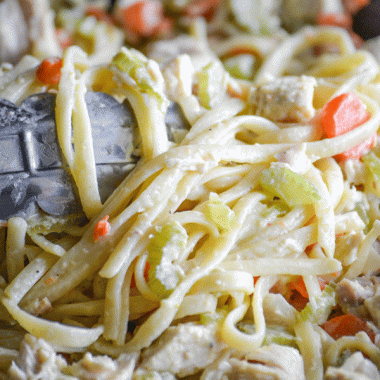 One Pot Creamy Chicken & Vegetable Pasta
A quick & easy, one pot dinner- this creamy chicken & veggie pasta is healthy and a real family favorite.
Print
Pin
Rate
Ingredients
2

tbsp

butter

4

carrots

peeled, and thinly sliced

1/2

white onion

diced

3

stalks

celery, thinly sliced

2-3

cups

chopped rotisserie chicken

8

oz

linguine or fettuccine pasta, dry

3

cups

chicken broth

1/2

cup

heavy whipping cream

salt & pepper, to taste
Instructions
In a dutch oven, over medium heat, melt the butter. Stir in all the veggies, tossing to coat evenly in the butter.

Add the pasta, broth, and cream to the pot, stirring to combine. Cover and bring the mixture to a boil. Reduce the heat to a simmer, stirring every 2-3 minutes, cooking for 7-8 minutes.

Once the noodles are al dente, immediately remove the dish from the heat. Stir in the chicken, salt & pepper, to taste, and serve immediately.