Pizza is the best thing to throw together when you totally don't feel like cooking. Skip the traditional recipe though, and whip up a gourmet version in minutes instead. This chicken & bacon Caesar pizza is the pizza recipe to end all homemade pizza recipes.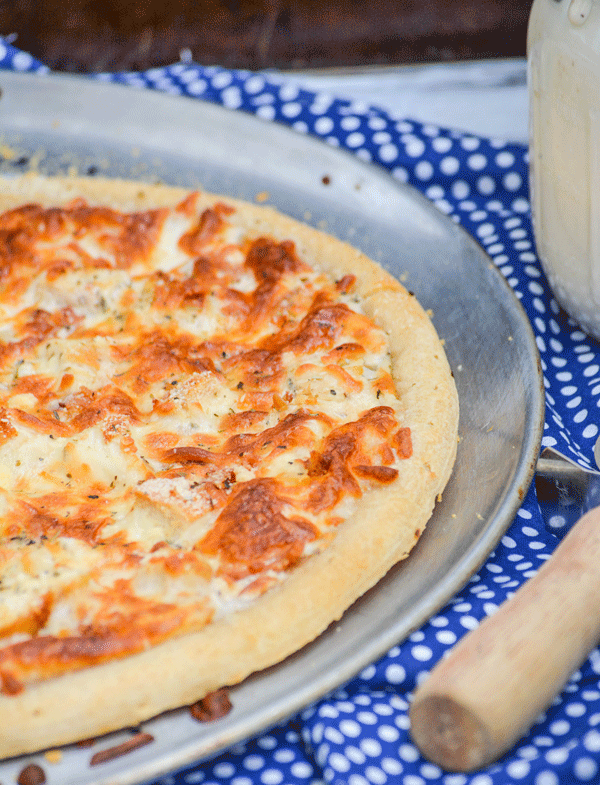 Has there ever been such a thing as too much pizza?
How about a wrong time, or place, for pizza? Yes? No? I'm in the firm camp of 'no way Jose'. Nope, no such thing.
Especially in the after math of the whirl wind of excitement & chaos that is the Christmas holidays.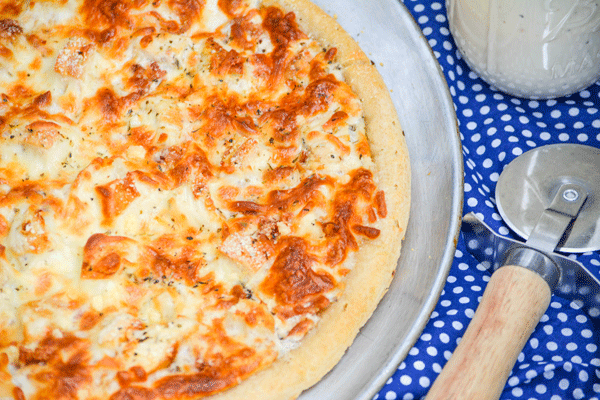 I love Christmas, I really do. But it's a lot of work when you're hosting and planning the morning of.
There's fun parts of course, especially planning to ensure I see maximum love, joy, & wonder on my children's faces Christmas morning. There's also a lot of other less fun parts.
Like being chained to the kitchen sink, only to alternate with the stove while the marathon of baking ensues.
All that too say, the last thing I want to do when it's finally over is cook. I'm not even kidding.
I don't want to see my kitchen. I don't want to think about fixing a thing, for me or for anyone else. Bring on the Chinese food the day after!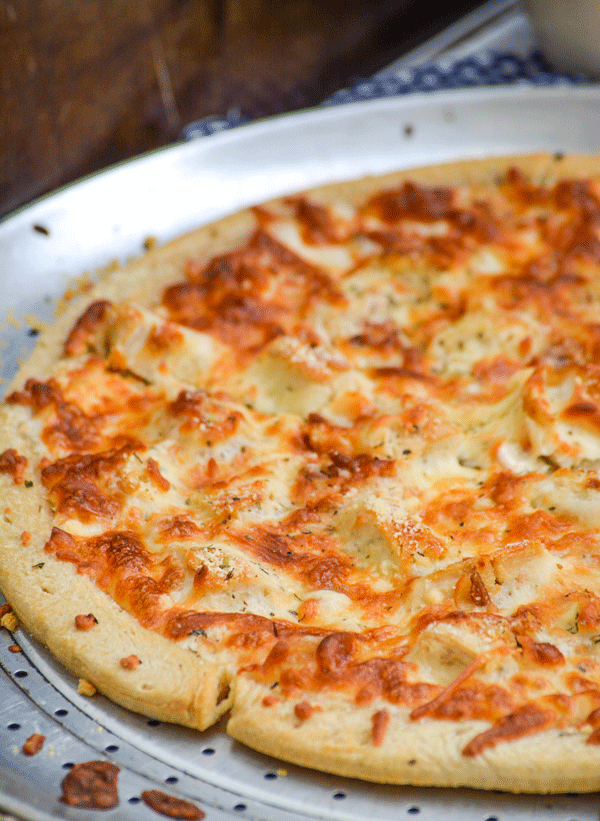 That being said, I can't afford to eat out every day. Not that I want too. That gets old fast. So eventually after a brief rest, back to the kitchen I must go.
Getting back into my groove requires time, patience, and super simple recipes. Pizza being at the top of my list. More specifically this Chicken & Bacon Caesar Pizza.
It's seriously the best thing, especially when you don't want to sacrifice an ounce of flavor but you also don't really feel like putting in any real effort.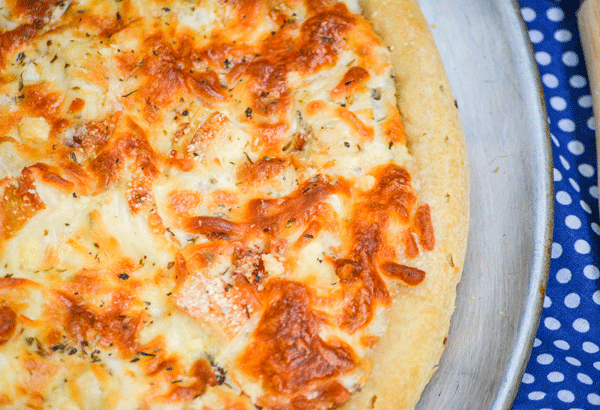 Making A Caesar Style Pizza- An Easy Gourmet Pizza
Gourmet flavor on post holiday burn out is easier than you'd probably ever imagine. A few simple ingredients are all you need.
First, obviously, you're going to need a crust. This pizza will taste great whether you use store bought pizza dough, or decide to make your own.
You can use either a store bought crust that's been pre-baked and found near the pasta sauce, or you can use store bought refrigerated dough- like the Pillsbury brand in a can in the refrigerated biscuit section.
If using dough, make sure to form it into a pizza shape and follow either the package or recipes instructions when doing so.
To get a crisper crust, pre bake the pizza dough crust for 5-8 minutes before topping. If you prefer a softer, chewier crust then spread the dough out as directed and then dive straight into the toppings.
Instead of the traditional red sauce, this pizza uses a white sauce and not just any white sauce. Most white sauces are either variations of alfredo sauce or a creamy garlic sauce. This pizza uses creamy Caesar salad dressing instead.
Toppings are just as important to any good pizza, and if you're going for a fancier version you've got to spring for fancier toppings than the traditional sausage or pepperioni.
This version still features double meats, but uses chopped rotisserie chicken and crisp, crumbled bacon instead. They make a delicious duo that really adds fun flavor to this pizza pie.
For cheeses, we kept the obvious shredded mozzarella but added a tangy finish with a sprinkle of shredded Parmesan to finish it off & a pinch of Italian seasoning.
The pizza is baked in the oven until the crust has cooked through and the cheeses have melted & begun to turn a slightly crisp golden brown at the edges.
It doesn't get any easier, or tastier than this simple 6 ingredient chicken & bacon Caesar pizza.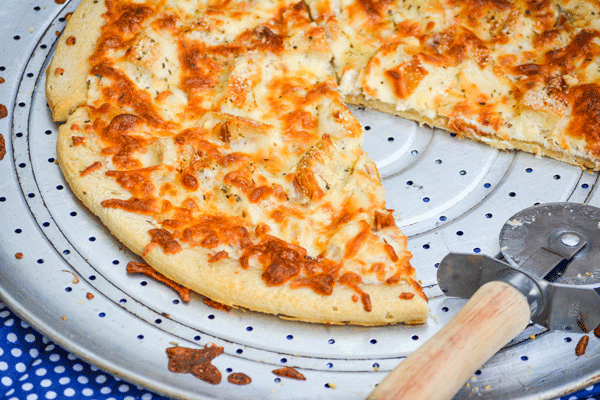 Pizza in general is hard to mess up, and the same's pretty much true for this chicken & bacon Caesar pizza.
There are a few helpful things though that I've found when making it over the years to help your version be the best that it can be.
TIPS & TRICKS For Making The Best Caesar- Style Pizza with Chicken & Bacon:
For the best crust results, I suggest pre baking the crust. Not nearly enough to finish it, but so that it literally crusts over a bit. This slightly harder surface will prevent any sauce from soaking in and ensure a crispier crust overall.
I love this recipe for using leftover rotisserie chicken, but if you don't have that on hand- a regular chicken breast will do just fine. Bake it or grill it, and then chop it up. One large chicken breast will yield roughly 1 1/2 cups of chopped chicken.
Let the pizza rest for 3-5 full minutes before slicing and serving. It will still be warm, and this gives the cheese a chance to set so it won't all pull/fall off when sliced.
Any Caesar dressing will work, but for best results I suggest a truly thick & creamy version and not one of the more vinaigrette-like ones.
So now you've got this delicious pizza, infused with flavor and you don't want to lose a single bit of that perfection- but you're full. What to do. What to do??
One thing's for sure, do not just throw it on a plate and stick it in the refrigerator.
What's The Best Way To Store Leftover Pizza- The Stack & Wrap Method
Any air swirling around your pizza is a bad thing when it comes to storing it and hoping for taste & texture quality when enjoying leftovers the next day.
Years ago, ironically during college, I discovered the stack & wrap method- and not only is it the best, most fool proof method for storing pizza that I've found.
I've made it my mission to share this necessary life hack.
Start by laying an extra large piece of cling wrap out on a clean counter top. Add a slice of pizza to the center.
Top the slice with a sheet of wax or parchment paper cut just larger than the slice of pizza. Stack another slice of pizza on top of the paper, and repeat the layers ending with a slice of pizza.
Bring the cling wrap up and over on both sides to cover the pizza and wrap it around tightly to seal the stack. Refrigerate until ready to reheat and enjoy.
Sounds simple enough, and it is. It's also the best way to keep the pizza hydrated so that it's just as delicious when reheated as when it was first made.
Fridge or Freezer- How Long Will Pizza Keep?
Either one is a great option for storing this pizza, once it's been properly packaged like talked about above.
In the refrigerator, stacked & sealed, this pizza will keep for up to four days.
In the freezer though, you've got a lot more time. This is especially handy since I don't get a craving for pizza but about once a month.
Frozen, this pizza will stay fresh for up to two months.
Ok, so now you know how to properly store the pizza & how long you can safely keep it, but what about reheating it?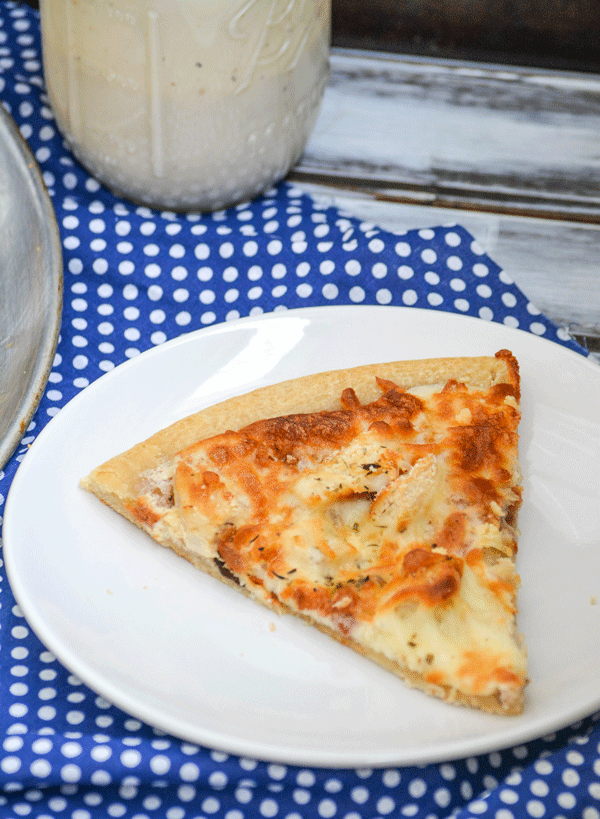 How To Reheat Pizza So It Tastes As Good As When You First Got It:
I know the microwave was always my go to during childhood, those famous college years included. And in recent years, I'd taken to using my oven. But the pizza was never right with either method.
It was either soggy with slimy cheese, or the crust was rock hard enough to crack a tooth the other way. There had to be a better way, and there is!
Believe it or not, the absolute best way to re heat a slice or slices of pizza is with a skillet on the stove. Ideally a cast iron skillet, but a non stick one will work too!
Add one to two slices of pizza to a cold skillet with the crust side down. Cover the skillet with a lid.
The lid's important as it allows the heat to disperse evenly melting the cheese and reheating the pizza while the skillet perfectly crisps the crust
Turn the burner on and set it to low heat. Place the lid on top of the skillet, and let the pizza heat for 6-9 minutes.
Use a spatula to transfer the pizza slices to a plate, and voila. That's it!
Whip up this chicken & bacon Caesar pizza whenever the pizza craving strikes. It's better than delivery, cheaper too- and it's a delicious change of pace!
Other Pizza Ideas You May Want To Try:
If you've tried these CHICKEN & BACON CAESAR PIZZA, or any other recipe on the site, let me know in the comment section how it turned out, we love hearing from our readers! You can also follow along with me on PINTEREST, FACEBOOK, and INSTAGRAM to see more amazing recipes and whatever else we've got going on!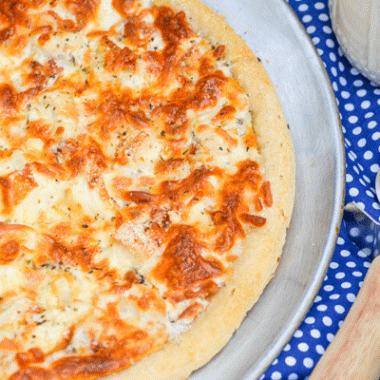 Ingredients
1

pizza crust

homemade or store-bought

1 scant

cup

Caesar dressing

1- 1/2

cups

chopped rotisserie chicken

6

strips

bacon

cooked crisp & crumbled

1

cup

shredded mozzarella cheese

1/4

cup

shredded Parmesan cheese

pinch

Italian seasoning
Instructions
Prep the pizza crust & cook however the instructions suggest.

Add the Caesar dressing to the center of the crust. Using the back of the spoon, spread the dressing out evenly over the crust making sure to leave a little less than an inch border around the edges for the crust.

Spread the chicken & bacon evenly out over the sauce.

Sprinkle the cheeses evenly out over the top, followed by the seasoning.

Bake the pizza according to the crust's directions.

Let the pizza rest for 3-5 minutes before slicing and serving.
Nutrition
Calories:
456
kcal
|
Carbohydrates:
26
g
|
Protein:
17
g
|
Fat:
31
g
|
Saturated Fat:
9
g
|
Cholesterol:
56
mg
|
Sodium:
938
mg
|
Potassium:
113
mg
|
Fiber:
1
g
|
Sugar:
2
g
|
Vitamin A:
138
IU
|
Calcium:
170
mg
|
Iron:
2
mg