For those of you who don't know the hubs, which is probably most of you, let me tell you about his love of all things neat and orderly.
To put it bluntly, he can't function in any other sort of environment.
He knows where everything goes, and if one thing is out of place it's going to systematically drive him crazy.
Most of the time this doesn't bother me since he'll be the first one to start cleaning or come behind me as I'm cooking and wash the dishes as I go. Even when I get annoyed, I can't help but appreciate this side of him because he totally balances me out.
For example, just last week the hubs went on a two day long streak where he decided that we would pull everything out of every nook and cranny in the house and clean it and organize it.
At first I was frustrated since this had clearly not been on my honey-do list for the weekend, but by the end of it I was thankful. Everything was thoroughly cleansed, we'd swapped out spring/summer wardrobes for fall/winter.
The freezers had been defrosted and updated inventories made of what was where and when it expired. Instead of dreading taking on these tasks myself and getting them done piece meal, we both felt like we'd accomplished something, we both had help, and we rewarded ourselves the next day by mindlessly relaxing & binge watching a new TV show on Netflix with all the sons.
And that had been on my list.
So that was the good. The bad? I had several things in the freezer that needed using in the very near future.
Several of those things were multiple pounds of pizza dough. So guess what? We had pizza for dinner two nights in a row last week.
The sons thought I'd gone and lost my mind. They were thrilled. This was what was on the menu with two pounds of said dough. Several of our favorite flavors and ingredients, coming together to star in one perfect pizza.
While I can flourish in clutter, the hubs can't. The happy medium? We keep each other in sync and have many things to show for it. Not the least of which are some damn delicious dinners!
This garlic ranch chicken pizza recipe is a doozie. If you love pizza, bacon, chicken, and ranch dressing then you are going to love this.
If you've tried these GARLIC RANCH CHICKEN PIZZA, or any other recipe on the site, let me know in the comment section how it turned out, we love hearing from our readers! You can also follow along with me on PINTEREST, FACEBOOK, and INSTAGRAM to see more amazing recipes and whatever else we've got going on!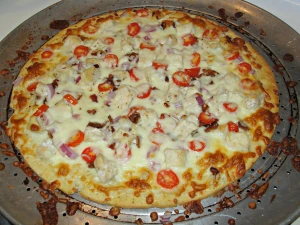 Garlic Ranch Chicken Pizza
A delicious pizza with a creamy garlic sauce base is topped with more traditional toppings making for a savory supper.
Print
Pin
Rate
Ingredients
Dough for 1 large pizza

1/4

cup

red onion

thinly sliced and diced

2

cups

Mozzarella cheese

shredded

1/2

cup

bacon

cooked and crumbled

1

cup

chicken

cooked and shredded or diced

2 to

matoes

thinly sliced
For The Garlic Ranch Sauce
2

Tbsp

sour cream

3

Tbsp

mayonnaise

2 1/2

Tbsp

milk

1/2

teaspoon

garlic salt

1/8

teaspoon

chopped

dried chives

1/8

teaspoon

dill

1/8

teaspoon

dried parsley

dash of onion powder

Salt and pepper

to taste
Instructions
In a small bowl combine all the ingredients to make the garlic-ranch sauce.

Spread the sauce evenly over the pizza crust, leaving a 1/2 inch of 'crust' all the way around.

Sprinkle half of the mozzarella cheese over top the sauce, then evenly spread the chicken, bacon, onion and tomatoes.

Sprinkle the remaining cheese on top.

Bake at 450 degrees for 9-12 minutes, or until the crust is golden brown and the cheese is bubbly.
Notes
recipe adapted from I Heart Naptime
Nutrition
Calories:
316
kcal
|
Carbohydrates:
5
g
|
Protein:
17
g
|
Fat:
26
g
|
Saturated Fat:
11
g
|
Cholesterol:
65
mg
|
Sodium:
753
mg
|
Potassium:
241
mg
|
Fiber:
1
g
|
Sugar:
3
g
|
Vitamin A:
962
IU
|
Vitamin C:
9
mg
|
Calcium:
306
mg
|
Iron:
1
mg