This cozy idea for cheeseburger macaroni pasta is an easy recipe for from scratch hamburger helper. It's an ideal way to get dinner on the table on a time frame, but using your favorite pasta, meat, and homemade cheese sauce.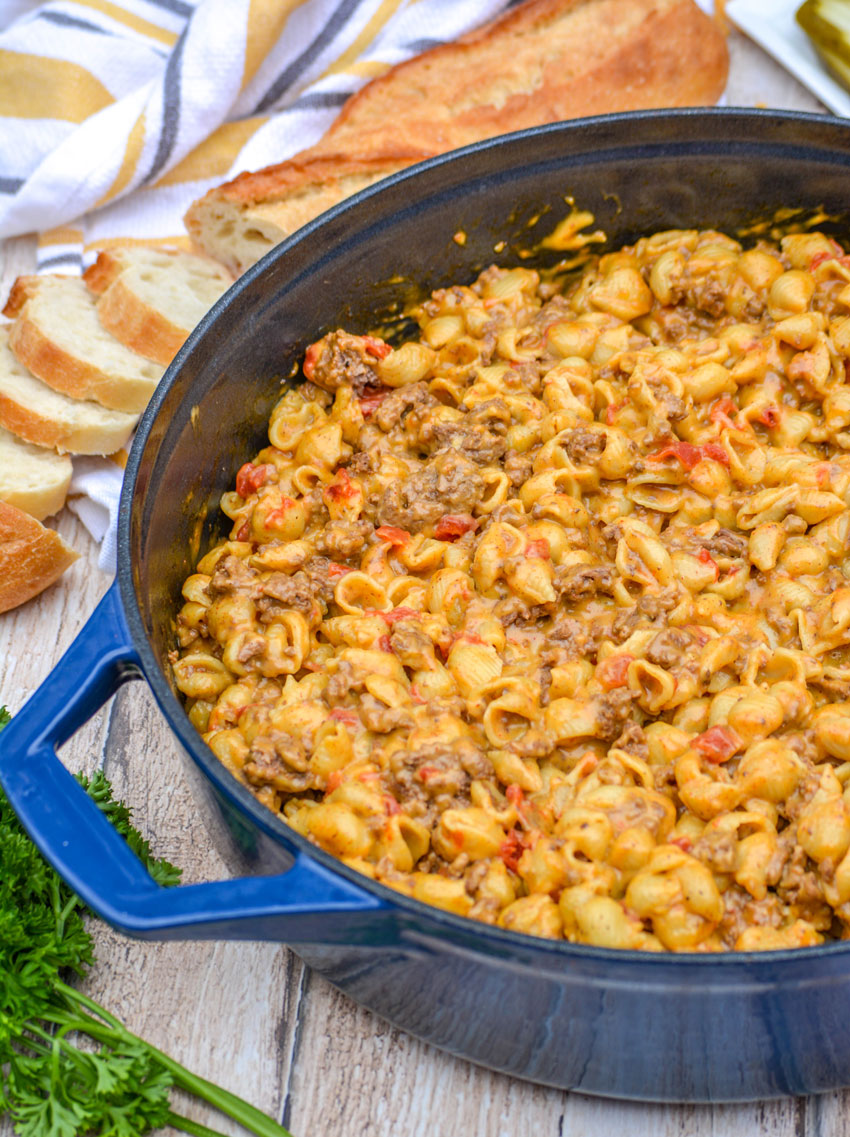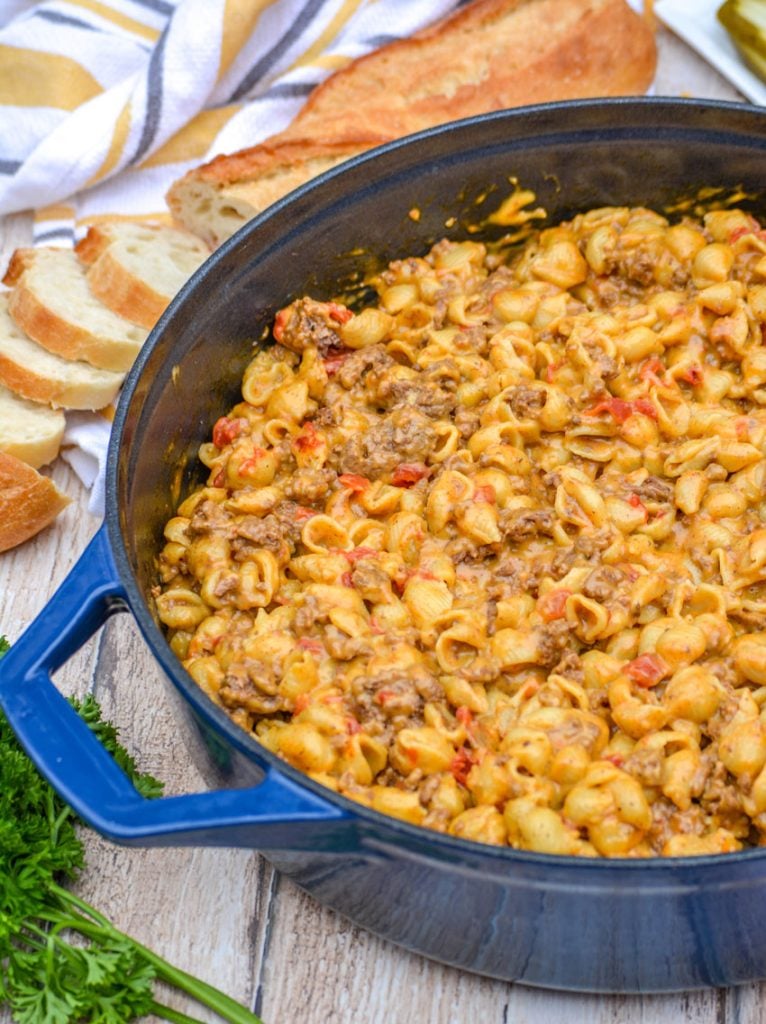 Have you ever pulled a box of Hamburger Helper, or something similar, out of the pantry for a quick and easy meal for your family on a rushed evening?
I can assure you I've found myself doing this at least a few times.
I mean- they're quick, they're easy. What's not to love?
Even when I've bought these 'box' meals on sale or with coupons it's still not particularly 'cheap'.
It seems cheap sure, but then I have to consider that I have to add more pasta, spices, and other ingredients to spruce it up. Sometimes, even when just following the directions.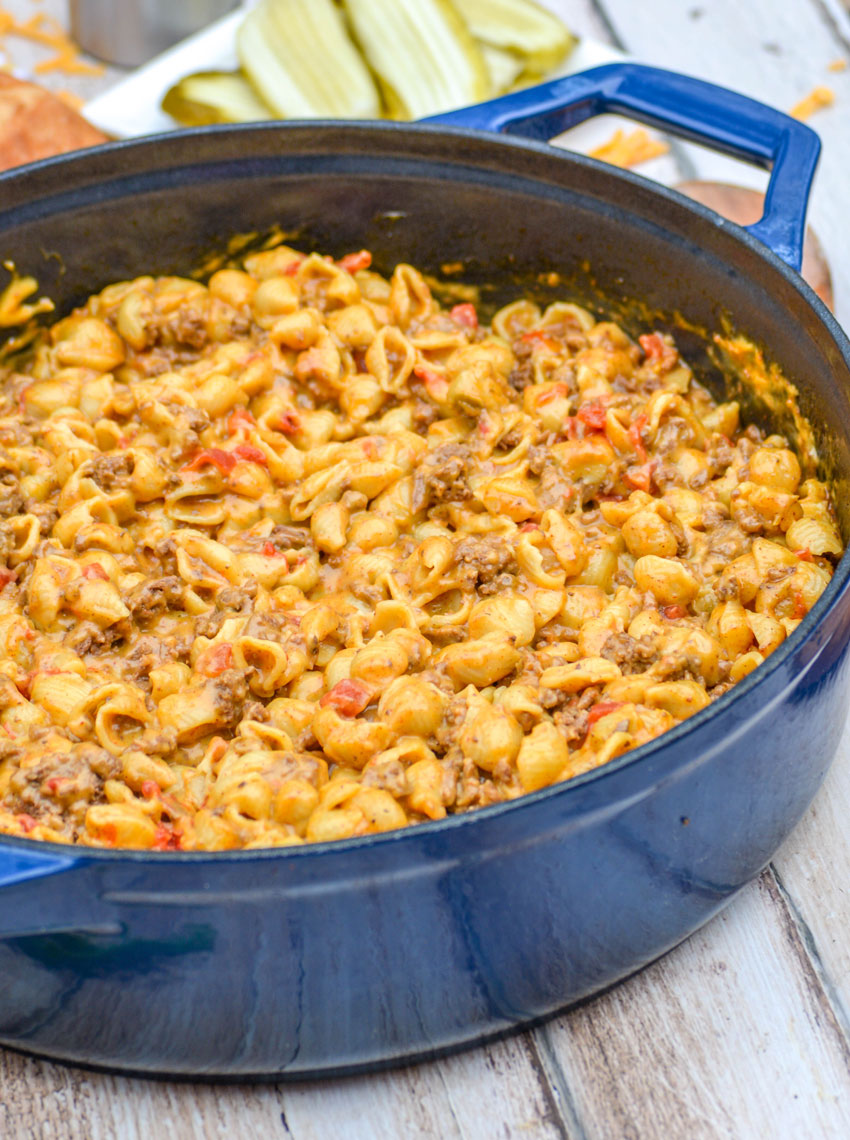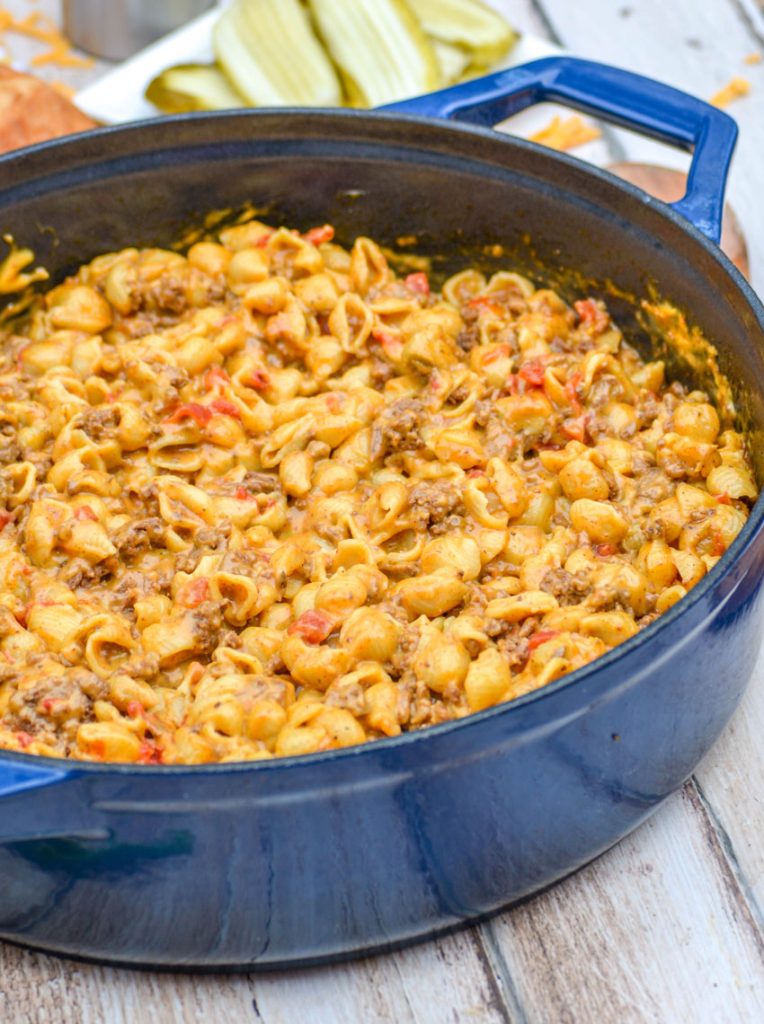 Half the time, these boxed dinners don't even taste that good on their own.
Not to my husband or I, although I am sure my kids would eat it without any complaints.
There's never anything wrong with reaching in the cupboard for a little help when it comes to getting dinner on the table. Whatever the name brand of the boxed meal.
On other nights though, I've discovered how to create my own version of that- cheeseburger macaroni. A ground beef & pasta centric meal, a cheesy dish but one that's quick cooking and uses simple short cuts.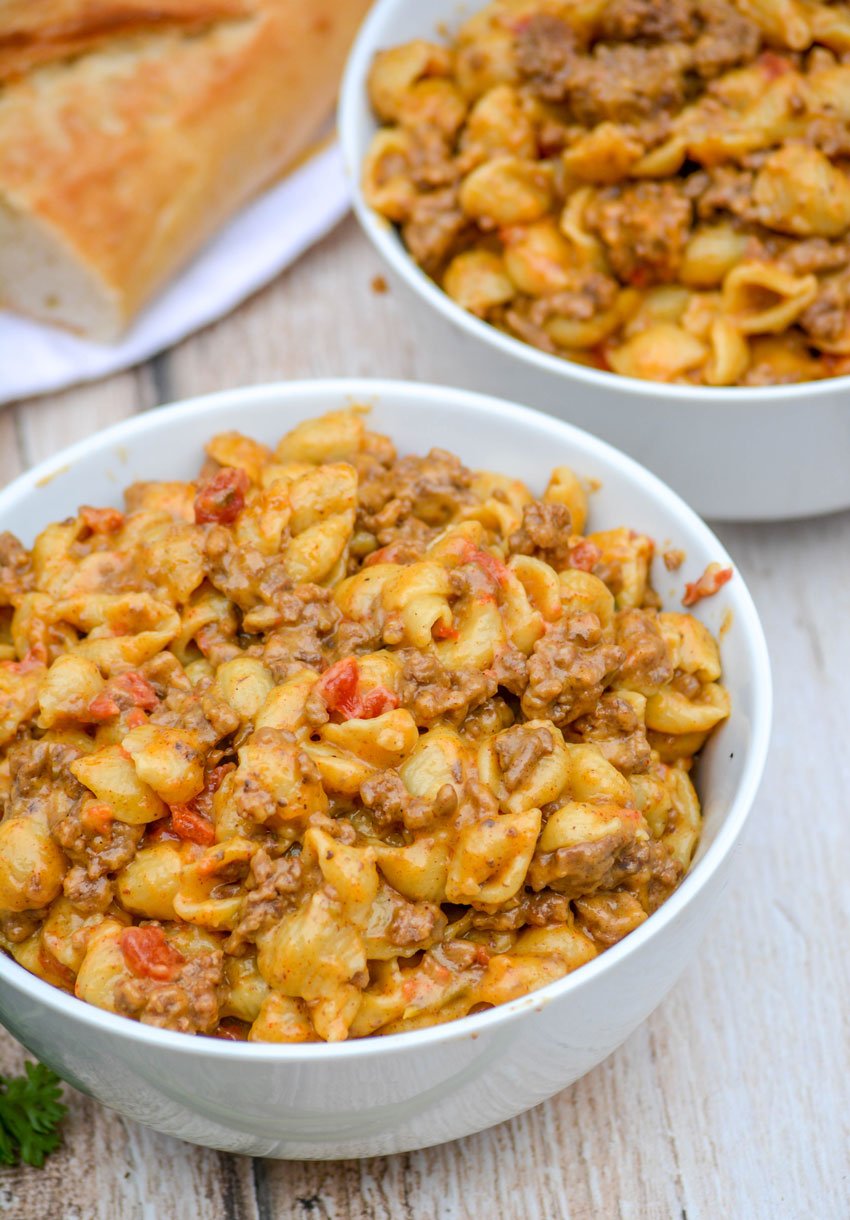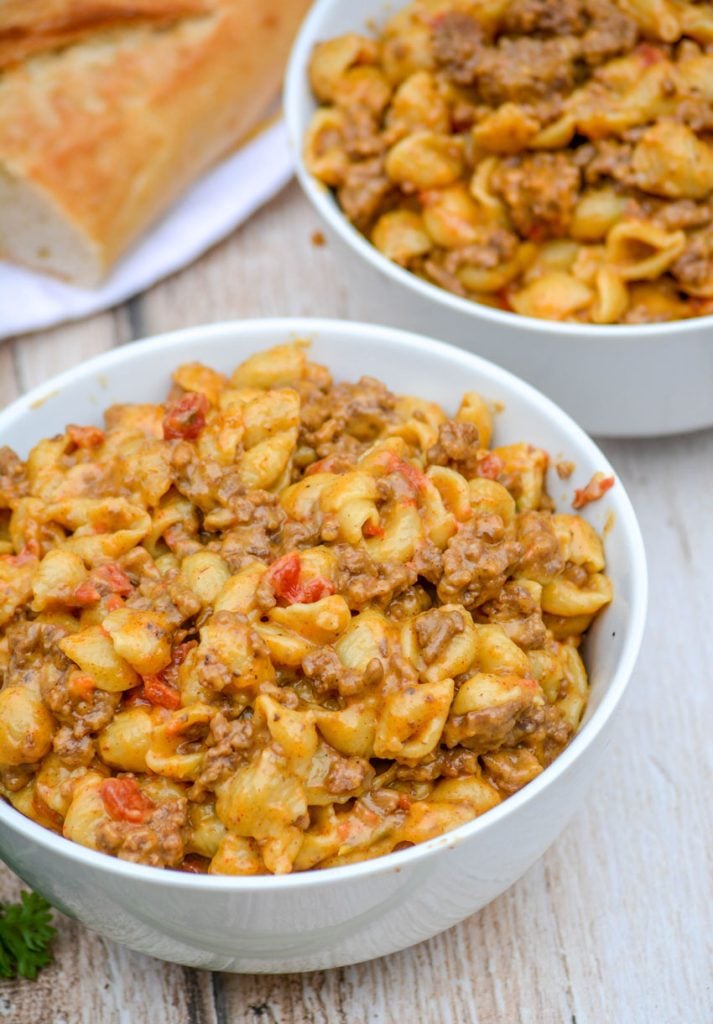 Homemade cheeseburger macaroni pasta is creamy, cheesy, and easy. Both the kids and the adults will love it.
It even takes about the same amount of time to make as it's pre-packaged competition.
Ditch the 'helping hand' and make your own batch from scratch.
My recipe feeds my family of six, with enough leftovers for my husband's lunch the next day. The recipe can easily be cut in half to accommodate a smaller family.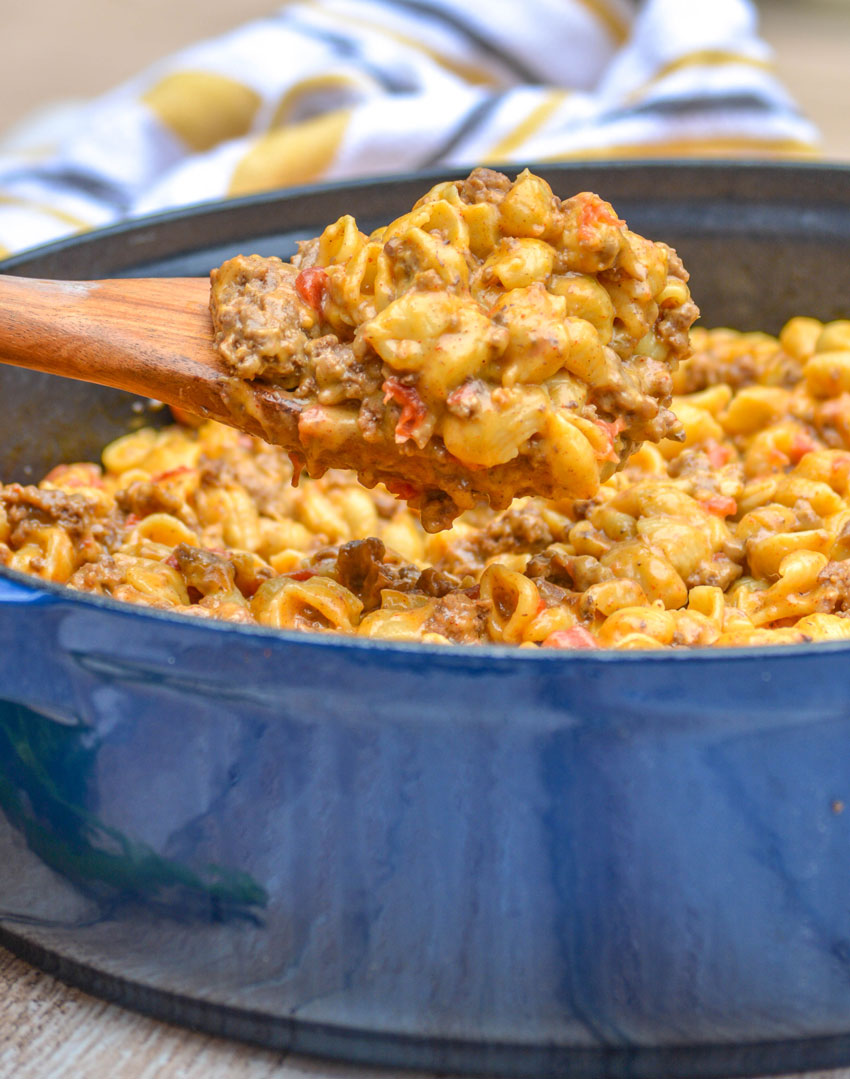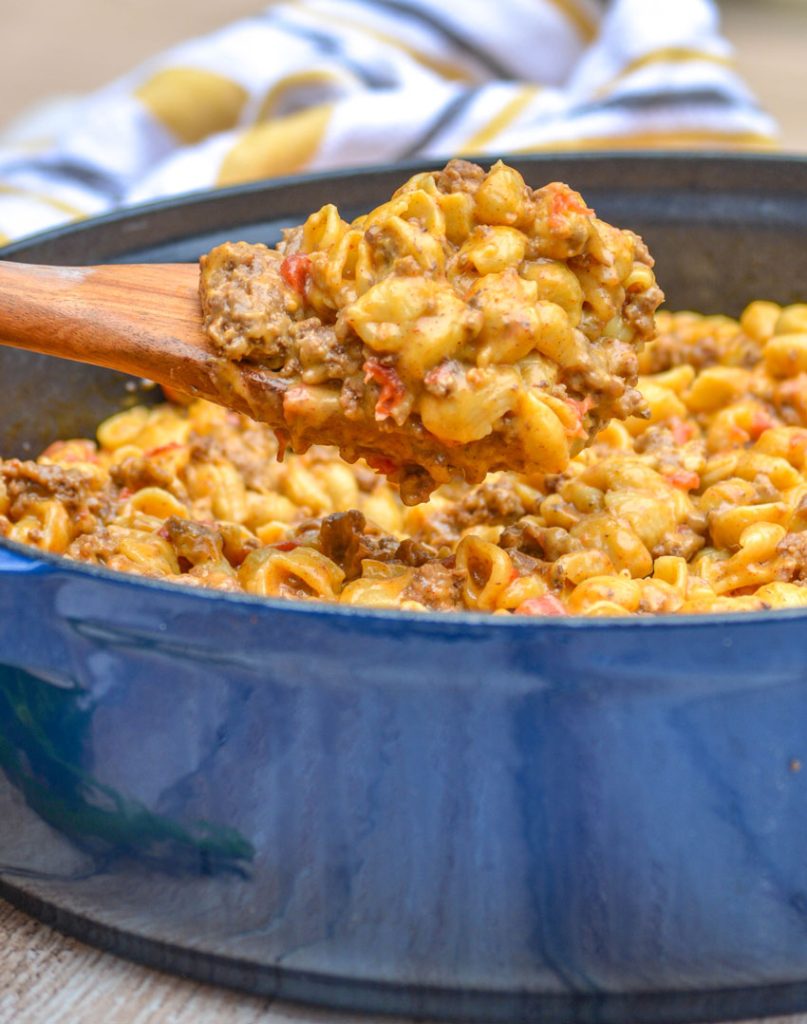 Meat's are never certain. Things we grew up with could be readily plentiful one day, and scarce the next.
In the '70s- this happened. Ground beef was a main meat staple of everyone's diet, but it was harder to come by. More expensive.
Instead of it becoming a full blown crisis, companies like Kraft introduced things like hamburger helper. This 'meal in a box' appeared on store shelves in 1971.
These little boxes, when plucked off the shelves & purchased, allow the user to enjoy a quick and easy supper experience.
That in itself can be priceless. The creamy, cheesy themes on the box are universal.
The other attraction? Each little box made it possible to stretch a pound of meat into a simple meal that would feed a whole family. A family of 5 or 6 at that!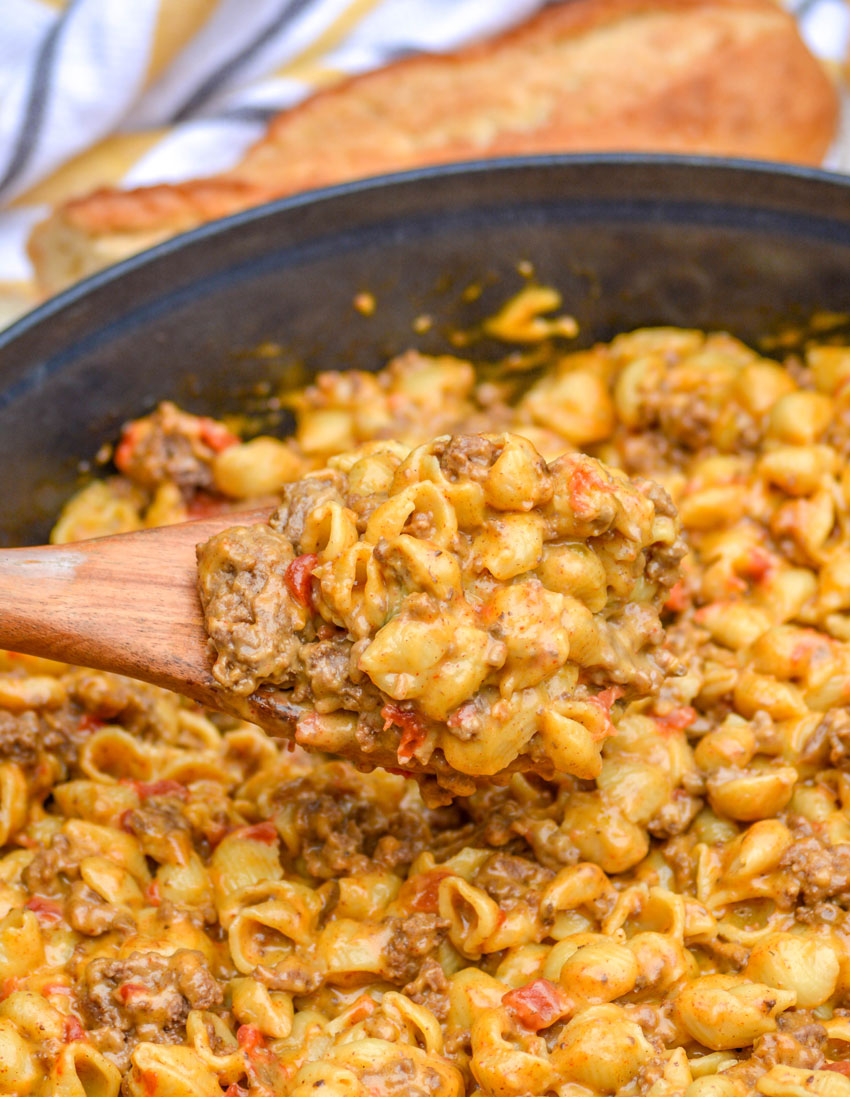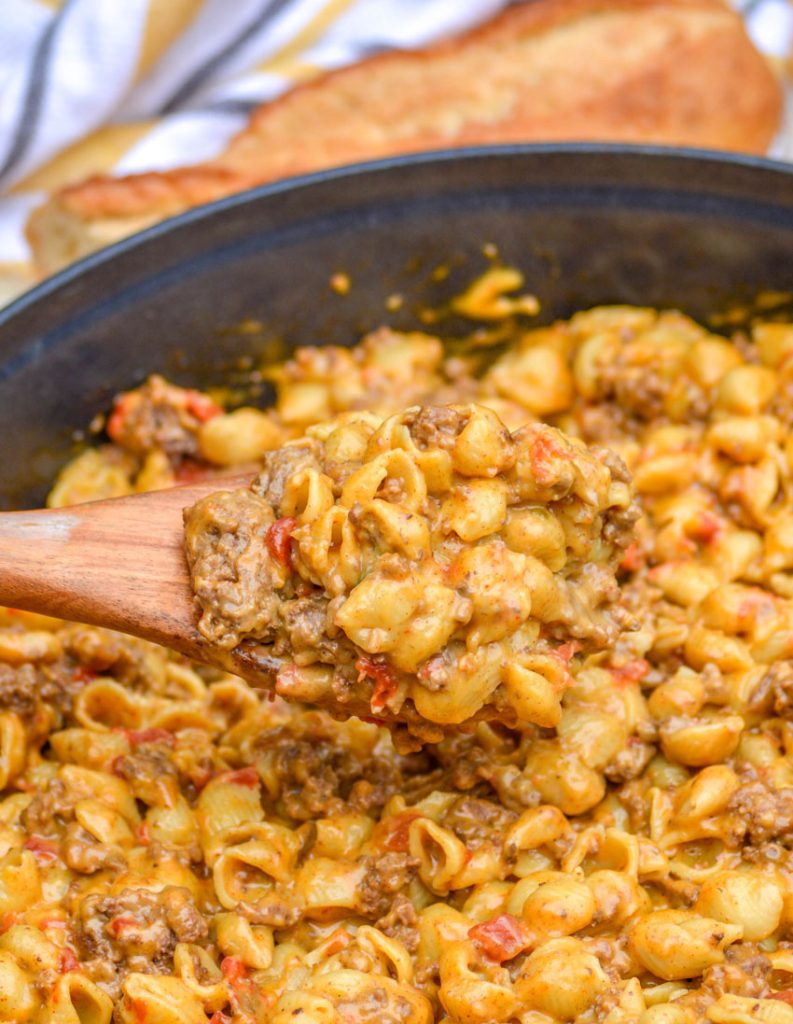 We may be a bit more prosperous in our kitchen nowadays. Still, it wasn't that long ago when things were tight.
Meal plans had to be made, with weekly budgets and every item accommodated for.
One of my favorite tricks was being able to afford a 6 lb brick of ground beef from Costco, breaking it down into one pound freezable blocks- and knowing exactly what I was using them for.
This cheeseburger macaroni was always at the top of my family & wallet friendly list.
How could I combine the two though? The pre packaged flavors from my childhood, that same convenience, but with the more wholesome ingredients I chose to purchase as an adult?
Well this cheeseburger macaroni pasta meal proved to be just the ticket!
Ingredients Needed For This Homemade Hamburger Helper:
ground beef
pasta
taco seasoning
canned tomatoes with diced green chiles
beef broth
butter
flour
milk
cheddar cheese
salt & pepper
Does an ingredient list get anymore simple than that?
Those are all easy to pronounce. They're all fairly common. I'm pretty sure most of them are in my kitchen, almost all the time.
Those things combined make this ground beef and pasta recipe my kind of meal!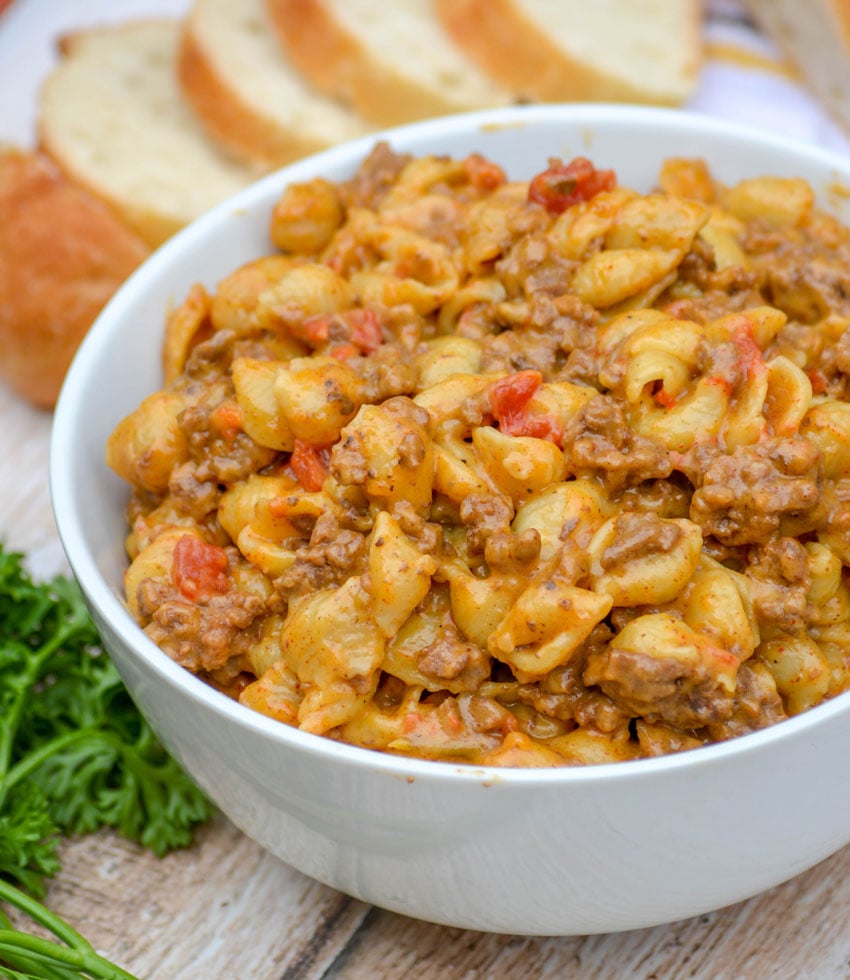 Beef & cheese is a classic combination, and I've rarely heard anyone complain about it. Toss a bit of pasta into the mix, and you're in business.
While the store bought, boxed version is super convenient- it's pretty easy to whip up your own cheeseburger macaroni at home. From scratch.
I'm going to tell you how!
How To Make Cheeseburger Macaroni, Step By Step:
Cook the meat until done. Drain & return it to the pot.
Stir in the taco seasoning, tomatoes, broth, & pasta.
Cook the mixture over high heat, stirring until the pasta's cooked al dente.
Melt the butter in a large skillet over medium heat. Whisk in the flour.
Whisk in the milk, whisking until smooth.
Stir in the cheese, stirring until the mixture's smooth.
Salt & pepper, to taste.
Pour the cheese sauce over the meat & cheese mixture.
Toss it to coat evenly. Then let it rest 2-3 minutes before serving.
It was inevitable that some genius home cook would finally find the perfect way to pair together a ground beef and pasta recipe.
We love this recipe because nothing about it is really hard. None of the ingredients are complicated.
That means you could easily adapt it to your own tastes, and it's also prefect for the very beginner home cook.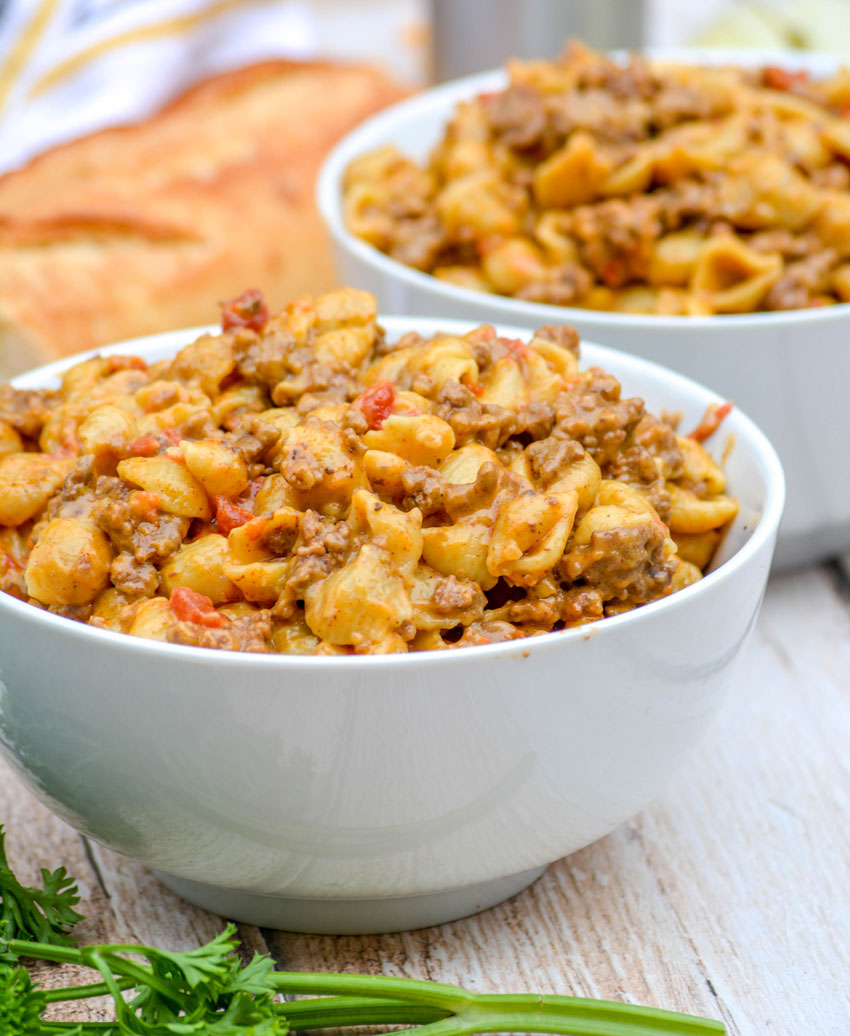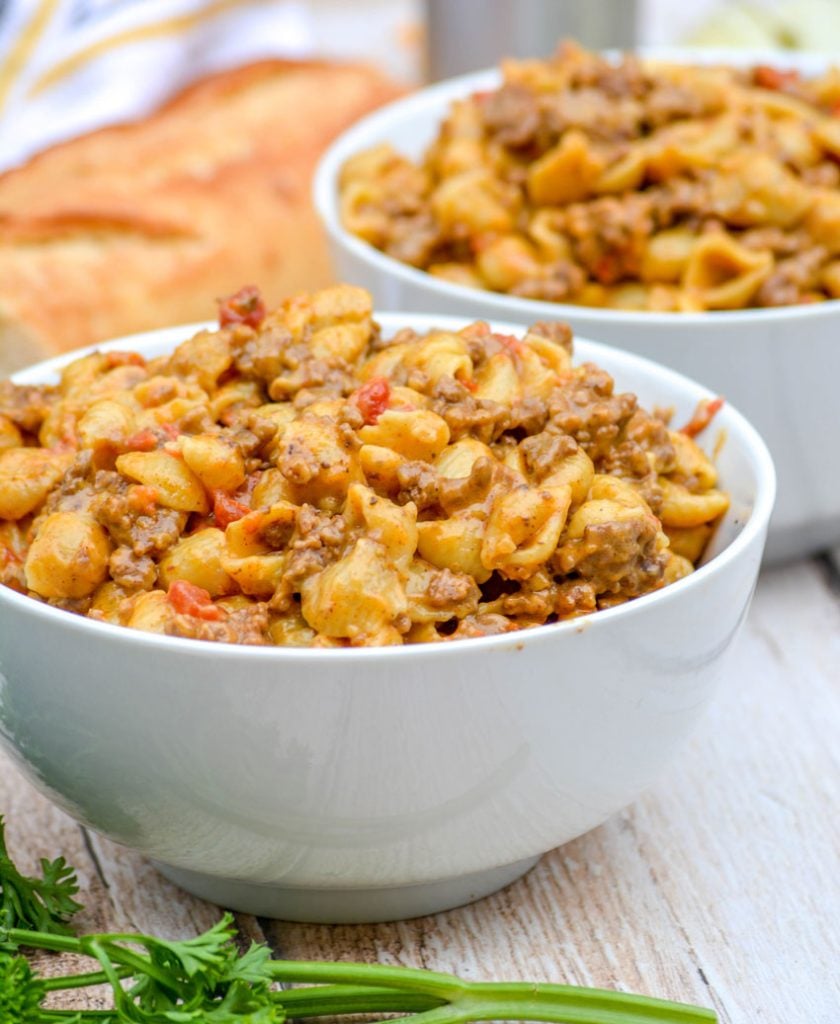 Other Pasta Favorites You May Also Enjoy:
If you've tried this cheeseburger macaroni pasta or any other recipe on my site, let me know in the comment section how it turned out, we love hearing from our readers! You can also follow along with me on PINTEREST, FACEBOOK, and INSTAGRAM to see more amazing recipes!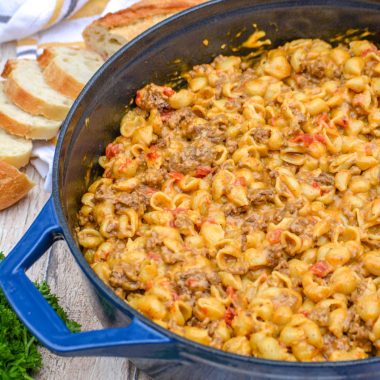 Cheeseburger Macaroni Pasta
An easy homemade version of the infamous hamburger boxed dinner, this cheesy cheeseburger macaroni is a from scratch version perfect for any home cook.
Print
Pin
Rate
Ingredients
For The Pasta:
2

lbs

lean ground beef

1

lb.

box of pasta

elbows or small shells work best

2

packets of taco seasoning

2 10

oz

cans diced tomatoes with green chilies

4

cups

beef broth
For The Cheese Sauce:
4

tbsp

butter

4

tbsp

flour

1

and 1/2 cup milk

2

cups

shredded cheddar cheese

1/2

tsp

salt

1/2

tsp

pepper
Instructions
To Make The Pasta:
In a dutch oven brown hamburger meat until cooked through and then drain and return meat to the pot.

Stir in taco seasoning, tomatoes, beef broth, and macaroni.

Heat to boiling, now reduce heat and cover. Simmer 12-14 minutes, stirring occasionally.
To Make The Sauce:
While the beef and noodle mixture cook, melt butter in a saucepan.

Whisk in the flour and cook over medium heat, constantly whisking for 2-3 minutes.

Slowly add in the milk, whisking constantly, and bring to a boil.

When your sauce base is smooth and thickened remove from heat and stir in the cheese until melted.

Add the salt and pepper to the cheese sauce.

Pour the cheese sauce over the hamburger mixture. Stir gently until evenly combined.

Remove pot from heat and let sit about 5 minutes for the sauce to thicken up and serve.
Nutrition
Calories:
561
kcal
|
Carbohydrates:
48
g
|
Protein:
41
g
|
Fat:
22
g
|
Saturated Fat:
12
g
|
Cholesterol:
115
mg
|
Sodium:
921
mg
|
Potassium:
691
mg
|
Fiber:
2
g
|
Sugar:
3
g
|
Vitamin A:
535
IU
|
Vitamin C:
4
mg
|
Calcium:
248
mg
|
Iron:
4.4
mg