Craving the chicken marsala you love, but don't think you have the time? This 20 minute One Pot Chicken Marsala Pasta is the gourmet flavor you're craving, whipped up in a single pot with the accompanying pasta thrown right in- making it everybody's Italian dream dinner.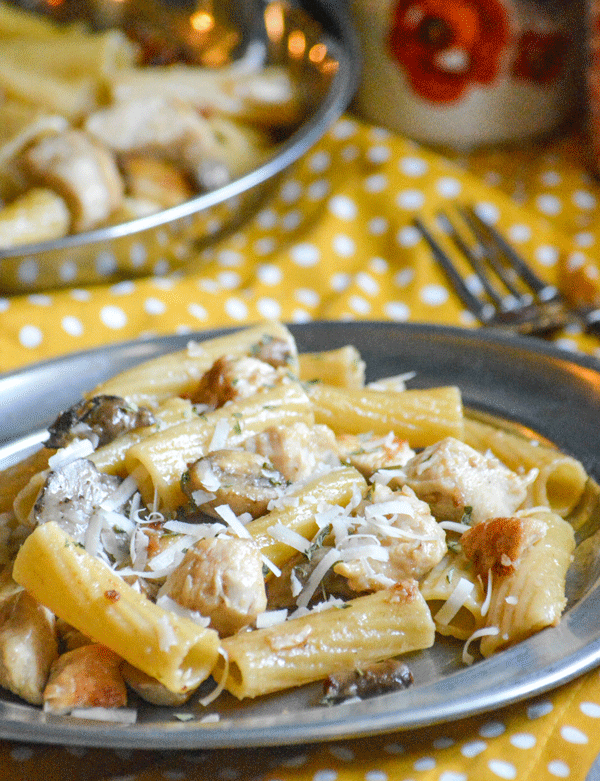 We're halfway through the first week back to school, and so far we're all loving it. The night before the first day of school was a little tense though. On top of the normal jitters, the sons also were braving a case of nerves over starting at new schools since our move in the spring. The youngest son has always known the same school, bus route, and friends.
He was saying he was kind of looking forward to heading back the next morning, and I jokingly told him Mommy was really excited about it. Then I felt bad when he looked hurt, saying he knew I was happier about it than him because I wouldn't have him here during the day anymore. Cue a major case of Mom guilt.
I mean, I do look forward to a bit more me time- but after the first week or two, I'm gonna miss 'em like crazy and wish they were back at home again. Little does he know!
/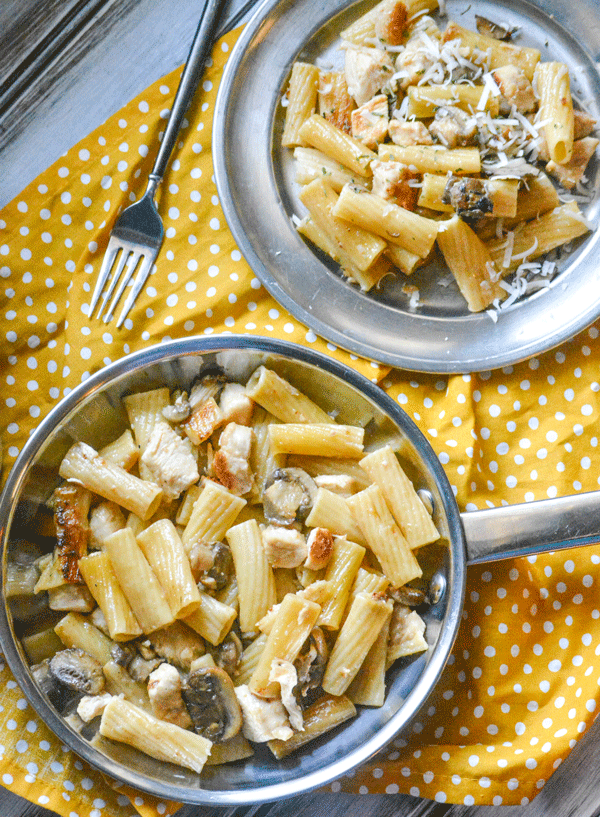 As we ease back into routine, and much more structure- I've got to get back on the established homework times, meal times, and bed times. While just sticking to a time frame helps with these things, finding easier ways to do things can be a real life saver- especially when it comes to supper.
I've definitely learned how to delegate over the past decade. For example, that dreaded mountain of paperwork coming home those first few days? You know the one that makes the kids giggle because, 'Mommy & Daddy have homework'. The one that makes your wrist seize up and your hand cramp until you feel like an ancient crone, ready to have it chopped clean off?
Yeah, the sons fill those out, as much as they're possibly able to. By high school, I just have to sign on the dotted line. It's a genius system, a real thing of beauty.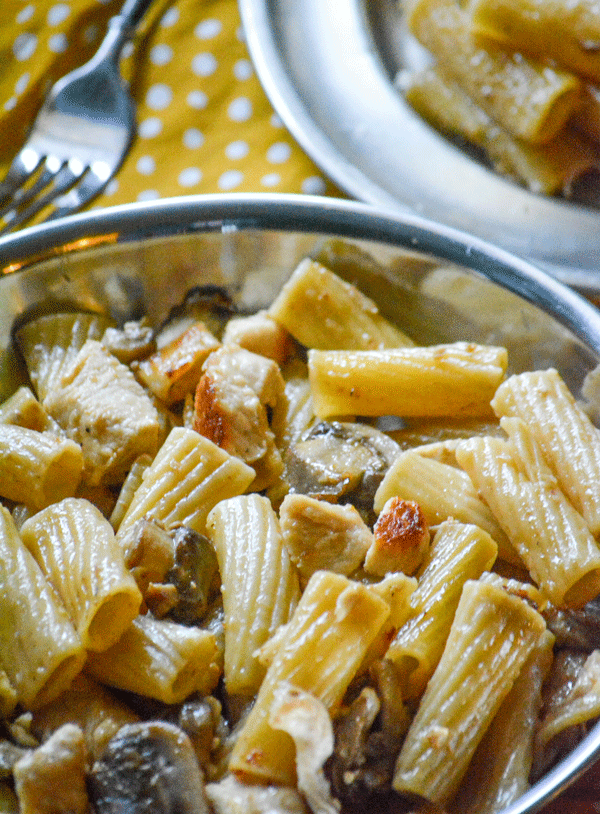 Another thing I can outsource? Some help with simple steps in a quick and easy recipe. The pasta needs pouring in the boiling water and stirred. Wash and chop some veggies, please. Look over the recipe and pull the things I'll need out, thanks!
This frees me up to help with homework, check daily folders & agendas, get laundry going- you name it. I've found the older boys don't generally complain about assisting, especially when it means they're gonna be eating sooner.
With a little help, and by picking a fast fix dinner like this One Pot Chicken Marsala Pasta, weeknights are so much less stressful and we operate (most often, but not always, lol) like a well oiled machine getting everything done on time.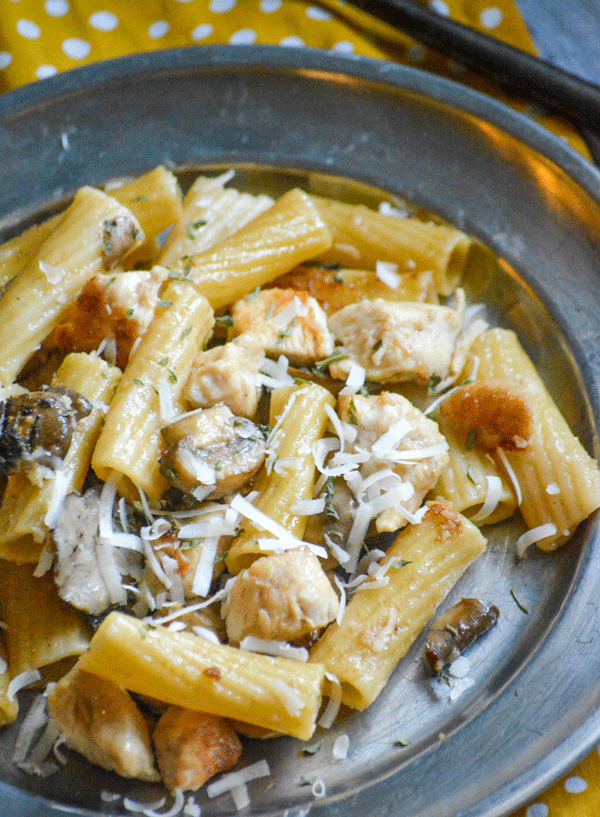 I'd tried chicken marsala once when I was younger, and was 100 % not a fan. At all. It could've been the brand and quality of the wine used, this particular restaurants spin on the dish- who knows. But if you'd asked me then, I'd have sworn I'd never even consider trying it again.
Apparently what went wrong is that I tried the commercialized Italian-American version, and not the traditional Italian/Sicilian deal. The authentic way to make the iconic dish involves flour-coating your chicken cutlets, sauteeing until fully cooked, and then removing them from the pan while the sauce is prepared using the chicken juices. It makes a much richer, deeper, delicious sauce.
Now, the trend (influenced by Marie Antoinette's sister & French master chefs) often seems to be leaving the cooked chicken in the pan and simply braising it in a mixture of the wine, butter, olive oil, mushrooms, and spices. It's good, but with as many things the original way is still the tastiest.
Luckily, my FIL made it for me and served it for dinner when my Husband brought me over to 'meet the parents', and I was too afraid of being rude or upsetting them to avoid eating it. After one bite, I was excited to tuck into it. All these years later, and I still look forward to him making it for family meals. Just a reminder, never say never folks!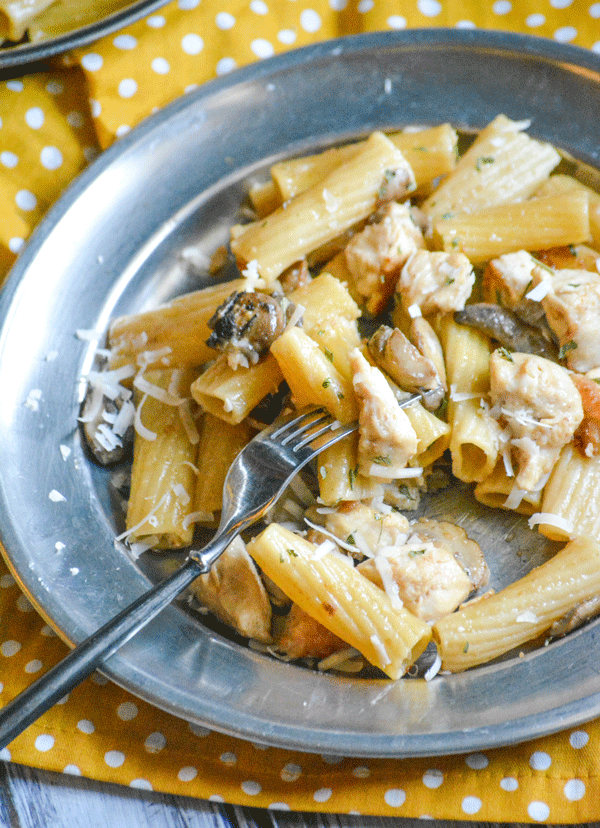 Knowing how good it could be, but also how busy my life can be, I decided to do my own spin on the classic using the modern technique and making it all in a single pot.
Thus, this quick & easy, 20-minute One Pot Chicken Marsala Pasta was born.
It's a throwback to it's authentic Italian heritage and flavor, with 5 star taste, made in the comfort of your very own kitchen, on a budget (both time and money), and with a new age spin. It doesn't get much better, especially on school nights.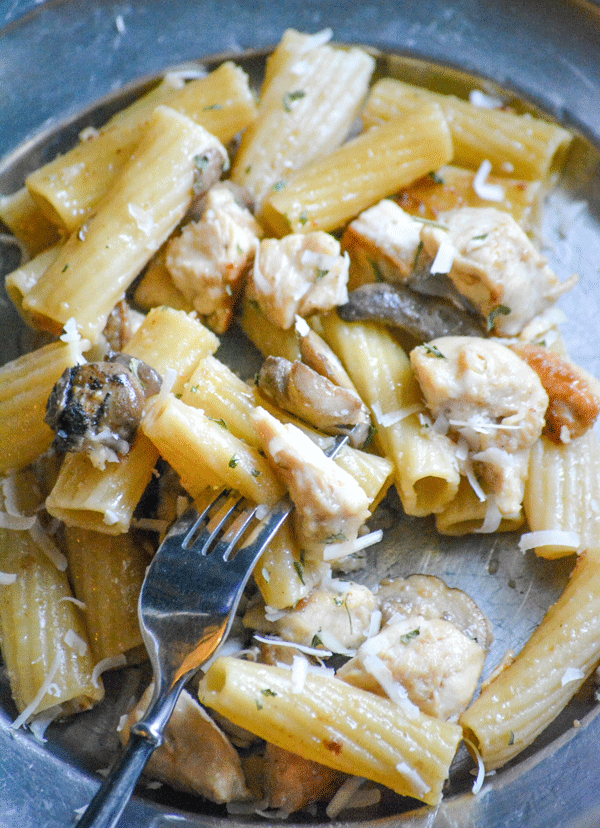 Other One Pot Pasta Recipes You Might Also Enjoy:
If you've tried this ONE POT CHICKEN MARSALA PASTA, or any other recipe on my site, let me know in the comment section how it turned out, we love hearing from our readers! You can also follow along with me on PINTEREST, FACEBOOK, and INSTAGRAM to see more amazing recipes and whatever else we've got going on!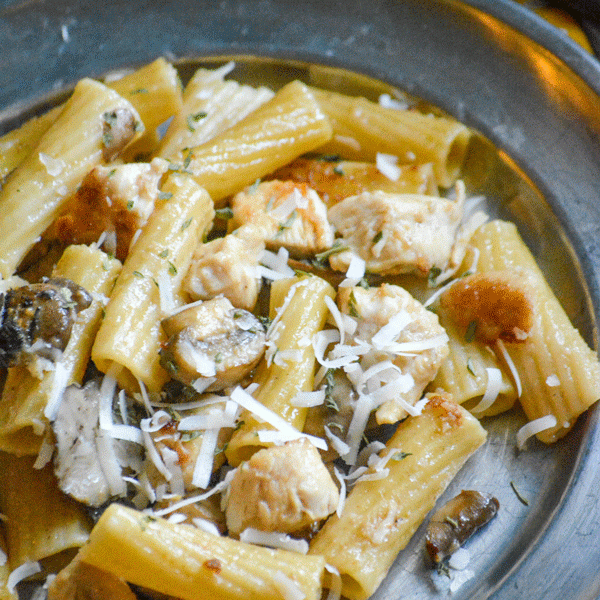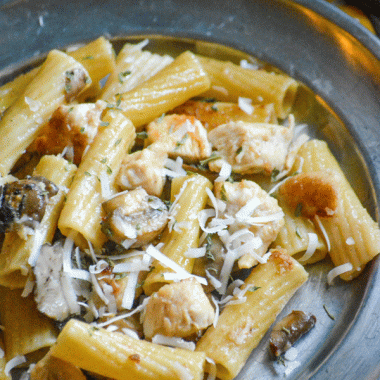 One Pot Chicken Marsala Pasta
The classic marsala you crave, in a quick, easy, creamy one pot pasta meal- it's a meal the whole family will enjoy.
Print
Pin
Rate
Ingredients
3

tbsp

extra virgin olive oil

1-2

lbs

boneless, skinless chicken breasts, chopped into 1/2" chunks

2

cups

sliced baby bella mushrooms, washed

1

medium

white onion, diced

3

cups

chicken broth

1/2

cup

heavy cream

1

cup

Marsala wine

3

cups

dry pasta

1

cup

shredded Parmesan cheese

salt & pepper, to taste
Instructions
Heat a large high sided skillet, or dutch oven, over medium high heat. Add the chicken, tossing with the oil. Season with salt & pepper, to taste, and cook until the chicken's cooked through. Remove the chicken from the pan, and set aside.

Add the mushrooms & onion to the pan, tossing with the last tablespoon of oil. Stirring occasionally, cook until the mushrooms are done.

Add the chicken, broth, cream, wine, and pasta back to the skillet. Bring the mixture to a boil, reduce to a slow simmer and cover.

Continue simmering, stirring occasionally, for 15-20 minutes or until the pasta is cooked through.

Remove the skillet from heat, stir in the cheese, and serve immediately.