Skip the broth and turn a family favorite soup into a hearty pasta dinner. This Italian Wedding Soup Pasta Skillet is a quick and easy meal, full of flavor, any day or night of the week.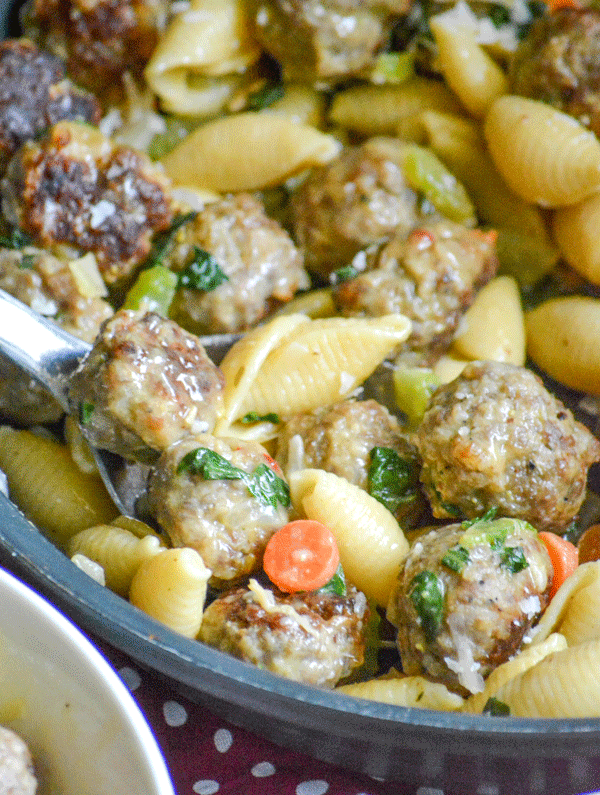 I'm pretty sure that by now, 2017, just about everybody's at least heard of Italian Wedding Soup. It's one of my most favorite soups. It's hearty, fill you up and warm you right down to your soul, soup.
Betcha think that the version you know and love hails from, well Italy, right? Not true.
Sorry, I know we don't know each other personally, but I love history and virtually any historical fact. I collect them, mentally of course, like someone might collect trading cards.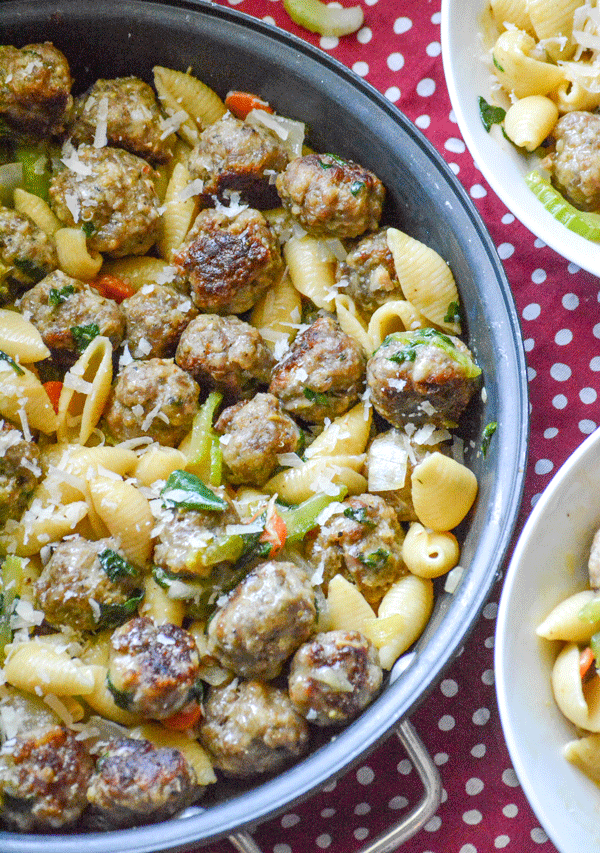 Being married to a 3rd generation, full blooded Italian- you wouldn't believe how many of our friends have asked if we have a recipe for this very soup. Some of them, even Italians themselves.
Folks, the soup itself (by another name) did in fact originate in the mother country, it just went by another name. Liek so many other things, it's long since been 'American-ized'.
Originally, it was the OG leftover meal. It was called 'minestra maritata', or 'married soup', meaning a beautiful marriage between some edible greens and meat. Those things still marry together beautifully in so many of our recipes.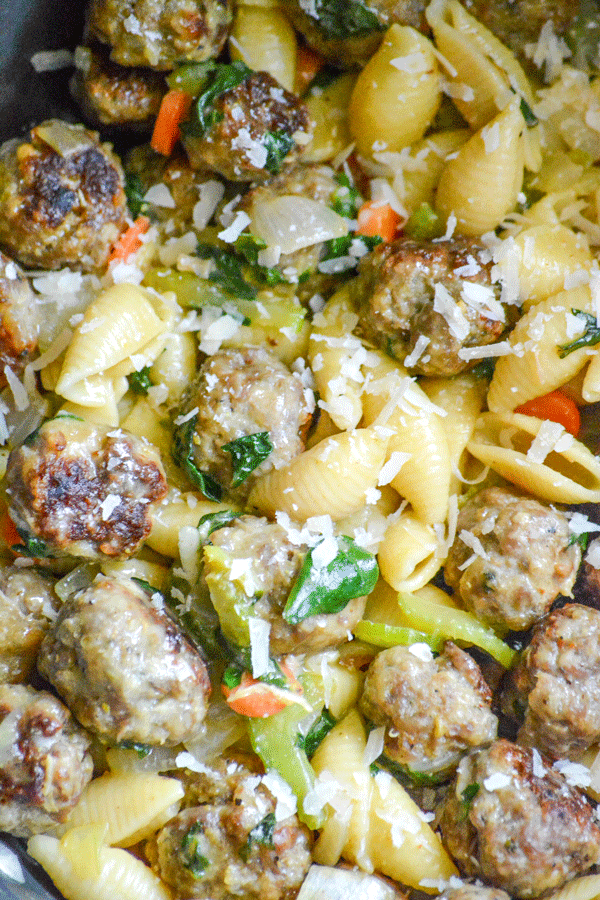 It was my very Italian Nonna-In-Law who set me straight about it's origins. She's my go-to now whenever I have any questions about anything remotely Italian, especially if it's cuisine.
It was their equivalent of 'everything and the kitchen sink' leftover soup, the ultimate peasant dish.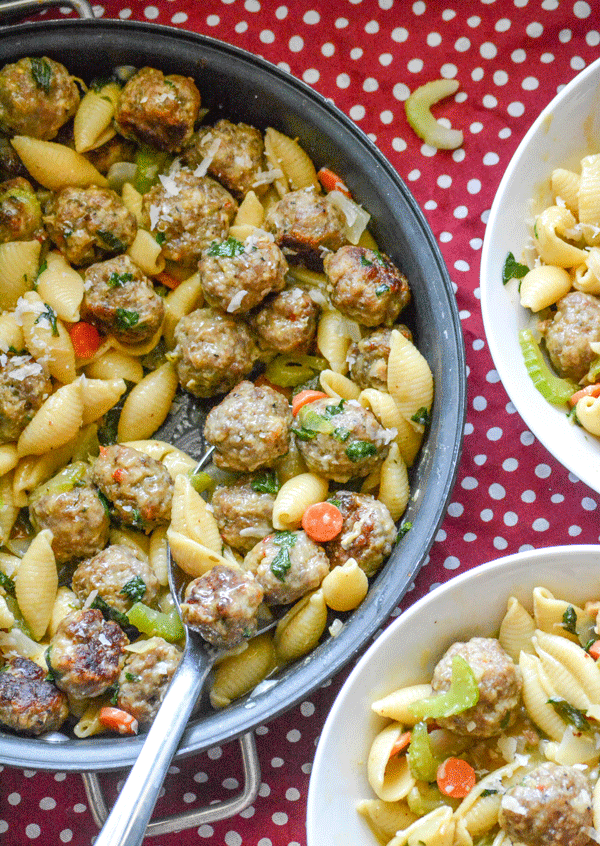 Traditionally it consisted of whatever leftover meat you had, usually pork based and in the form of sausages or meatballs, broth, available greens, and lots of veggies. Meat was a luxurious addition, but not the heart of the meal.
Your means determined the density of your soup- poorer family's versions would be lighter. Either way the intent was to keep your belly full. And as things usually do, it made it's way to America along with my children's ancestors.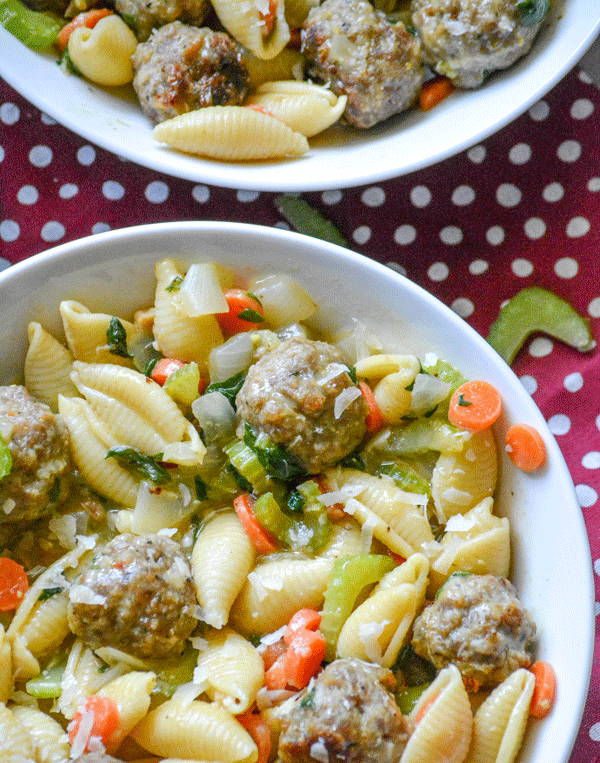 Like they became American-ized and adapted to their new environment, so did their beloved soup. Still a staple comfort meal after World War II, it took on ingredients of the time and was subject to supply and demand.
Meatballs became much smaller, for example. Instead of the giant ones you'd picture served atop a bed of spaghetti (yes, you may have only gotten two in your bowl before, but they were mighty), they became much more minuscule.
Pasta became commercialized, easy to produce, and cheap. Guess what got added to 'flesh out' our family favorite soup? Especially on a budget, it would keep you full and energized all day long- even when money was tight.
And of course, as the economy improved so waned our interest in home grown veggies- loosely giving you the version of Italian Wedding Soup you know and love today.
Like so many other things, it became the norm AND it became a favorite of Americans everywhere.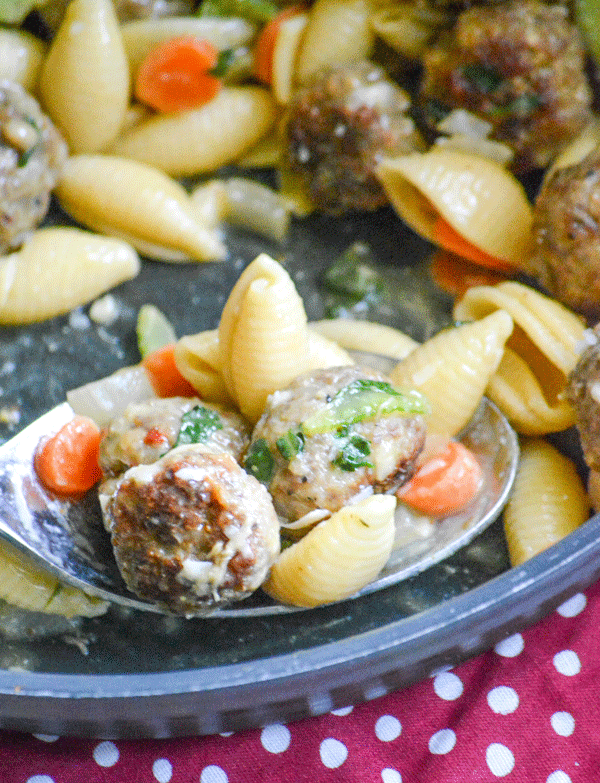 Well being the crass American brat that I am, I decided I'd take it a step farther still. We skipped the broth altogether, well we used just enough to cook it, and went with an Italian Wedding Soup Pasta Skillet.
No longer the poor man's meal it once was, it's still quick, easy, and filling. It's a great way to use up the last scraps of veggies in the kitchen. Enjoy our Americanized version of one of our family's favorite dishes- this Italian Wedding Soup Pasta Skillet is a yummy flavorful meal, no matter how you serve it.
If you've tried this ITALIAN WEDDING SOUP PASTA SKILLET, or any other recipe on the site, let me know in the comment section how it turned out, we love hearing from our readers! You can also follow along with me on PINTEREST, FACEBOOK, and INSTAGRAM to see more amazing recipes and whatever else we've got going on!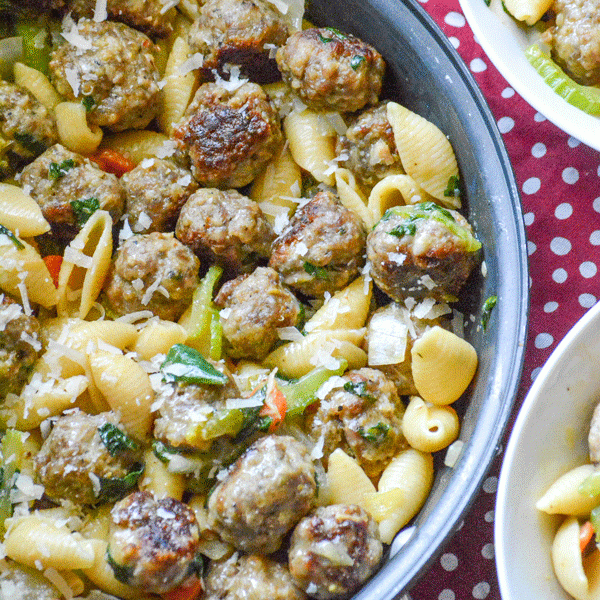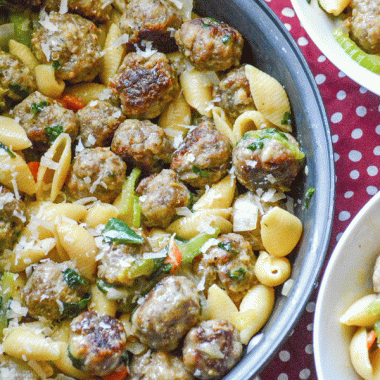 Italian Wedding Soup Pasta Skillet
An Americanized version of an old Italian soup, this version skips the broth, adds some pasta, and keeps all of the flavor.
Print
Pin
Rate
Ingredients
For The Meatballs
1

lb

ground chicken or low sodium ground sausage

1/2

cup

Panko bread crumbs

1

tbsp

Italian seasoning

2

tsp

milk

1/2

tsp

salt, if using chicken (is using pork, omit the salt)
For The Pasta Skillet
2

cups

small pasta, cooked according to pkg directions

2

tbsp

olive oil

1/2

cup

celery, diced

1/2

cup

baby carrots, thinly sliced

1/2

cup

white onion, diced

1

can

cream of chicken soup

1

heaping cup

spinach leaves, washed & chopped

1

cup

chicken broth

1

tsp

dried thyme leaves

1/2

cup

shredded Parmesan cheese
Instructions
To Make The Meatballs
To a large mixing bowl, add the ground meat, Italian seasoning, bread crumbs, milk, and salt (if using chicken). Using your hands, knead all of the ingredients together until evenly combined.

Lightly spray and baking tray with non stick cooking spray. Using your hands again, roll the meat mixture into 1" meatballs. Place them on the prepared tray, until all the meat's been rolled.

Bake the meatballs at 350 degrees for 30 minutes.
To Make The Pasta Skillet
Add the olive oil to a large skillet, and heat over medium heat. Add the celery, carrots, and onions. Cook until tender, about 5 minutes, stirring occasionally.

Stir in the cream of chicken soup, spinach, broth, and thyme until they're evenly incorporated and the mixture's smooth. Stir in the meatballs. Cover the skillet and let the mixture simmer for 5 minutes.

Stir in the pasta until evenly coated. Serve the dish topped with the shredded Parmesan. Taste before salting and peppering, if desired.