Don't wait for a party to make a batch of yummy deviled eggs. With this easy Deviled Egg Salad, you can enjoy their creamy, seasoned taste any day- and serve it up for virtually any meal.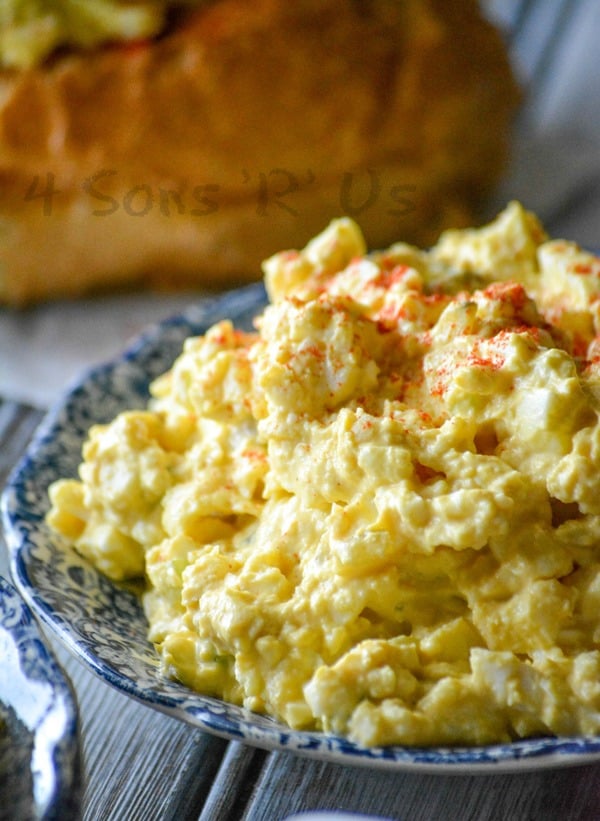 Easter's coming, and with it one of the kids' favorite holiday treats. The annual dying of eggs.
Which means that at some point this week I will find myself in the grocery store buying several dozen large, white eggs. And I'll be adding a few things of food coloring to the cart.
I'll probably need a new package of crayons, too.
Thursday or Friday my kids will all be arguing with one another about who passed gas and accusations will be flying and met with various firm denials.
Me? I'll be in the kitchen laughing as I boil said eggs for their future Easter enjoyment, and not saying a word.
One day, or maybe at some point that day, they will figure out that just like the fresh broccoli I love and steam so often, hard boiled eggs stink too.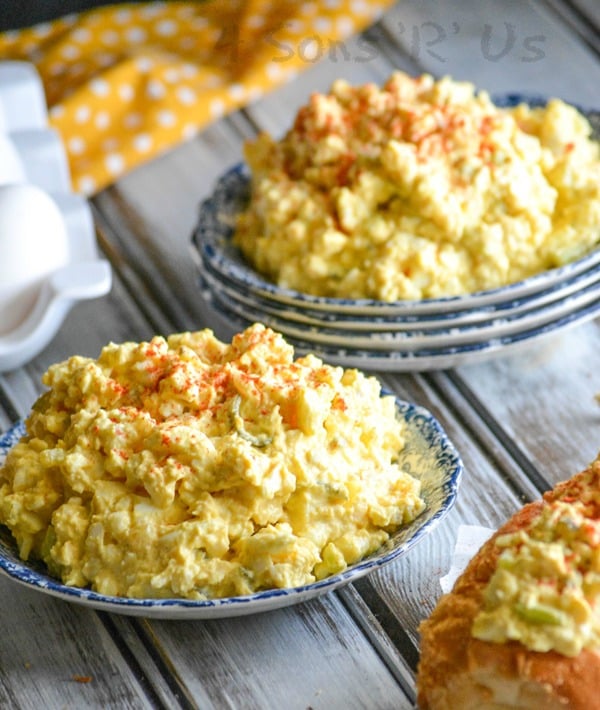 The pay off is so worth it though. While those eggs are sitting pretty in those colorful baskets Easter morning, by the next night– they're lunch or dinner.
The hubs takes them for breakfast and snacks. The sons' grab them and go, tossing the peeled shells in the plants where they'll eventually break down and act as a kind of recycled fertilizer.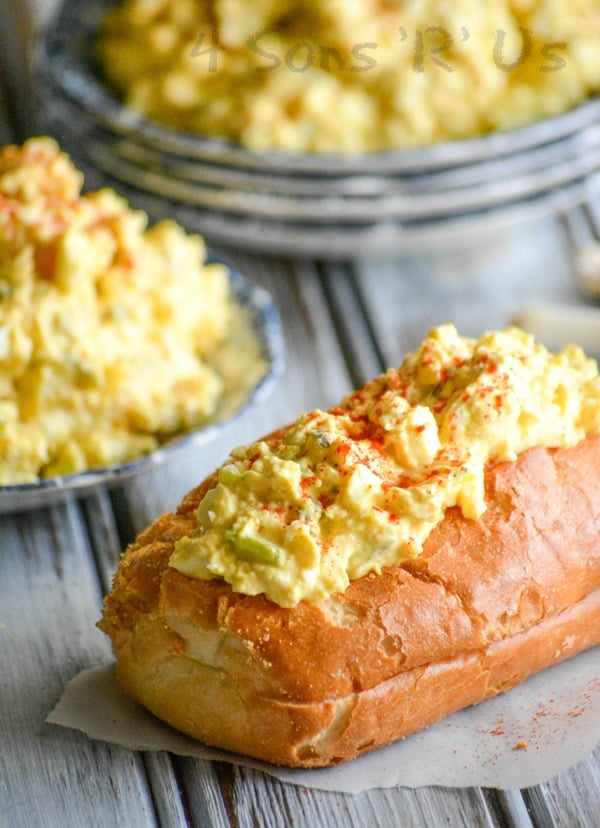 For myself though, I much prefer them 'deviled', especially at Easter dinner. The coloring always leaches through a little dying the whites gorgeous pastel shades of color.
Topped with the creamy, bright yellow filling– they're a fun, festive treat. It's a great appetizer or side dish for gracing any family's holiday table.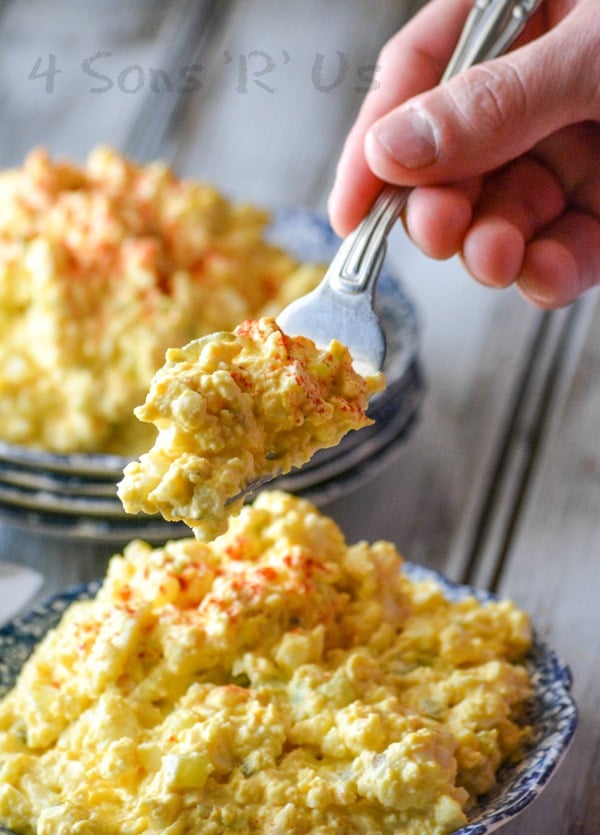 But we all know how I love to experiment and take things above and beyond. My deviled eggs were no exception. This time I decided to combine them with another of our favorite ways to enjoy hard-boiled eggs- egg salad.
The result? Deviled Egg Salad. And it didn't disappoint.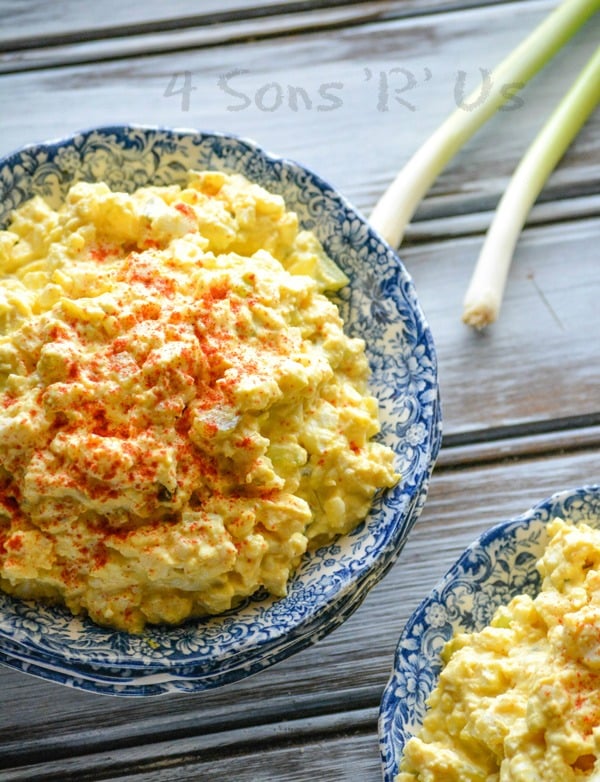 Instead of making deviled eggs with your hard-boiled eggs, opt for this Deviled Egg Salad instead. It's creamy, perfectly seasoned, and topped with a sprinkle of smoked paprika for a pretty finish, that's also quite tasty.
Serve it as is with crackers, on a sandwich with toasted bread, or in a crisp lettuce wrap.
Don't miss out- make sure you check out our recipes for Crab Stuffed Deviled Eggs, French-Style Deviled Eggs, or even these fun Irish-inspired deviled eggs.
If you've tried this DEVILED EGG SALAD, or any other recipe on the site, let me know in the comment section how it turned out, we love hearing from our readers! You can also follow along with me on PINTEREST, FACEBOOK, and INSTAGRAM to see more amazing recipes and whatever else we've got going on!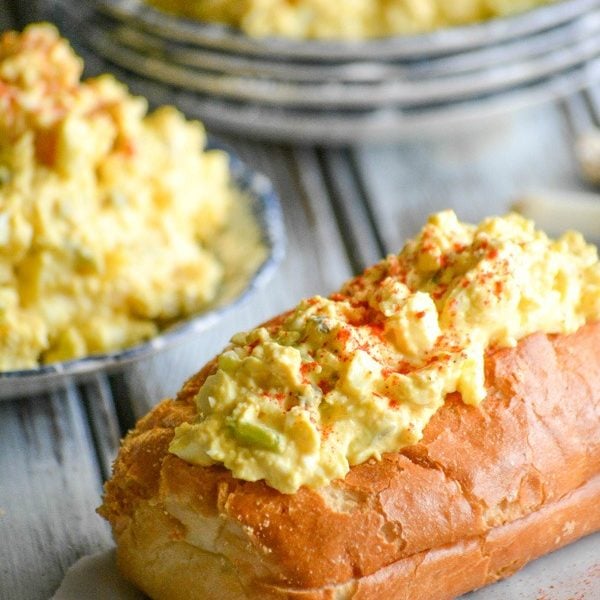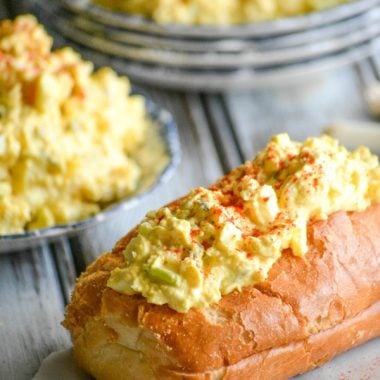 Deviled Egg Salad
A creamy egg salad, it's easy to whip up and tastes just like your favorite party food. This deviled egg salad makes a perfect snack, appetizer or light lunch. It can be served as a sandwich on sliced bread or in lettuce wraps, or with buttery crackers for dipping.
Print
Pin
Rate
Ingredients
12

peeled hard-boiled eggs, cooled compltely

1/4

cup

finely chopped, white onion

1/4

cup

minced celery

3

tbsp

dill, or sweet, relish

1

tsp

Worcestershire sauce

1

tbsp

sugar

1

tbsp

yellow mustard

1/2

tsp

garlic powder

salt and pepper, to taste

1/3

cup

mayonnaise

smoked paprika, for topping
Instructions
Add the eggs to a large mixing bowl. Use a potato masher to 'smash' them into tiny pieces.

In a separate bowl, use a spatula to toss the onion, celery, relish, Worcestershire sauce, sugar, mustard, garlic powder, salt, and pepper together until evenly combined.

Transfer the mixture to the bowl with the smashed eggs. Use a spatula to stir, until evenly combined and the mixture's smooth. Fold in the mayo, adding more or less to texture/taste, until the mixture's reached your desired creaminess.

Serve this salad on sandwiches, with crackers, or even in lettuce wraps. Sprinkle it with smoked paprika before serving.
Nutrition
Calories:
196
kcal
|
Carbohydrates:
5
g
|
Protein:
10
g
|
Fat:
15
g
|
Saturated Fat:
4
g
|
Cholesterol:
284
mg
|
Sodium:
245
mg
|
Potassium:
116
mg
|
Fiber:
1
g
|
Sugar:
3
g
|
Vitamin A:
414
IU
|
Vitamin C:
1
mg
|
Calcium:
39
mg
|
Iron:
1
mg