A good cupcake recipe is a must have. Kick the box mix to the curb, and make an adult version of the favorite dessert with these Boozy Chocolate Coffee Cupcakes with Oreo Cookie Buttercream. Chocolate, vanilla liqueur & coffee infused cupcakes are topped with an Oreo cookie and cream butter cream frosting. It's the perfect adult flavored dessert.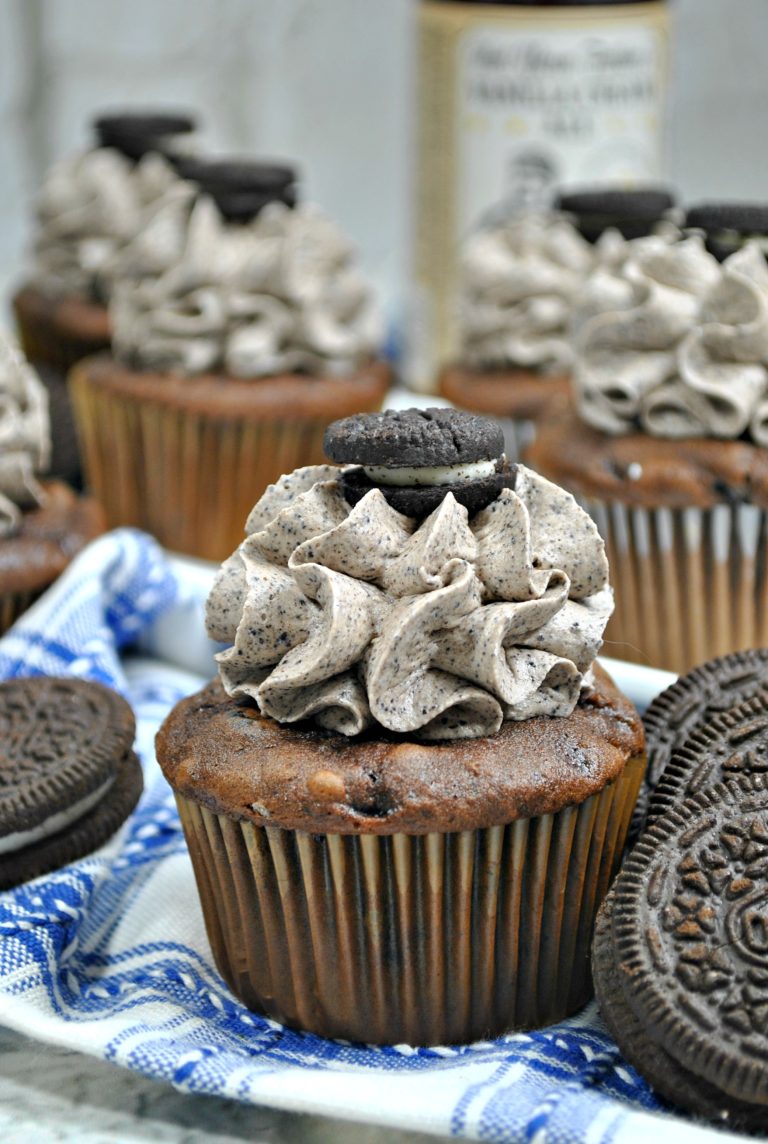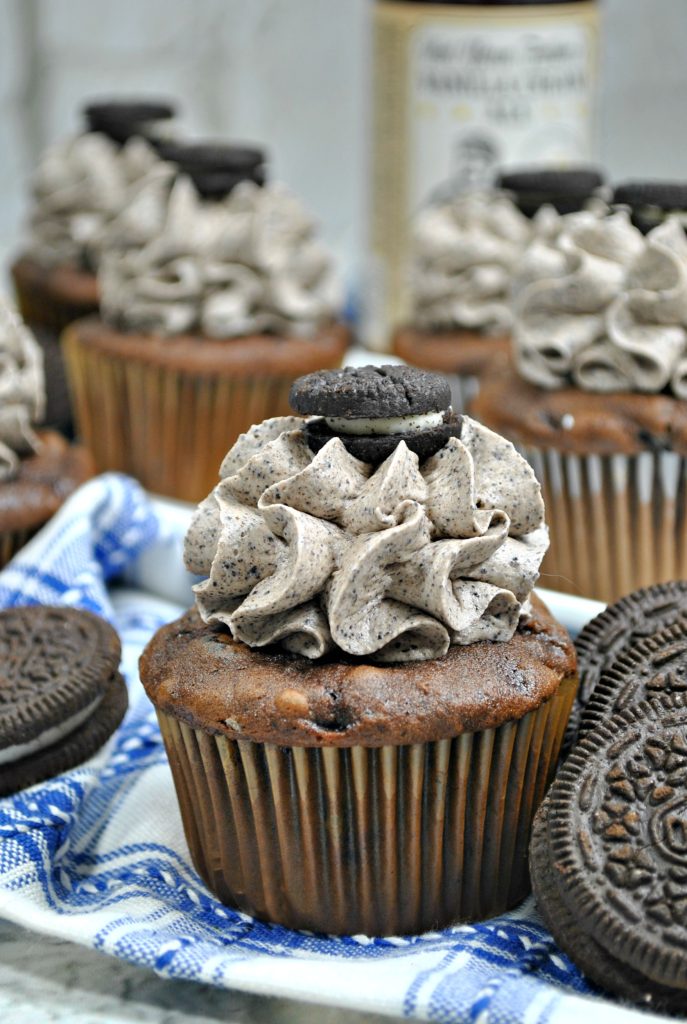 I don't know if it's a man thing, or just a my man kinda thing, but he wakes up in the morning on the weekends (only on the weekends) hangry. I mean hangry.
As soon as he eats? He's back to his normal self. Before that? Stay out of Papa Bear's way!
So every Saturday, Dad gets up, makes a full breakfast-including two dozen eggs, then gets mad that there's always a mound of leftovers that don't get eaten.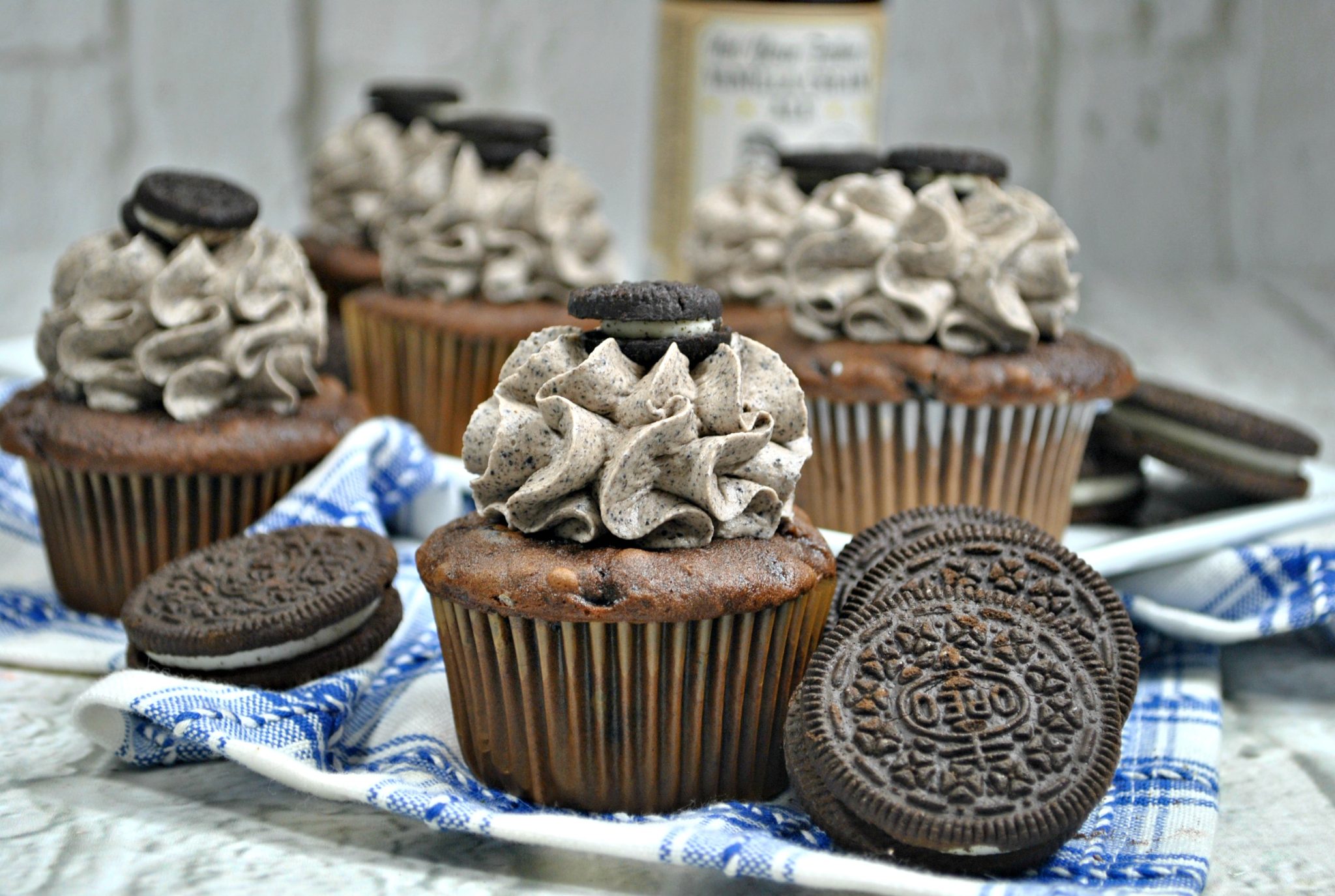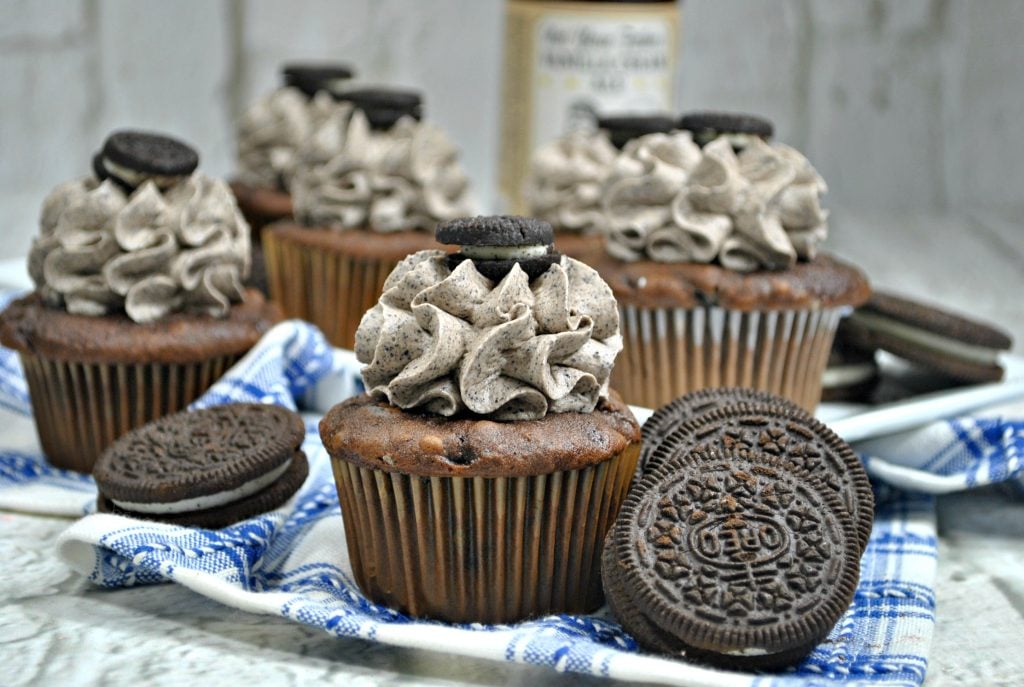 The rest of us just aren't big breakfast people. Especially not just your average scrambled eggs.
Now if we're talking a more brunch-ish meal, like quiche or omelets- count us in. But nobody's gonna complain about somebody else doing the cooking, even if it means making what the cook likes.
It got me thinking though, when do we cook for Dad? I mean I cook all the time obviously, and he relishes everything I make- but I rarely cook with just him in mind.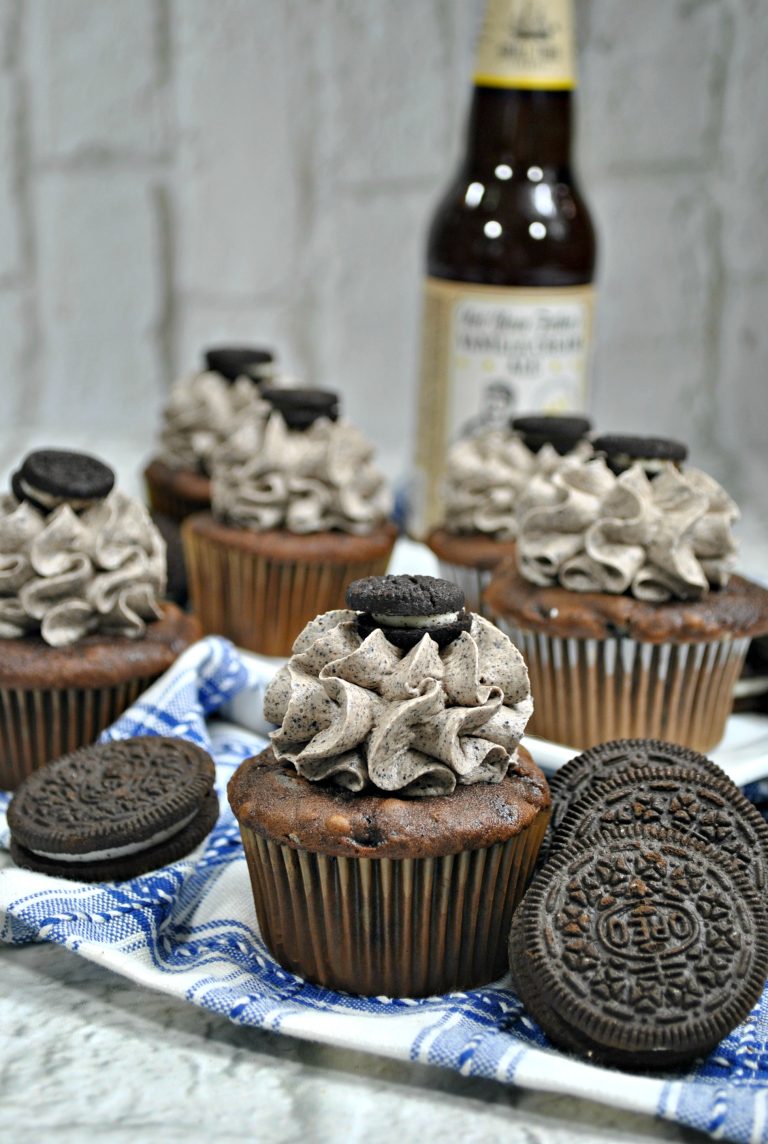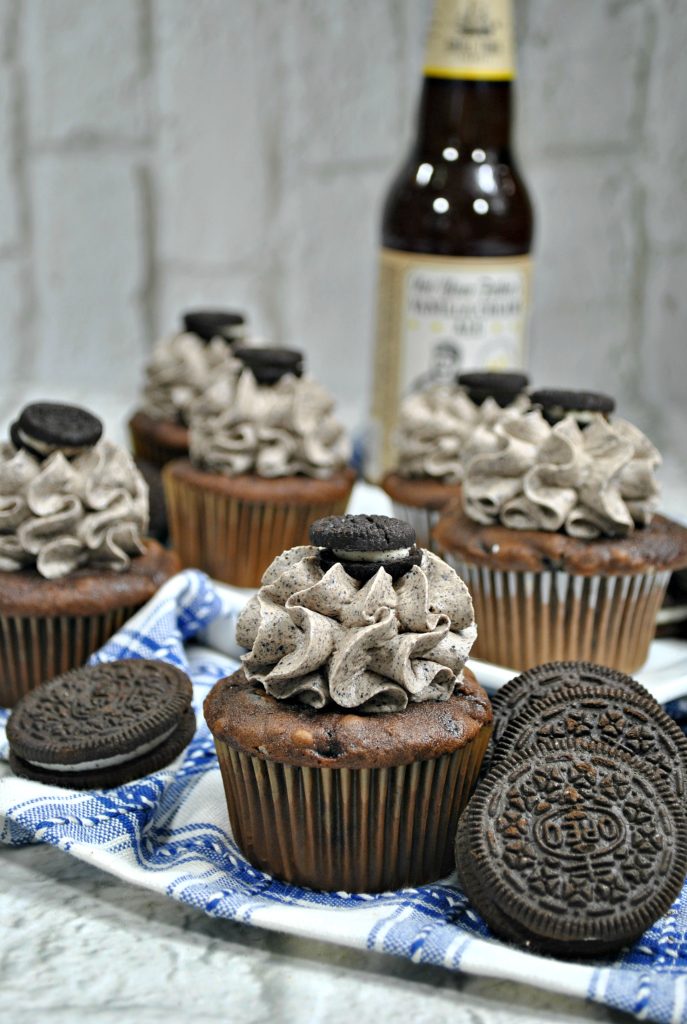 Father's Day is right around the corner though, so he wheels are already turning.
The youngest son has already hatched a plan to get up early, and with Mama's help, to make breakfast for Daddy for once. Although we won't be serving it in bed, because that might send his OCD into maximum over drive.
And while breakfast, or first meal, is incredibly important to the Hubs it's not the only meal that day. On top of having a delicious dinner in the works, dessert is what's really the most important.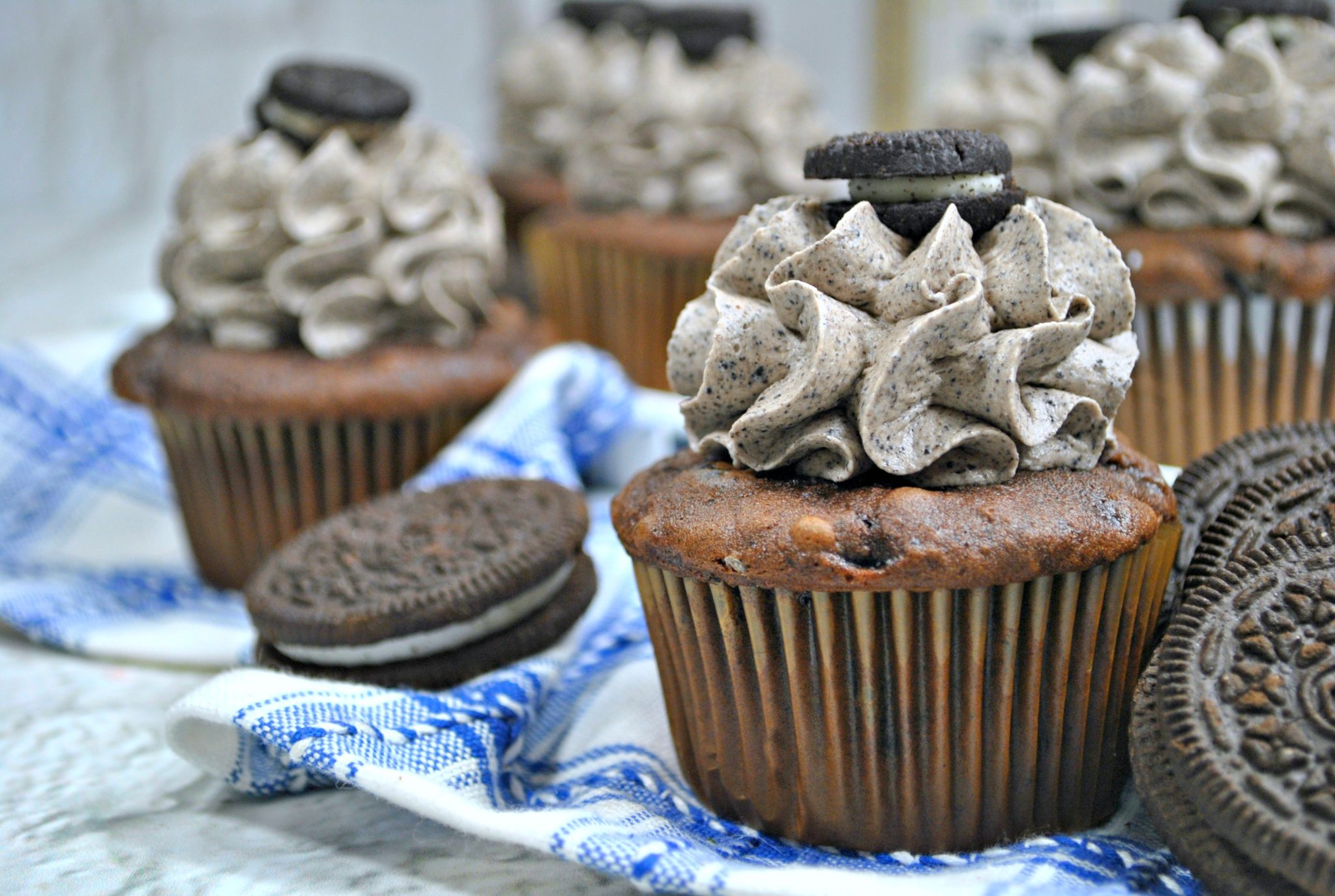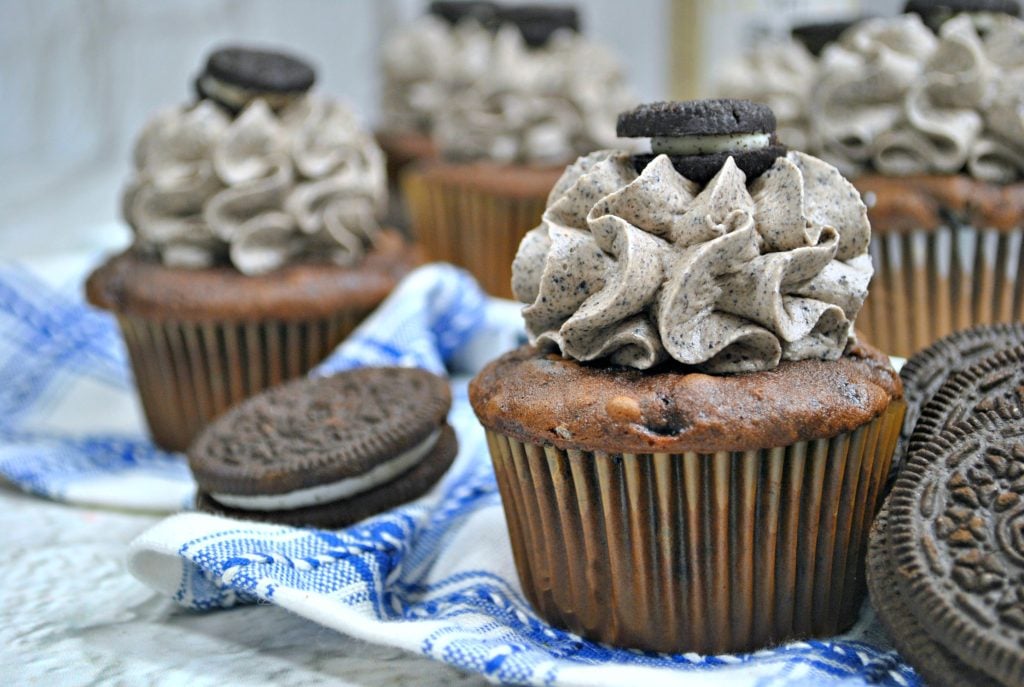 The Hubs has an incredible sweet tooth. I've never seen anything like it. It will wake him up out of a dead sleep craving something sugary. It's so strong that he won't be able to go back to sleep until he gets up and gives in.
With that in mind, I know I've got to really step my game up when it's a special sweet treat for his special day.
With these Boozy Chocolate Coffee Cupcakes with Oreo Cookie Buttercream, I don't think there's any way I can go wrong this year!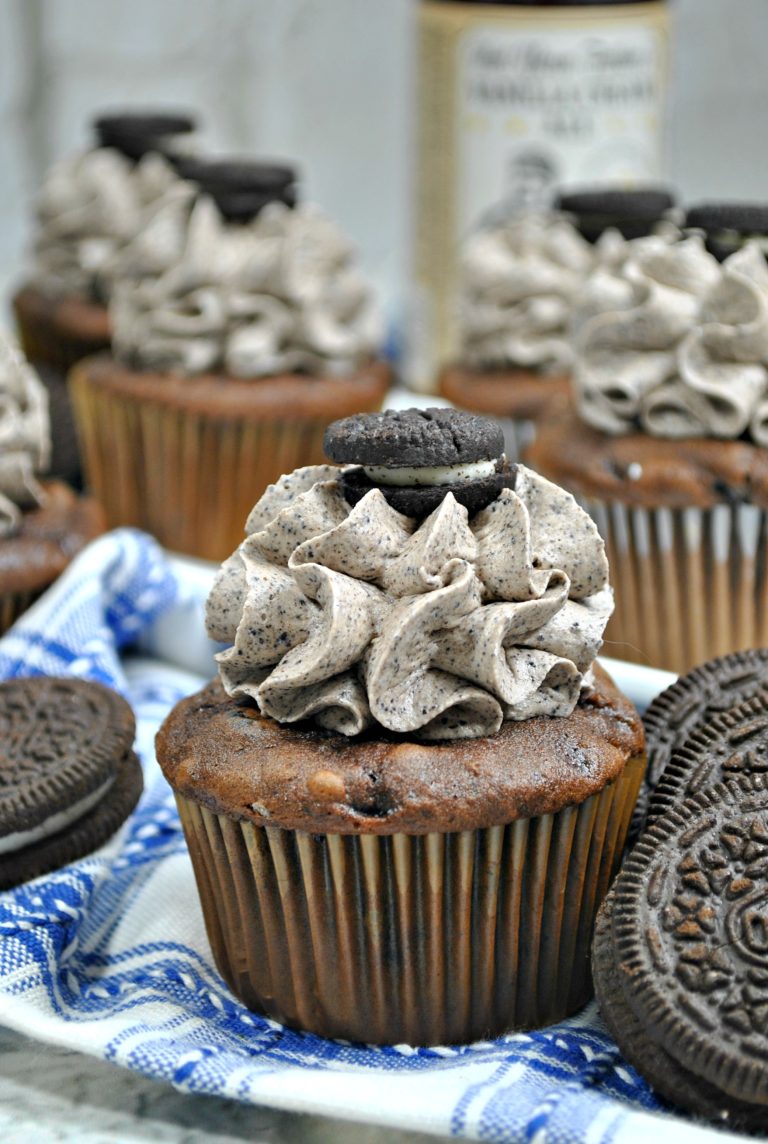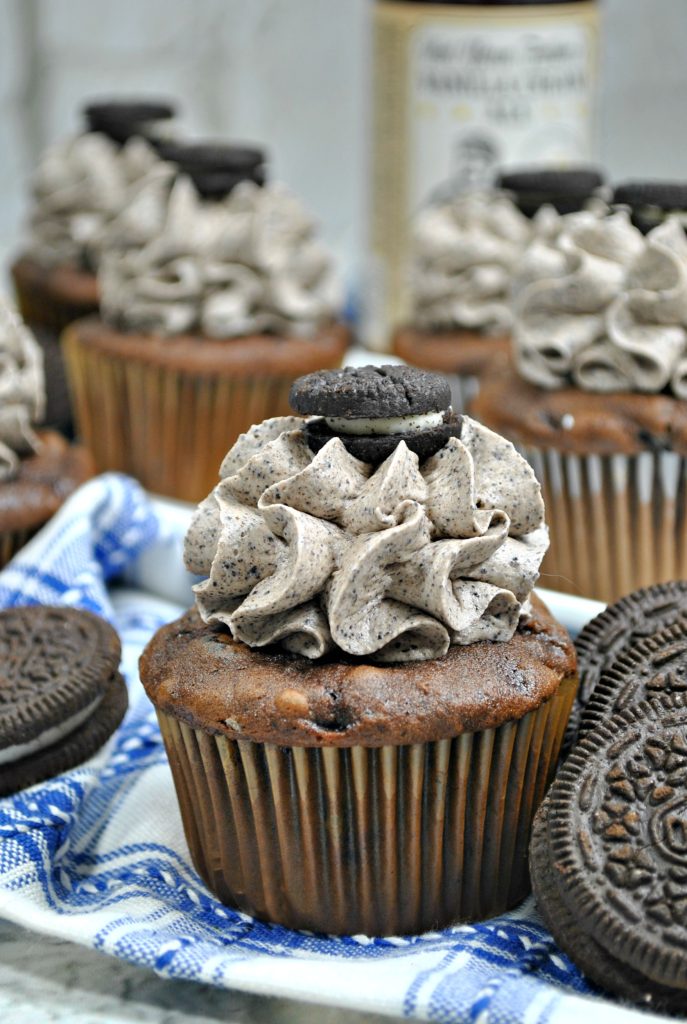 A rich, moist homemade chocolate cupcake with subtle notes of coffee, this adult version is topped with a luscious Oreo cookie buttercream.
Despite the long, and fancy sounding, name- these Boozy Chocolate Coffee Cupcakes with Oreo Cookie Buttercream are easy enough for any level of baker, despite starting from scratch and skipping a box mix.
This recipe yields about 18 cupcakes, with enough frosting to generously top each one. It's important to note that the batter should only fill the cups to 3/4 of the way full. That yields the gorgeous flat top that makes for the prettiest presentation when frosted.
Other cupcake recipes you might enjoy: Baby Ruth Cupcakes, Apple Pie Cupcakes, Dark Chocolate Cupcakes with Red Wine Buttercream, Salted Margarita Cupcakes with Tequila Lime Buttercream.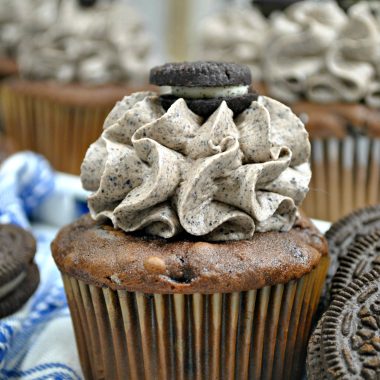 Boozy Chocolate Coffee Cupcakes with Oreo Cookie Buttercream
A surprisingly easy from scratch chocolate cupcake with hints of coffee, these boozy cupcakes are topped with a rich, creamy Oreo cookie buttercream making for the ultimate indulgent sweet treat.
Print
Pin
Rate
Ingredients
For the chocolate cupcakes:
1

cup

flour

¼

cup

+ 2 tbsp unsweetened cocoa powder

¾

tsp

baking powder

½

tsp

baking soda

½

tsp

salt

½

cup

brown sugar

½

cup

granulated sugar

⅓

cup

canola oil

½

cup

buttermilk

1

large

egg, room temp

1

tsp

vanilla extract

1/4

cup

vanilla cream liquor

1/4

cup

boiling water

1

tsp.

instant coffee granules
For the Oreo frosting:
1

cup

butter

softened to room temperature

3

cups

powdered sugar

3

tbsp.

heavy whipping cream

1

tsp.

vanilla extract

¾

cup

finely crushed Oreo crumbs
Instructions
Chocolate cupcakes:
Line your cupcake pans with 18 cupcake liner. Set aside.

In a large mixing bowl, add and stir together the flour, cocoa powder, baking powder, baking soda, and salt until evenly combined.

Add in the sugar and brown sugar, stirring again until completely combined.

Add the oil, buttermilk, egg, cream beer, and vanilla extract. Stir until combined.

Add the instant coffee to the 1/4 cup boiling water and mix until dissolved.

Add the coffee to the mixing bowl and mix.

Pour the batter in the cupcake liners. Fill each one 3/4 of the way full.

Bake at 350°F for 17-20 minutes. Remove the cupcakes from the oven, and set aside. Let stand until cool enough to touch. Remove to a wire rack to finish cooling completely.
To make Oreo frosting:
In the bowl of a stand mixer fitted with the paddle attachment, or in a large mixing bowl using an electric mixer.

Add the butter on medium speed and beat for 1 minute.

Add in the powdered sugar 1 cup at a time.

Continue to mix to combine.

Add the heavy whipping cream and vanilla extract.

Mix on medium-high speed until the mixture is combined.

Add the Oreo crumbs on low-speed and combine.

Pipe the frosting on the cooled cupcakes.

Garnish each one with a mini Oreo.