This post is sponsored in conjunction with #BBQWeek. I received product samples from sponsors to use in creating #BBQWeek recipes. However, all opinions are mine alone.
Sweet tea is a Southern staple, and every family has their own tried and true recipe they swear by. Did you know you could infuse your tea with fruit to make it an out of this world experience? This Grilled Peach Infused Sweet Iced Tea is a truly refreshing experience.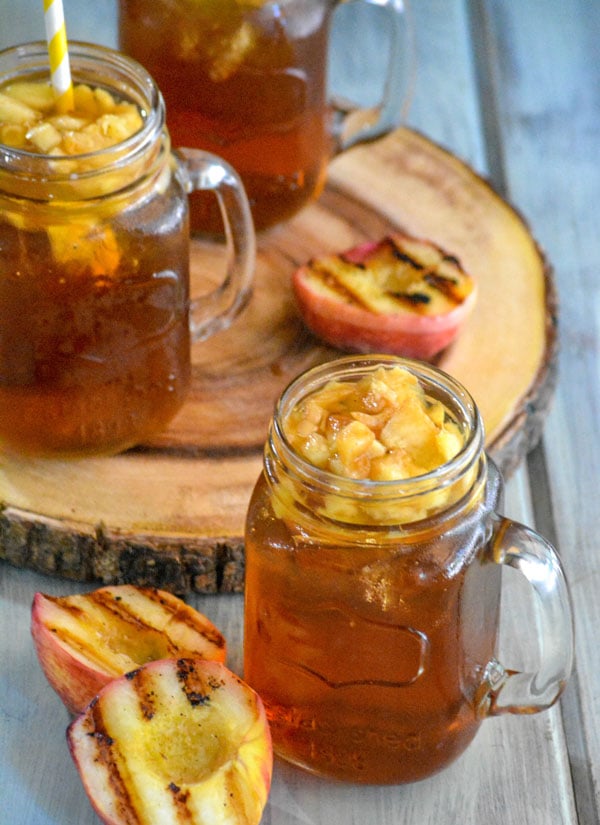 As I mentioned above, if you live in the South- tea is a way of life.
It has a rich, vibrant history and culture all of it's own dating back to at least 1879.
Traditionally, it's made by brewing bags of black tea leaves and stirring in copious amounts of sugar while the mixture's still piping hot.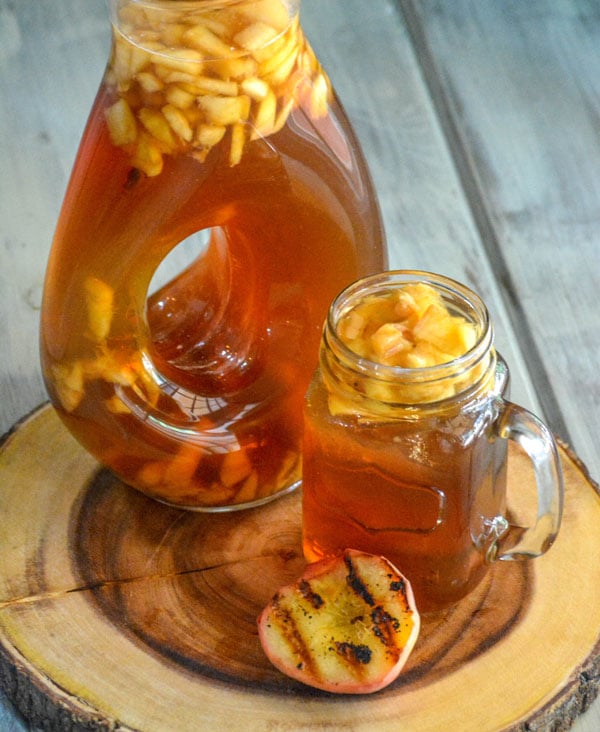 Left to cool to room temperature, it's served in a glass poured over ice so that it's refreshingly cold.
Which is especially appreciated during Southern heat waves, or just about any day in the Summer when the Sun and the temperature is enough to sap the strength of anyone- old & young alike.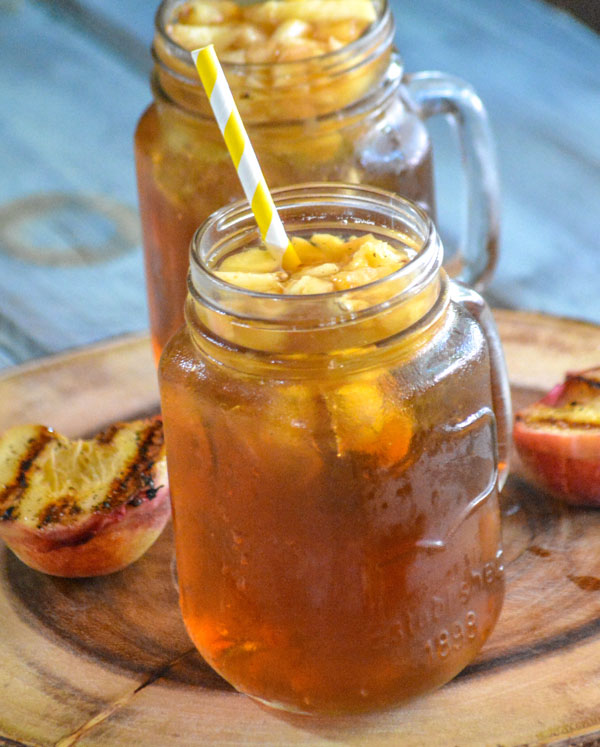 Have you heard of the recent trend of 'infusing' water? It's basically where you add fresh cut fruits to water and chill until the water takes on slight fruity notes.
It's become increasingly popular since it adds a bit of bright flavor to an otherwise 'boring' glass of water, without adding calories. Some even praise it's health benefits when using certain fruits.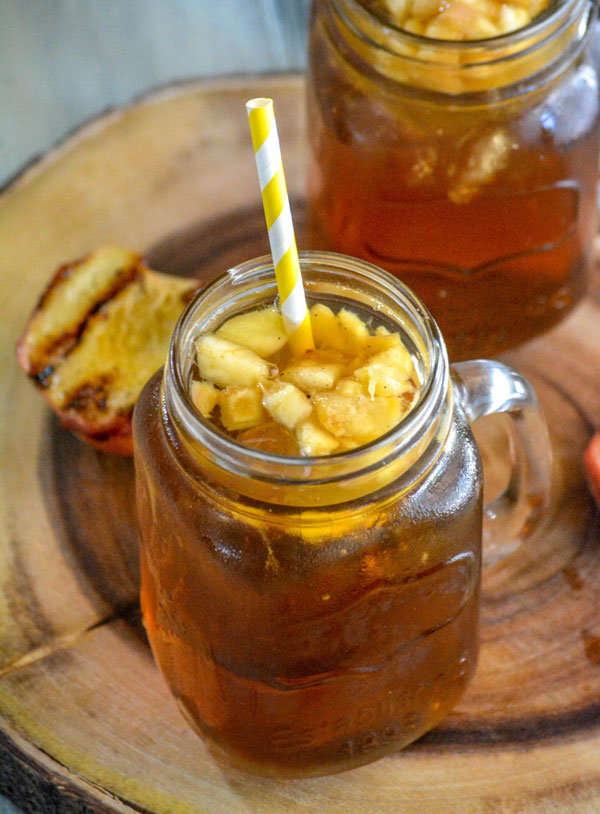 Most people have heard of tea infused with lemon, but here in the South we're no strangers to infusing our sweet tea with all kinds of natural fruit flavors.
We love our family's recipe for Sweet Southern Strawberry Iced Tea.
Like other's we've even gotten creative and transformed the beloved, thirst-quenching drink into other treats, like these Sweet Tea Lemonade Pops.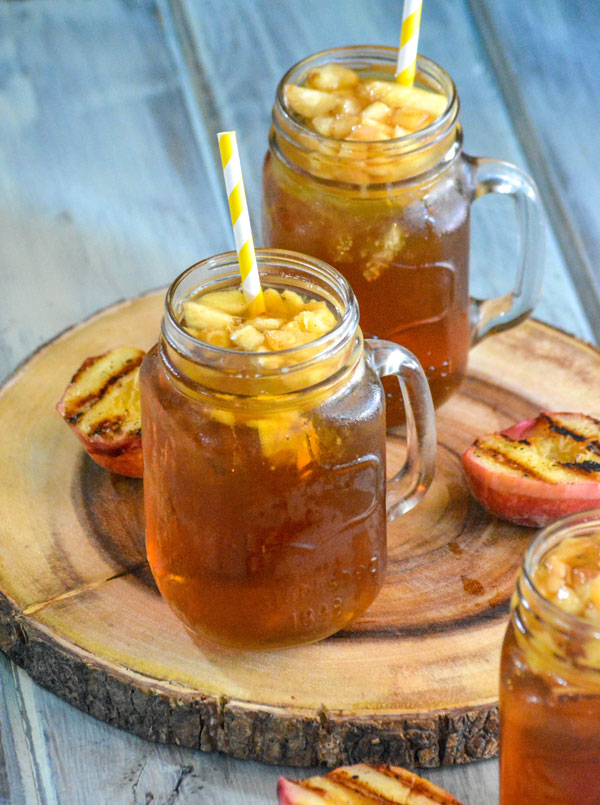 But, if we're keeping it basic, which sometimes is best- our favorite is a simple sweet tea infused with diced sweet Summer peaches.
You let it sit for a bit in the refrigerator and the flavors merry into a magical drink that's perfect in any weather.
I'm gonna let you in on a little secret we discovered though. A hack if you will, to take your sweet peach-infused tea to the next (and best) level.
Grilled Peach Infused Sweet Iced Tea.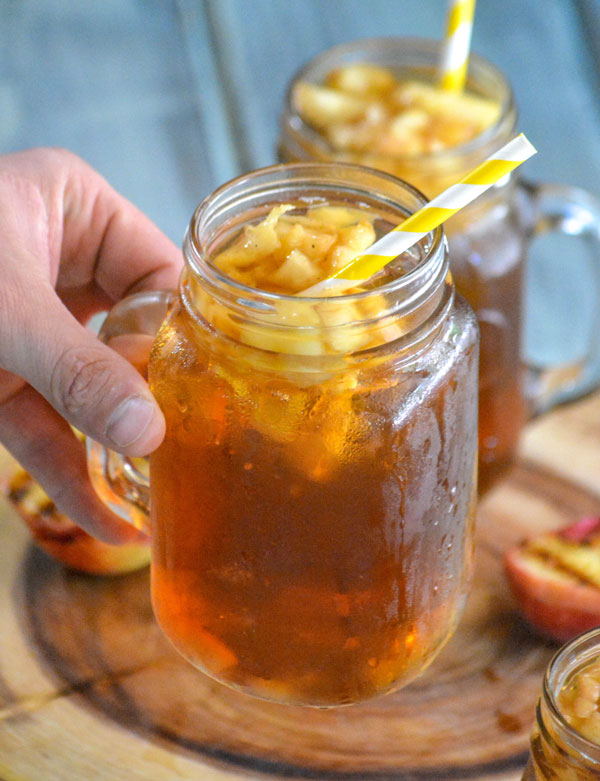 Did you know you could grill your fresh fruit? It causes the fruit to caramelize which releases all the sugars and gives it a sweet, syrupy taste.
Chopped up and then added to your favorite sweet tea, it blends seamlessly and makes an irresistible concoction without adding anything other than fresh fruit with it's natural sweet flavor in the spotlight.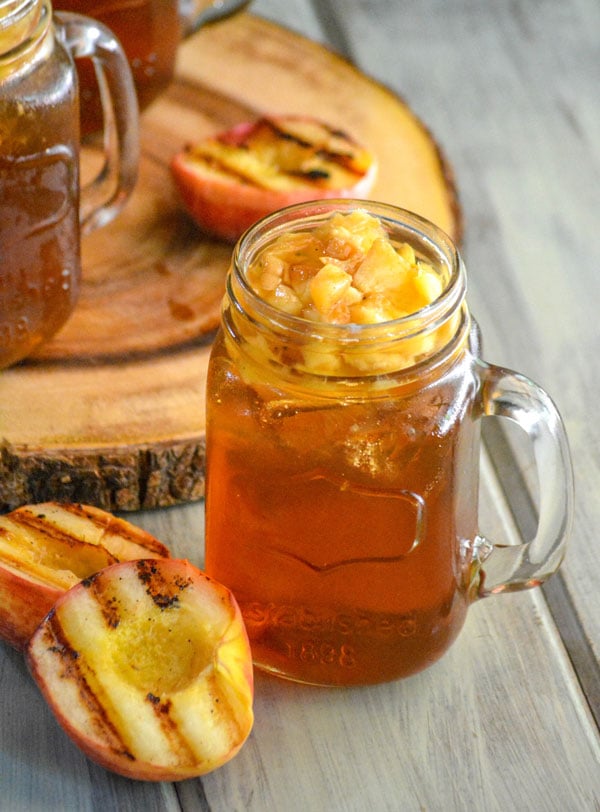 It's quick, it's easy, and it's mind-blowingly flavorful. Each sip of this Grilled Peach Infused Sweet Iced Tea brings the best memories of Summer to your mind and palette.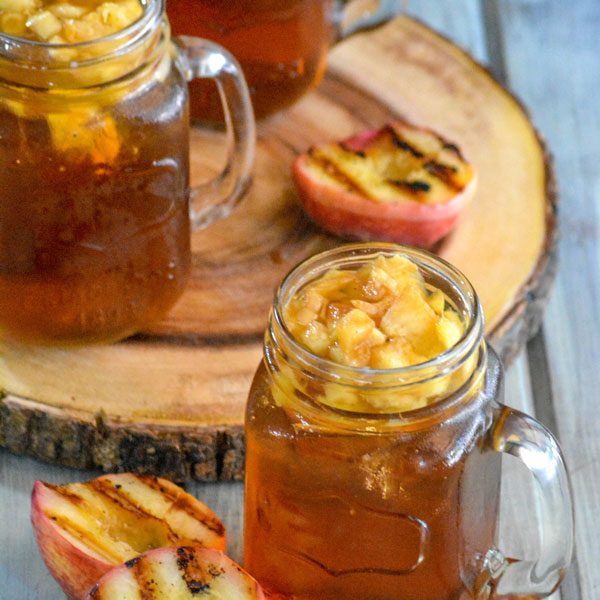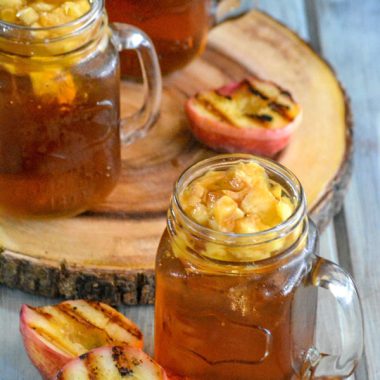 Grilled Peach Infused Sweet Iced Tea
A sweet, yet simple, fruit infused Southern sweet tea this one gets it's refreshing flavor boost from chopped, caramelized grilled fresh peaches.
Print
Pin
Rate
Ingredients
3

fresh, ripe

yellow peaches

1

64 oz

jug of your favorite sweet tea
Instructions
Cut the peaches in half and remove the pits.

Grill the peaches over medium high heat for 6-8 minutes, until lightly charred and the sugars have released and caramelized. Remove the peaches from the grill, to a clean cutting board.

Let the peaches rest, until cool enough to handle. Carefully peel the skins off and discard. Roughly chop the peaches, careful to not let any juice escape.

Pour the sweet tea into a pitcher or carafe. Transfer the peaches and any juice to the sweet tea, stirring to combine.

Refrigerate until chilled, and up to overnight, before serving. The longer you let the tea sit, the more flavor it will take on.

Fill 4-6 halfway with ice, fill with tea. Scoop a spoonful of the tea soaked peaches into each glass, and serve.
Welcome to #BBQWEEK! This week you'll enjoy more than 70 recipes from more than 20 bloggers. There is also the opportunity to win one of three great prizes from our sponsors. Thank you to Michigan Asparagus for providing bloggers with freshly harvested asparagus, to Adams Extract & Spice for wonderful rubs and spices for grilling and Not Ketchup for bloggers choice of sauce.
Prize Number 1: $100 Gift Card Courtesy of Michigan Asparagus (Value $100)
Michigan Asparagus is known for its hand snapped fresh asparagus. It is available May – June and grown mostly in Oceana County along the shores of Lake Michigan. Michigan Asparagus has excellent flavor and a long shelf life. It is a nutrient-dense, low-calorie vegetable with no fat, no cholesterol, and very little sodium. Approximately 120 local Michigan farmers produce approximately 20 million pounds of Michigan Asparagus during the state's 6-7 week harvest. Remember to buy U.S. for the freshest of the fresh.
Prize Number 2: Not Ketchup Sampler 5-Pack (Value $40)
Not Ketchup is a line of fruit gourmet grilling and dipping sauces with no added sugar, no corn syrup and no artificial sweeteners. They are gluten-free, dairy-free, soy-free, paleo, vegan, low-carb and Whole30 friendly.
Flavors in the sampler pack:
Tangerine Hatch Chile Not Ketchup blends sweet-tart California tangerines with a touch of heat from authentic Hatch chiles from New Mexico. Favorite pairings: fish, chicken, turkey
Cherry Chipotle Not Ketchup combines ripe cherries with the subtle, smoky heat of chipotle pepper. Favorite pairings: burgers, steak, salmon, ribs, meatballs
Blueberry White Pepper Not Ketchup takes blueberries to the savory side with a touch of mustard and a little kick of white pepper. Favorite pairings: lamb chops, shrimp, scallops, pork tenderloin, goat cheese
Smoky Date Not Ketchup mixes the natural sweetness of sun-ripened California dates with aromatic smoked paprika. Favorite pairings: pork chops, roast turkey, rotisserie chicken, ham, sausages
Spiced Fig Not Ketchup blends rich California Mission figs with warm spices like cinnamon, anise and black pepper. Favorite pairings: Leg of lamb, steak, roast chicken, cheddar cheese

Prize Number 3: A bottle of vanilla and a selection of rubs from Adams Extract & Flavors (Value $30)
From humble beginnings in Battle Creek, Michigan, to a rooted history in Texas, one thing has stayed the same: a commitment and passion to provide only the highest quality and innovative products and services. For over 125 years it's really been that simple…make great food taste even better! Today, Adams proudly manufactures and markets under several Adams Brand banners, including Adams Best®, Adams Extract®, Adams® Seasoning & Spice, Adams Reserve®, Flavor King™, Pantry Basics™, Sear-n-Crust®, ClearVan™, Carniceria®, Cocina del Rey®, Naturals™, and Urban Canner™ along with the Adams Frozen Skillet Desserts and Adams Premium Ice Cream lines.
See what the bloggers served up Friday for #BBQWeek
Boozy Grilled Pineapples by Everyday Eileen
Brisket Baked Beans by Palatable Pastime
No-Bake Raspberry Jello Pie with Graham Cracker Crust by Jonesin' For Taste
Grilled Greek Asparagus by Hezzi-D's Books and Cooks
Grilled Lemon Parmesan Asparagus by Cookaholic Wife
Grilled Peach Tea by 4 Sons 'R' Us
Asparagus and Shrimp Kabobs with Bang Bang Sauce by A Kitchen Hoor's Adventures
Grilled Summer Vegetable Pasta Salad by Soulfully Made
Honey Rum Grilled Banana Split by Jolene's Recipe Journal
Smoky Chipotle Baked Beans by Simple and Savory
Spring Vegetable Pasta Salad with Creamy Lemon Dressing by Family Around the Table
Thank you to #BBQWeek Sponsors Adam's Extracts, Michigan Asparagus, and Not Ketchup for providing the prizes free of charge. These sponsors also provided bloggers with samples and product to use for creating #BBQWeek recipes. All opinions are my own.
The #BBQWeek giveaway is open to U.S. residents, age 18 & up. There will be three winning entries that will be verified. The prize packages will be sent directly from the giveaway sponsors. The #BBQWeek Bloggers are not responsible for the fulfillment or delivery of the prize package. Participating bloggers and their immediate family members cannot enter or win the giveaway. No purchase necessary. Void where prohibited by law. This promotion is in no way sponsored, endorsed or administered by, or associated with social channels mentioned in the #BBQWeek posts or entry.