These Cherry Coke Smoked Pulled Pork Barbecue Grilled Cheese are the ultimate way to celebrate Spring & Summer, and the perfect way to introduce your smoker to a new season. Lunch or dinner, either one, this is cheesy pulled pulled pork sandwich is the meal for you.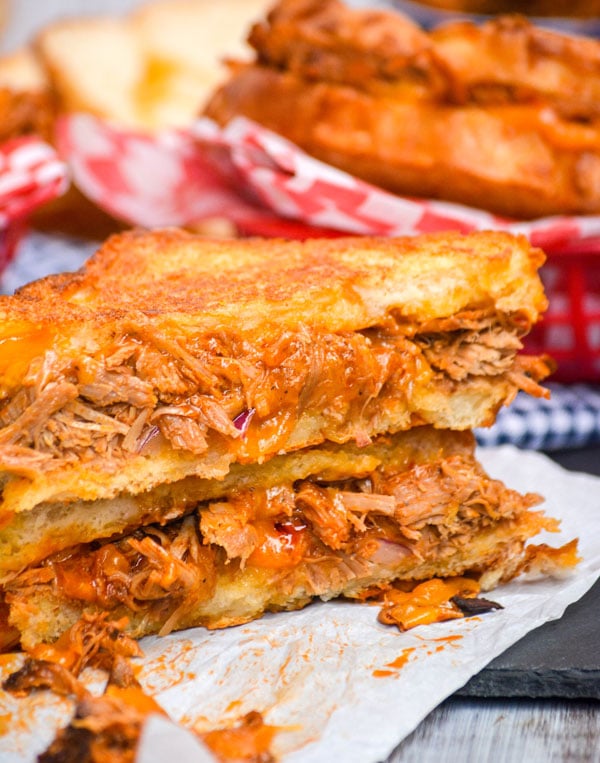 Warmer weather is right around the corner. We embraced that idea this weekend, and took a long weekend vacation to Washington, DC for the hubs & I.
We haven't done that since our honeymoon. What was that? 9 years ago? 9 years ago!
We were long overdue. We missed the blooming of the cherry blossoms.
Last weeks snowstorm pushed the predicted date out from this weekend to next weekend. It will make for a beautiful Easter.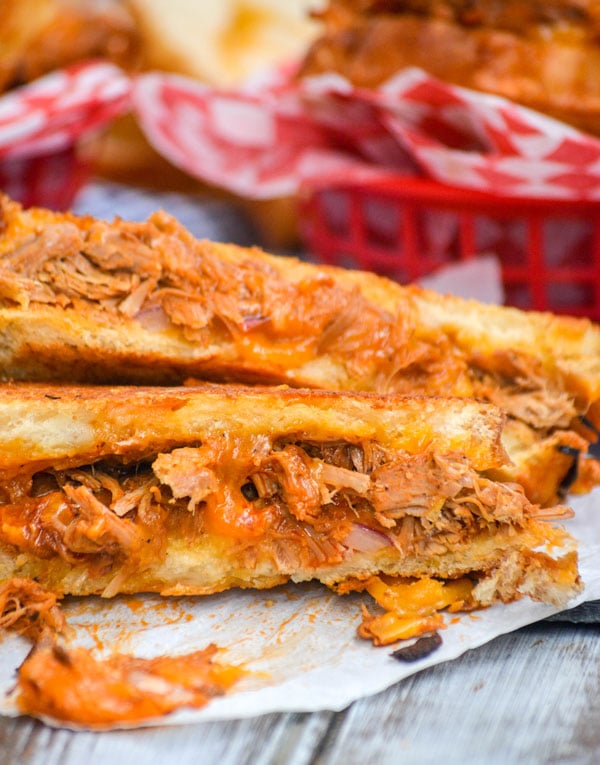 While we'll have a full post coming in the following week or two detailing all our travel tips, and must-see's.
Today, I want to talk about another much needed warmer weather thing the Hubs and I both sorely needed.
Our smoker, and a good pulled pork barbecue.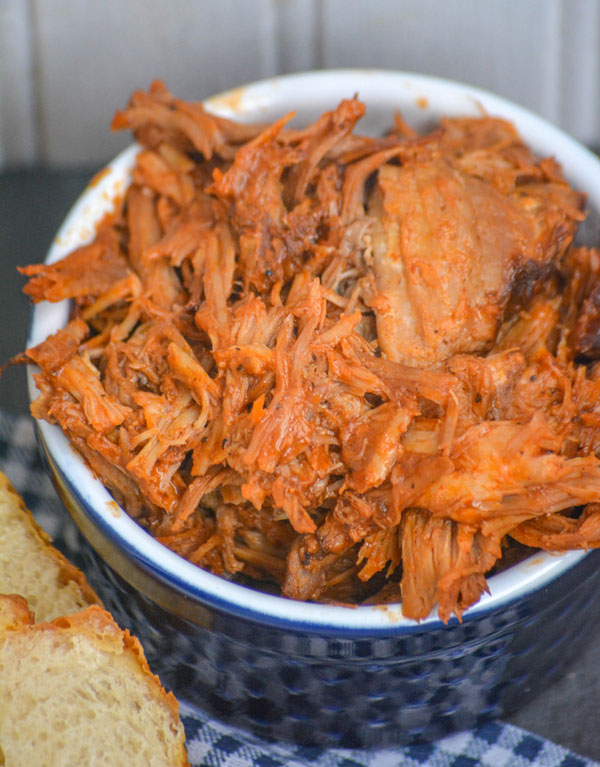 This Cherry Coke Smoked Pulled Pork Barbecue Grilled Cheese wouldn't be the delicacy it is, if not for the cherry coke infused, slowly smoked pulled pork.
Seriously, it's a game changer!
There's nothing quite like a freshly smoked pork butt.
If you're remotely related to my children, then you've already gotten all of the associated fart/butt jokes out of the way.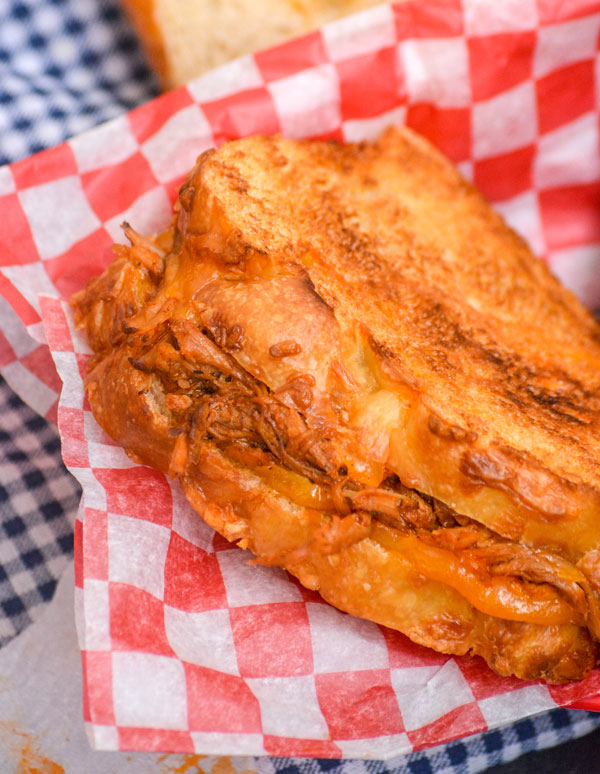 The best way, hands down, to smoke a pork butt is by marinating it first- brining it almost. But we're not gonna do that, we're gonna do a short cut.
Why? Because that would require planning ahead, which isn't one of my strong suits- in the kitchen or out.
Also when do I ever do anything by the book? I'm all about that short cut kinda life!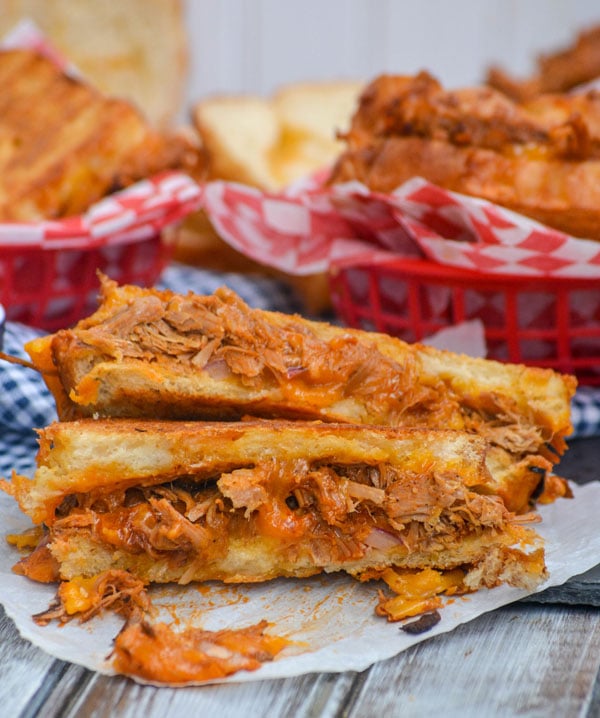 A pork butt is our most favorite thing to smoke, and you literally can't go wrong. It's fool proof, drama proof.
Since we've been smokin' meat, we've learned a thing or two.
For example, you're trying to work with a pork butt and you want incredibly tender meat that more accurately falls apart than is pulled? You either want to throw that bad boy in the slow cooker, or you want to smoke that sucker. It will be good.
Wanna know what will make it outstanding?? Inject that sucker with cherry coke before hand!
I know it sounds like a stretch, but it's an amazing meat tenderizer. You will be so glad you did.
And because we love each and everyone of y'all so much, instead of drawing this out into two posts- we're giving you two recipes in one with this Cherry Coke Smoked Pulled Pork Barbecue Grilled Cheese.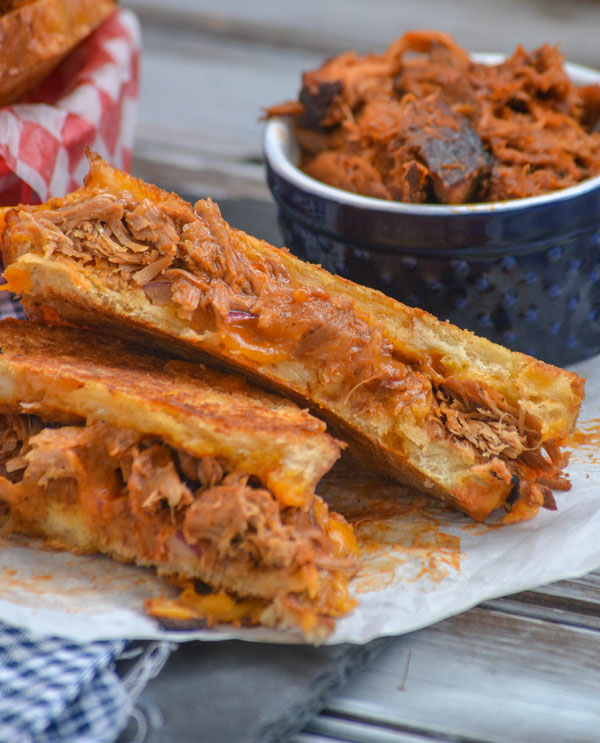 The best grilled cheese you've ever had is right around the corner. This Cherry Coke Smoked Pulled Pork Barbecue Grilled Cheese is where it's at- for lunch, for dinner, for anything!
Looking for something yummy to serve this sandwich with?
Look no further than our recipe for the world's best creamy Smoked Mac & Cheese, smoked honey butter corn on the cob, or butter braised smoked green beans.
Other Smoked Recipes You Might Also Enjoy
If you've tried this CHERRY COKE SMOKED PULLED PORK BARBECUE GRILLED CHEESE, or any other recipe on my site, let me know in the comment section how it turned out, we love hearing from our readers! You can also follow along with me on PINTEREST, FACEBOOK, and INSTAGRAM to see more amazing recipes and whatever else we've got going on!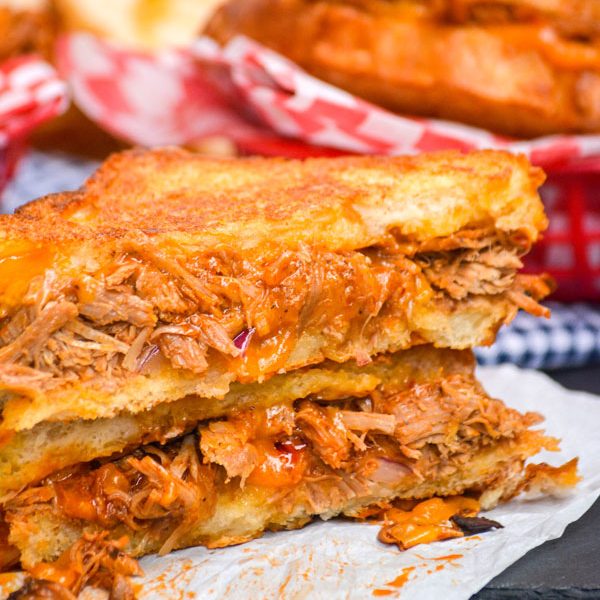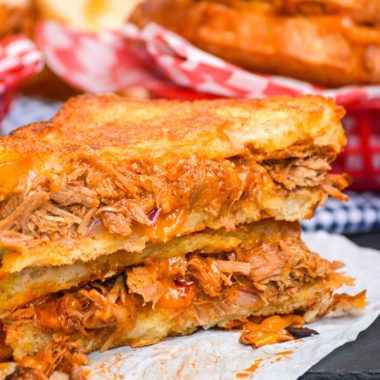 Cherry Coke Smoked Pulled Pork Barbecue Grilled Cheese
It may take a little time, but slowly smoked pulled pork tossed in your favorite barbecue sauce is sandwiched between layers of rich cheddar with a bit of red onion and cilantro, and finished off with crisp sour dough bread in this delicious pulled pork grilled cheese sandwich.
Print
Pin
Rate
Ingredients
For The Smoked Pork Butt
6-8

lb

boneless pork butt/shoulder

2

cans

regular cherry coke

barbecue dry rub of your choosing
For The Grilled Cheese Sandwich
sliced sour dough bread

butter, softened

sharp cheddar cheese slices

Sauer's barbecue sauce, or other vinegar based sauce of your choosing

thinly sliced red onion

chopped cilantro leaves
Instructions
To Make The Smoked Pulled Pork
Fill a meat injector with cherry coke. Inject it into the pork butt/shoulder about every 2", refilling as necessary.

Using our hands, rub the outside of the meat liberally with the dry rub covering as best as possible.

Transfer the pork butt (fat side up) to a disposable 9x13 baking tin. We like to use two to reinforce it a bit. Insert a meat probe deep into the center of the meat, and smoke at 225 degrees Fahrenheit until it reads 200-205 degrees.

Remove the meat from the smoker, and let it rest undisturbed on a counter top for an hour.

Use a set of claws, or two forks, to pull the meat apart, working in sections, removing any clumps of fat as you go.
To Make The Grilled Cheese
Toss the pulled pork with your favorite vinegar-based barbecue sauce. We want it saucy, but not dripping.

Liberally butter the outsides of the sourdough slices. In a skillet over medium heat, lay two cheddar cheese slices out. Pile them high with the pulled pork. Top with several sliced onions, a sprinkle of cilantro, another two slices of cheddar, and finish with another slice of buttered sour dough.

Cook the sandwich for 2-3 minutes, or until golden brown and crisp. Using two spatulas, carefully flip the sandwich and continue cooking for another 2-3 minutes, or until the bread is golden brown and the cheese is melted.