Air fryer fried Oreos bring everyone's favorite fair food right into your own home. This easy dessert needs only 3 ingredients and is so fun to make!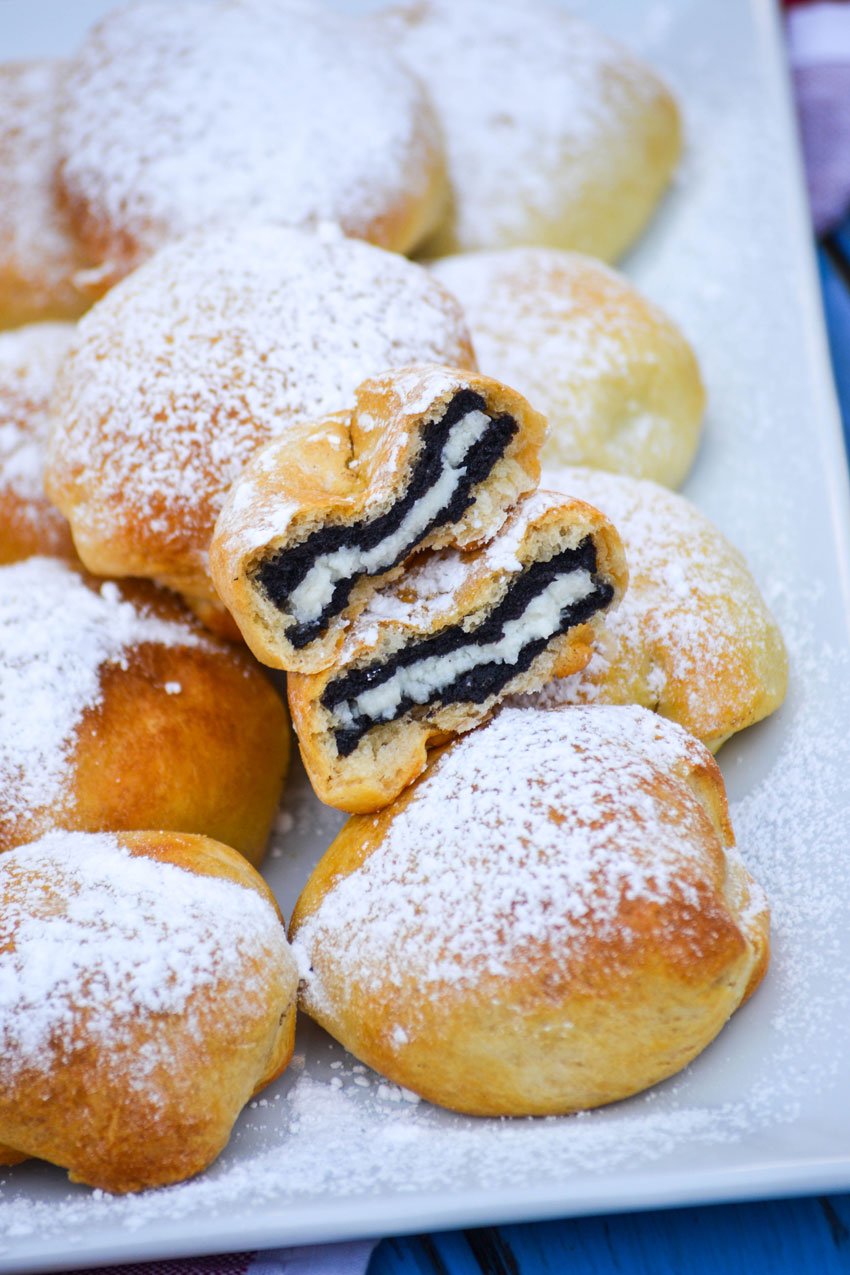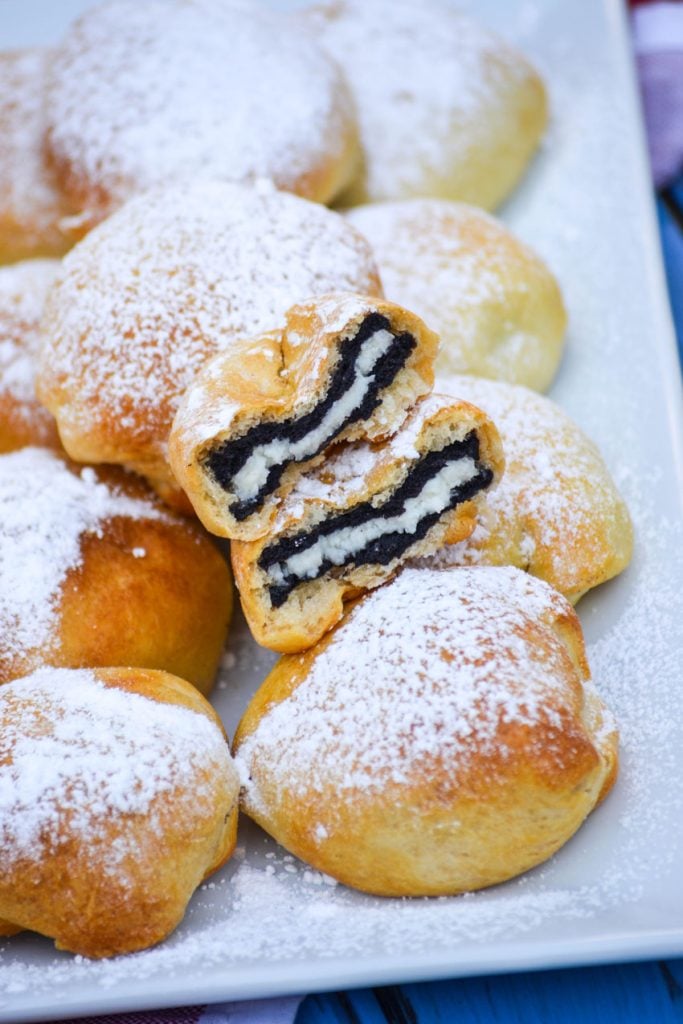 My family and I are missing heading to the fairs this summer.
The people, the rides, the games, but most of all the food! I
s there anything better than fair food?
Funnel cake and fried Oreos, oh yes!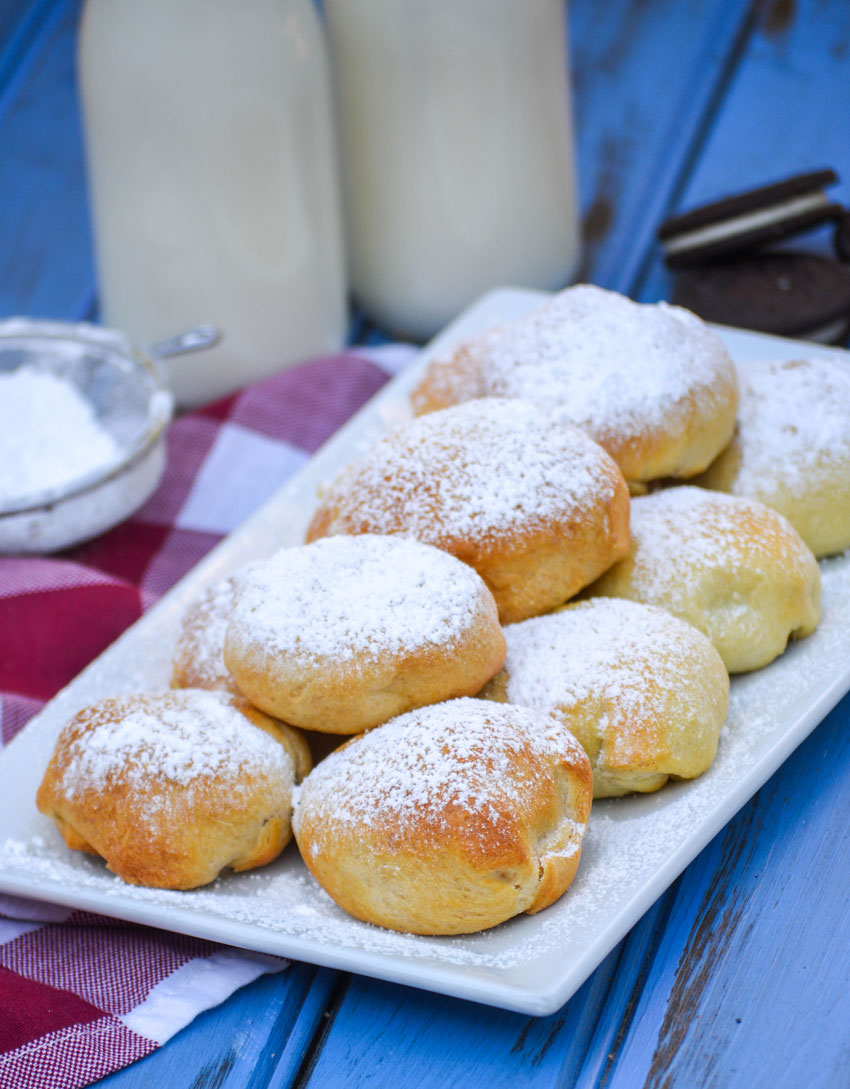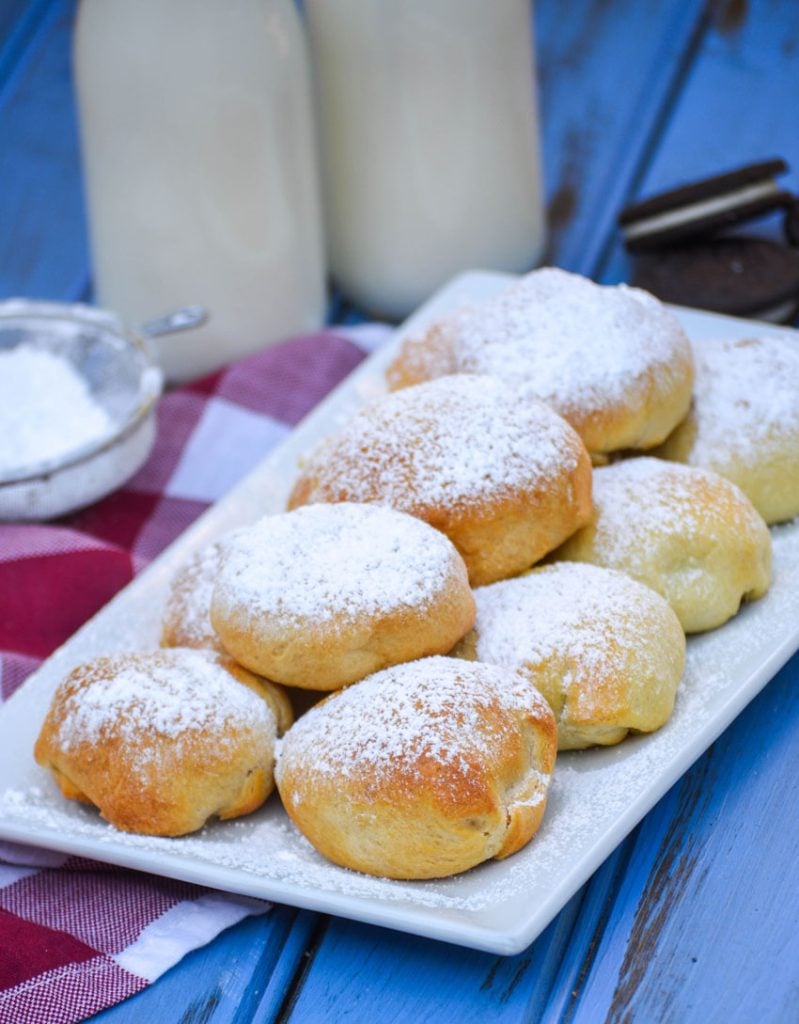 All the taste of fair food at home!
This recipe really nails the deliciousness of the classic treat.
It's chocolatey, gooey and coated in a fluffy, slightly crispy dough before getting tossed in powdered sugar.
The rides are the only thing missing when you make this at home.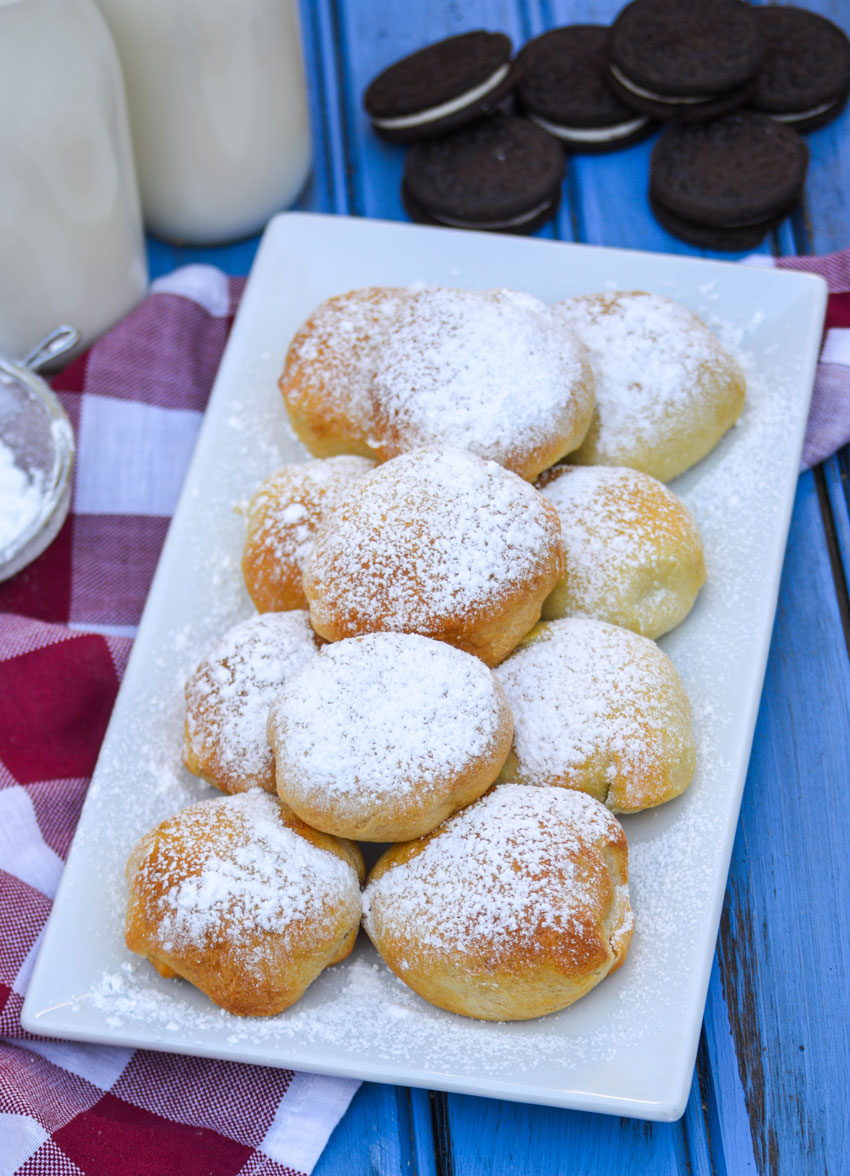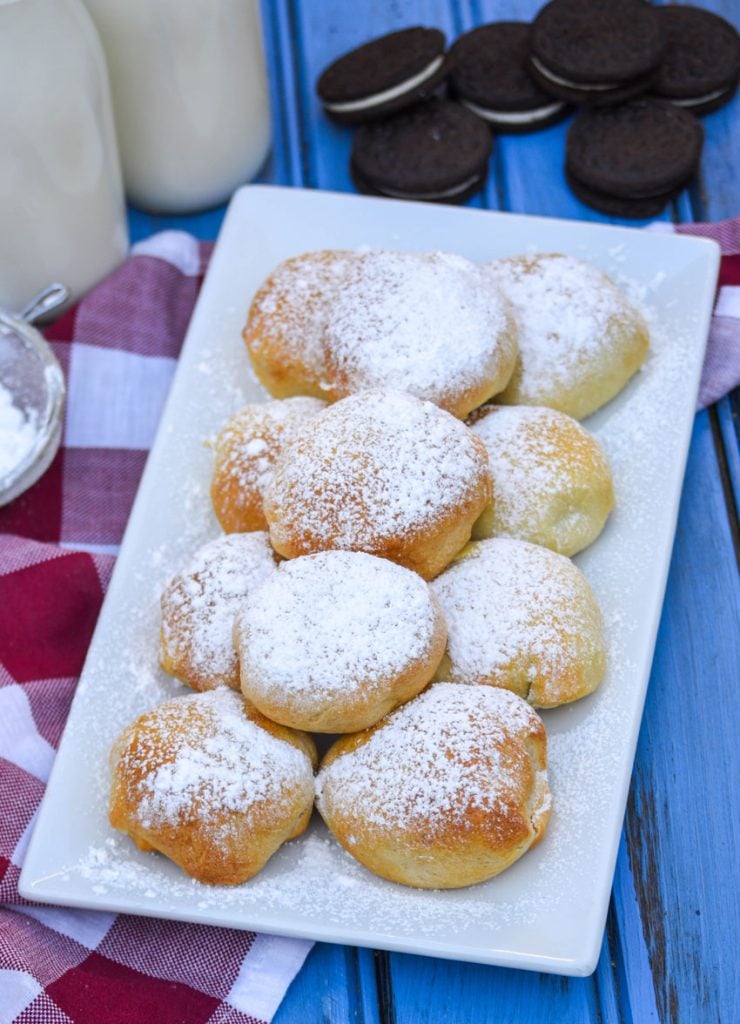 How to Make
This treat is so easy to make!
Start by spreading the crescent roll dough onto a clean, flat work surface.
Then press the perforated lines together so it becomes one big sheet of dough.
Cut the dough into 8 equal pieces using a sharp knife.
Take one piece of dough and put an Oreo in the center of it.
Fold the Oreo into it by rolling the corners of the dough up over the cookie and pressing together any gaps.
Repeat this process with the remaining cookies and dough.
When you've got all the Oreos folded into the dough, put the Oreos into the basket so they don't touch.
You may have to work in batches, depending on the size of your fryer.
Then bake the Oreos at 320 for 5-6 minutes or until the outside of the dough is golden and puffy.
Once this happens, put the cookies onto a waiting cooling rack and dust them with powdered sugar.
Repeat this with all the Oreos.
Let them cool for 2-3 minutes before serving. Enjoy!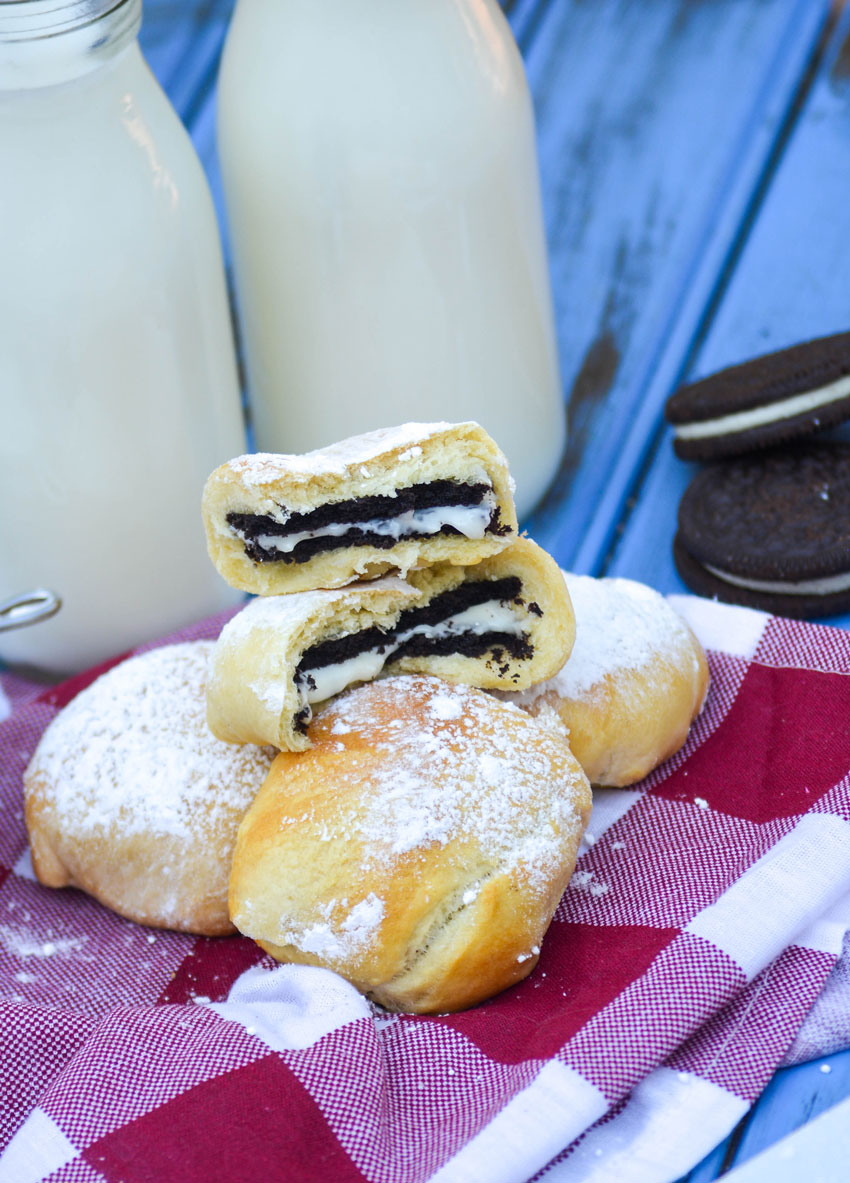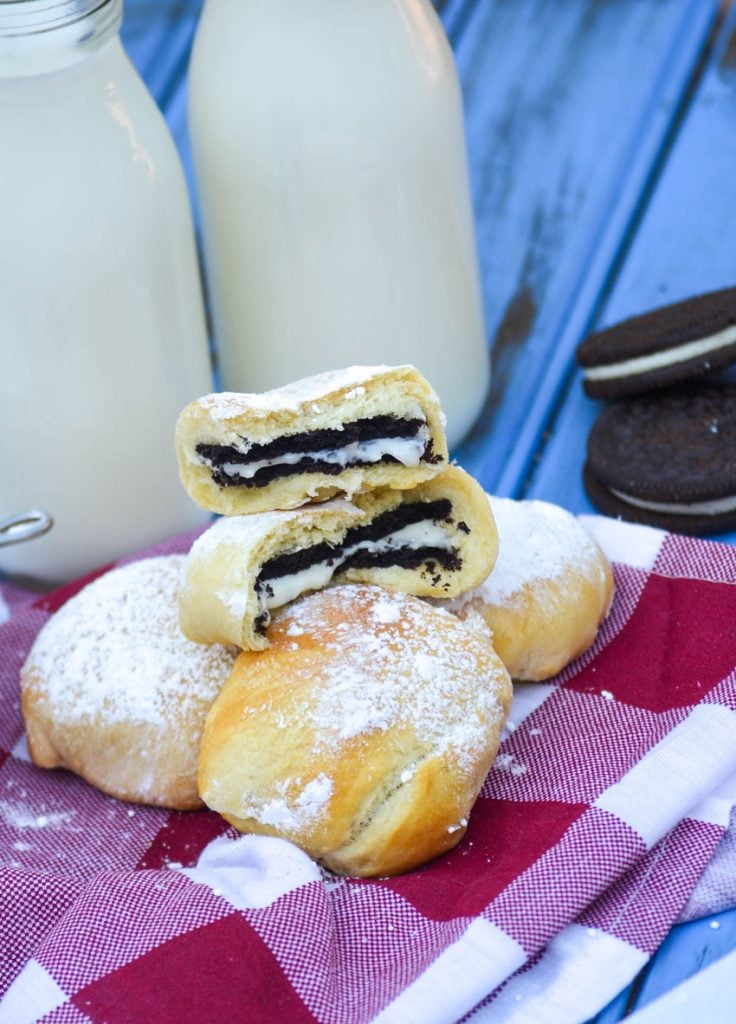 So Many Different Options- What's The Best Oreo To Use?
I know this recipe calls for 'double stuff' oreos, but there are so many options out there to choose from.
If it's your first time making them- I am going to recommend you stick with the double ones.
Mainly because there's so much more creme filling, and this is what melts & gets amazingly gooey and delicious. You don't wanna miss a single spec of that.
However, if you're ready to branch out the sons' love these made with golden & birthday cake oreos.
I am kinda curious to try them with the mint flavored ones, and see how scrumptiously they pair with a generous scoop of cold vanilla ice cream.
You do you, and find the flavor combination that works best for your personal preferences.
We love to be easily accommodating like that!
Tips and Tricks
Go for the original crescent rolls or the butter flavored ones here.
Cut the dough sheet into squares.
Don't stretch the dough too thin when covering the cookies or it will break.
Use a wore whisk or sifter to spread the powdered sugar so it's a fine mist instead of clumpy.
Sprinkle the powdered sugar out over the fried oreos while still warm so that it sticks better.
Storing Leftovers
If you have any leftover fried Oreos, you can store them in an air tight container or ziplock bag on your counter for up to 3 days.
You can pop them back in the air fryer for a minute or two to reheat them if you want to enjoy them warm or eat them as is.
I recommend this option though as the crust tends to soften while refrigerated.
The air fryer will crisp it right back up, and also melt the cream filling at the same time.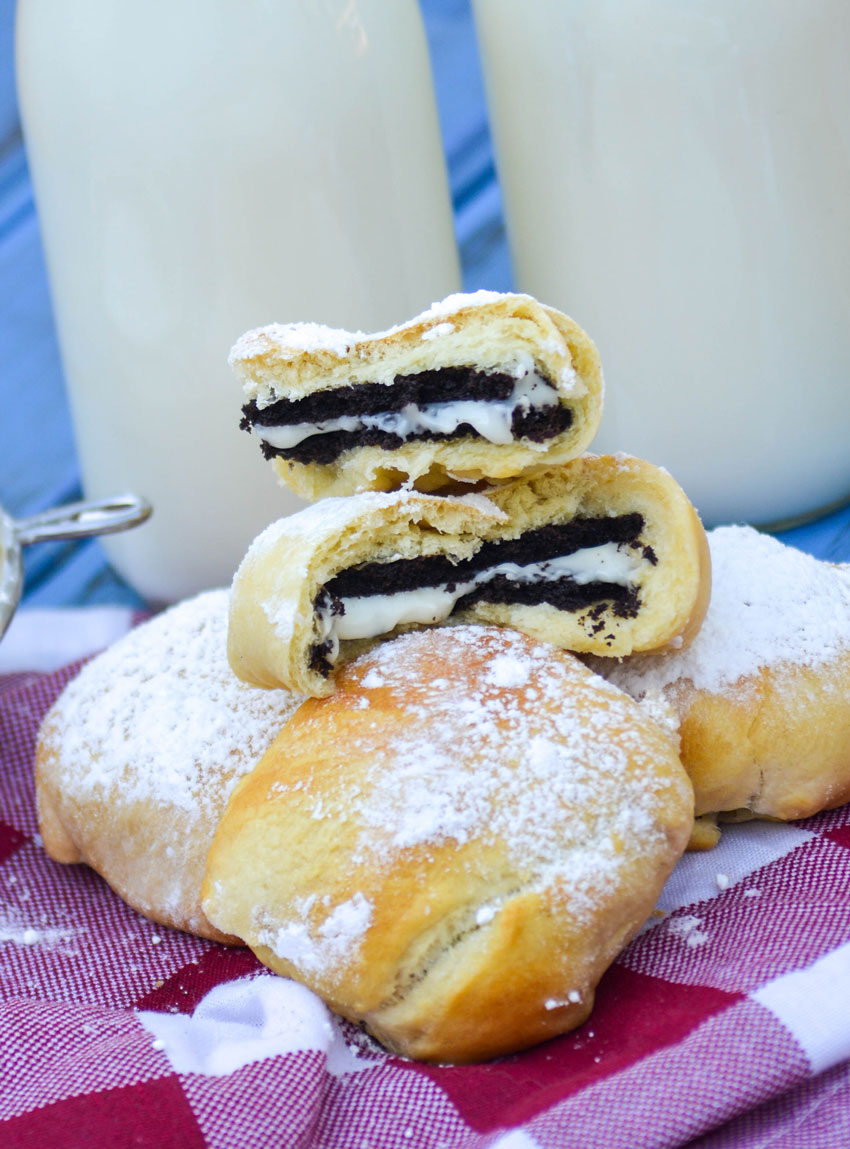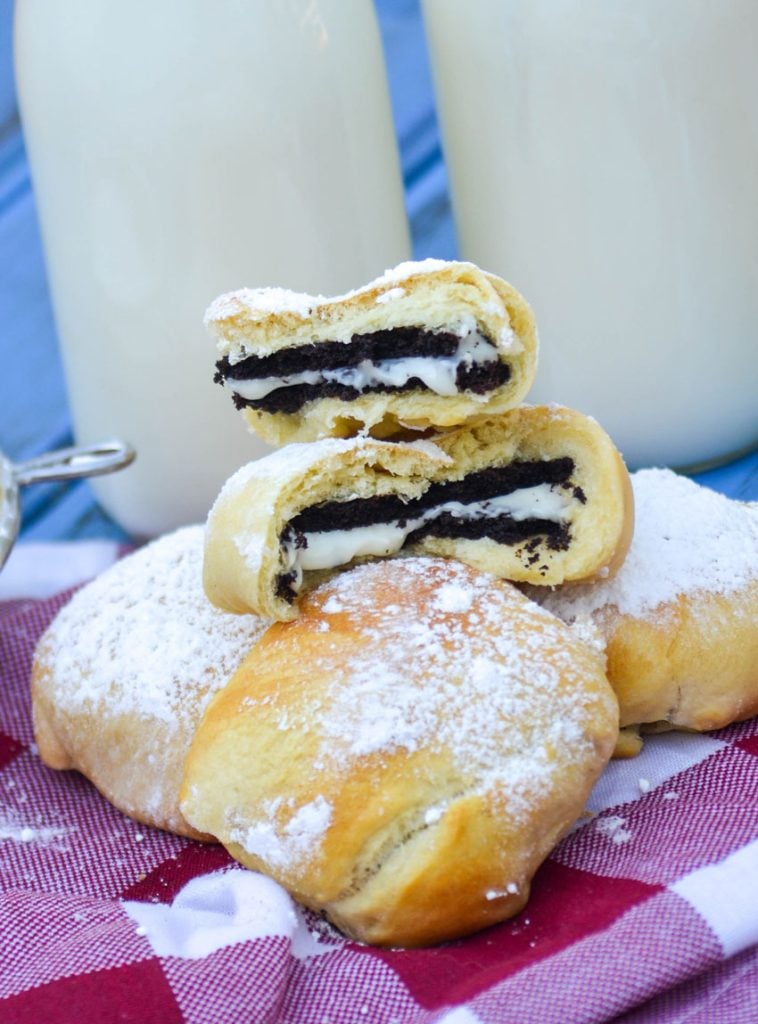 Other State Fair Food Recipes You Might Enjoy
These air fryer fried Oreos are a delicious fair treat my family and I love. Make them today for a fun family treat.
Looking for other carnival recipes? Try these:
If you've tried this AIR FRYER FRIED OREOS recipe, or any other recipe on the site, let me know in the comment section how it turned out, we love hearing from our readers! You can also follow along with me on PINTEREST, FACEBOOK, and INSTAGRAM to see more amazing recipes and whatever else we've got going on.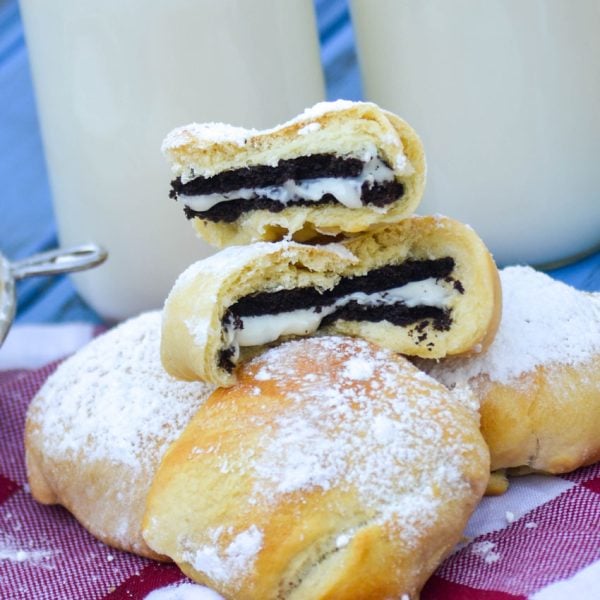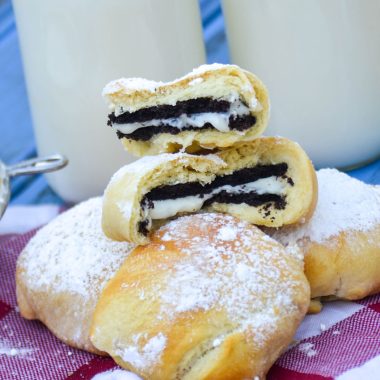 Air Fried Oreos
Air fryer fried Oreos bring everyone's favorite fair food right into your own home. This easy dessert needs only 3 ingredients and is so fun to make!
Print
Pin
Rate
Instructions
Open the crescent rolls and spread them out onto a clean work surface, cutting board or counter top will work.

Press the perforated lines together so that it becomes one big sheet.

Using a sharp knife, cut the dough into 8 equal pieces.

Working with one piece of dough, add an Oreo cookie to the center. Roll the corners up to cover the cookie, and fold in the remaining dough to close it into a sachet. Press any gaps together to seal.

Be careful not to stretch the dough too thin, or it will break.

Repeat for the remaining pieces of dough and cookies until all have been sandwiched.

Lightly spray your air fryer basket with non stick cooking spray.

Working in batches, to prevent over crowding the basket, place the Oreos in the prepared basket so that they do not touch.

Bake the oreos at 320 degrees for 5-6 minutes, or until the outside is golden brown and puffed.

Remove the fried oreos from the air fryer basket to a waiting cooling rack. Dust them with powdered sugar.

Repeat until all the oreos are fried.

Let the fried oreos cool for 2-3 minutes before serving & enjoying.
Notes
This recipe makes 8 air fryer fried oreos, and the indicated serving size is two each.
While you may have to work in batches due to the size of your air fryer basket, you can easily double or triple this recipe to feed a crowd.
Nutrition
Calories:
117
kcal
|
Carbohydrates:
17
g
|
Protein:
1
g
|
Fat:
5
g
|
Saturated Fat:
1
g
|
Sodium:
86
mg
|
Potassium:
22
mg
|
Fiber:
1
g
|
Sugar:
9
g
|
Calcium:
6
mg
|
Iron:
1
mg