We're bringing you another Southern staple today with this super yummy, 4 ingredient tomato cracker salad. Garden fresh tomatoes, crushed saltine crackers, & tangy green onions are mixed with a creamy mayonnaise dressing for the ultimate lunch, snack, or appetizer.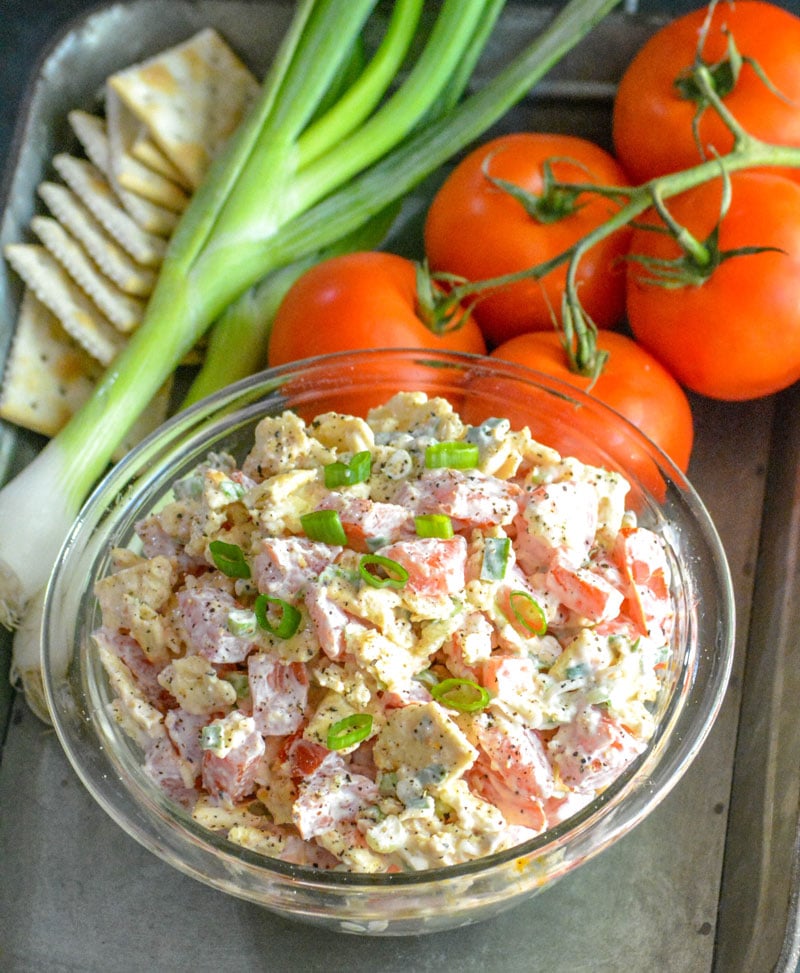 If you aren't from the South, or you've never heard of this particular delicacy- be sure you don't knock it until you've tried it!
Did you grow up in the South? If so, do you remember spending Summer's inundated with bright, ripe tomatoes? How many meals were they incorporated into?
We were always in tomato Heaven come Summer. Thank the good Lord that we actually liked the vine-ripened fruit/vegetable. Who knows how we'd have suffered if we didn't.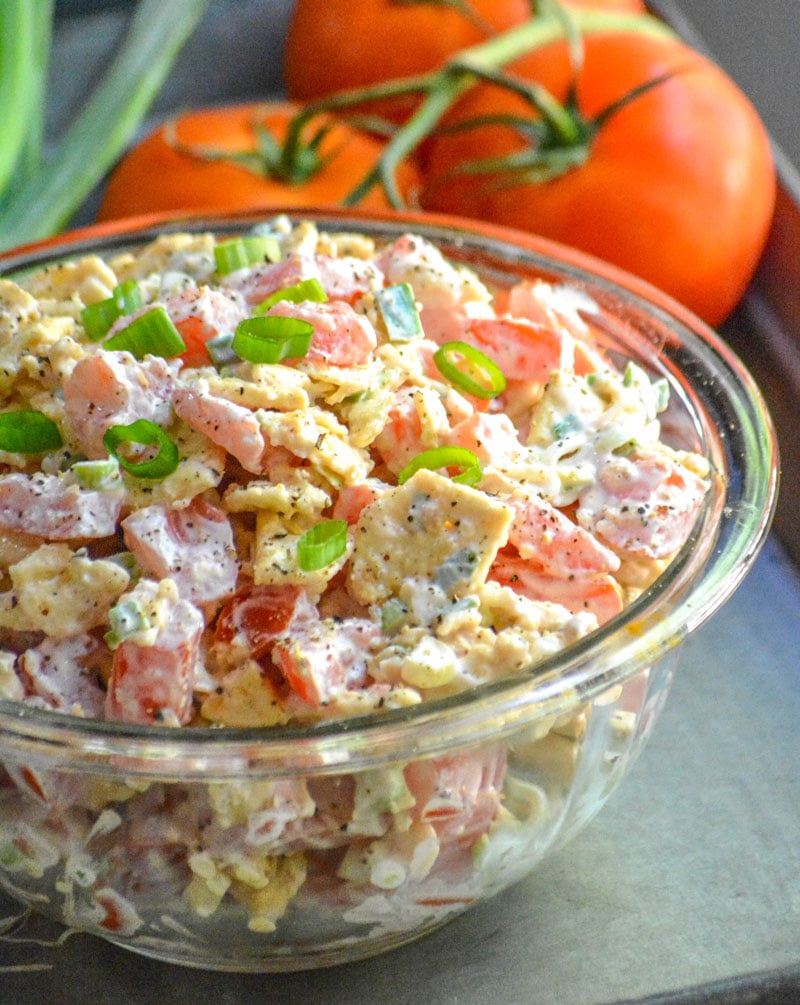 I'm not even kidding when I say that 5-6 out of 7 days a week, we ate tomato sandwiches for lunch. Not that you'd ever have heard a complaint out of any of us. Those suckers were that good!
Naturally, Grandma always made them best. Super simple, but definitely addictive.
The perfect tomato sandwich was two slices of toasted wheat bread, liberally spread with mayonnaise, piled high with thick slices of freshly picked heirloom tomatoes, generously seasoned with salt and freshly cracked black pepper.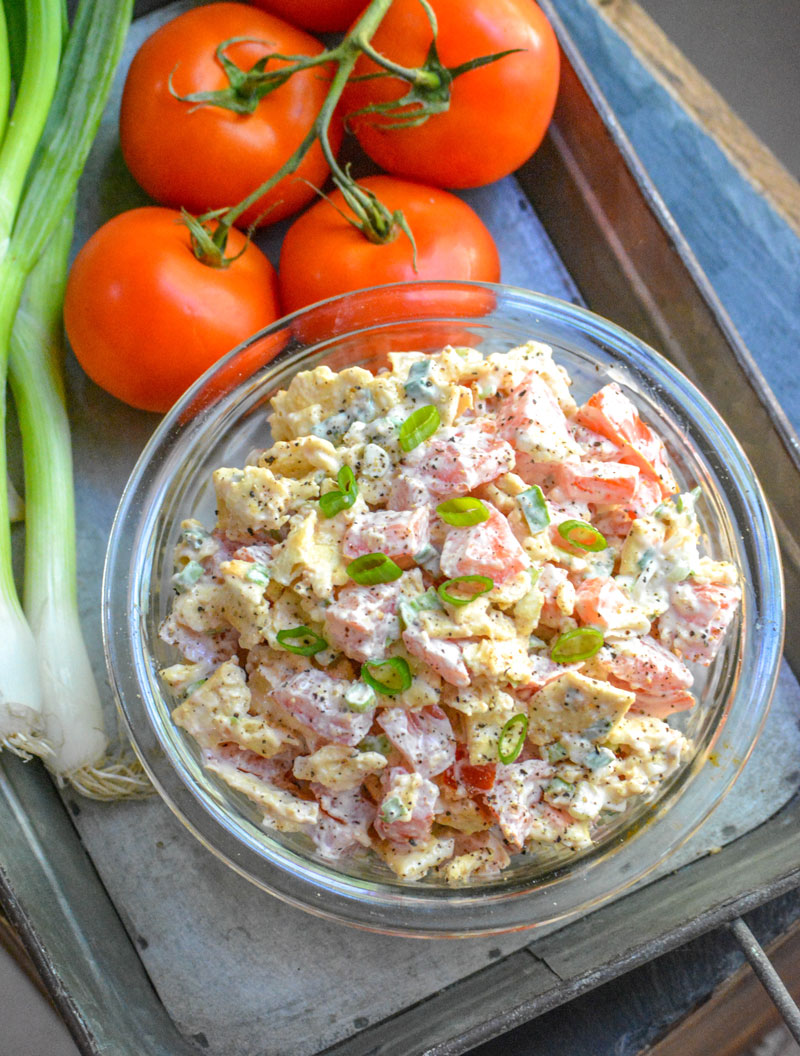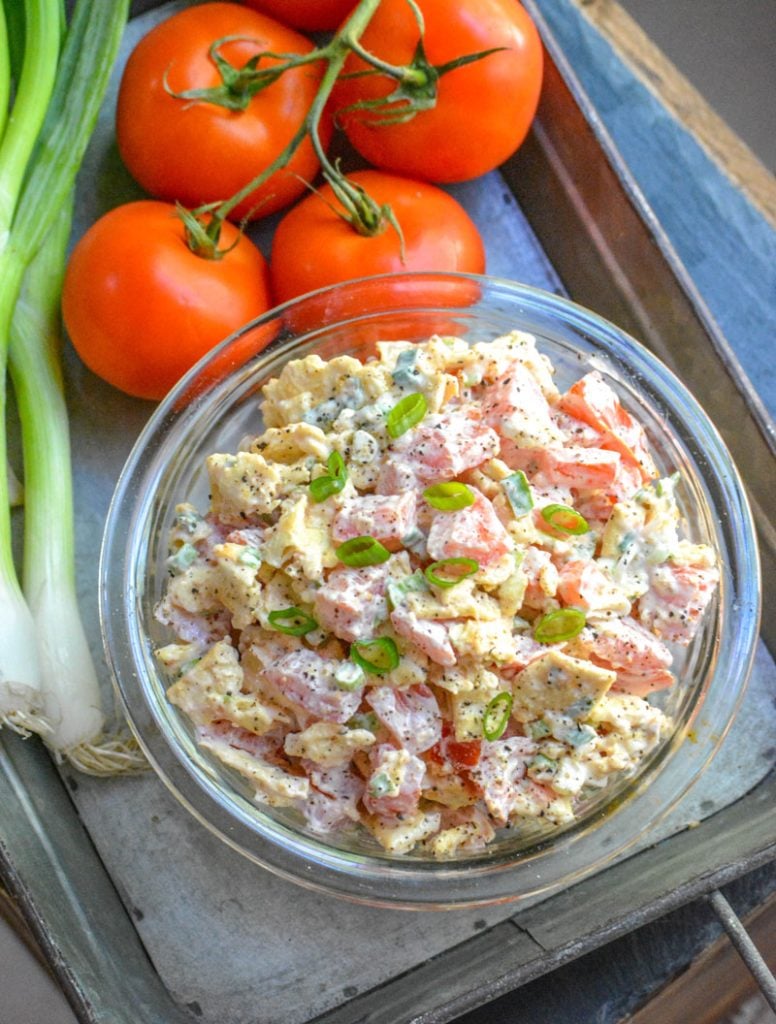 It's still my favorite way to enjoy a tomato, although Son # 3 kinda has a preference for eating them like apples. What can I say, he gets his (tomato) crazy from his Mama.
Even with me eating my tried & true tomato sammich for lunch every day this Summer, I'm still struggling to use up the bountiful bevy of Beefsteak and Big Boy tomatoes my plants have been busy growing.
Under no circumstances should a tomato be left to rot, or to some kind of ruin, or head straight to the compost pile either. That's just Southern sacrilege. So we've gotten pretty good at finding creative ways to use them up!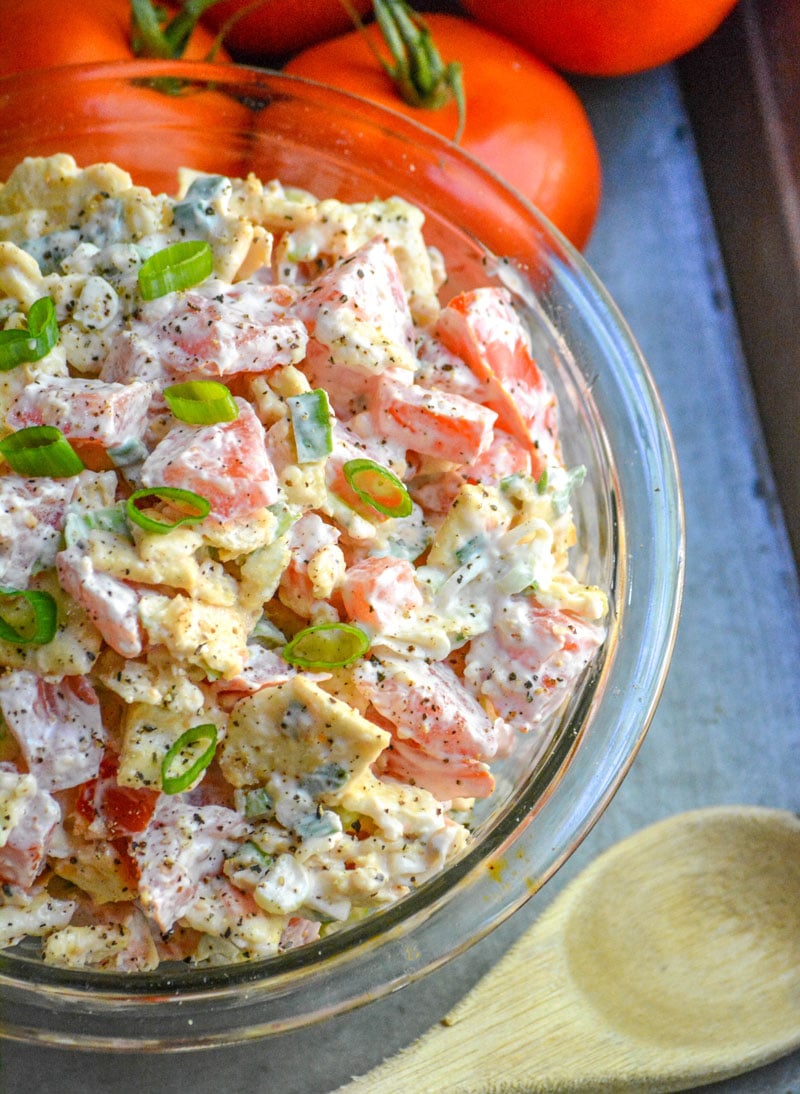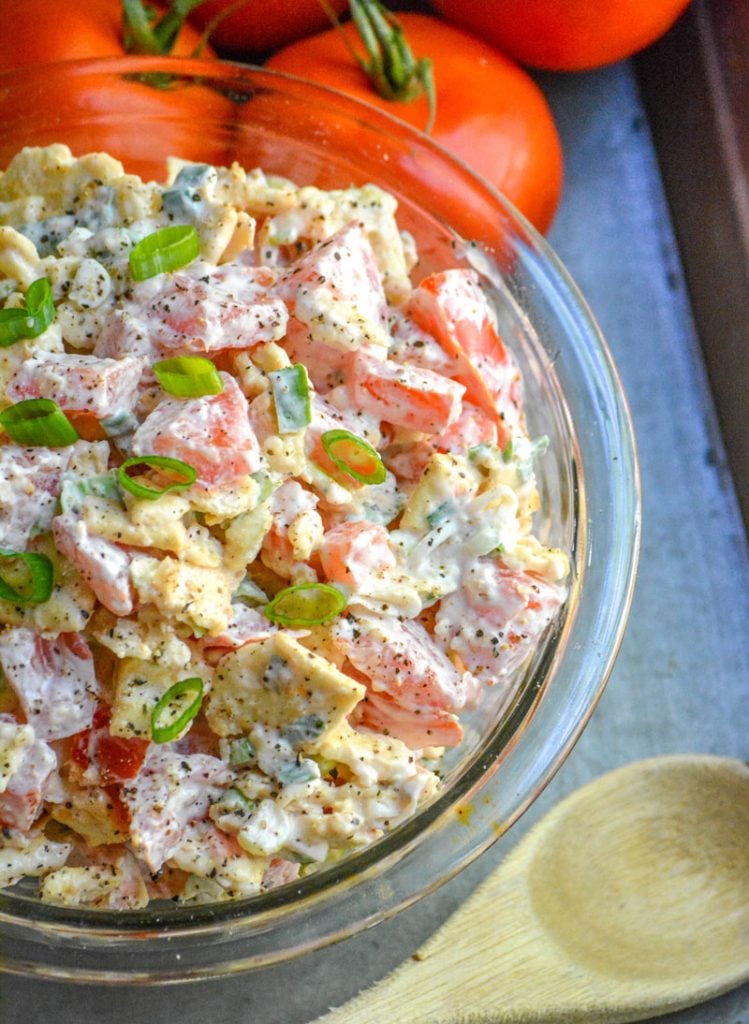 On the rare occasion I step out of my traditional tomato sandwich box, and opt for a Spinach & Tomato Tuna Salad Sandwich instead. Or If I'm not feelin' any bread, or we're out of bread as is often the case with all theses hungry boys, we love stuffing them- either in a hot Tuna Melt version or a chilled Chicken Bacon Ranch stuffed tomato.
They also make a great snack when added to this Tomato Cucumber Feta Salad, which is also a great way to incorporate the multitude of cucumbers we also end up growing each Summer.
It's really hard to go wrong any which way you turn with a dish that includes a tomato (or two) straight from the garden.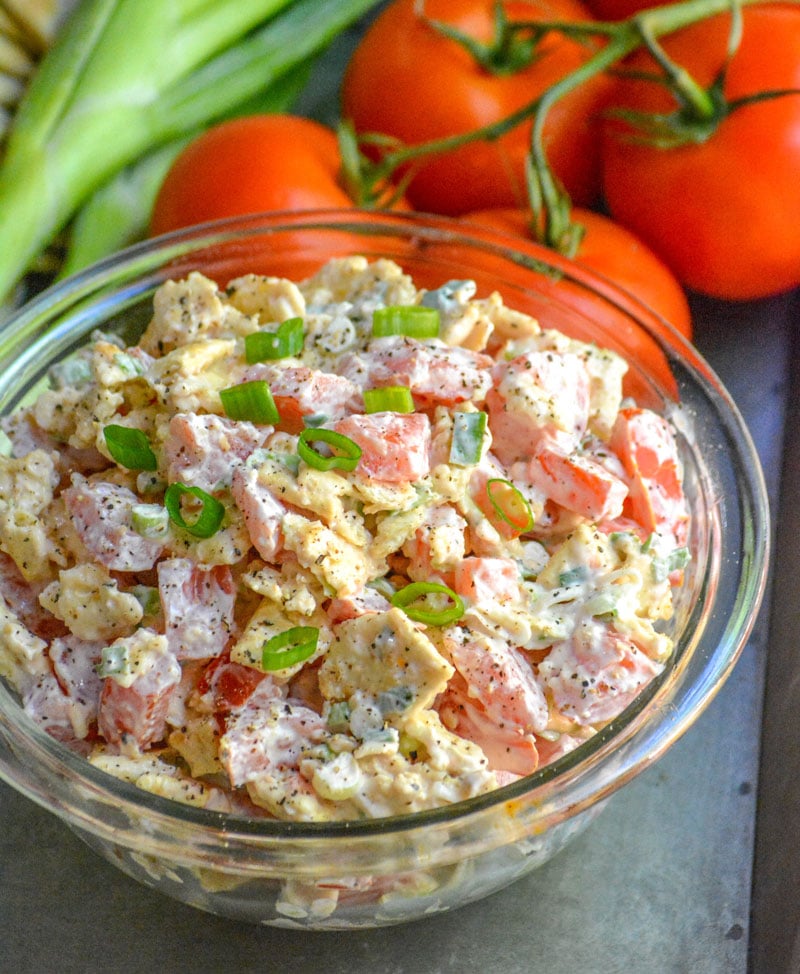 Take this Tomato Cracker Salad, for example. At first, sure it may sound a bit odd- but this is one you're gonna want to stick around for. It's like Grandma's classic Summer sandwich, met snack salad perfection.
Don't be scared, I know it sounds a bit odd. A quick Google search though will prove it's an old recipe, and definitely a Southern one.
Garden fresh tomatoes are seeded, chopped, and tossed with coarsely crushed saltine crackers and tangy green onions in a little bit of creamy mayo. Seasoned with salt & a generous helpin' of freshly cracked black pepper- it's tomato-based heaven in bowl. Each bite is bliss.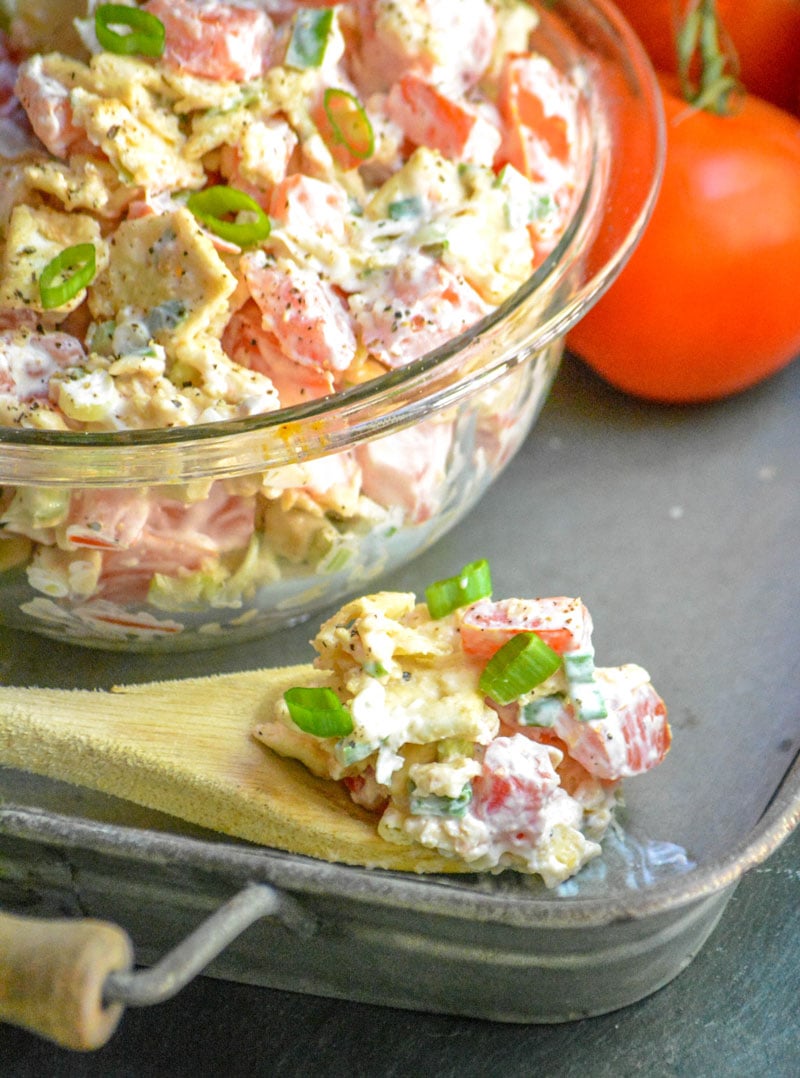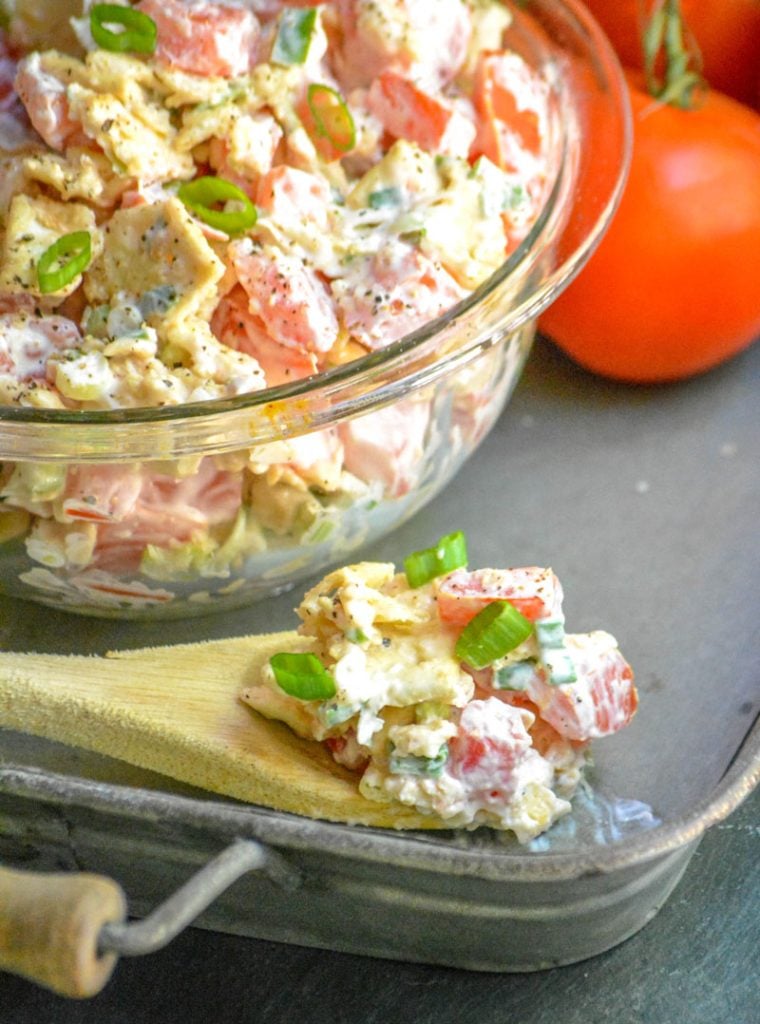 If you're not a fan of saltine crackers, I'd suggest using buttery club crackers instead. The Hubs insists on making his batches with the chicken in a biscuit variety (which no one else will eat, and I don't recommend), but he's weird.
I know it's probably a given combining crackers with mayo and moisture laden tomatoes, but this will get soggy if left to sit. We get everything prepped and ready, but wait to actually mix up until just before ready to serve.
While we suggest seeding it, mostly for this reason, and also because we're funny about seeds in just about anything (texture thing)- you certainly don't have to. However, if you're looking to seed them- here's a quick tip!
Rather than dicing them and then trying to separate the seeds and their pulpy mess, simply slice the top off the tomatoes and over a bowl, stick your fingers in, wiggle em around to loosen all the seeds away from the walls, turn over the tomato and watch em pour out.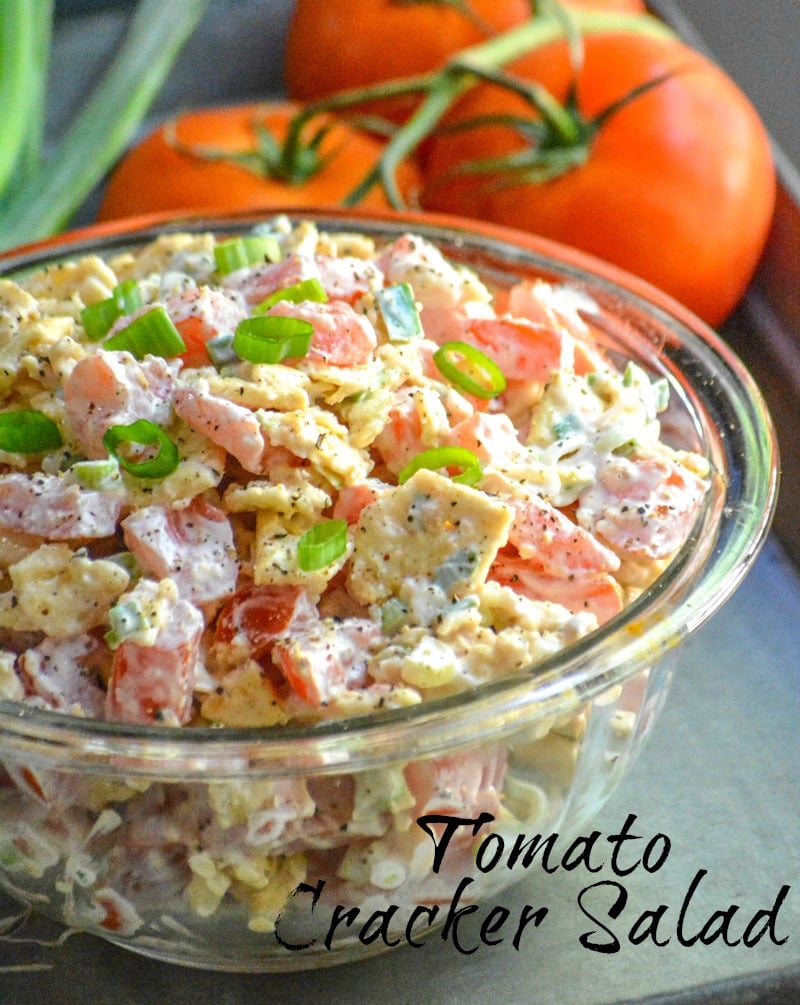 One thing's for sure, this Tomato Cracker Salad's great for parties, or just for a simple lunch for yourselves. I eat it by the spoonful, but if we're serving it for a meal we prefer to spoon it into romaine or green leaf lettuce leaves and enjoy it as a wrap style sandwich.
Other Tomato Recipes You Might Also Enjoy:
If you've tried this TOMATO CRACKER SALAD or any other recipe on the site, let me know in the comment section how it turned out, we love hearing from our readers! You can also follow along with me on PINTEREST, FACEBOOK, and INSTAGRAM to see more amazing recipes and whatever else we've got going on!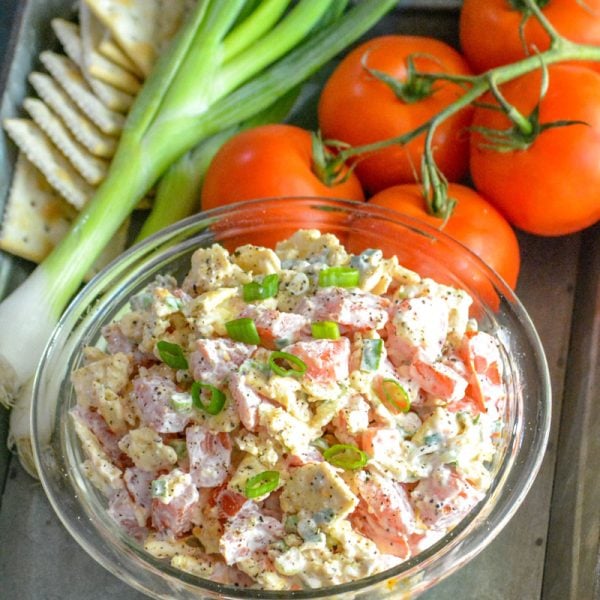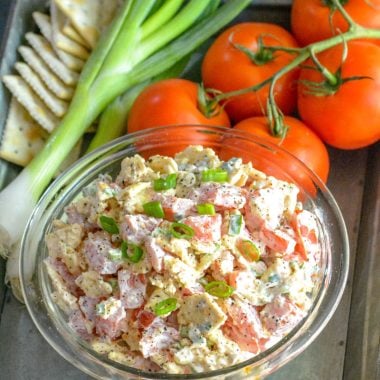 Tomato Cracker Salad
An easy Southern appetizer, snack, or lunch- this 'salad' features garden fresh tomatoes, buttery crackers, and sliced green onions in a creamy mayo dressing- like a deconstructed tomato sandwich.
Print
Pin
Rate
Ingredients
4

medium sized

tomatoes, preferably fresh off the vine

1

sleeve

saltine crackers, coarsely broken

1

small bunch

green onions, thinly sliced

1/2-3/4

cup

real mayonnaise

salt & freshly cracked black pepper, to taste
Instructions
To a medium sized mixing bowl, add the tomatoes & mayo. Gently stir, just until evenly incorporated and the tomatoes are well coated. Salt & pepper, to taste, but using much more pepper than salt.

Stir in the crackers & onions, again just until evenly incorporated. Serve right away, either as is or with lettuce leaves for wraps.
Nutrition
Calories:
86
kcal
|
Carbohydrates:
2
g
|
Protein:
1
g
|
Fat:
8
g
|
Saturated Fat:
1
g
|
Cholesterol:
5
mg
|
Sodium:
75
mg
|
Potassium:
123
mg
|
Fiber:
1
g
|
Sugar:
2
g
|
Vitamin A:
440
IU
|
Vitamin C:
7.2
mg
|
Calcium:
7
mg
|
Iron:
0.2
mg