Take advantage of the seasonal bounty, and gather your tomatoes together to make a batch of this delicious killer marinated tomato salad recipe. It's a little bit sweet, a whole lot of savory, all tossed in a juicy tomato salad base- making it simple Summer meal magic.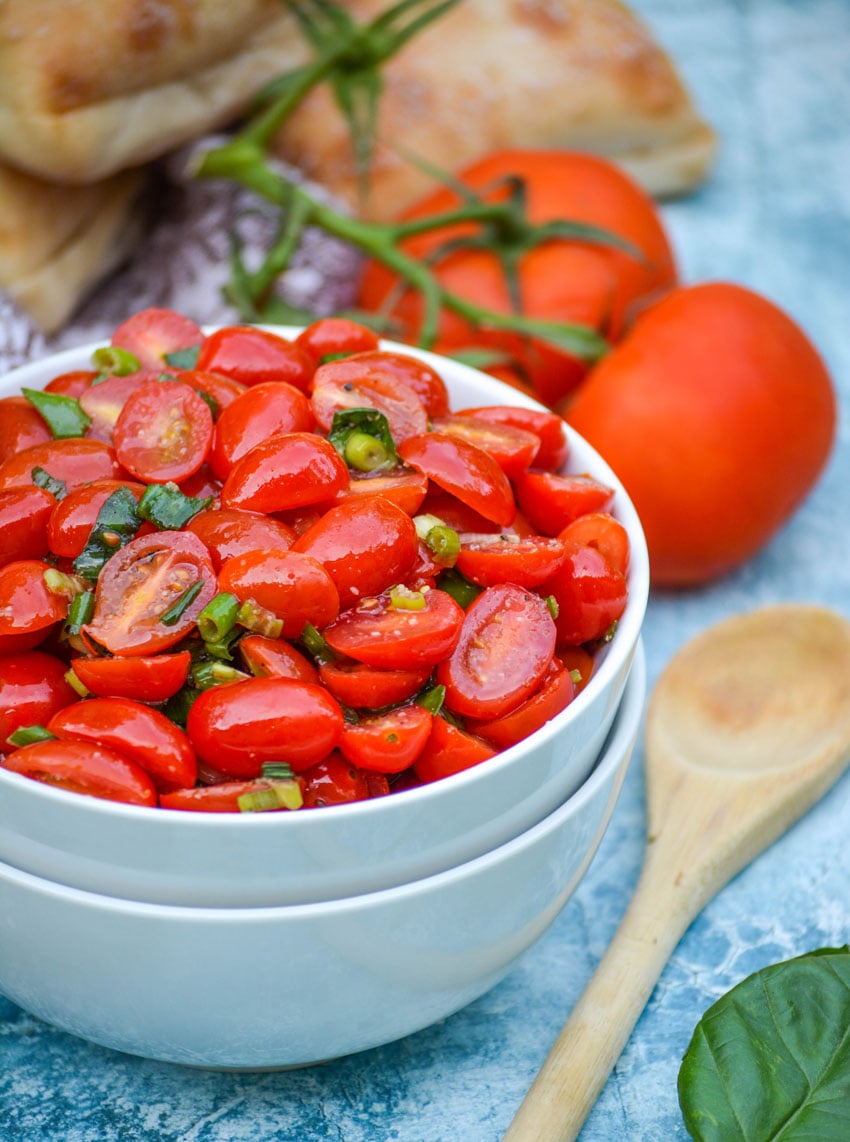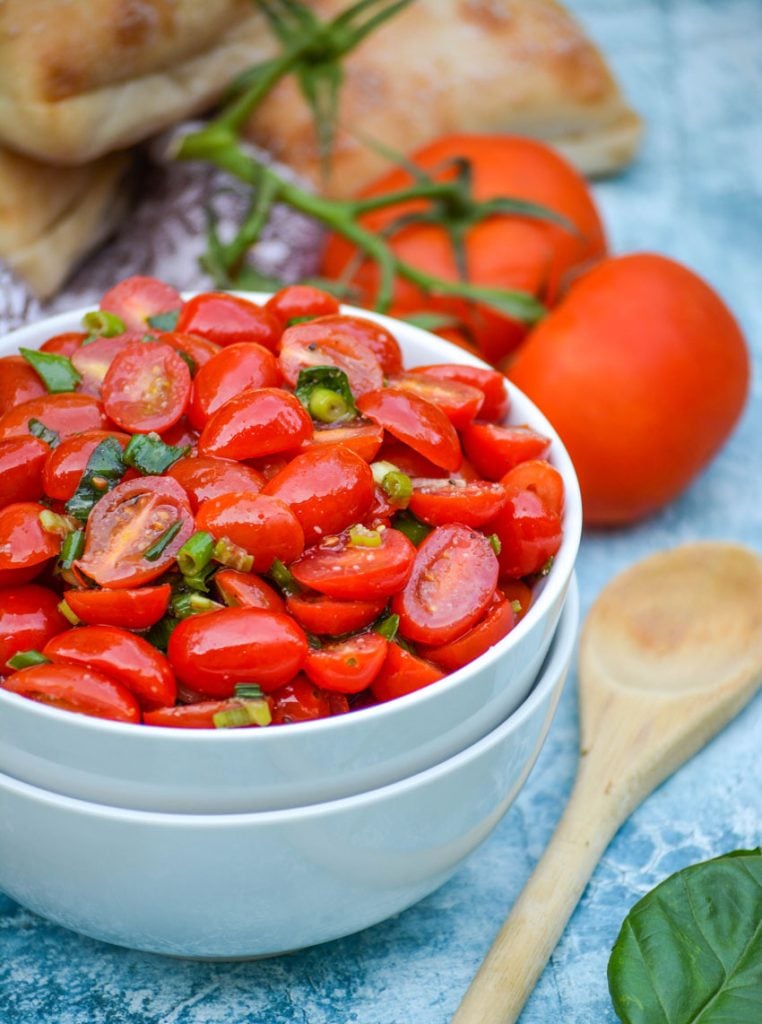 If someone charged me with picking a single vegetable to enjoy for the rest of my life, I'd be hard-pressed to actually pick just one. I love veggies
Not so much when I was a kid. I wasn't a picky, picky eater, but I was a typical kid. If it sounded foreign, looked funky, or had too much green- it was a hard pass. Luckily, my tastes have changed as I've gotten older- and I'm open to so many more fruits & veggies now as an adult.
Despite so many favorites, if I absolutely had to pick just one- it's gonna be the tomato every single time.
A great choice, not just because of it's flavor, taste, and versatility- but because it counts as both a fruit AND a veggie! Two birds with a single stone.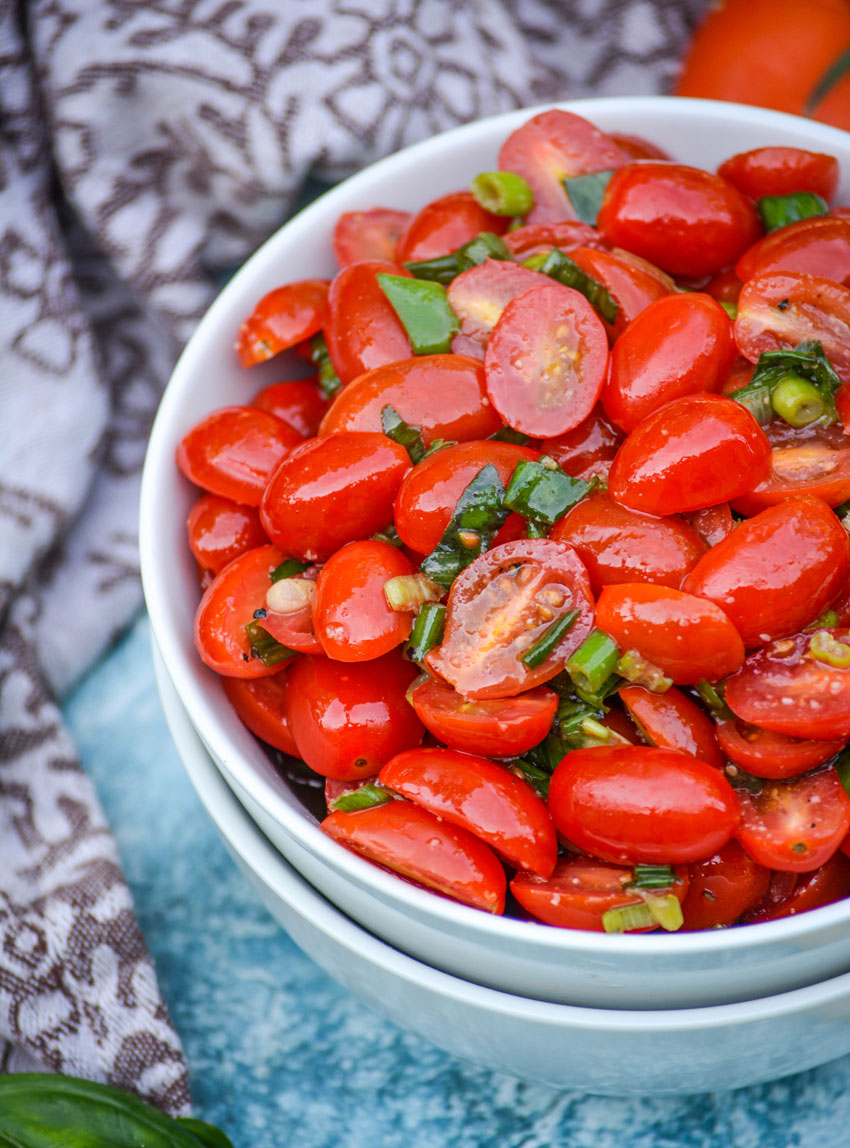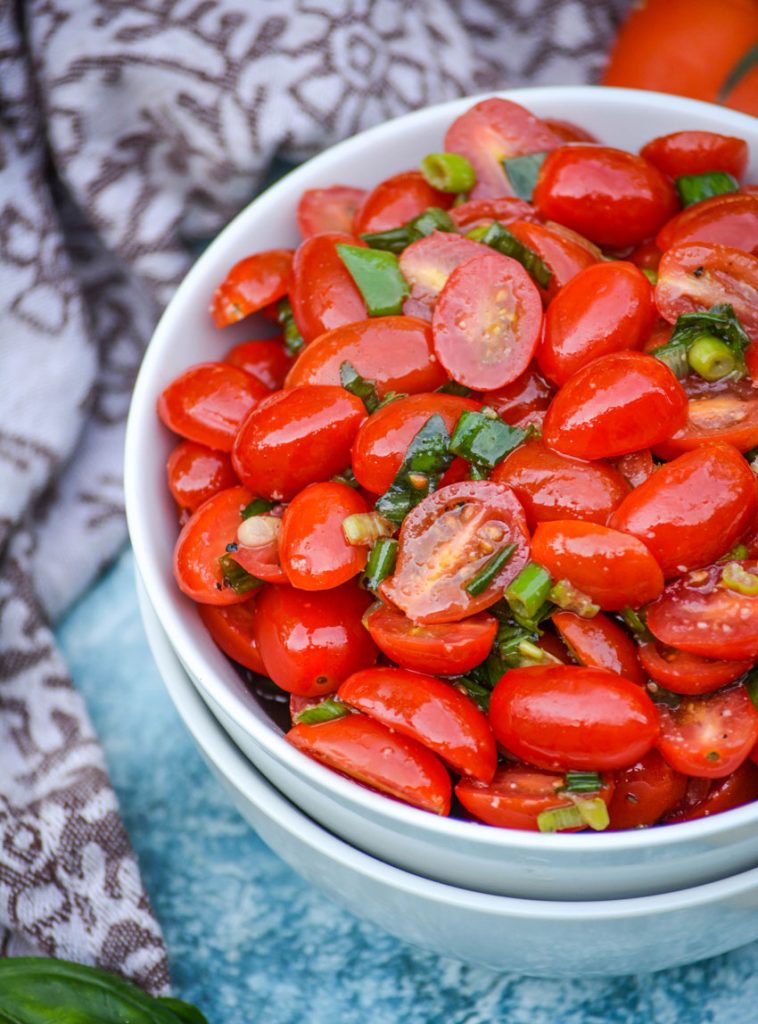 Growing up, you could almost always count on finding a grand kid posted up on the back porch steps with either a bowl of peanuts (shells littered all over) or a ripe tomato in their hand for a snack.
Southern snacks were the best. Those tomatoes came right off the vine from Grandma's backyard. Bright red, so juicy they were ready to burst at the seems- we'd bite into those suckers & eat them just like an apple. I don't remember who now, but at least one or two of the younger cousins actually called them 'Summer apples' too.
Tomatoes are still one of the single biggest things I look forward to when the warmer weather starts rolling in, and probably my biggest motivator for gardening.
Cherry, Roma, Early Girl, Beefsteak, Heirloom- I'm growing them all. For good reason too! So I can do all the things with all the tomatoes! Incorporating tomato into my recipes is a decision I can feel good about too. While I naturally love them they've actually got some great healthy benefits.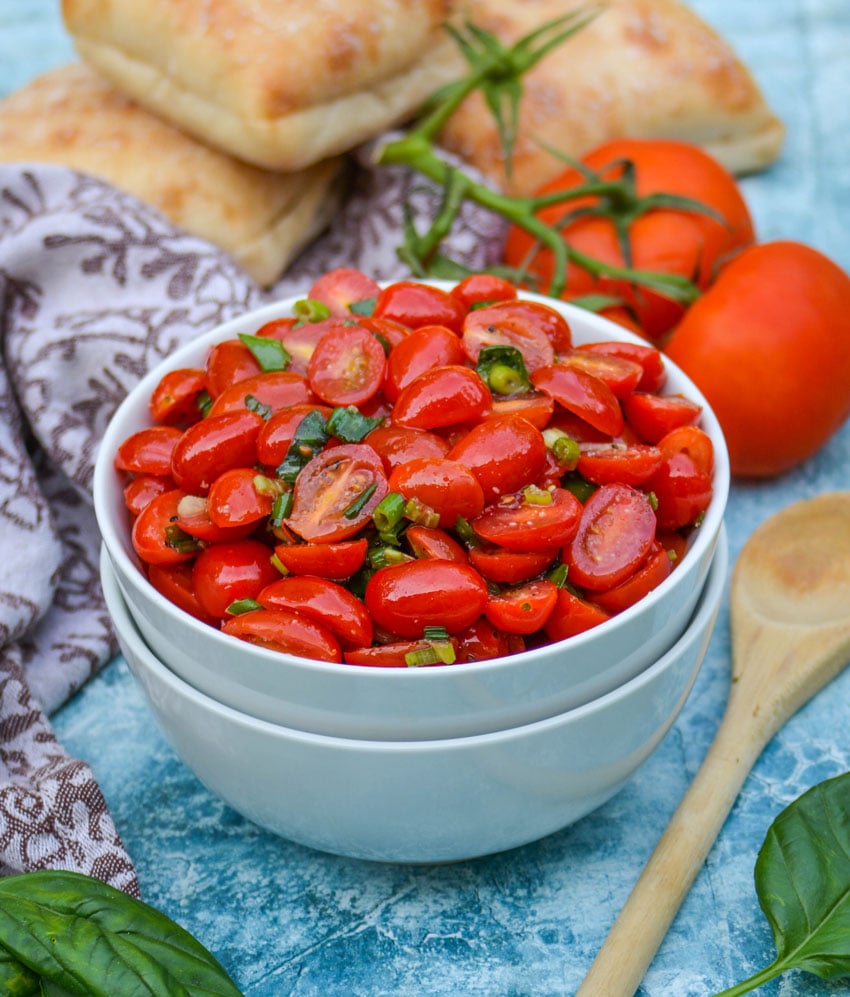 WHAT BENEFITS ARE THERE TO EATING THIS RAW TOMATO SIDE DISH?
Tomatoes are a great source of a very specific antioxidant, lycopene. Lycopene may not sound all that great on its own, but it's responsible for reducing the risk of heart disease. Some studies even show it can reduce the risk of cancer.
Vitamins C & K are also things you'll find fully loaded in a fresh, ripe tomato. Add to that list potassium, folate, and even iron. The tomato actually packs quite a good for you, powerhouse punch of nutrition when included in your daily diet.
That doesn't even include the benefits you'll get from the garlic, fresh basil, or even the healthy oil vinegar mixture!
In the Summertime, it's no suprise around here to find tomatoes on the daily menu. Like everyday in some way, shape, or form. We love tomatoes, and I'm pretty sure my familys' bodies will thank them for it!
WHAT HAPPENS IF YOU EAT TOMATOES EVERY DAY?
You may think that sounds a bit extreme, but if you love tomatoes like I do- it's really not hard at all to imagine. It's pretty much reality for me in the Spring, and especially Summer when they're coming out of my ears from my back yard garden.
Even if you don't think you can handle incorporating tomatoes everyday (understandable!), I'd still suggest trying to include more in your diet.
Tomatoes naturally support and help boost healthy glowing skin. They're also proven to help aid in weight loss AND heart health. They naturally help prevent cancer, lower blood pressure, and can even reduce blood glucose in people with diabetes.
Tomatoes also contain key carotenoids that can aid in reducing the risk of disease and promote eye healthy. Kinda like carrots, just redder.
So basically, kinda like the old saying eating an apple a day keeps the doctor away- the 2019 analogy includes a bright red, juicy tomato. A Summer apple! Seriously though, you can't go wrong with a batch of this delicious Killer Marinated Tomato Salad Recipe.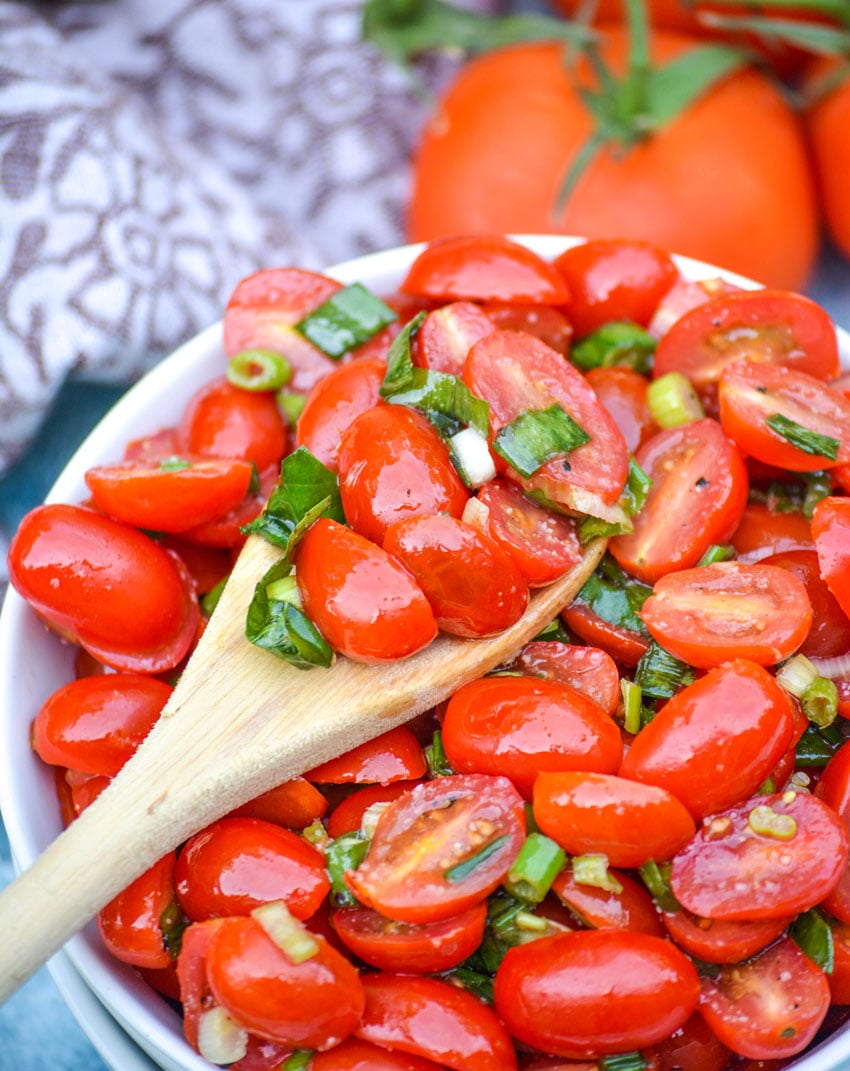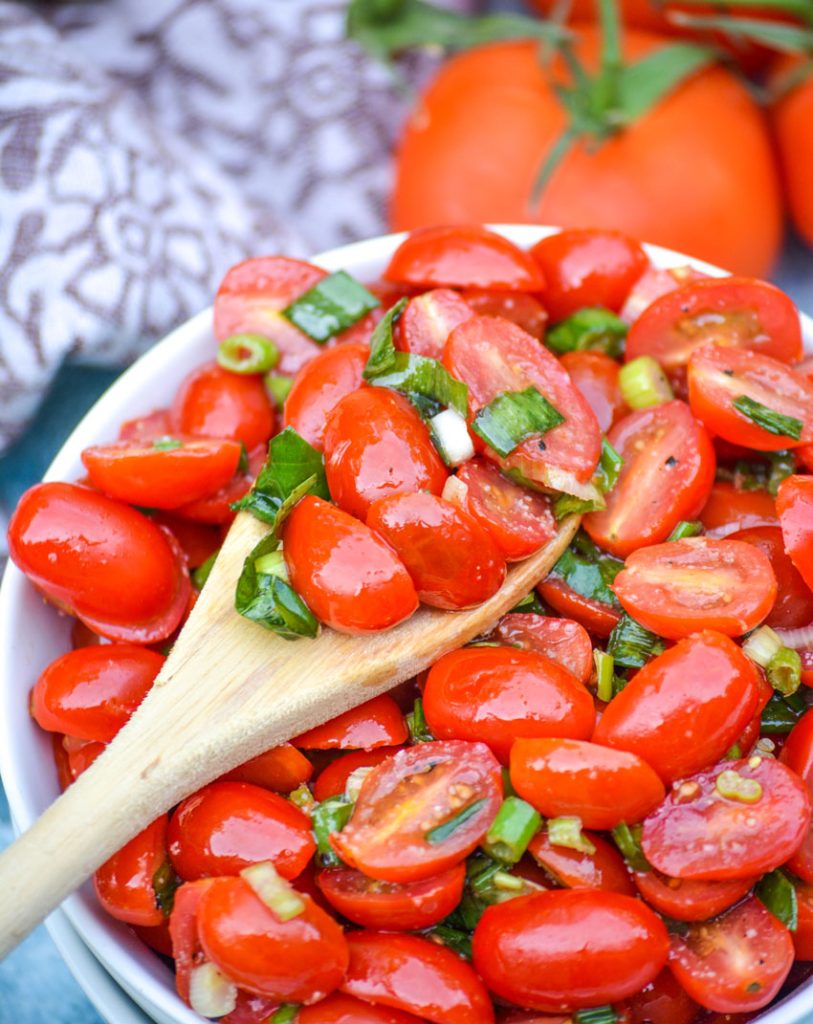 INGREDIENTS NEEDED TO MAKE THIS MARINATED TOMATO SALAD:
tomatoes
green onions
basil leaves
garlic powder
sugar
seasoned salt
ground thyme
salt & pepper
canola oil
red wine vinegar
While it may seem like a longer list of ingredients for a simple Summer recipe, it's fairly simple. Mostly common things you're sure to carry or keep stocked.
It also doesn't need to be heavily seasoned. The few seasonings called for all combine and merry while the dish rests, making for a flavorful event when it's time to dine.
HOW TO MAKE THIS RAW TOMATO SIDE DISH:
Add all of the ingredients to a large mixing bowl. Toss to combine.
Cover the bowl, and let the tomato mixture marinate on the counter top for roughly two hours.
Serve & enjoy!
The marinating period is critical. You want this salad to rest at least two hours. You can let it steep longer if you'd like- it won't hurt it.
We love this marinated tomato salad recipe served warm, but it's gotten just as many good reviews when chilled. Seriously, I cover any leftovers & refrigerate them nibbling on them over several days. This is one recipe I eat right out of the bowl.
I'm only slightly ashamed to admit it too. I couldn't fathom waiting the couple of hours for it to warm up again before enjoying a bowl.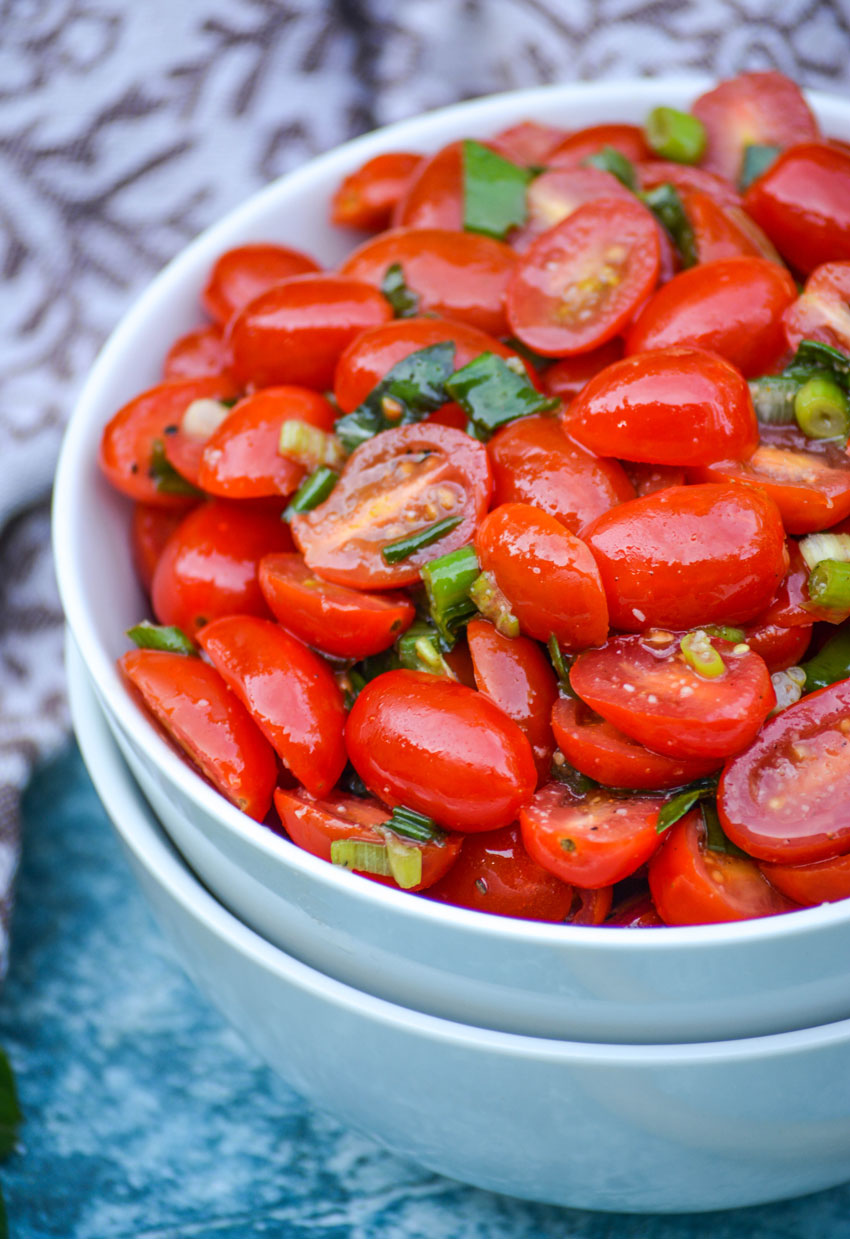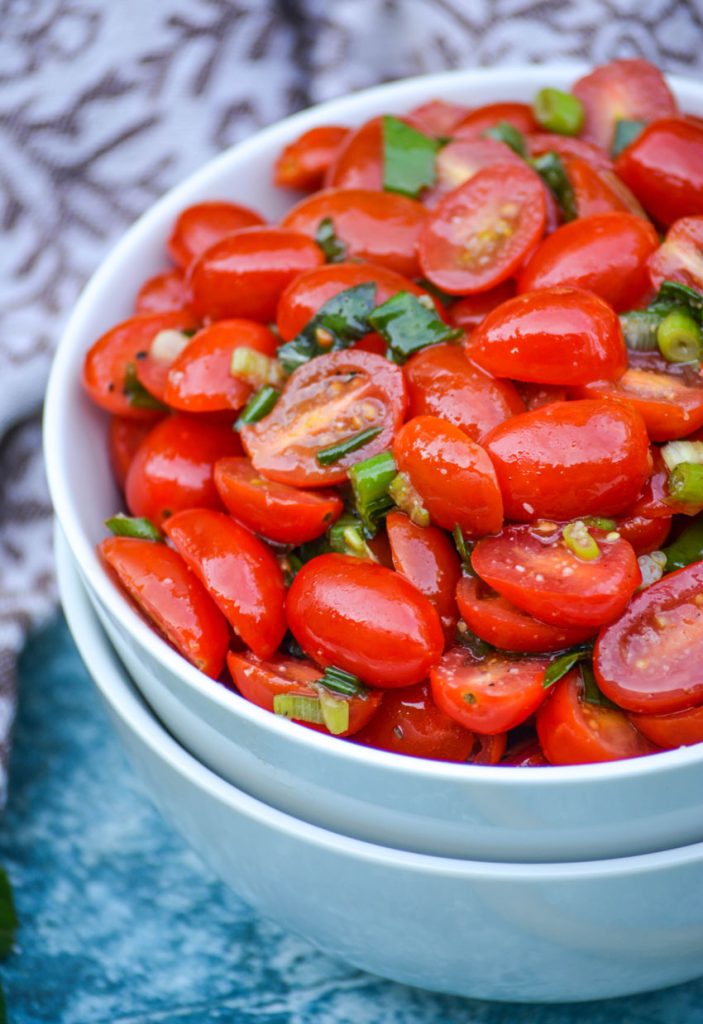 This is one of the best tomato recipes I've ever had the pleasure of enjoying. And I've tried my own fair share. I'll even put it up on a pedestal near my beloved tomato sandwich on toast with just a schmear of mayonnaise, salt & pepper. It's that good.
As with any good recipe though, even the best tomato recipe, there's always a couple of tips & tricks to make it an even better experience!
TIPS & TRICKS FOR MAKING THIS KILLER MARINATED TOMATO SALAD RECIPE:
While grape tomatoes are my favorite for this recipe, you can also sub cherry tomatoes. Just quarter them, instead of halving them. Roma tomatoes are also a good substitute, just cut into smaller chunks.
Don't like using garlic powder, freshly minced garlic also pairs well in this fresh tomato salad.
If red wine vinegar isn't an option (I know not everyone keeps it handy) balsamic vinegar makes a tasty substitution.
Make sure to serve this side salad with a hunk of crusty bread. There will be delicious, naturally infused oil left behind. The bread will sop it all up and taste amazing!
Need to make this raw tomato side dish a bit more filling? You can flesh it out by adding cooked Israeli pearl cous cous, cooked orzo pasta, or even cooked quinoa.
Want to whip it up ahead of time, but not sure you can eat it all? We've stored this salad (covered) for up to 5 days in the refrigerator. The flavors doesn't really get stronger, but it does allow it to permeate every single bite. It's a good thing, I promise. Eaten right away, or stored for a snack for later- you sacrifice nothing in flavor!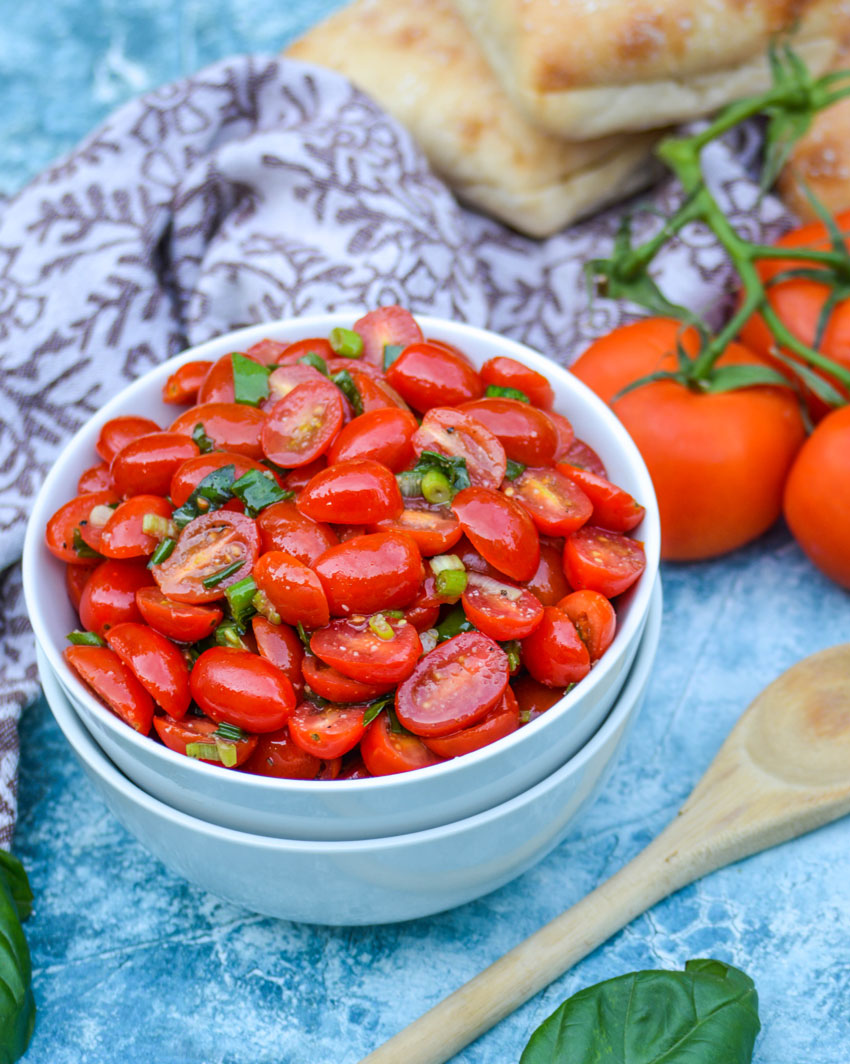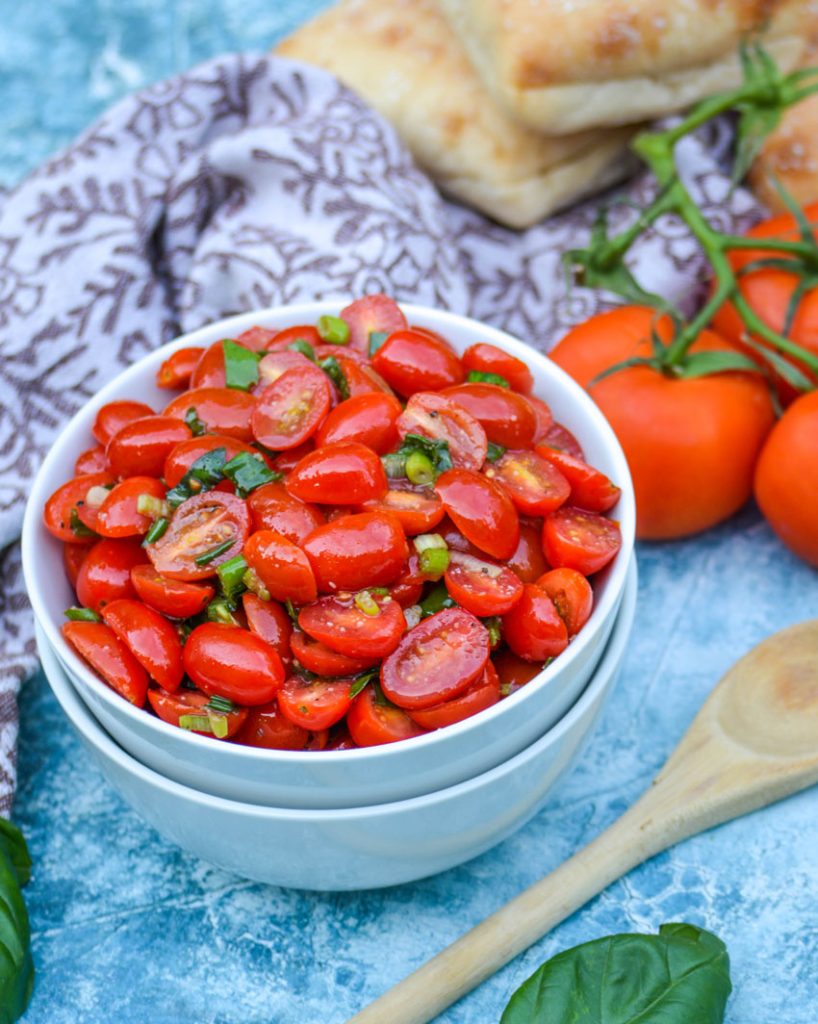 You can't go wrong with a fresh side salad for Summer. This killer marinated tomato salad is one of the best tomato recipes I've ever had, let alone made. Make sure to add this fresh dish to your Summer menu ASAP!
Other Yummy Ways To Enjoy Fresh Tomatoes:
If you've tried this KILLER MARINATED TOMATO SALAD RECIPE, or any other recipe on my site, let me know in the comment section how it turned out, we love hearing from our readers! You can also follow along with me on PINTEREST, FACEBOOK, and INSTAGRAM to see more amazing recipes and whatever else we've got going on!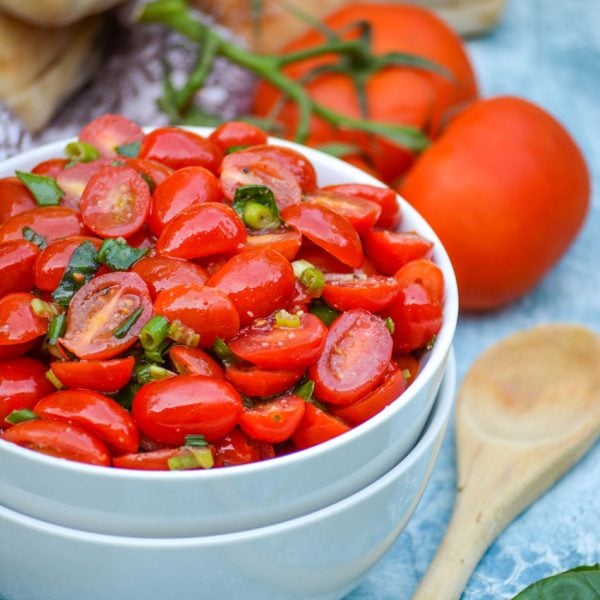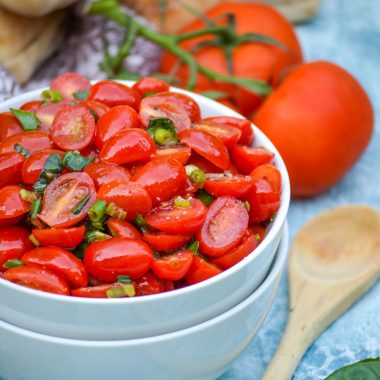 Killer Marinated Tomato Salad Recipe
A flavorful raw tomato side dish, this killer marinated tomato salad recipe is the perfect lunch or fresh dinner option for the Summer season.
Print
Pin
Rate
Ingredients
3

pints

grape tomatoes

halved

1

bunch

green onions

thinly sliced

5

large

basil leaves

chiffoned

1 1/2

tsp

garlic powder

1

tbsp

sugar

2

tsp

seasoned salt

3/4

tsp

ground thyme

salt & pepper

to taste

3/4

cup

canola oil

1/2

cup

red wine vinegar
Instructions
Add all of the ingredients to a large mixing bowl.

Gently toss until all of the ingredients are evenly combined.

Cover the mixing bowl tightly with cling wrap. Let it sit out, at room, temperature, for 2 hours while the tomatoes marinate.

Cover & store leftover salad in the refrigerator. It can be served chilled, or sat on the counter and brought to warm temperature before hand.
Nutrition
Calories:
184
kcal
|
Carbohydrates:
7
g
|
Protein:
1
g
|
Fat:
17
g
|
Saturated Fat:
1
g
|
Sodium:
474
mg
|
Potassium:
353
mg
|
Fiber:
2
g
|
Sugar:
5
g
|
Vitamin A:
1215
IU
|
Vitamin C:
19.9
mg
|
Calcium:
17
mg
|
Iron:
0.6
mg