Craving something a little different for dinner, but still need it to be quick & relatively easy? This Thai Peanut Pork Tenderloin is the tastiest way to shake things up. A pan seared, marinaded pork loin is infused with Asian flavor from the inside out. Finished off in the oven, this dish is sliced and served with a simple, savory peanut sauce and sprinkled with freshly chopped cilantro leaves.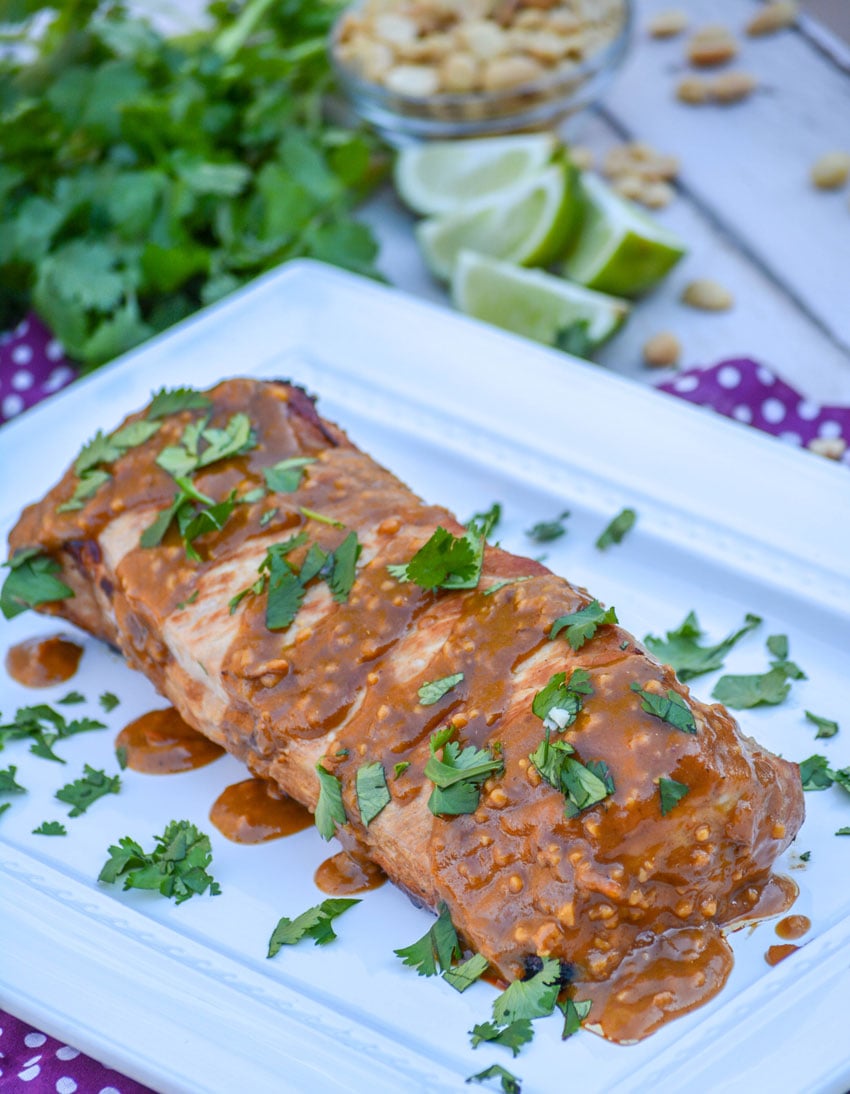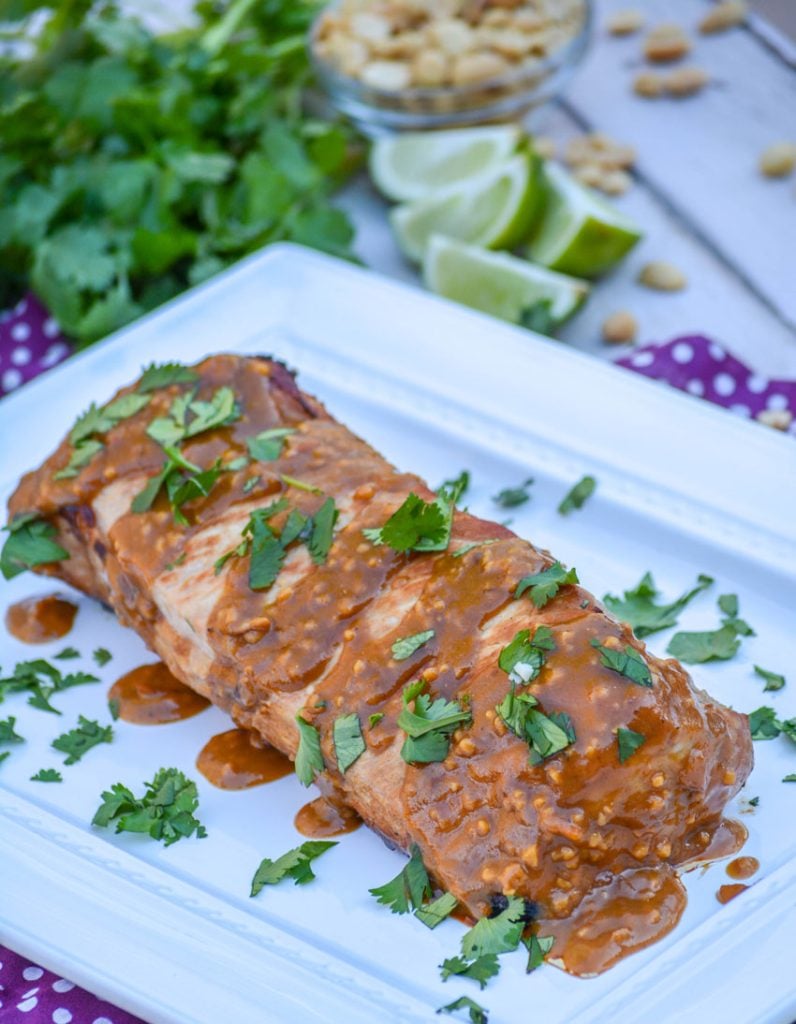 Thai food rocks the hubs world. I kid you not, the hubs could eat it every single day, for any meal, and be quite a happy camper.
I am not nearly the fan that he is.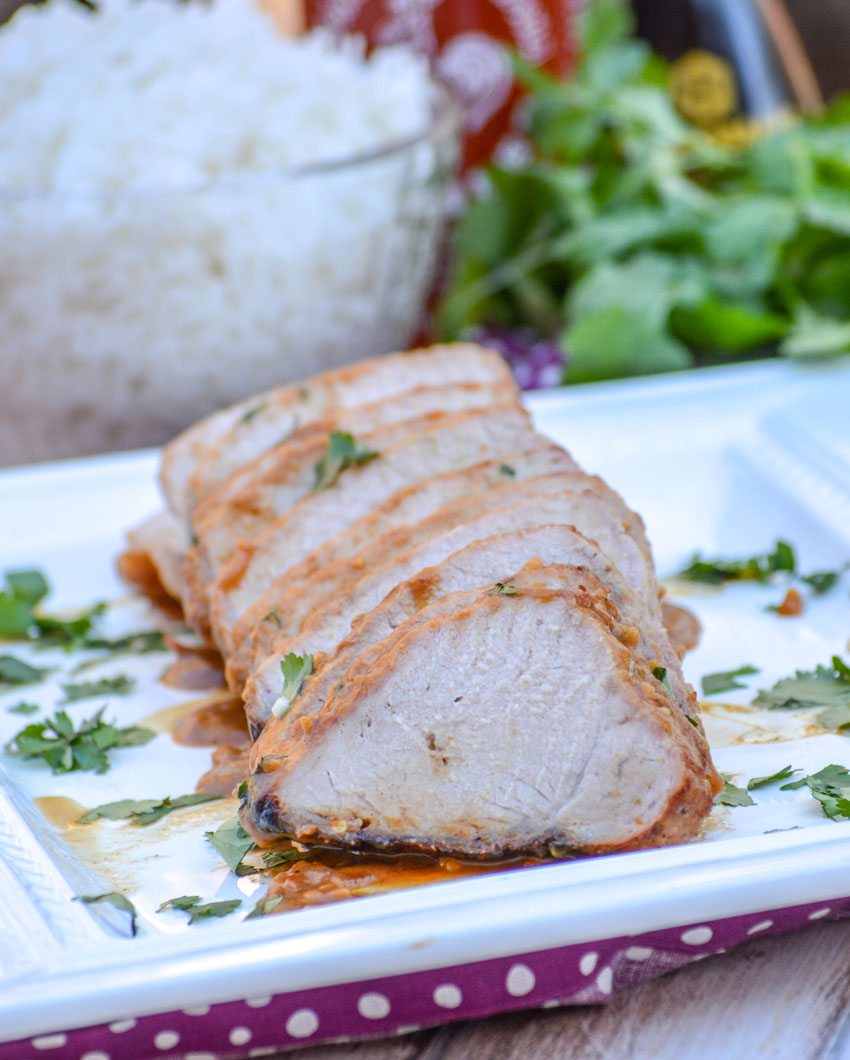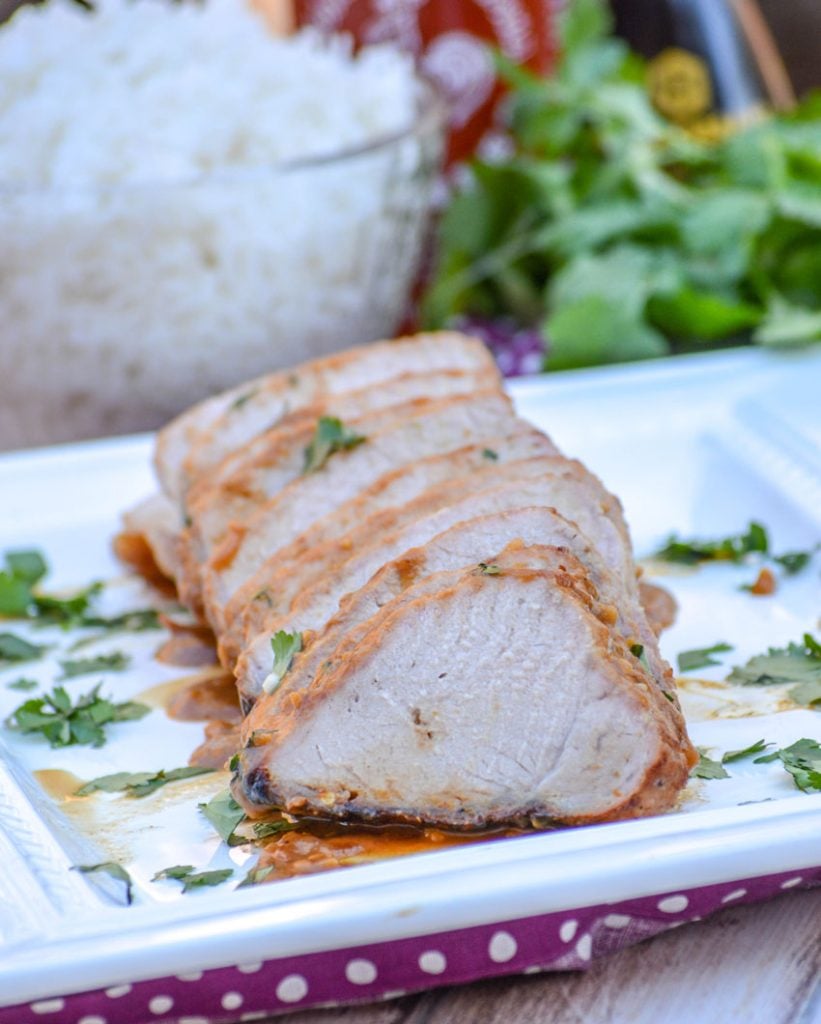 I remember struggling through menus trying to find something that appealed to my pallet as he took me to various Thai dives when we were dating.
Luckily, the company made it all worth it!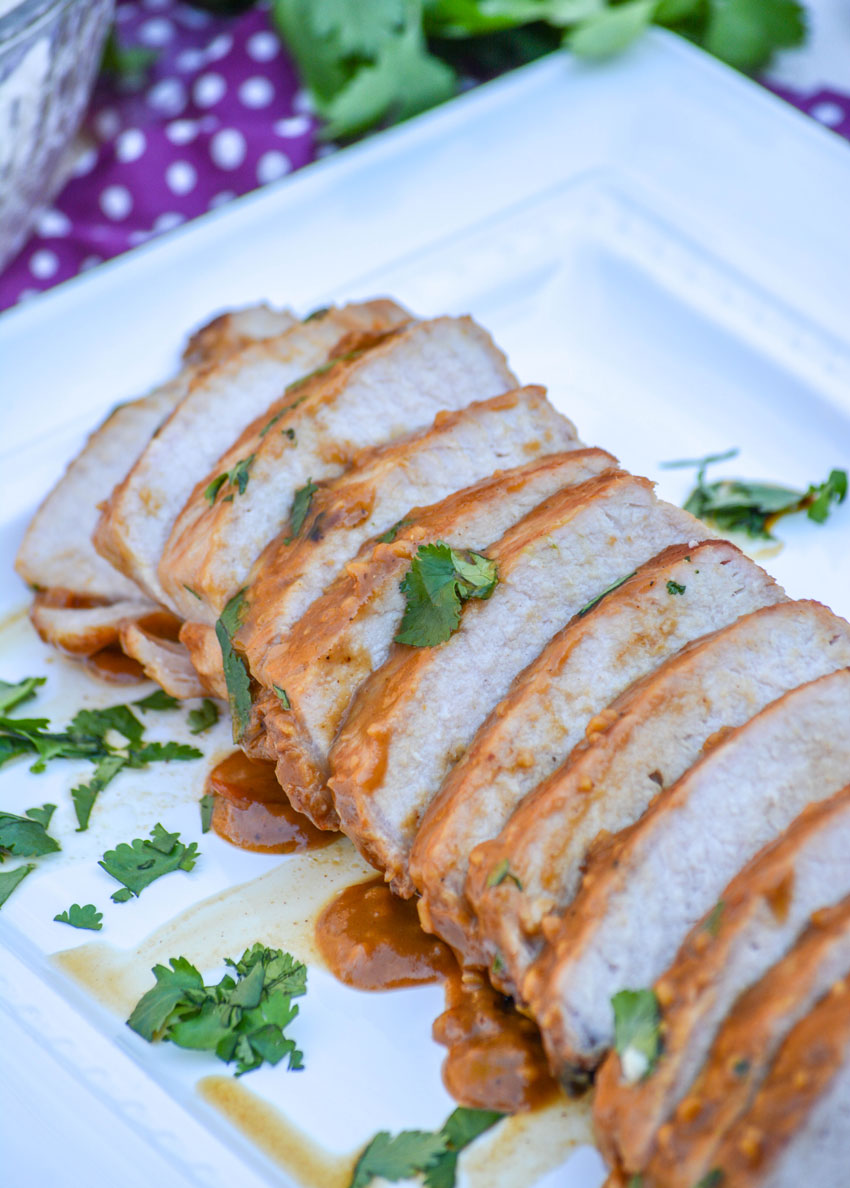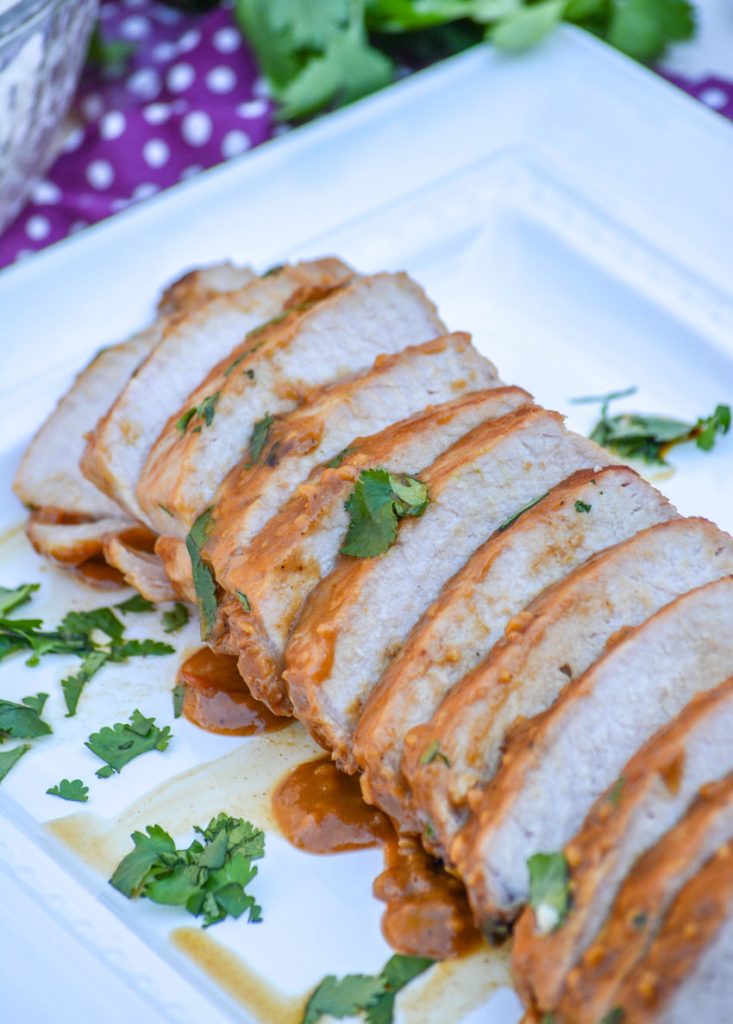 That and there was always something I could find to enjoy. The real problem for me was the over abundance of peanuts. Peanuts and pork.
Two seemingly totally different flavors that blend flawlessly in this recipe, and many another Thai dish.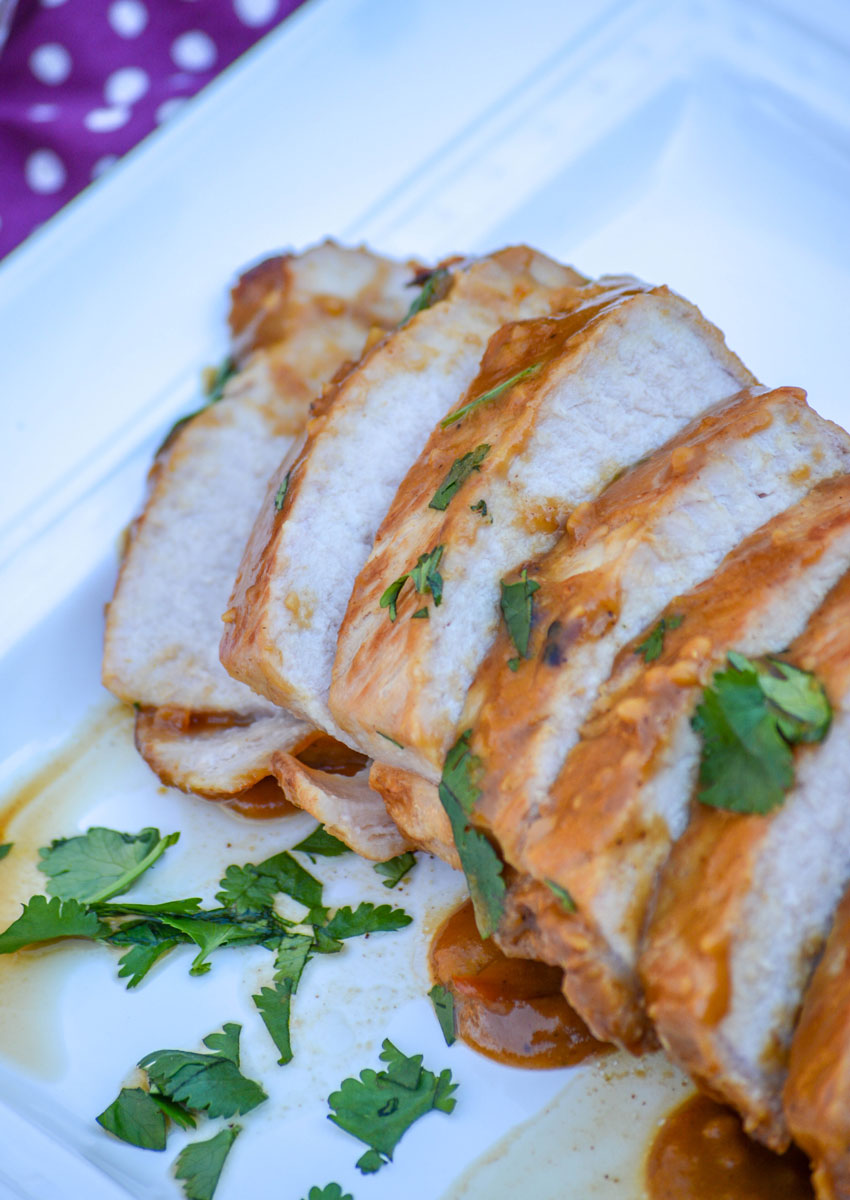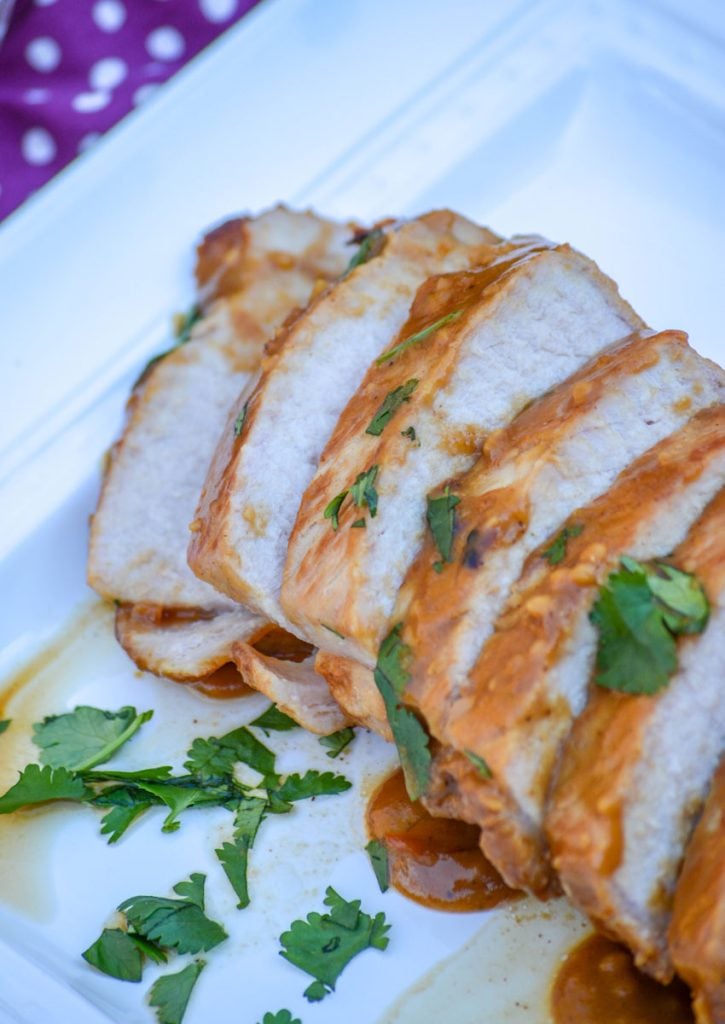 Here the tenderloin is taken to the next scrumptious level with the help of some peanut sauce. Go to your local grocery store right now, and I promise you its ethnic section (even the smallest) has Thai peanut sauce, probably even a Thai AND American made version.
The stuff just seems to get more and more popular as time goes by. This key ingredient doesn't disappoint even in this quick, from scratch, batch version.
Thai. Peanut. Pork. Tenderloin. Let's let that sink in for a moment. And let's take another look at these pictures.
Not the best staged photos, but still mouth-watering. Drool-worthy really.
Go ahead, lick the screen. Nobody's watching. You might even be a little more excited when you discover just how easy this recipe is either.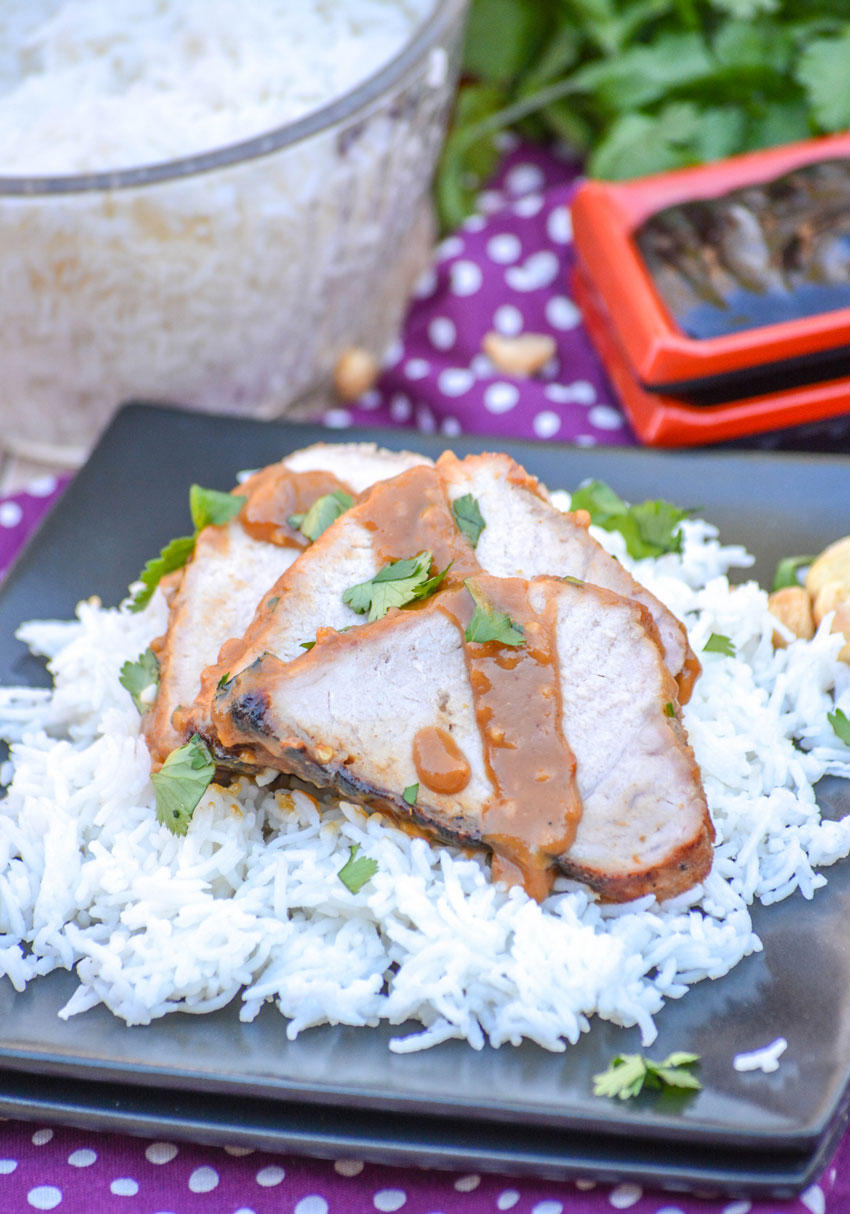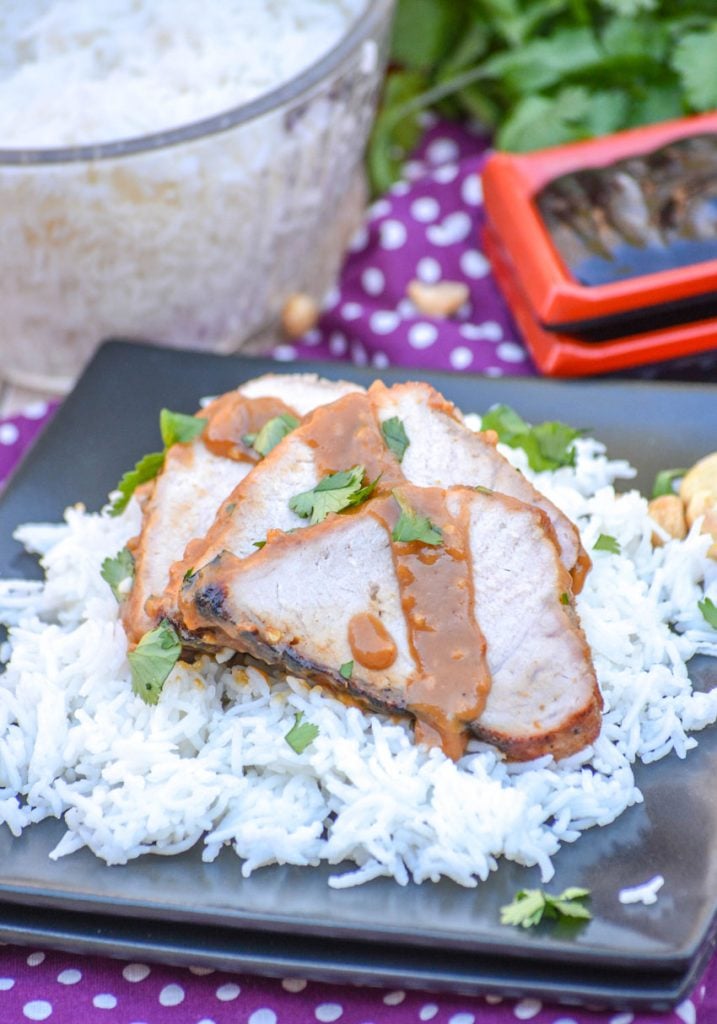 A simple, flavorful marinade is whipped up in a jiff. A mixture of garlic, coriander, cumin, soy sauce, rice wine vinegar, peanut butter, lime juice, orange juice, crushed red pepper and black pepper are whisked together.
The pork's rinsed, patted dry, salted & peppered, and placed in a large zip locking bag. The marinade is then poured out overtop, and the bag's sealed squeezing out any excess air at the same time.
The pork's then allowed to marinade in the refrigerator for at least 30 minutes, but up to 8 hours or overnight.
Since this meat needs to safely transition from the stove top to the oven, and needs a really good sear- I'd suggest using a heavy bottomed, oven safe dish like a cast iron skillet or Dutch oven.
Add vegetable oil to your skillet, and let it get nice and hot over medium high heat. Since it's not really enough oil to use a thermometer to gauge the temperature, watch for it 'shimmering'. It's the best way to eyeball when it's ready.
The pork's then added to the skillet and seared on all sides until it's beautifully browned. This should take roughly 8-10 minutes TOTAL. The whole skillet's then transferred to the oven, which has been preheated to 425 degrees, and roasted for 20 minutes.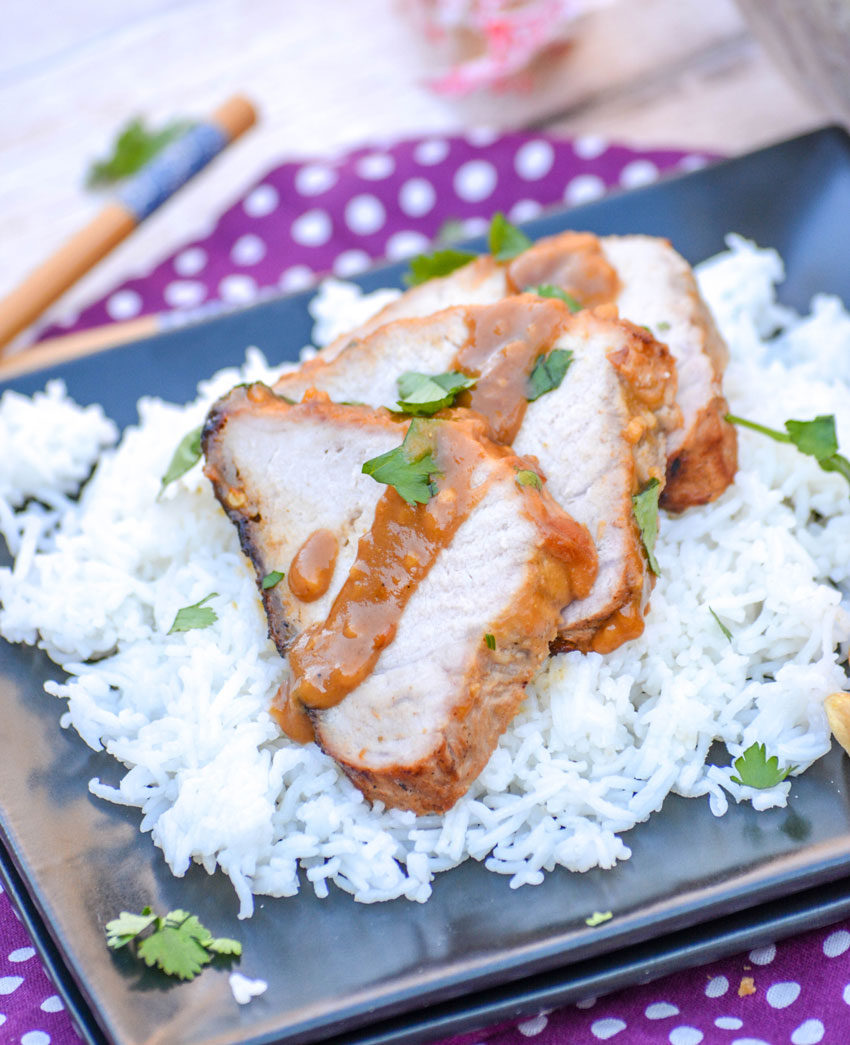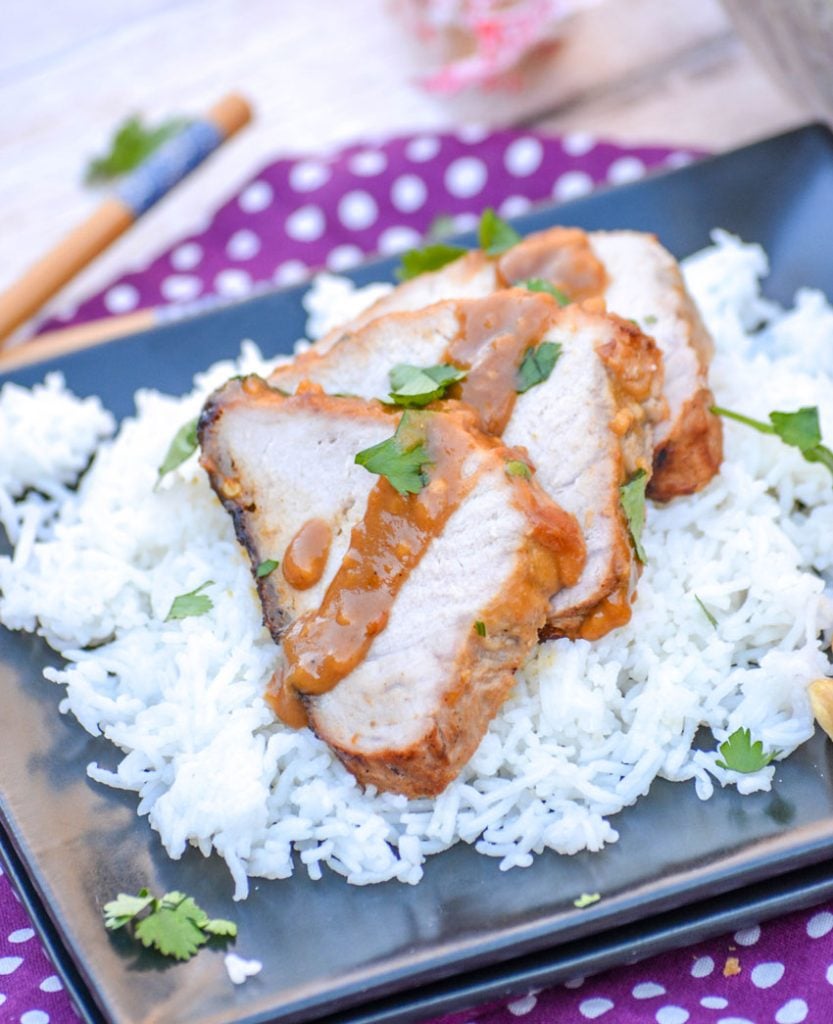 This time we do want to use a meat thermometer. It's a much better way of ensuring the meat's cooked through without doing any guessing, slicing, baking some more and possibly repeating the process several times.
When the meat thermometer reads 160 degrees, inserted into the center of the thickest part of the pork tenderloin you know it's done.
Remove the pork from the oven, and let it rest a full 10 minutes before slicing and serving.
Now it's time to make the Thai peanut sauce. We reuse the marinade as the base. Don't panic. When all's said and done it's been heated and boiled, thus making it 100 % safe for consumption despite having bathed the raw meat.
So while the meat's resting, transfer the marinade to a small sauce pan, and stir in 1/4-1/2 cup of water. Bring the sauce to a boil, then reduce the heat and simmer until the sauce has thickened.
Drizzle the sauce out overtop of the Thai peanut pork tenderloin, slice, and sprinkle with freshly chopped cilantro before serving. Serve over top, or with a side of steamed white rice.
It may sound like a lot, but at it's heart this is a very basic tried & true recipe for a tender pork tenderloin. With it's Asian infusion it's a delicious new spin on dinner, and the simple peanut sauce really kicks the whole thing up a notch.
Other Pork Recipe Ideas To Spice Up Supper: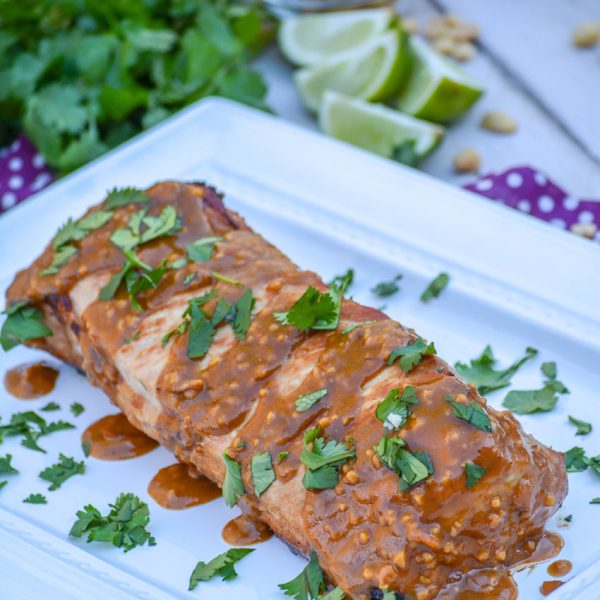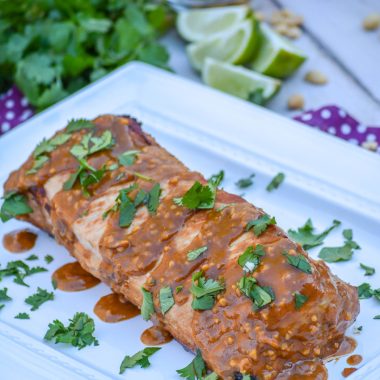 Thai Peanut Pork Tenderloin
Tender pork tenderloin is marinaded in a sweet thai peanut sauce, pan seared, and then oven roasted. Served topped with fresh Thai peanut sauce & chopped cilantro- it's a budget friendly meal infused with Asian flavor.
Print
Pin
Rate
Ingredients
1

1.5 lb pork tenderloin

salt and pepper

to taste

1/4

cup

orange marmalade

2

cloves

garlic

minced

1/2

tsp

ground coriander

1/4

tsp

ground cumin

1/4

cup

soy sauce

2

tbsp

rice wine vinegar

3

tbsp

creamy peanut butter

1

tbsp

lime

or lemon, juice

1/4

cup

orange juice

1/2

tsp

crushed red pepper flakes

1/2

tsp

ground black pepper

2

tbsp

vegetable oil

1

tbsp

chopped fresh cilantro

optional
Instructions
In a small bowl combine marmalade, garlic, coriander, cumin, soy sauce, rice wine vinegar, peanut butter, lime juice, orange juice, crushed red pepper and black pepper. Whisk the ingredients together until evenly incorporated.

Season the pork tenderloin with salt and pepper and place it in gallon sized zip-locking plastic bag. Carefully, add in the marinade, and then gently squeeze the excess air out of the bag before sealing it shut.

Refrigerate and let the meat marinade for at least 30 minutes, or for as long as 8 hours.

Heat the vegetable oil in a large oven-proof skillet (like cast iron or even a dutch oven) over medium-high heat, until the oil is shimmering.

Add the pork tenderloin, and sear on all sides, until it's nicely browned, about 8-10 minutes total. Place the entire skillet into the preheated oven, and cook at 425 degrees for about 20 minutes, or until a meat thermometer registers 160 degrees. Remove the meat from the oven and let it rest for about 10 minutes before slicing.

While the pork is in the oven cooking, pour the marinade out of the plastic bag and into a small saucepan. Add in 1/4 to 1/2 cup of water.

Bring the mixture to a boil and simmer until slightly thickened, about 5 minutes.

Slice the tenderloin and pour the sauce over top. Sprinkle with chopped cilantro for garnish, if desired.
pictures & post updated 3/18/19