Thick and hearty, this bacon cheddar chowder is a stick to your ribs meal served in a simple soup bowl. Made in the convenience of your Instant Pot, it's a great go to recipe to have on hand on busy nights when the weather turns cold.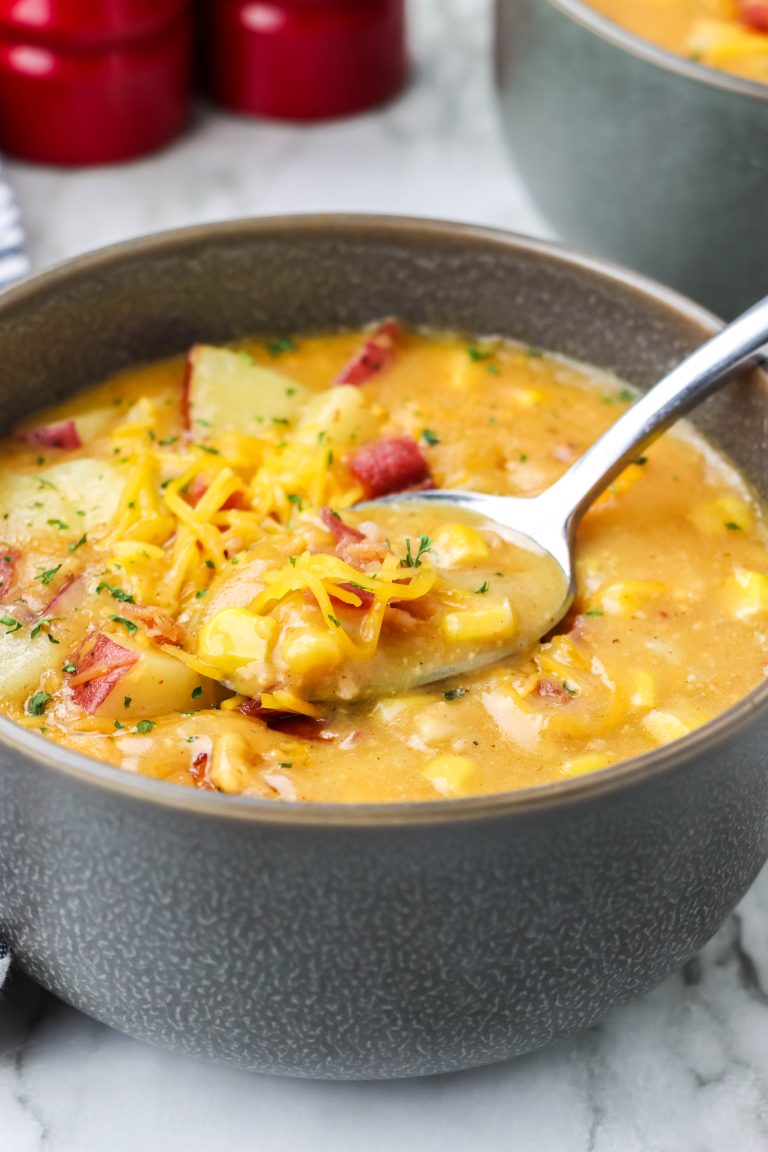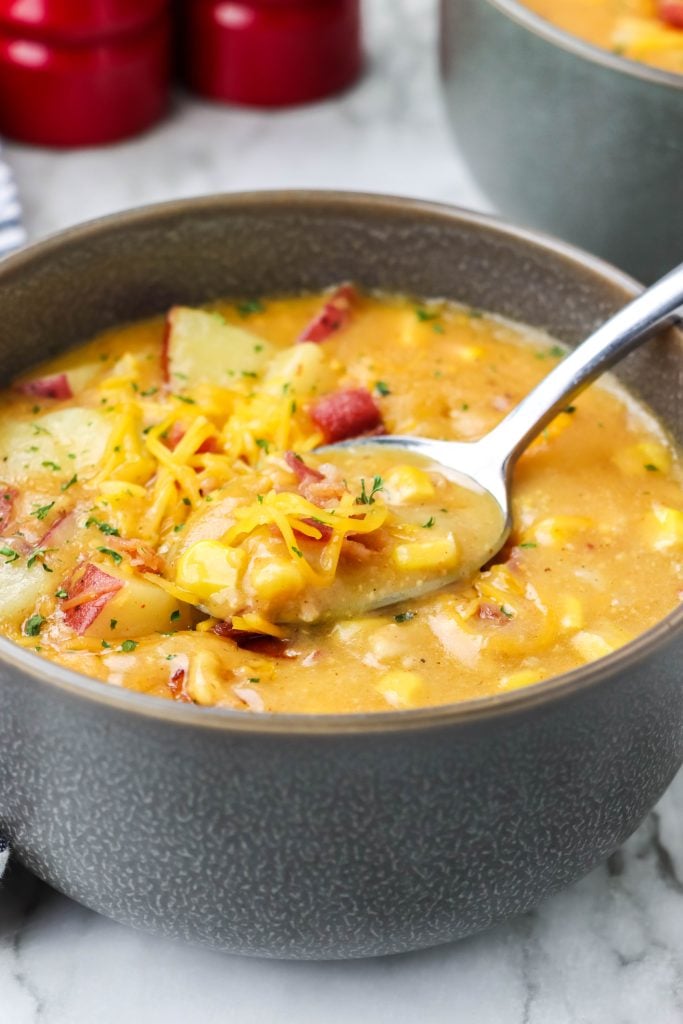 "Brace yourselves. Winter is coming."
Seriously, Stark!
Though most of the snow has melted here, the cold weather is far from over.
The wind is still whipping with biting wind chill temps, and more snow is forecast-ed to arrive tonight/tomorrow.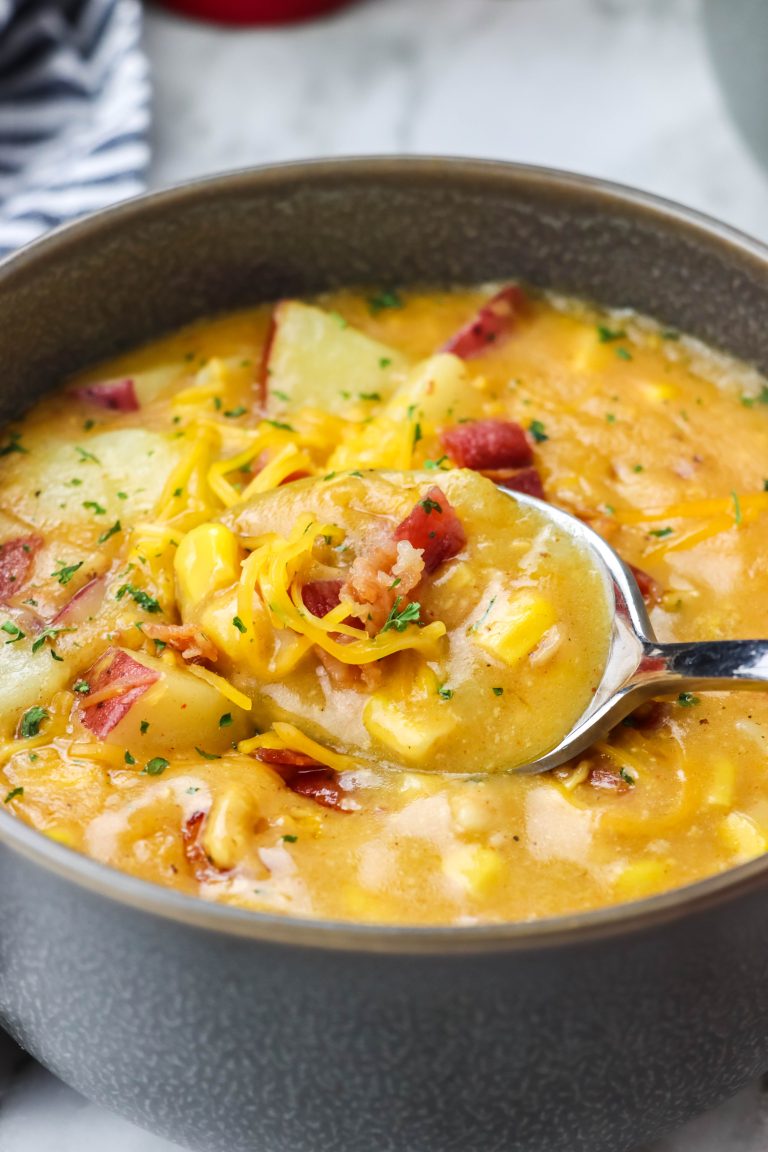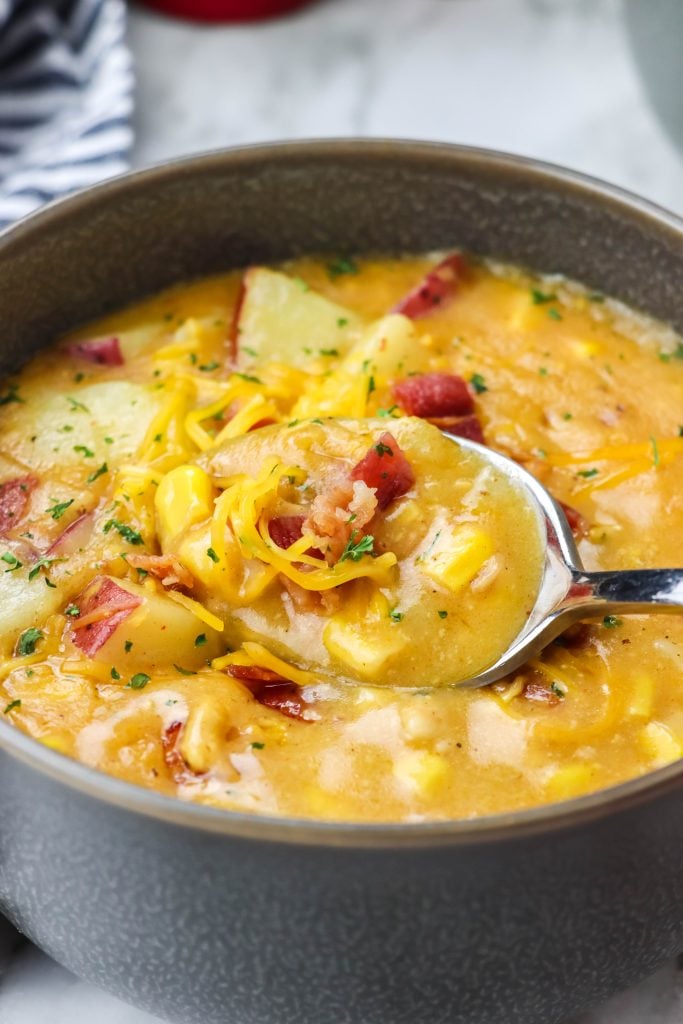 We walked out the door this morning dressed like Eskimos ready to face the frozen tundra and it still felt like we had no clothes on.
Even all bundled up, the freeze still found a way in.
Days like this always call for something extra hearty and warm to help us 'thaw' in the evening.
This thick, creamy instant pot chowder is the perfect way to mentally and physically decompress on a cold, winter night.
Smoky, bacon cheddar chowder? Music to my frozen tastebuds!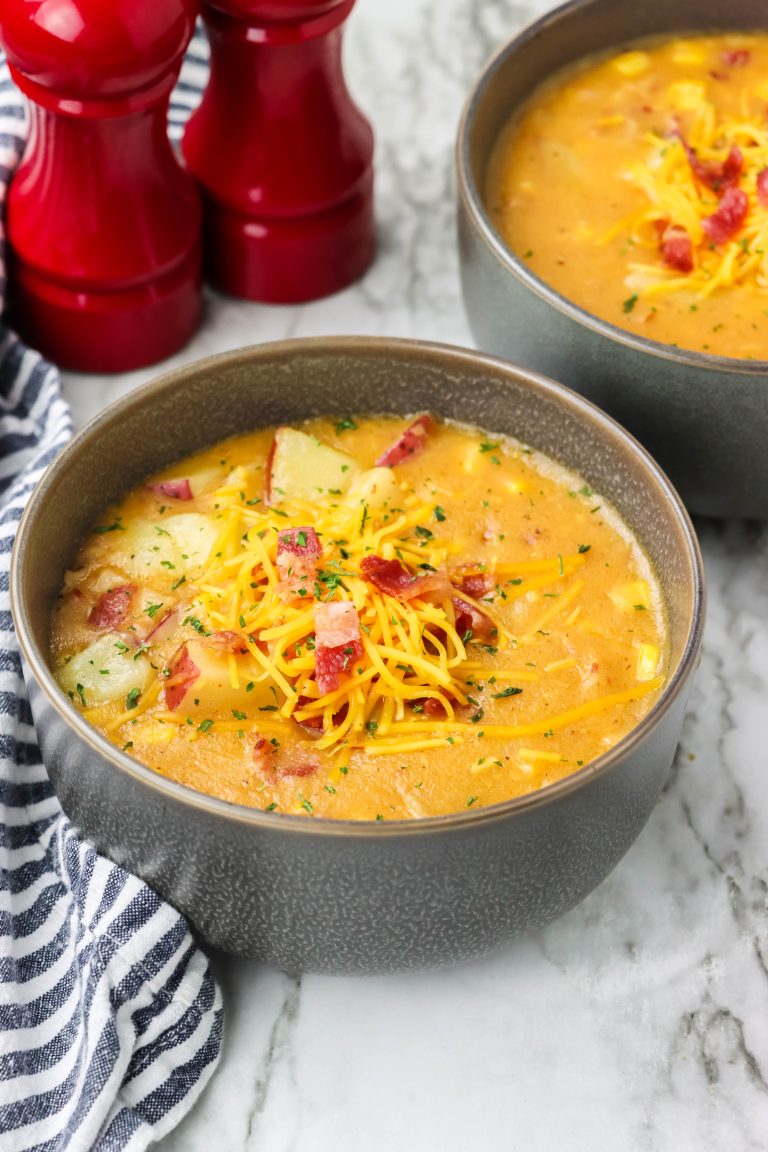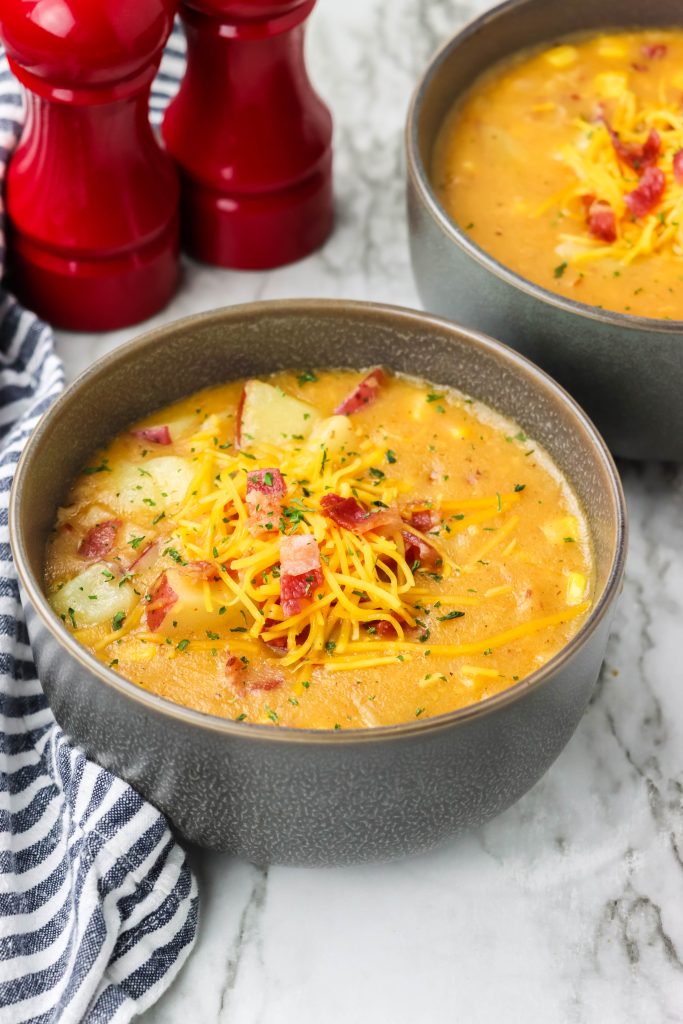 What Exactly Is A Chowder?
There are many trains of thought on this topic, and the answer you get may very well depend on the region you're in when asking.
However, if I were to break it down in it's most simplest form: a chowder is a rich, thick, chunky soup that usually has a white base. Manahattan-style being a rare exception.
Most chowders include some form of milk or cream in the base.
They also have a similar make up, no matter the type.
All chowders typically have 5 distinct parts that make up the whole:
the vegetables/meat – ALL chowders will have vegetables, but not all of them will have meat.
flavoring ingredients – such as onions, herbs, bacon, and the milk or cream
base liquid – broth or stock, the flavor of which depends on the type of chowder being made but usually vegetable, chicken, beef, or seafood
thickener – either potatoes, corn starch slurry, or flour like in a roux, although using potatoes is traditional
seasonings
That's it really. When you break it down to basics, a chowder is really simple.
It's all about the fundamentals and then building the flavors from there.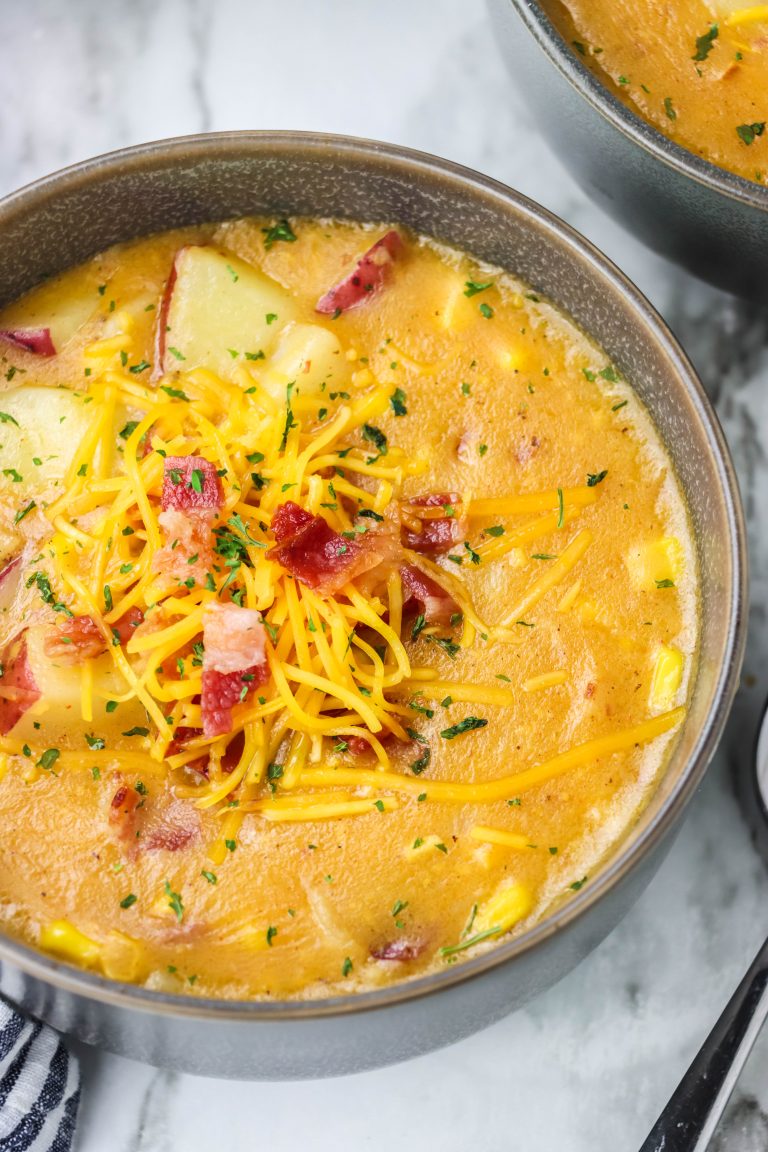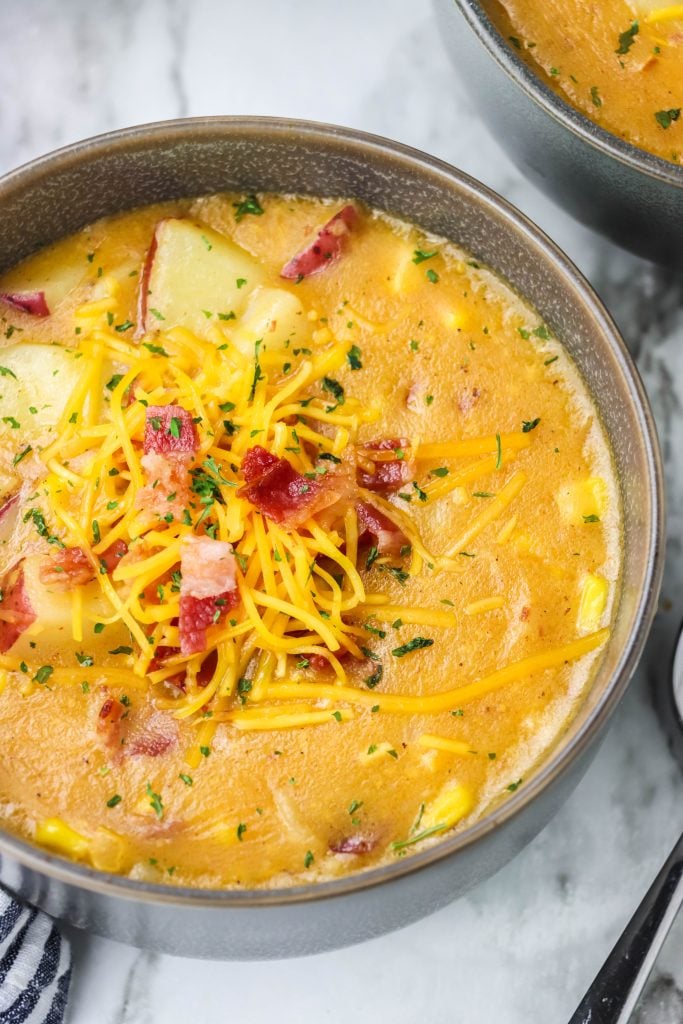 Where Does The Name Come From?
While most of my family is now firmly entrenched in the South and Southern cooking traditions, they all actually came from up north.
This means some of those traditions, like chowder, and there back-stories came with them.
Supposedly the name itself comes from the French word for a specific type of cookware called a 'chaudiere'.
My Aunt & Uncle from Maine even had a specific cast iron pot, lovingly referred to as their 'chowder pot', always pronounced CHOW-DAH.
And while the term may have French origins, it's been wholeheartedly embraced by Americans.
They had a great recipe for a New England style clam chowder that I revamped for my Instant Pot.
And in Virginia when the weather gets colder, we tend to pull out our heavy bottomed soup pots and whip up our own renditions of chowder.
The most common one is a variety of potato, bacon, and corn.
This time though, I decided to throw everything in my pressure cooker and it made what's now our family's absolute favorite bacon cheddar chowder.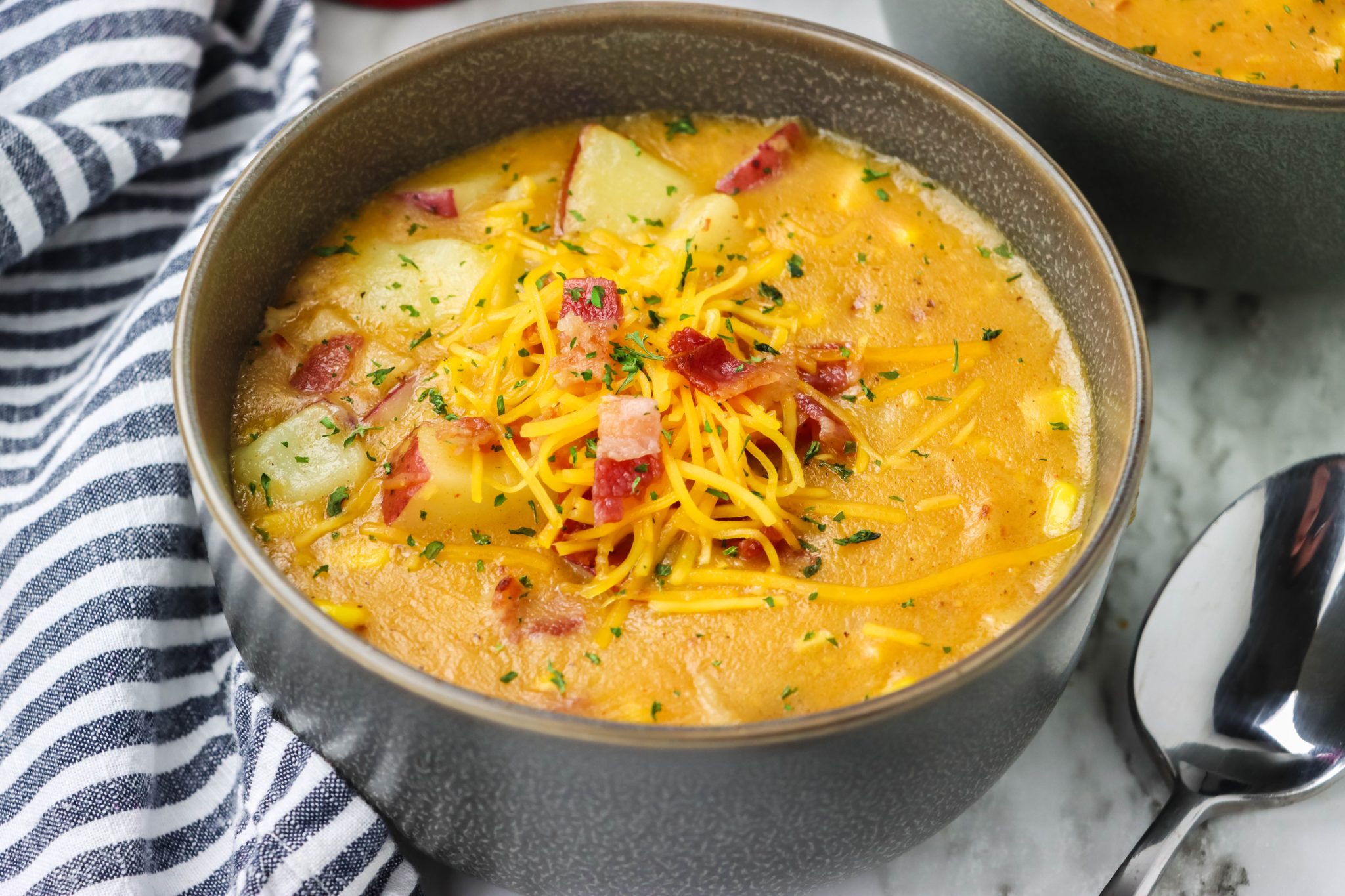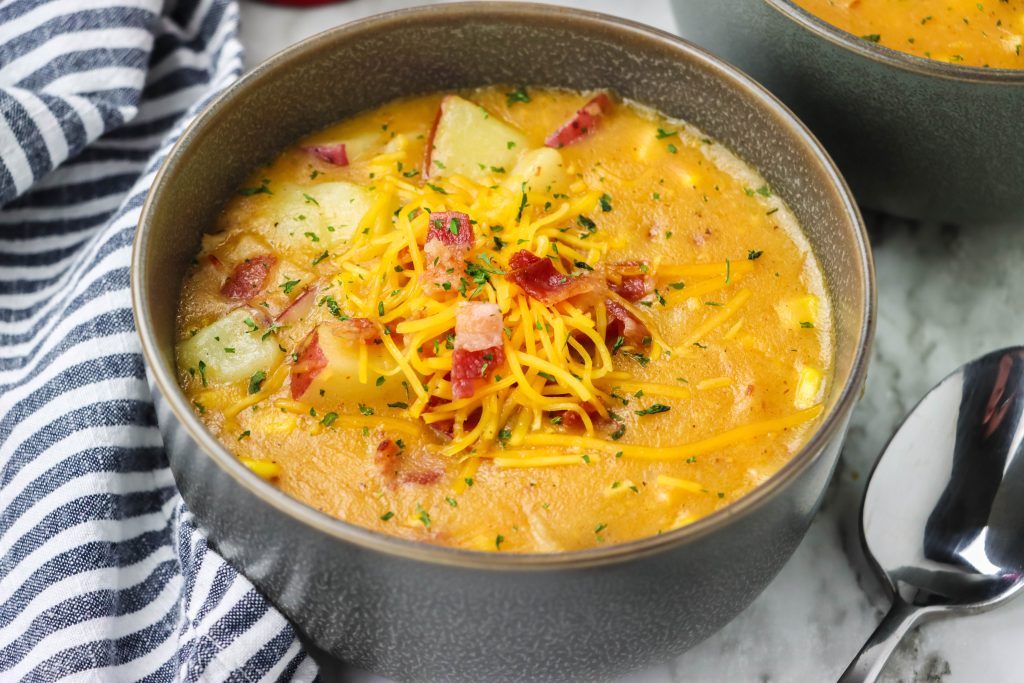 Ingredients Needed
bacon
butter
onion
garlic
flour
potatoes
water
chicken boullion
seasonings
corn
cheddar cheese
How To Make In The Pressure Cooker
Hit the saute button on your pressure cooker, and let it warm up for a minute or two.
Once it has, add the bacon pieces and stir while sauteing them until browned to your preference. I like mine nice and crisp.
Using a slotted spoon, transfer the cooked bacon pieces to a layer of paper towels to sit while the excess grease drains off.
Discard any excess amount of grease carefully from the pot liner.
Add the butter, onions, and garlic to the pot and allow them to saute, again stirring, just until the onions have softened and become translucent.
Don't skip the stirring. This prevents anything from sticking to the bottom of the pot, which is crucial for success.
Any of those stuck on bits will burn during pressure cooking, and result in the dreaded 'burn notice'.
Stir in the flour until it's coated the veggies and combined. Let it saute for 1-2 minutes, just until slightly thickened and so that any residual flour-y taste has cooked off.
Add the potatoes, water, seasonings, bullion, and corn to the pot, stirring to evenly incorporate.
Add the lid, turning to close, and make sure the vent valve is set to the sealing position. Set the soup to cook on high pressure for five minutes.
Once the timer beeps to indicate that the cooking is complete, let it sit and naturally release for another five minutes.
Carefully turn the valve to vent, making sure to avoid the hot steam, and let it finish releasing any remaining pressure.
Remove the lid, and stir in the shredded cheddar cheese until melted and combined.
Stir in the crisp bacon, or save it to serve on top.
Ladle the soup into bowls, and serve it with your favorite toppings!
Topping Ideas For Potato Soups
extra shredded cheese – we like cheddar, mozzarella, pepper jack- just to name a few!
green onions – thinly sliced, or chives also work well
bacon – in addition to adding it into the soup, it makes an excellent garnish
chopped ham – I am not kidding when I say my husband and sons' swear by this!
pretzel pieces – these add an excellent bit of texture, and you can use either the hard or soft kind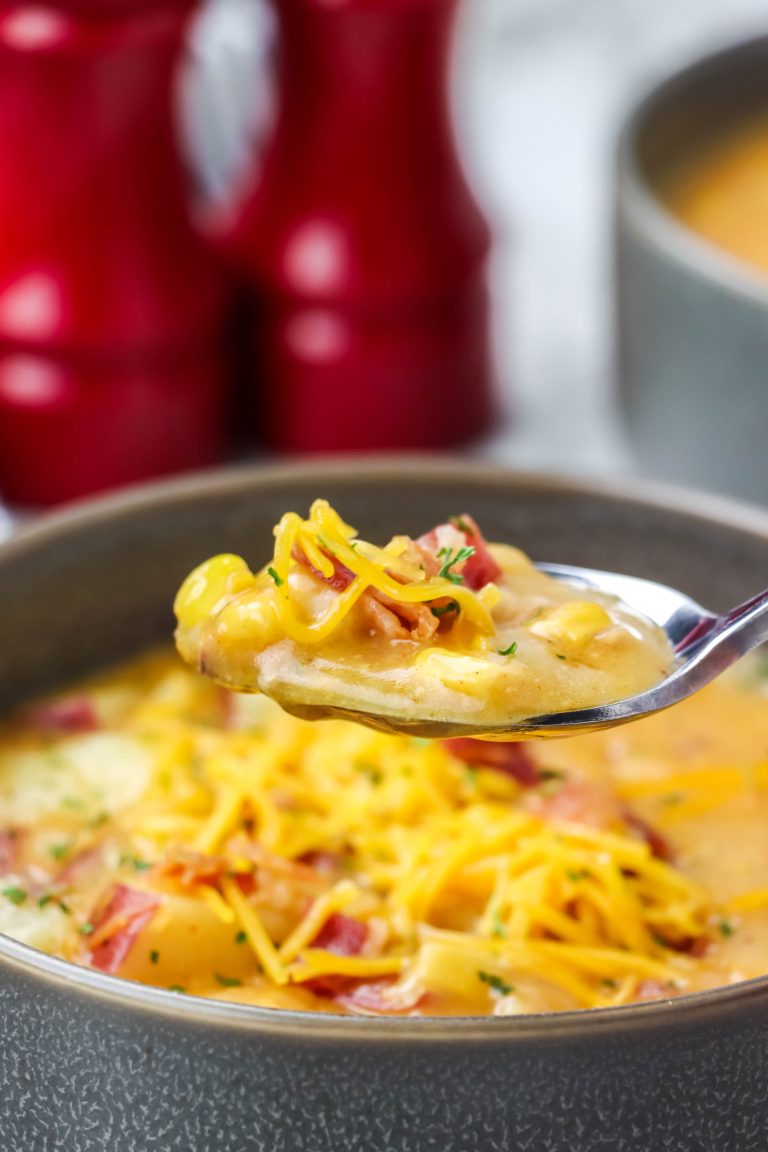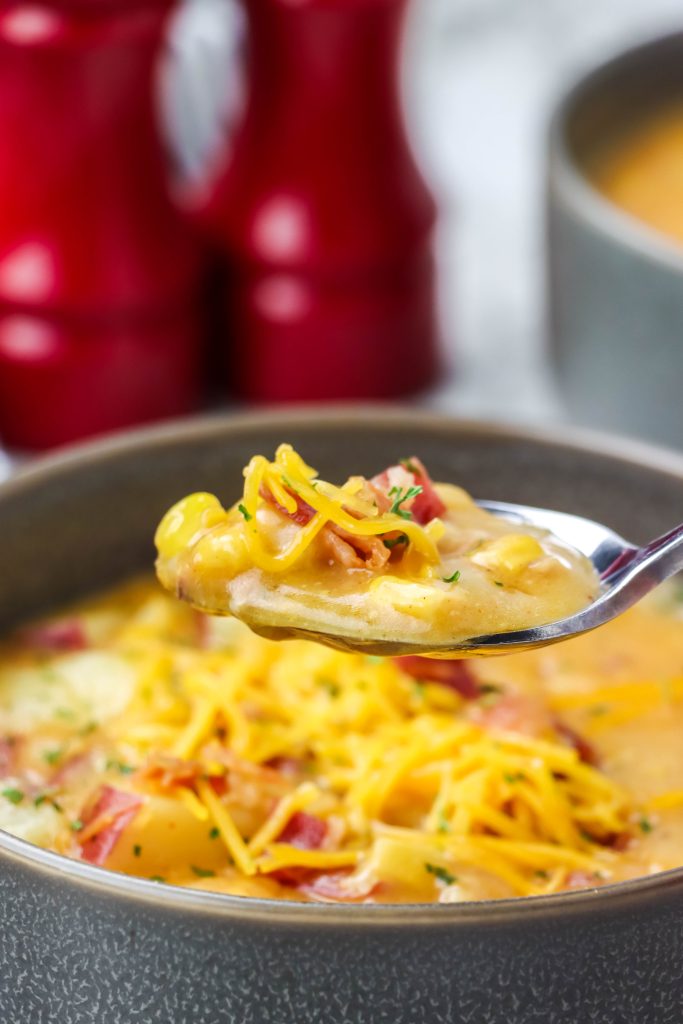 Using Potatoes As A Natural Thickener
Using potatoes as a soup thickener is convenient in many recipes. It's one of my favorite ways to make a really thick & creamy potato soup.
However, I like my chowders thick and hearty.
Potatoes thicken the soup as they break down during cooking.
Since I wanted to maintain most of my potato chunks, I used some flour to help aid in the thickening process.
If you're ok with, or prefer a less chunky style soup you can omit the flour and let the potatoes do all the work.
Serving Suggestion Ideas
It can be hard finding good ideas to pair with soup beyond the obvious simple salad and slice of bread.
Need some inspiration? Here you go:
While soups are trending up when the temperatures begin to drop, do yourself a favor and go for something that will truly warm you up from the inside out.
When that's the case, a bowl full of chowder is the only thing that will do- make sure you have your Instant Pot ready for mixing up a batch of this rich, savory bacon cheddar chowder.
If you've tried this INSTANT POT BACON CHEDDAR CHOWDER, or any other recipe on the site, let me know in the comment section how it turned out, we love hearing from our readers! You can also follow along with me on PINTEREST, FACEBOOK, and INSTAGRAM to see more amazing recipes and whatever else we've got going on!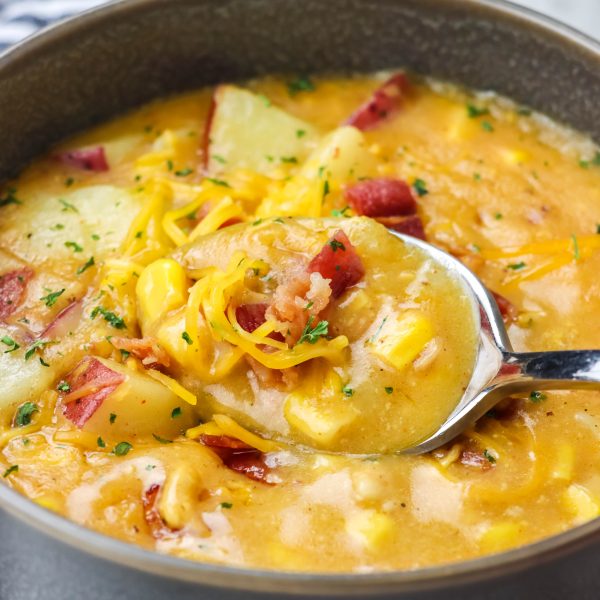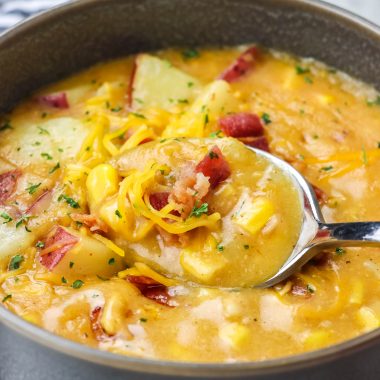 Instant Pot Smoky Bacon Cheddar Chowder
Thick and hearty, this bacon cheddar chowder is a stick to your ribs meal served in a simple soup bowl. Made in the convenience of your Instant Pot, it's a great go to recipe to have on hand on busy nights when the weather turns cold.
Print
Pin
Rate
Ingredients
8-10

strips bacon- cut into small pieces

4

Tablespoon

butter

½

Cup

red or white onion

diced

5

teaspoons

minced garlic

½

cup

flour

½

lb.

red potatoes

chopped and cut into 1-inch pieces

4

cups

water

2

teaspoons

chicken bullion

½

teaspoon

onion salt

½

teaspoon

black pepper

1-2

teaspoons

smoked paprika

1-2

cups

corn

canned or frozen

1.2

cup

shredded sharp cheddar cheese
Instructions
Turn your Instant Pot on the "sauté" function and allow to warm up. Add the bacon pieces and sauté until brown. Remove from the pot with a slotted spoon and place on a paper towel. If there is a large amount of grease in the bottom go ahead and pour that off.

Next, add in the butter, onion, and minced garlic and sauté until the onions are translucent.

Make sure to stir constantly to keep any food from burning to the bottom, if this happens you will get the "BURN" notice when you start to pressure cook.

Add in the flour and stir to combine and let that thicken for 2-3 minutes.

Add the potatoes, water, seasonings, bullion, and corn to the pot and mix well to combine.

Place the lid on the pot and make sure the valve is in the sealing position and set to high pressure for 5 minutes.

Once the timer beeps, allow the pot to naturally release for about 5 minutes then manually release any remaining steam.

Add the cheddar cheese to the chowder and mix well until completely melted.

Add in the reserved bacon and stir.

Serve with your favorite toppings and enjoy!
Nutrition
Calories:
382
kcal
|
Carbohydrates:
22
g
|
Protein:
13
g
|
Fat:
27
g
|
Saturated Fat:
14
g
|
Cholesterol:
63
mg
|
Sodium:
771
mg
|
Potassium:
356
mg
|
Fiber:
2
g
|
Sugar:
3
g
|
Vitamin A:
702
IU
|
Vitamin C:
6
mg
|
Calcium:
181
mg
|
Iron:
1
mg
recipe originally from Creme de la Crumb
recipe originally posted 1/28/2014