The classic flavor of chicken cordon bleu has been transformed into a thick savory potato soup. It's the best of both worlds. This delicious rendition makes a perfect dinner on dreary days, or a delicious soup to share at potlucks. A potato soup recipe has never tasted so good!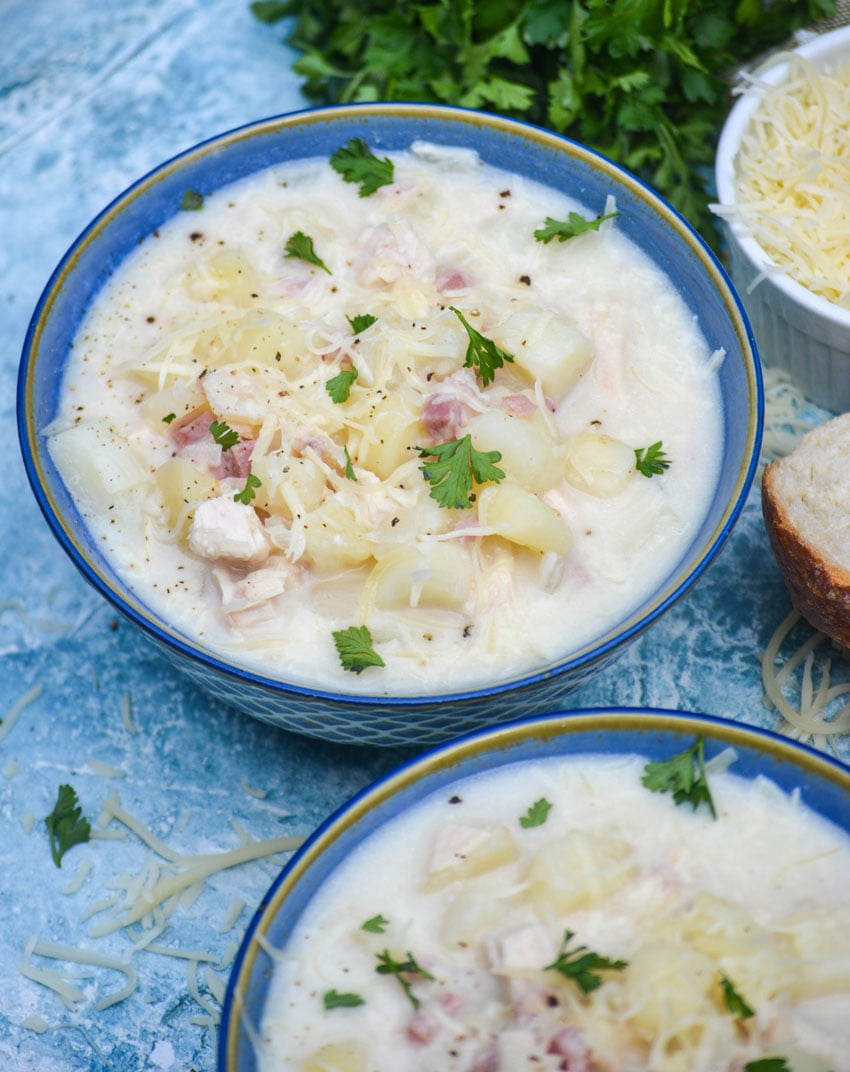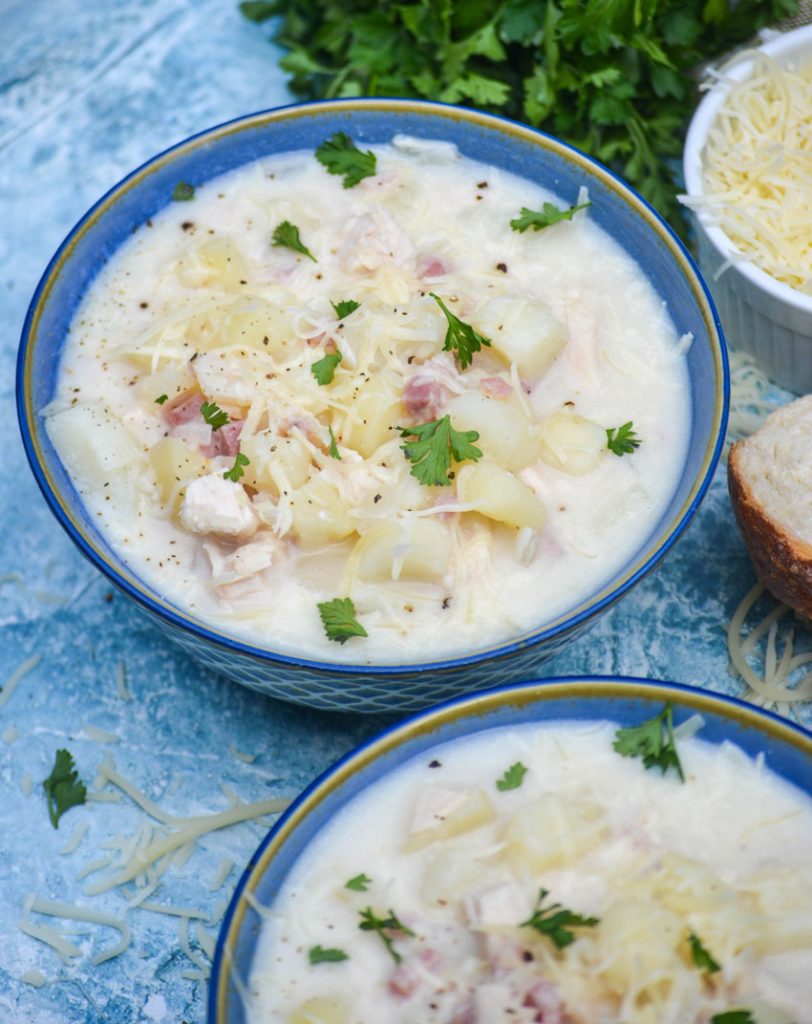 Are you wondering what you're going to do with the abundance of leftovers after Easter dinner Sunday?
Ham sandwiches or biscuits can only go so far. Dice that ham up and save it!
Ham freezes really well, and it makes the beginnings of so many delicious meals.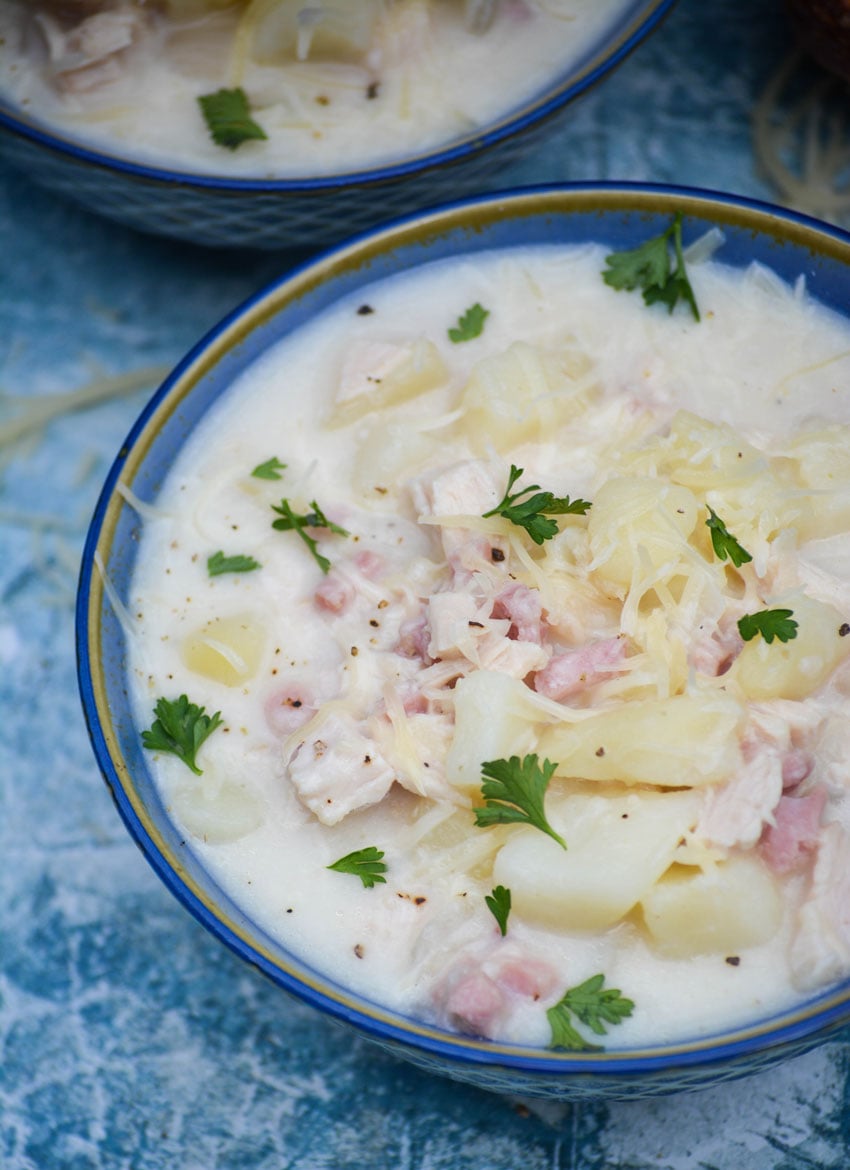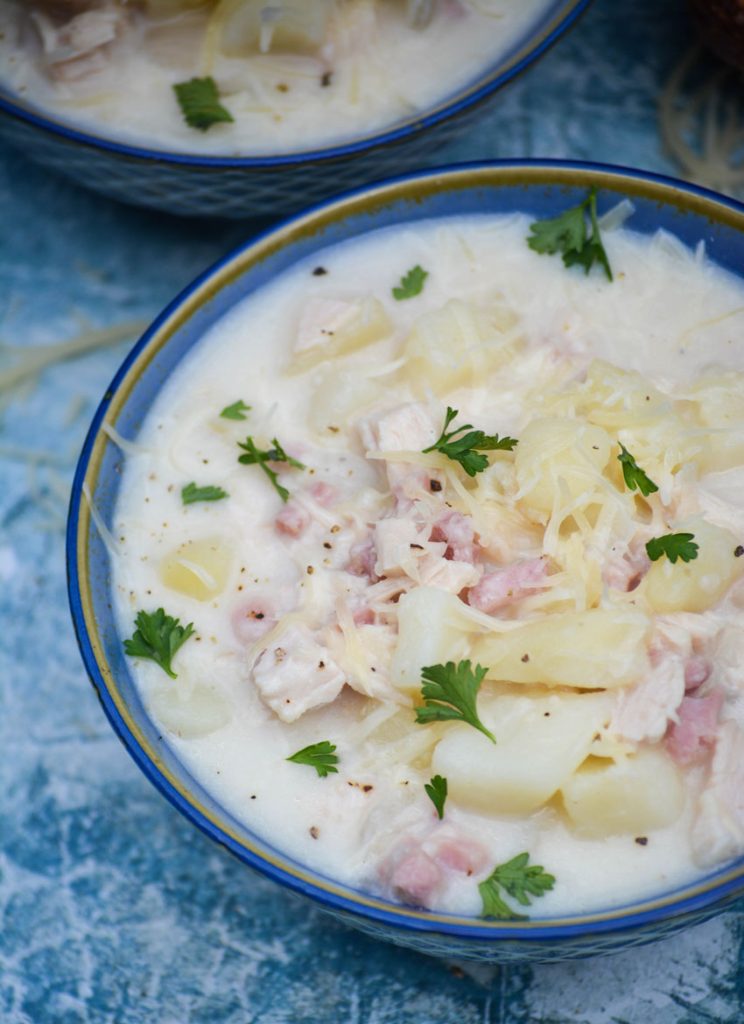 This chicken cordon bleu soup is delicious and it's a perfect way to make use of those saved leftovers.
It's a flavorful meal. I love a soup that can stand all on it's own as a delicious dinner.
Plus with the potatoes (the potato soup part) you can really stretch it.
I loved that it gave us the chicken cordon bleu taste we were craving, in a cheaper and easier form. We love cordon bleu, but man can it be a lot of work to make from scratch.
I served it with some oatmeal pull-apart rolls, and every one of my guys had two bowls. There were no leftovers!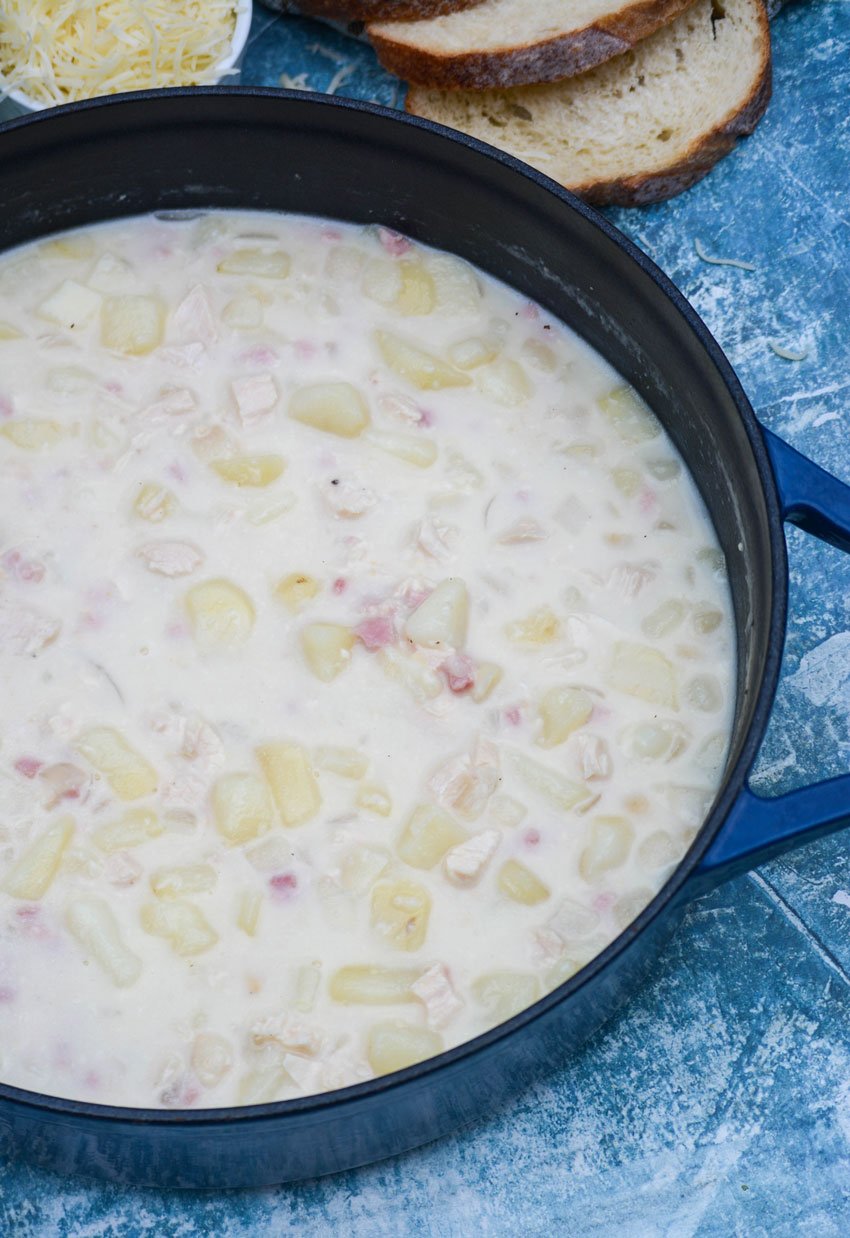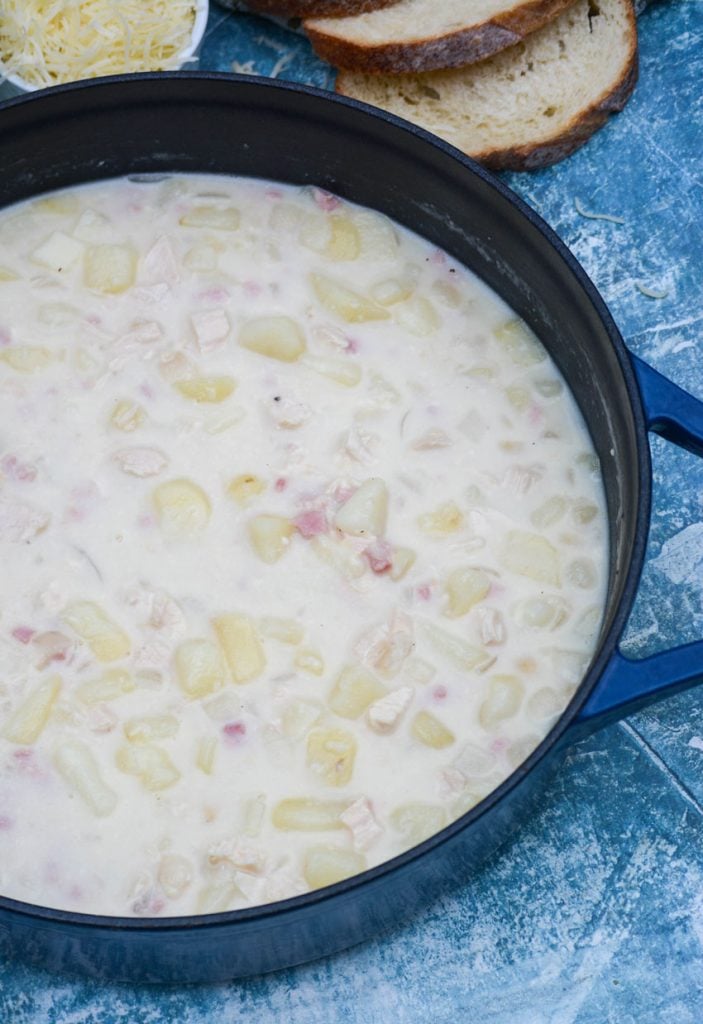 What Kind of Potatoes Are Best For Making Soup?
Yes, the kind of potato you use actually does matter.
For making soup, I recommend waxy/all purpose style potatoes. My top two favorites are red potatoes or Yukon potatoes.
They tend to be on the smaller side, like fist sized. But because they're less starchy and thin skinned they hold their shape well when boiled without interfering with the consistency (thickness) of your soup, and they tend to cook more quickly.
You can use russet in a pinch, but cook them carefully. Too tender and they're going to mush and turn your soup to a more mashed potato-like consistency.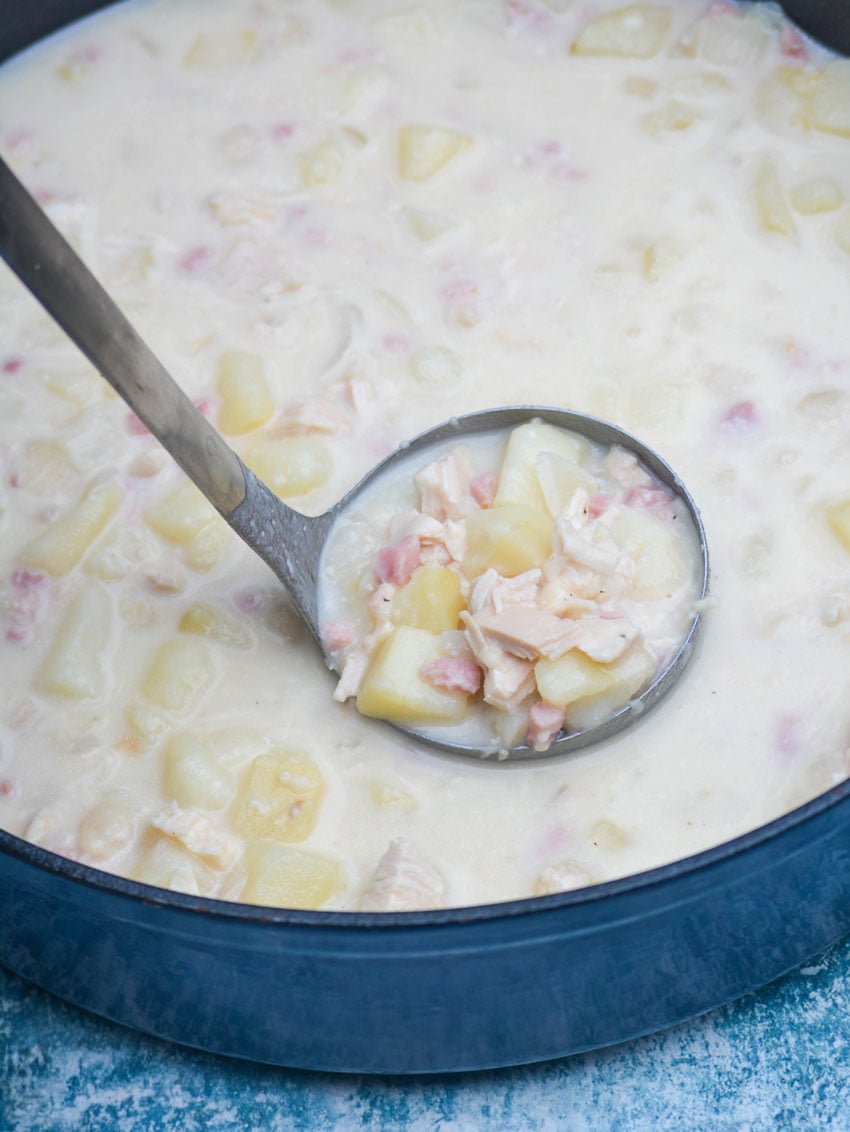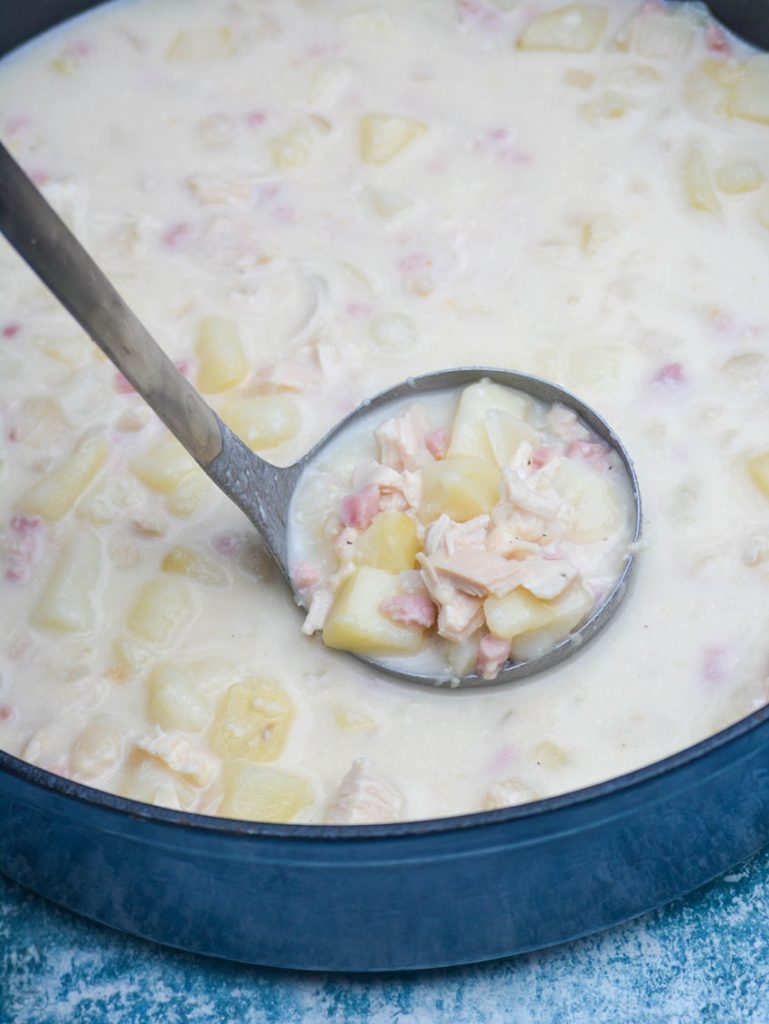 How To Make A Cordon Bleu Style Potato Soup
Washed, peeled, and cubed potatoes the first step. Then add them to a large soup pot. Add chicken broth until the liquid's covered the potatoes.
Bring the potatoes to a rolling boil, cover the pot, and cook until the spuds are fork tender. Make sure to check on them every so often so they don't over cook.
In a large skillet, melt the butter. Then stir in the onions. I recommend a sweet yellow for this recipe, but a white onion will also work. Cook until the onion's soft, then add in the garlic and continue cooking for an additional minute or two. Just until fragrant but not burnt.
Add the flour to the pan, and whisk into the onions & garlic. Let it cook for about a minute. This will cook out any 'floury' taste.
Pour the milk in a half cup at a time, whisking until the mixture's smooth. There shouldn't be any lumps, other than the obvious onions. Repeat until all of the milk has been incorporated.
Bring the onion roux to a simmer, and let it cook for roughly 5 minutes- just until thickened & stirring frequently to prevent burning. Once thickened pour this mixture into the potato pot with the broth. Use a spatula to scrape the skillet so that all of the roux makes it into the soup pot.
If you like your soup on the chunkier side, ignore this next step. I like little chunks with a thicker base, so I use a potato masher and mash some of the potatoes in the soup pot.
Not too many though so my soup doesn't resemble mashed potatoes when served. Do not use your immersion blender! I learned that lesson the hard way.
Turn the heat down to low, and stir in the chicken and the ham. You can use a shredded par-boiled chicken breast, or I also like to use (and recommend) chopped leftover rotisserie chicken. Cheap, easy, and a great way to stretch a chicken dinner into a second meal.
Salt and pepper the soup to taste. Once it's heated through, stir in the shredded Swiss cheese. Continue stirring until it's fully melted. I often use pre packaged shredded cheese because it's easy and convenient.
However, if you really want this soup to be superb- I highly recommend buying a block and shredding your own. It's not nearly as convenient, but it is cheaper without any of the added waxy coating.
Serve this soup hot with a bit of extra shredded Swiss on top, a sprinkle of fresh parsley, and some freshly cracked black pepper.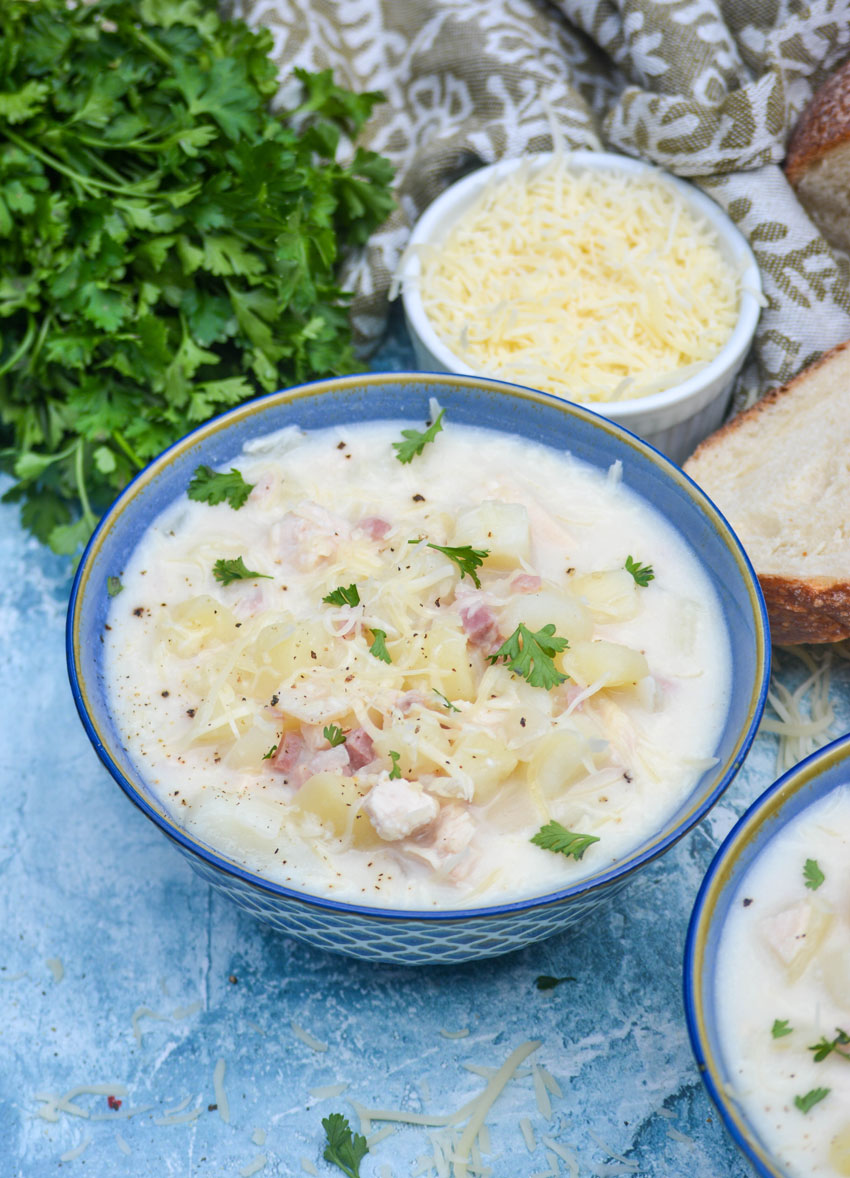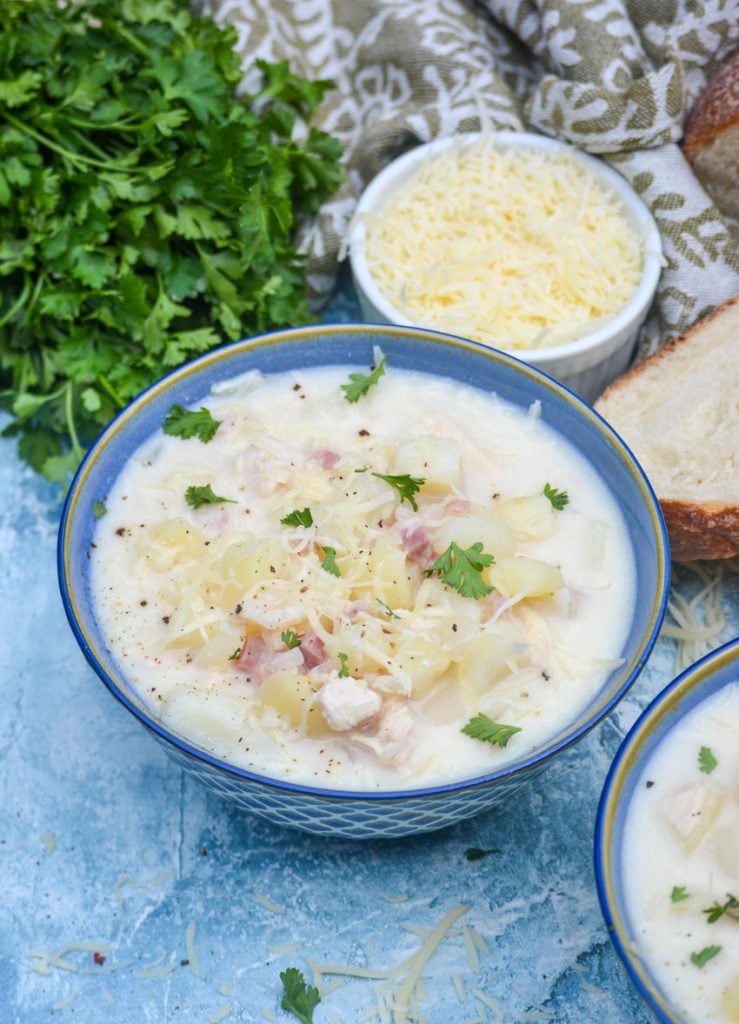 Other Chicken Cordon Bleu Style Recipes To Enjoy
We love this chicken cordon bleu soup. It's cozy comfort food perfect for dreary days, and simple but tastes gourmet. Whip up a hot pot when you really need to savor a bowl of something truly delicious.
Have a craving for cordon bleu, but not feeling up to the work involved? Here's some great ideas to sate the craving!
If you've tried this CHICKEN CORDON BLEU SOUP, or any other recipe on my site, let me know in the comment section how it turned out, we love hearing from our readers! You can also follow along with me on PINTEREST, FACEBOOK, and INSTAGRAM to see more amazing recipes and whatever else we've got going on!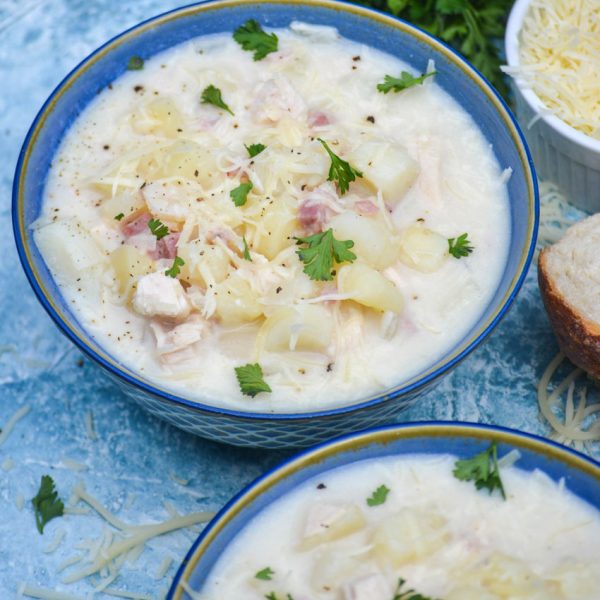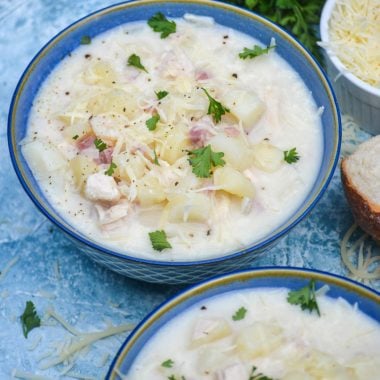 Chicken Cordon Bleu Potato Soup
The classic flavor of chicken cordon bleu has been transformed into a thick savory potato soup. It's the best of both worlds. This delicious rendition makes a perfect dinner on dreary days, or a delicious soup to share at potlucks.
Print
Pin
Rate
Ingredients
2

tbsp

butter

2

tbsp

garlic

minced

1

onion

about 1 cup diced

1/4

cup

flour

2 1/2

cups

skim milk

2

cups

chicken broth

5

medium russet potatoes

washed, peeled, and diced into 1/2 inch cubes

1

cup

shredded Swiss cheese

1

cup

shredded chicken

cooked

1

cup

ham

diced
Instructions
Place washed, peeled, and cubed potatoes into a large pot and add the chicken broth. Cover.

Bring to a boil, reduce heat and simmer until potatoes are fork tender.

In a separate pot, or pan, melt butter. Add onions and saute until soft.

Add garlic, and saute 1-2 minutes.

Add flour to the pan and whisk together with the onions and garlic. Let the mixture cook about 1 minute.

Slowly add the milk, a 1/2 cup at a time, whisking constantly. The only lumps you should see should be the onions.

Continue adding milk and whisking constantly until all the milk has been evenly incorporated.

Bring the roux to a simmer and let it heat until thickened, about 5 minutes, whisking often.

Add the thickened roux to the potatoes and chicken broth in the large pot.

Using a potato masher, mash potatoes in the pot until there's minimal chunks.

Turn the heat to low, and add the chicken and ham.

Add salt and pepper to soup to taste.

When heated through, add the Swiss and stir until melted and evenly incorporated.

Serve topped with a little extra shredded Swiss & freshly cracked black pepper.
Nutrition
Calories:
305
kcal
|
Carbohydrates:
34
g
|
Protein:
18
g
|
Fat:
11
g
|
Saturated Fat:
6
g
|
Cholesterol:
46
mg
|
Sodium:
527
mg
|
Potassium:
850
mg
|
Fiber:
2
g
|
Sugar:
6
g
|
Vitamin A:
364
IU
|
Vitamin C:
13
mg
|
Calcium:
230
mg
|
Iron:
2
mg