Sausage & Grits Chowder is so much better than the traditional version. Featuring crispy chunks of ground breakfast sausage, tender grits, and chunks of potato in a comforting broth, it's served topped with shredded cheddar cheese and served with crisp toast for dipping. Brunch or dinner, this is a totally divine option for either course.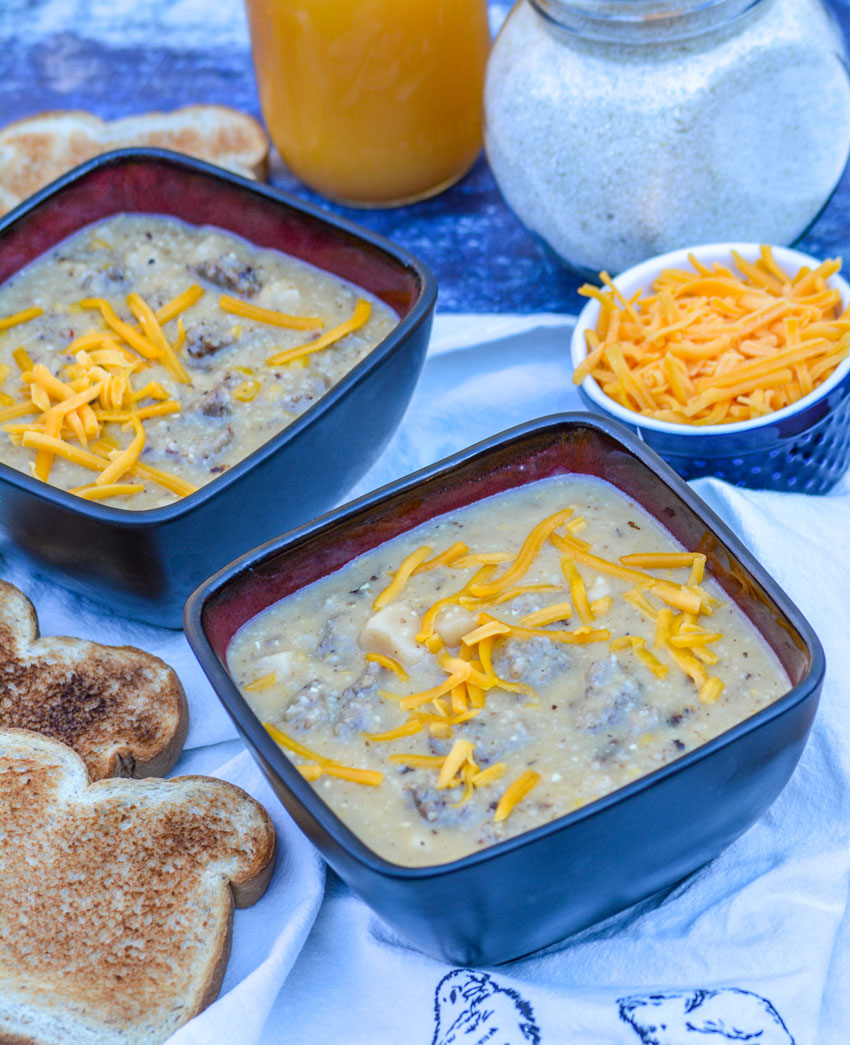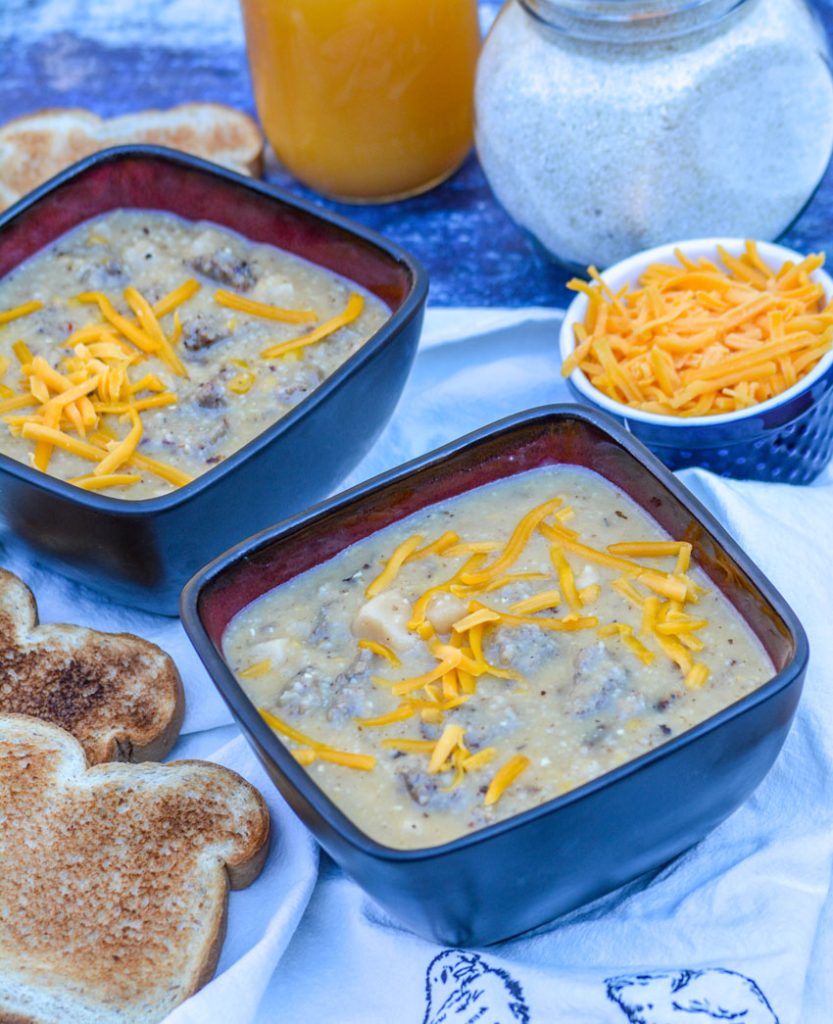 A bowl of steaming grits is a Southern wake-up call in many homes, mine included. Kinda like the Southern man's oatmeal, they're a real institution in the South. They're also surprisingly controversial- people seem to either love them, or hate them.
Most of our family falls on the love 'em, and not the leave 'em side of things thankfully.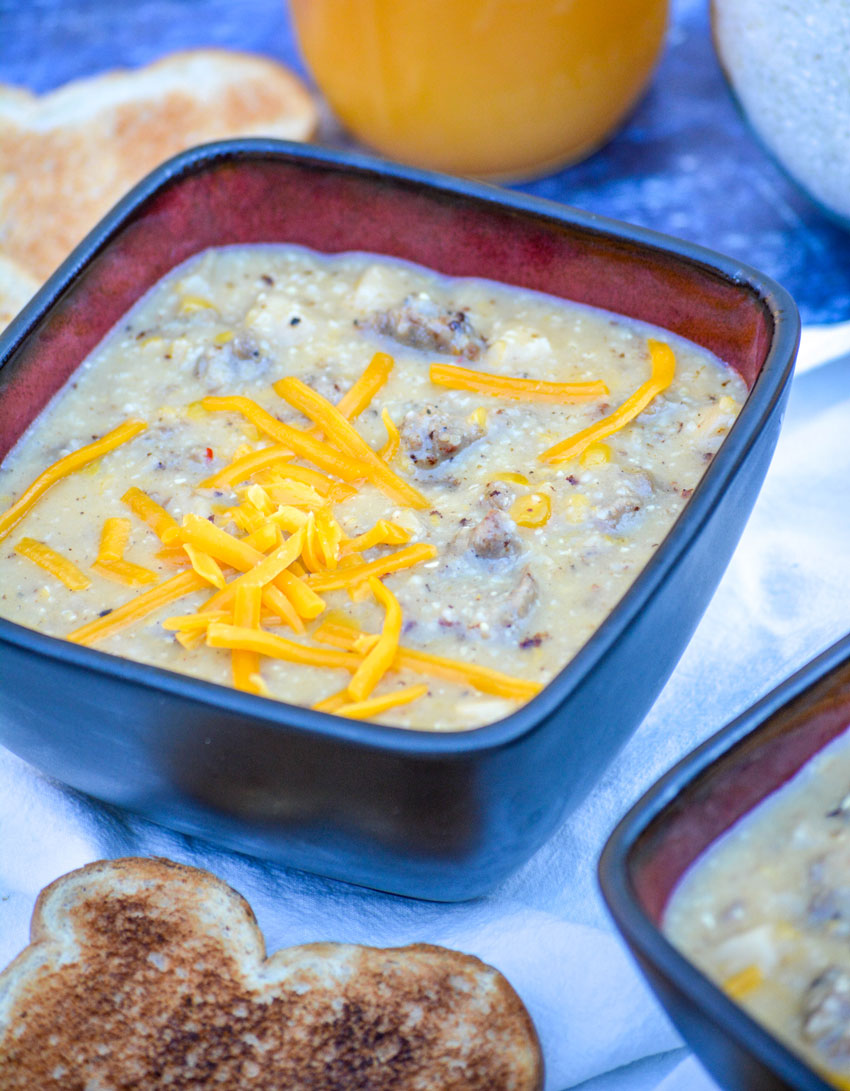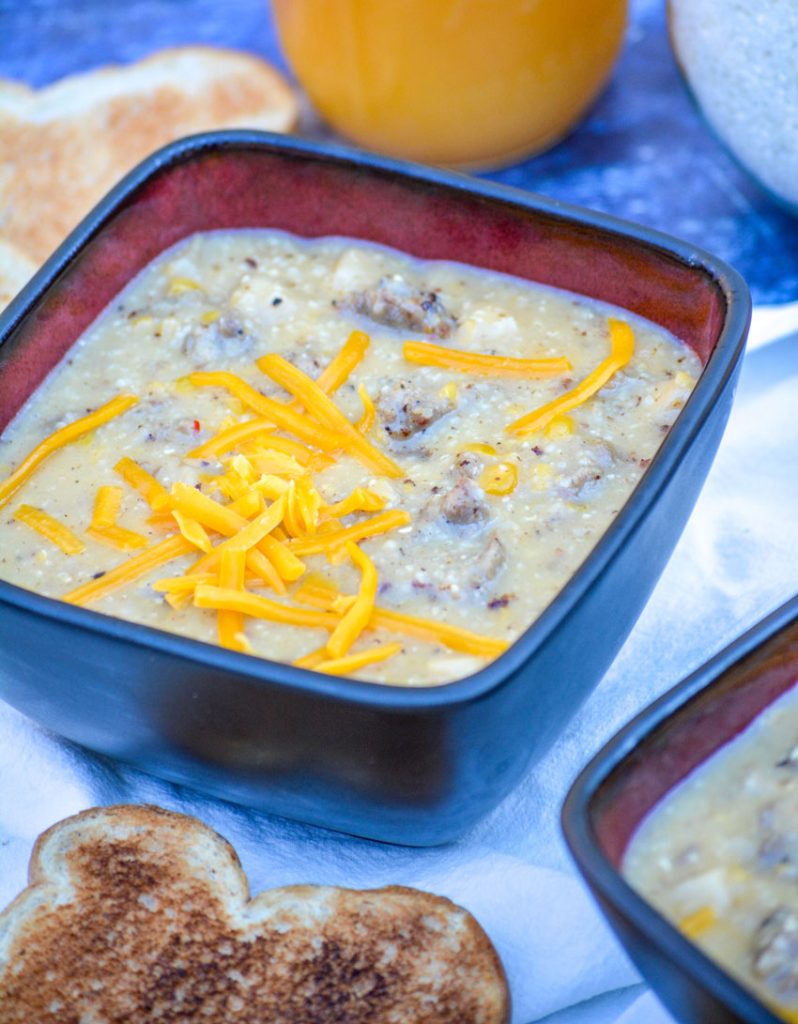 While I love grits, I've been a bit jaded with the same ol', same ol' breakfasty/brunchy blend.
A lot of recipes for a pairing of grits and anything incorporate TONS of butter, cheese and eggs.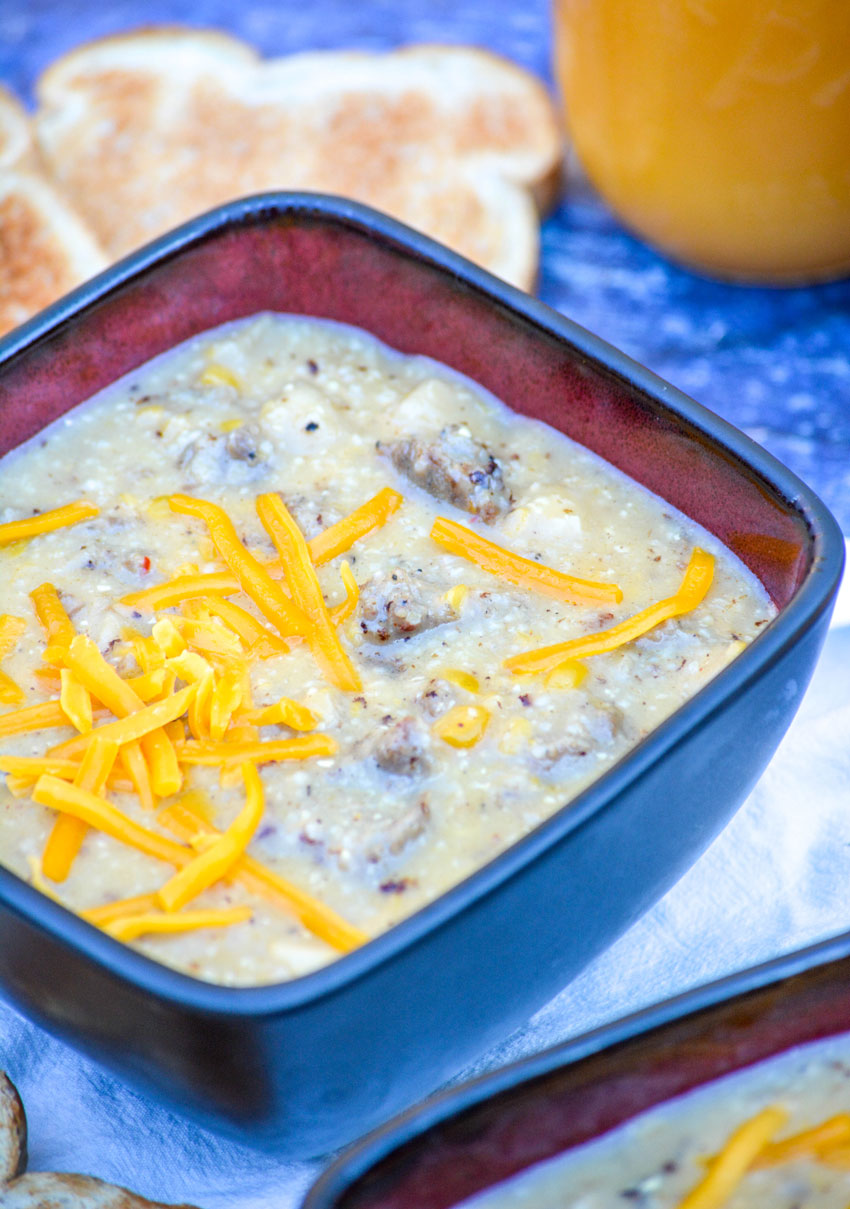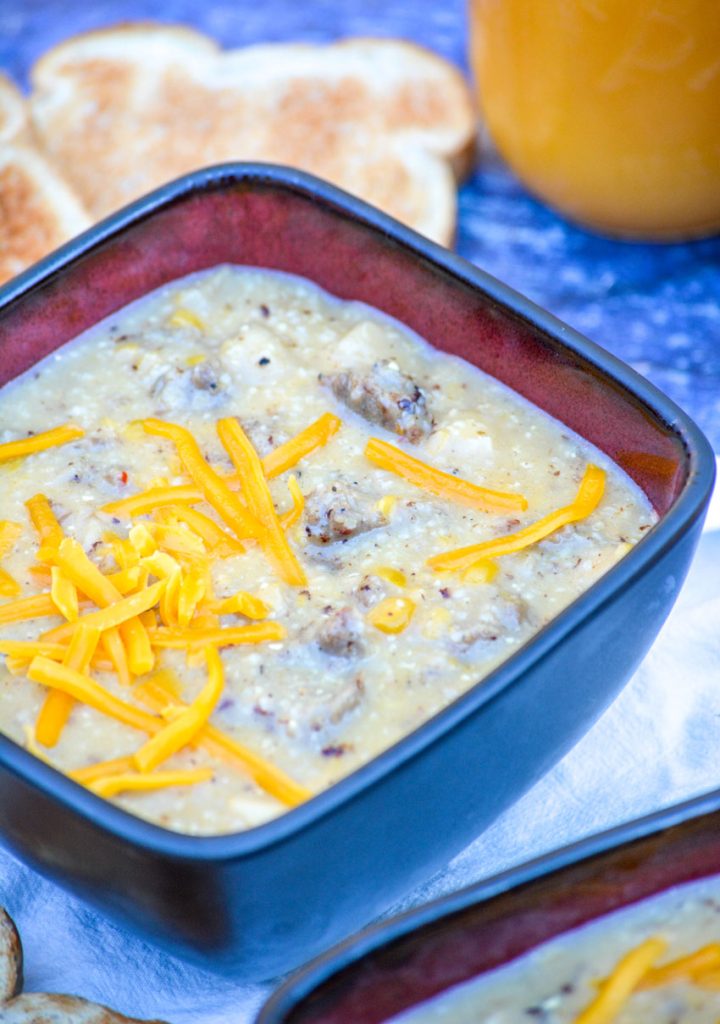 My version is somewhat conservative when it comes to making a typical meal of it. For example, there's no butter, or eggs, and the cheese was only a garnish.
It's going against the grain, but I'll let you in on a little secret, Grandma's grits aren't only for breakfast or brunch anymore. An even more mind blowing fact for anyone not from under the Mason Dixon line? Grits were never meant, or intended, to be a solely breakfast or brunch item.
In that way, I'd actually liken it more to rice than to the oatmeal I mentioned earlier.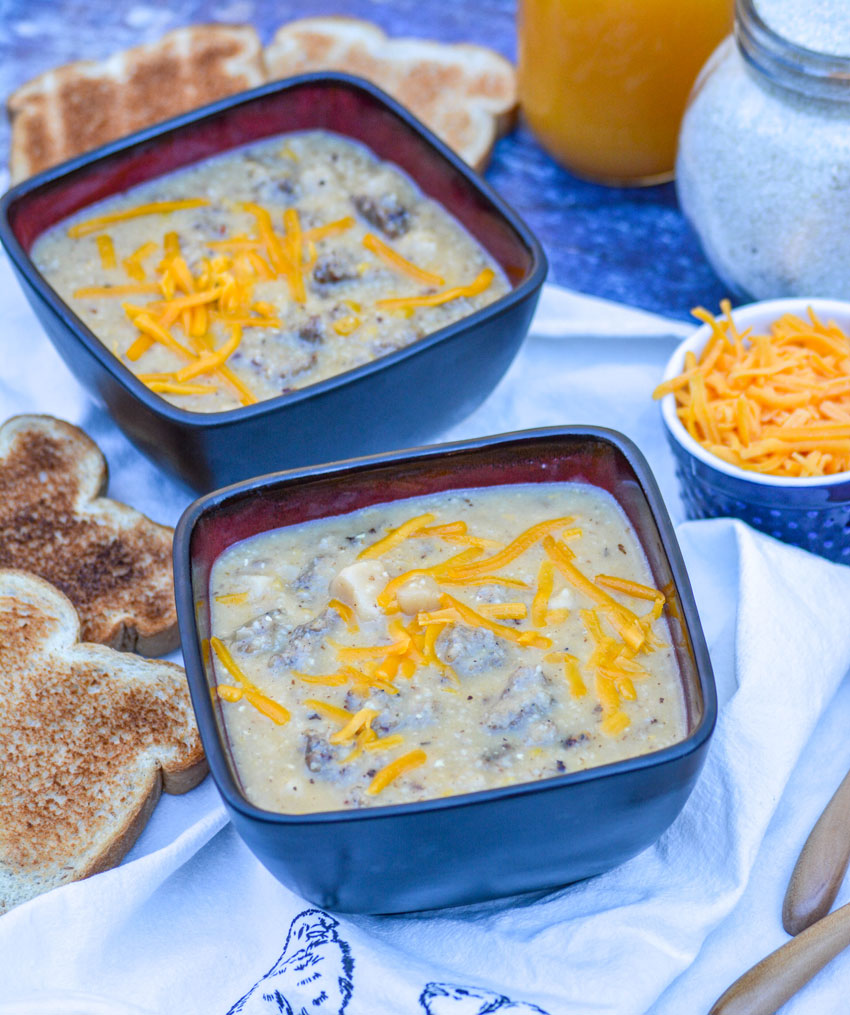 Move over shrimp & grits. We've upgraded. Either way, at the breakfast table or not, you'd be hard-pressed to try to win an argument that sausage & grits aren't a staple on virtually any Southern kitchen's breakfast menu.
Sausage & Grits are an award winning combo, and while a chowder may not be a 'typical' use for grits in my neck of the woods- one bite and you might be calling it Southern Heaven.
One whiff and you're gonna be ready to dig right into your bowl, so let's dive into the recipe details.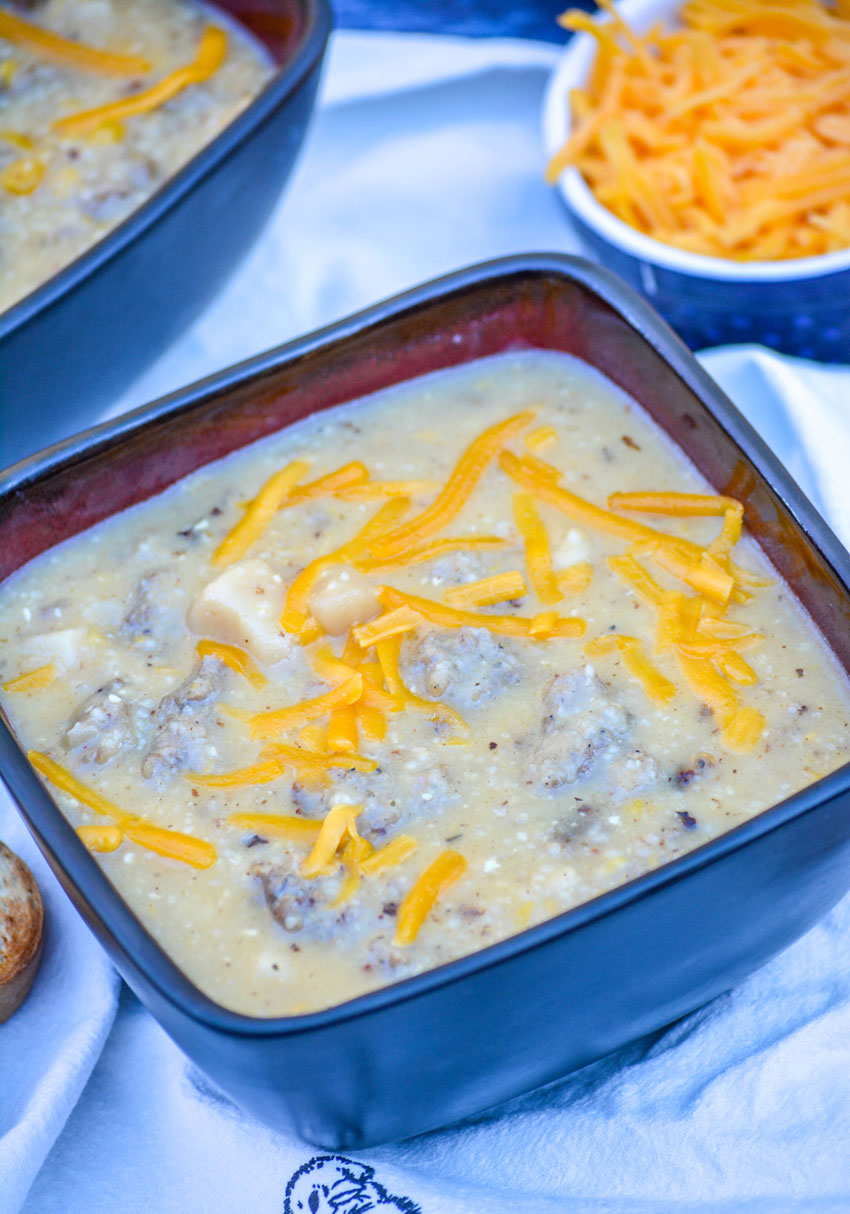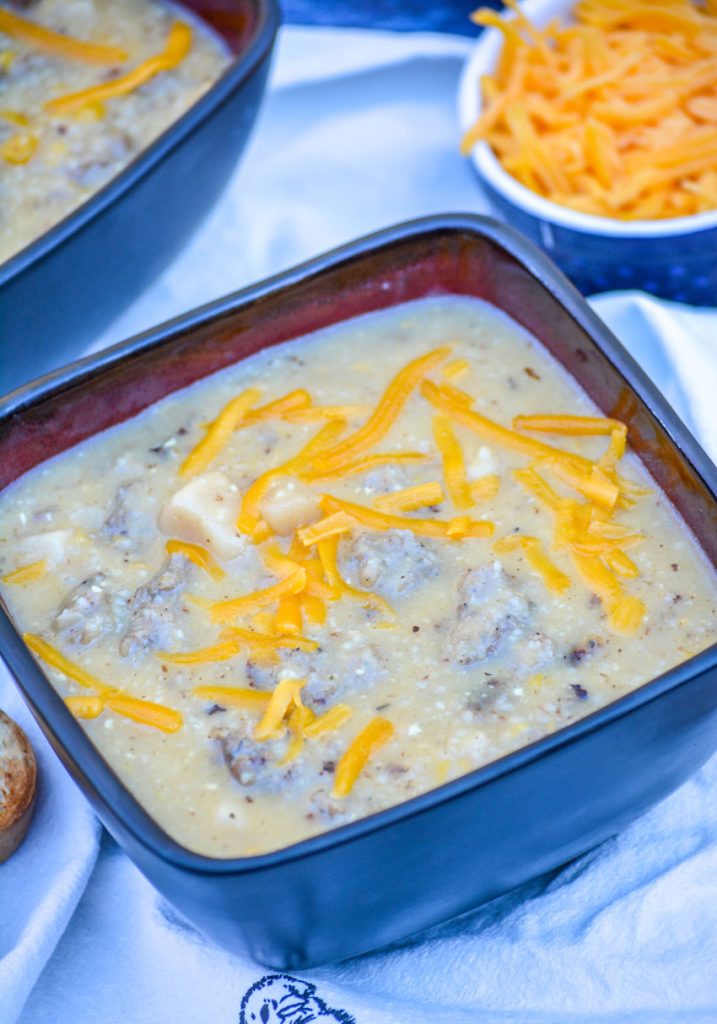 Instead of the standard quick cooking grits cooked in water, we've swapped that for tastier chicken broth. A half cup of grits cooked in 1 1/2 cups of broth. The grist are then set aside to stay warm and thicken just a little bit.
A pound of ground breakfast sausage is cooked in a dutch oven, stirred and broken up along the way, until cooked through and with a couple browned & crispy bits. Cream of potato soup, a can of creamed corn, and milk are stirred in to form the base of the soup. Then we season it was some Cajun spice for a bit of kick & depth.
Then we add the cooked grits, and here's also where personal preference comes into play. I like a bit of a thicker chowder. See how yours comes together, and if you'd like a thinner consistency add a splash of milk or cream. Simmer the chowder over low heat, about 10 minutes, or until the mixture's not just heated through but hot like any good soup should be served. Ladle into bowls, and serve topped with shredded cheddar and a side of crisp toast.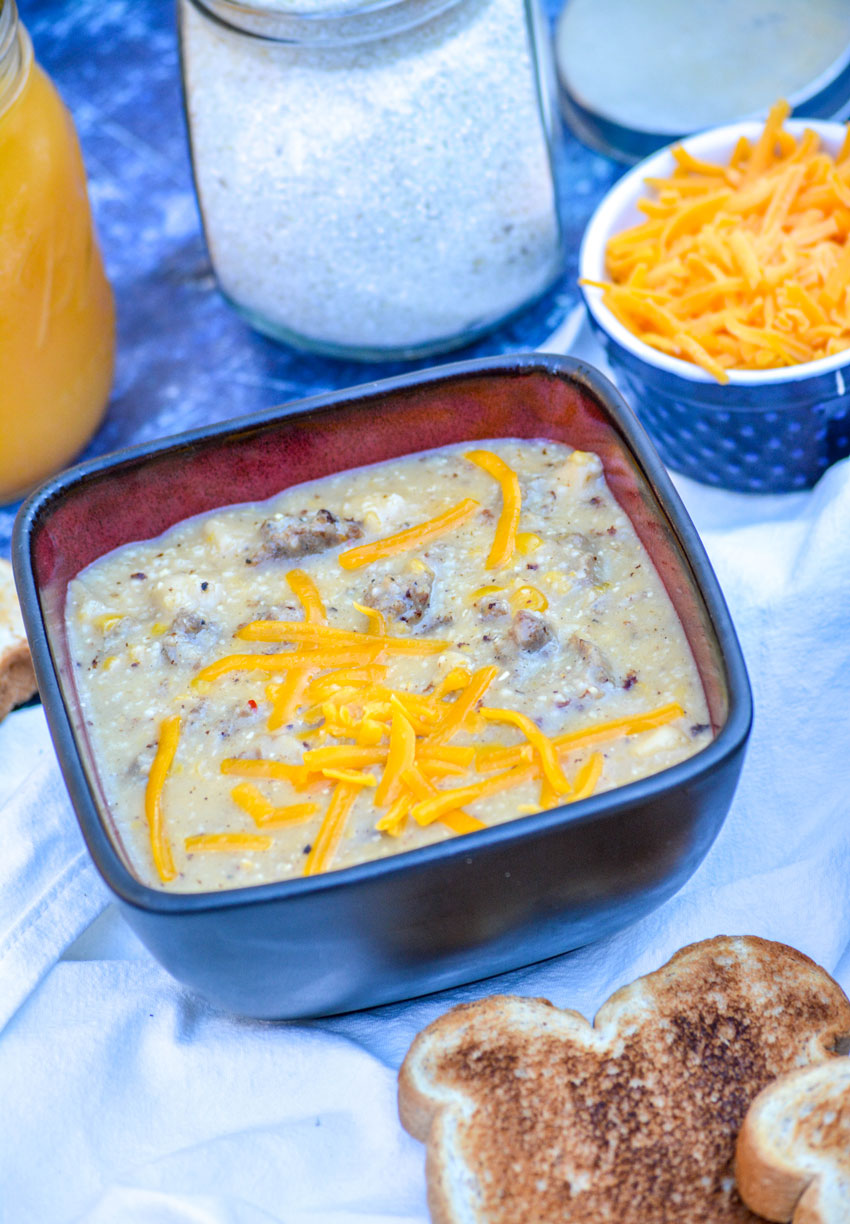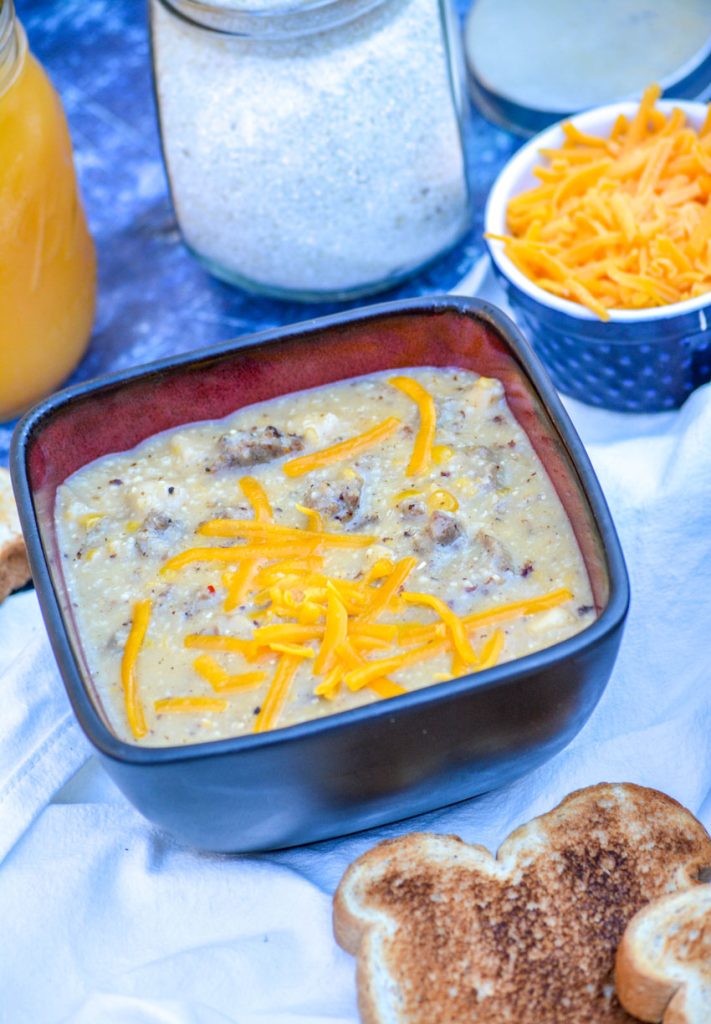 Who knew using grits in an 'untraditional' manner, shoot adding them to a soup, could yield such a filling and yummy chowder. A pot of Sausage & Grits Chowder is the thing you want bubbling away on the stove on a cold, Winter's night.
Other Fun Non-Traditional Breakfast Ideas To Try: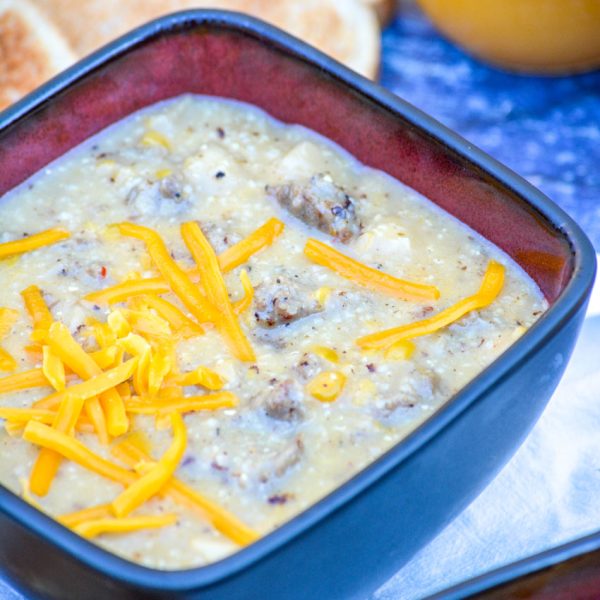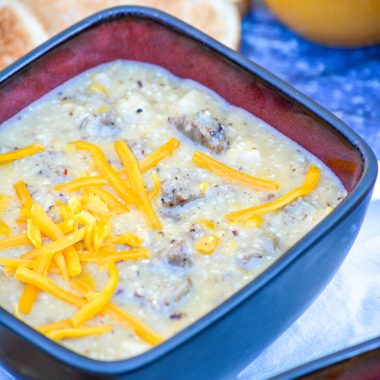 Sausage & Grits Chowder
A thick, hearty chowder- this one's studded with crisp bits of breakfast sausage, grits, and chunks of potato.
Print
Pin
Rate
Ingredients
1

lb

sausage

2

cans Cream of Potato soup

1

14.75 oz can cream corn

3

cups

milk

1

Tbsp

Cajun seasoning

1/2

cup

quick grits

1 1/2

cups

chicken broth
Instructions
In a small saucepan, bring 1 1/2 cups of broth to a boil. Stir in 1/2 cup of quick grits. Cover and reduce heat to low. Cook for 5 minutes, until grits are done, stirring often.

Brown sausage over medium-high heat in a 4- to 5-quart Dutch oven. Stir in Cream of Potato soup, cream corn, 2 1/2 cups milk and cajun seasoning. Stir in cooked grits. If soup is too thick, add more milk. Simmer over low heat until heated through, approximately 10 minutes.

Serve with toast & shredded cheddar cheese for garnishing.
Notes
recipe adapted from Plain Chicken
recipe & pics updated 1/8/2019