Beat the heat with a refreshing drink that was made for Summer sippin'. This Sweet Black Cherry Limeade is fizzy fun with the perfect blend of sweet cherries with a hint of lime.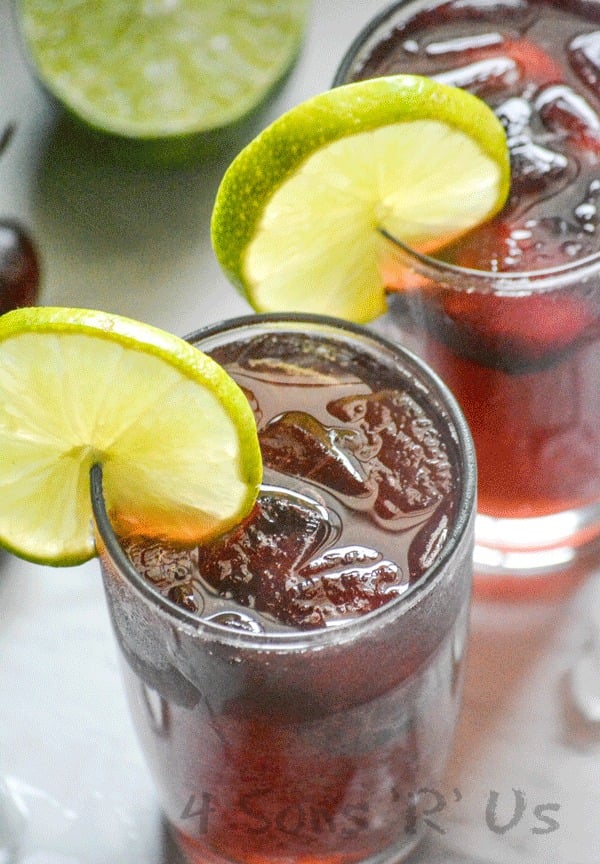 I don't know about in your neck of the woods this past week, but in mine? It's been hotter than hell.
Let me assure you, I am not exaggerating. With heat indexes over 100 for a solid 7 days, one might think it's hot.
And it was. But that wasn't even the worst part.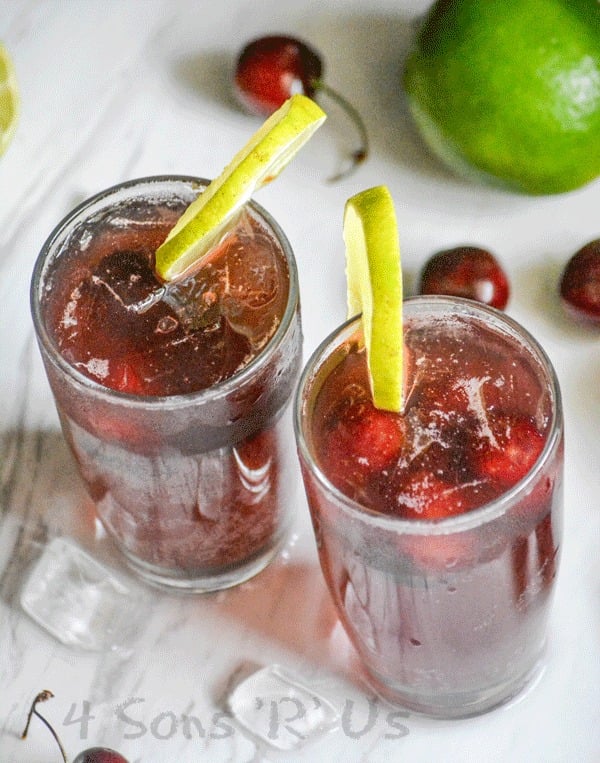 Dry heat? Now that I can handle. But nooooooo, we couldn't have just crazy high temps– we had to have a crippling, dripping humidity thrown into the mix.
Because the more, the merrier right?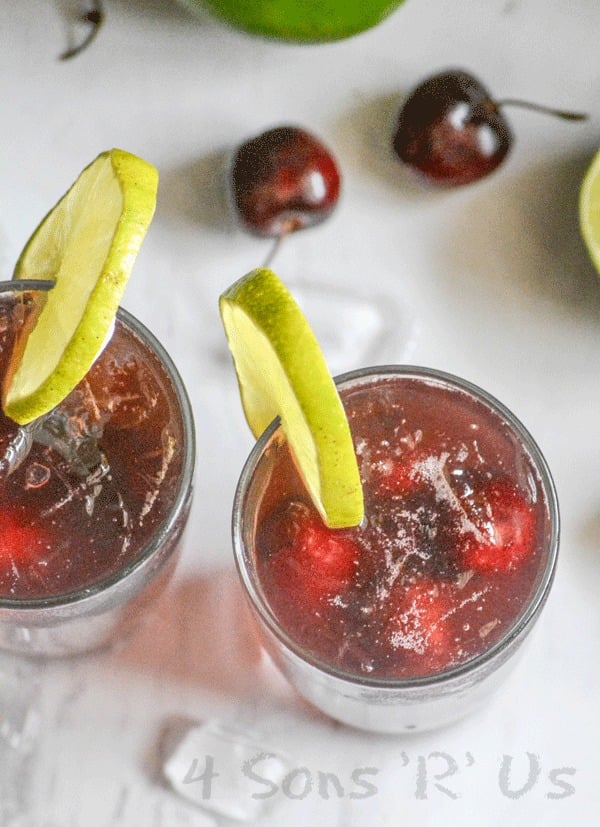 To top it all off, it seemed to be ushering in a great Summer storm. Where is said storm? I have no idea, and neither do the local weathermen.
A ton of heat lightning does not a refreshing Summer storm make. Trust me.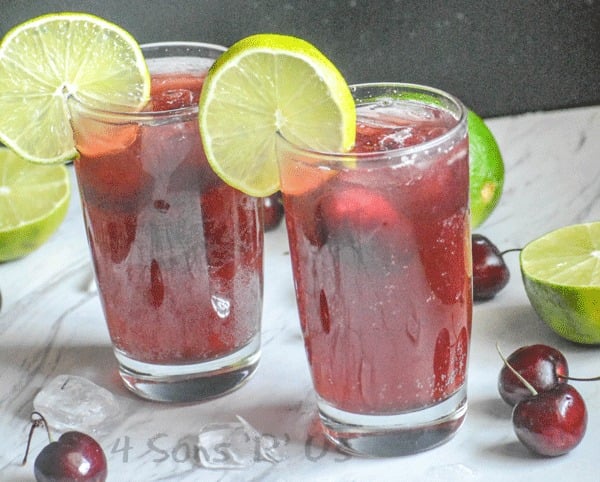 Naturally, I've had to get creative and find other ways to beat this oppressive heat wave.
Ice has become my lifeline.
Seriously, a good cold drink has curbed the edge we've all been feeling on more than one afternoon.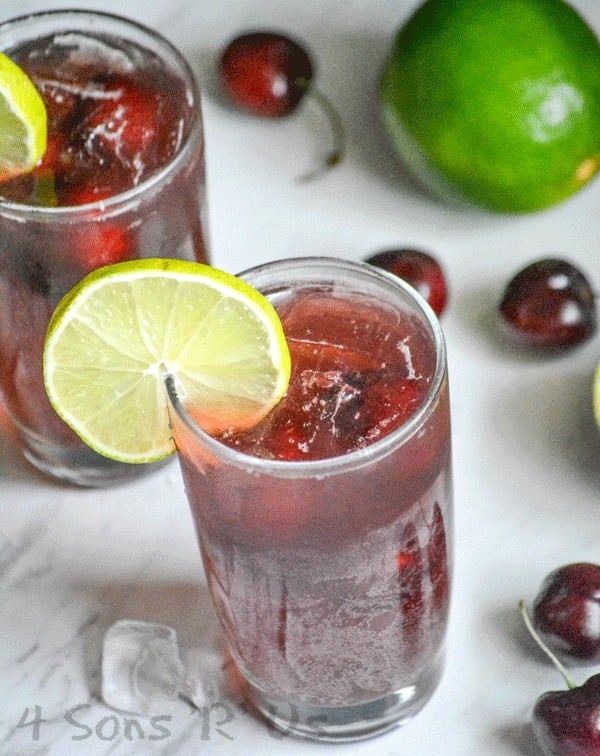 Everybody's been overly cranky, even us grown ups. Sadly, the level of sweetness has not translated to an uptick in our attitudes when we're sweating buckets going about our day to day activities.
It is however refreshing, and welcome way to relax for a few minutes here and there soaking up the chilly air conditioned atmosphere.
Our drink of choice this Summer? Sweet Black Cherry Limeade.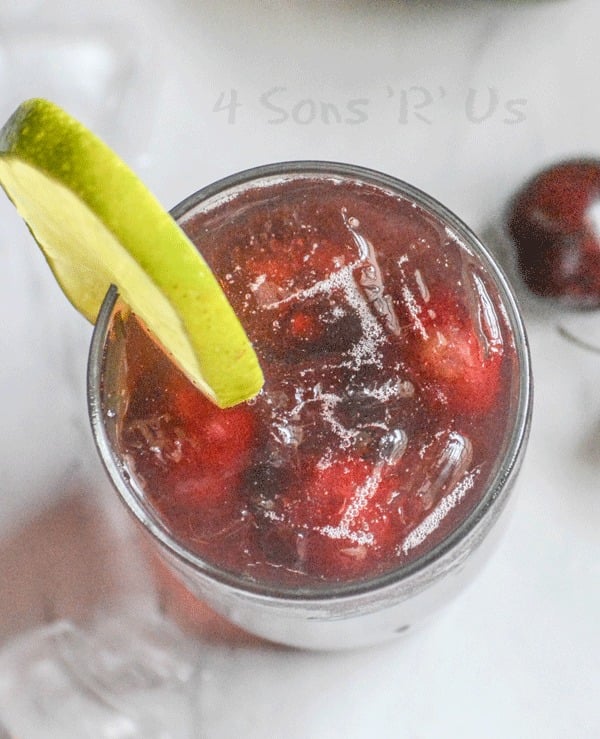 Served over ice, it's a sweet, sharp beverage that's the perfect refreshment on even the hottest of days. A little fizz from sparkling water, bursting with the juice of sweet dark cherries, balanced out against a bit of tart lime– this Sweet Black Cherry Limemade makes for perfect Summer sippin'.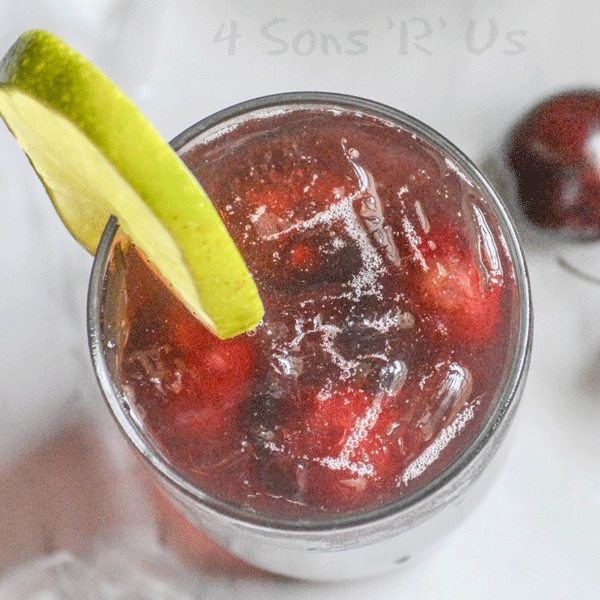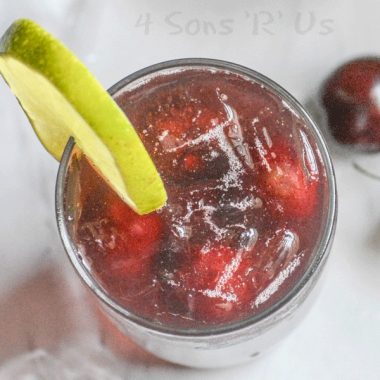 Sweet Black Cherry Limeade
A refreshing cocktail this cherry limemade combines the best of sweet cherries & tart lime for a refreshing treat on a hot day.
Print
Pin
Rate
Ingredients
1

cup

sugar

1

cup

fresh lime juice

1/2

cup

fresh lemon juice

1

10 oz pkg

frozen sweet dark cherries, thawed

4

12 oz cans

lime sparkling water, chilled

fresh sliced lime, for garnish (optional)

Ice for serving (optional)
Instructions
In a large pitcher, add the sugar, lime, and lemon juices. Use a whisk, stirring until completely combined.

Add the cherries and cherry juice. Give everything a good stir, and refrigerate the mixture for an hour, up to two.

Remove the pitcher from the fridge, stir in the sparkling water just before serving.

Fill serving glasses with ice. Pour the cherry limeade over the ice until just below full. Add a lime slice to the rim of each glass, if using, and serve immediately.