Sausage Egg & Cheese Breakfast Sliders with Maple Glaze are going to quickly become your new favorite breakfast item. A layer of seasoned ground sausage, a light and fluffy scrambled egg patty, and slices of your favorite American or cheddar cheeses are sandwiched between a dozen butter flavored rolls before being brushed with a maple syrup glaze and baked. The result is a complete breakfast you can hold in your hand and really take a 'bite' out of.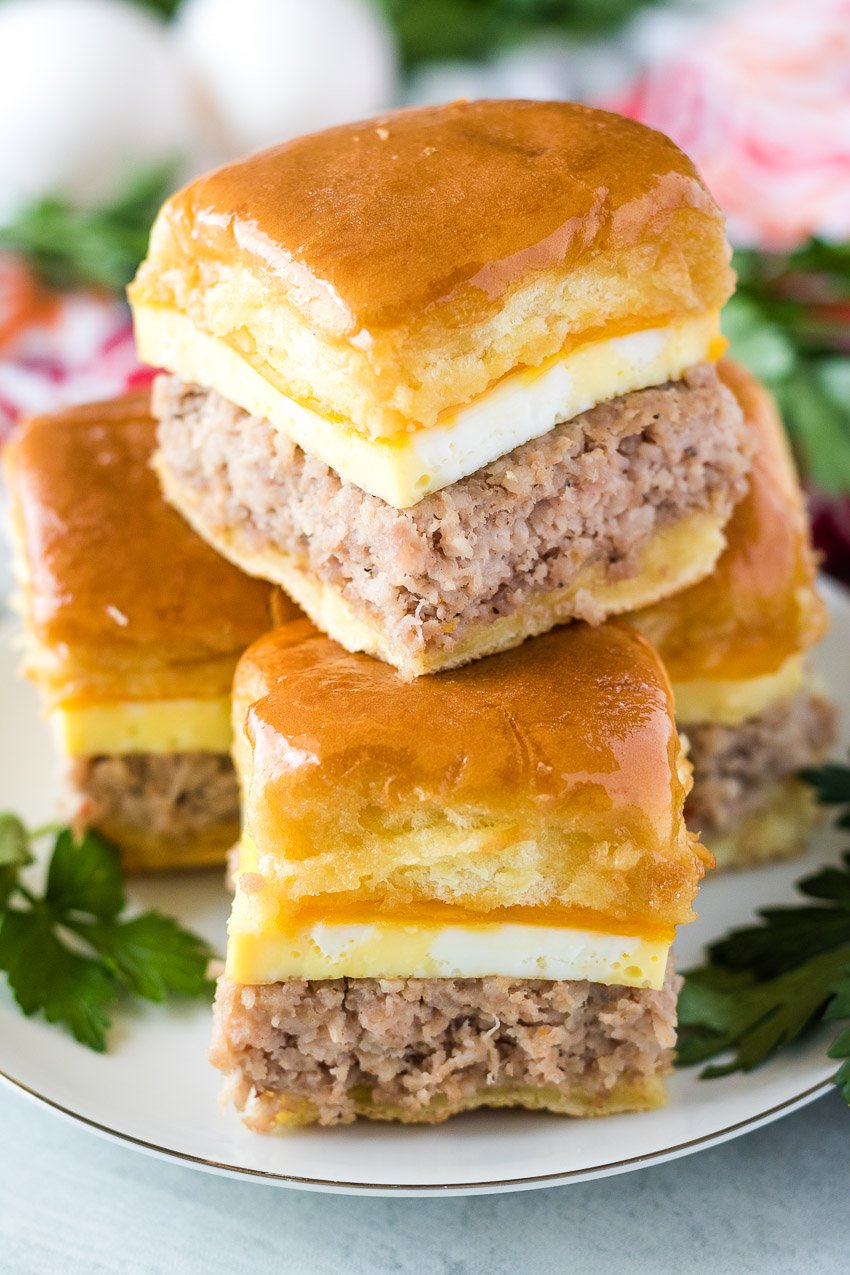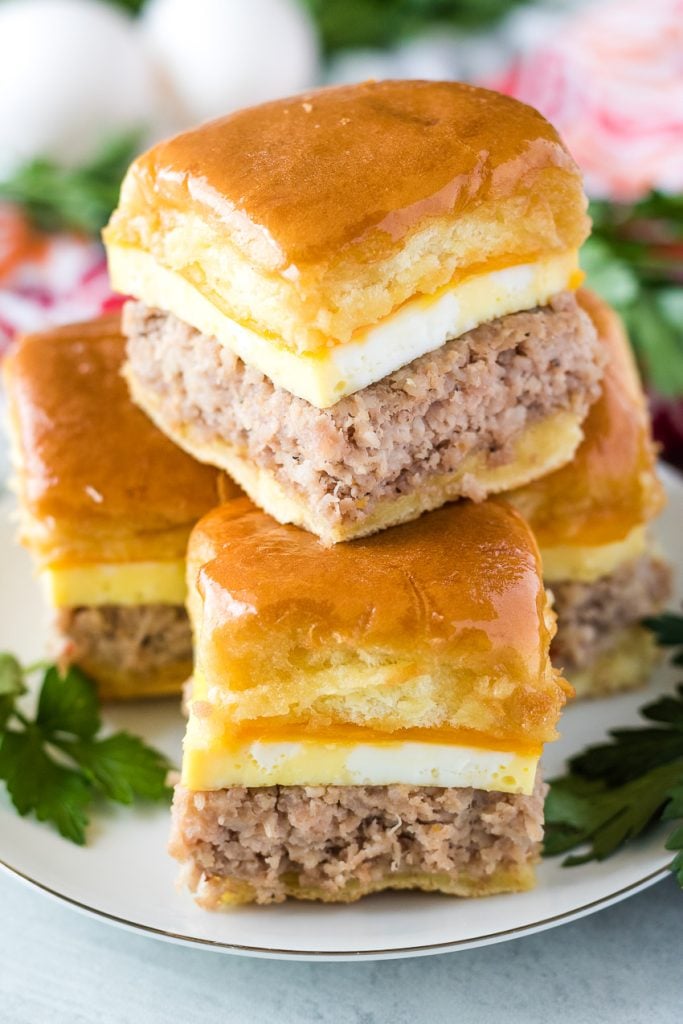 Every few weeks or so I suffer a semi-sleepless night or so. Nothing's ever really wrong. I try to go to sleep, I do.
But really I end up just laying there tossing and turning and getting more and more irritated every time I find myself flirting with sleep but just not getting there. Stop teasing me! I can't take it anymore.
At that point it's usually some ungodly hour in the morning when my husband has to be up for work, usually 4 or 4:30 and I give myself a pep talk.
'Ok, Meaghan/brain– if you can just fall asleep in the next 30 minutes or so, we will get 3 hours of sleep. We can function off that. ShIt, ok– two hours. two will be good enough and we'll just got to bed early.'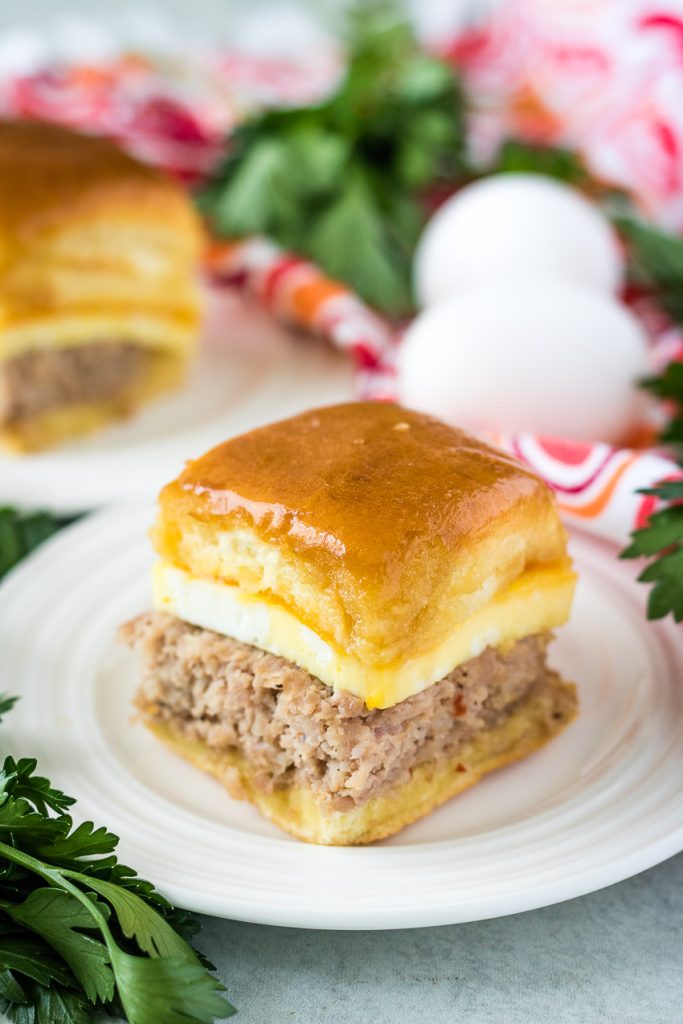 And so on and so on until my husbands alarm goes off for the fifth time after he's hit snooze and with that clangin' around in my brain sleep is definitely off the menu.
So why not make the most of my day? I get up, fix my coffee, turn on the news and my computer and pull out my planner to see what we've got going on that day.
This is usually the point at which my high school aged teens get annoyed because they actually have to do their designated chores before leaving that morning and they can't sneak in any PS4 time before heading out to the bus stop.
This is also the point in the morning, let's say around 6:30, when I mimic wiping away a silent tear for their pain and suffering.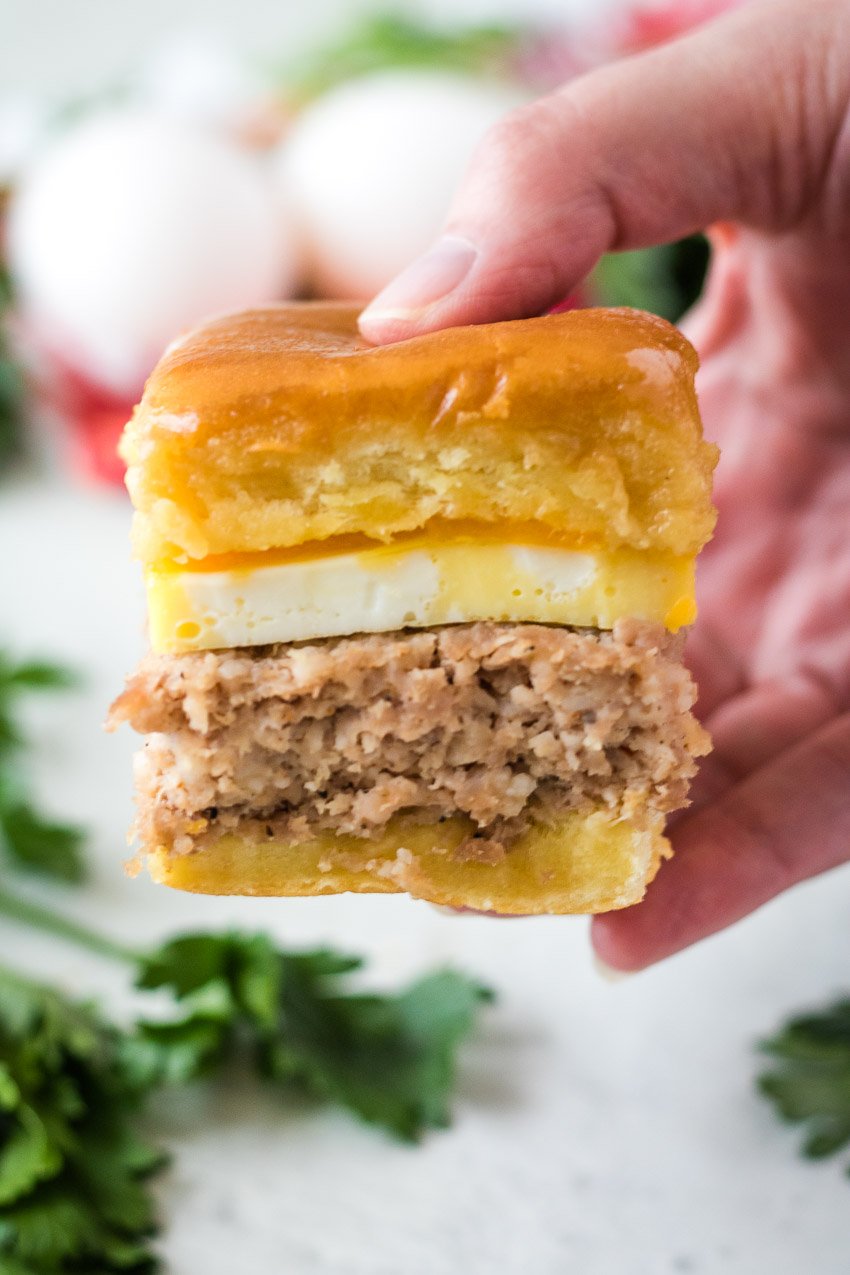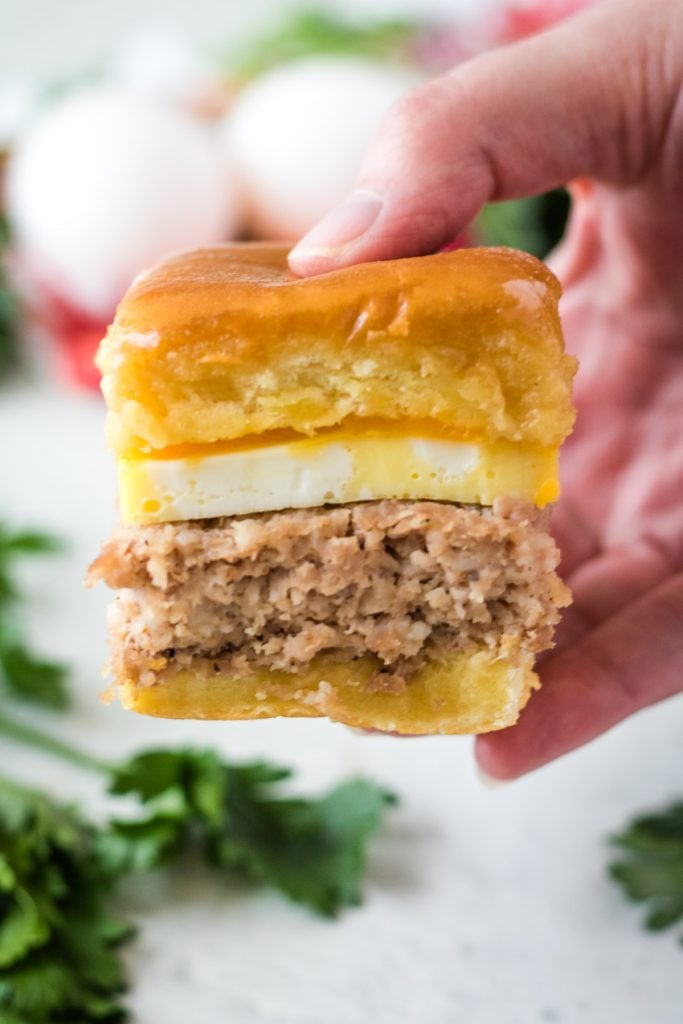 You'd think they'd be happy because these morning always plays out one of two ways. Either they get a homemade breakfast before school, so the teens can then be the ravenous growing humans they are and eat another filling– although less tasty– breakfast for school.
That or they get to come home and eat my brunch for second lunch (think snack time on steroids) and still not be full for even a minute before dinner.
These did end up taking a bit longer than originally planned, but I had a totally bangin' brunch and the kids were practically fighting over who'd be in the door first once they got a whiff of these bad boys.
They also re-heat nicely for the hubs to take to work for breakfast or even for the older boys to take to school for a grab and go breakfast they can fix themselves. You know, on those mornings I can actually sleep.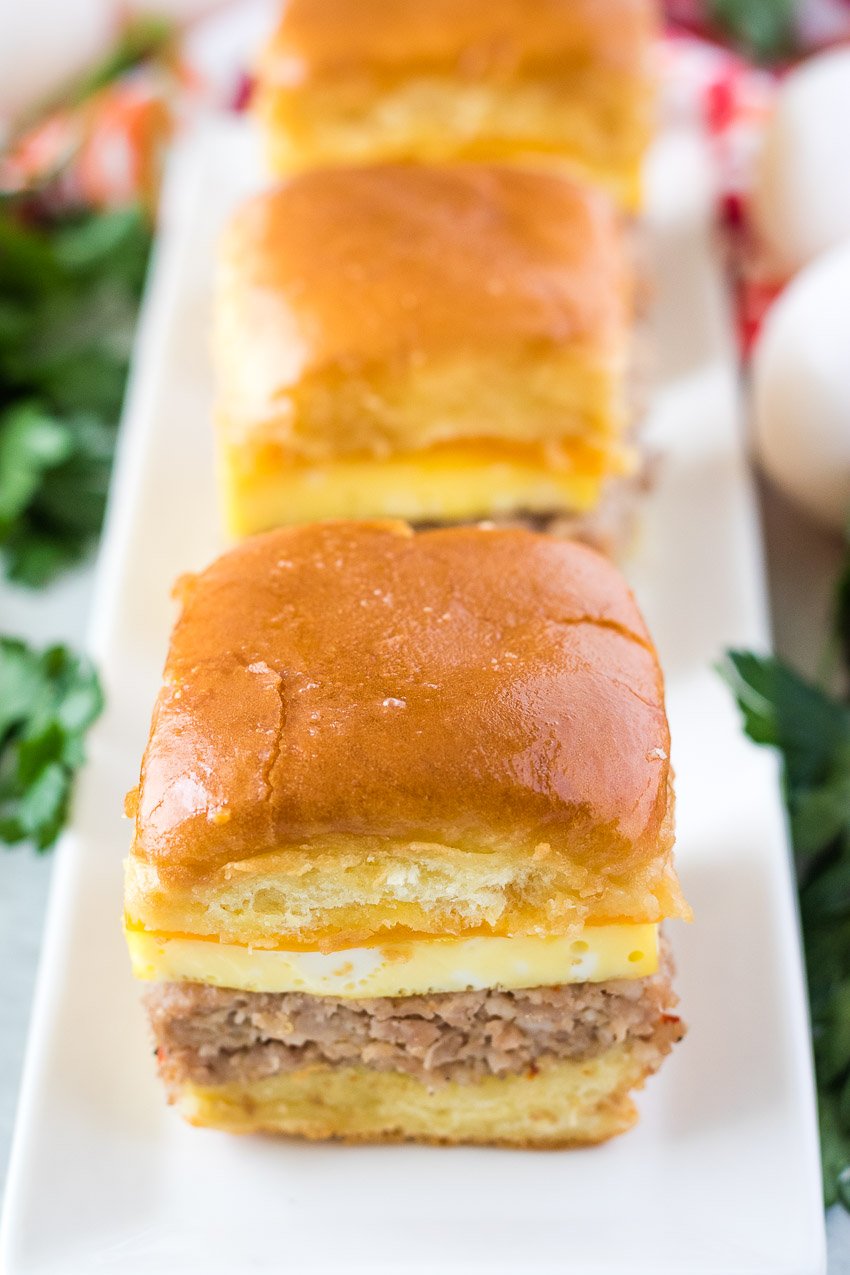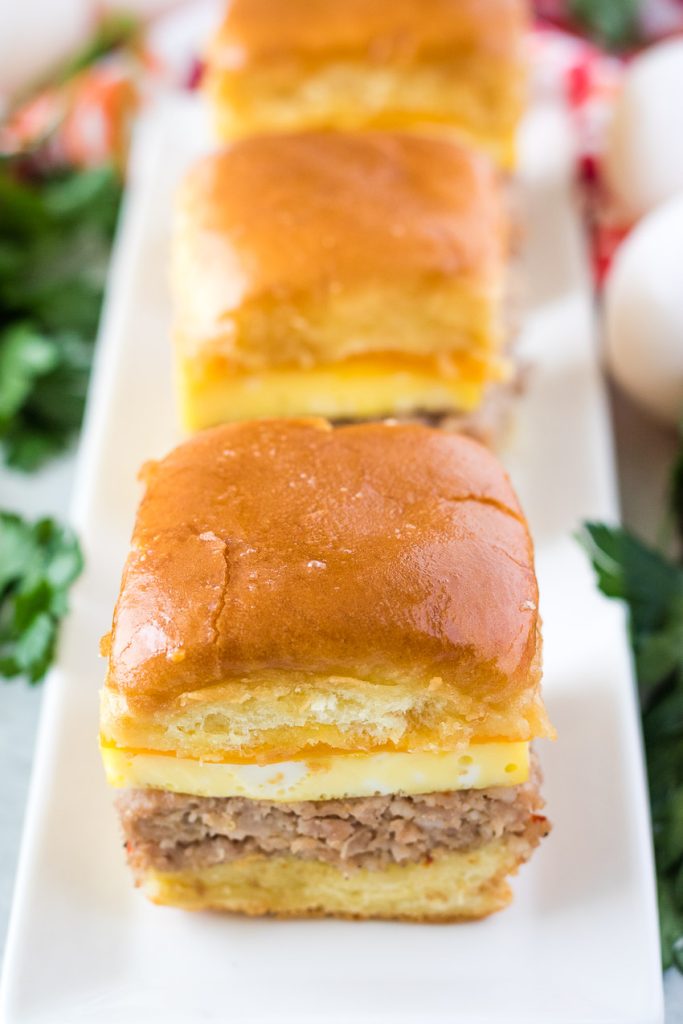 Didn't think sliders were for breakfast? Think again.
Goodbye fast food and kids begging you to put on actual clothes before noon and buy their favorite breakfast sandwich. These can be completely assembled ahead of time and baked just when you need them.
Meat, egg, and cheese– the breakfast combo trifecta- are lovingly sandwiched between two layers of soft butter flavored rolls that are basted with a sweet maple glaze that's a perfect flavor partnering.
The rolls crisp beautifully on the outside under the sweet glaze, but are soft and buttery on the inside where it counts with the tried and true heart of this am sandwich you're counting on.
These sausage egg & cheese breakfast sliders are perfect for making busy mornings easier with minimal planning ahead. They're also perfect for serving at brunches & family gatherings, including the Holidays. Whatever the reason, you can't go wrong with these on the menu.
If you've tried this easy SAUSAGE EGG & CHEESE BREAKFAST SLIDERS WITH MAPLE GLAZE, or any other recipe on my site, let me know in the comment section how it turned out, we love hearing from our readers! You can also follow along with me on PINTEREST, FACEBOOK, and INSTAGRAM to see more amazing recipes and whatever else we've got going on!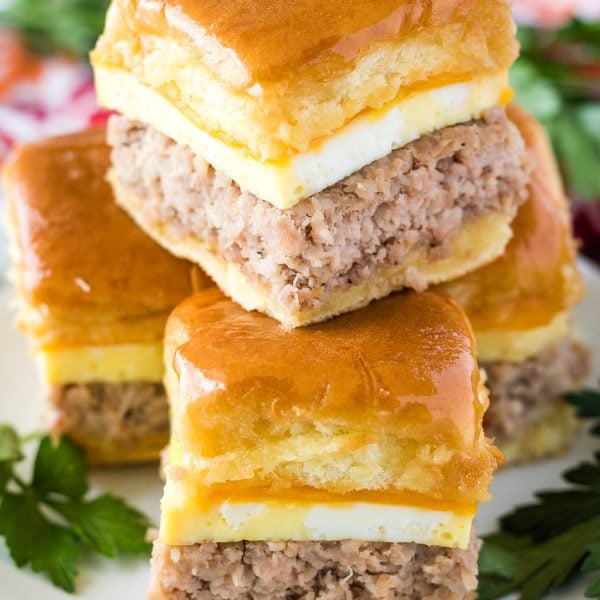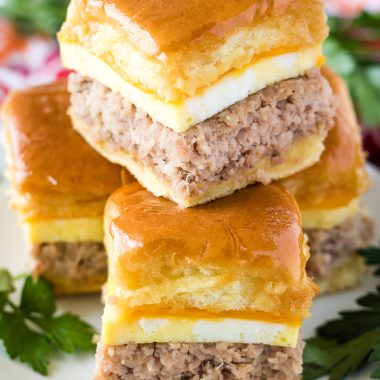 Sausage Egg & Cheese Breakfast Sliders with Maple Glaze
A complete breakfast in every bite, these breakfast sandwich sliders are a perfect on the go breakfast that can easily be prepared ahead of time.
Print
Pin
Rate
Ingredients
2

12 oz pkgs

Hawaiian Sweet Rolls

2 - 16

oz

rolls of your favorite brand of quality ground sausage

12-14

large eggs

5-6

slices

of deli-style cheddar

Colby jack, or American cheese

1/4

cup

butter

1/4

cup

maple syrup
Instructions
Place both hunks of sausage into a 9x13 baking dish and use your hands (or a spatula) to press it down, spreading it out evenly until it takes up the entire bottom of the dish.

Crack the eggs into a large bowl and whisk together until evenly incorporated. Lightly spray another 9x13" baking dish with cooking spray and then pour the eggs into the dish. Bake both the sausage and the eggs in the oven at 350 degrees for 18-22 minutes, or until the eggs are set and the sausage cooked through. Now you'll have two giant 'pattys'. Carefully remove the sausage patty to a layer of paper towels to drain away any excess grease.

Using a serrated bread knife carefully slice through both sets of rolls, horizontally, and place the bottom half of both packages into the same baking dish the egg patty cooked in, side by side.

Layer the sausage, followed by the egg patty, and then the sliced cheese on top. Then place the top layers of bread on top to cap of the sandwiches. Use a small, sharp knife to gently slice through the lines of the rolls, cutting out the lines for the individual sliders.

In a small sauce pan, melt the butter over low heat. Whisk the syrup into the melted butter until it's creamy and both are evenly incorporated. Liberally brush the maple glaze over the tops of the bread allowing it to drip down into the cracks.

Bake the sliders at 350 degrees for 10-15 minutes, or until everything's heated through and the cheese has melted.

Use the same small knife to gently cut through/separate the sliders before serving.
Notes
These can be made ahead of time and placed in the fridge until ready to be baked, or you can bake them all, separate into individual servings, and freeze until ready to heat and eat and grab on the go.
recipe adapted from The Pinning Mama
Nutrition
Calories:
381
kcal
|
Carbohydrates:
22
g
|
Protein:
17
g
|
Fat:
24
g
|
Saturated Fat:
10
g
|
Cholesterol:
225
mg
|
Sodium:
612
mg
|
Potassium:
193
mg
|
Sugar:
9
g
|
Vitamin A:
470
IU
|
Vitamin C:
1
mg
|
Calcium:
128
mg
|
Iron:
1
mg
pictures & post updated 10/7/19