While a classic beef wellington makes for a delicious dinner, filet mignon tends to be out of my budget. We've swapped the high price steak for a delicious ground beef and vegetable filling, still wrapped & baked in a buttery puff pastry crust. This poor man's beef wellington makes a gourmet, hearty meal but on a more reasonable every day budget & time frame.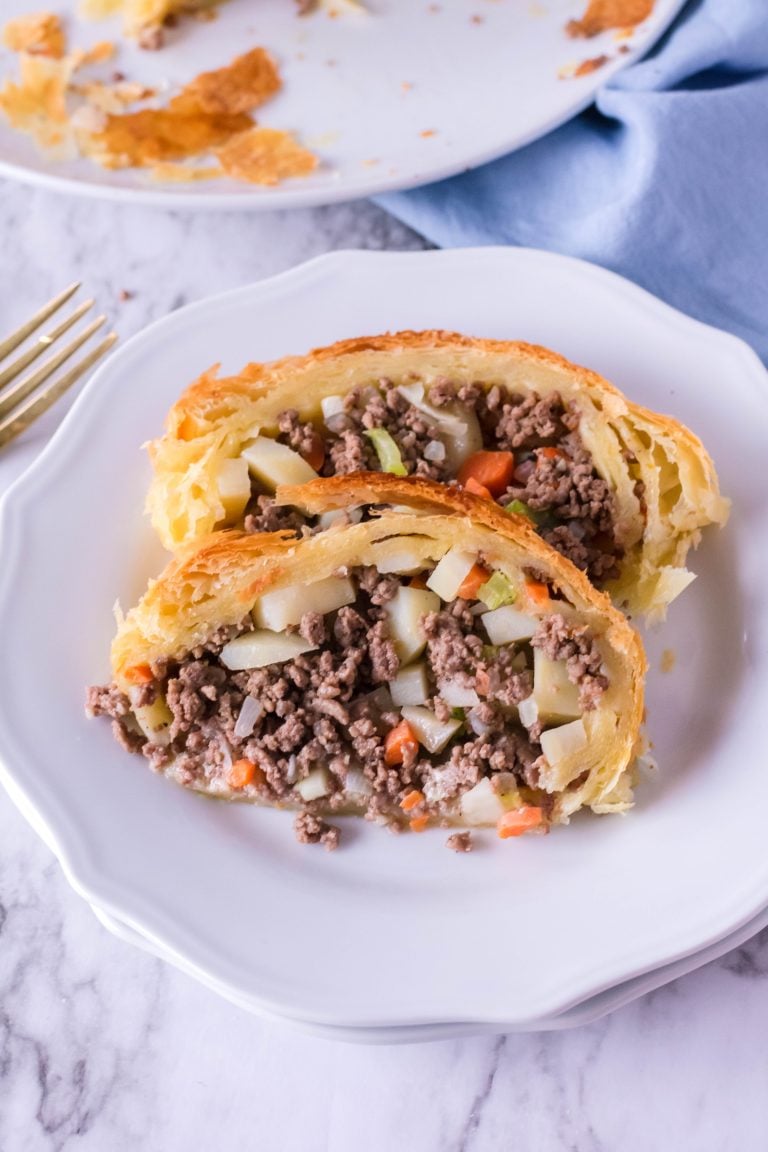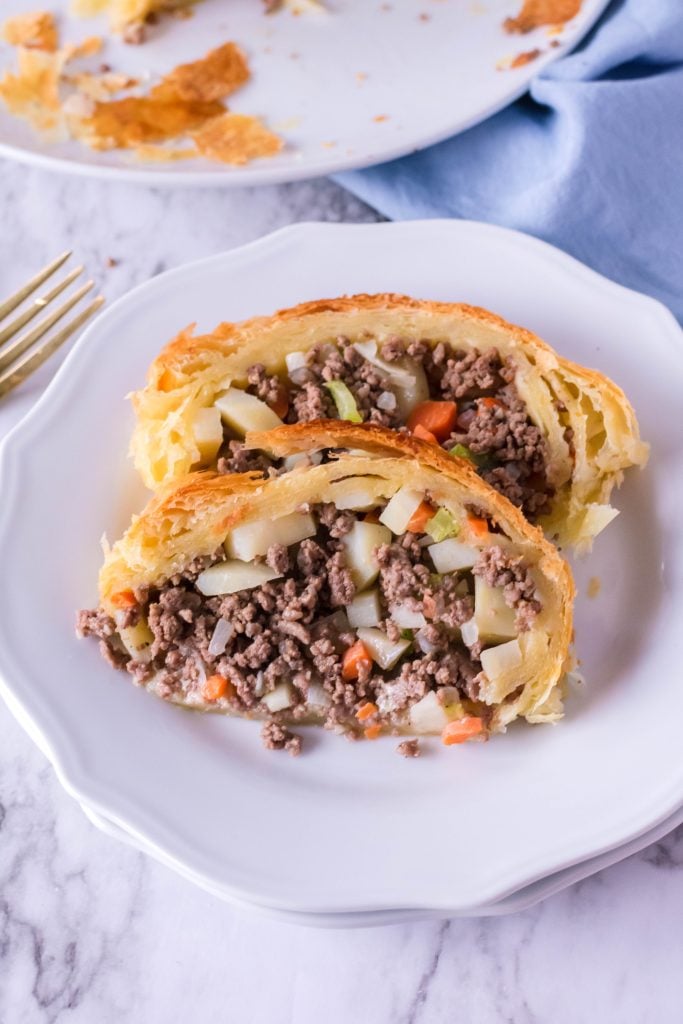 Once upon a time I thought beef wellington was just for rich people (and snobs). Those pricey cuts of beef were certainly out of my budget, even if puff pastry was not.
I mean, I've got four kids and one income. Fancy cuts of beef are reserved for special occasions.
Heck, who am I kidding? Even our anniversaries are more economical than that.
But, over the years and with lots of trial and error, I've learned that cooking in a frugal kitchen and staying within your budget doesn't mean we have to give up fancy meals.
Sometimes, a little creativity is all you need to turn a gourmet favorite in a budget-friendly dish.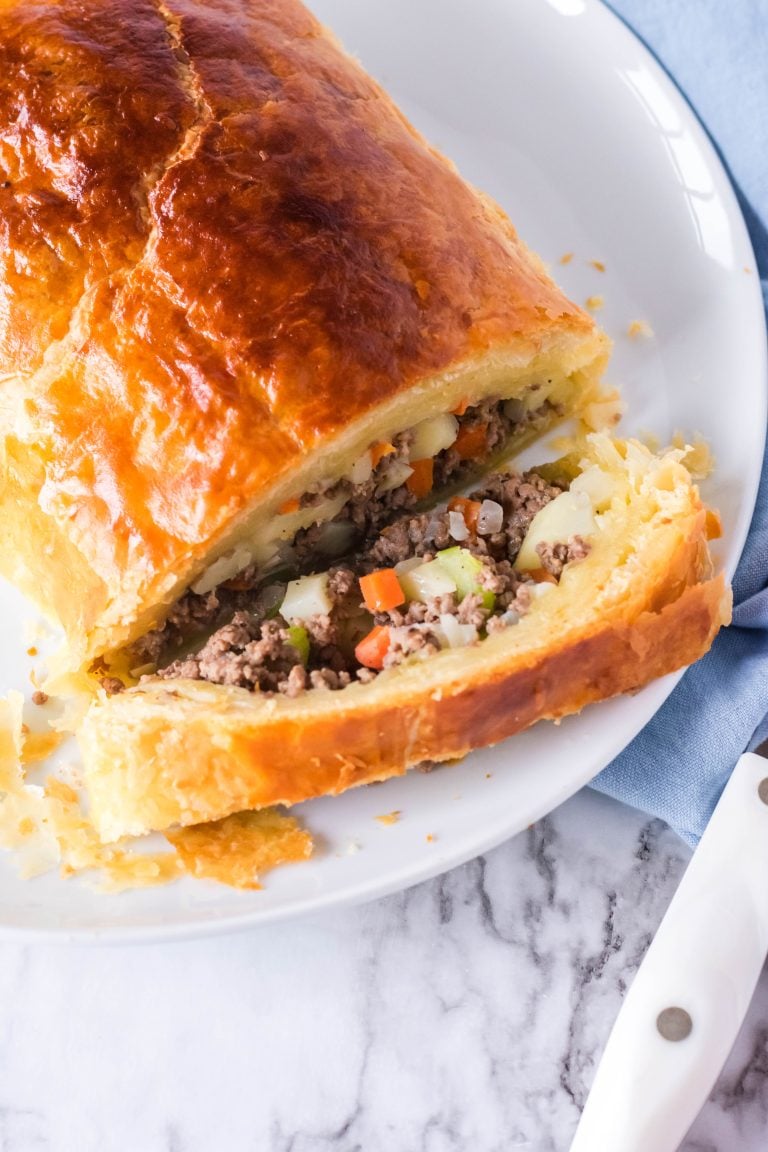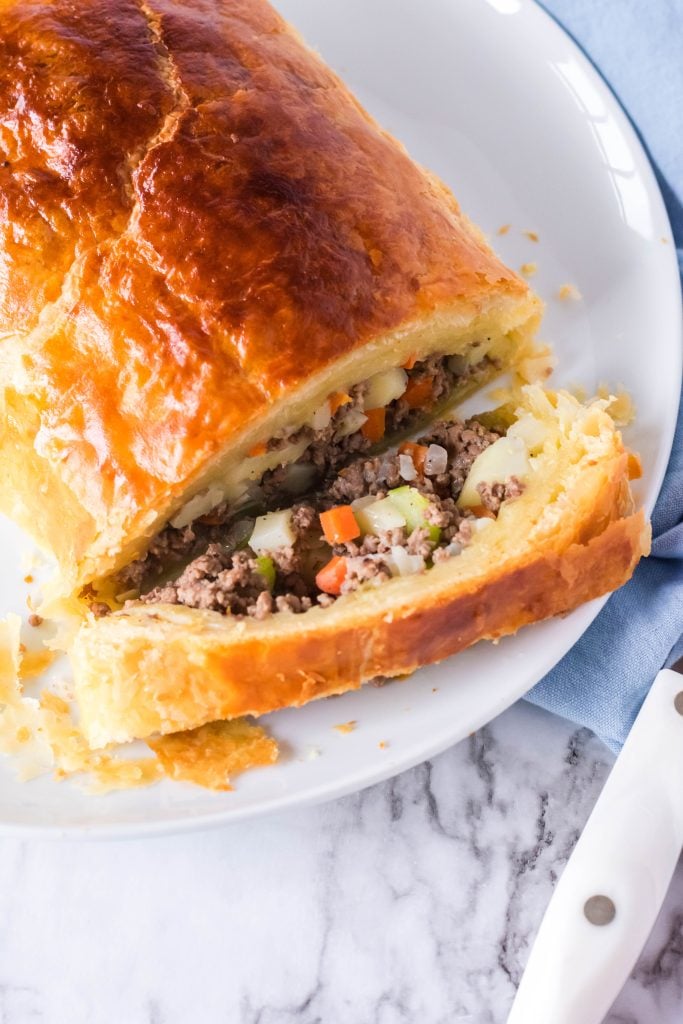 Then I stumbled across this wonderful recipe. This revolutionary idea for Poor Man's Beef wellington.
Subbing ground beef for expensive cuts and adding in a healthy helping of veggies, it makes it doable, and delicious, for all of us.
It's like this fantastic hybrid that crosses the classic flavors of Shepherd's Pie with all the delectable texture of a traditional Beef Wellington.
Hooray! Beef Wellington for everyone!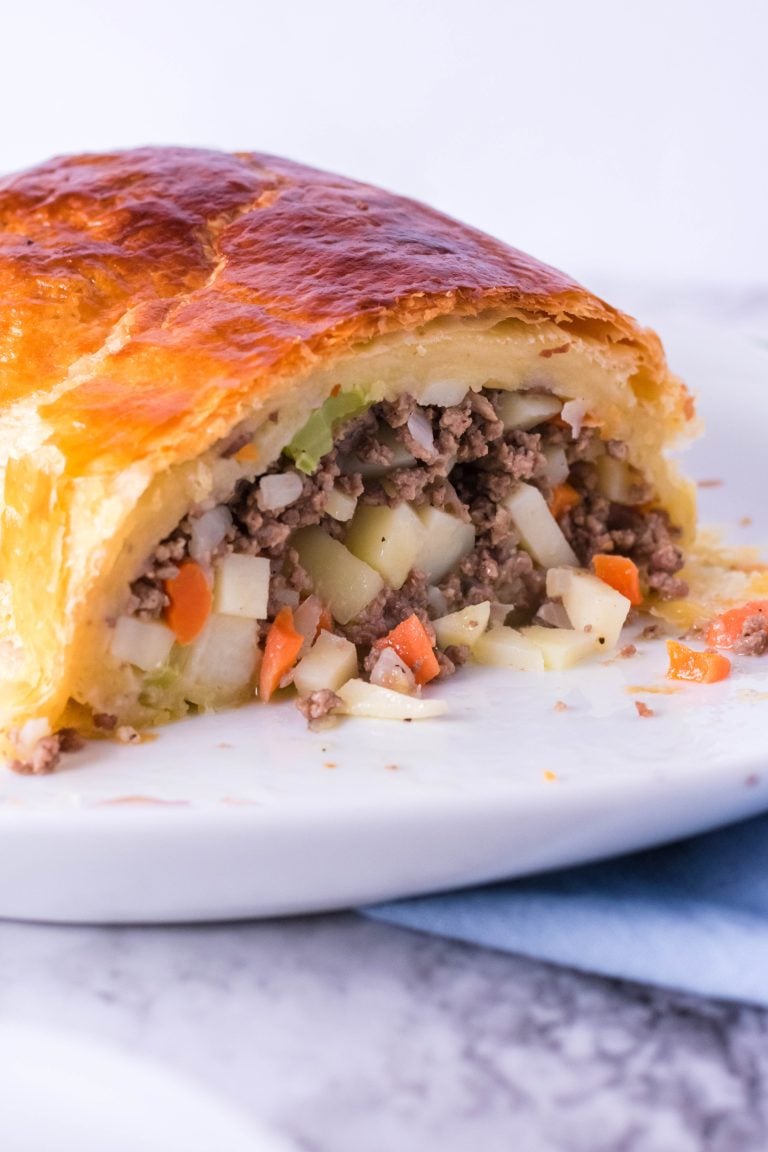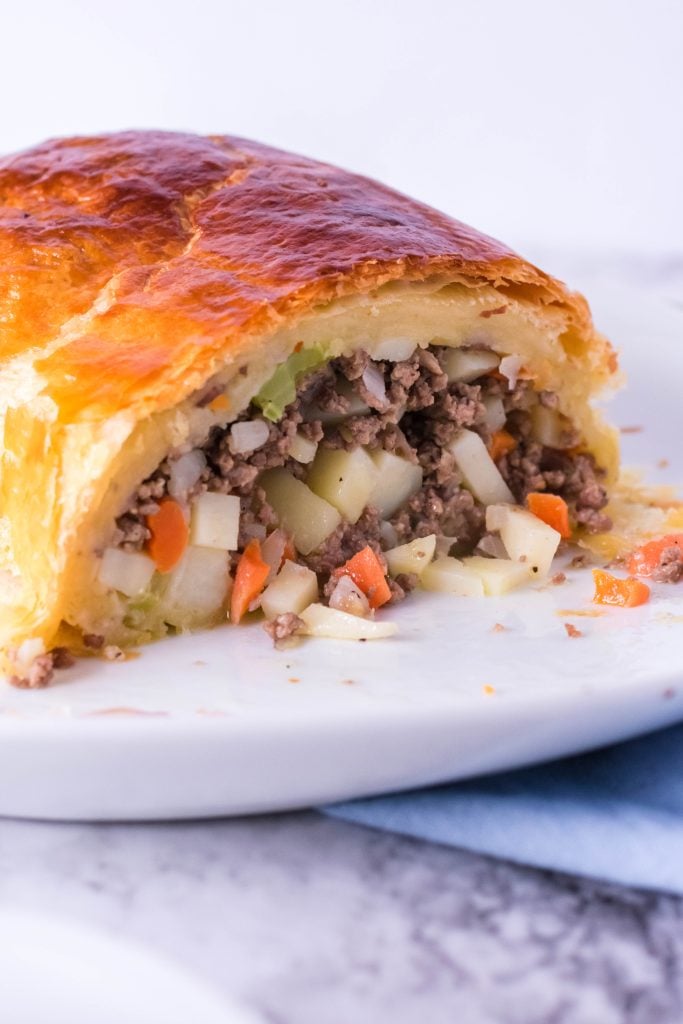 Poor Man's Beef Wellington- Making The Filling
While the original version is essential just delicious meat wrapped in a pastry shell, this simpler budget-friendly version needed a filling.
Plain ground beef alone would've been to greasy, and just too much. Naturally, it needed some fleshing out.
To do that, we added a variety of healthy tasty veggies to the mix and seasoned everything well.
We added diced potatoes, carrots, onion, celery, garlic, and peas. We seasoned the mixture with some sprigs of fresh thyme and rosemary & added some beaten egg to help bind everything together.
That mix alone would be delicious in a pot pie, or virtually any kind of crust based dish but using puff pastry really sets it off giving it gourmet flavor hidden within a crackling crust.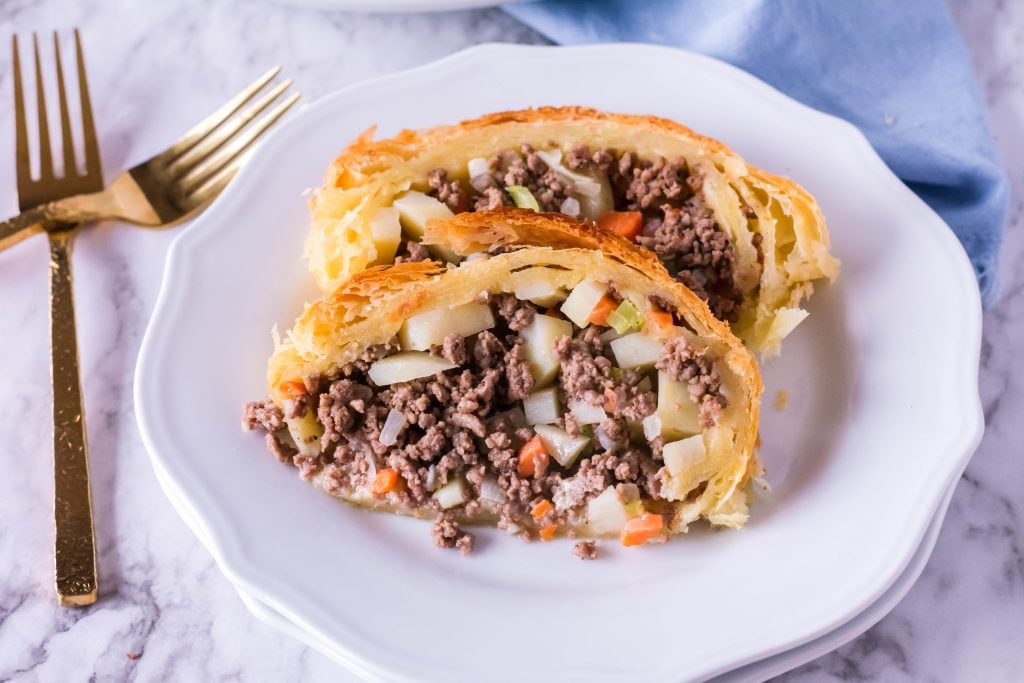 The soft tender cooked (but completely cooled veggies) are mixing in a large bowl with the ground beef. While some people would say it's ok to just stir everything together, I suggest you really need to get your hands dirty and dig in.
Gently knead this mixture, along with half the beaten egg, together like you would with a meatloaf mix. It may not be as pretty, and it may be messy work but the more uniform the consistency the better your filling will stick together after cooking- making slicing & serving easier.
Now it's time to prepare the crust. Start by rolling a sheet of puff pastry out onto a lightly floured surface, and rolling it out until it's a 1/4 inch thickness.
Using your hands, roughly shape the ground beef filling mixture into a log shape and transfer it to the center of the pastry dough. Brush the exposed edges of the dough lightly with the egg, and then roll it all up like a burrito to form a sealed loaf.
Brush the sealed side generously with egg, and then transfer it to a baking sheet seam side down. Finish brushing the outside completely with the egg wash. Don't be tempted to skip the egg wash as this it what really sets the crust off, giving it a deep golden brown color and crisp crackling result.
Bake your poor man's beef wellington at 350 degrees for 45 minutes to an hour. There's no measuring the internal temp, and it's not so tricky to get write as it's fancier cousin.
Do let it rest for at least 5 minutes before slicing and serving. Be careful to avoid and escaping steam, and use a sharp serrated knife that it cuts smoothly without tearing the crust apart.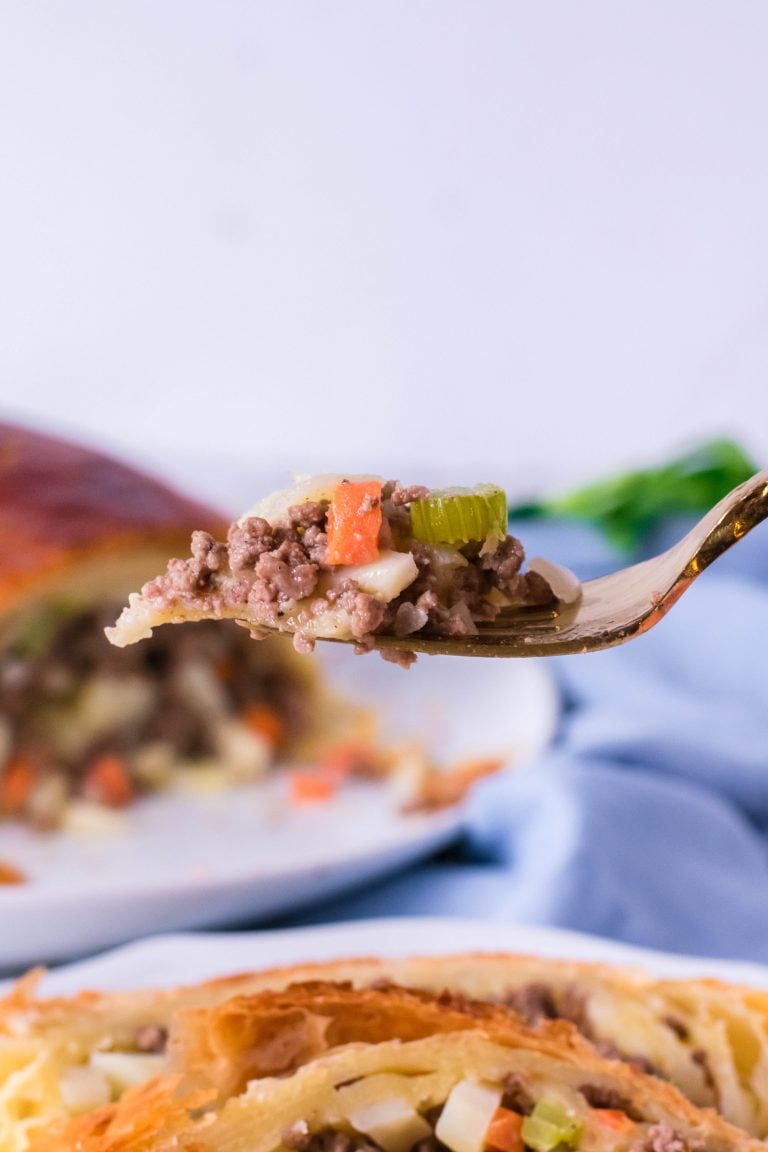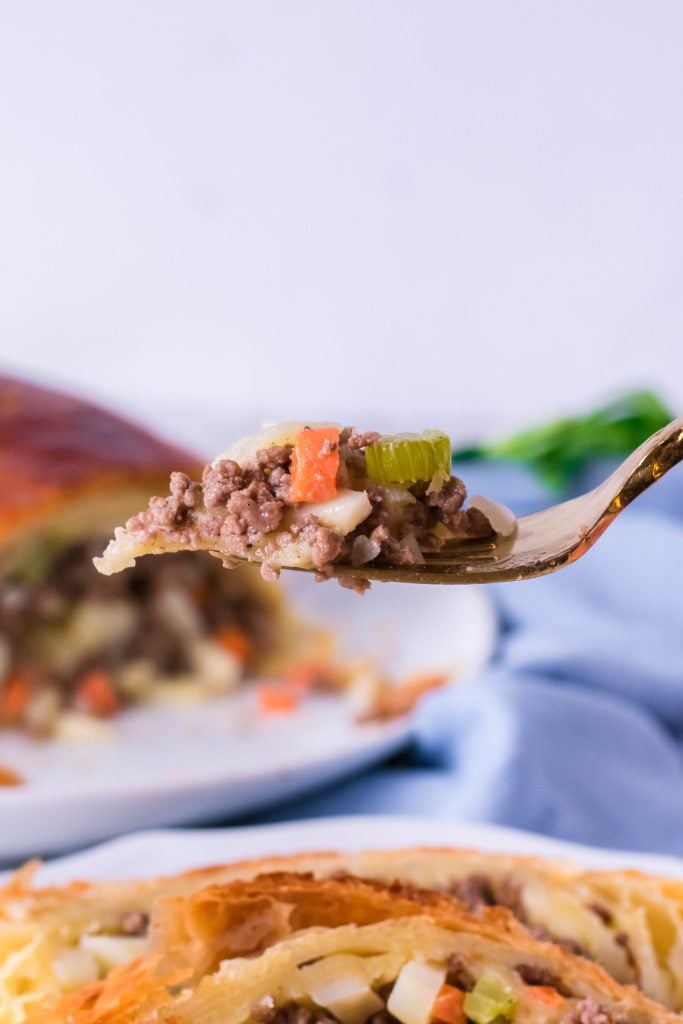 To round out the meal, you can serve your Wellington with a simple green salad or, if you're looking for a heftier meat and potatoes kind of meal, even baked potatoes.
Green veggies like freshly steamed broccoli or even this canned green bean recipe also make tasty, healthier side dish options to serve with this meat & pastry meal.
Other Similar Recipes You Might Also Enjoy:
Hamburger Steaks with Onion Gravy
If you've tried this POOR MAN'S BEEF WELLINGTON, or any other recipe on the site, let me know in the comment section how it turned out, we love hearing from our readers! You can also follow along with me on PINTEREST, FACEBOOK, and INSTAGRAM to see more amazing recipes and whatever else we've got going on!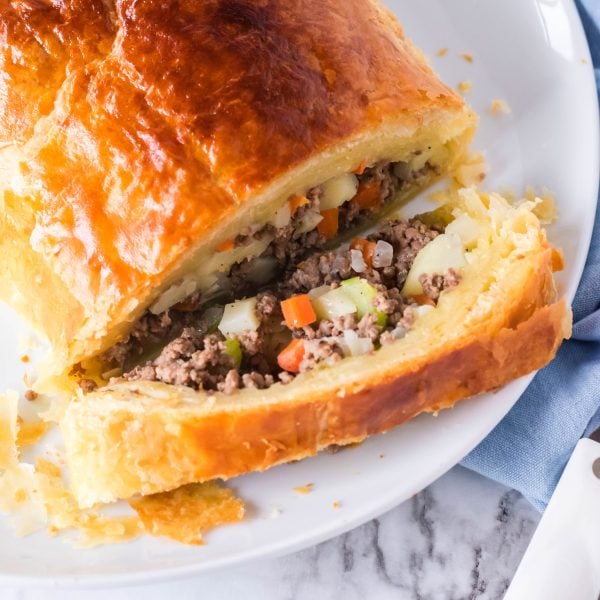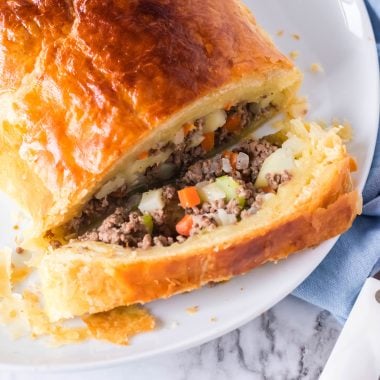 Poor Man's Beef Wellington
This twist on a classic wellington makes the meal more affordable for everyone & also more appealing to pickier palates.
Print
Pin
Rate
Ingredients
1

onion

1

carrot

diced

1

celery stalk

diced

2

potatoes

diced

2-3

cloves

of garlic

minced

olive oil

4

sprigs of rosemary or thyme

1/2

cup

of frozen peas

optional

1

egg

beaten

1

lb

of lean ground beef

1

package of store-bought puff pastry

flour

for dusting and rolling

salt and pepper
Instructions
In a large skillet, gently saute all the veggies, garlic, and the herbs, stirring occasionally, until your vegetables are tender and the onions are translucent. It will take about 6-8 minutes. Transfer the cooked veggies into a large bowl and allow them to cool completely.

Once they've cooled, add in the beef and peas. Here is your chance to play with your food! Get into the bowl with your hands, really dig in, and start kneading everything together, including salt and pepper and half of the beaten egg, reserving the other half for the pastry crust. Make sure everything is good and mixed up and evenly incorporated.

Dust a clean work surface with a handful of flour and roll out the puff pastry to a 1/4 inch thickness.

Shape your beef mixture into a log (as close as you can get) and place it in the center of the rolled out pastry sheet, finish shaping into a log if necessary, and brush the edges with the reserved egg. Roll it up, tucking the ends inside like a giant burrito, brush the sealed pastry log with beaten egg everywhere you can see, place it on a baking sheet seam down, and lightly brush the top with the remainder of the beaten egg.

Bake the Beef Wellington at 350 degrees for 45 min to an hour, depending on your oven, until golden and crispy on the outside.

Allow the Beef Wellington to cool for about 5 minutes. Use a serrated bread knife to gently slice the wellington into the desired portions. Serve and enjoy!
Nutrition
Calories:
491
kcal
|
Carbohydrates:
32
g
|
Protein:
20
g
|
Fat:
32
g
|
Saturated Fat:
10
g
|
Cholesterol:
81
mg
|
Sodium:
179
mg
|
Potassium:
621
mg
|
Fiber:
4
g
|
Sugar:
2
g
|
Vitamin A:
1850
IU
|
Vitamin C:
15
mg
|
Calcium:
56
mg
|
Iron:
5
mg