A full dinner that uses only 4 ingredients, this Crockpot Chicken & Stuffing is a simple solution to the dinnertime rush on busy days. Moist, juicy chicken easily breaks apart, served alongside soft, fluffy stuffing- serve it with a simple side or two for a family favorite, filling meal.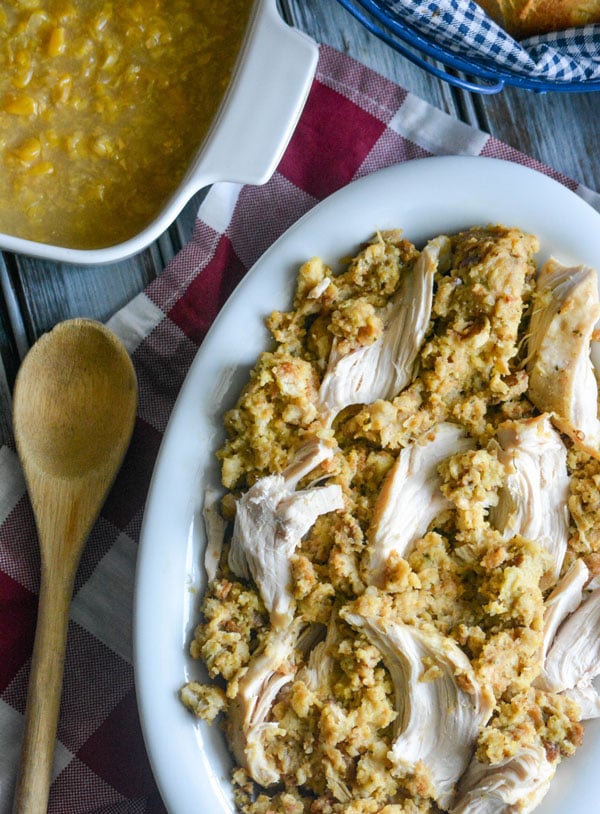 Do you like chicken? I hope so, because we sure do.
Which means a ton of chicken-based recipes coming your way- and hopefully right into your inbox if you've signed up to receive new posts through email.
In fact, or when I actually think about it, chicken is our main meat most days of the week.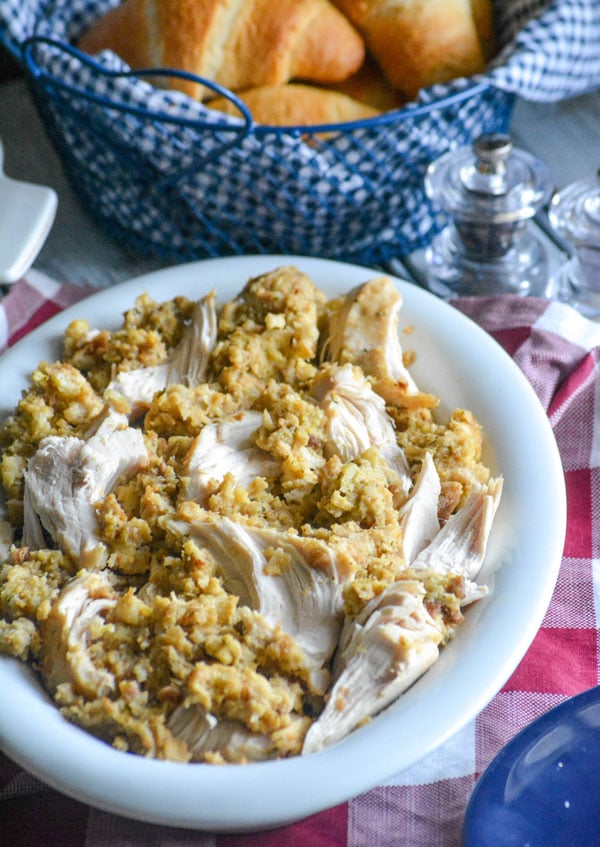 Which brings me to my next question. Do you love stuffing (or 'dressing' if you're feelin fancy)?
We definitely love that.
Ok, so here goes, last question. Are you looking for an easy crockpot or slow cooker dinner?
Was your answer to all three of those questions a resounding yes? Then this Crockpot Chicken & Stuffing recipe is absolutely perfect for you and your family.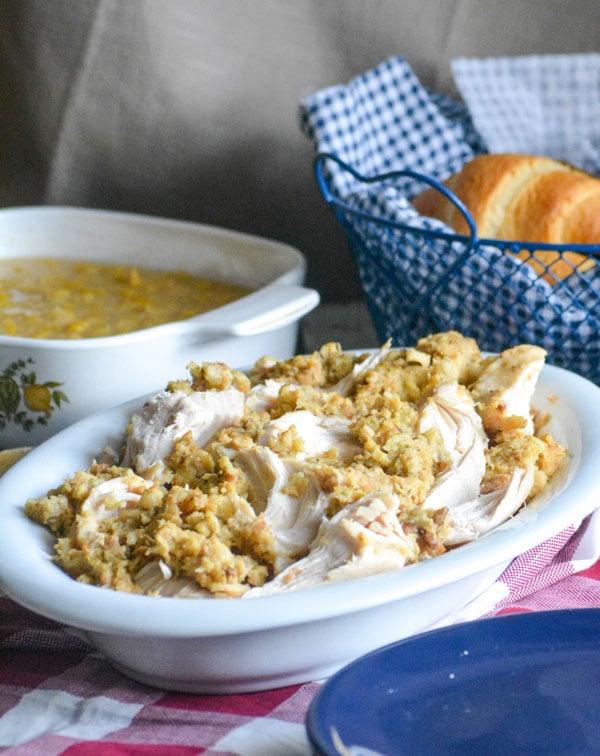 This one only requires four ingredients. FOUR!
It's super simple to throw together, so there's no need to feel overwhelmed or under the gun about getting a hot, healthy meal on the table, even on your busiest of days.
Pair it with some steamed veggies, or a salad, and you're in business.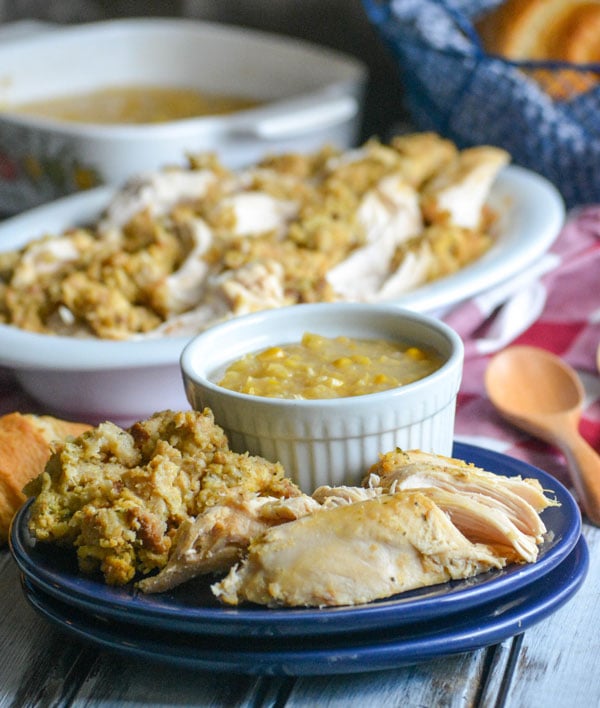 I know, I know. I usually enjoy making these types of things from scratch or at least froof-ing the box version.
And while this isn't straight from a box, and even though there's plenty of room for it, there's minimal froof-age. Is that even a word? I'm not sure, but I know what it means and I'm going with it.
Some days I just need some help with that quick and easy option, and for those days I count on a great crockpot recipe like this one.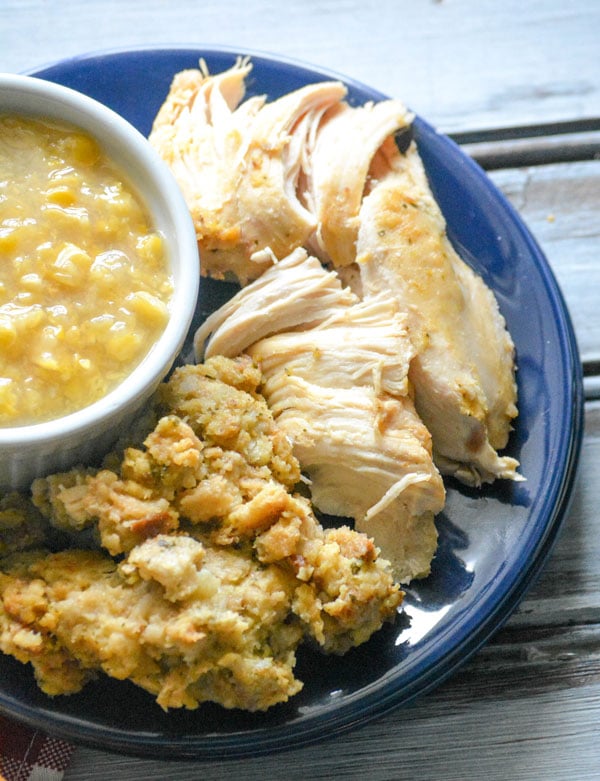 With one kid down for the count for day, two with a headache and fever, and one recovering from the terrifying, traumatizing event of losing his first tooth, dinner need to be simple.
So simple, it could be called a no brainer. Something I didn't have to think about, or really do anything with at all, not even mindlessly watching it on the stove occasionally stirring in my sleep-deprived Mom-bie mode.
Needless to say, I've already got this cooking in the crockpot.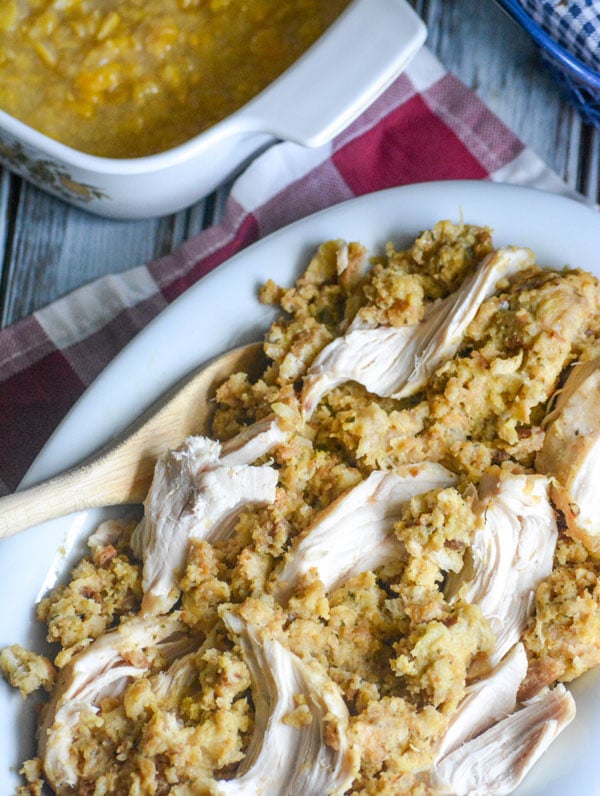 This is a perfect meal for everyone to enjoy on a rainy Winter day, and it's also perfect for scratching my poultry and stuffing itch when I'm at the awkward halfway mark between last Thanksgiving and next Thanksgiving.
Bonus points, because it's a breeze to quickly get going- leaving me more time to get done what I really want to be doing today. Taking care of the sons.
I'll take my serving with a side of sick boy snuggles, please!
Other Stuffing recipes you might enjoy: Chicken & Stuffing Stuffed Shells, Ciabatta & Meatball Stuffing, Stove Top Stuffing Mix Meatloaf, and Mid Atlantic Seafood Stuffing.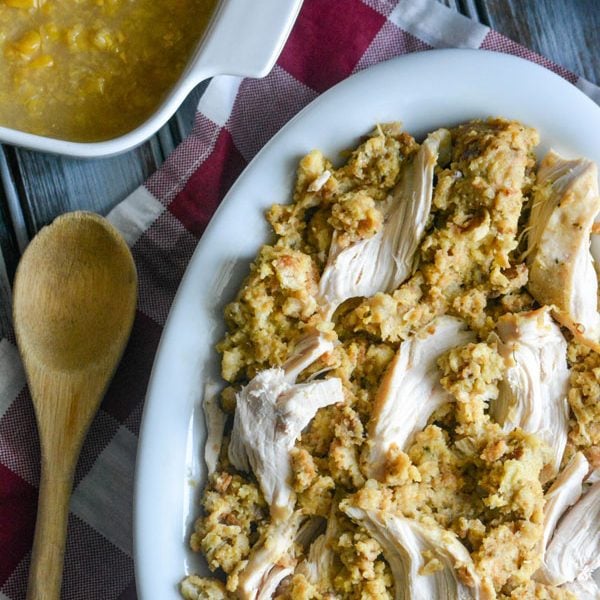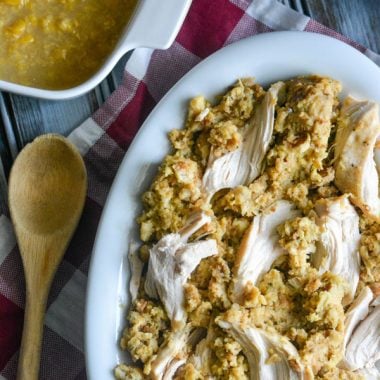 Crockpot Chicken & Stuffing
A one dish meal featuring a classic poultry and stuffing combo, this recipe let's your crock pot do all the work making a hearty, comforting dinner a breeze.
Print
Pin
Rate
Ingredients
4

boneless

skinless chicken breasts

1

box chicken flavored stuffing mix

6oz

1

can cream of chicken soup

½

cup

sour cream

¼

cup

water
Instructions
Place chicken breasts in bottom of crockpot.

Pour stuffing mix over chicken.

In a medium size bowl combine cream of chicken soup, sour cream and water; mix well.

Pour on top pf stuffing mix.

Place lid on crockpot and cook on low for 4 hours (check it at 3 hours).

Fluff and serve.