A classic appetizer can easily be the center of any spread for small parties or larger game day style gatherings. Take things back to a simpler time, and whip up a batch of these savory pigs in a blanket for your next get together. Two ingredients, and you're in business. Sometimes simple really is better!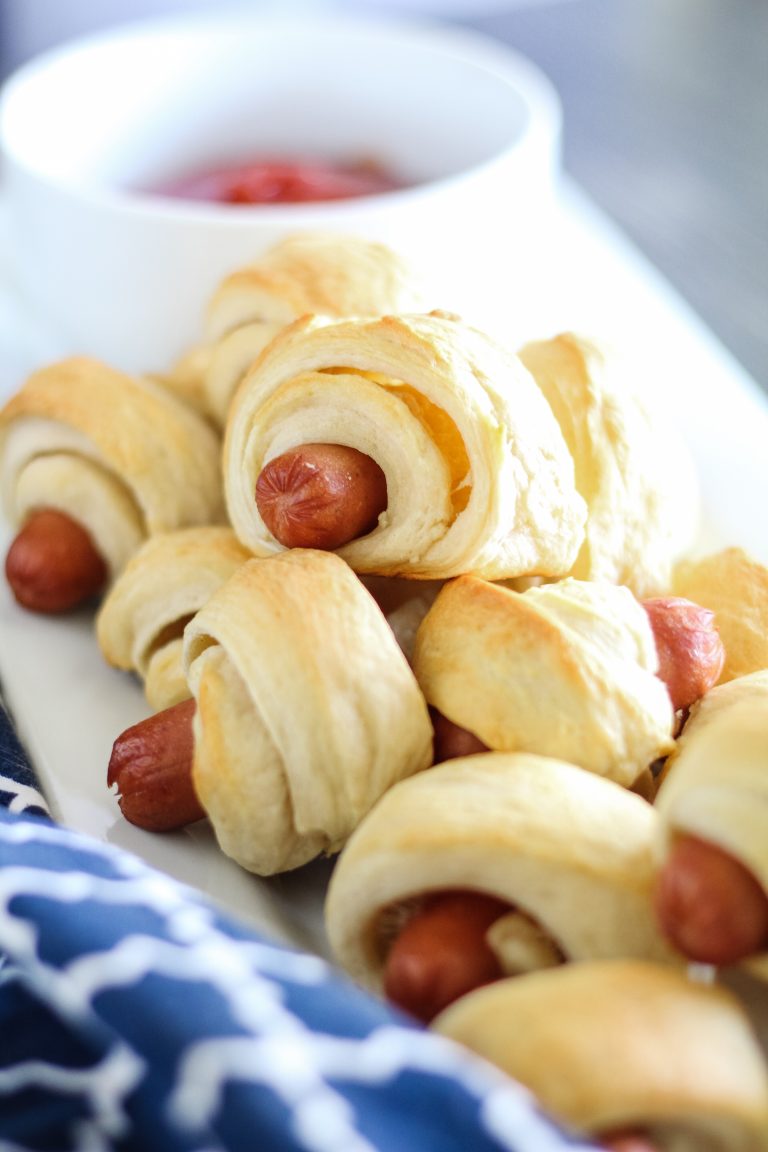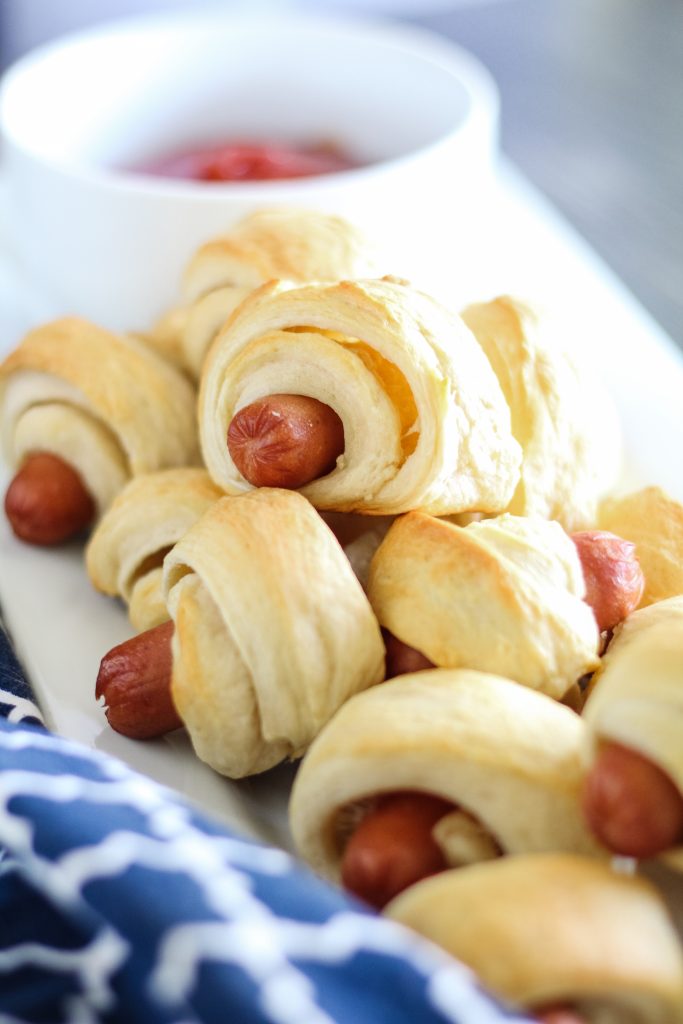 I haven't been able to pinpoint the exact reason, but there's something about foods in miniature that my boys just love. It's like they just exude 'fun'.
Anything mini I put in front of them gets eaten with gusto, and gets raved about afterwards, even when it's larger counterparts don't.
They like fun finger foods, and I love easy.
Pigs in a blanket are a match made in heaven for us.
Typically, my boys request these for parties, but I also will make them for special snack supper nights.
They love eating them for lunch as well, since I often use homemade crescent dough and usually have enough leftover to make crescents to go with dinner too.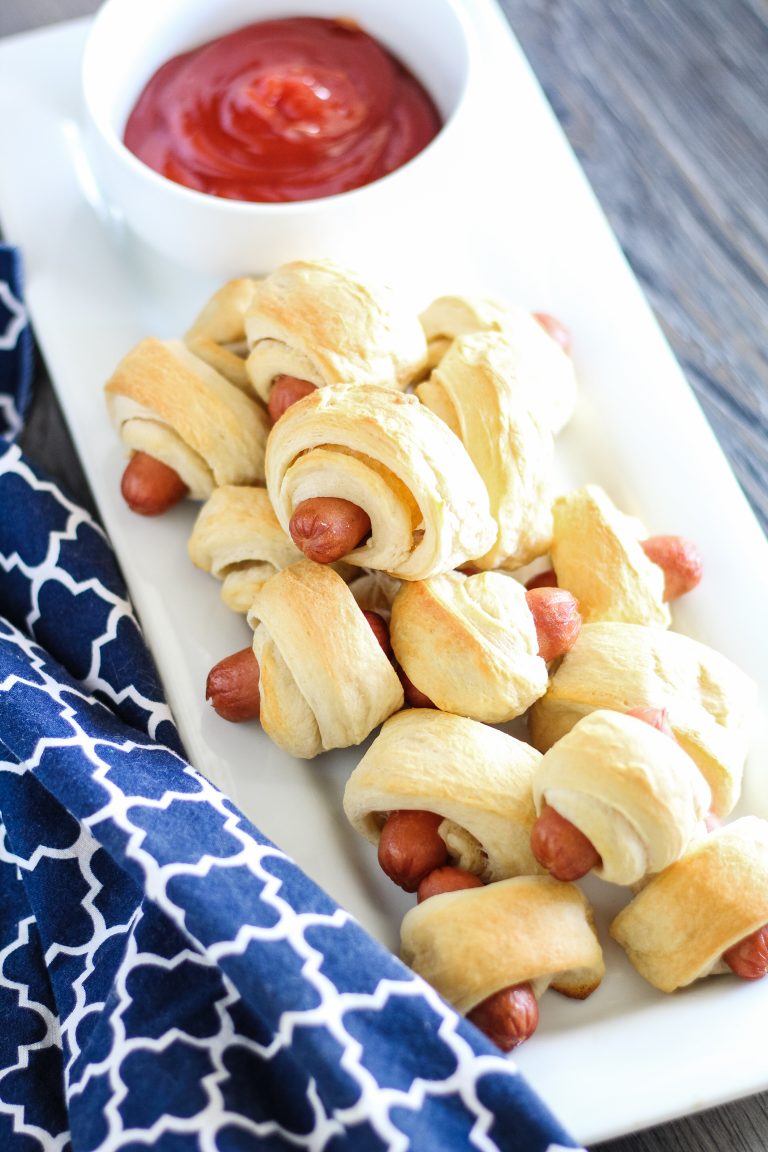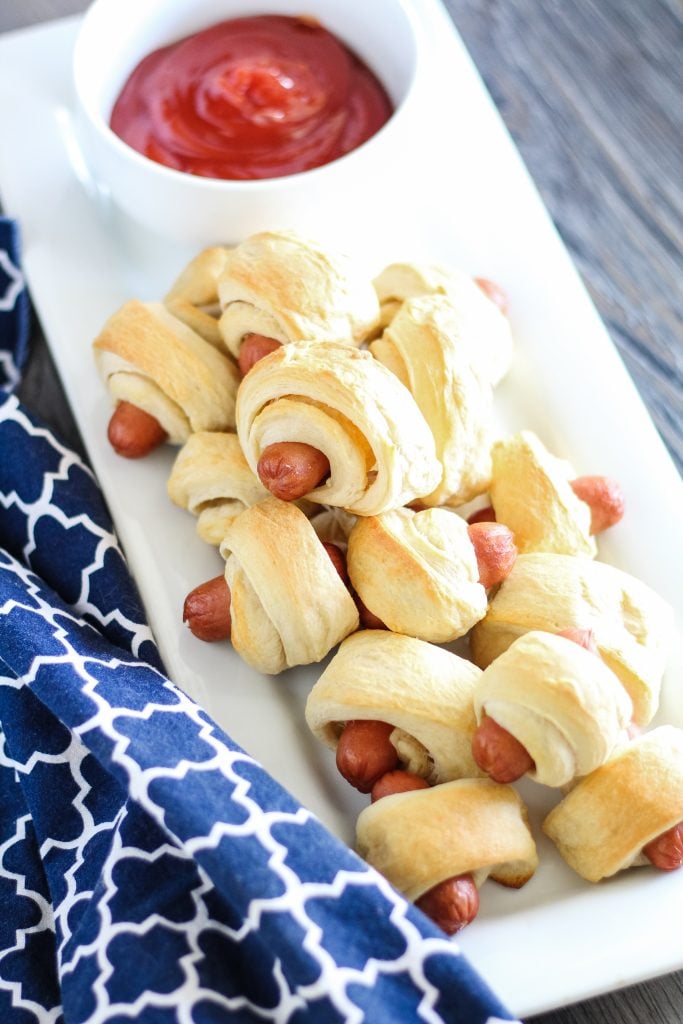 What's With The Name?
This has always been the first question my kids have asked, and pretty much every other kid at any party we've served these at.
Why're they called 'pigs in a blanket'?
The term is widely used to refer to either hot dogs, cocktail sausages, actual sausages, or even Vienna style sausages that've been wrapped in some sort of biscuit-based dough and then baked.
I'm assuming since they tend to all be pork in origin that that's the 'pig' and the fun pastry dough wrap is the 'blanket'.
A fun name for a fun food!
And while many consider this classic appetizer a 'vintage' recipe, it's not all that old.
Vintage in this case referring more to the retro house-wife era of foods, as opposed to actual history.
The oldest reference I've found for this idea was in a Betty Crocker cookbook for kids from the 1950's.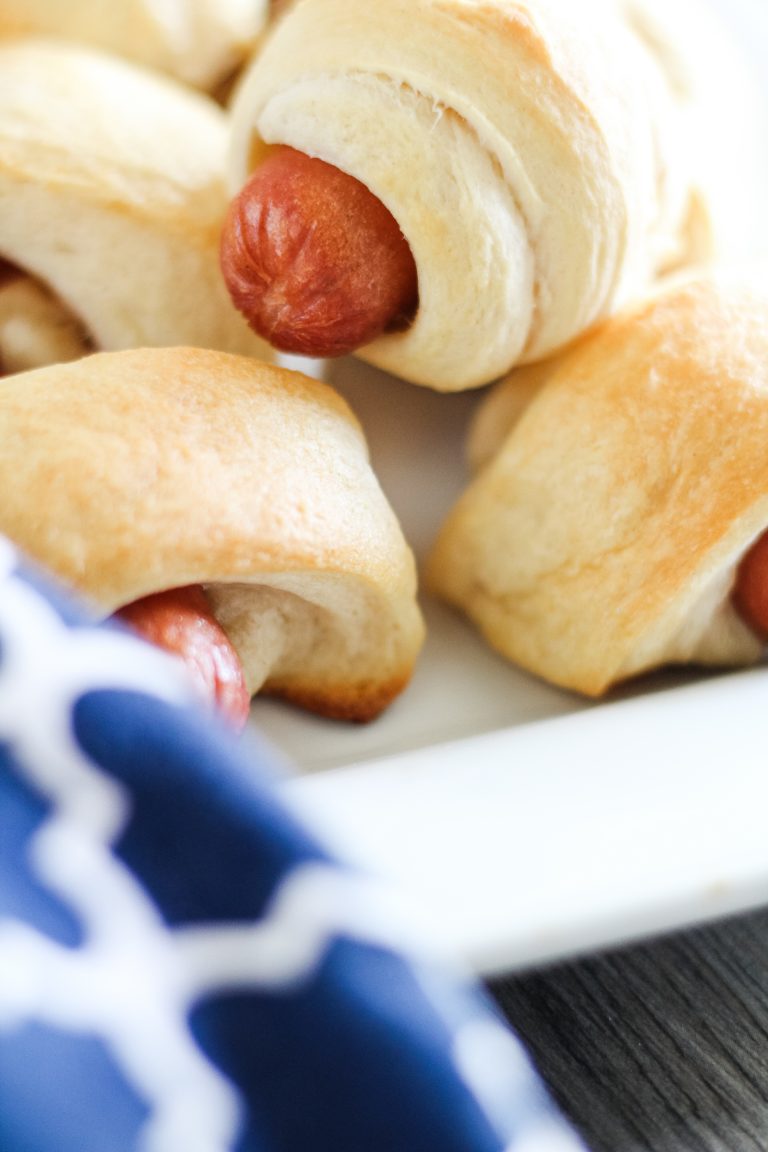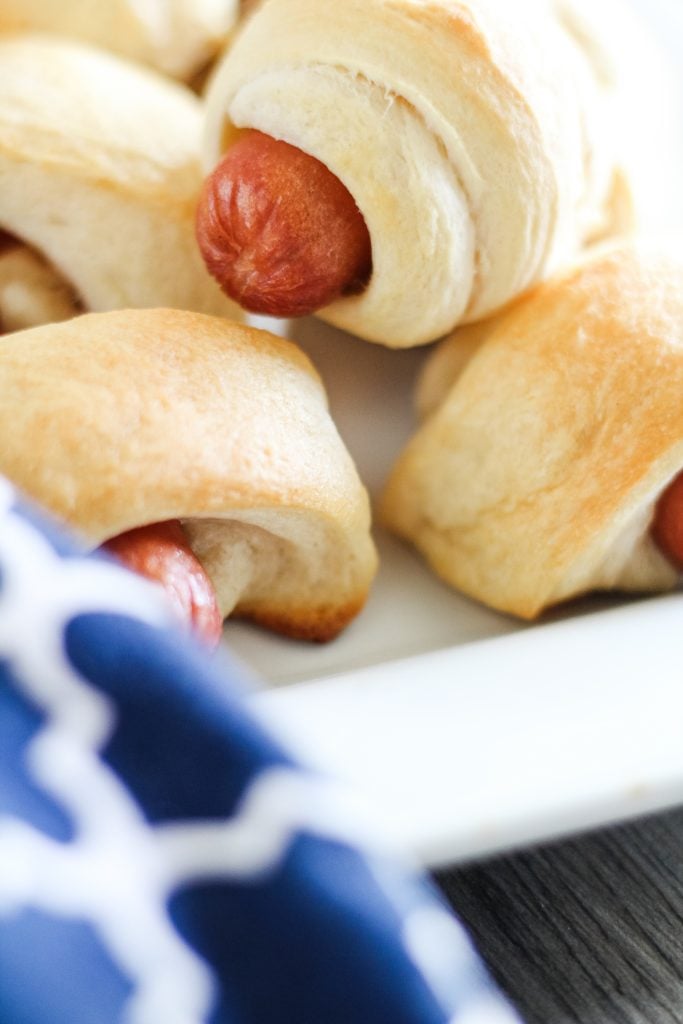 How To Make
Making this simple appetizer couldn't be an easier, and it really only needs two ingredients.
Hot dogs, or cocktail weenies, and crescent roll dough. That's it!
Start by preparing the dough.
Open your can of crescent rolls, and carefully unroll them.
Lay the dough out flat on a clean work surface.
I like to use my kitchen counter top covered with some parchment paper.
The parchment paper will keep the fough from sticking, which is important.
Press the perforated lines together so that it's one single piece of dough.
Then cut that dough into smaller strips, roughly 16 of them.


If using full sized hot dogs, you won't need to do anything to alter the dough and can just wrap them in the pre cut crescent triangles.
Add a cocktail weenie to the smaller end of a single dough strip, and wrap it around until all the dough's used. Then place it seam side down on a prepared baking sheet.
You can either spray a baking sheet lightly with non stick cooking spray, or use a non stick baking mat. If you're using a non stick baking sheet, then you don't need to take any steps to 'prep' it.
Repeat until all of the pigs in a blanket are prepped and ready to be baked.
Bake them according to the package directions on the canned crescent rolls.
When done, remove them from the oven.
Let them cool slightly, and then serve with whatever dipping options you'd like.
Our favorites include:
ketchup
mustard
stone ground mustard
creamy horseradish sauce
barbecue sauce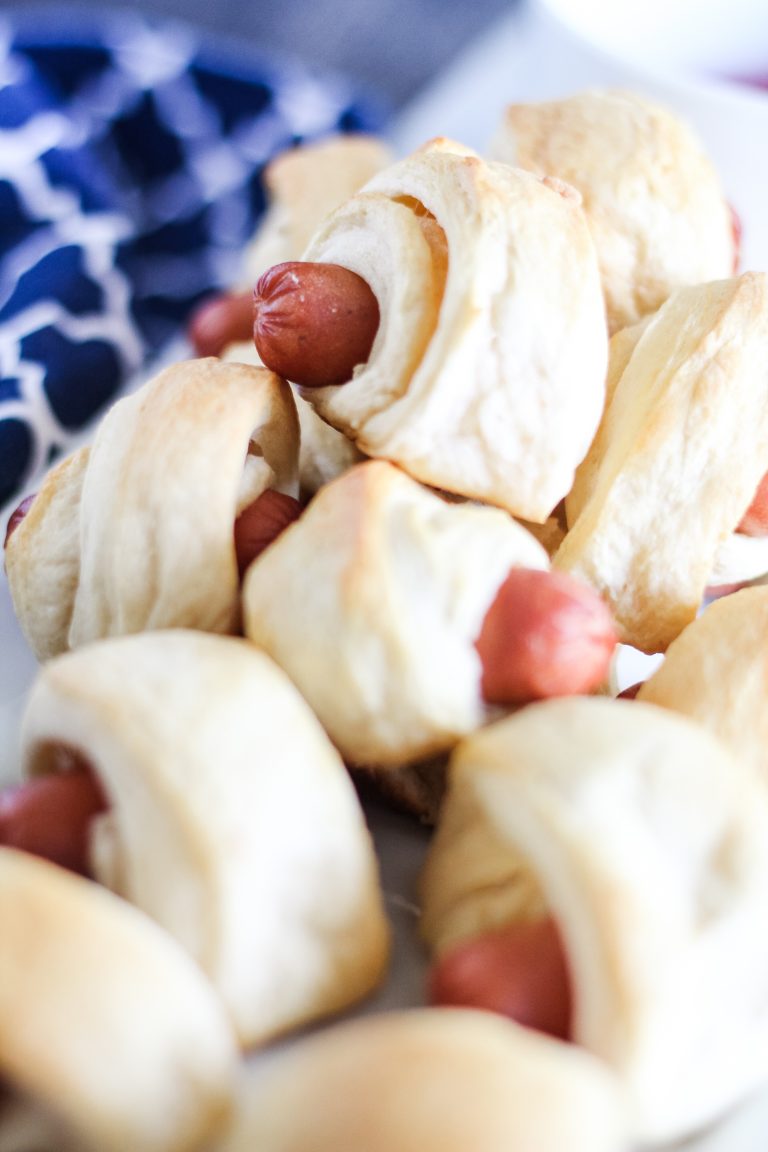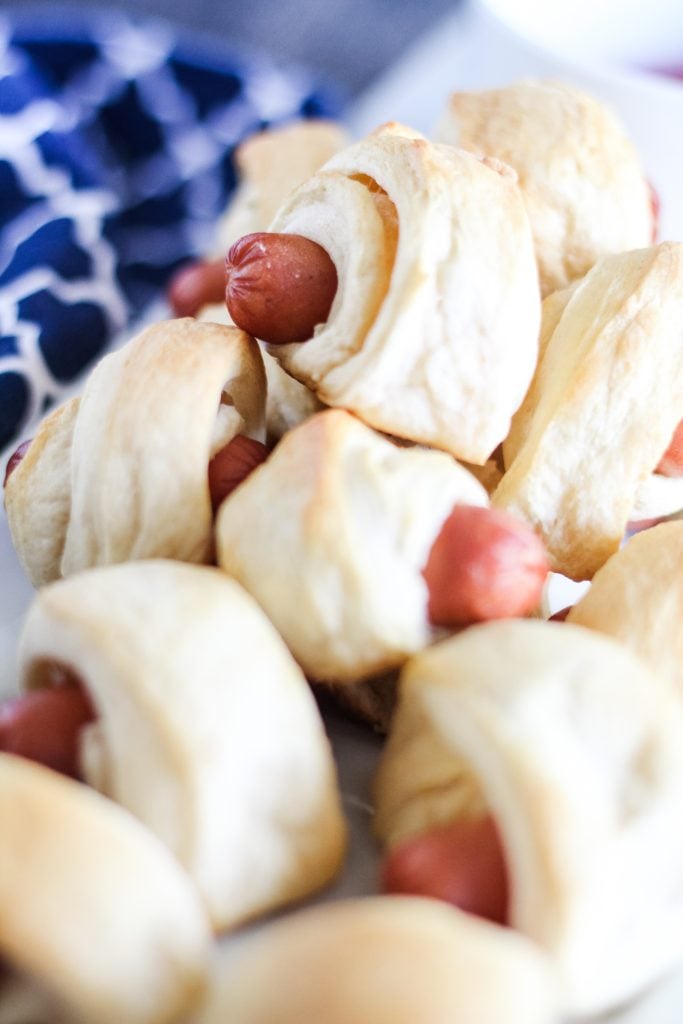 How To Prevent Them From Getting Soggy
Sogginess is the biggest complaint I've gotten.
Luckily, it's easy enough to avoid with one simple step.
Before wrapping your cocktail sausages, pat them completely dry with paper towels.
They're already going to express a bit of grease as they cook, which the dough will absorb.
When there's excess moisture present from the package, or if you've rinsed them, that's when it overwhelms the dough and leads to sad, mushy breading.
Make sure they're completely dry before encasing and you won't have to worry about any sogginess.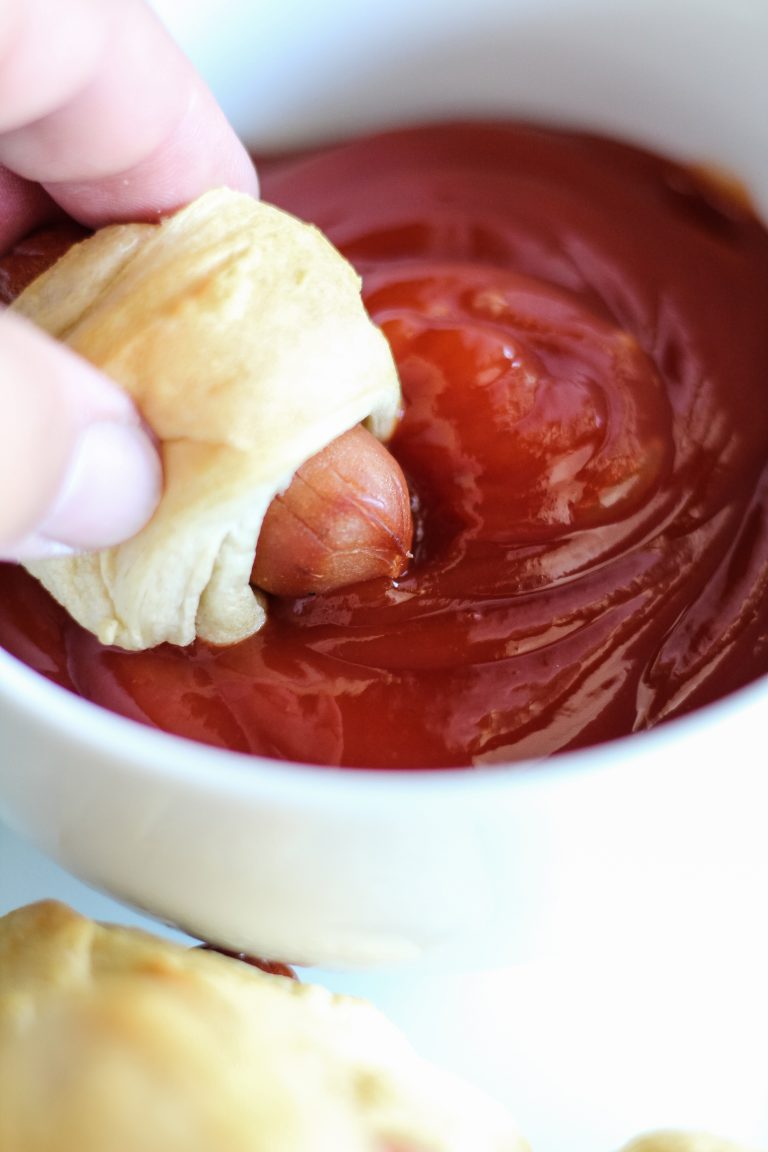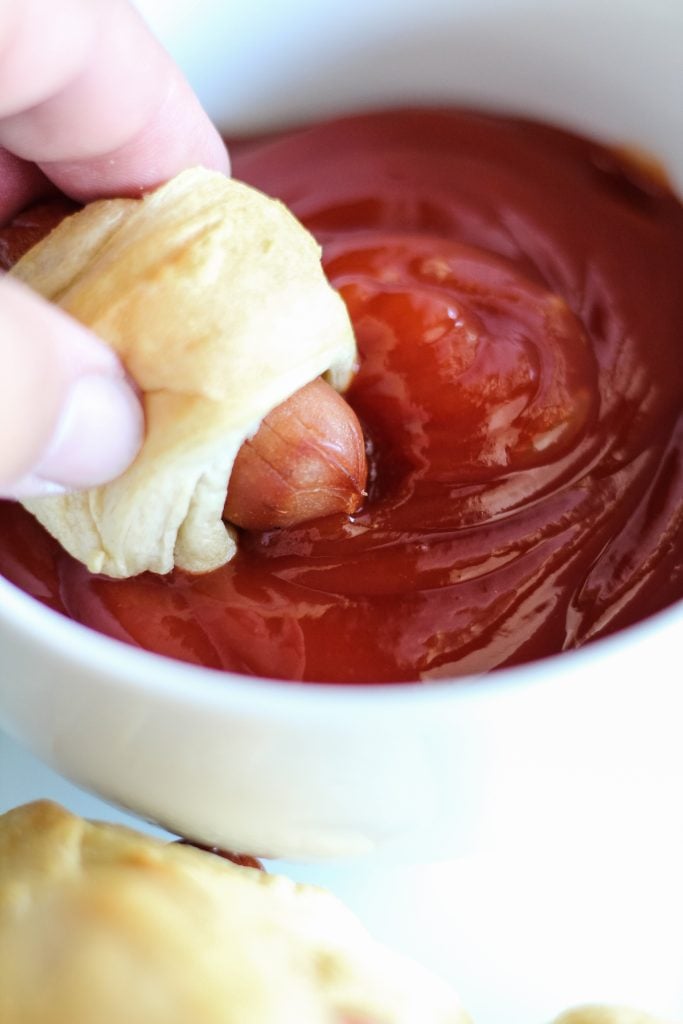 Making Them Fancy
So these are totally a simple snack supper or lunch for my family, but I whip them out all the time for parties, potlucks, and game days too!
Depending on the event totally determines the level of preparedness I go to when making them.
What can I say? My family is happy with super simple!
If I'm fixing them for guests, I take an extra step or two to make them 'party-ready'.
After all of your weenies are wrapped and laid out on the baking sheet, give them a simple egg wash.
Crack an egg into a small bowl, use a fork to whisk until combined, and use a pastry brush to lightly coat the exposed sides of all the pigs in a blanket.
This simple extra step will ensure they cook up with a beautifully shiny, golden brown crust on the outside.
You can also add any additional seasonings, if desired. The egg gloss will help them stick.
I don't typically season these, but in the past I've sprinkled them with poppy seeds or everything bagel seasoning.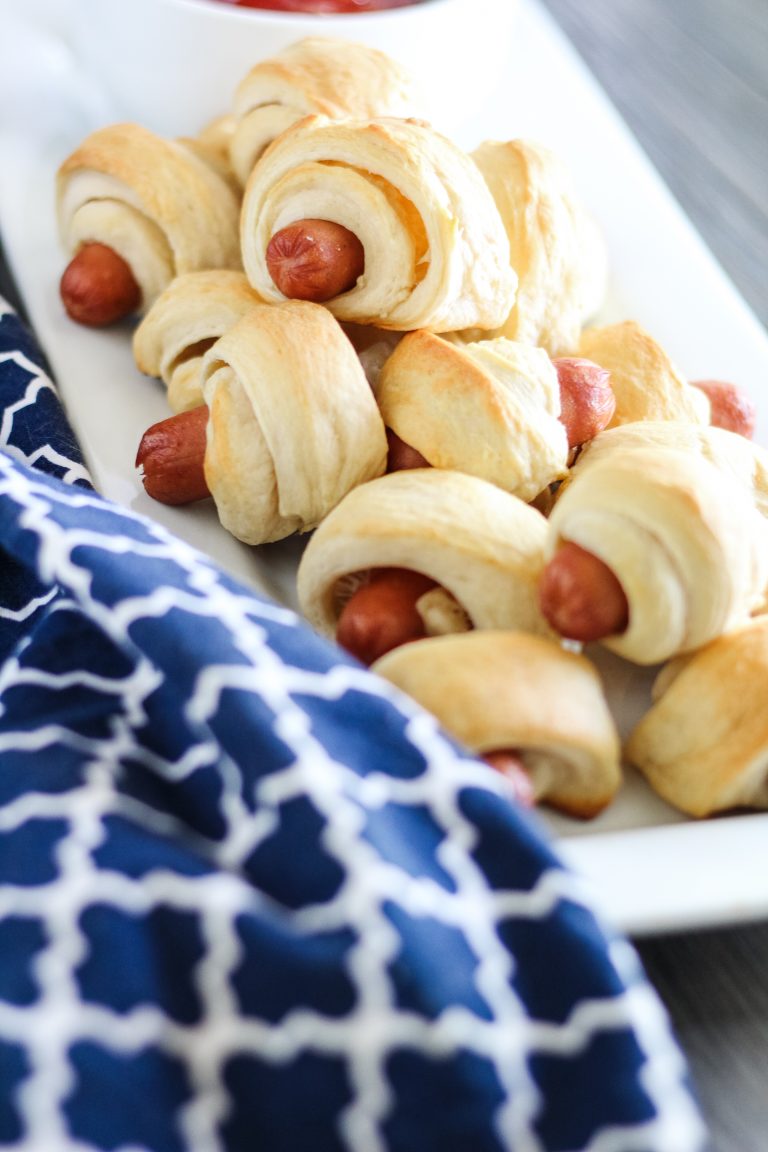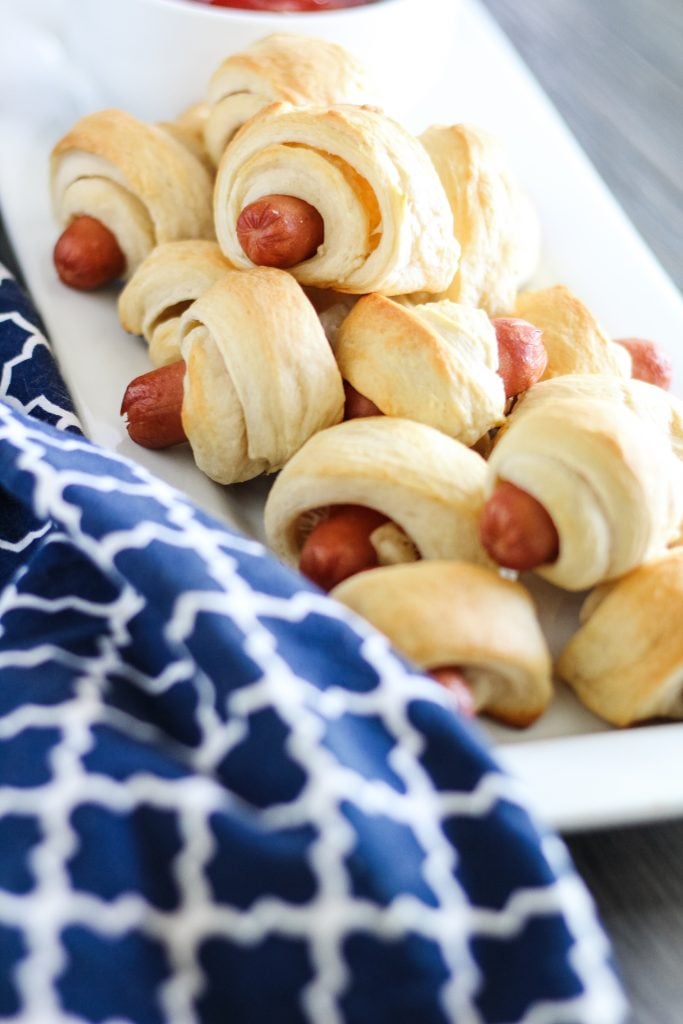 Can They Be Made Ahead Of Time
Absolutely!
Prepare them as instructed, and then wrap them with plastic wrap.
Make sure to seal all edges so no outside air can get in. That will cause them to dry out.
I've made them hours before hand, and sometimes even the night before and they always bake up perfectly as long as they've been tightly covered and refrigerated until baked.
Appetizers are all the rage, and everyone adores food made in miniature. There's a reason finger food, in various forms, has always been a thing.
Whether it's just your family, or guests you're hosting, serve your crowd these classic pigs in a blanket for a fun finger food every one will enjoy!
Other Fun Finger Food Ideas To Serve
Finger foods are perfect for parties.
They're easy to throw together, and make for pretty table presentations.
Check out these other easy ideas to consider including in your spread!
If you've tried these MINI PIGS IN A BLANKET, or any other recipe on the site, let me know in the comment section how it turned out, we love hearing from our readers! You can also follow along with me on PINTEREST, FACEBOOK, and INSTAGRAM to see more amazing recipes and whatever else we've got going on!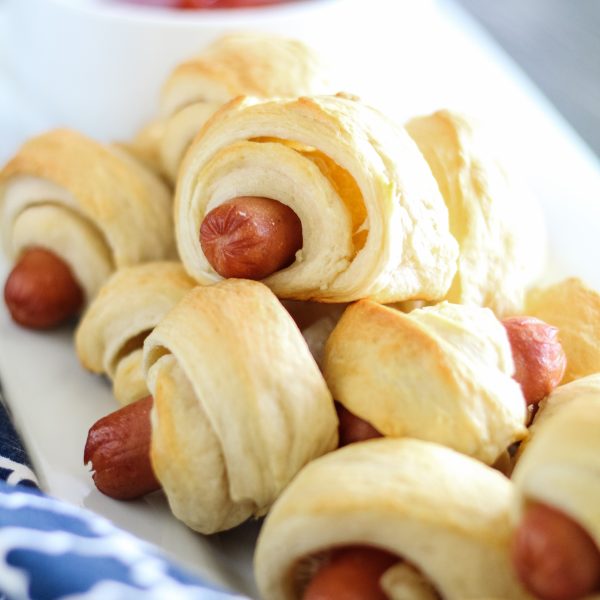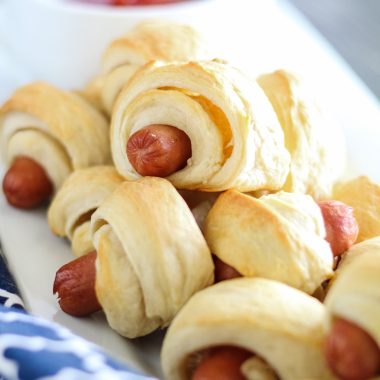 Mini Pigs In A Blanket
A classic appetizer can easily be the center of any spread for small parties or larger game day style gatherings. Take things back to a simpler time, and whip up a batch of these savory pigs in a blanket for your next get together. Two ingredients, and you're in business. Sometimes simple really is better!
Print
Pin
Rate
Ingredients
1

package

lil smokies

2

cans

crescent rolls

or 1 batch homemade crescent rolls
Instructions
Spread the dough out, and press the perforations together to seal and create a single sheet of dough.

Cut the dough into 16 roughly even strips.

Wrap one strip of dough around one sausage.

Place your 'pigs in blankets' with the point, or end, down onto a greased baking sheet. Repeat until all are done.

Bake according to package directions. If using our homemade dough, bake them at 400 degrees for 12-15 minutes or until golden brown.

Let cool slightly and serve with your favorite dipping options.
Nutrition
Calories:
367
kcal
|
Carbohydrates:
24
g
|
Protein:
9
g
|
Fat:
27
g
|
Saturated Fat:
10
g
|
Cholesterol:
36
mg
|
Sodium:
1018
mg
|
Potassium:
97
mg
|
Sugar:
6
g
|
Calcium:
6
mg
|
Iron:
1
mg
originally published on March 26, 2013