If you're in the market for an easy appetizer, look no further than these easy Oven Baked Toasted Ravioli. Only four ingredients, and we've ditched all the extra grease that comes with frying. Crispy, golden brown on the outside, with a gooey cheese center- these bites are begging to be dipped in cool marinara sauce and gobbled right on up.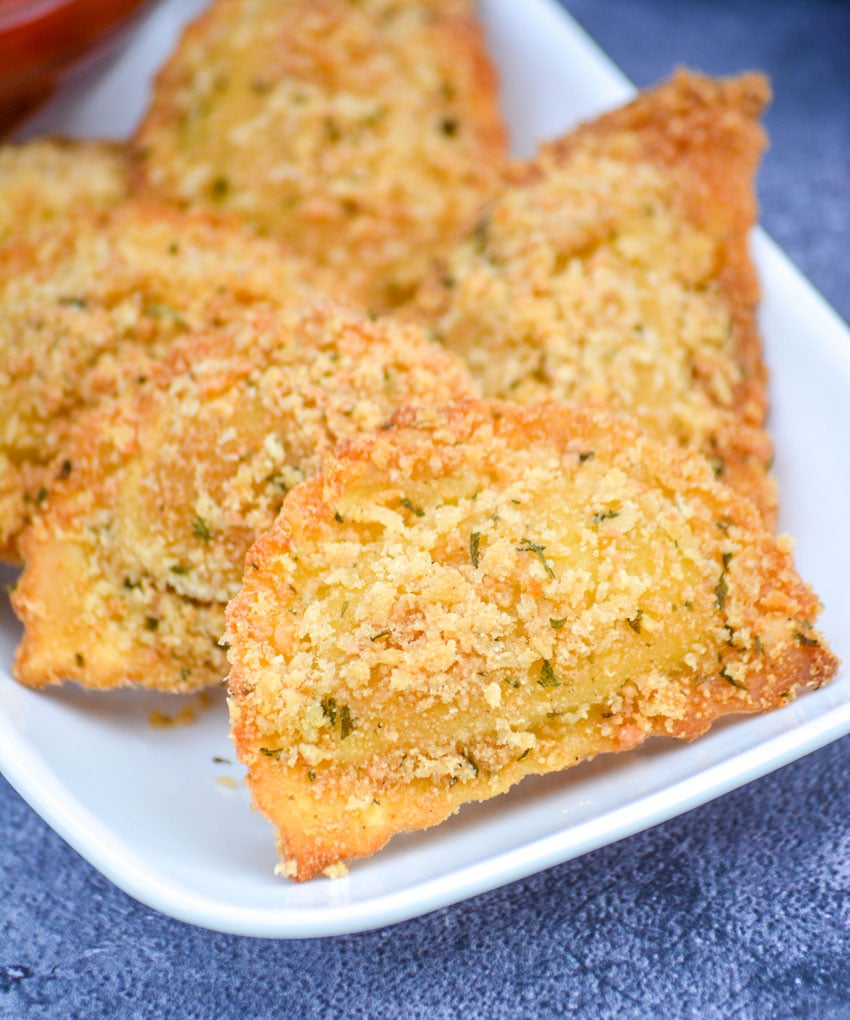 I love a good appetizer. Especially when the weather warms up.
I don't even like anything 'heavy' for dinner.
Appetites around here go way down when the thermostat goes up.
My grocery budget doesn't mind, and neither does the cook!
Finger foods become my families' best friends.
I've been known to set out a tray of cold cuts, some chopped fresh veggies, and some cheese- calling it a day.
When I'm feeling extra enthused, I might whip up a sheet pan charcutterie tray.
The son's love a good 'shmorgasboard' supper as they've dubbed it.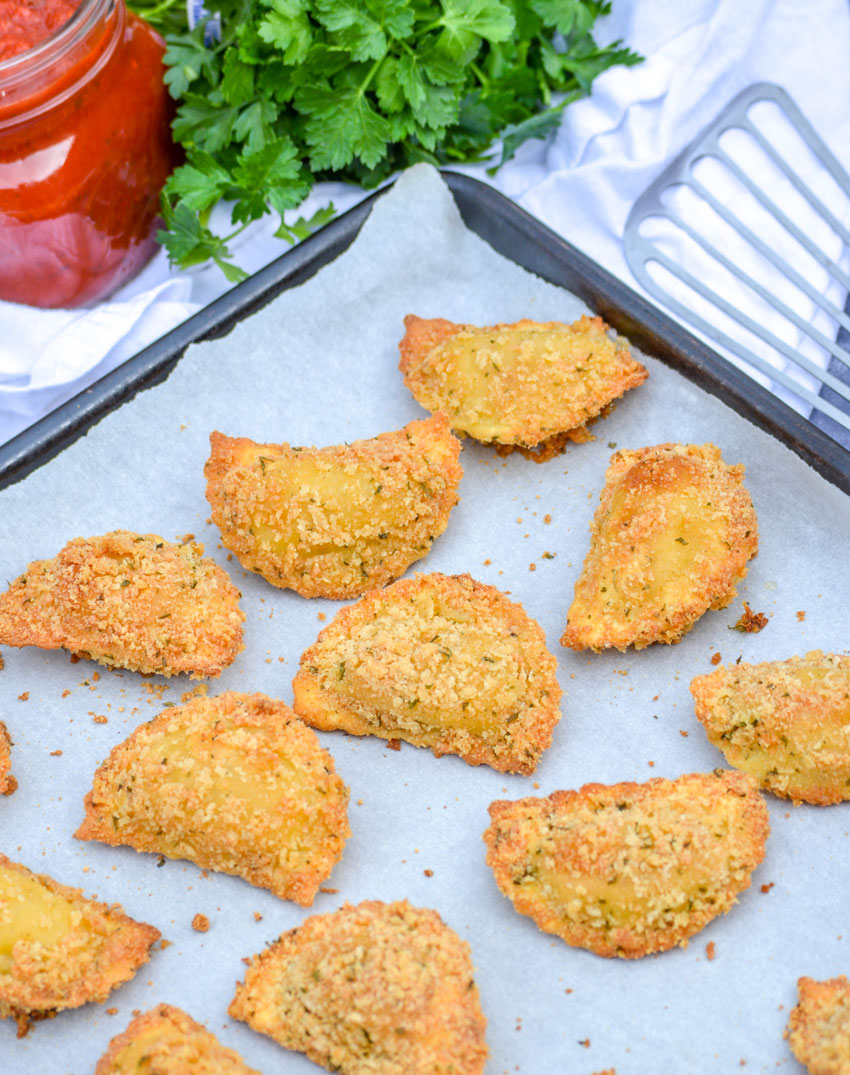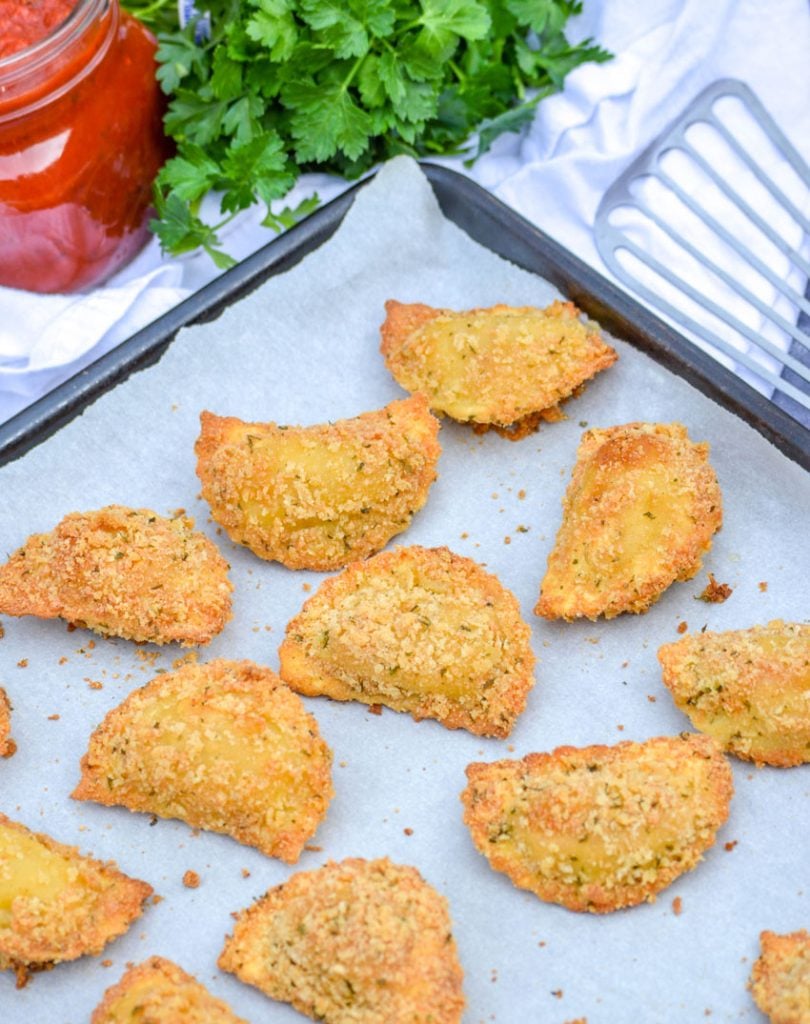 It's kinda like eclectic night (aka leftover/clean out the fridge night), but better. What's in the fridge that needs to be eaten is always a gamble.
With cold cuts, crackers, cheeses and the like- they know they're gonna like whatever's on the serving platter.
No complaints from me either since they're so ok with me keeping it simple.
Sometimes Mama is tired, and dinner is the last think I want to think about.
Also, traditional cooking in my kitchen in the Summer is the worst.
Instead of feeling chained to the stove, it's more like I've been unwillingly forced into the world's hottest sauna.
With food.
Food I have to turn around and eat if I don't want to try enjoying it cold.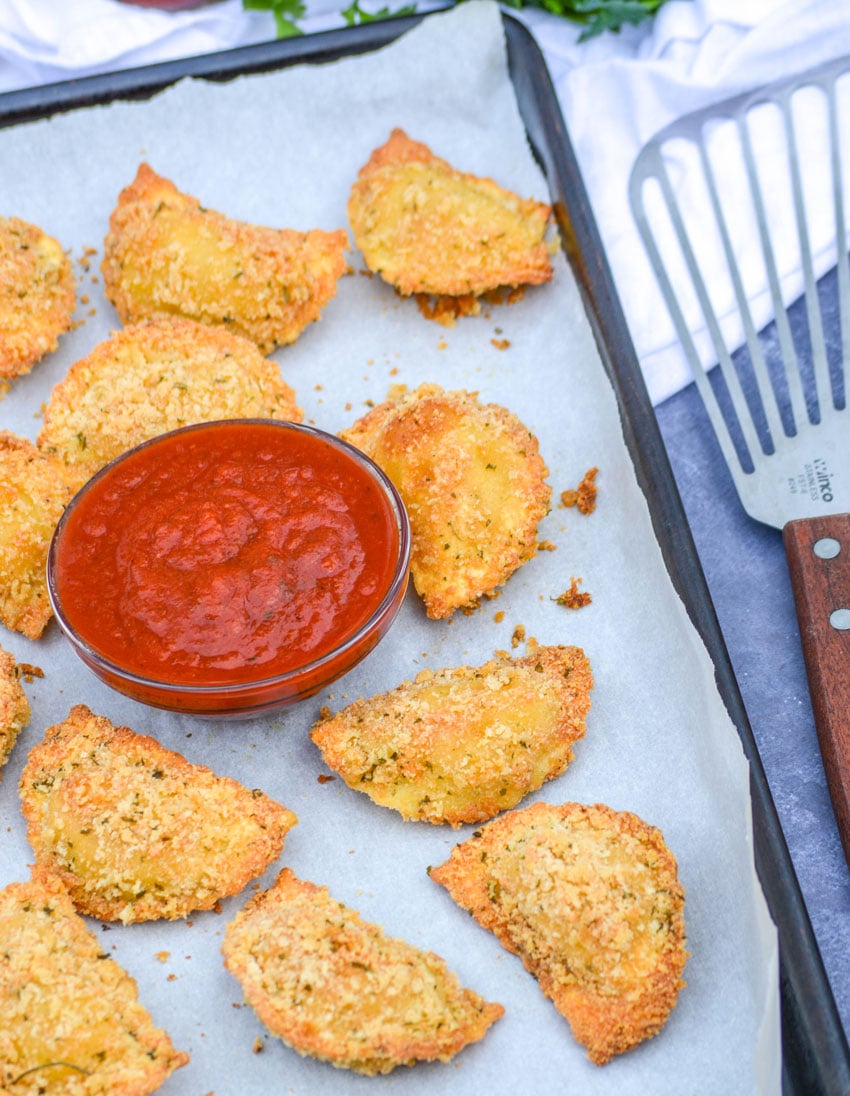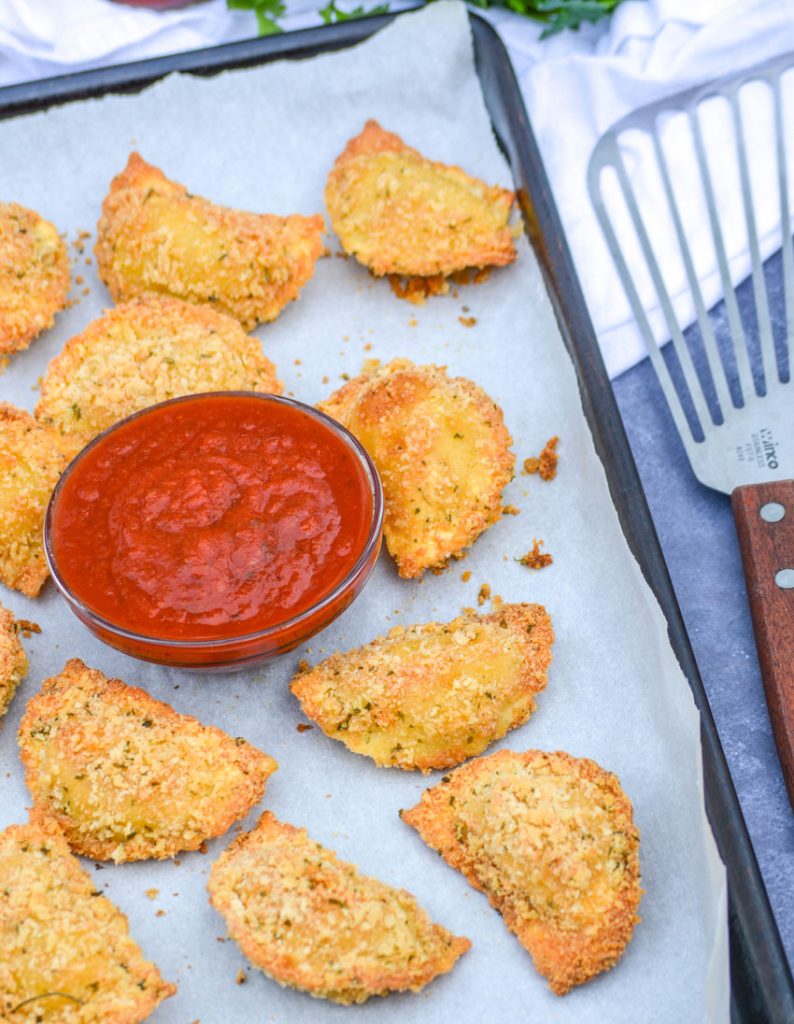 The Hubs so helpfully always suggests that I turn on the kitchen fan.
Trust & believe I do when I'm able.
However, over time I have found that water will never come to a boil, or anything else for that matter, on my gas range with the ceiling fan on. Ultimately not worth it.
So frustrating, and the world's worst kitchen tease.
So snack suppers it is. Not always, but often. Still want to keep it interesting though, and hearty- without any excess mess.
Exactly where these Oven Baked Toasted Ravioli come into play.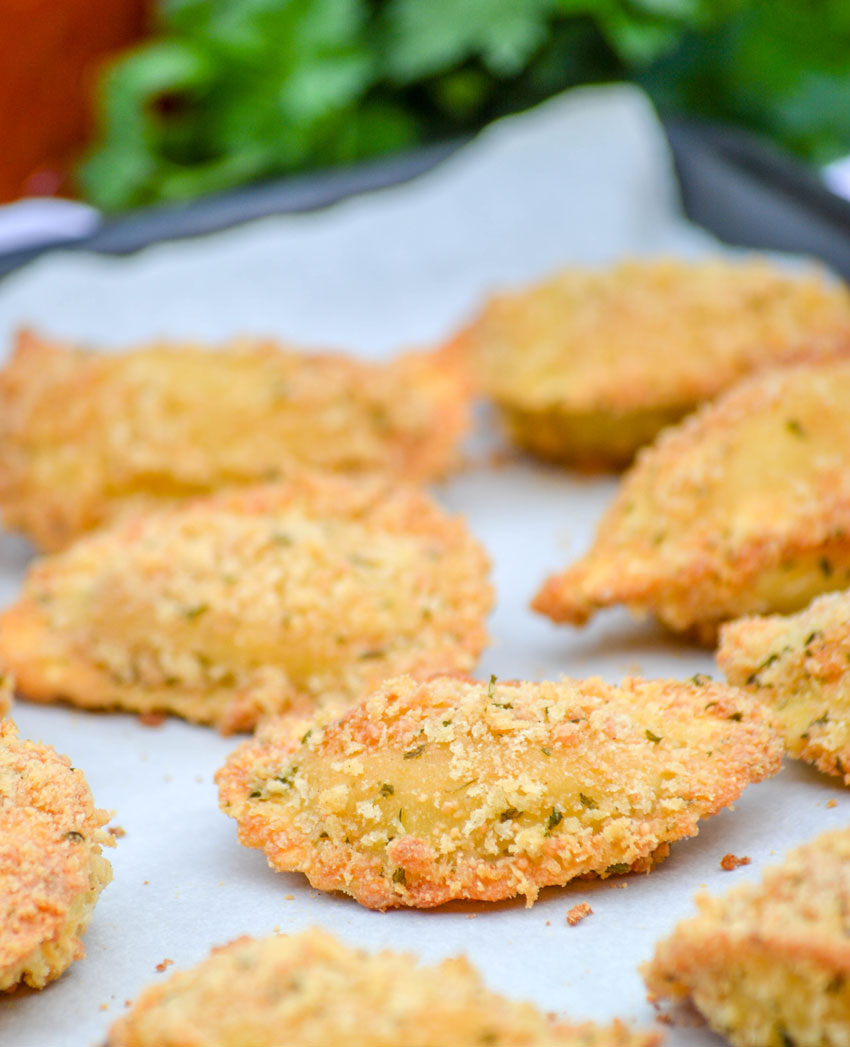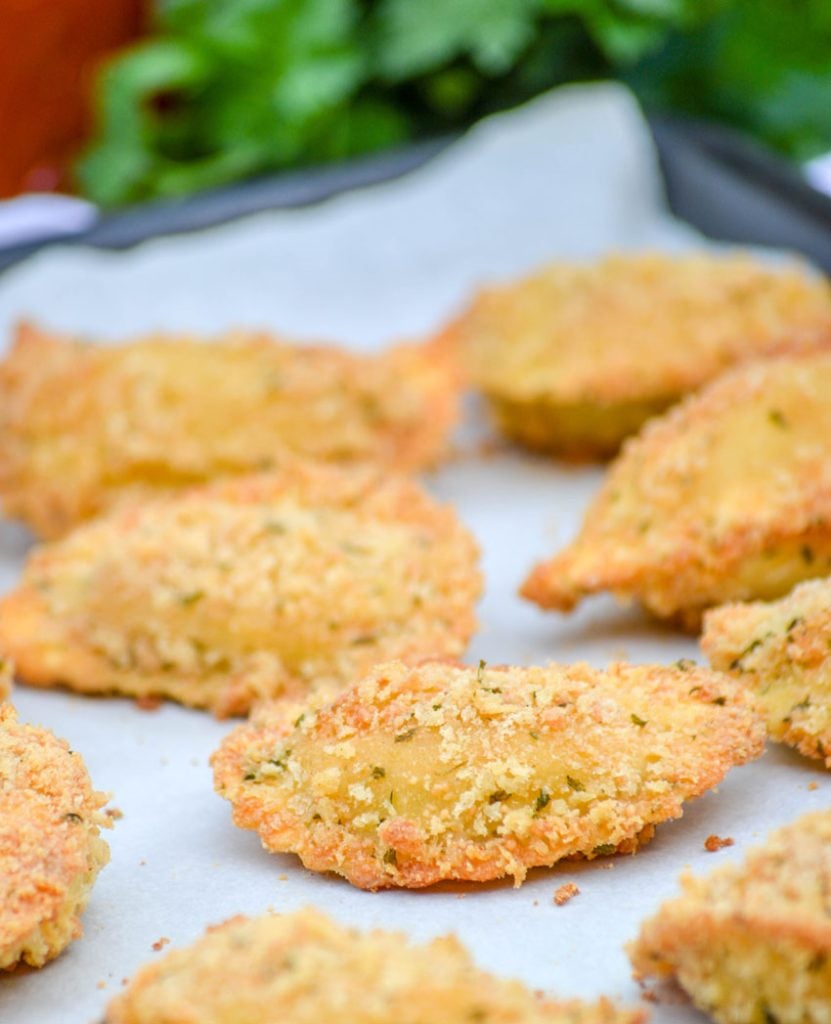 Remember a couple paragraphs back when I was talking about leftovers?
That's exactly how I originally came up with these oven baked toasted ravioli.
Our favorite ravioli always comes from Costco. They switch it up, getting in different varieties with different fillings every few months.
So just when we're ready to re stock the deep freezer, and in need of a break from the current flavor- they've got a new one in stock for us.
One pack is usually a perfect size for a dinner for our family.
But somehow I ended up with a half pack in the fridge that needed using, and sooner rather than later.
I'm gonna blame that one on a hungry teen around lunch time who wasn't thinking beyond what was gonna immediately go in his belly.
We've all had fried ravioli before, and love it.
With the warmer weather though, I wasn't feeling the grease.
Let's be honest too, messing with all that hot oil, frying, draining, etc.- it's a chore.
Since I'm no stranger to loving a good oven baked alternative, like with our green bean fries, or oven baked 'fried' chicken– I figured what tastier way to use up some extra ravioli.
Boy, was I right!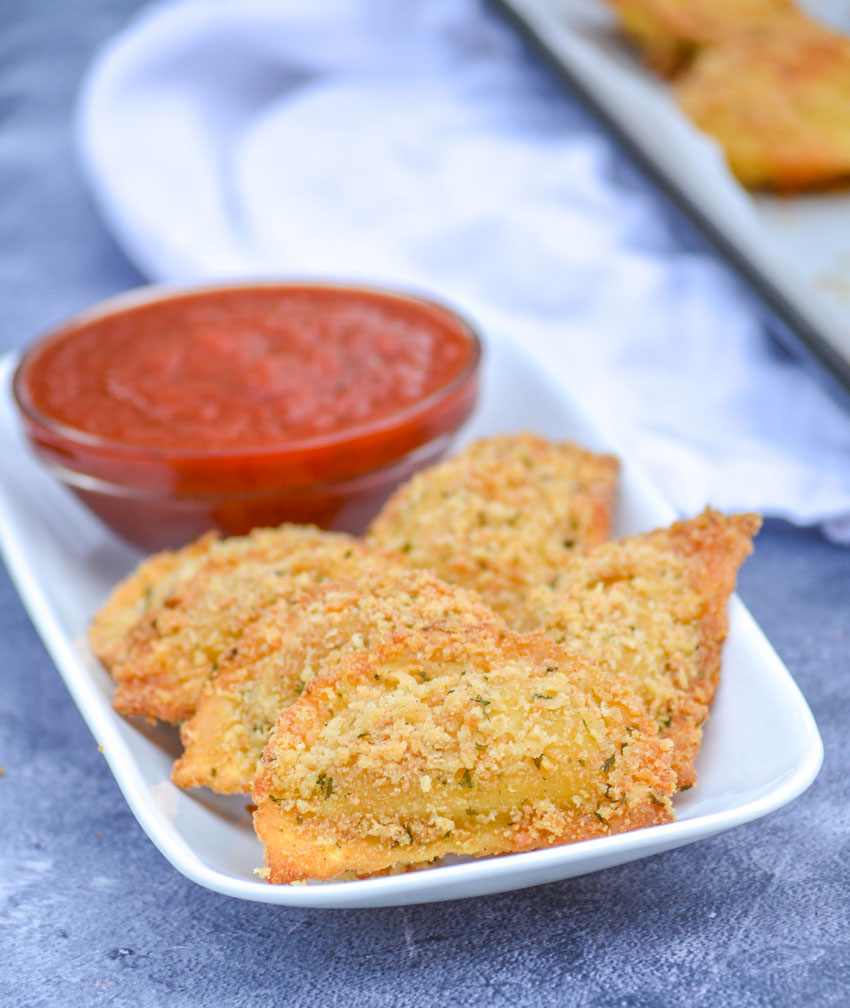 Don't be intimidated either, this recipe is incredibly easy.
Matter of fact, it only calls for four ingredients!
And remember we've left all the scary bits like hot oil and frying times and temps behind.
For this recipe, we use a variety of different raviolis. We love having options.
Pictured is actually a sausage and cheese stuffed version. The Hubs favorite.
The kids also love plain cheese stuffed ravioli, and I find myself liking this with a spinach & cheese variety.
We've also done it with a crab & lobster stuffed version, which was Heaven.
The only thing we do different, is sometimes we swap a marinara dipping sauce for a cream sauce, like alfredo, for dipping.
Whatever fits the filling's bill.
What Do You Need To Make The Toasted Ravioli:
an 18 oz package package of fresh ravioli
salted butter, melted
seasoned panko bread crumbs
shredded Parmesan cheese
That's it, y'all. I told ya, super simple. They're just as easy to throw together, too.
They might even becomes your new go-to last minute party appetizer, or potluck special.
In a small bowl, you're going to want to add both the bread crumbs and the cheese. Toss them quickly to evenly combine.
Have the melted butter waiting in a small bowl. Also, spray a large metal baking pan lightly with non stick cooking spray, and set that off to the side.
If you don't want to use cooking spray, spread some parchment paper over the sheet pan instead.
Dip the ravioli into the butter, and then immediately into the bread crumb mixture.
Flip it to coat both side, and use your hands if needed to press the bread crumbs in more firmly. You want a good coating.
Transfer each one to the prepared baking pan when done, continuing until they're all coated.
The oven baked toasted ravioli are then baked at 375 degrees for 10 – 14 minutes, until they're cooked through & golden brown/crispy on the outside.
We suggest serving them immediately with chilled marinara sauce for dipping, but you've got other options.
Marinara sauce is a good choice, served warm or chilled.
There's also complete alternatives for sauces.
Depending on the filling we've enjoyed these oven baked toasted ravioli with ranch, bleu cheese, and alfredo sauce.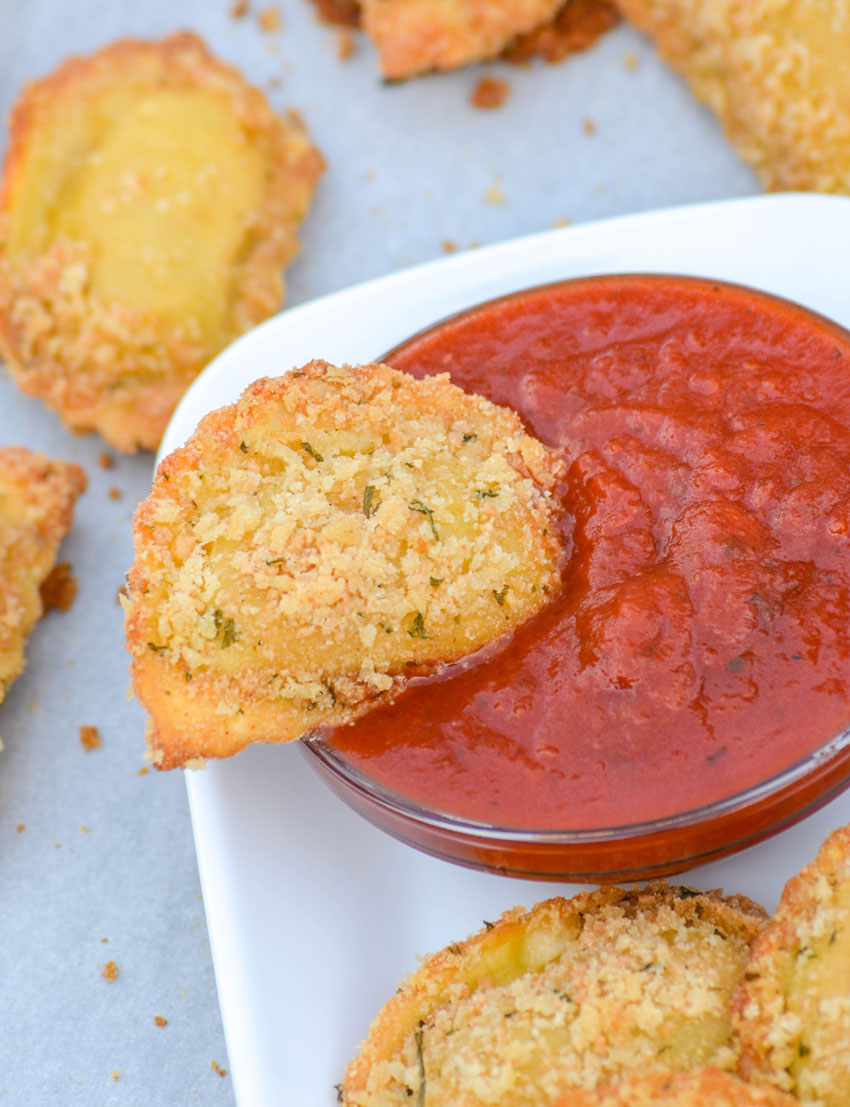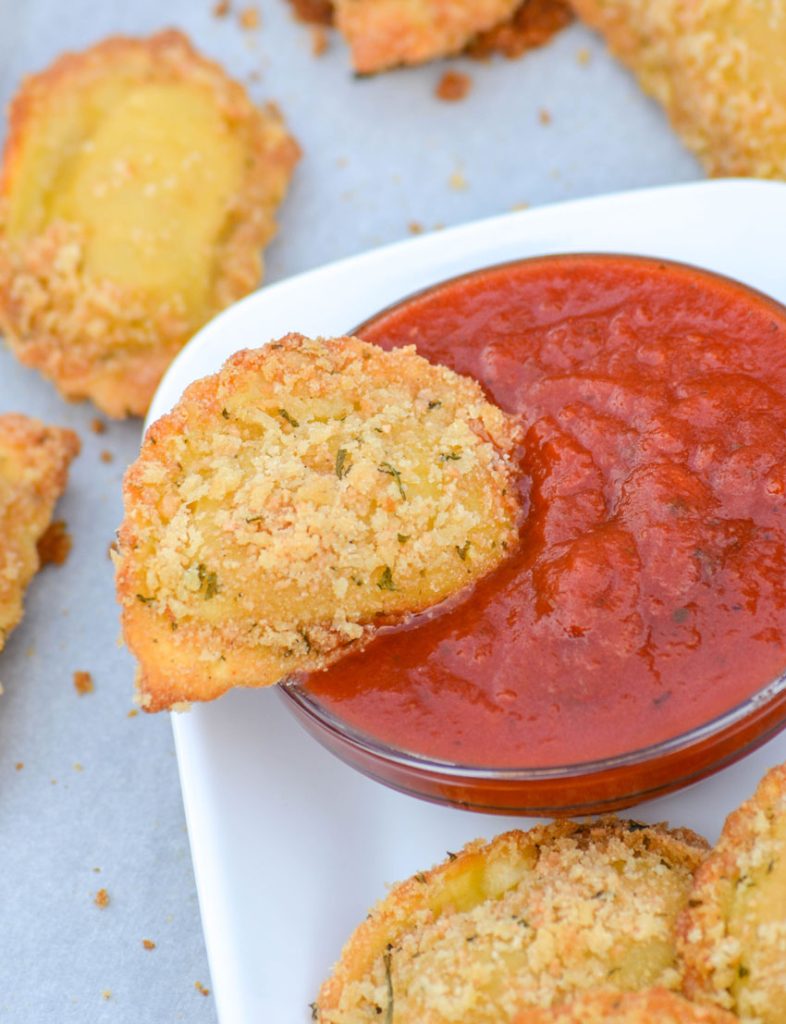 Whatever you think, don't doubt that these simple ravioli bites will rock your world.
They're easy, they taste amazing, and they'll keep you from every wondering what to do with leftover ravioli again.
Plus, there's the added benefit of them being a show stopping crowd pleaser- you know, to top it all off!
One thing's for sure, oven baked toasted ravioli now needs a dedicated page in your go to recipe binder!
Other Easy Summer Appetizers To Enjoy:
If you've tried these Oven Baked Toasted Raviolli, or any other recipe on the site, let me know in the comment section how it turned out, we love hearing from our readers! You can also follow along with me on PINTEREST, FACEBOOK, and INSTAGRAM to see more amazing recipes and whatever else we've got going on.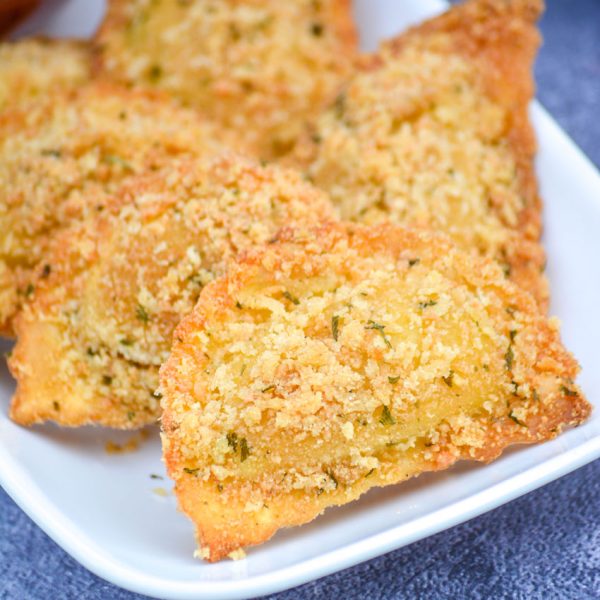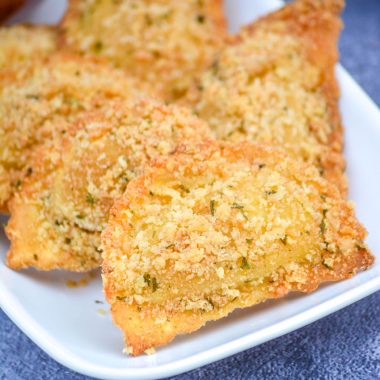 Oven Baked Toasted Ravioli
A healthier spin on toasted ravioli, this one skips the deep frying and the oil. These crispy bites are breaded & then baked to crisp perfection instead.
Print
Pin
Rate
Ingredients
1

18 oz pkg

ravioli

4

tbsp

salted butter, melted

1

cup

seasoned panko bread crumbs

heaping 1/2

cup

grated Parmesan cheese
Instructions
In a small bowl, add the bread crumbs & cheese. Toss them to evenly combine.

Dip the ravioli into the melted butter, then into the bread crumb mixture. Press the bread crumbs in if needed to firmly coat.

Place the prepared ravioli onto a baking sheet that's been lightly sprayed with non stick cooking spray. Repeat until all the ravioli are coated.

Bake them at 375 degrees for 10-14 minutes, or until the ravioli are cooked through, crispy on the outside, and golden brown.

Serve them immediately with chilled marinara sauce for dipping.
Nutrition
Serving:
2
g
|
Calories:
647
kcal
|
Carbohydrates:
43
g
|
Protein:
8
g
|
Fat:
49
g
|
Saturated Fat:
29
g
|
Cholesterol:
122
mg
|
Sodium:
850
mg
|
Potassium:
117
mg
|
Fiber:
2
g
|
Sugar:
3
g
|
Vitamin A:
1420
IU
|
Calcium:
123
mg
|
Iron:
2.9
mg