As a dessert, a good slice of cake is a hit year round. Enjoy a seasonal version with this light, fluffy Peaches & Sweet Cream Poke Cake. Embracing Summer has never tasted so sweet!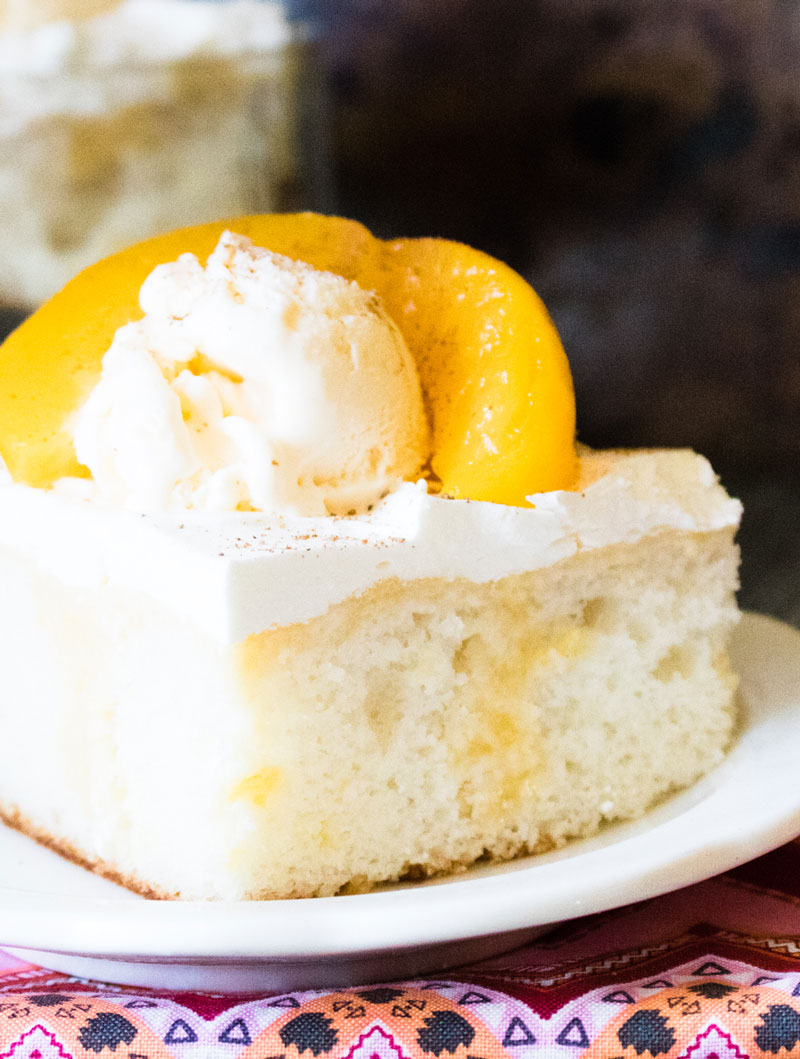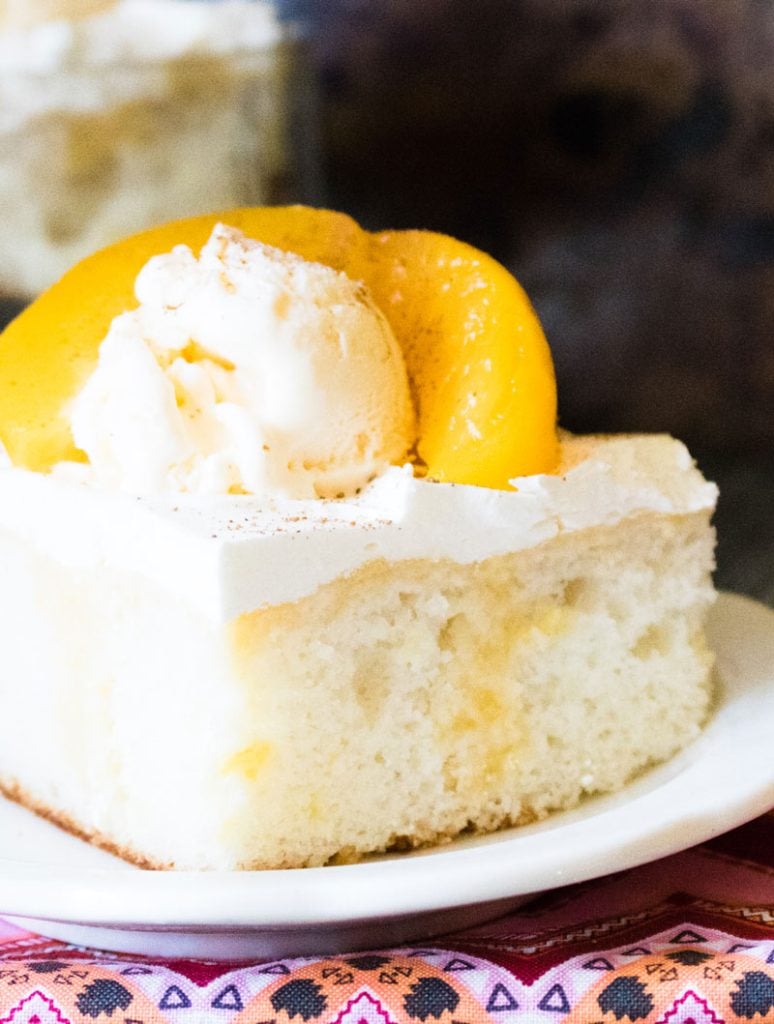 Summer may be on it's way out, but I'm not ready to let go of some of my favorite flavors the season offers.
One of my favorites, actually doesn't come into play until the season's almost at an end. Late July and all of August will find fresh bright fruit hanging from all the trees at any local Virginia orchard.
Just like when it's apple season, we love frequenting our local orchards in peach season. The best ones near us are at the foothills, the base of, the beautiful Blue Ridge Mountains. Even in the sticky heat, without the gorgeous change in foliage that's coming in a few months, the trip is well worth it. It's still beautiful.
And somehow, the miserable heat bearing down on you while peach picking makes the fruit all the sweeter- fresh off the tree, or in whatever recipe it's destined for.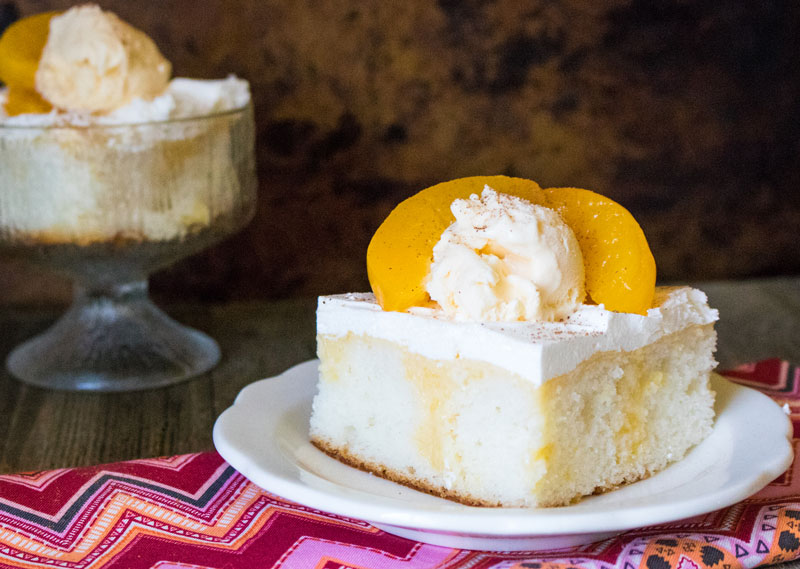 Summer desserts don't get any better, or easier, than with a poke cake. Poke cakes seem to be all the rage right now, and honestly I'm not surprised given how easy they are- and how well they can blend several flavors into a single dessert.
What I do find surprising, is how often my guests are stunned when I tell them poke cakes aren't a new invention or idea. In fact, they've been around for years.
It's a simple case of a new group of home cooks rediscovering a vintage recipe, and loving it all over again. It's kinda awesome when I think about it. It also goes to show, that very rarely are things in the kitchen 'new' inventions, but really a reimagining of older ideas.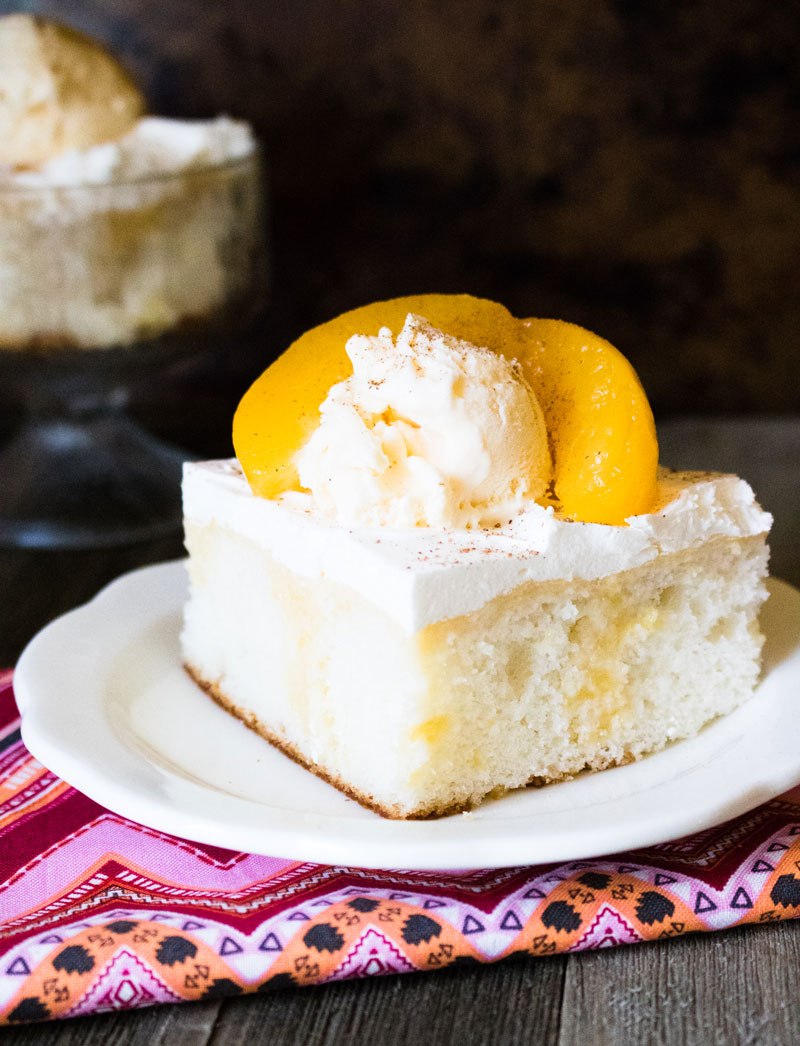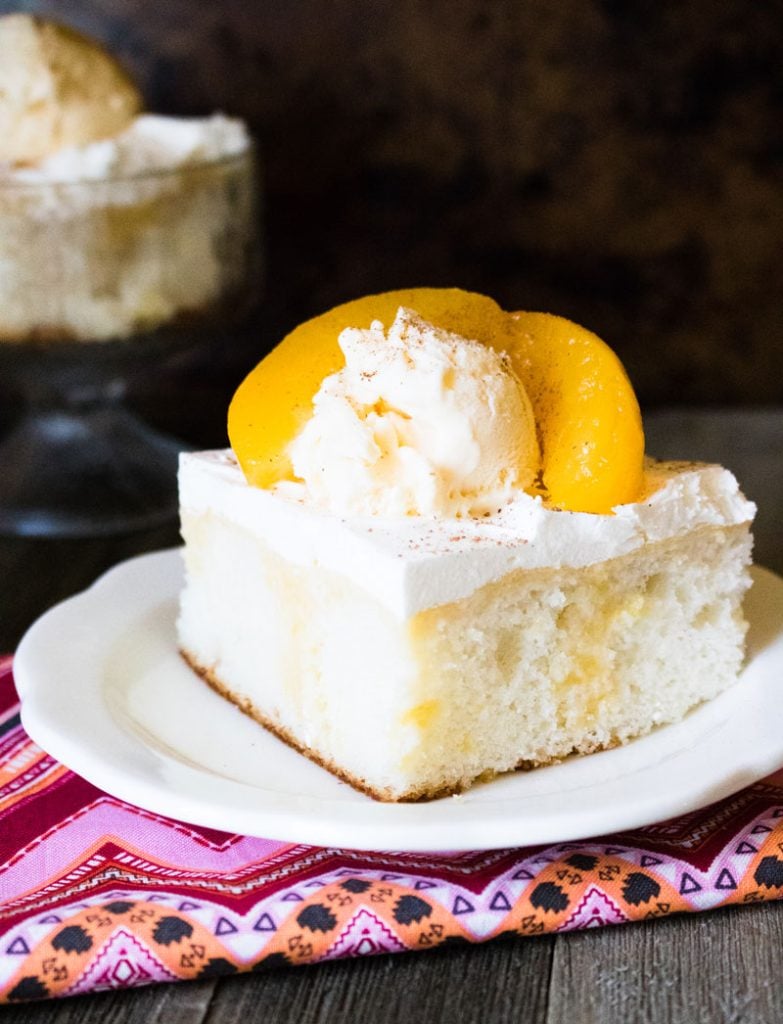 I'm not sure why, but way back when anything containing gelatin was considered a gorgeous creation and all the rage. This was more so during the 50's. When sweet Jello came along, the 70's took the trend and made it their own with the dawn of the poke cake.
The idea was simple enough, make your basic cake mix like normal, then poke large holes into the cake and pour warm Jell-O mix over it. After cooling the cake for several hours, top it with Cool Whip. Not only did it infuse fruit flavor into your cake, but it also made it incredibly moist. Something any cake enthusiast knows is the ultimate goal.
Today's poke cake often leaves the Jell-O behind, although not always, in stead focusing on keeping the method the same. The goal being brightly colored veins that are as visually captivating in each slice, as they are amazing to enjoy when eaten.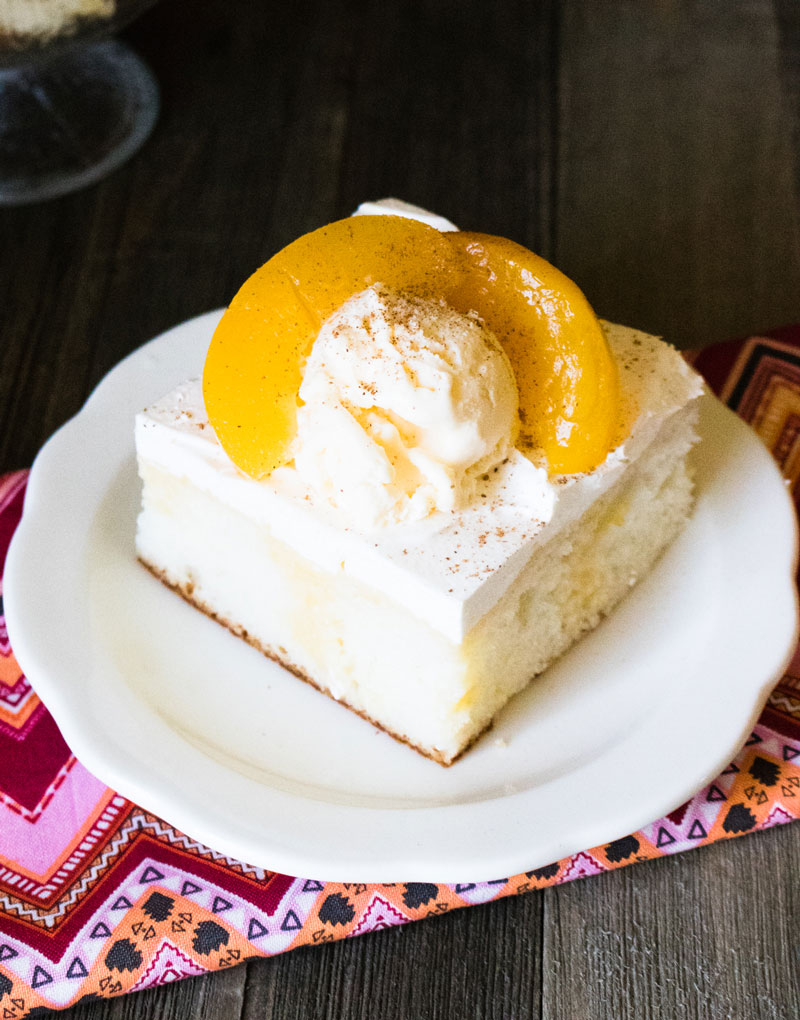 Our version, this Peaches & Sweet Cream Poke Cake, does exactly that- making for a heavenly Southern sweet treat.
Bake your white cake mix according to the directions on the box, and let it cool completely. This step is important. Using a large wooden spoon, poke holes in the cake with the bottom of the handle.
Blend a sweet filling together, by combining peach pie filling with heavy cream. Spread the puree evenly out over the surface of the cake, making sure to get it into each and every hole as much as possible. Spread thawed whipped topping evenly out across the top of the filled cake. The cake's then chilled for four hours before sprinkled with a hint of nutmeg and sliced peaches for a stunning presentation.
Embrace the tastes of the season, dessert just doesn't get any sweeter than a slice of this Peaches & Sweet Cream Poke Cake. Just leave it to the South to put such a sweet spin on an old favorite!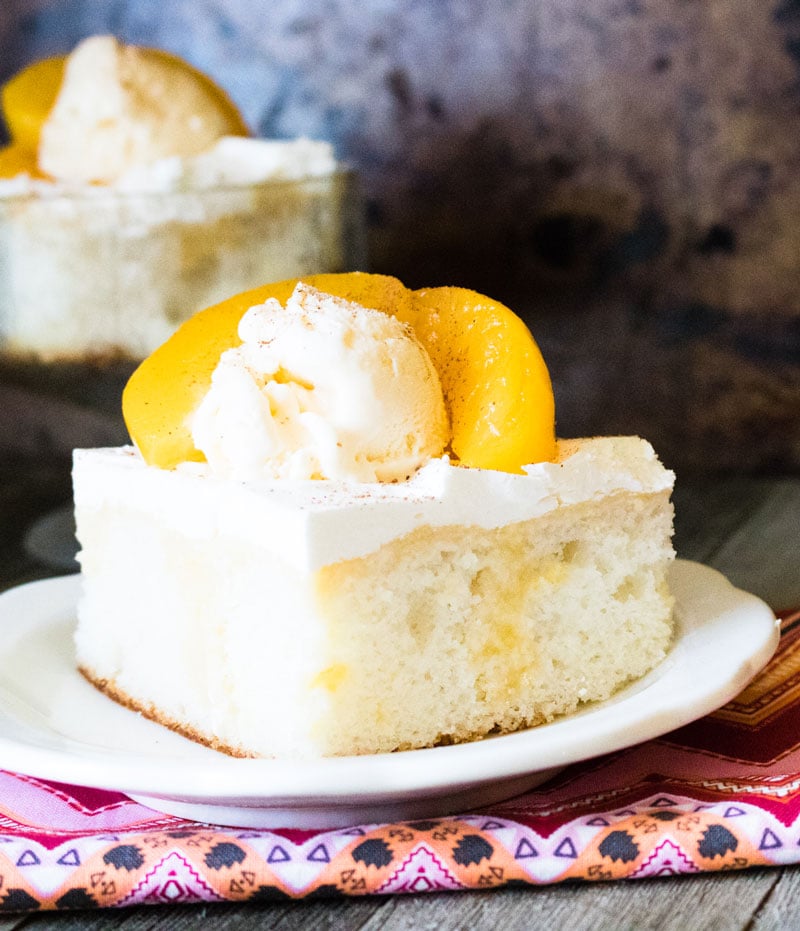 Other Cake Ideas You Might Also Enjoy: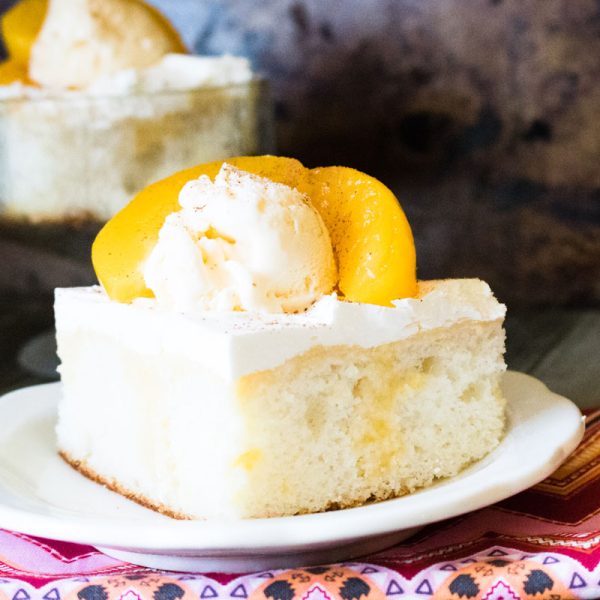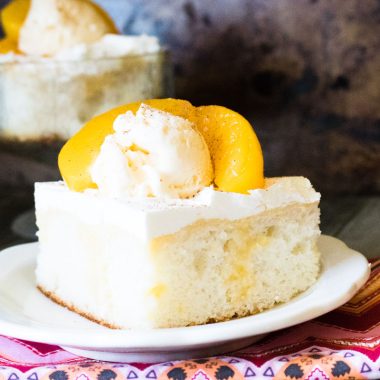 Peaches and Sweet Cream Poke Cake
A poke cake made for warmer weather, this one features the flavors of fresh peaches & sweet cream in every bite.
Print
Pin
Rate
Ingredients
1

pkg

white cake mix, batter prepared according to package instructions

1

21 oz can

peach pie filling

1/3

cup

heavy whipping cream

8

oz

whipped topping, thawed

sliced peaches, for garnish

nut meg, for garnish
Instructions
Bake the cake in a greased 9x13 pan, according to package directions, until done. Allow the cake to cool completely.

Using the end of a wooden spoon, poke deep holes evenly all over the cake.

Add the peach pie filling and cream to a blender, blending until evenly combined. Pour the mixture evenly out over the cake, making sure to get it in the holes. Spread using the back of a spoon, if necessary, to make sure it gets into the holes.

Spread the whipped topping evenly out over the top of the cake. Sprinkle with nutmeg, and chill for 4 hours.

Slice and serve, as is- or top with a scoop of vanilla ice cream & fresh (or canned) peach slices for a prettier presentation.