Looking for a new way to impress guests with a delicious side dish? Look no further than Grandma's Southern Creamed Corn Pudding. Surprisingly simple & using pantry staples, it pairs perfectly with just about any meat- especially around the Holidays.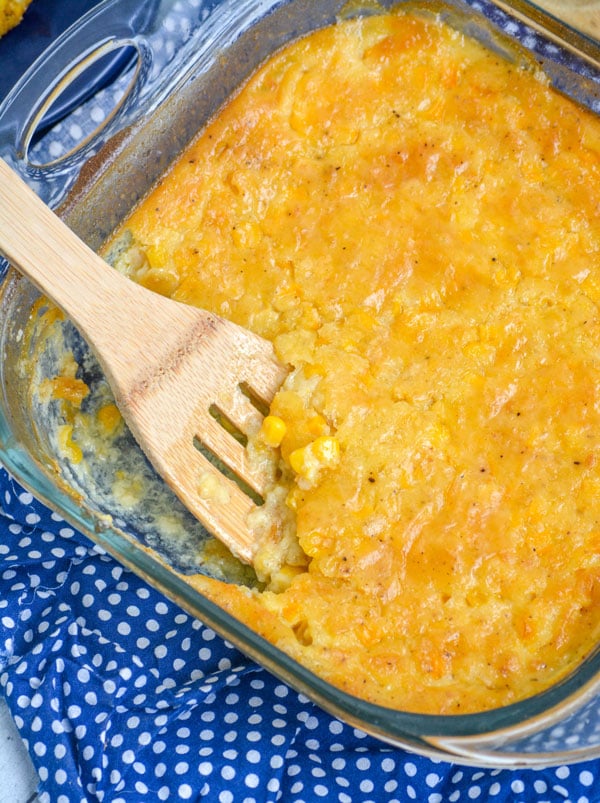 My Grandmother was a prolific cook. Sometimes she had a recipe. Sometimes she didn't. She was great like that, at winging' it. Me? Not so much. I at least need a baseline to branch off from.
It's been nine years ago this past month that we lost her. I miss her every single day. A part of me though, takes comfort in feeling like the journey I've been on with this blog is a part of her legacy too.
Sometimes, standing over a pot in my kitchen, I feel her presence. Like a gentle hand on my shoulder.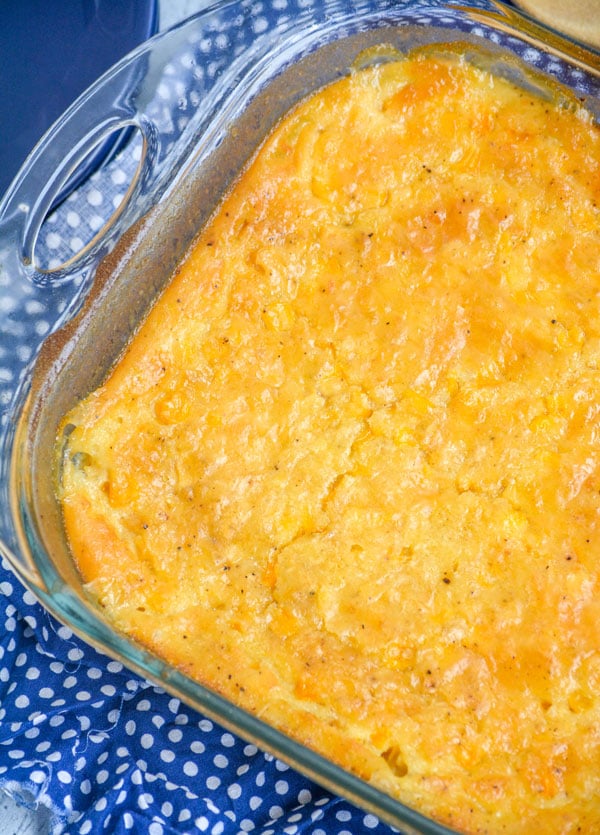 That's never far from my mind. With the Holidays coming up, it's really brought her memory up even more. All the delicious smells that were always coming from her kitchen.
The surprises always waiting in her oven. And, of course, the favorite dishes we knew she'd put out on the dinner table just for us, especially on special occasions.
With all of that in mind, I decided that this year I needed to open up her recipe box and unearth a couple more of her tried and true recipes.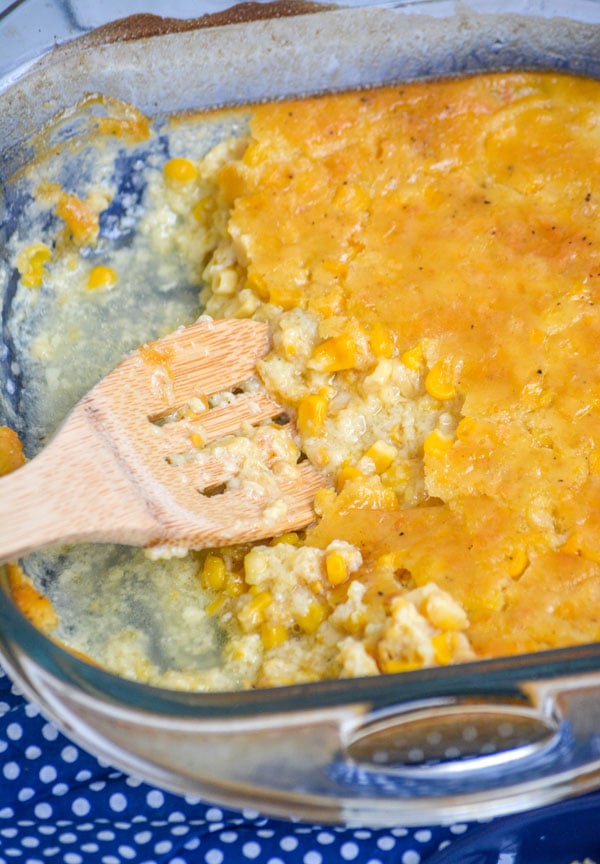 While she may have been modest about her abilities, I'm not. She was a wonder in the kitchen.
I've shared other gems from her, like Grandma's Cheesy Broccoli Souffle Casserole and Grandma's Canned Green Beans, and even her American Goulash, and quick & easy Cheeseburger Pie.
This week though, I opted to bring something extra special out of the sacred box, and share it with y'all- Grandma's Southern Creamed Corn Pudding.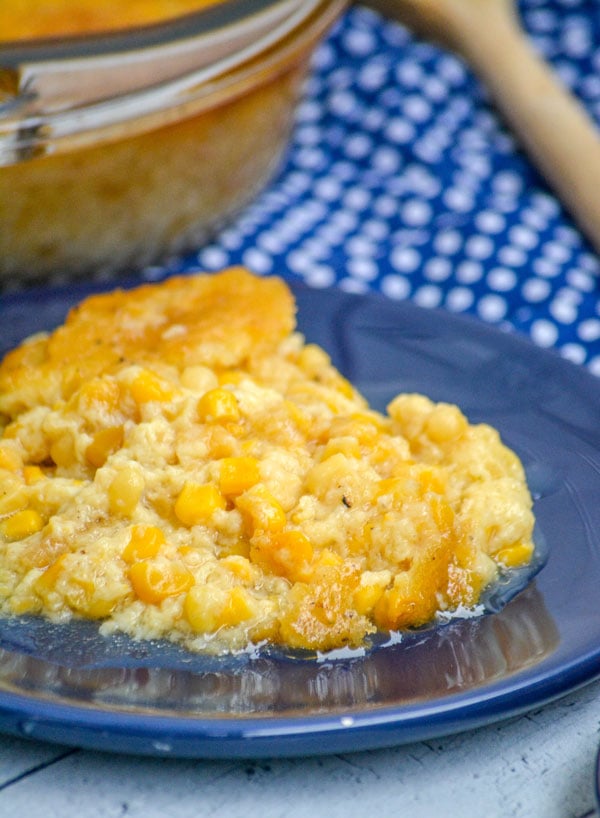 Remember when I said Grandma was a genius in the kitchen, even without a recipe? This version is not the one she made from memory, but it is a spot on copy cat. Every single bite, brings back delicious food-centric memories.
While I refer to this classic side dish as a 'pudding', technically Grandma's Southern Creamed Corn Pudding is a custard. Creamy corn custard. Mmm, mmm, mmm.
Don't let that scare ya away though, it's surprisingly simple to make. You start by melting the butter in a large skillet, then remove it from heat and let the butter cool. Flour's then whisked in briskly to form a thick base, the beginning of a roux.
Next, you add in the sugar, eggs, and half & half- whisking again until the mixture's smooth and everything's evenly incorporated. You do not have to use half and half either, you can swap whole milk or even heavy cream.
However, you do need to make sure that you're using something full of fat otherwise your dish won't 'set' properly, and nobody wants soupy or cracked and broken corn pudding.
Stir in both cans of corn, once again until evenly incorporated. Season the corn mixture with salt & pepper, to taste.
I almost always opt for using salted butter, so I typically only need to add a pinch of extra salt to my dishes. Freshly cracked black pepper is my recommendation too, since it will really make the flavor 'pop', even with something so simple as that.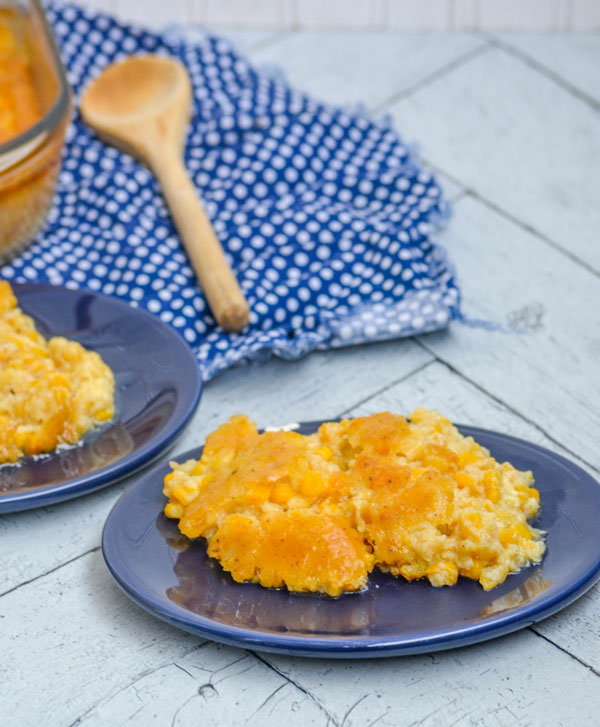 Transfer the mixture to an 8×8 inch glass baking dish. Use the back of a spoon, or a spatula, to smooth the mixture out evenly into the dish.
Bake the corn pudding at 350 degrees for an hour and fifteen minutes, or until a toothpick inserted in the center comes out clean, and the top is a light golden brown crust.
If it's not browned enough to your liking, you can place the dish under a broiler, but watch it carefully so that it doesn't burn.
Also, if prepping this dish for a holiday dinner. You can bake, cool, cover, and refrigerate until about 15 minutes before supper time. Cook the dish at 300 for 10 -15 minutes, just until heated through. Then serve as normal.
A couple cans of corn, some pantry staples, a bit of patience, and a dash of love are all you need to whip up a batch of Grandma's Southern Creamed Corn Pudding.
Other Side Dish Recipes You Might Also Enjoy:
If you've tried GRANDMA'S SOUTHERN CREAMED CORN PUDDING, or any other recipe on my site, let me know in the comment section how it turned out, we love hearing from our readers! You can also follow along with me on PINTEREST, FACEBOOK, and INSTAGRAM to see more amazing recipes and whatever else we've got going on!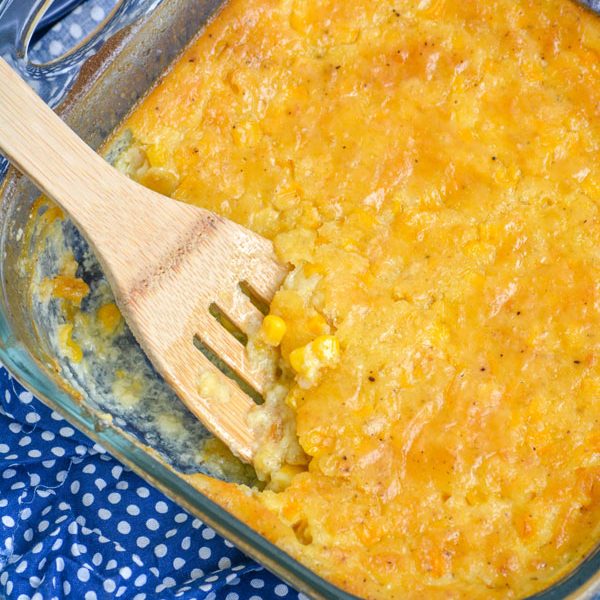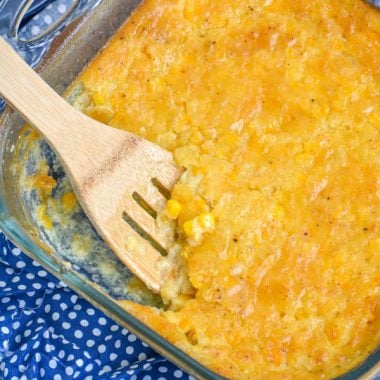 Grandma's Southern Creamed Corn Pudding
A creamy Southern-style corn casserole, this dish is straight from Grandma's kitchen and ready to grace any table with it's delicious presence.
Print
Pin
Rate
Ingredients
1/2

cup

butter

1/4

cup

flour

1/4

cup

granulated sugar

2

eggs

beaten

1

cup

half and half

1

can

whole kernel corn, drained

1

can

cream-style sweet corn

salt & pepper, to taste
Instructions
In a large skillet, melt the butter over medium low heat. Remove the skillet from heat. When the butter's cooled, whisk in the flour until smooth and evenly incorporated.

Whisk in the sugar, eggs, and milk- again until evenly incorporated.

Stir in both kinds of corn, until evenly combined. Season with salt & pepper, to taste.

Transfer the mixture to an 8x8" baking dish, and use the back of the spoon to smooth out evenly.

Bake at 350 degrees for an hour and fifteen minutes, or until a toothpick inserted into the center of the casserole comes out clean, and the casserole is lightly browned on top.

Remove the dish from the oven, and let it rest for 5 minutes. Serve while still warm. Enjoy!
Nutrition
Calories:
334
kcal
|
Carbohydrates:
26
g
|
Protein:
11
g
|
Fat:
22
g
|
Saturated Fat:
11
g
|
Cholesterol:
268
mg
|
Sodium:
426
mg
|
Potassium:
242
mg
|
Fiber:
1
g
|
Sugar:
8
g
|
Vitamin A:
834
IU
|
Vitamin C:
4
mg
|
Calcium:
71
mg
|
Iron:
2
mg