Fudge is a timeless dessert, and a family favorite to make for so many different events. We've given Grandma's classic fudge recipe a flavorful makeover by combining it with all the goodness of key lime pie. A buttery graham cracker crust and a silky key lime flavored white chocolate layer- this simple key lime pie fudge brings all the flavors of the classic pie to the table, but in neat bite-sized pieces. It's perfect for parties, or just a simple dessert whenever the mood strikes.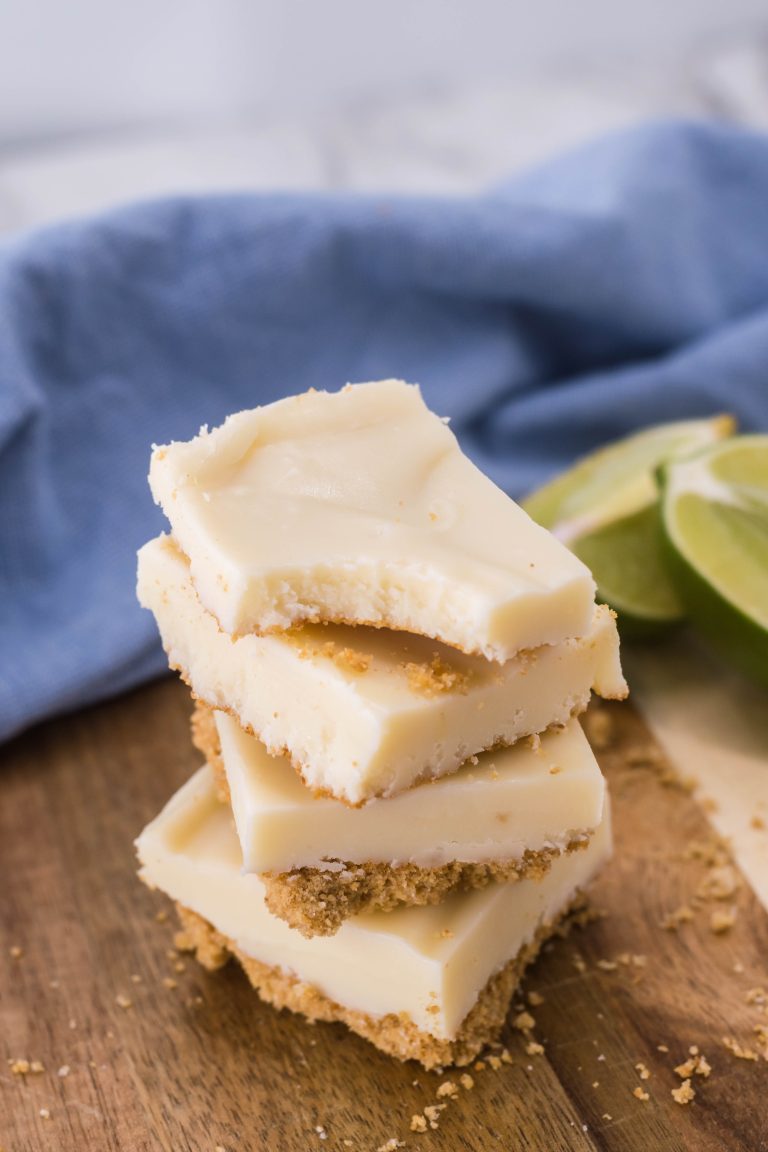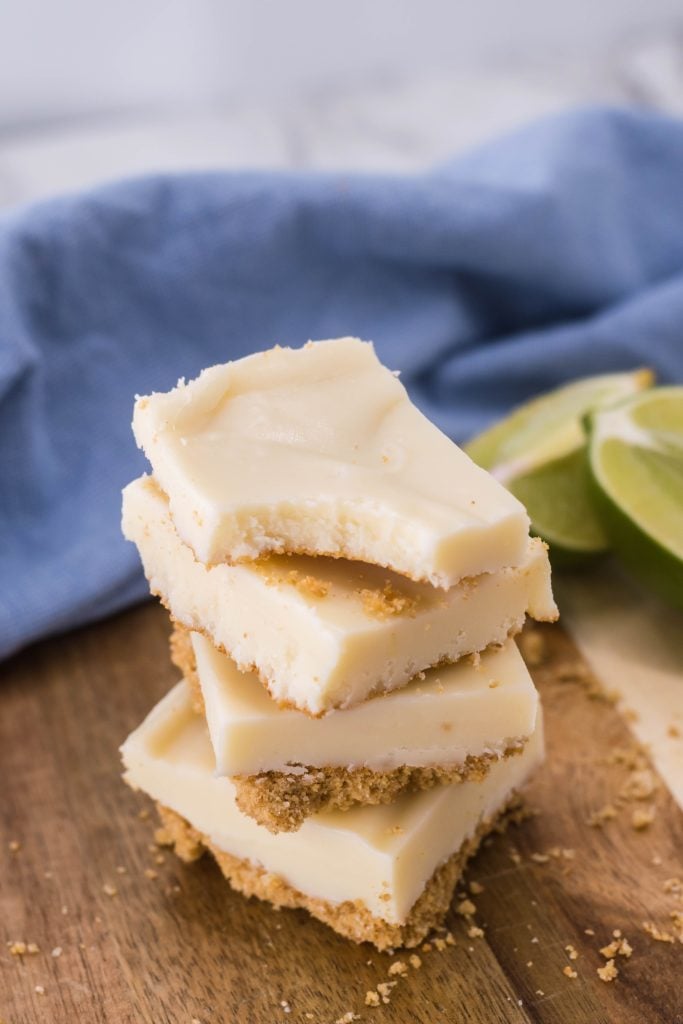 I needed something quick to take to a friends' holiday dinner party, but couldn't decide between my usual list of go-to favorites.
Everything just seemed boring, or over-used.
Imagine you're trying to get ready for a night out and staring down the gauntlet that is your own closet.
Nothing grabs you, nothing fits the venue just right, etc.
Giving up on finding inspiration within my own pantry, I decided to sort through my Mom's recipe box.
And settled on tweaking some Key Lime Pie Fudge bites that she'd saved.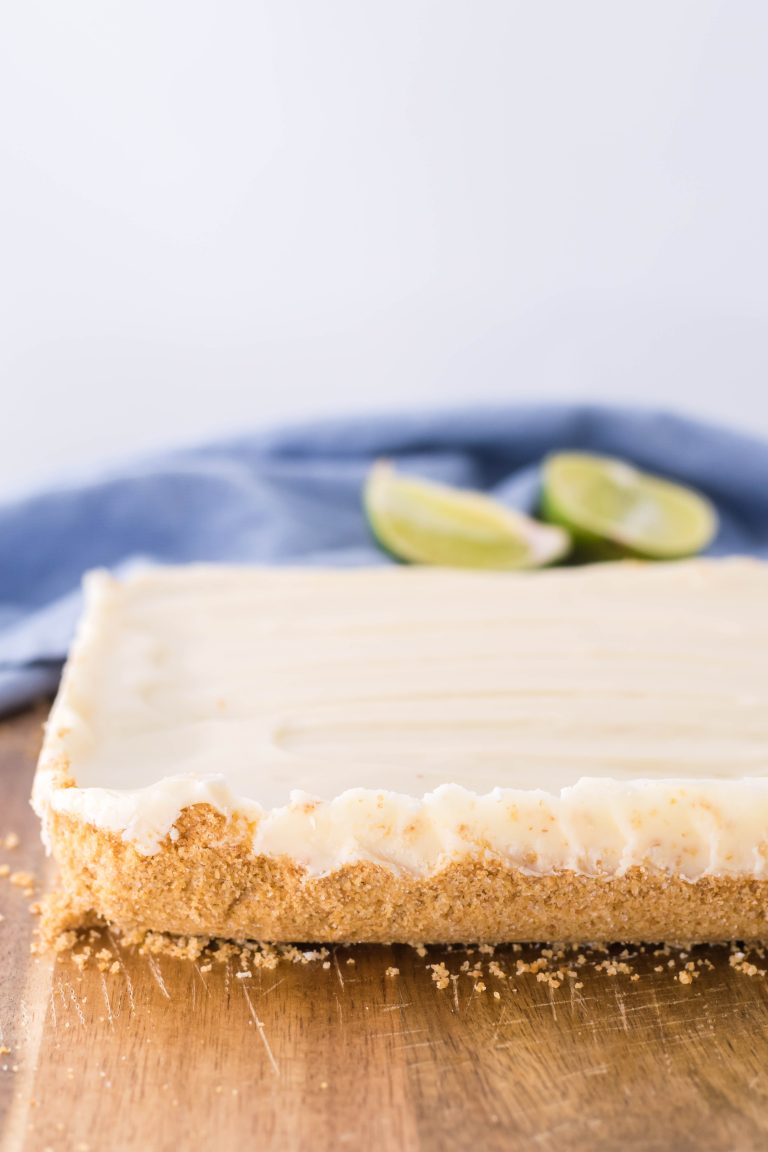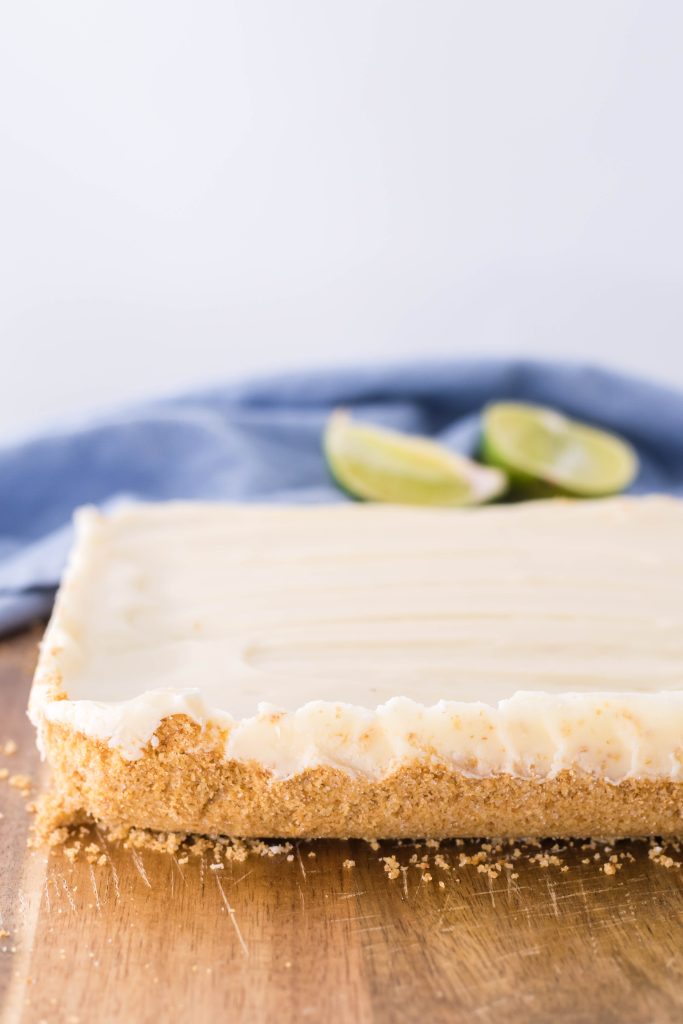 What Is A Key Lime?
First though, I had a few questions.
I mean what's a key lime anyway?
Obviously it's got it's name from the Florida Keys, and that's because lime groves grew in abundance there.
The variety of lime, outside of the U/S, is actually more commonly referred to as Mexican Limes or West Indian Limes.
Unfortunately, a hurricane in the early 20th century ripped through Florida destroying the groves.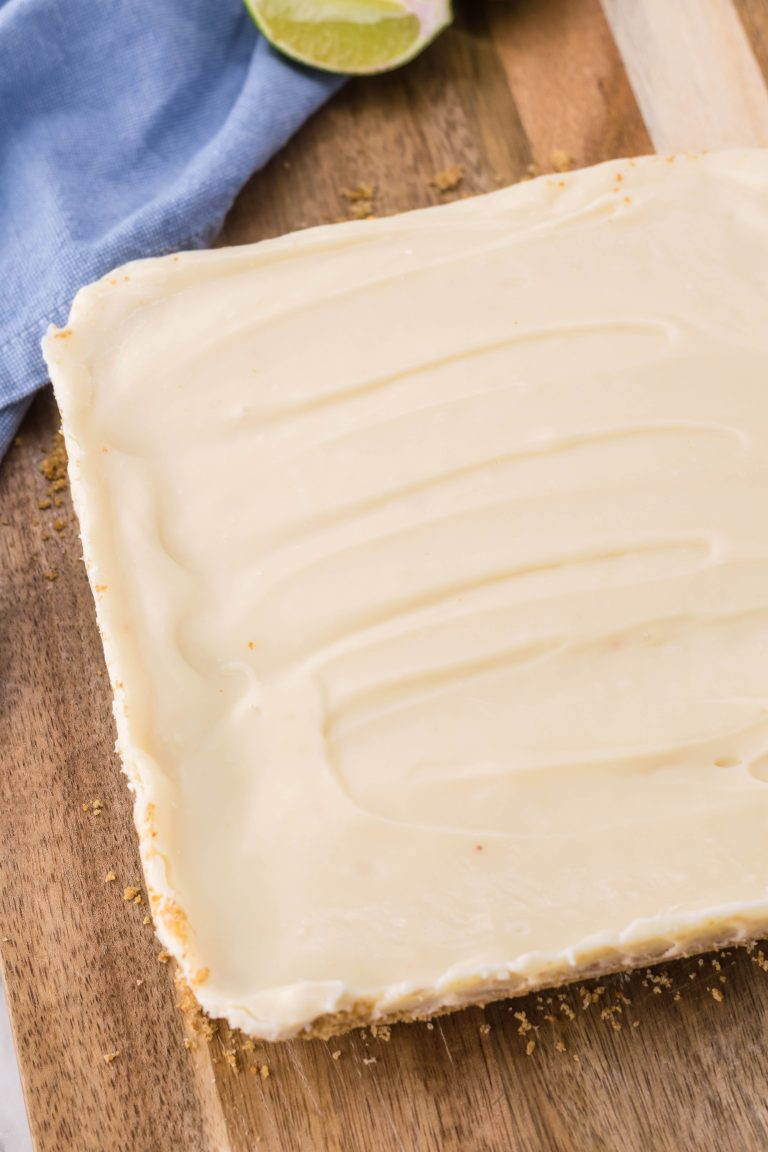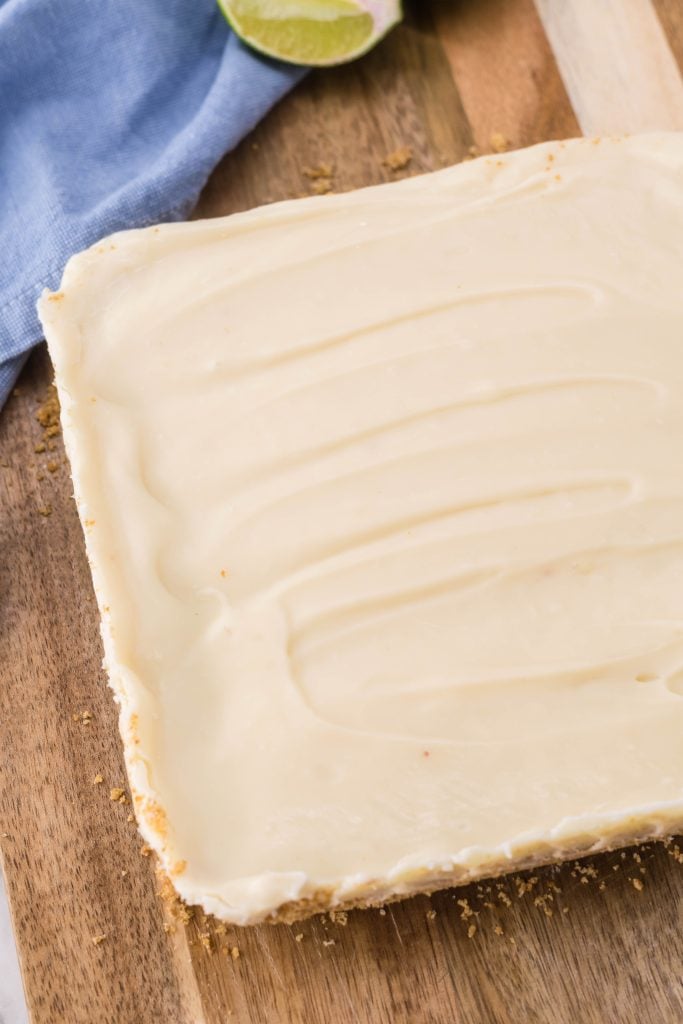 They don't store well, and are best used within several days of harvesting making it hard to ship them since they're growing season here is only from June through September.
So a different variety of lime was eventually chosen and planted in their place.
This, the Persian lime, heartier variety of lime became the staple crop, and what grocer's had to offer.
It's still the abundant lime line found in store today, unless you're traveling to sub tropical zones like South America.
Can I Just Use Regular Lime Instead?
The limes grown now in the U.S. are known as Persian limes.
They may be (as previously stated) a more reliable variety, but that comes with perks and shortcomings.
Key limes are loved among bakers because they're more aromatic, and tart than other limes.
This makes their juice ideal for using in sweet desserts.
You can use 'regular' limes instead, but the taste won't be nearly as acute.
It will be on the blander side, which may not be what you want especially if you're making a 'key lime' themed dessert.
It will still have the flavor of lime, but it will not be as strong as is intended for a key lime flavored dessert.
So all that to say, yeah you can sub a regular lime BUT I still recommend using key limes if you have them available.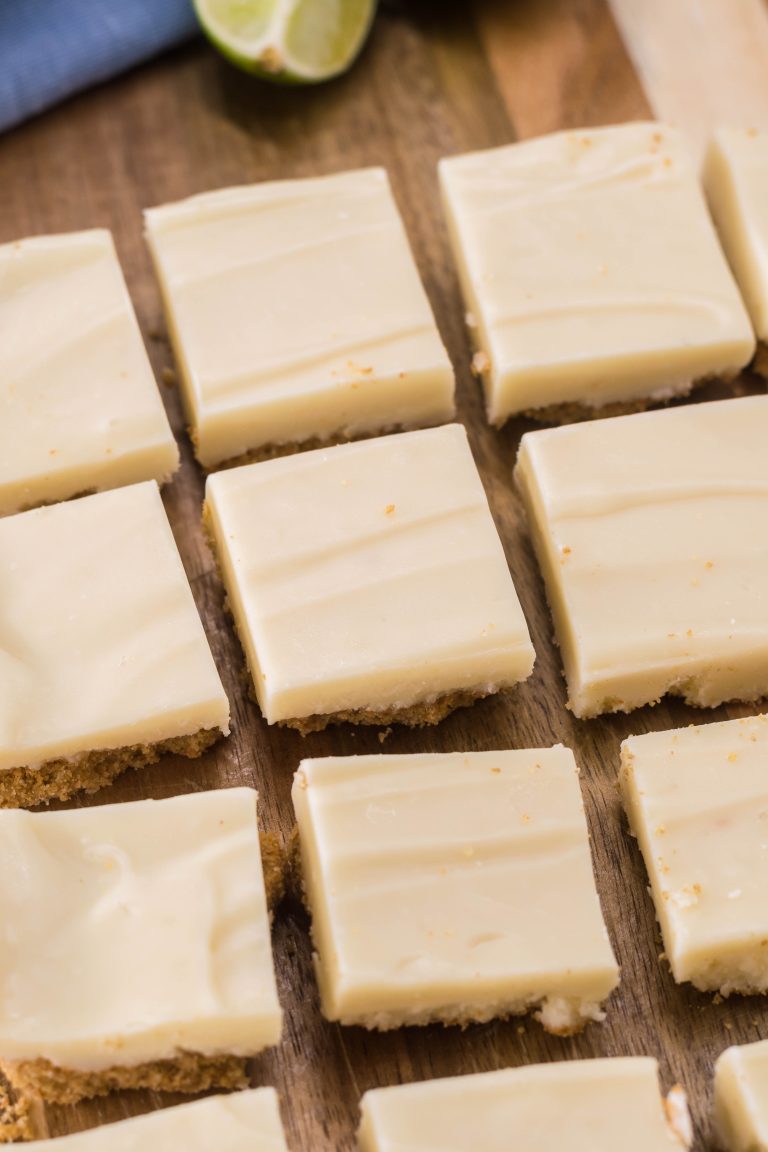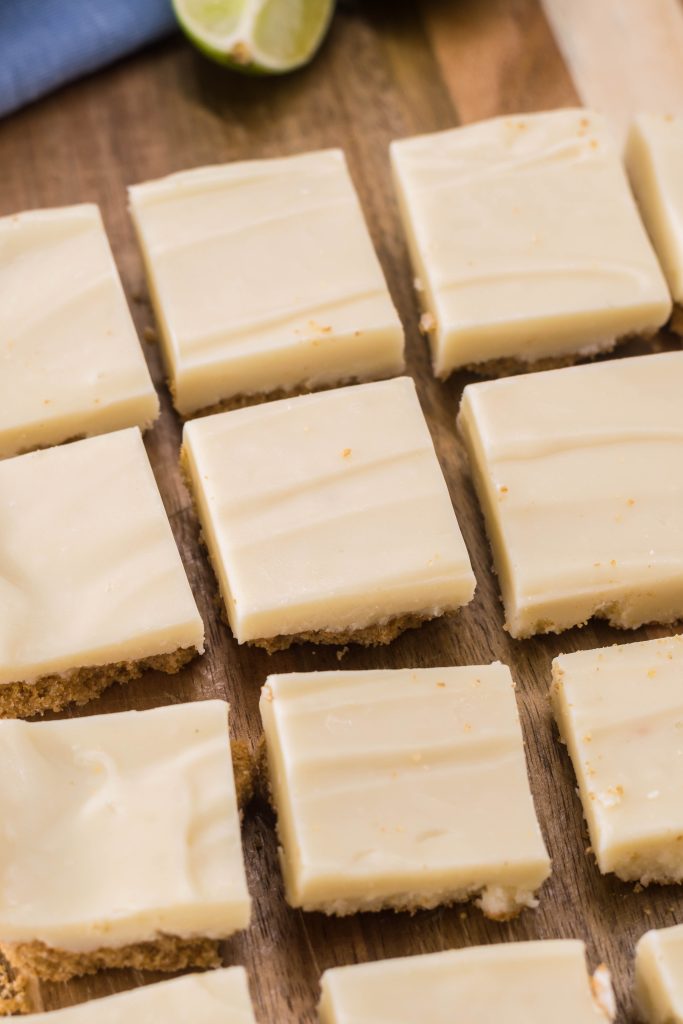 Ingredients Needed
You may think homemade fudge has a long list of complicated ingredients, but that couldn't be father from the truth.
At least that's not the case for this key lime pie fudge.
butter
sugar
graham cracker crumbs
white chocolate chips
salt
lime zest
lime juice
That's it. Common ingredients, that all add an element to giving this fudge that authentic Island flavor we all know and love from the Florida Keys!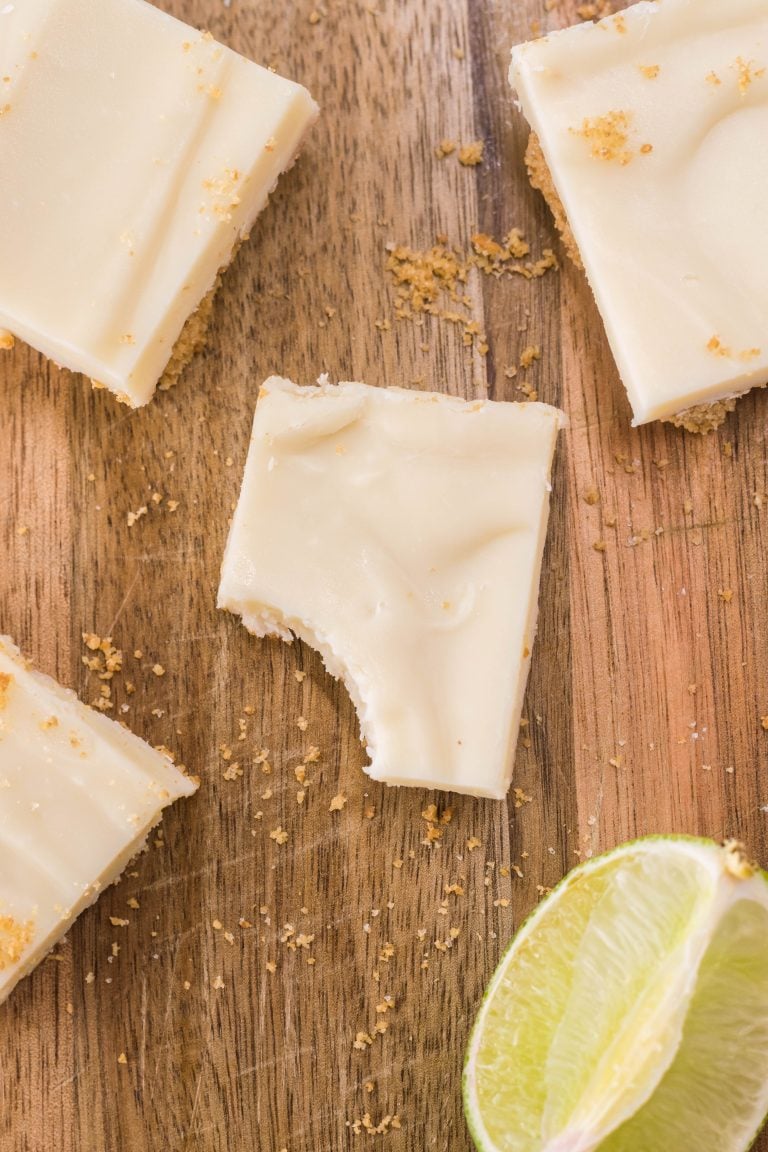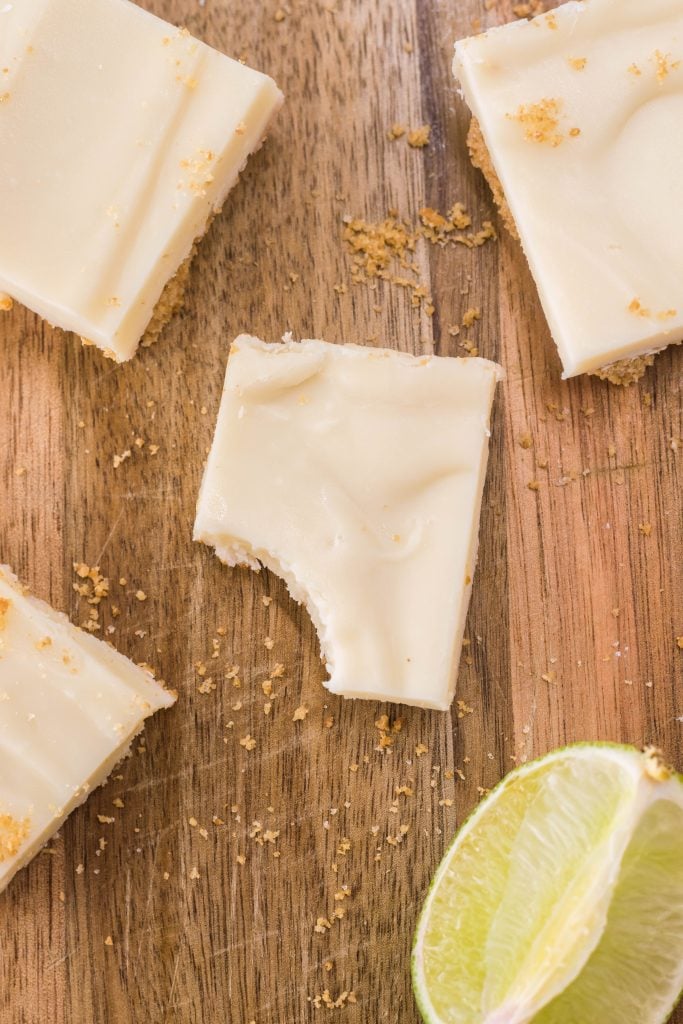 How To Make
This key lime pie fudge has two distinct parts, the crust and the fudge filling.
To make it easier, we will break the instructions down by these parts.
Making The Graham Cracker Crust
Start by prepping your baking dish, either an 8×8 or 9×9 square glass pyrex style dish works best.
Line the dish with an oversized sheet of aluminum foil or parchment paper.
Enough so that the liner not only covers the inside of the dish, but has enough excess to come up and over the edges.
This will help us pop the fudge out when it's set, making it picture perfect.
If using aluminum foil, lightly spray it with non stick cooking spray to coat.
In a large mixing bowl, combine the melted butter, sugar, and graham cracker crumbs. Stir them together until evenly mixed.
Pour the crumbs into the lined baking dish and spread them out as evenly as possible. Doesn't have to perfect!
Now using a sturdy spoon, gently press them down into the pan to form a solid layer.
Just like if you were making a graham cracker pie crust.
Bake the crust at 375 degrees for 7-10 minutes, or until the crusts edges have crisped and are a light golden brown.
Remove the dish from the oven, and set it aside to cool.
While your crust cools, start making your fudge filling.
Making The Fudge Filling
While the graham cracker crust is cooling, it's time to get the fudge ready.
To begin, melt the white chocolate, salt, and condensed milk over medium heat.
Whisk them together as they melt until the mixture's smooth & everything's evenly combined.
Watch the heat and don't let the chocolate sit on the bottom so it doesn't scald.
As soon as the mixture's smooth, whisk in the lime juice & zest.
You can use store bought key lime juice, but the zest will have to be fresh.
So for me, I might as well get a bag of key limes and go from there.
Because they're smaller, it can take more elbow grease to get a significant amount of juice expressed.
Only two teaspoons of juice and two of fresh zest are needed in this recipe though, so it's easy.
Pour the melted chocolate mixture on top of the graham cracker crust.
Use a spatula to scrape it out of the pot as needed, and then to smooth it out evenly out into the pan.
Put the whole dish in the refrigerator so that the key lime pie fudge sets.
This will take a minimum of two hours, but it's fine to refrigerate overnight too.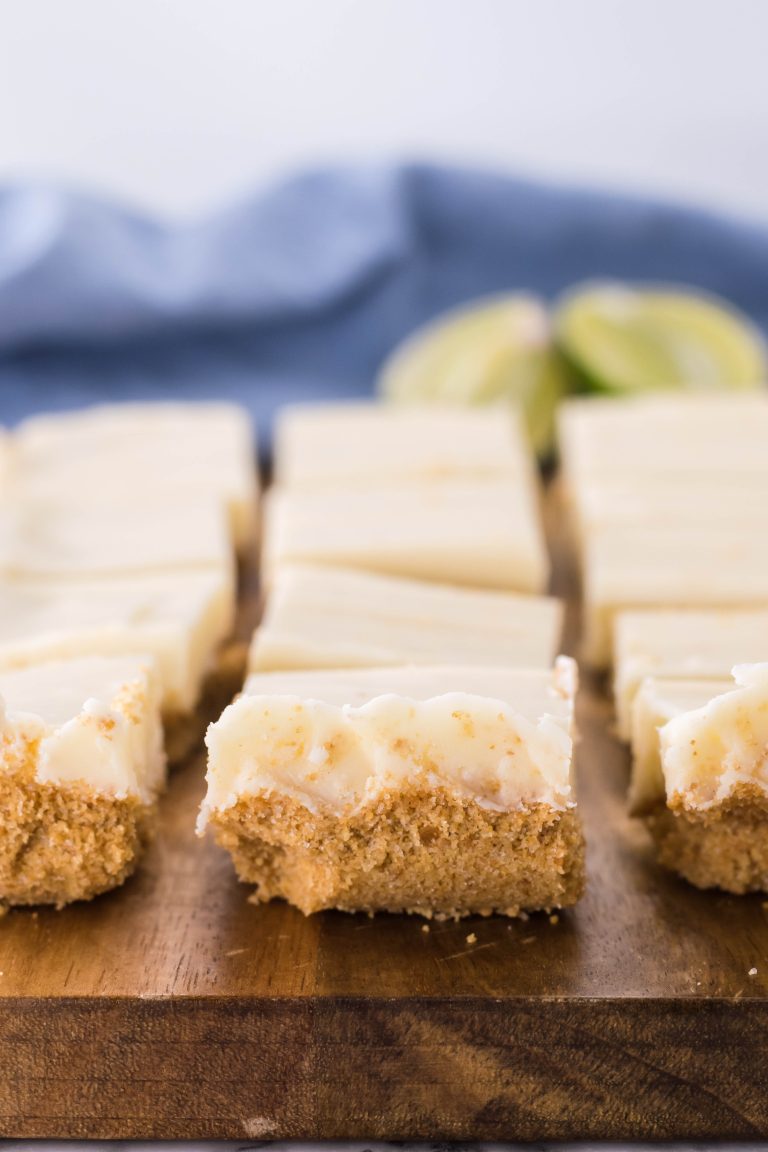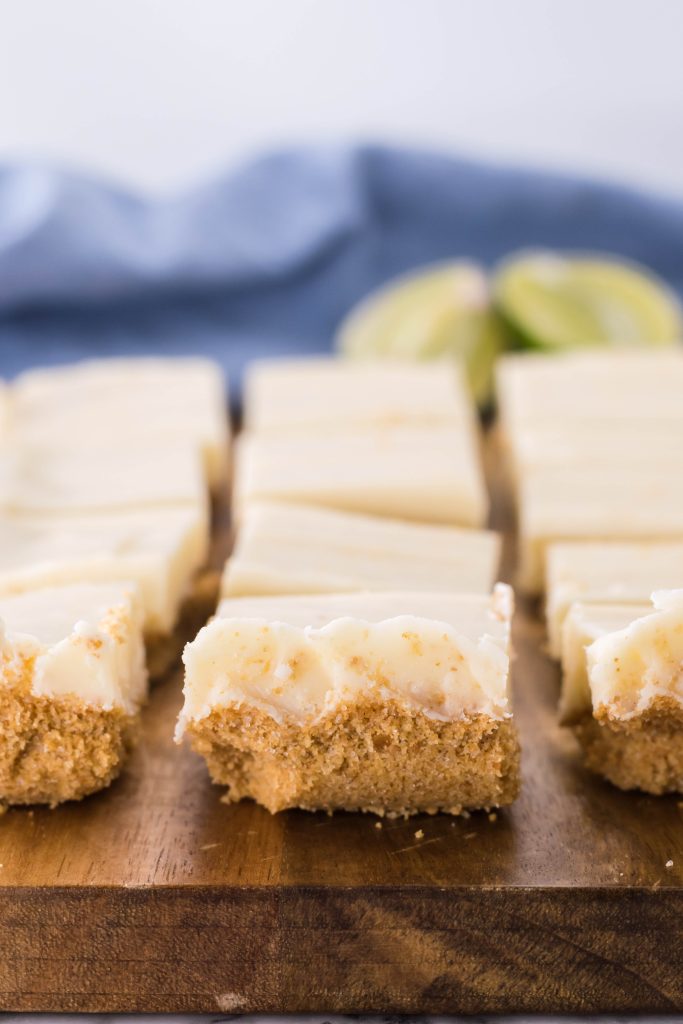 Adding Garnish
This key lime pie fudge is good as is, but as my Mama always said – 'Presentation is everything!'
If you want to add some pop or pizzaz to your fudge squares, I suggest a simple garnish.
Once the filling has been spread & smoothed over the crust, and before you refrigerate it- sprinkle the fudge with some fine graham cracker crumbs and a bit of extra key lime zest.
This is simple extra step, that isn't necessary, but goes a long way especially if making this for parties or to give as an edible gift.
Serving The Refrigerated Fudge
Once the fudge has chilled through enough to set, it's ready to serve.
Use the flaps of foil, or parchment paper, as handles to easily remove the fudge slab from the baking dish.
Transfer it to a waiting cutting board.
Let the fudge rest for at least 10-15 minutes before slicing. This will allow it to soften just enough so it's not like trying to cut bricks.
Use a sharp, hot knife to cut it evenly into squares for serving.
Keep a paper towel, napkin, or dishrag handy to clean excess fudge from your knife between cuts.
To keep your knife hot, run it under hot water periodically. Just make sure to wipe off any excess moisture before cutting again.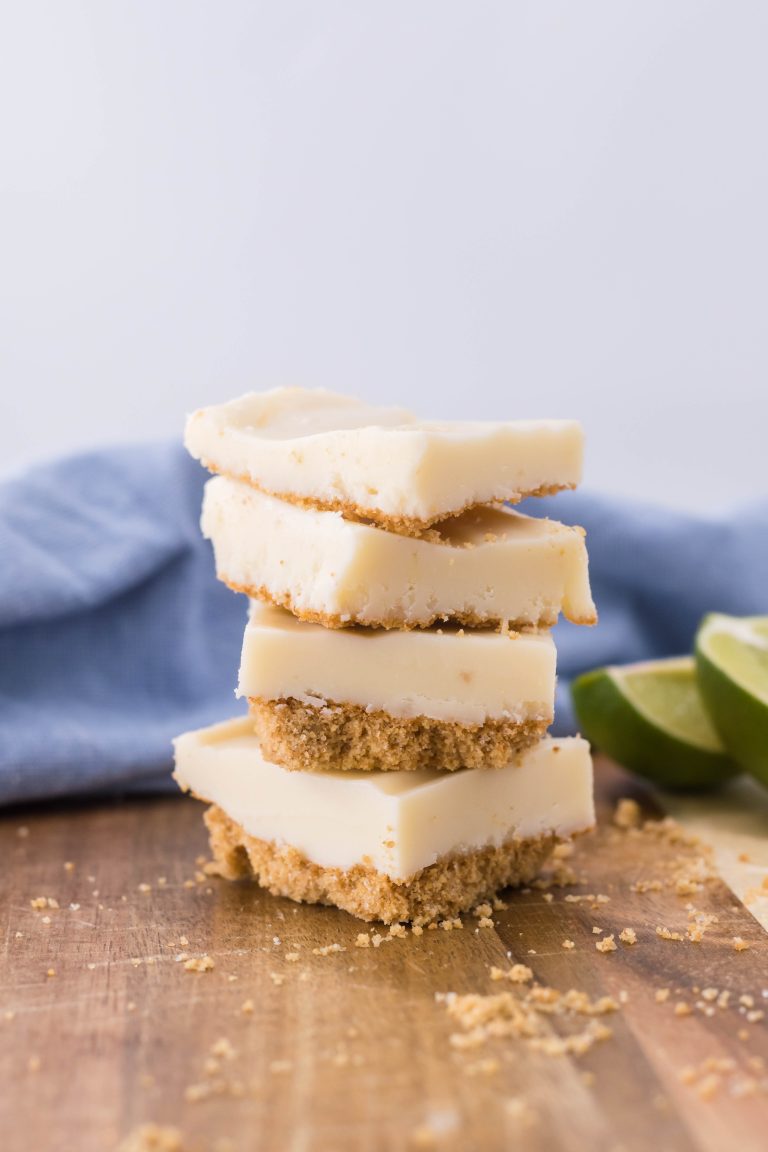 Notes About Storing This Quick Fudge
One of the reasons our family adores this recipe, is for it's simplicity.
It's super easy to whip up, even to get the kids involved with. Plus, it's just plain yummy.
Still, it's not your Grandmother's kind of fudge. It's a quick fudge.
It will soften the longer it sits outside of the refrigerator.
Whatever fudge isn't eaten will need to be stored in a tupperware dish with a lid in the refrigerator.
Once it's been sliced initially though, you can just pop a piece or two out as desired.
The prep is simple, the amount of effort involved minimal, yet when finished you're left with creamy little bites of heaven that tastes just like the beloved dessert pie.
This key lime pie fudge made the perfect grab and go finger food for a potluck style buffet's dessert table.
They're also easy enough to serve on any night of the week.
Wrap them up in some cellophane with pretty bows and they even make a perfect edible gift for holidays or other special occasions.
This is key lime pie fudge is not your Grandma's fudge recipe. And for once, that's a compliment!
Give them a try. You will never think of fudge the same way again. These are THAT good!
Other Easy Fudge Recipes To Try
If you've tried this KEY LIME PIE FUDGE, or any other recipe on the site, let me know in the comment section how it turned out, we love hearing from our readers! You can also follow along with me on PINTEREST, FACEBOOK, and INSTAGRAM to see more amazing recipes and whatever else we've got going on!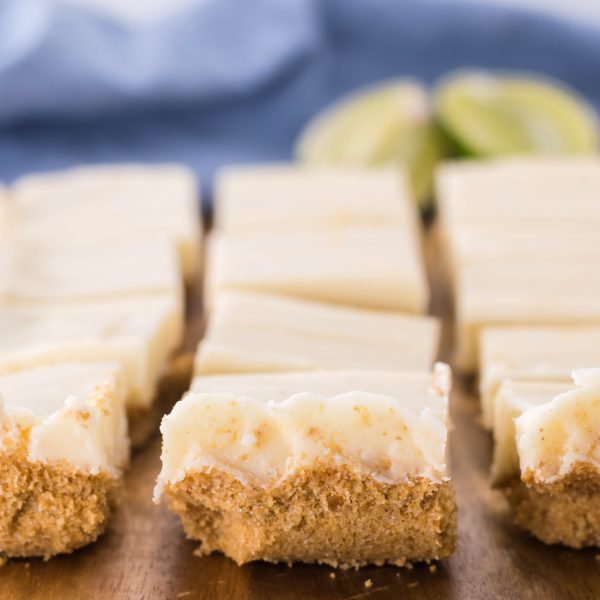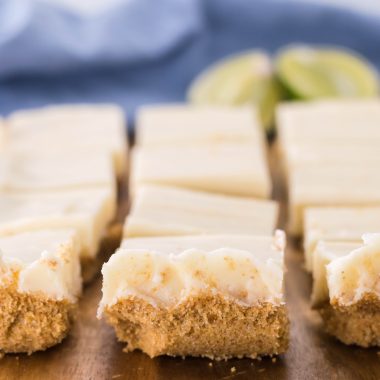 Key Lime Pie Fudge
This simple fudge recipe brings all the flavors of the classic pie to the table, but in neat bite-sized pieces. It's perfect for parties, or just a simple dessert whenever the mood strikes.
Print
Pin
Rate
Ingredients
1/4

cup

butter

1/4

cup

sugar

1 1/4

cup

graham cracker crumbs

1

12 oz bag

white chocolate chips

1

14 oz can

sweetened condensed milk

1/4

tsp

salt

2

tbsp

lime zest

finely grated

2

tbsp

lime juice
Instructions
Preheat your oven to 375 degrees.

Line an 8×8, or 9×9 baking dish with aluminum foil and spray, to evenly coat the foil, with non-stick cooking spray

Either in a microwave, or on the stove-top, melt butter.

When melted combine butter, sugar, and graham crackers in a bowl, stirring until evenly combined and moist.

Transfer graham cracker mix into your foil lined pan, smoothing and spreading to make an even layer.

Bake the crust for 7-10 minutes, until the edges are lightly browned. Remove from oven and let cool.

Melt chocolate, salt, and condensed milk in a stove-pot over medium low heart, stirring until evenly combined.

When mixture is smooth, add lime juice and zest, stirring until evenly combined.

Transfer the fudge to the prepared baking dish, spreading into an even layer over the graham cracker crust.

Refrigerate fudge until it is set, about 2 hours, or overnight.

Using the foil as handles, remove the fudge from the baking dish.

Using a sharp, hot knife (run under hot water periodically to keep hot) cut the fudge into 1 inch squares.

Let the fudge rest at room temperature for 15-20 minutes before slicing & serving.
Nutrition
Calories:
168
kcal
|
Carbohydrates:
24
g
|
Protein:
3
g
|
Fat:
7
g
|
Saturated Fat:
4
g
|
Cholesterol:
22
mg
|
Sodium:
131
mg
|
Potassium:
131
mg
|
Fiber:
1
g
|
Sugar:
24
g
|
Vitamin A:
213
IU
|
Vitamin C:
2
mg
|
Calcium:
102
mg
|
Iron:
1
mg
recipe originally posted January 17, 2013