While they may look convincingly like the much-loved vegetable, this sweet treat is anything but. Irish Potato Candy is cinnamon coated nuggets of cream cheese, coconut, and sugar– perfect for celebrating St. Paddy's Day.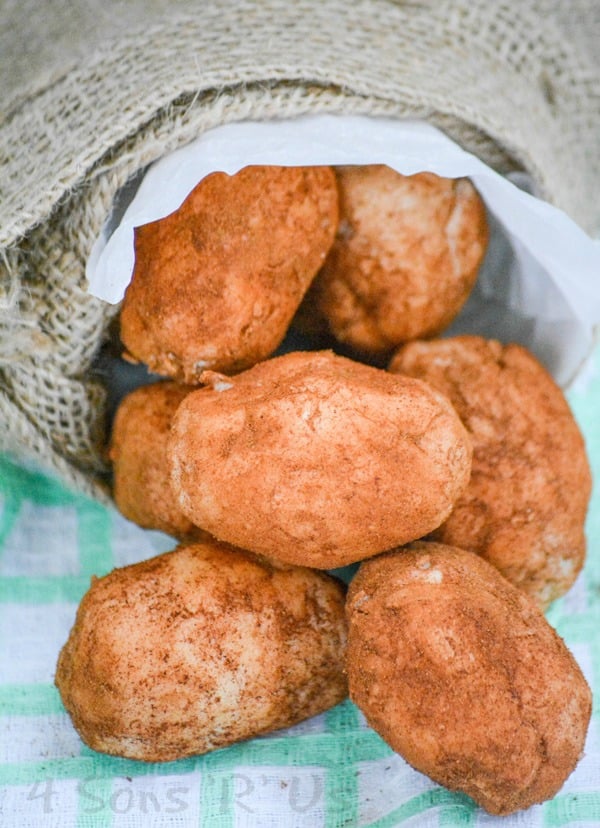 St. Paddy's Day is right around the corner. In five days to be exact. No, no– I didn't mean Patty's day. Don't make the mistake of doing that around any Irish. EVER. Or be prepared for an immediate lecture. It's all good. I love to learn.
Naturally, it's another chance for us to make something fun to 'celebrate' another holiday. It's also a great way for me to 'school' the boys, without them really noticing that we're learning, or even discussing educational topics. I mean, how could it be good for you if candy's involved? Especially if candy's involved??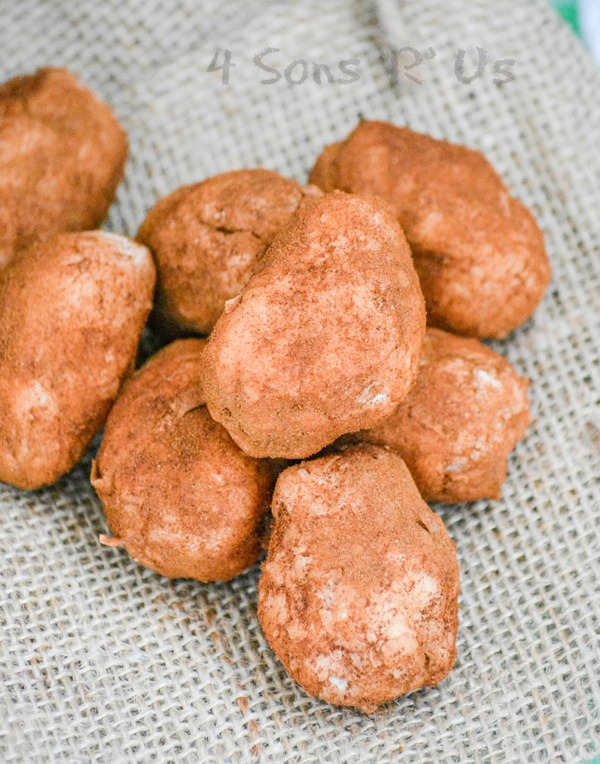 What do you know about Ireland? I asked the kids this same question, and I was actually surprised that they had several solid, albeit vague, answers. They knew it was the home of the ancient Celtic people who were pagan, and the names of several gods/goddesses– including Morrgian and Dagda.
They knew it was home to lush moors, and gorgeous castles, and even some crumbling ruins. Aside from the scenery, they also knew it was famous for it's beer, St. Patrick/Catholiscism, and … drumroll please … potatoes.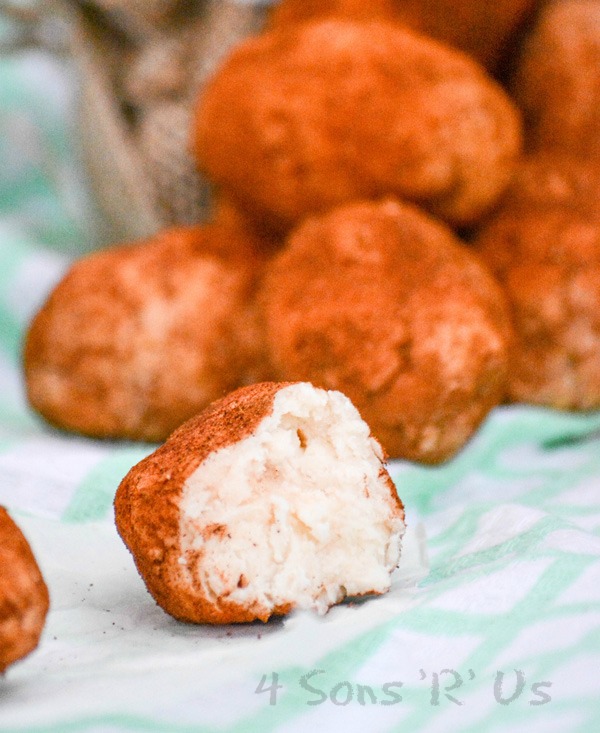 This allowed me to share a little impromptu history lesson with them. With current times and trends shunning the carb loaded vegetable, it blew my older sons away to learn that you can actually stay perfectly healthy on a diet consisting of almost entirely potatoes. After all, they're rich in protein, carbohydrates, minerals, and vitamins such as riboflavin, niacin and Vitamin C.
What can I say? I read a lot. I absorb random facts. I also love to share them with just about any willing audience. My kids being my primary targets most of the time.
Being some of the poorest of the poor during their time, this led to many Irish loving the potato and embracing it. It was all good, until The Great Potato Famine. After discussing that, it led them to the conclusion that they're a seriously undervalued veggies, and that they should do a much better job of appreciating the variety, and quality, of their modern diet.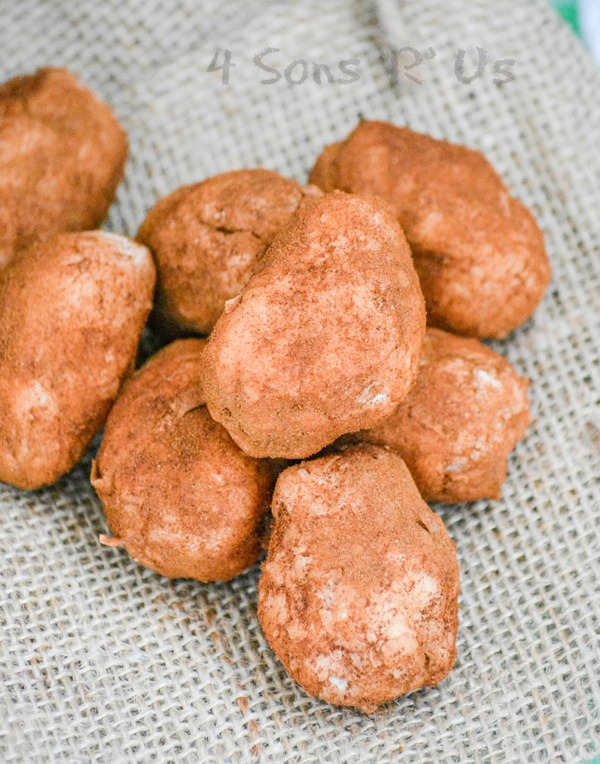 After that, we decided that making Irish Potato Candy was the perfect way to honor/celebrate such a rich history. And one not often appreciated as much, current day.
That being said, while these candies look the part completely- they are not vegetables. Not even close. They're super sweet, edible bites of fudge-like candy.
They're made from simple ingredients, I promise you have most of them on hand, if not all– including cream cheese, coconut, and sugar. Hand-shaped into miniature potato-ish nuggets, they're then rolled in ground cinnamon to give them their authentic look.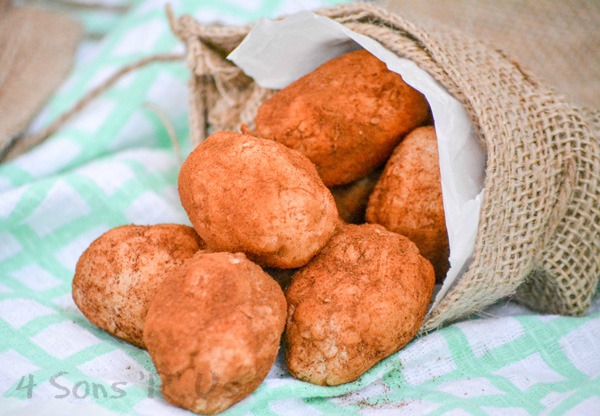 Looking just like the real deal, this deliciously deceptive Irish Potato Candy is many things. It's a great way to get the kids in the kitchen cooking with you. It's a perfect treat for celebrating St. Paddy's Day, and they're an even better snack to share while talking about tradition and history.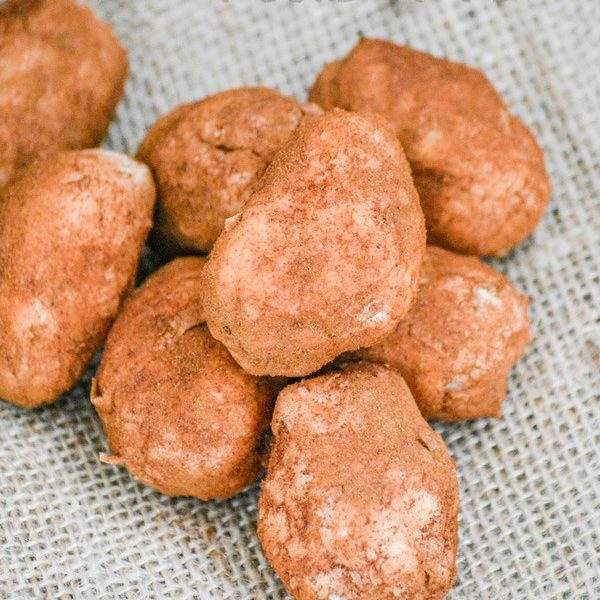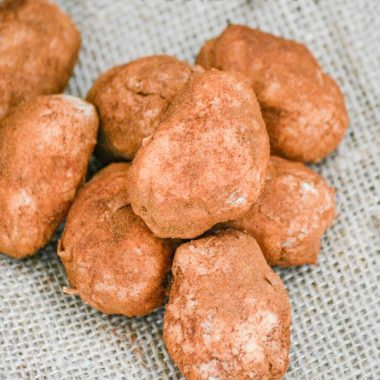 Irish Potato Candy
Looks just like a potato, this Irish Potato Candy actually has a sweet center featuring cream cheese, coconut, and sugar.
Print
Pin
Rate
Ingredients
1/4

cup

unsalted butter,

softened

4

oz

cream cheese,

softened

4

cups

powdered sugar

2 1/2

cups

shredded coconut

1

tsp

vanilla extract

3

tbsp

ground cinnamon
Instructions
In the bowl of a stand mixer, cream together the butter and cream cheese until evenly combined and fluffy. Add the vanilla and beat again until evenly incorporated.

Working with one cup at a time, slowly mix in the sugar- scraping down the sides of the bowl as you go, until it's all in and evenly incorporated.

Use a spatula to stir the coconut into the thick batter, until evenly combined.

Cover the mixing bowl, and chill the batter for 30 minutes.

Remove the chilled dough from the refrigerator and use your hands to roll the dough out into large marble-sized potato-ish lumps.

Roll the raw 'potatoes' in the cinnamon to evenly coat. Transfer them to a serving platter, or to a tupperware to keep sealed up to a week in the refrigerator.