A fun, easy rainbow treat these Frosted Fruity Pebble Squares are fun for kids & adults alike. They're simple, with a gorgeous presentation making them perfect for parties and holidays alike.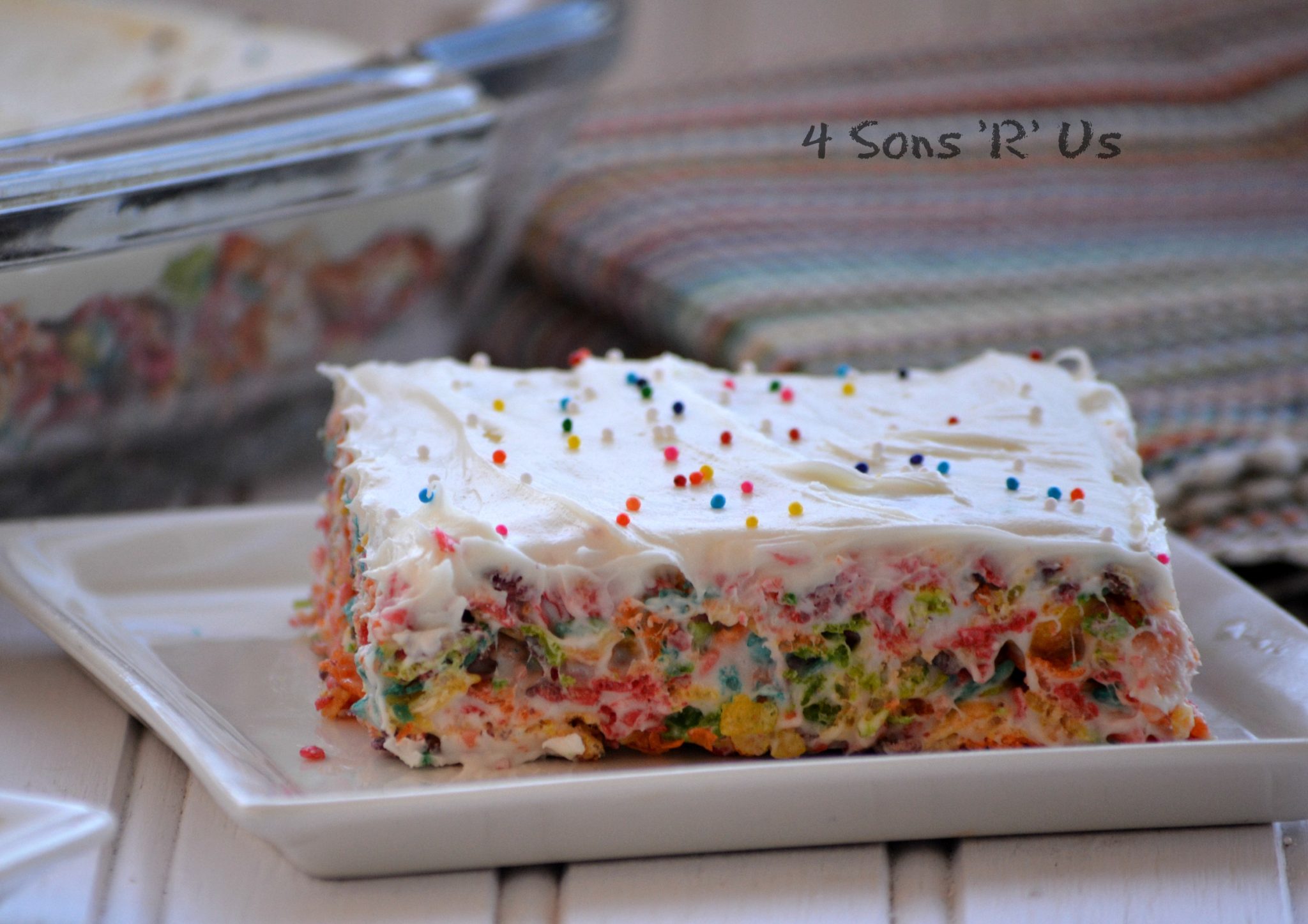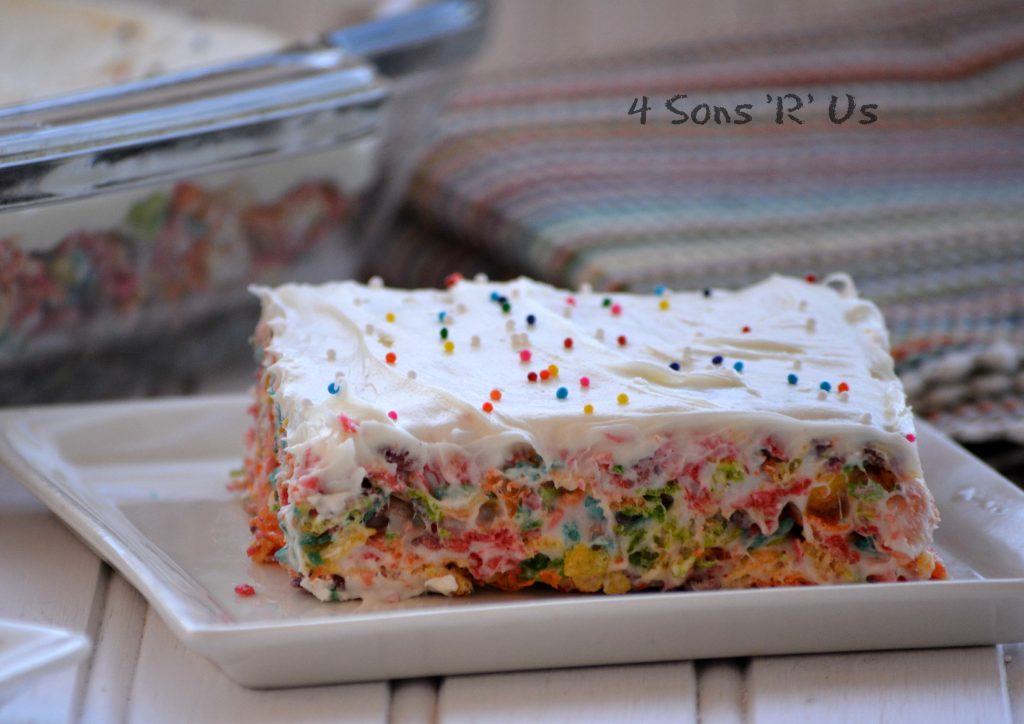 I'm generally a sucker for all things rainbow colored. Something about all the bright, cheery colors just calls to me.
Whether it's almost St. Paddy's Day, which is the case here, or a rainbow-themed party or event, when all those colors are involved, there's always a bit of whimsy.
And I'm all about finding those magic moments in the everyday.
Tell me, what day can't be made, or improved upon, with a sweet little treat. Bonus points for it being one I can make in a pinch, you know when it's been a particularly trying day, and no matter how hard the youngest son has tried– he just couldn't get his teacher to understand that even though he kept trying his best, his handwriting was still sloppy, and even though she understood, we all are still going to push him to try harder.
A hug from Mama and a sweet treat can right all the wrongs in a six-year-old world.
Obviously, we're fans of the traditional rice krispie treat bars, but they especially like it when we do something that puts a fresh new spin on them for an upcoming holiday, like we recently did with our Hershey's Kiss Rice Krispie Treats.
We enjoyed it so much, that we decided to put our heads together and see what we could come up with for St. Patrick's Day this year using the same idea. One of the son's noticed that Fruity Pebbles have the colors of the rainbow.
There's that word again, rainbow. It wasn't a big leap from there to see the obvious, that these two things were meant to be paired together, with or without the upcoming celebration.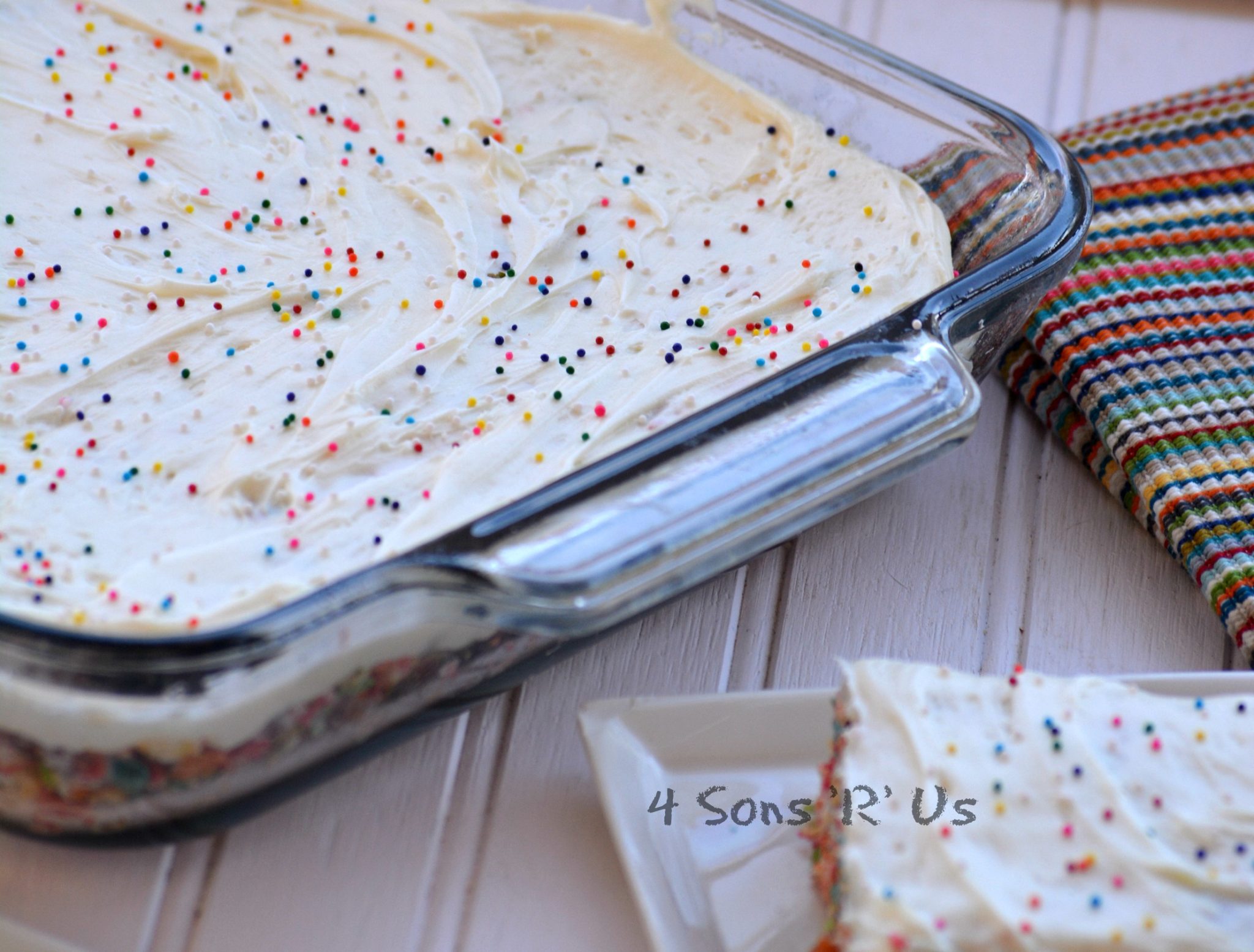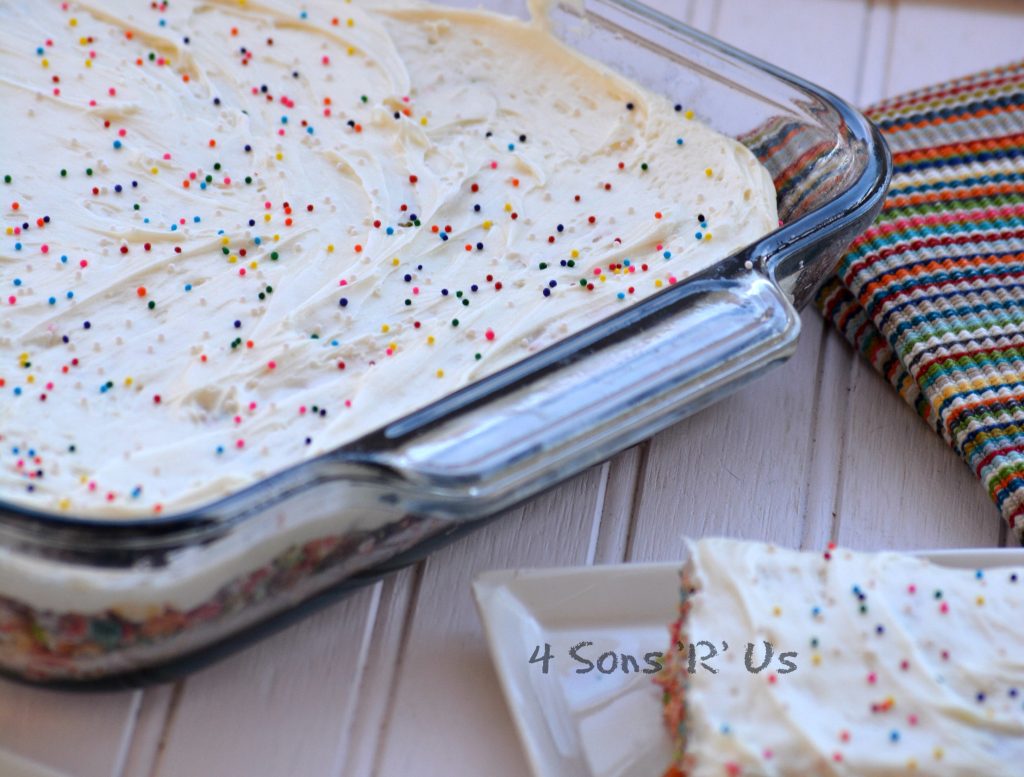 Not even going to lie, when somebody brings such a yummy idea to the table, it doesn't take much to get me on board. Just a suggestion, really. And yes, my kids ALL know that.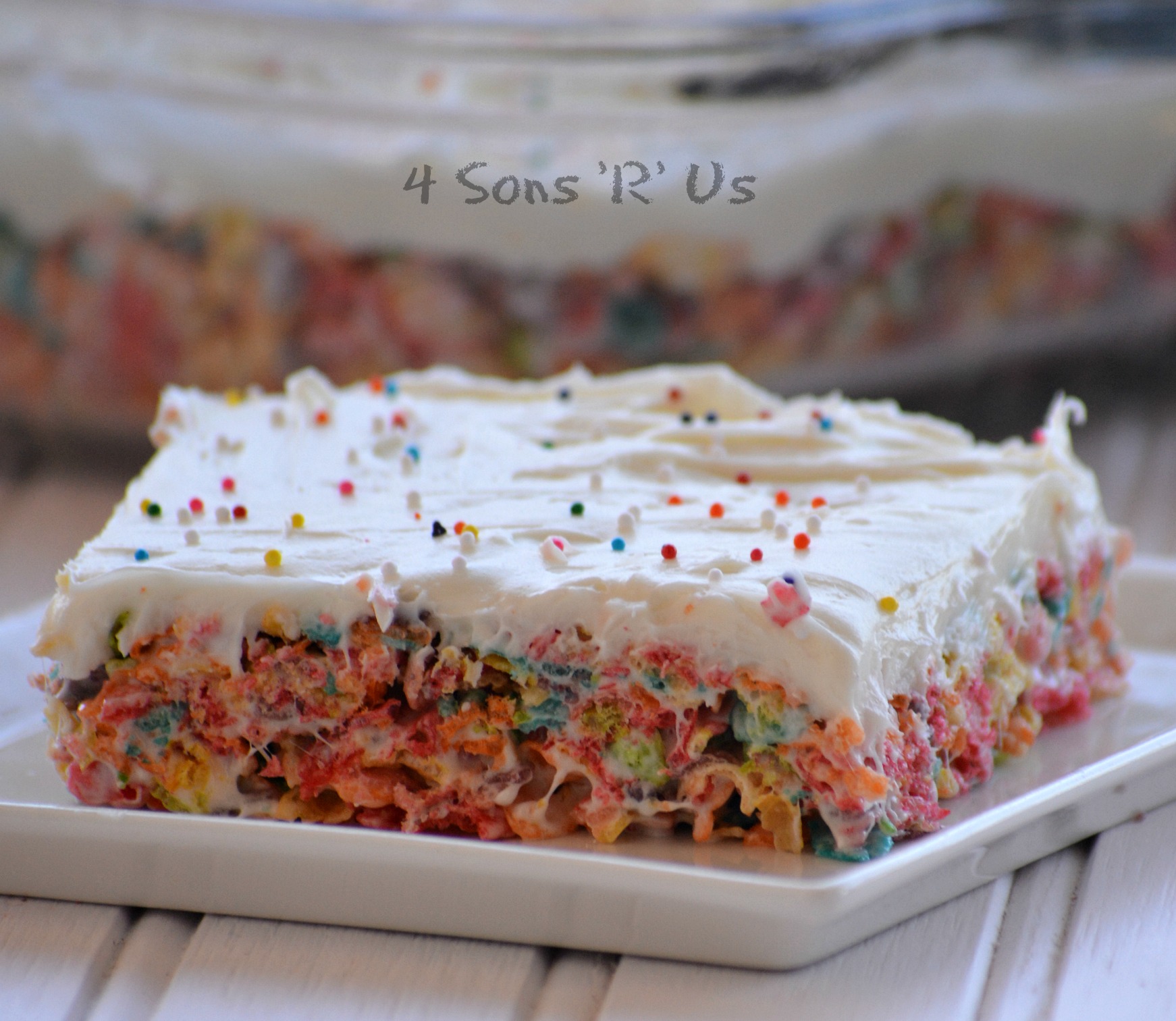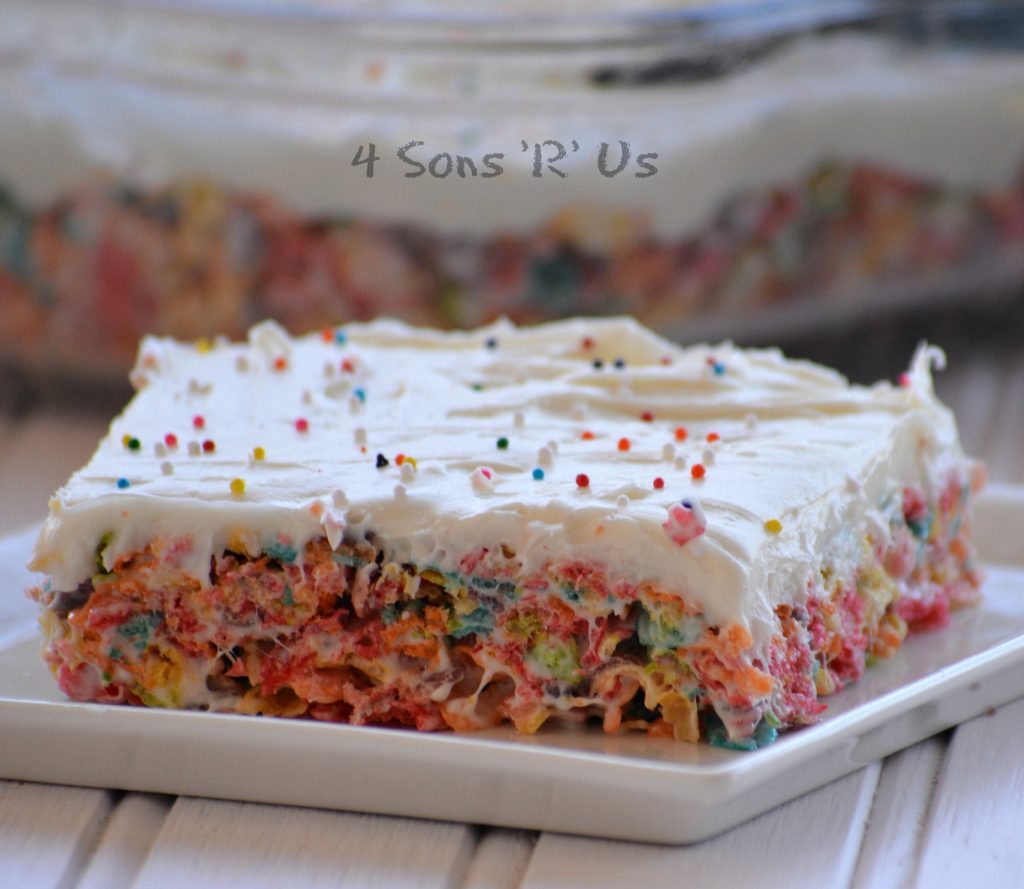 Fruity pebbles cereal brings a bright, flavorful twist to the krispie treat table. These yummy, no bake cereal bars are perfect for holidays, or just a little average day pick-me-up.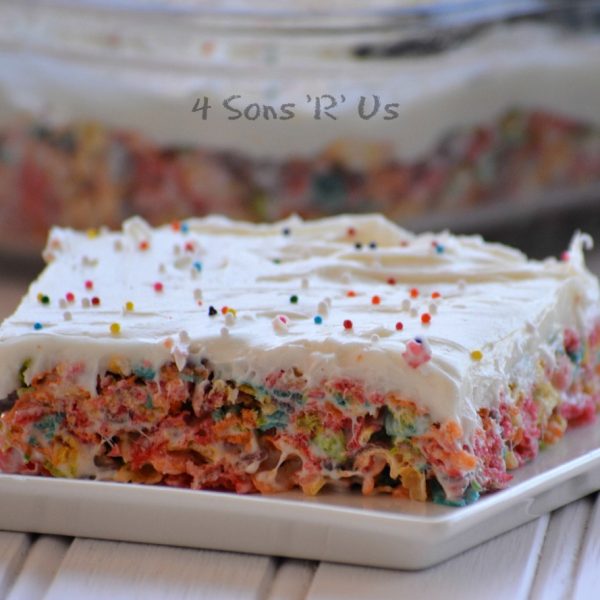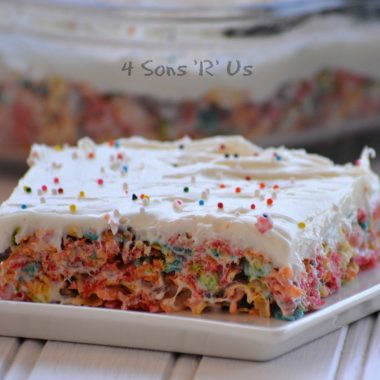 Frosted Fruity Pebble Squares
Using fruity pebbles cereal instead of rice krispies gives you a bright, new twist on the classic no-bake cereal treat bars.
Print
Pin
Rate
Ingredients
1/4

cup

butter

4

cups

mini marshmallows

6

cups

Fruity Pebbles cereal

non-stick cooking spray

frosting

sprinkles
Instructions
In a large sauce pan, or a double boiler, melt the butter over low heat. When the butter's completely melted, add in the marshmallows and stir continuously, until they're completely melted and the mixture is smooth. completely melted; Remove the pan from heat. Spray a spatula, or a large spoon, with non-stick cooking spray to prevent sticking. Add the cereal and melted marshmallows to a large bowl, and using the coated spatula, stir until evenly combined and the cereal's well coated. Transfer the coated cereal to a 9x13 inch baking dish, lightly sprayed with cooking spray. Use the prepared spatula to gently press the mixture evenly into the baking dish. When the cereal has completely cooled, spread the frosting out in an even layer over top. Sprinkle sprinkles, and cut into squares to serve.
Here's some other fun ways to use Fruity Pebbles cereal: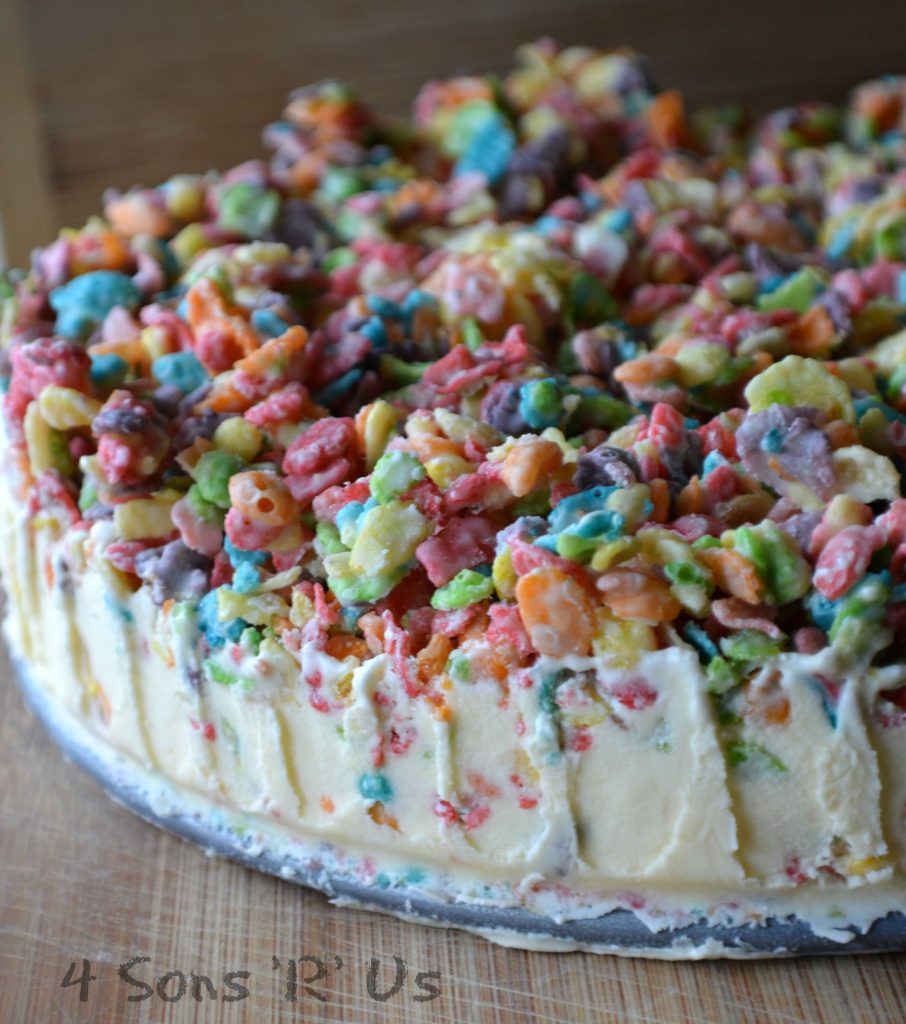 Fruity Pebble Crunch Ice Cream Cake