Do you have a son or daughter who's obsessed with Pokemon? We're sharing our tips on How To Host A Pokemon Birthday Party On A Budget. Fun, festive, pretty much everything you could want, without breaking the bank!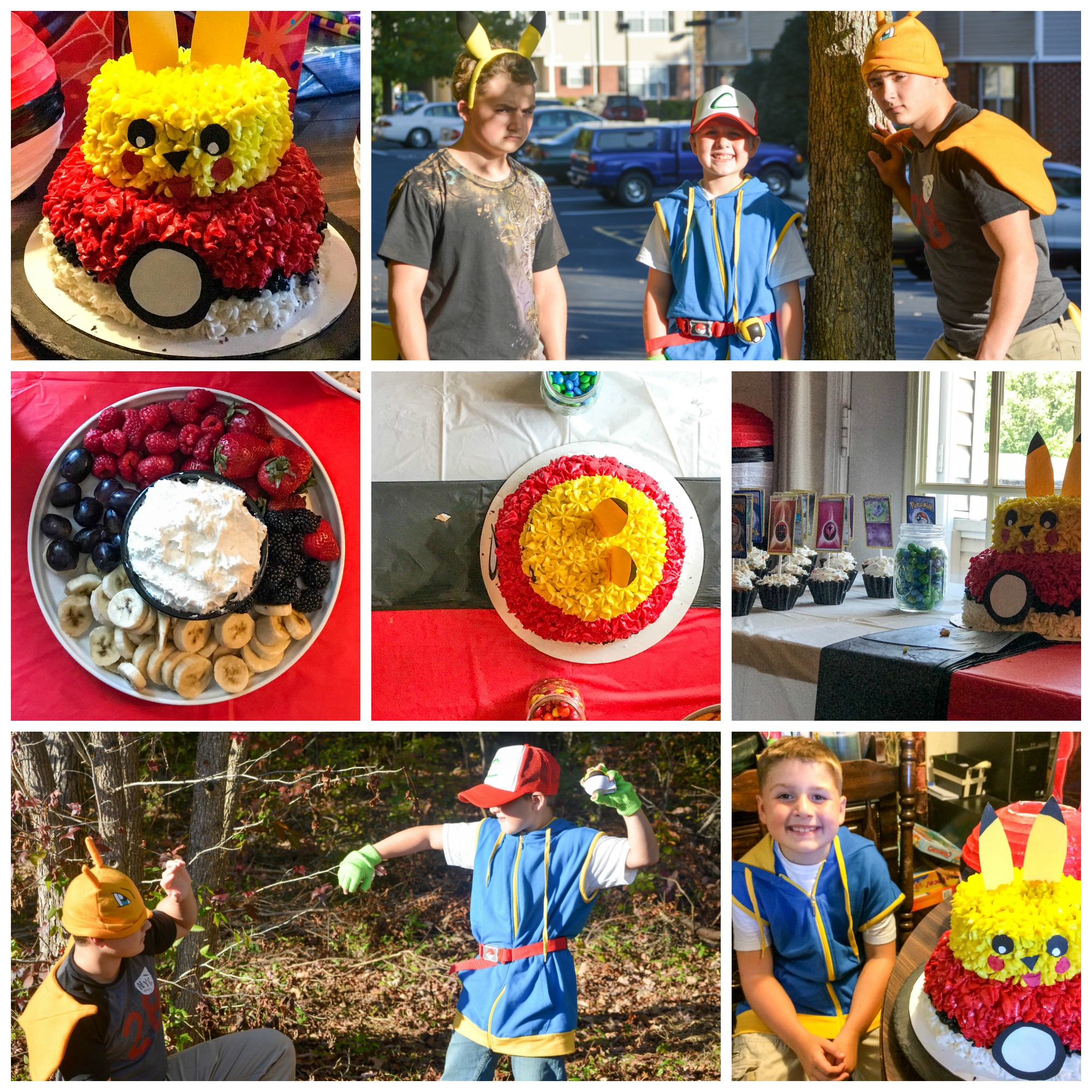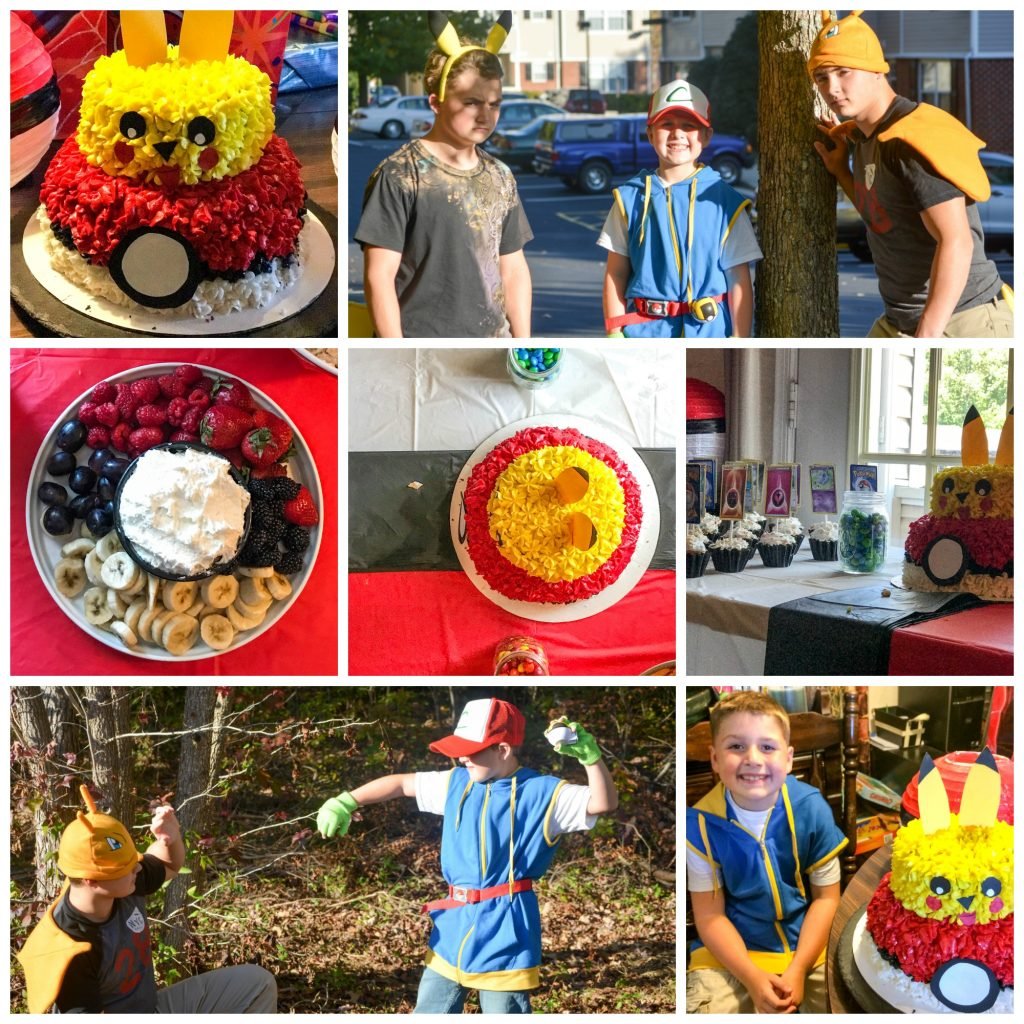 I'm late. So late. Unfortunately, as anyone who knows me personally will tell you- I'm late to just about everything. Mostly, I manage to adhere to the 5 minute, fashionably late rule.
But, I freely admit- not always. In fact, I'm one of those people who will probably be late to their own dang funeral.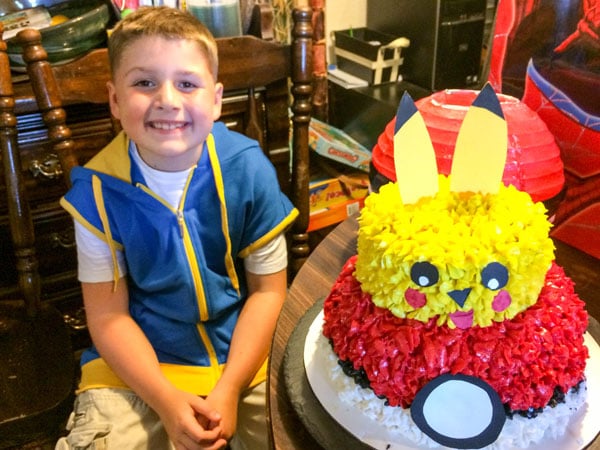 That being said, the youngest son turned 8 over the Summer and as usual we held another small but themed party.
This year's theme was Pokemon.
Last year's was Star Wars, and I still haven't managed to get that one up- but one thing at a time!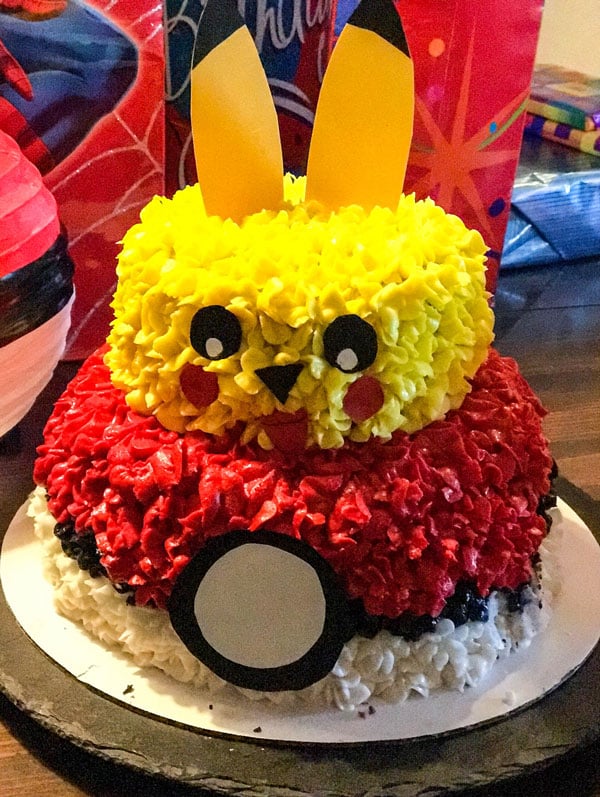 I was all aboard the Hogwarts Express, but the son pumped the brakes on that for one more year.
So, Pokemon it was and now we're sharing with you our tips & tricks for How To Host A Pokemon Birthday Party On A Budget!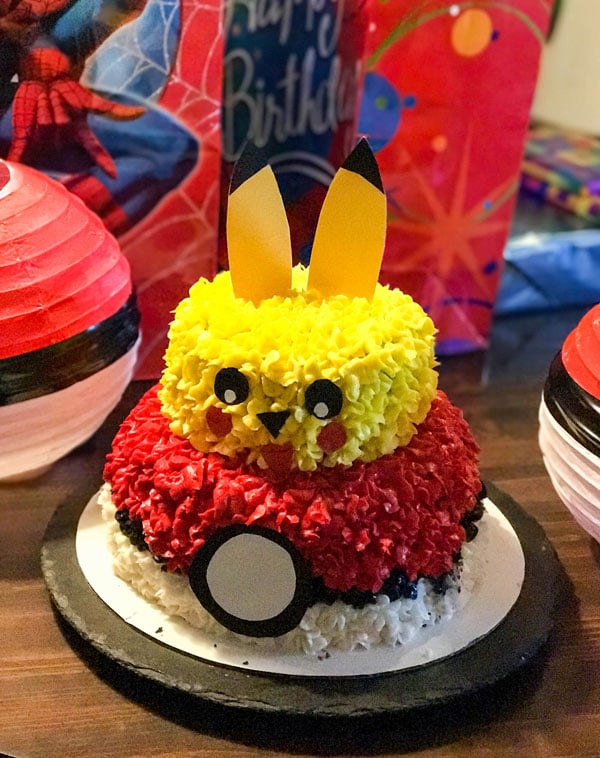 The cake may look hard, but it really couldn't be any easier, even if you're a newbie. The bottom layer is two 9″ layers, the top's 2 6″ layers.
A thin layer of frosting between each layer for 'glue', a thin (can totally be sloppy) layer of frosting around the outsides all the cakes and on top. Pipe rosettes around in each color as seen.
We used card stock to cut out the ears, eyes, mouth, and other accents and put a dab of frosting on them to 'glue' them on.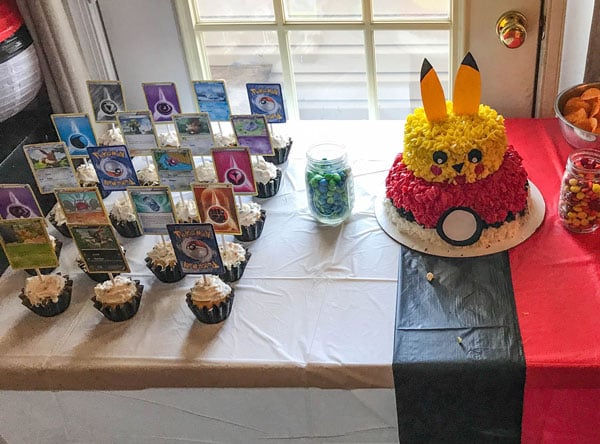 Even though the cake by itself is more than enough, I always make a set of coordinating cupcakes. These were pretty simple.
Fun cupcake wrappers, funfetti cake mix, and for toppers I bought a pack of Pokemon cards and hot glued them to lollipop sticks from the craft store.
Cheap AND cute, and the kids were happy to get a new card to take home- with a little help pealing the glue off without damaging the card.
We used cheap ($1) plastic table cloths from Walmart to make the table resemble a Poke ball. I bought a pack of white paper lanterns off Amazon, painted the top half red and wrapped a line of black electrical tape around the center to make them into decorative Poke balls for the gift table and our photo shoot (more on that in a minute).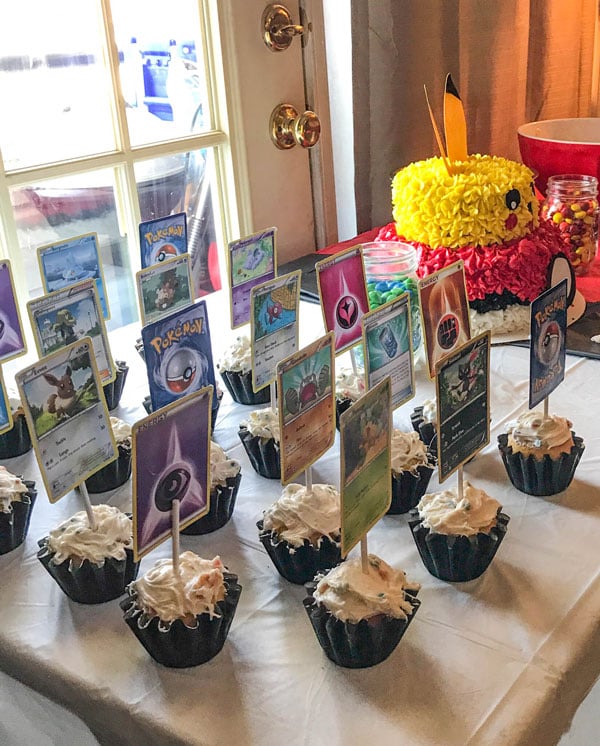 We bought a party size bag of M&M's, and then separated them into two batches: blue and green, and yellow, orange, and red.
We poured them into mason jars and put them on the dessert table to represent the different 'elements'.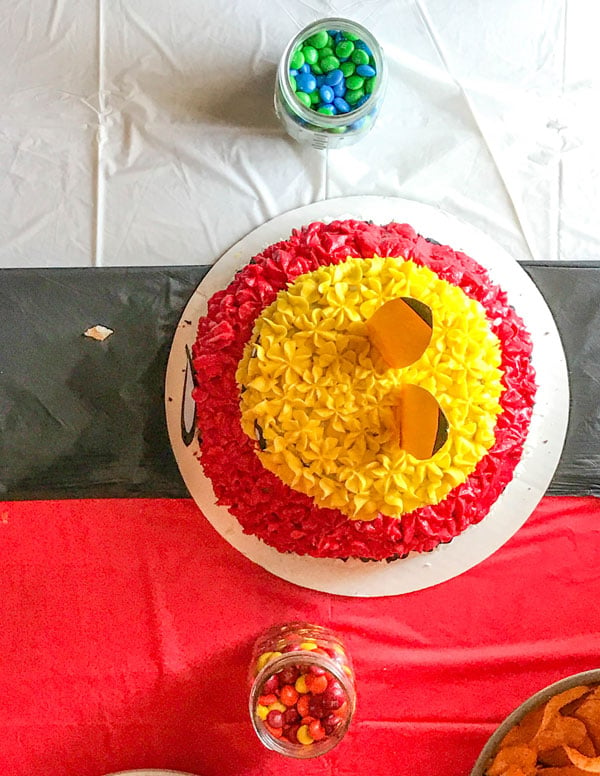 Honestly, it couldn't be any easier.
This whole party probably cost me $50. But that doesn't include the extras we bought to do a photo shoot. It also didn't include our fruit spread.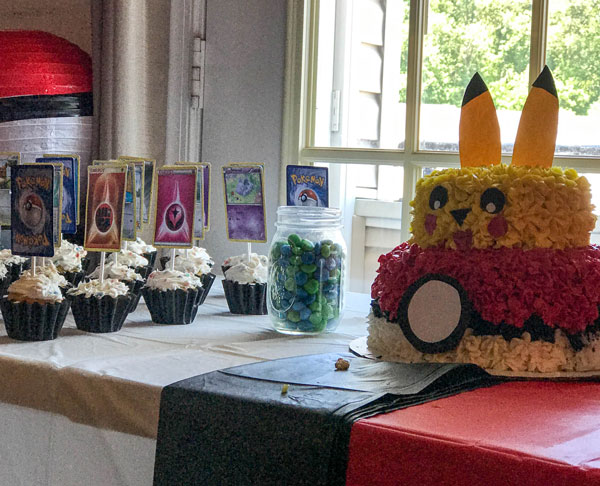 So- themed food. There wasn't a lot that lends itself to that genre without breaking the bank for this party.
Luckily, a simple fruit plate was an easy thing to turn into an edible 'Poke ball'. We picked a bevvy of fruits in coordinating colors and paired them with this yummy Vanilla Fruit Dip recipe in the middle.
You could just as easily create this same fruit tray, and serve cool whip in the middle!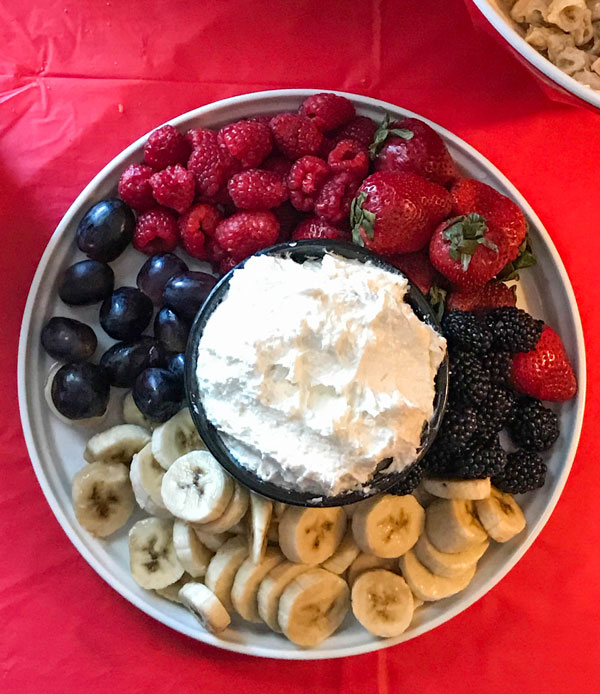 We also found some awesome accessories on Amazon for a great photo shoot!
The Pikachu & Charizard accessories were easy to attach to his big brothers' clothing, and non-embarrassing enough. Both were bought off of Amazon, for what I thought was a great price!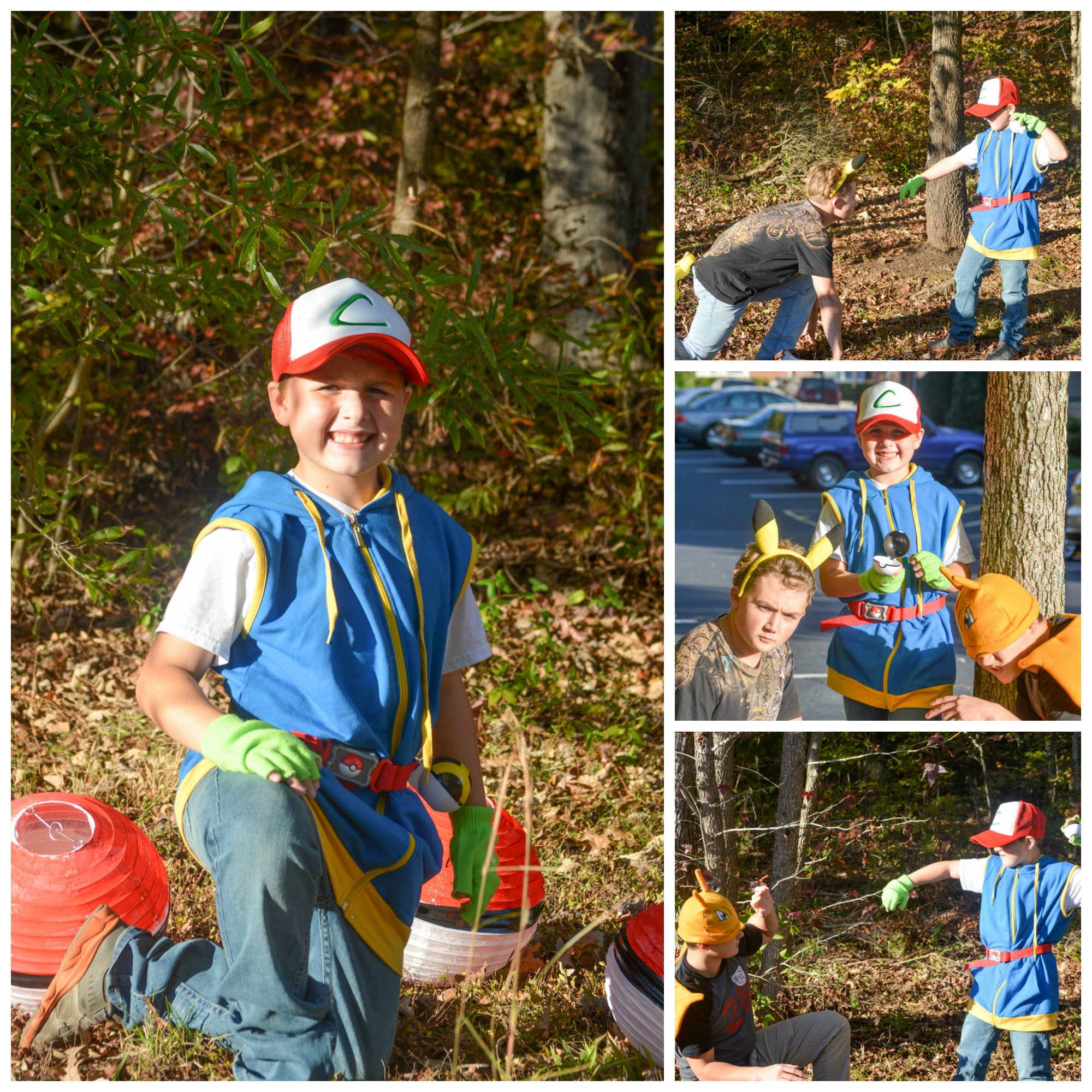 Ash Ketchum Costume:
Easiest Ash Ketchum costume to put together!
I hope these ideas for How To Host A Pokemon Birthday Party On A Budget were helpful. It was a raging success with our 8 year old and his buddies!