Learn how to throw a Super Mario party! Perfect to treat any Mario obsessed kid to a fun themed birthday with tasty Nintendo themed treats and cakes and games that kids of all ages will enjoy.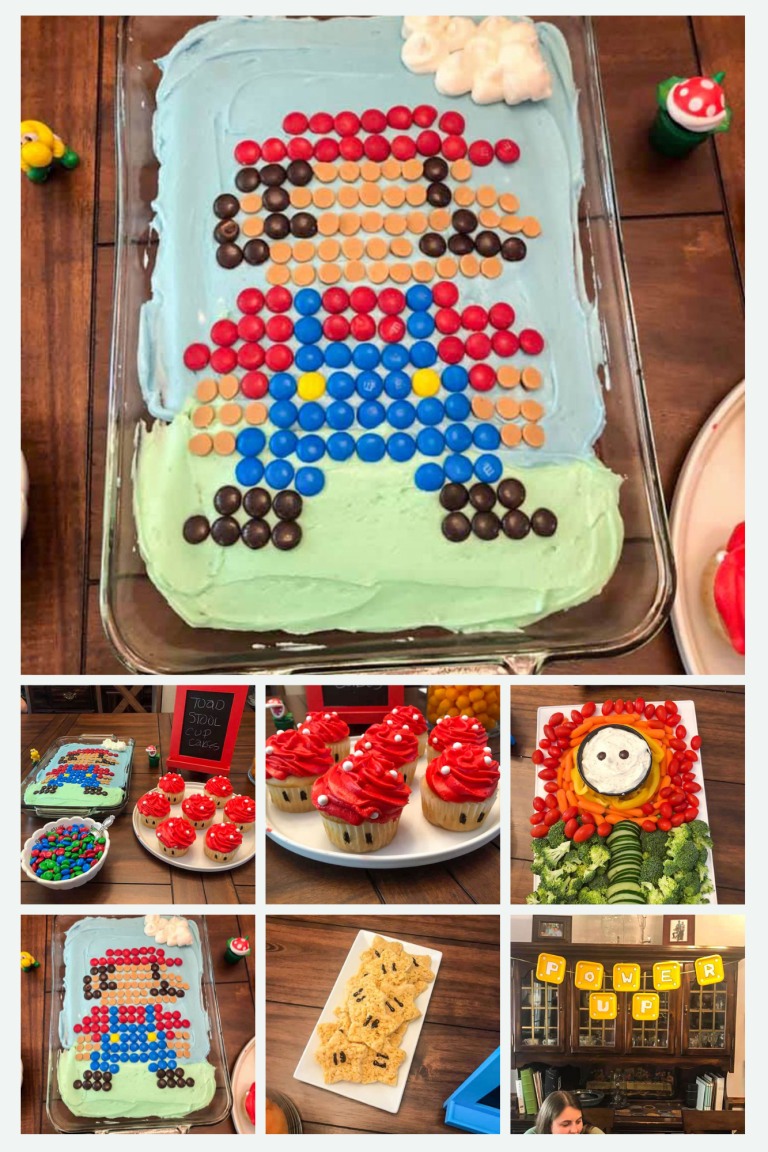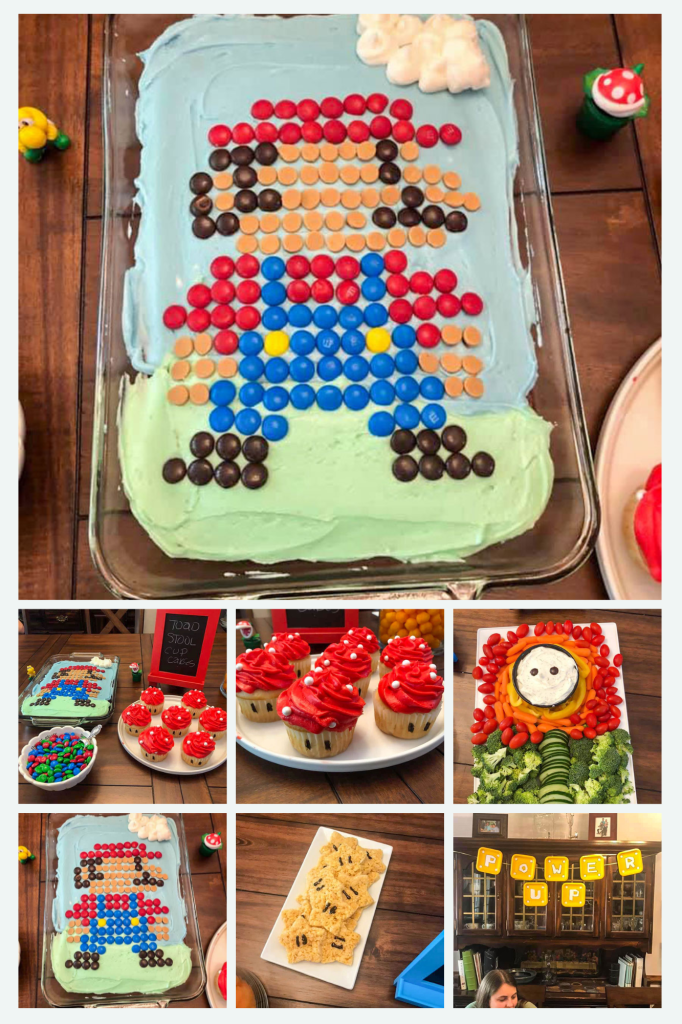 This post may contain affiliate links. As an amazon associate, I earn from qualifying purchases. See my full Disclosure Policy for details.
One of my favorite parts of being a mom is throwing epic birthday parties for the sons.
My youngest son is a huge Mario Brothers fan so naturally he wanted a Super Mario party.
And I was all too happy to indulge him.
Any good birthday party has food and decorations and these were so fun to do!
Super Mario Birthday Decorations
There are tons of quick and easy DIY Mario decorations for birthday parties you can do! Here are a few we did:
Paper Lantern Boos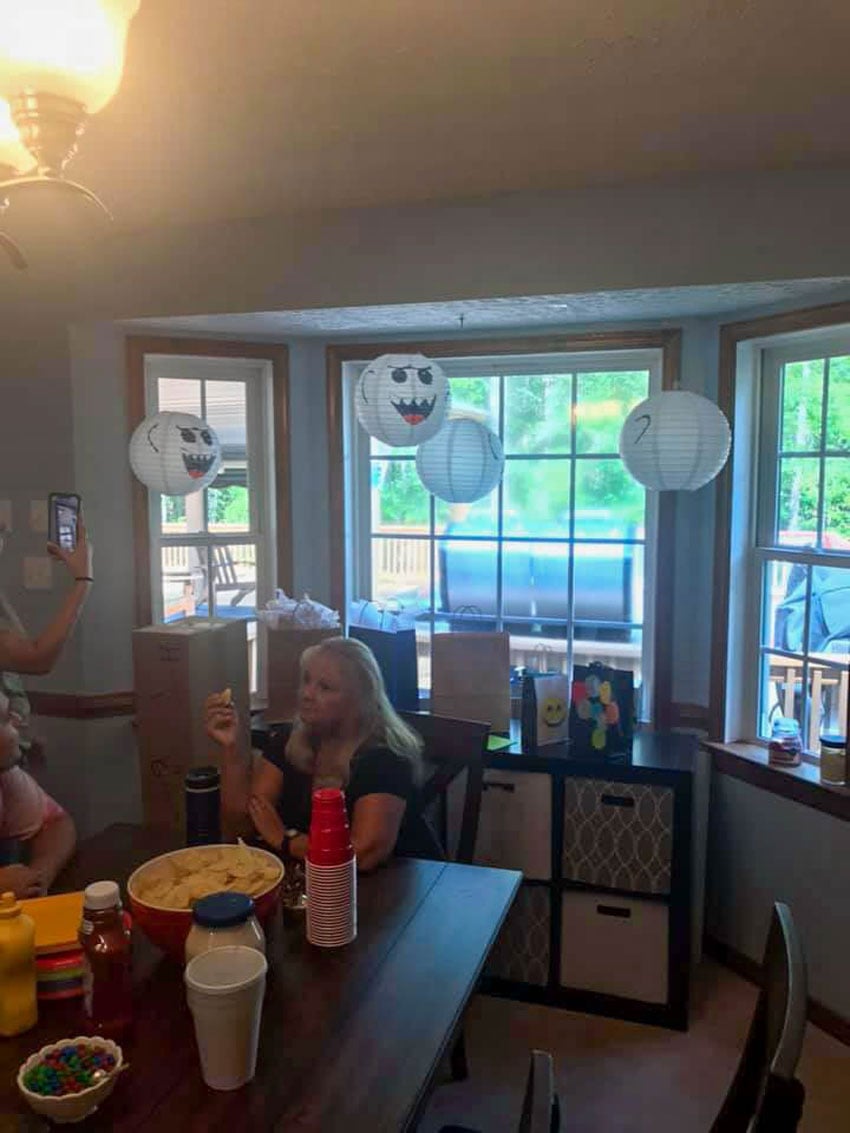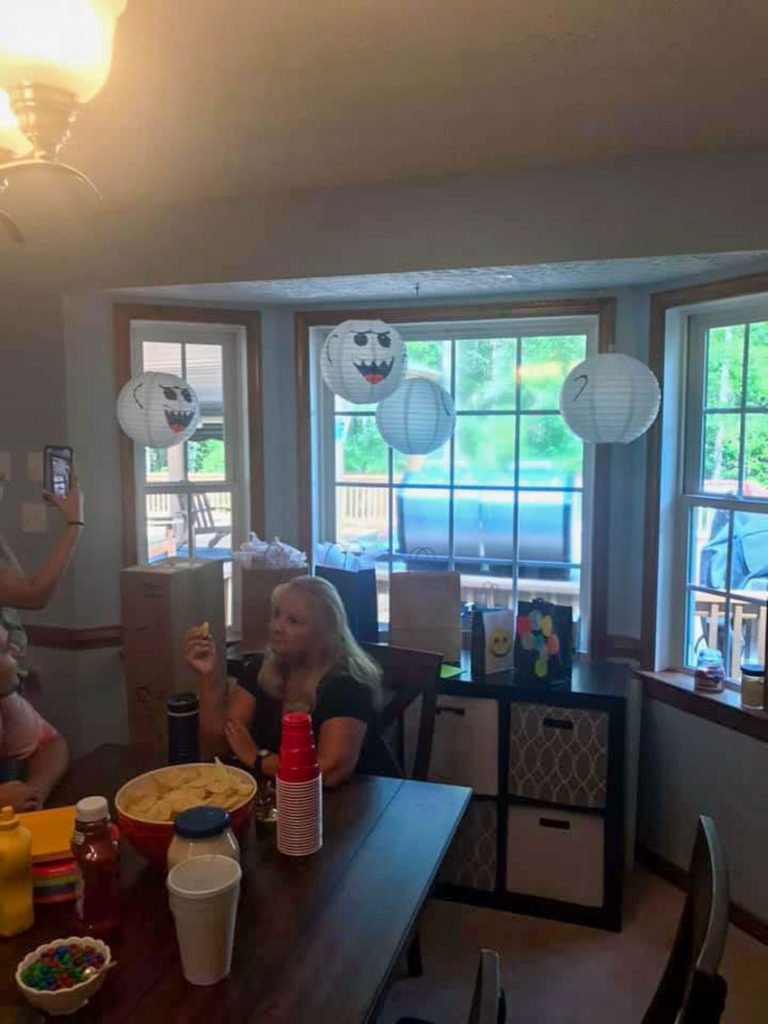 To make paper lantern Boos (the ghosts from the game), you can order these white paper lanterns.
I specifically chose the multi-size pack so I could have Boo in different sizes just like in the game.
Then just draw faces on them using a black Sharpie for the eyes and a red or pink one for the mouth.
Once they were ready to go, I hung them around the space using string. Fishing twine will also work.
DIY Power Up Banner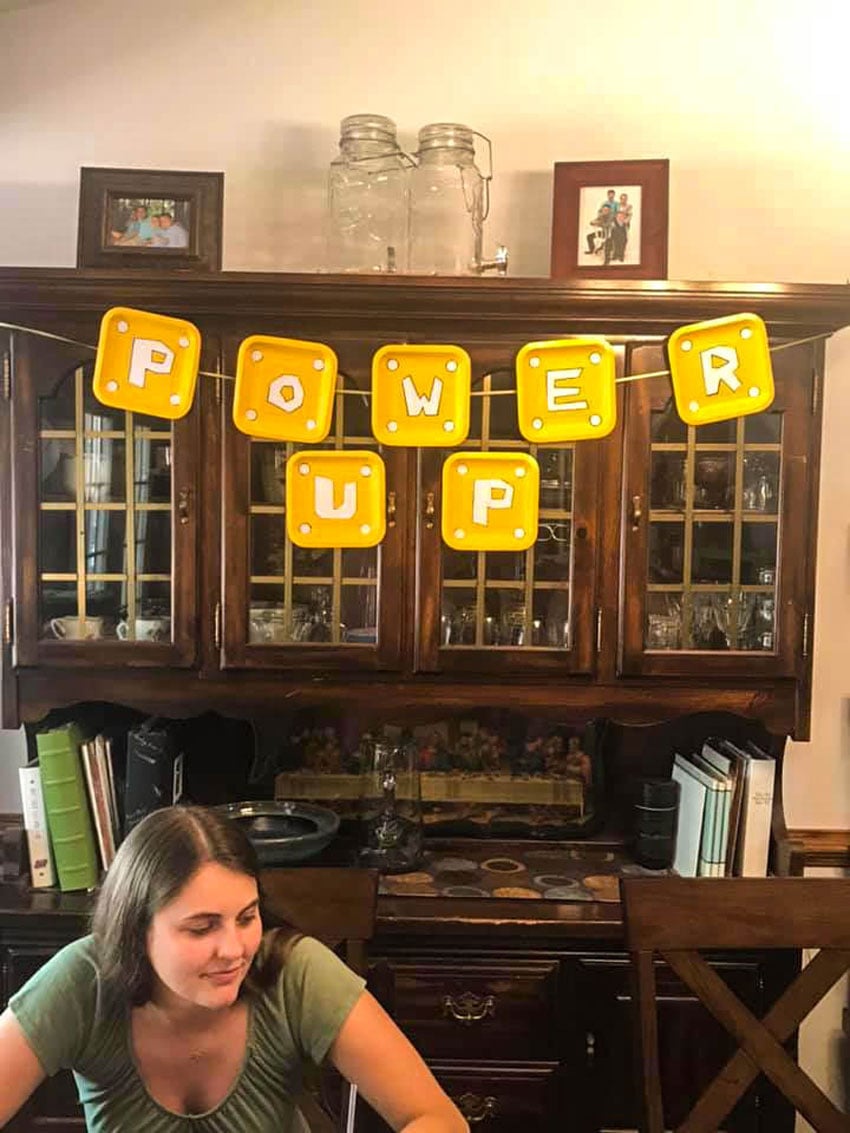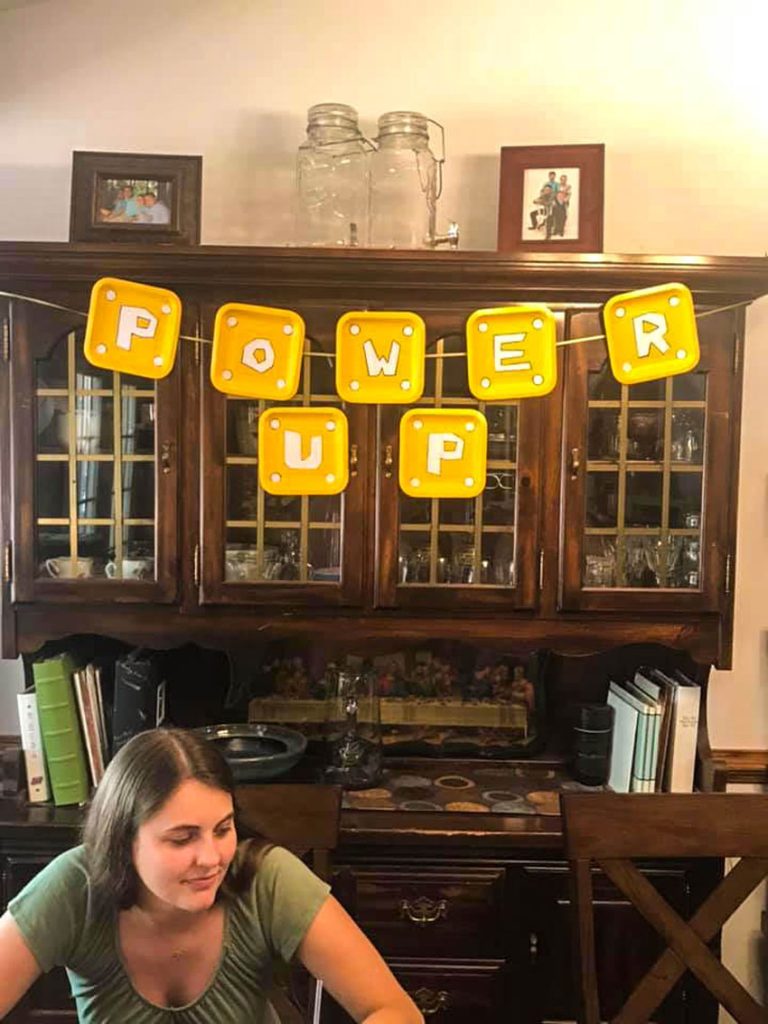 What better way to celebrate turning a year older when you're a kid than with a power up banner?
We made this DIY Power Up banner out of yellow square paper plates.
First we cut letters out of white construction paper.
Then we glued the letters to the center of each plate.
We strung them together in order, taping them to gold ribbon.
And that's it!
Cute party decoration done!
Mario and Luigi Chalkboard Signs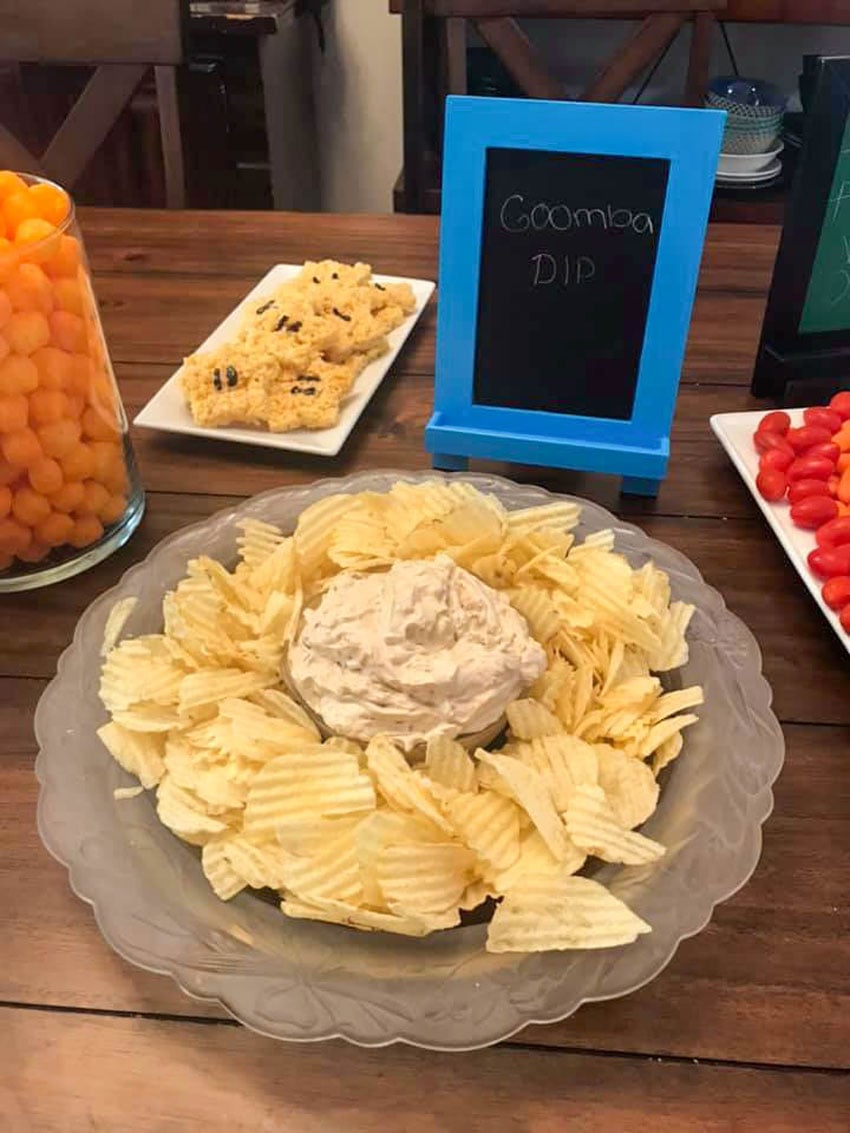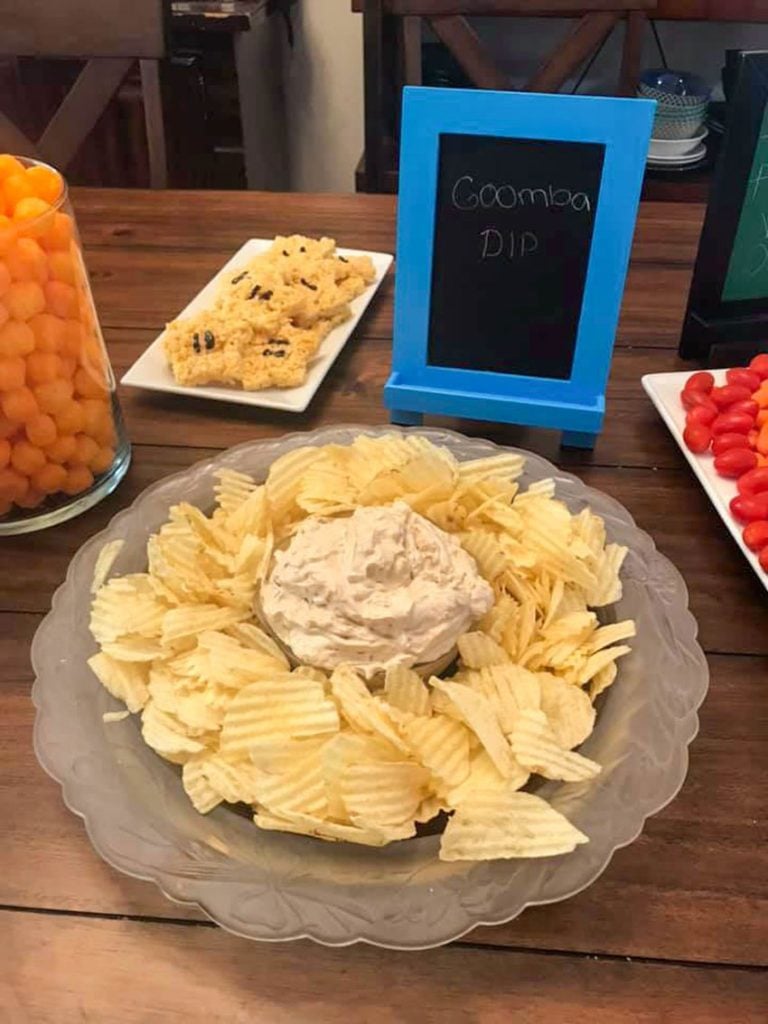 We bought cheapy chalkboard from The Dollar Store.
We then painted one blue, one green, and one red- and just wrote on them with chalk to label the food.
You could also buy your chalkboards HERE.
Super Mario Brothers Birthday Party Food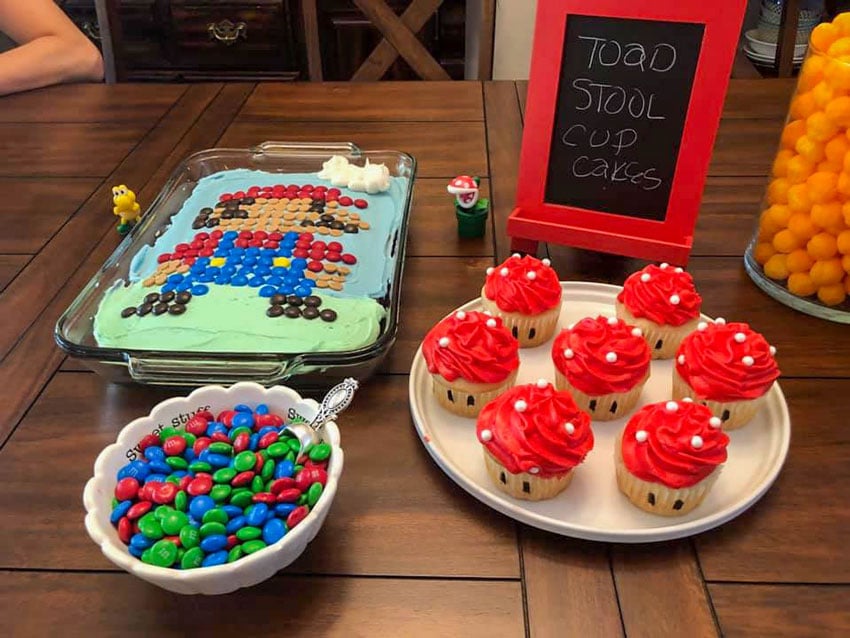 Food is where I really excel and let me just say the Super Mario themed food was on point!
We loaded our snack table with the following:
Red, green, and blue M&M's for Mario & Luigi
Cheese balls for 'fireballs'
a veggie platter arranged to look like a fire flower with dip in the center and two olives for eyes
Star Rice Krispie Treat that we made with slow cooker Rice Krispie treats and a star cookie cutter– black decorating gel made the star 'eyes'. You could also add a little yellow food coloring to the marshmallow mixture- if desired.
regular chips & dip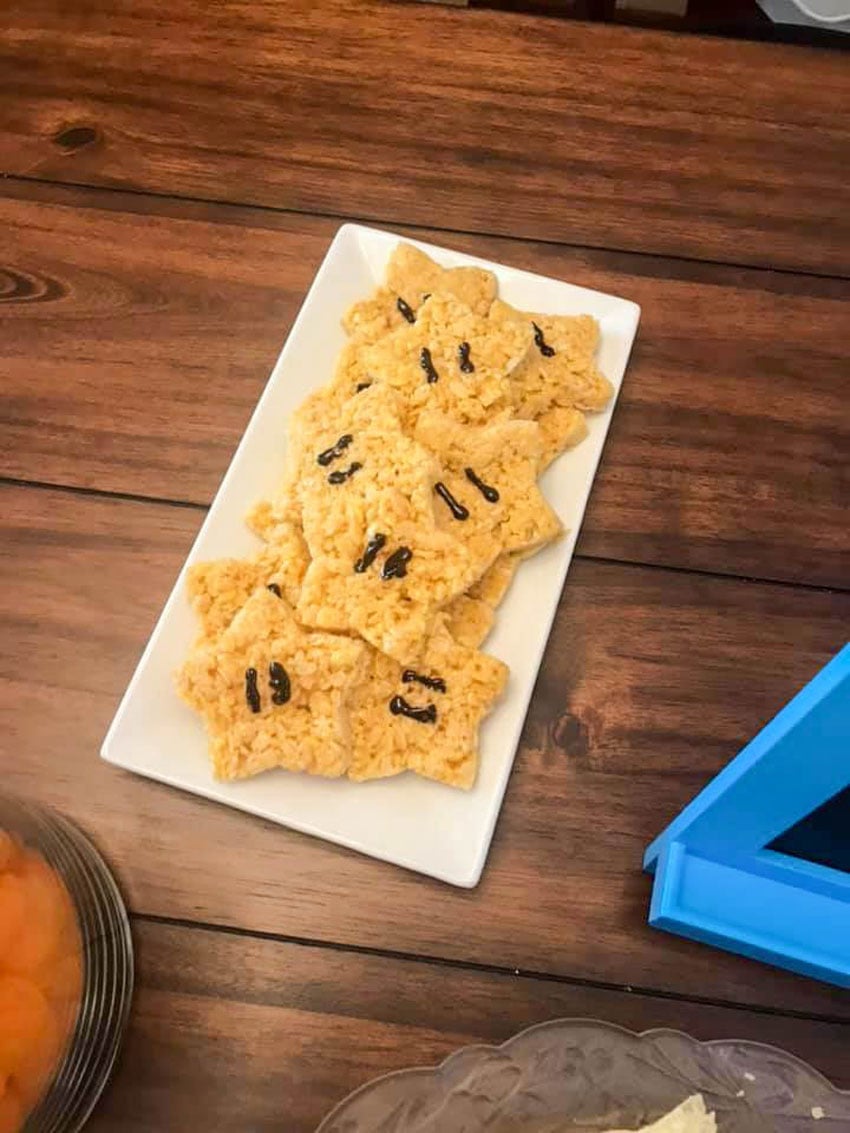 Super Mario Cakes and Cupcakes
For a fun on theme cupcake, we made these Monster Strawberry Cupcakes that look just like the Mario piranha plants.
If you prefer, you could make Toadstool cupcakes instead.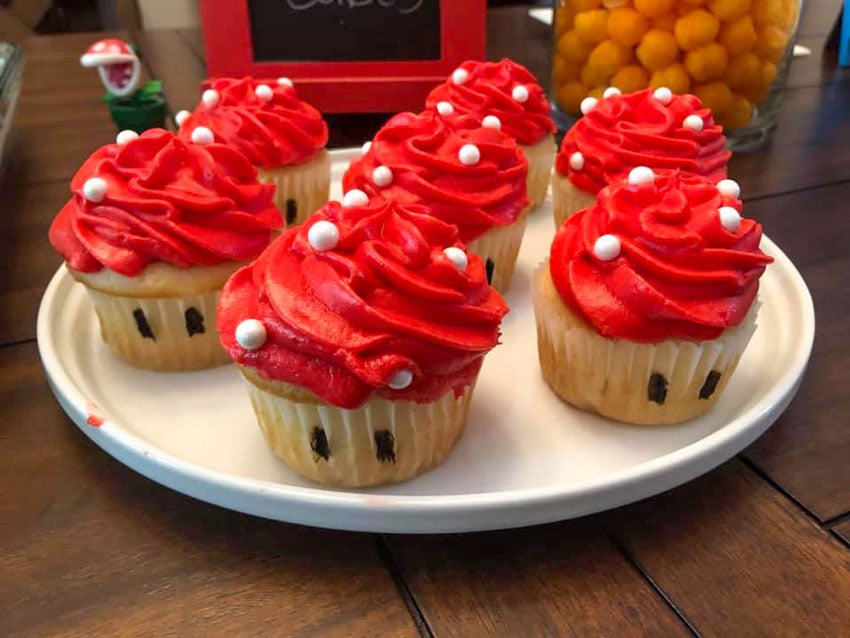 To make Toadstool cupcakes, make yellow cake cupcakes in white wrappers and frost them with vanilla buttercream dyed red with gel food coloring. I swear by the Wilton brand, it's tasteless and easy to work with.
Also, it takes A LOT of coloring to turn white buttercream from pink to full blown red- another reason I recommend gel food coloring.
Using liquid coloring will add a lot of moisture to your frosting and make it soft, so it probably won't hold it's shape and potentially flop.
Then decorate them by placing small white chocolate sixlets on top for the 'dots' on the mushroom and a black food grade marker on the wrapper to make the eyes.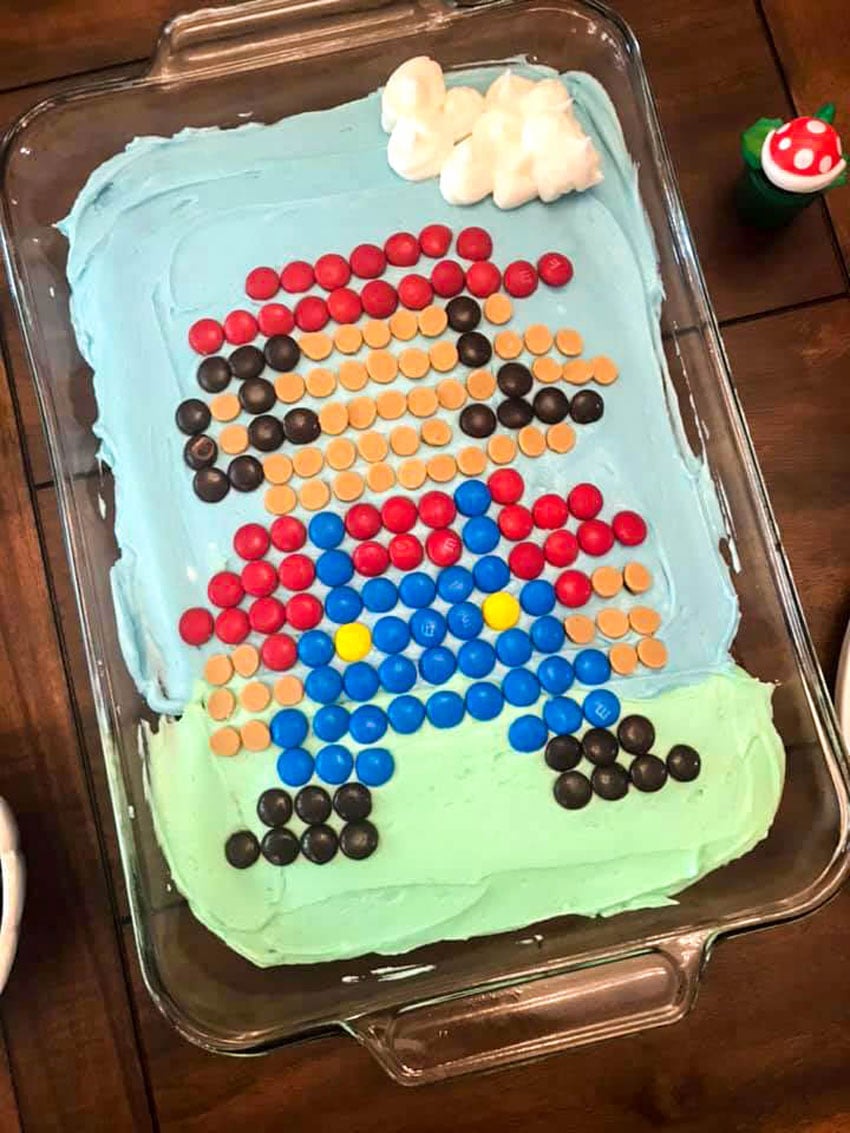 And for a cake we baked a regular chocolate cake in 9×13 inch glass baking dish. Then let it cool completely.
Then frost it with light blue for sky and light green for grass/ground. You can make clouds with white frosting piped on in dollops.
To make Mario, we used various M&M's to resemble his more OG pixelated 8bit image. For his skin we used peanut butter chocolate chips turned upside down.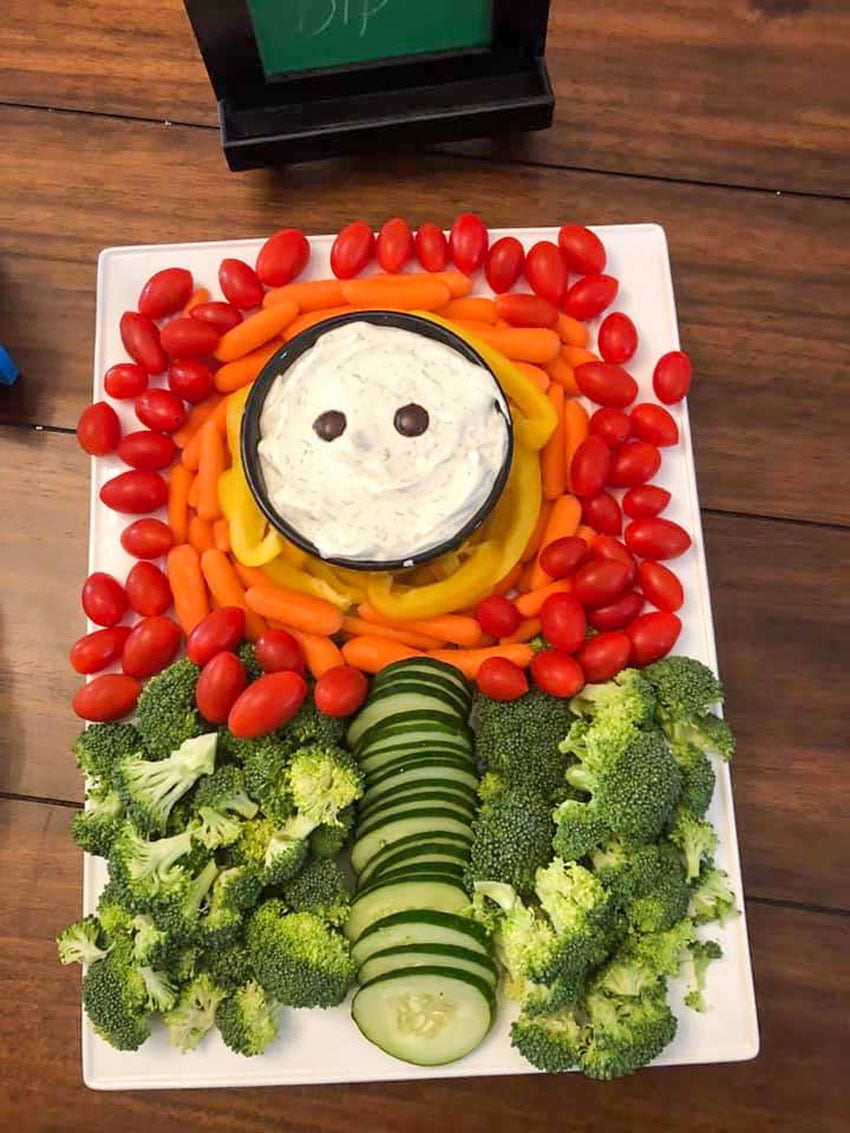 Super Mario Brother Birthday Party Games
You could do so many different fun birthday party games and still stay on theme. Some ideas:
A version of pin the tail on the donkey but substitute Mario and try to put his hat on.
Gold Coin Treasure Hunt where you hide gold coin chocolates and the kids race to find them
A Mario themed obstacle course where they have to climb through tubes, dodge Piranha plants you make from cardboard, collect gold paper plates or candy coins, and stomp on mushroom cutouts
Do a pinata decorated to look like a Yoshi egg
We love to hear from you!
Do you have other Mario themed birthday party ideas? I'd love to hear them! Leave me a comment and let me know!
You can also follow along with me on PINTEREST, FACEBOOK, and INSTAGRAM to see more amazing recipes and whatever else we've got going on!
This post may contain affiliate links. As an amazon associate, I earn from qualifying purchases. See my full Disclosure Policy for details.