Learn how to throw the best Stranger Things party! Perfect to treat any fan to a fun themed birthday with treats and activities for so much fun it's scary!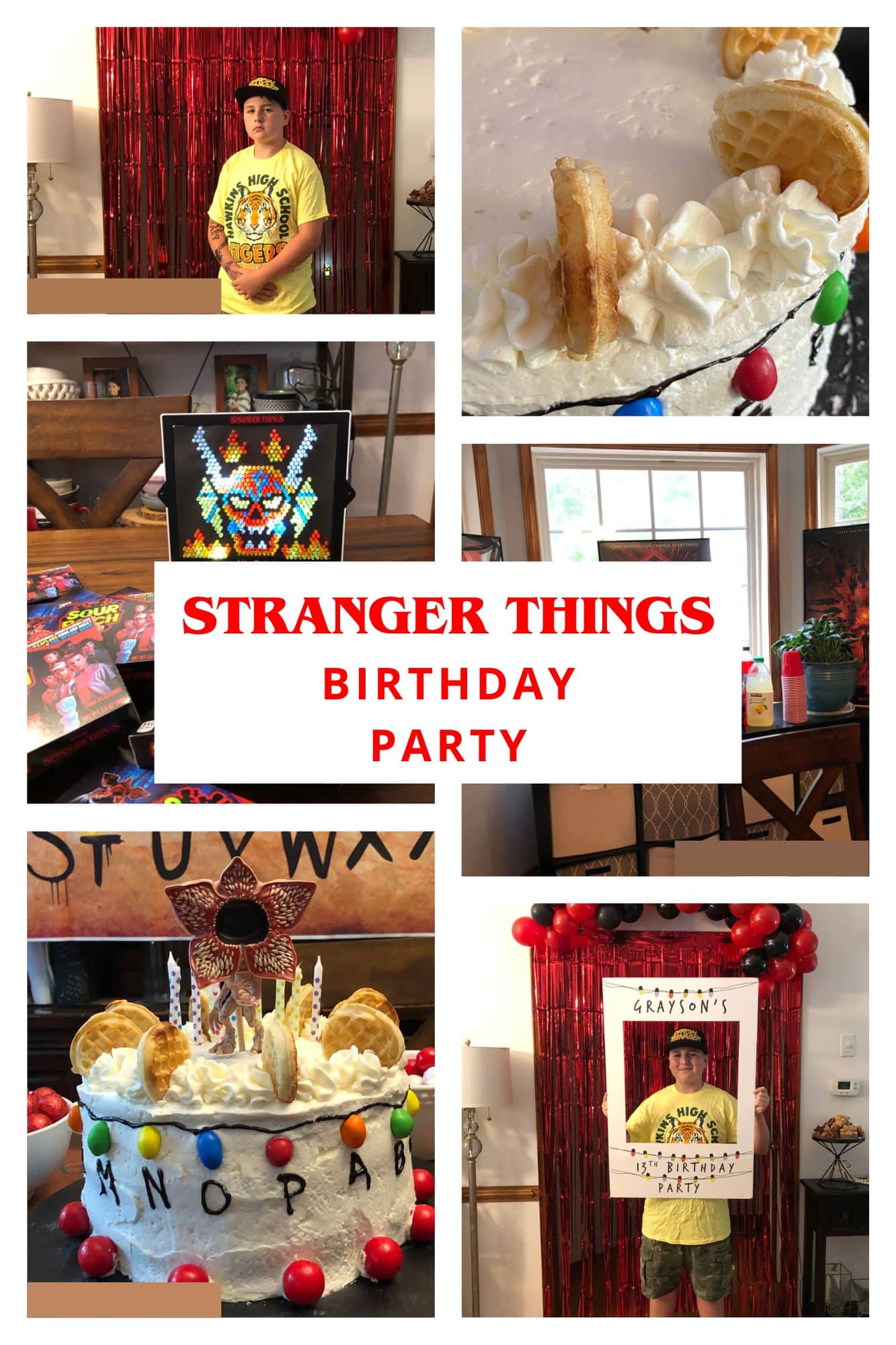 This post may contain affiliate links. As an amazon associate, I earn from qualifying purchases. See my full Disclosure Policy for details.
I love throwing over the topped themed parties for the sons.
While we've done other themes in the past that are geared towards younger kids or kids of all ages, this year's Stranger Things party was definitely geared towards an older group.
That didn't make this party any less fun or themed!
My son was delighted with how on point the food and decor was.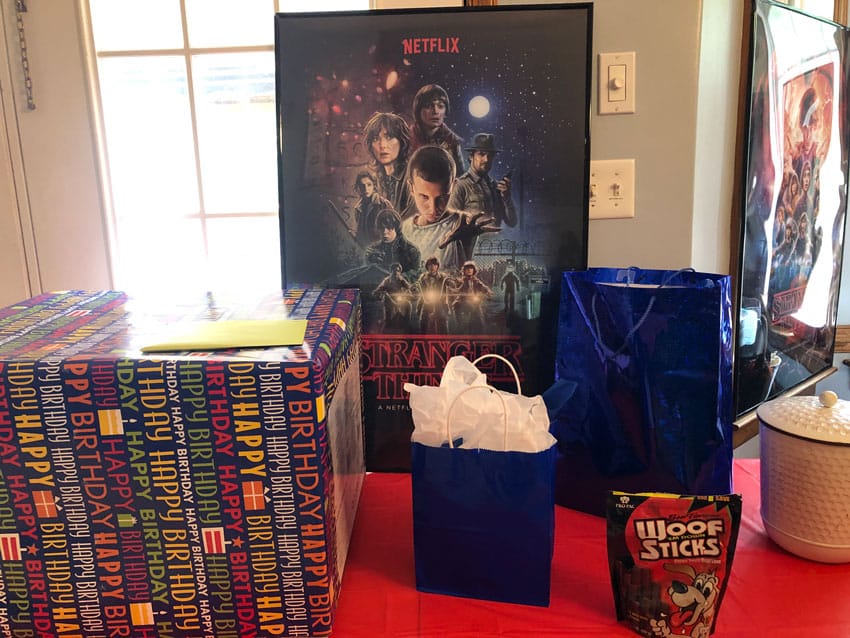 Stranger Things Party Decorations
There were a lot of easy, inexpensive ways to make fantastic party decorations.
Easy Poster Decor
For background decor we ordered the official posters from Seasons 1-4, then bought inexpensive frames like these to frame them.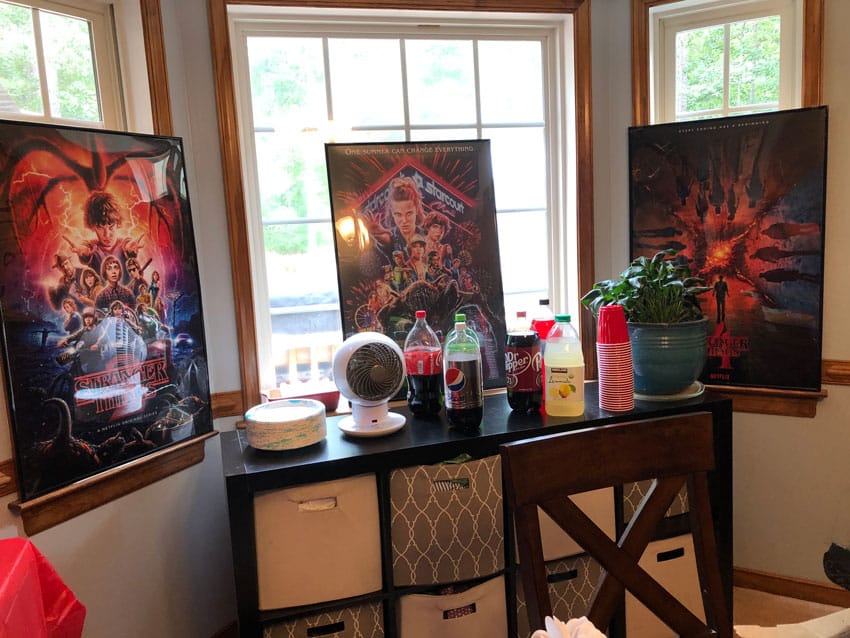 We put the framed posters in our bay window.
They made a perfect backdrop for the gift table!
Table Decorations
For table decorations we had a Stranger Things themed Lite Brite.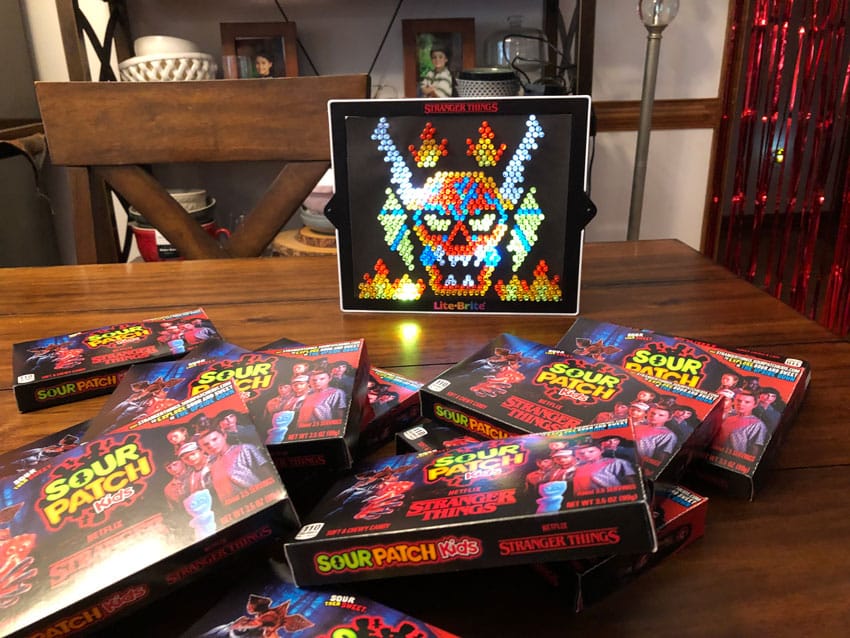 It looked great on the table along with Stranger Things Sour Patch Kid candies.
Photo Area
We created our own DIY Stranger Things photo booth, perfect for party pics!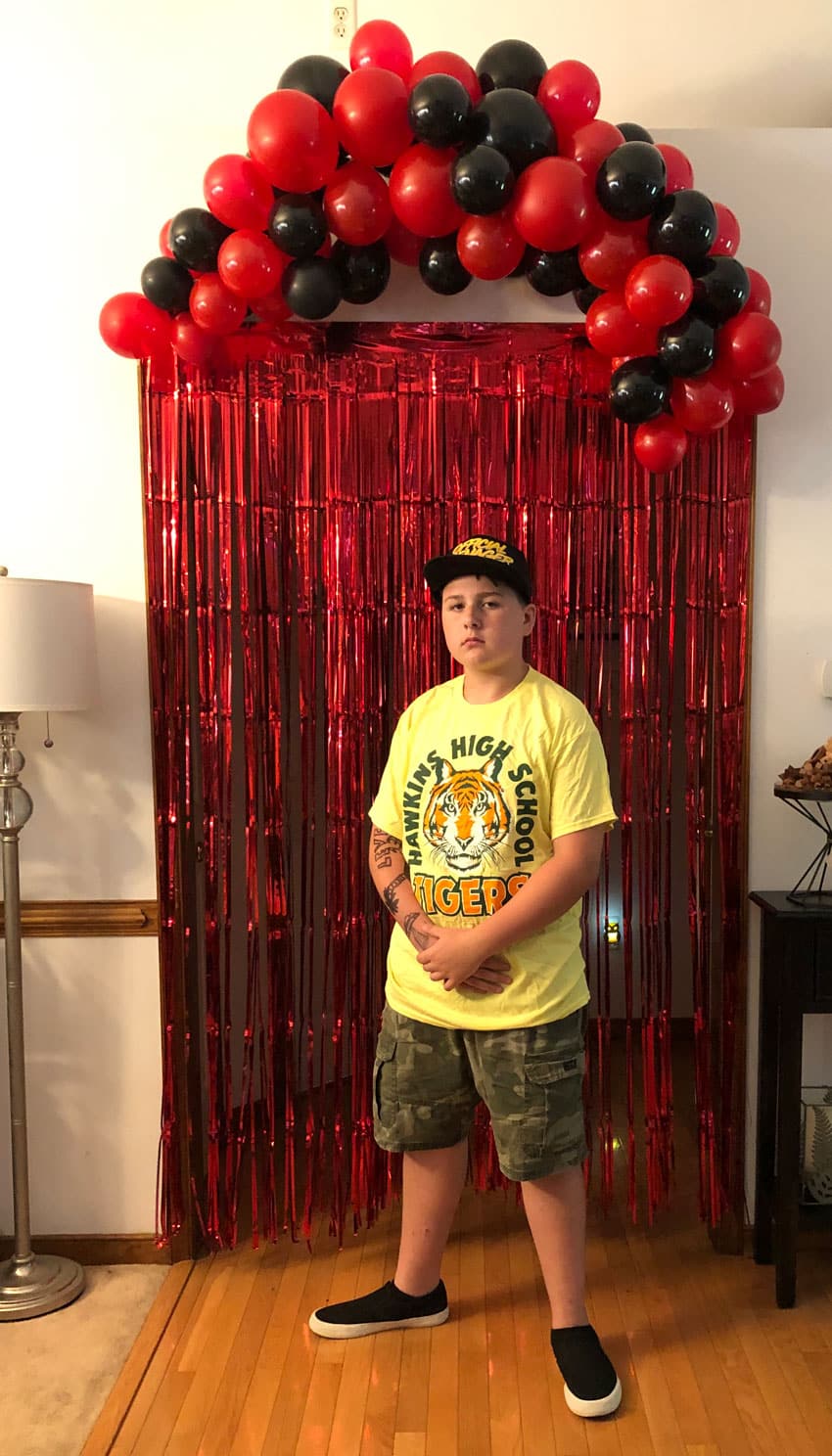 To do it, I ordered a red shimmer tinsel fringe background and hung it in the door frame.
I also did a DIY balloon garland with red and black balloons to finish off the picture backdrop area.
And for extra fun, we ordered a custom selfie birthday polaroid cutout.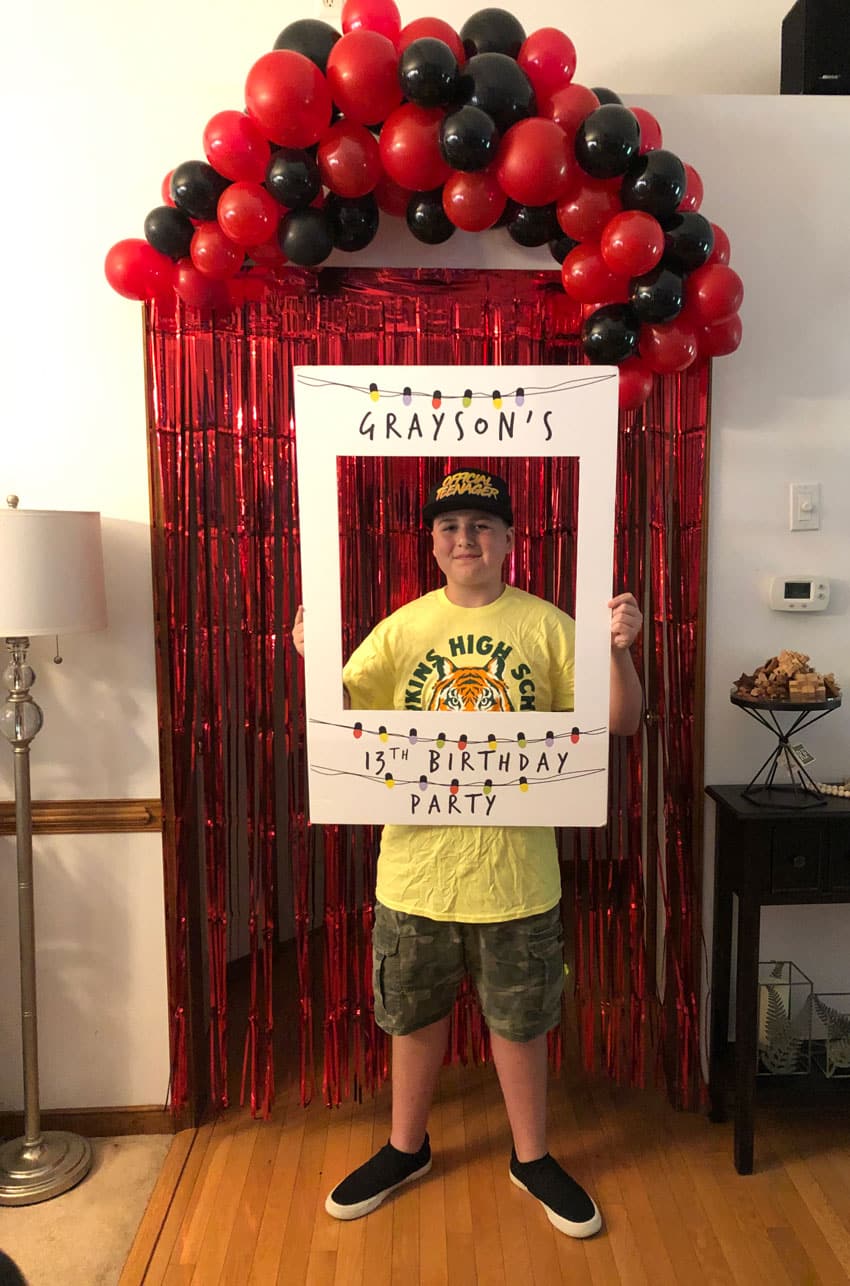 Other Decorations
We finished our party space off with a vinyl banner and hung it on our hutch for a nice backdrop.
It was inexpensive but still decent quality!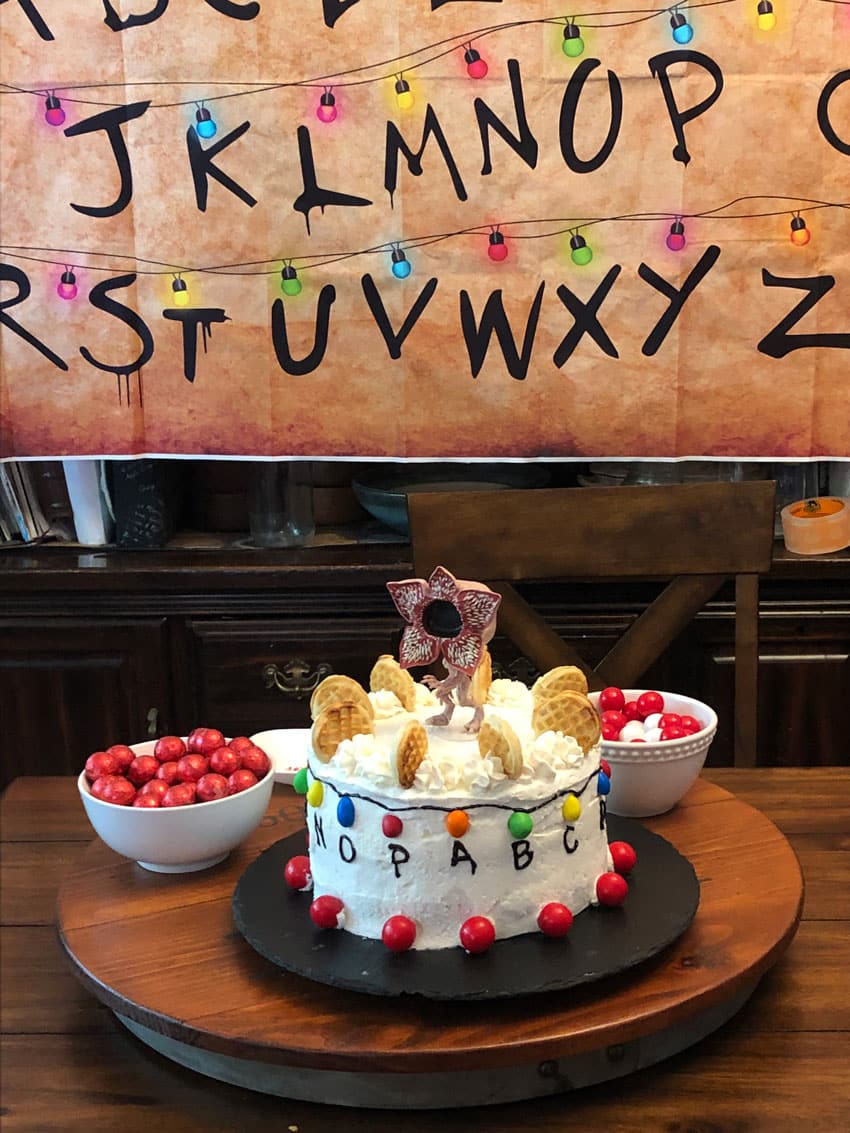 You can get creative with what you have and what you can find to make the party your own!
Stranger Things Party Food Ideas
For Savory Food
We kept things simple and ordered carry out pizzas since pizza is a big theme in the latest season!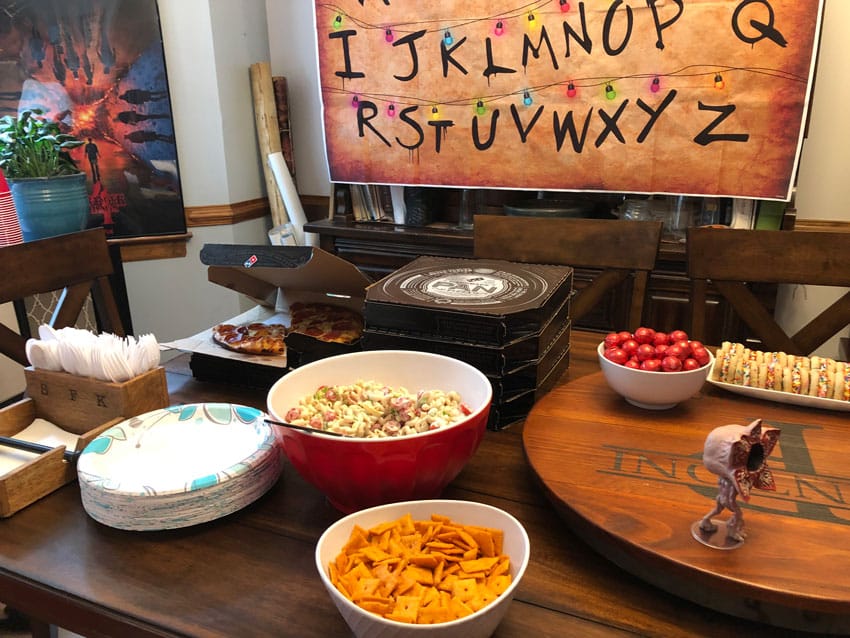 For a side dish, we served Grandma's macaroni salad as a side dish.
Stranger Things Candy Table
Turn a lazy susan into a candy table!
We loaded ours with red and white cookies and candies, gumballs and chocolate coated candies.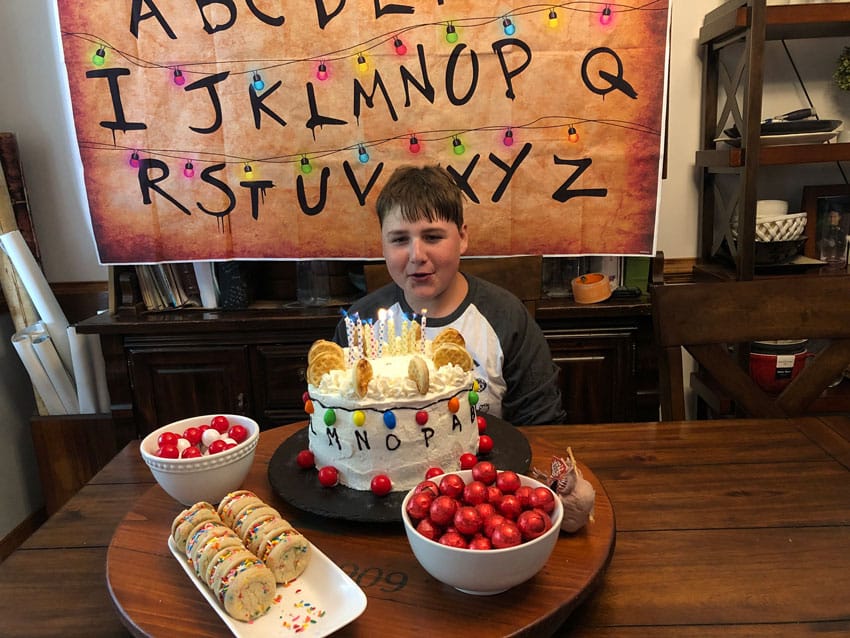 Stranger Things Cake
Use your favorite homemade cake recipe to make a cake with 3 layers.
Once the cake cools, whip up some buttercream frosting.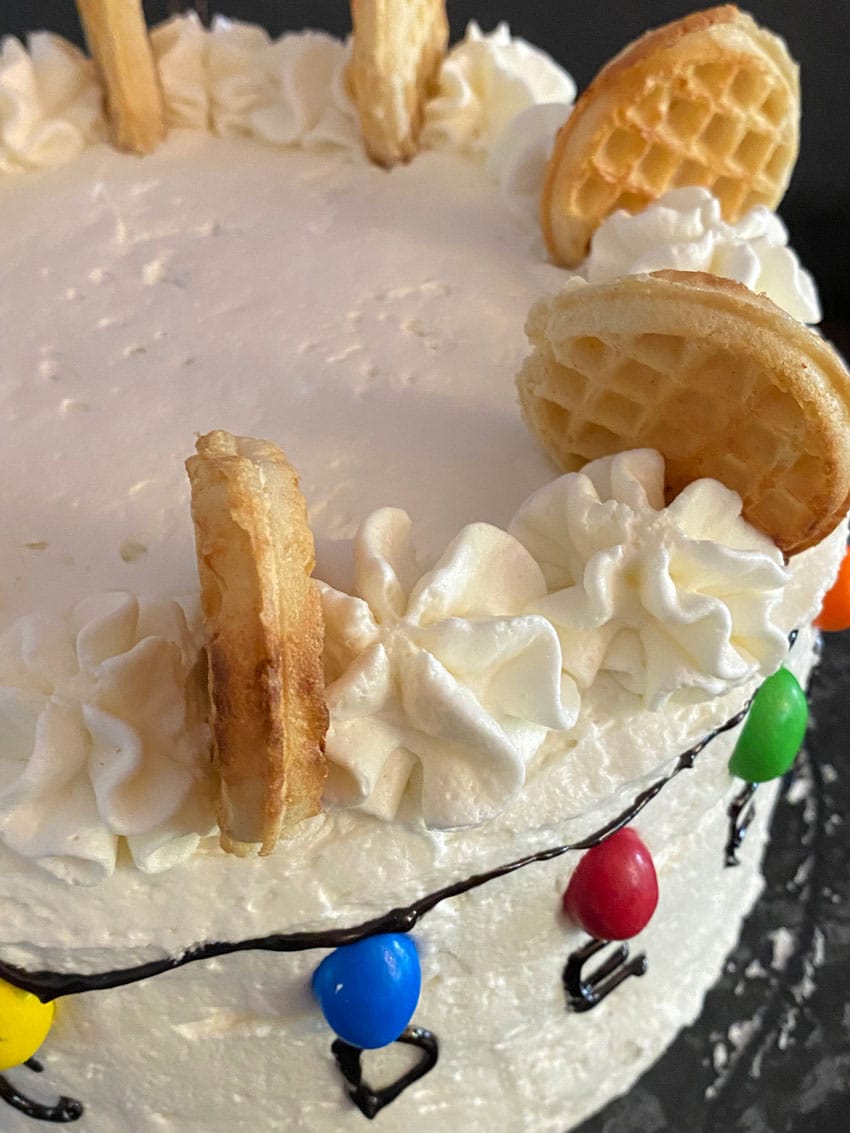 Assemble the cake with frosting in between cake layers and frost the outside.
Then make lights were made using M&M's (we used peanut ones) and black decorator gel to make the strings.
For a finishing touch, top the cake with swirls of frosting and stick toasted mini waffles into every other one.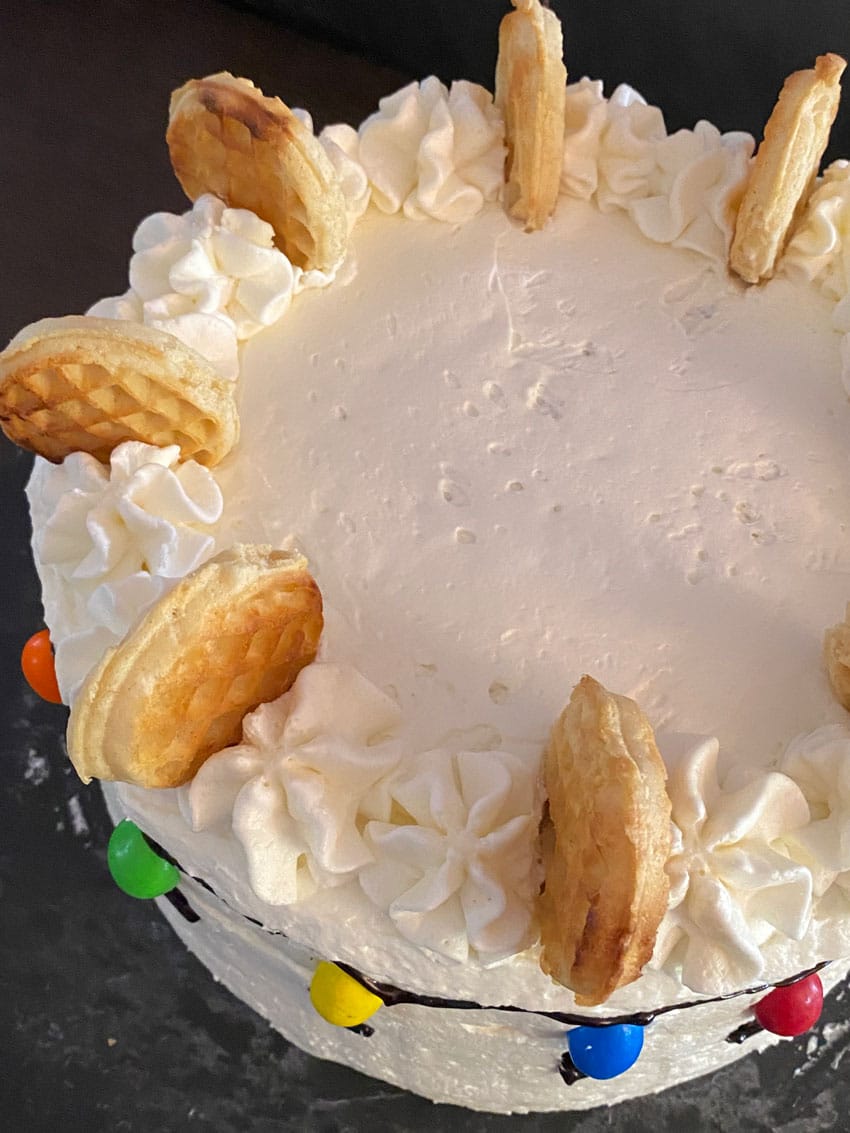 Don't skip the waffles!
The kids got a huge tickle out of this nod to El's favorite snack.
We used a Demogorgon POP figurine as the centerpiece on top of the cake.
Before cutting the cake this was cleaned off, put back in its box, and served as another gift/collectible for our little fan.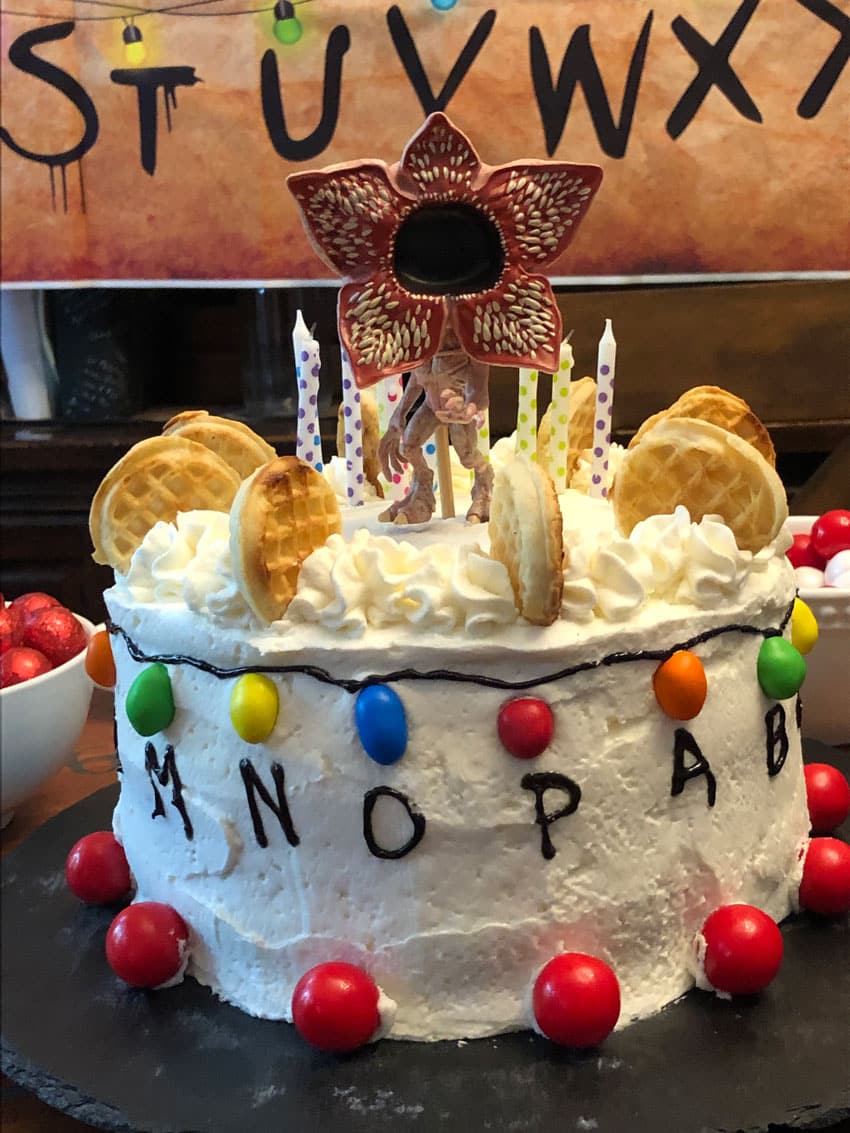 Stranger Things Party Activities
There are so many Stranger Things or even 80s or 90s themed activities you can do!
Bike Race
If your party is during good weather, do a bike race!
Make an obstacle course and have the kids race through it giving prizes to the winners.
Stranger Things Board Game
You could also play the Stranger Things Upside Down game.
This board game is lots of fun and on theme!
Waffle Eating Contest
See who can eat the most Eggo waffles in under a minute and give the winner a prize!
This is on theme and tons of fun!
Stranger Things Apparel
We love outfitting the birthday boy in something on theme.
For this, his 13th birthday, it meant a trucker hat that reads 'official teenager'. There's also cute ones for Camp Know Where.
He wore a Hawkins High gym shirt and socks for the party.
And, of course, he was gifted a Hellfire club t shirt – which was a HUGE hit.
We love to hear from you!
Do you have other Stranger Things themed birthday party ideas? I'd love to hear them!
Leave me a comment and let me know!
You can also follow along with me on PINTEREST, FACEBOOK, and INSTAGRAM to see more amazing recipes and whatever else we've got going on!
This post may contain affiliate links. As an amazon associate, I earn from qualifying purchases. See my full Disclosure Policy for details.