Grandma's sloppy joes from scratch are the ultimate in ultra cozy sandwich comfort. They're manly, meaty, and plenty filling, but they're also bathed in a slightly sweet, savory sauce that's irresistible. This classic is just like Grandma used to make it, and from start to finish is ready in just 20 minutes.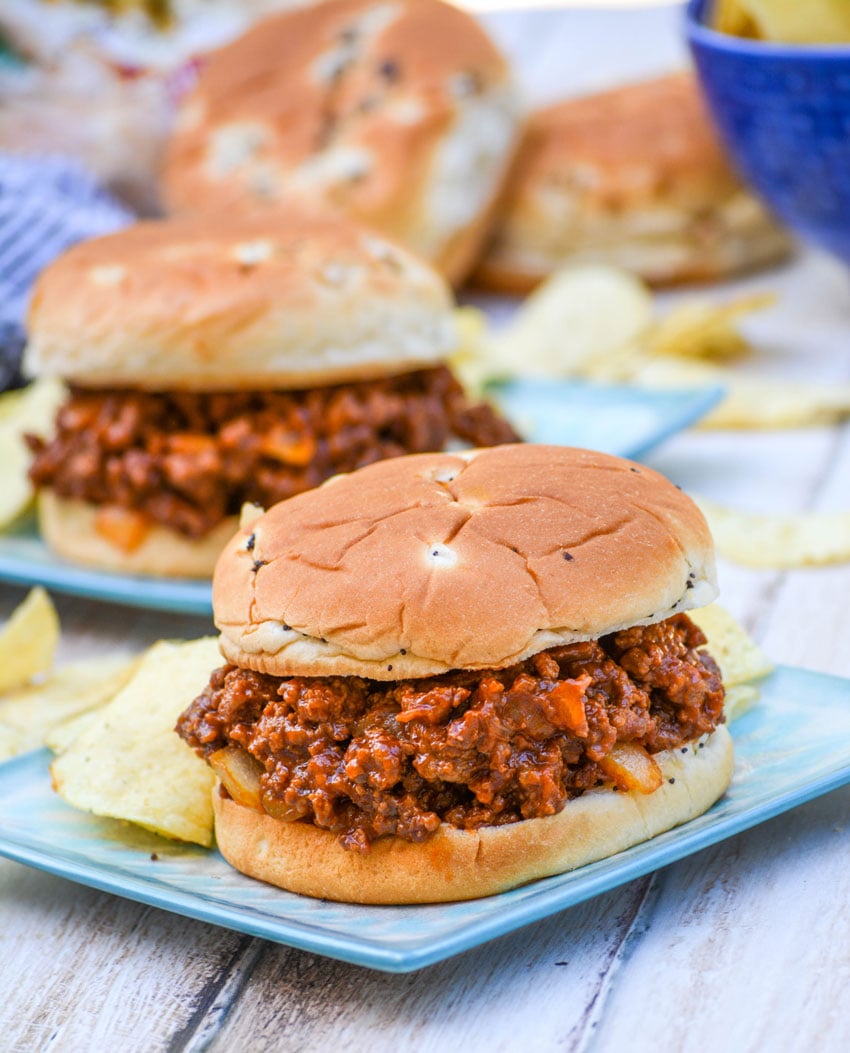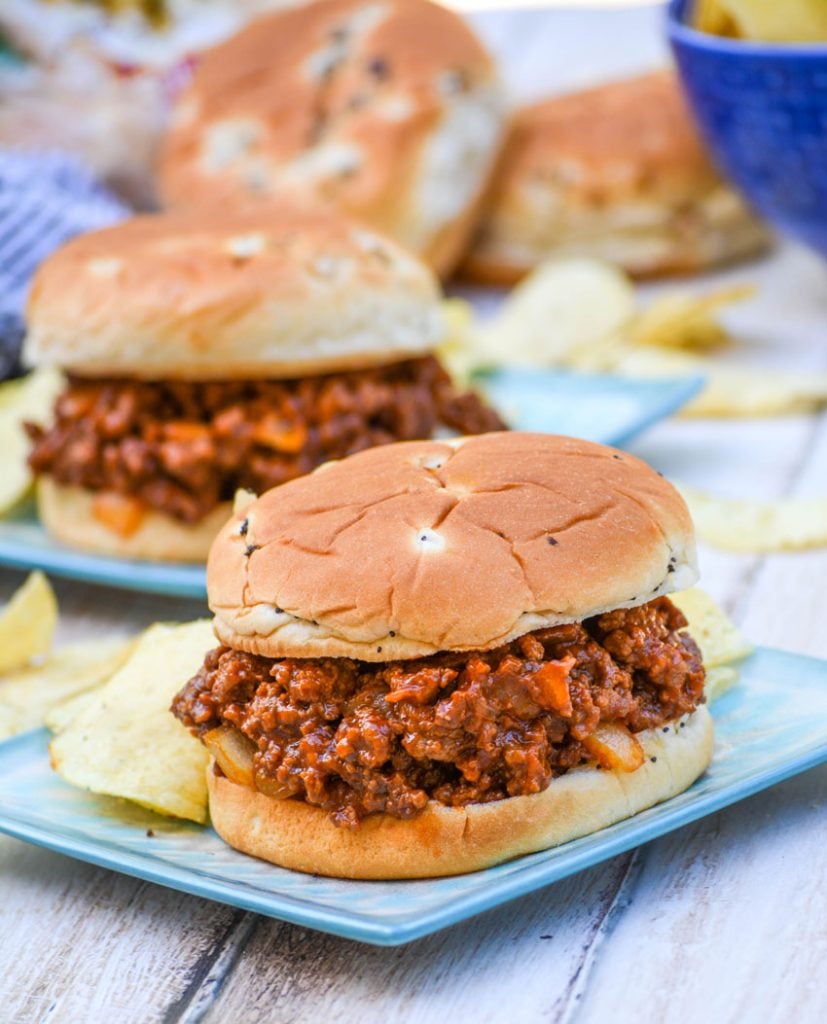 Sloppy Joes have always been a family affair.
Both of my Grandmother's had their own versions.
Both were born out of necessity, ways to stretch a meal and even a dollar.
Both were very, very different meals.
My one Grandmother had the simplest version I've ever encountered.
It was a mixture of cooked, crumbled ground beef, sauteed onions, ketchup, and sweet relish.
Never was my thing, but it was always on the menu whenever we visited growing up.
My Dad loved the stuff, still does.
She always had a batch warm and waiting when he walked in.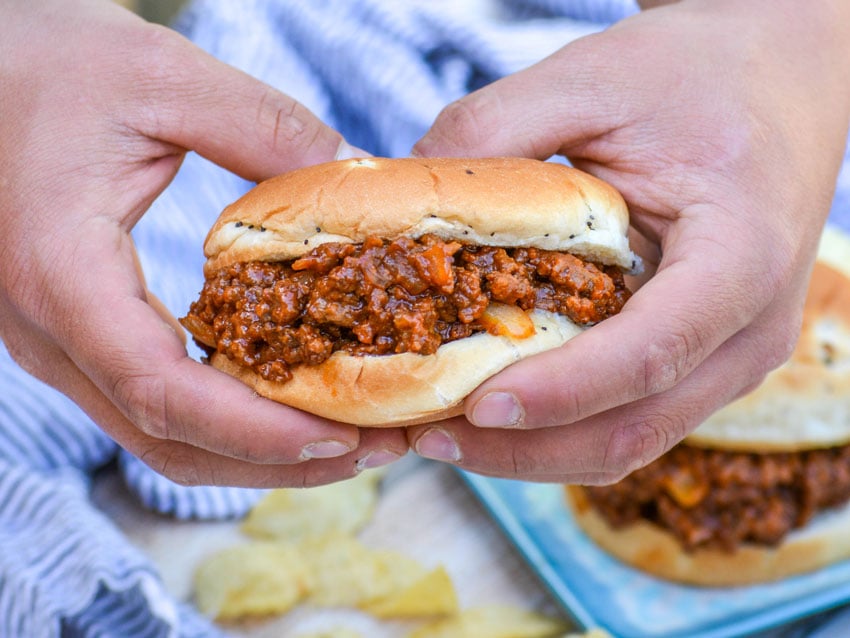 My other Grandma, the Southern transplant from New York had her own version.
That was the one I migrated to, and eventually expanded on to make it my own.
She still used the same staples, minus the relish of course.
Anything pickle that's not dill flavored is a hard no for me. Goodbye sweet relish!
She kept all the basic elements that make the base of a great, classic sloppy joe sauce mix.
Ground beef, caramelized sauteed onions, and ketchup.
Those three things are the jump point for a great beef-based sandwich dinner that the whole family will enjoy.
Consider them the trifecta of key ingredients for an classic sloppy joe sauce worth it's salt!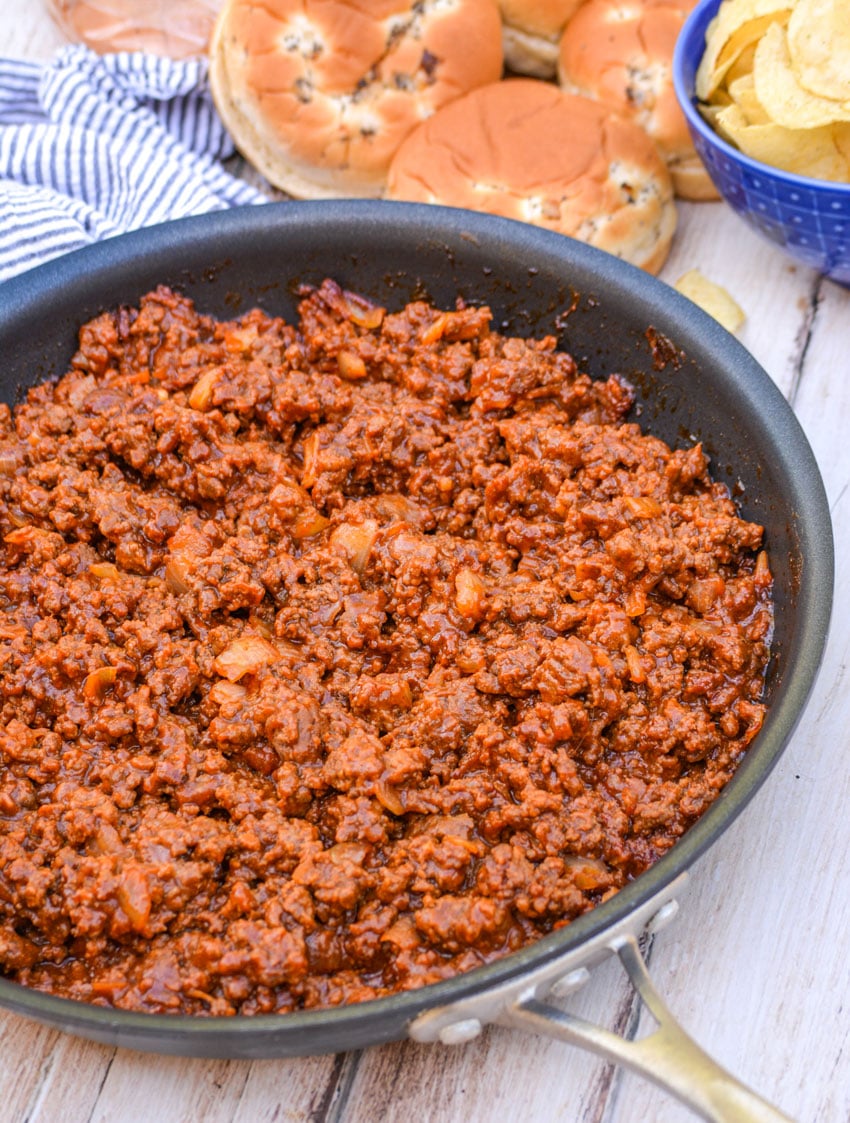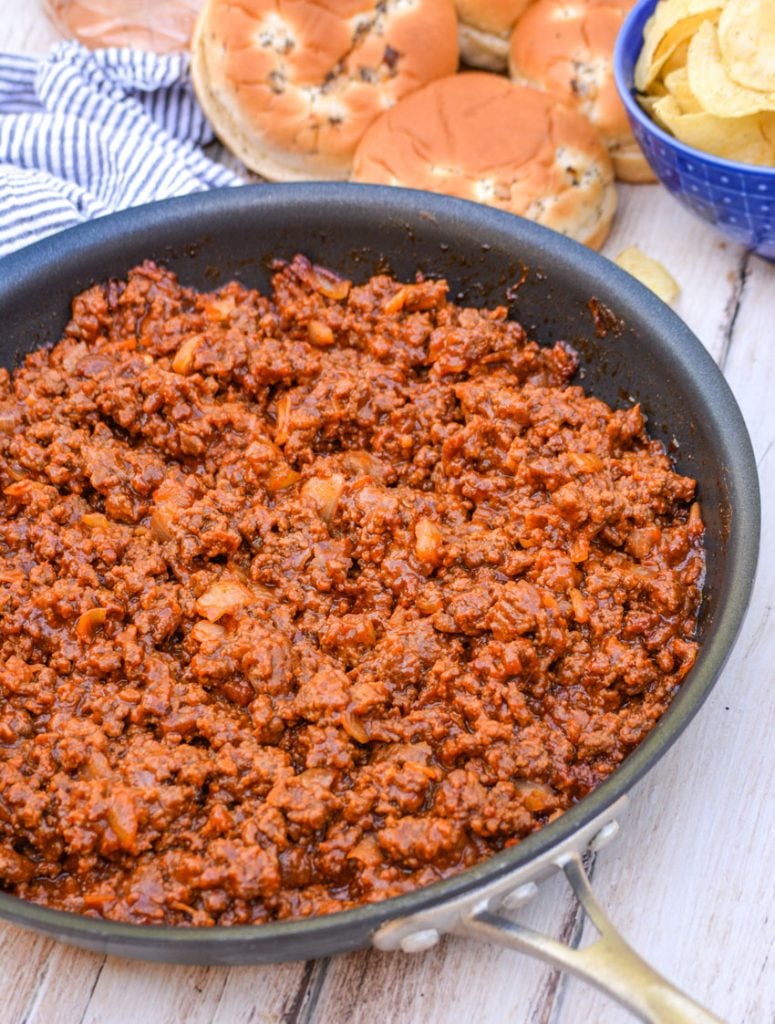 How To Make The Perfect Sloppy Joe Mixture:
If you start with the right stuff, a good base recipe- then it's hard to go wrong with any classic sloppy joe.
Grandma knew that, dove right in, and seasoned her sauce mixture with wild abandon. Well that and a very discerning palate.
Heat a large non-stick skillet over medium high heat, add in the ground beef and cook it until browned- breaking it up as you go.
The more you can break it up the better.
This is one of those recipes where we don't want chunks.
A smaller, more uniform crumbled texture yields the best results- both in texture and for the sauce to stick to every single bite.
We're using lean ground beef so there shouldn't be any excess fat, and no need to drain/strain the cooked beef.
Don't add any oil to the pain when browning. It will just create extra unnecessary grease.
Lean ground beef has plenty on it's own- just the right amount for this recipe.
Using the non stick skillet will also prevent any sticking, also negating the need for any added oils.
Now it's time to stir in the onions.
Continue sauteing the mixture until the onions are soft, reducing the heat if necessary to prevent burning or crisping.
When the onions are translucent and just beginning to caramelize, it's time to prepare the actual sauce in Grandma's sloppy joes from scratch.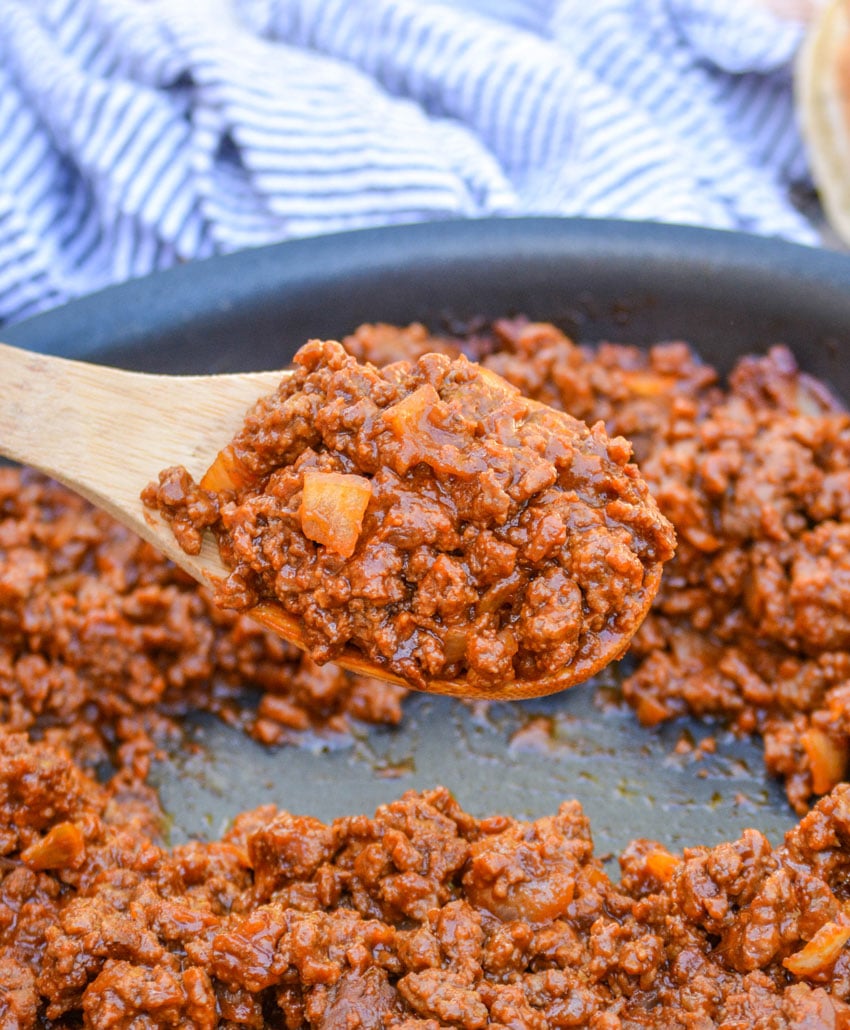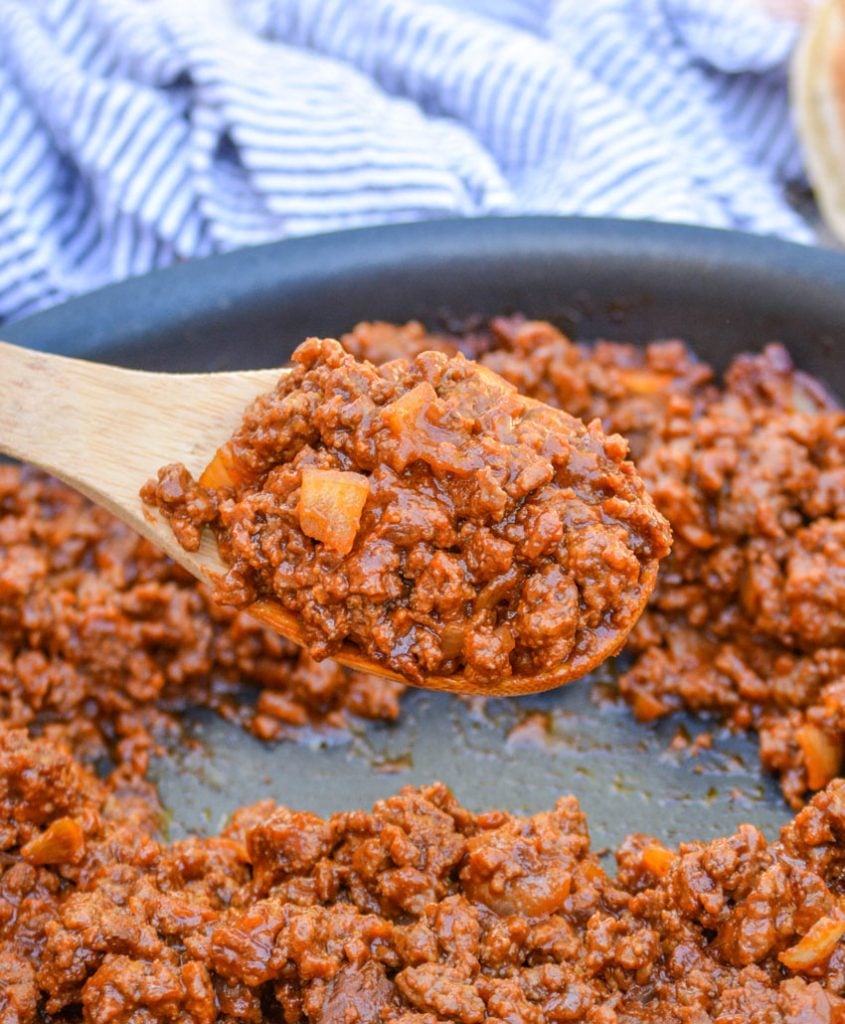 Making The Best Sloppy Joe Sauce- It's Easier Than You'd Think!
A good sauce is crucial to most recipes. Not all, but a lot.
The quality of any classic sloppy joe is always going to revolve around the tastiness of the sauce the meat mixture's bathed in. No one enjoys a dry sandwich, and too much sauce will end up in a soupy mess.
A seasoned result firmly in the middle is the best way to go, one that's seasoned just right with nothing more and nothing less than needed.
Grandma's sloppy joes from scratch check all those boxes and do just that.
To the beef mixture you're going to add ketchup, apple cider vinegar, Worcestershire sauce, brown sugar, and mustard. Stir everything to ensure it's all evenly incorporated.
This saucy mix is going to simmer for about 10 minutes.
Reduce the heat as needed to keep it at a slow simmer, not a boil.
We don't want the sauce to splatter or too thicken and lose all moisture. It's a delicate balance.
At first taste, don't be tempted to add in additional brown sugar.
The mixture will get sweeter as it cooks and reduces.
Not only are you already adding brown sugar to the mix, but ketchup itself is naturally sweet and as it breaks down it will literally sweeten the pot.
Once the mixture's thickened nicely, remove the entire skillet from the heat.
The sauce will stay hot while serving, but cool just enough to be the perfect temperature at first bite/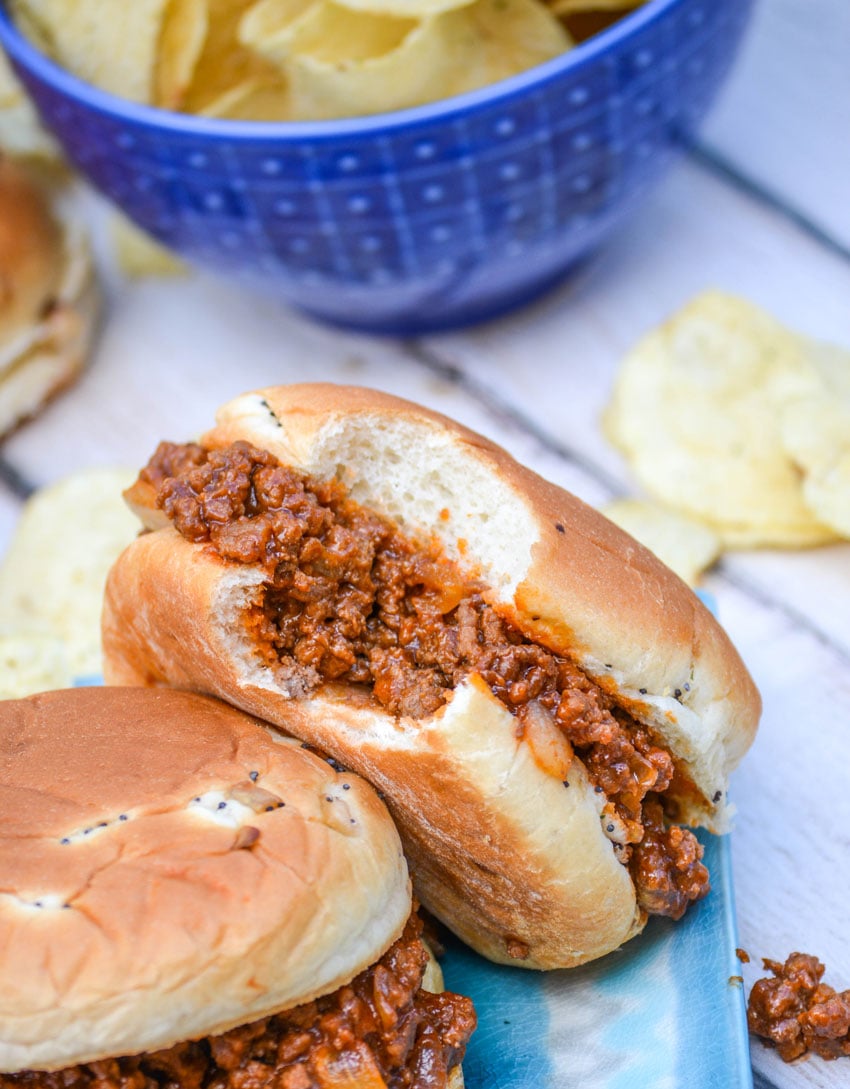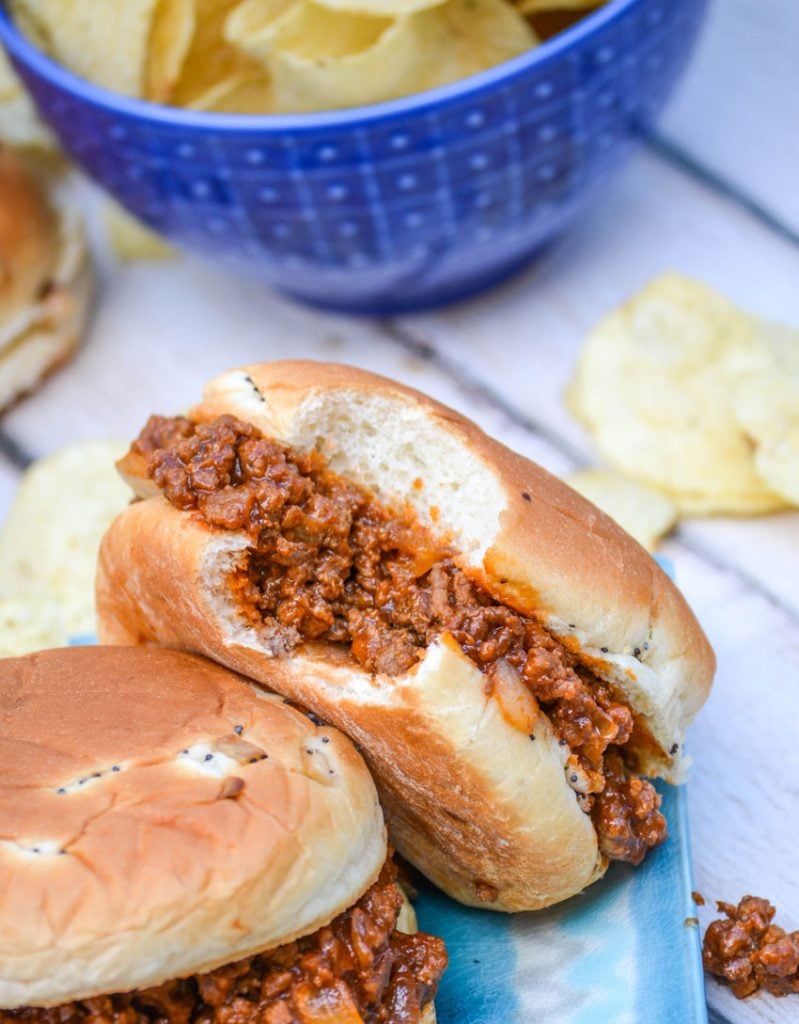 How To Serve a Great Sloppy Joe Sandwich- a little crunch is the best bet!
If you ate sloppy joes on the regular like I did growing up, you probably associate them with fluffy slices of white sandwich bread.
They were great, but they were a mess.
You could easily go through a whole stack of napkins and then some in a single sandwich.
And if you were me, you probably still got scolded afterwards for a wayward stain or two on your nice shirt.
Over the years, we've found firm bread is the key to the best sloppy joe sandwich.
Not just thick slices, although thicker slices do help- but crusty bread.
If you're looking to use loaf bread, I highly recommend toasting it before serving.
It will make all the difference, and the crunch factor really takes this sandwich up a notch.
Buns are an even better serving idea. The fluffier the better.
We like sesame buns, as well as fluffy potato, and even onion rolls.
Even with the rolls, I still highly recommend lightly toasting them beforehand.
Let's make Grandma's sloppy joe sandwiches a meal- what to serve with them!
While these aren't hamburgers, they're similar like distant cousins in the same family.
And as with any burger, the same traditional sides like crispy chips or french fries pair perfectly.
We like to serve them with a nice thick wedge-style one like these Greek-style oven fries.
If you want to give it a healthier spin, a simple side salad is a great option. The Kitchn offers some great tips on perfecting the art of the simple side salad.
I realize that while serving them for lunch sounds great, it's also highly ambitious of my unless it's a school-break or a Sunday afternoon.
Realistically I'm whipping these bad boys up for dinner- and any dinner I can feel moderately good about requires veggies to go with it.
Simple steamed broccoli makes a delicious addition, and so do my Grandma's canned green beans.
If your kids love carrots, give these ranch glazed carrots a try.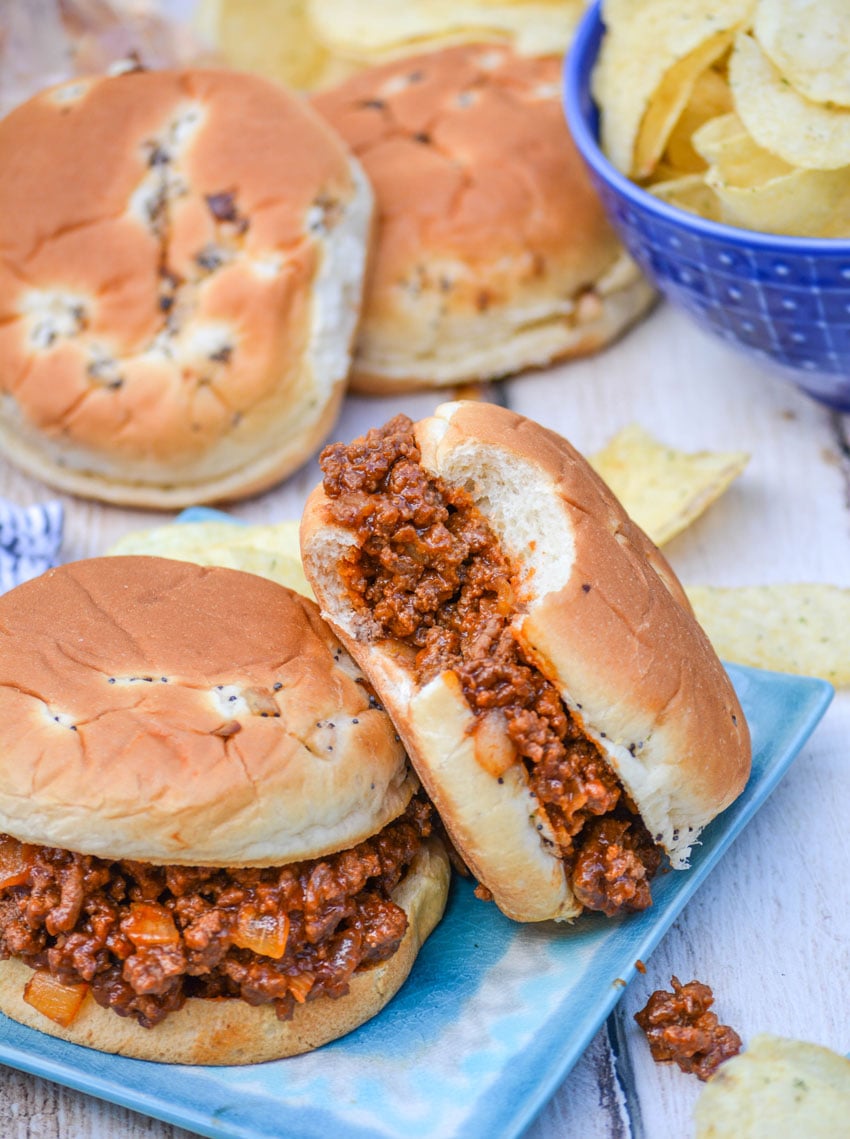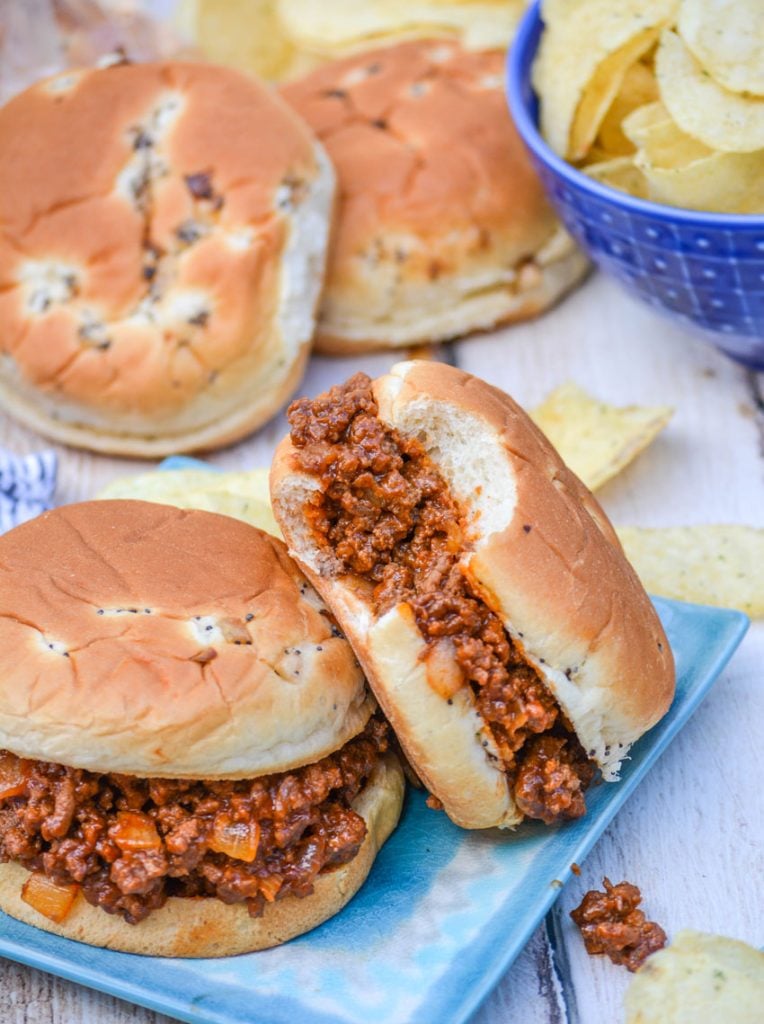 A quick and easy meal that will please even the pickiest eater, you really can't go wrong serving Grandma's sloppy joes from scratch.
It's the perfect base for a comforting family dinner- made in a pinch, and on a budget. That's my favorite kind of recipe!
If you've tried this Grandma's Sloppy Joes from Scratch, or any other recipe on my site, let me know in the comment section how it turned out, we love hearing from our readers! You can also follow along with me on PINTEREST, FACEBOOK, and INSTAGRAM to see more amazing recipes and whatever else we've got going on!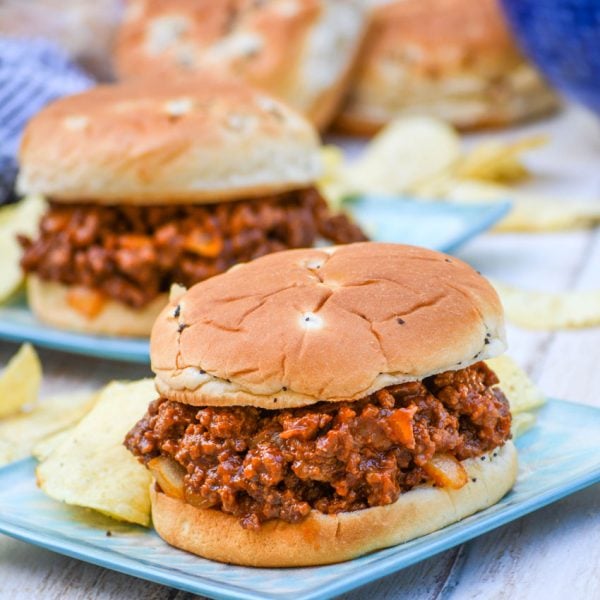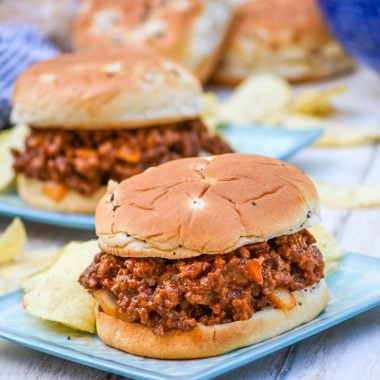 Grandma's Sloppy Joes from Scratch
A good, old fashioned recipe for Southern-style sloppy joes- these sandwiches come straight from my Grandma's kitchen.
Print
Pin
Rate
Ingredients
1 1/2

lbs

lean ground beef

1

large

white onion

roughly chopped

salt & black pepper

to taste

1

cup

ketchup

2

tbsp

apple cider vinegar

2

tbsp

Worcestershire sauce

2

packed tbsp

brown sugar

2

tbsp

yellow mustard

6

hamburger sized buns
Instructions
In a large skillet over medium heat, brown the ground beef- about 5 minutes & breaking it up as it cooks.

Stir in the onions, and season the mixture with salt & pepper- to taste.

Continue cooking the mixture, stirring occasionally, until the onions have softened and begun to caramelize- about another 5-7 minutes.

Add the remaining ingredients to the skillet, stirring them in until evenly combined.

Bring the sauce to a simmer, the reduce the heat to maintain a slow simmer. Cook the mixture like that for 10 minutes, stirring frequently.

When the sloppy joe mix has thickened, remove the skillet from heat

Scoop the filling onto fluffy buns, or on slices of toast and serve as sandwiches.
Nutrition
Calories:
340
kcal
|
Carbohydrates:
36
g
|
Protein:
30
g
|
Fat:
8
g
|
Saturated Fat:
3
g
|
Cholesterol:
70
mg
|
Sodium:
766
mg
|
Potassium:
662
mg
|
Fiber:
2
g
|
Sugar:
13
g
|
Vitamin A:
205
IU
|
Vitamin C:
5
mg
|
Calcium:
106
mg
|
Iron:
5
mg