"The Grinch hated Christmas! The whole Christmas season! Now, please don't ask why. No one quite knows the reason. It could be his head wasn't screwed on just right. It could be, perhaps, that his shoes were too tight. But I think that the most likely reason of all May have been that his heart was two sizes too small."
The holidays are a wonderful time to get together with your family, your friends, anyone at all really, but be careful! Don't let the never-ending holiday cheer overwhelm you and turn you into a Grinch! Just remember how the story goes …
Every Who down in Whoville,
the tall and the small,
was singing–without any presents at all!
He hadn't stopped Christmas from coming–it came!
Somehow or other, it came just the same.
And the Grinch, with his Grinch feet ice cold in the snow,
Stood puzzling and puzzling:
"How could it be so?
It came without ribbons! It came without tags!
It came without packages, boxes or bags!"
He puzzled and puzzed, till his puzzler was sore.
Then the Grinch thought of something he hadn't before:
"Maybe Christmas," he thought, "doesn't come from a store–
Maybe Christmas–perhaps–means a little bit more."
And what happened then–well, in Whoville they say
That the Grinch's small heart grew three sizes that day.
Now, who in Whoville wouldn't like to be served these? Thank you Dr. Seuss for giving us such a disgusting villain to love, and such an iconic Christmas story to "bring your cheer, cheer to all Whos far and near".
How 'The Grinch Stole Christmas'? How 'bout 'How The Grinch Crinkled Christmas'! We've upgraded our Lazy Cake Cookies into these adorable Grinch-y crinkle-style treats.
Quick and easy cake cookies are a soft, fluffy, melt-in-your-mouth treat. We've turned these Grinch Cookies green and given them a Grinchy make-over, turning them into fun Christmas-themed snack or dessert.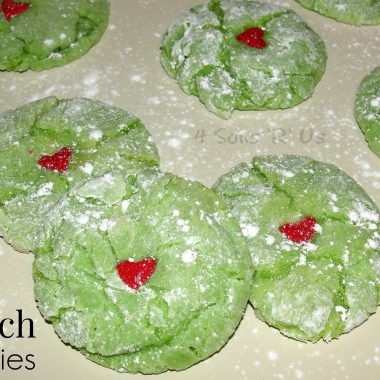 Grinch Cookies
A fun, festive treat- these easy cake cookies are green with a tiny heart for an adorable Grinchy Christmas dessert.
Print
Pin
Rate
Ingredients
1

box yellow

or white, cake mix

1/2

cup

vegetable oil

2

eggs

green food coloring

powdered sugar

large heart-shaped sprinkles or candies
Instructions
In the bowl of a stand mixer, cream together the cake mix, food coloring ( 8 drops for a yellow mix, and 1-2 for white), oil, and eggs.

Chill the dough for at least 10-15 minutes.

Drop by the tablespoon into the powdered sugar and then roll into balls.

Place on a baking sheet and press 1 large heart candy/sprinkle into the center of each.

Bake at 350 degrees for 8 minutes, or until just set.

Let cool 2 minutes on the pan before removing the cookies to cool completely on a wire rack.