The kids aren't the only ones that deserve a treat this holiday season, and with these boozy Grinch milkshakes are the perfect grownup treat this Christmas.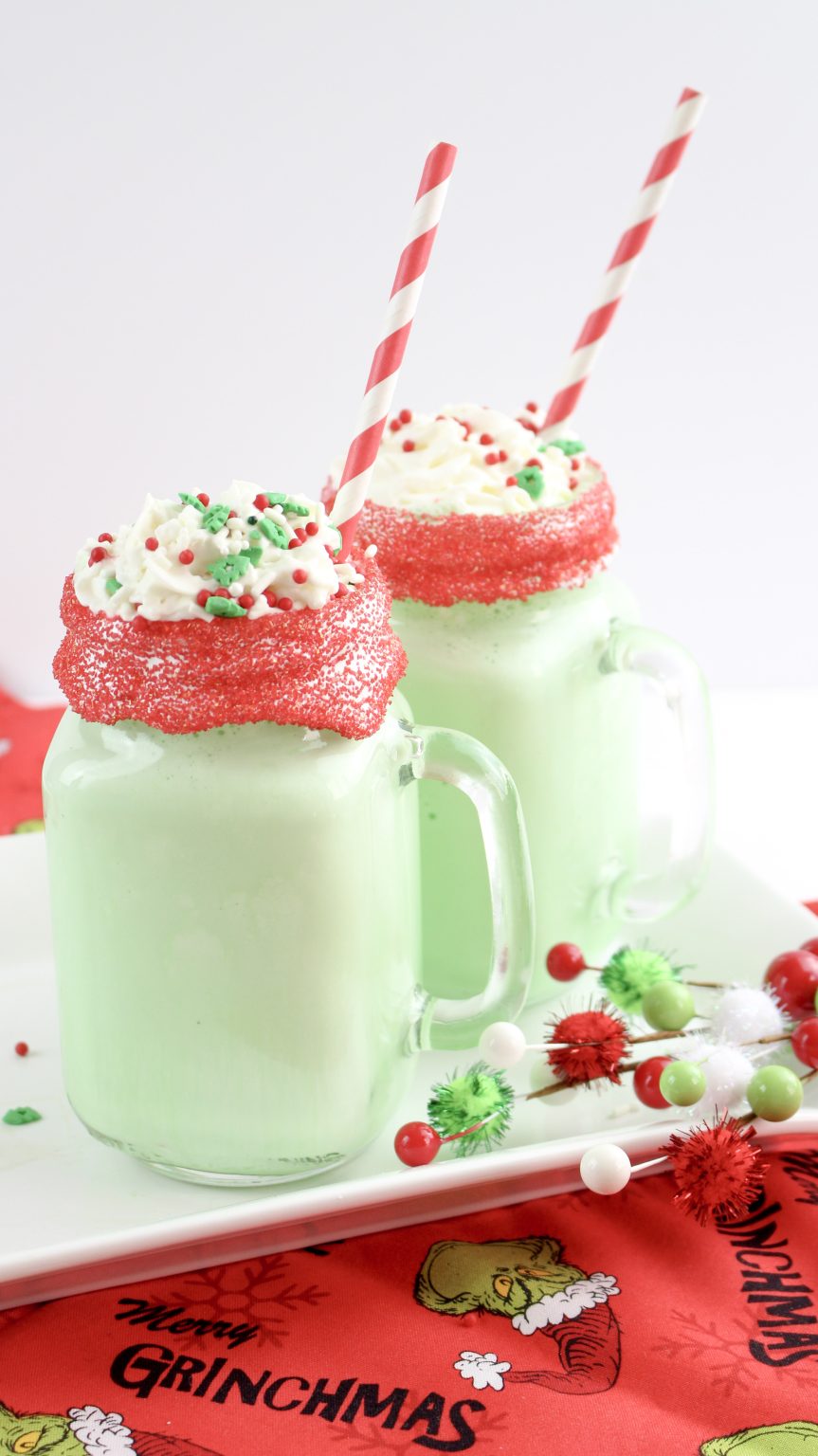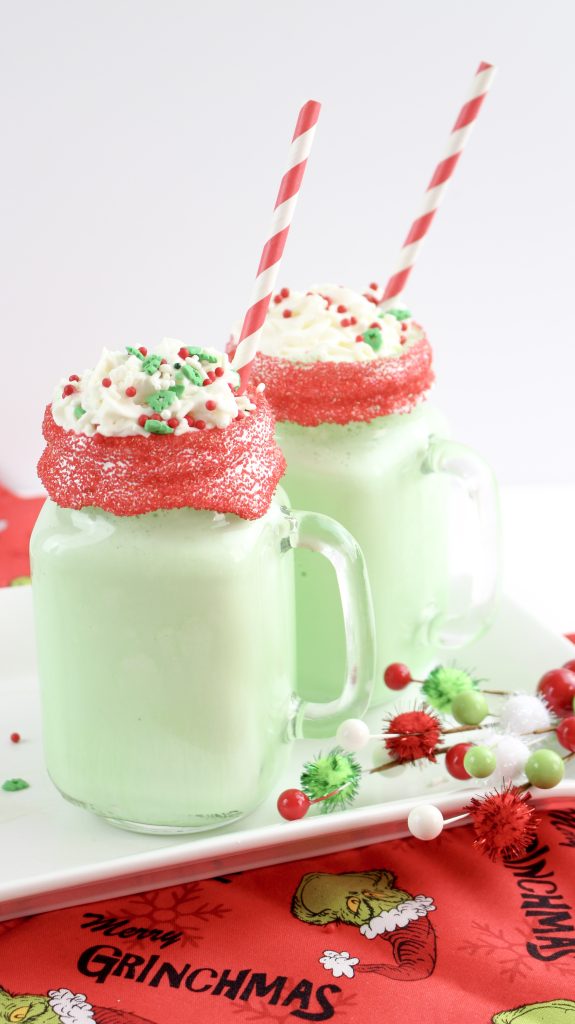 With minty flavor from peppermint schnapps and a shot of vodka and extra vanilla, these creamy milkshakes are a festive, adult end to any holiday feast or night of merry making.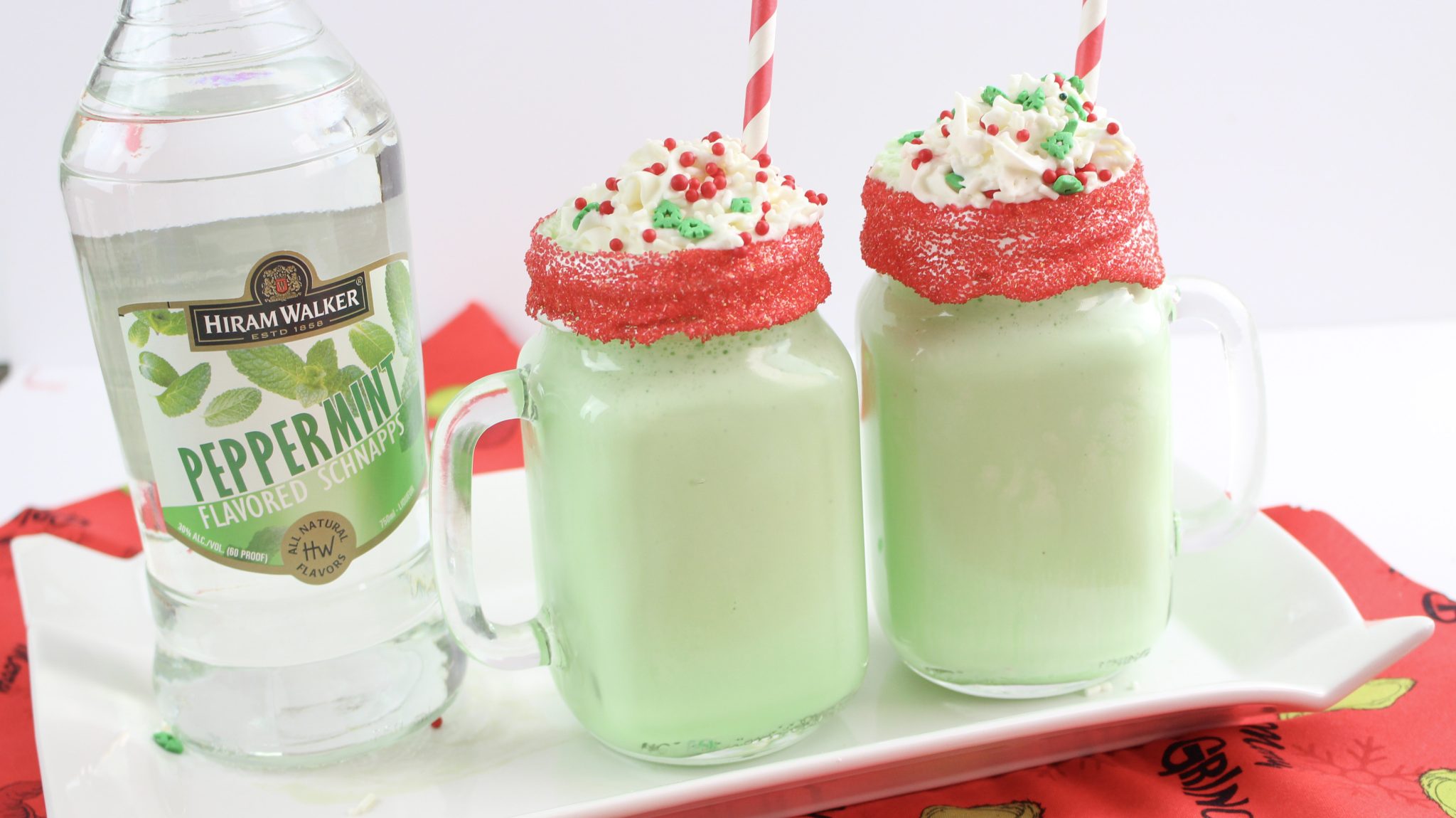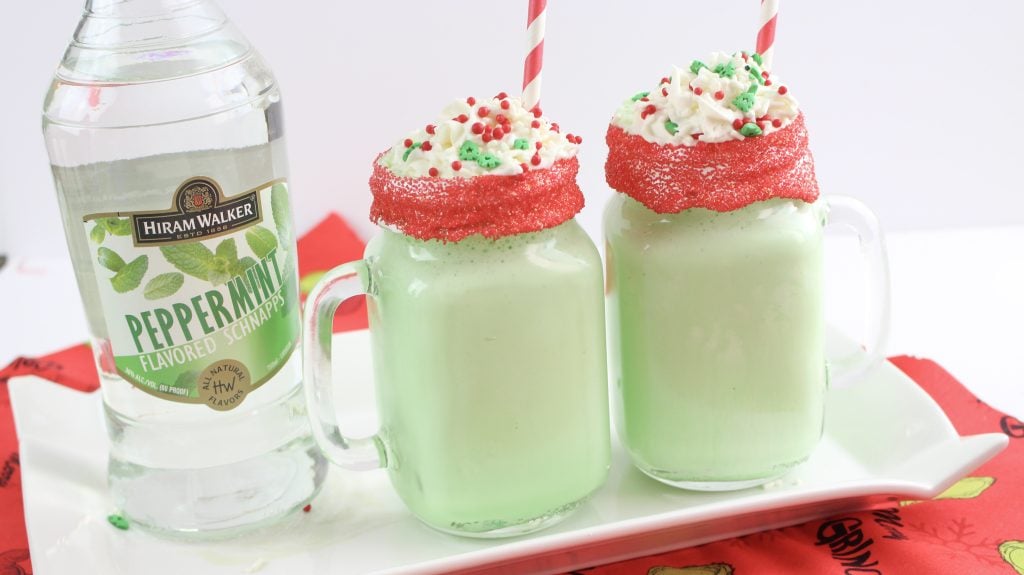 The Grinch is one of my favorite holiday characters. I love reading the book to my kids. And the movie version is definitely a Christmas classic I look forward to watching each year. So of course, I love to use the Grinch as inspiration for some of my favorite holiday treats like Grinch fudge and these boozy Grinch milkshakes.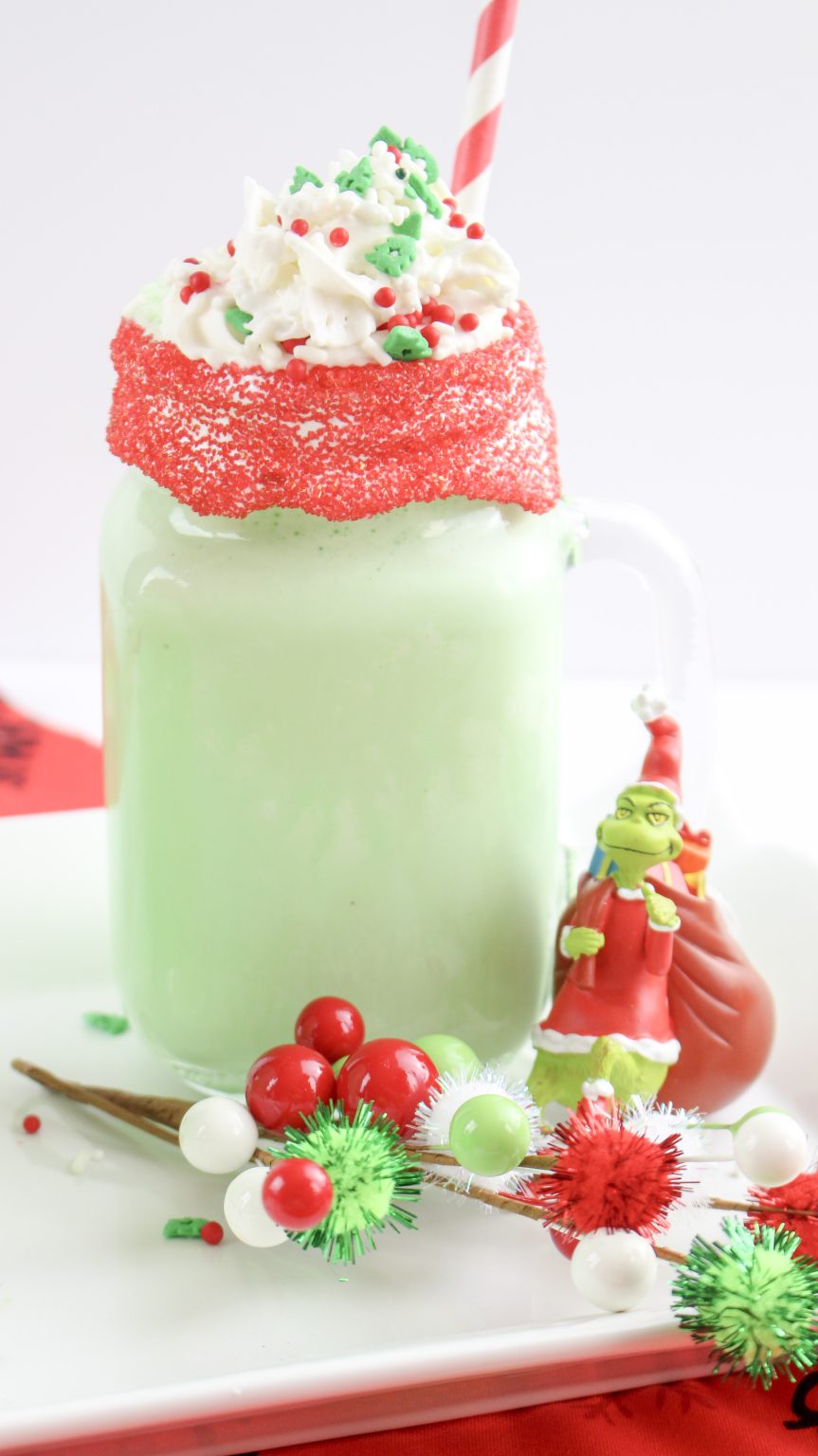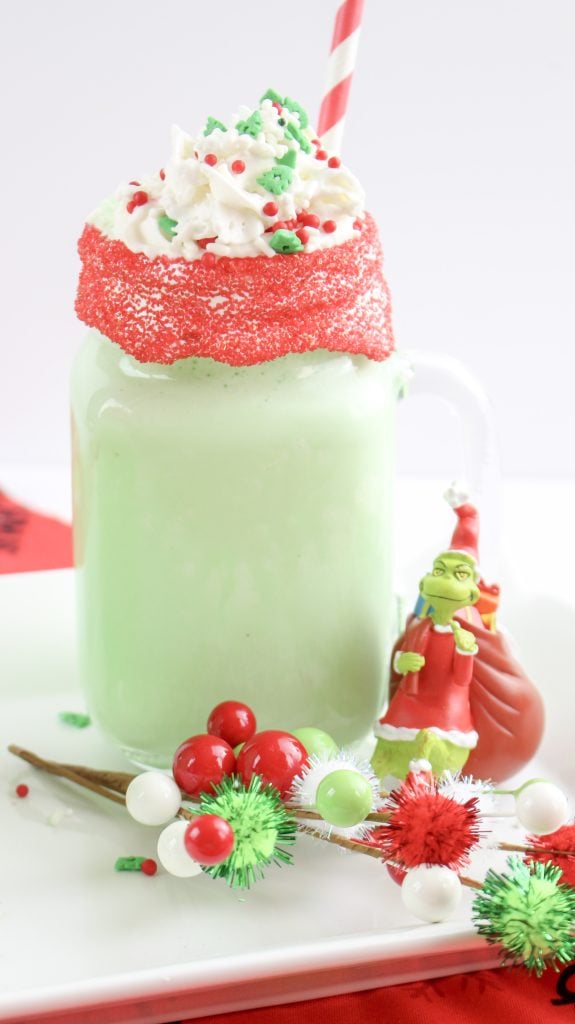 Now I could have made these milkshakes kid friendly and omitted the boozy parts of it, but I've made some delicious candy cane milkshakes for the kids. And now, adults, it's our turn. I mean we are the ones that do the work to make it magical, right? We deserve a treat with peppermint schnapps and vodka. An adorably festive treat with peppermint schnapps and vodka that's guaranteed to lift the grinchiest of spirits.
And by this point in the holiday season, even my jolly spirits fall just a touch with all the hectic hub bub of the season. I catch myself having moments of Grinchiness. And the only remedy for fallen spirits? A boozy Grinch milkshake. These milkshakes are such a treat with their minty flavor courtesy of the peppermint schnapps. The mint is there without being overpowering and it plays so nicely with the vanilla.
And let's talk choice of vodka here too. You can use either vanilla vodka to reinforce the vanilla flavor in these milkshakes or whipped vodka. Ever had whipped vodka? It has a smooth, lightly vanilla flavor. It won't overpower the schnapps or take away from the creaminess of the milkshakes.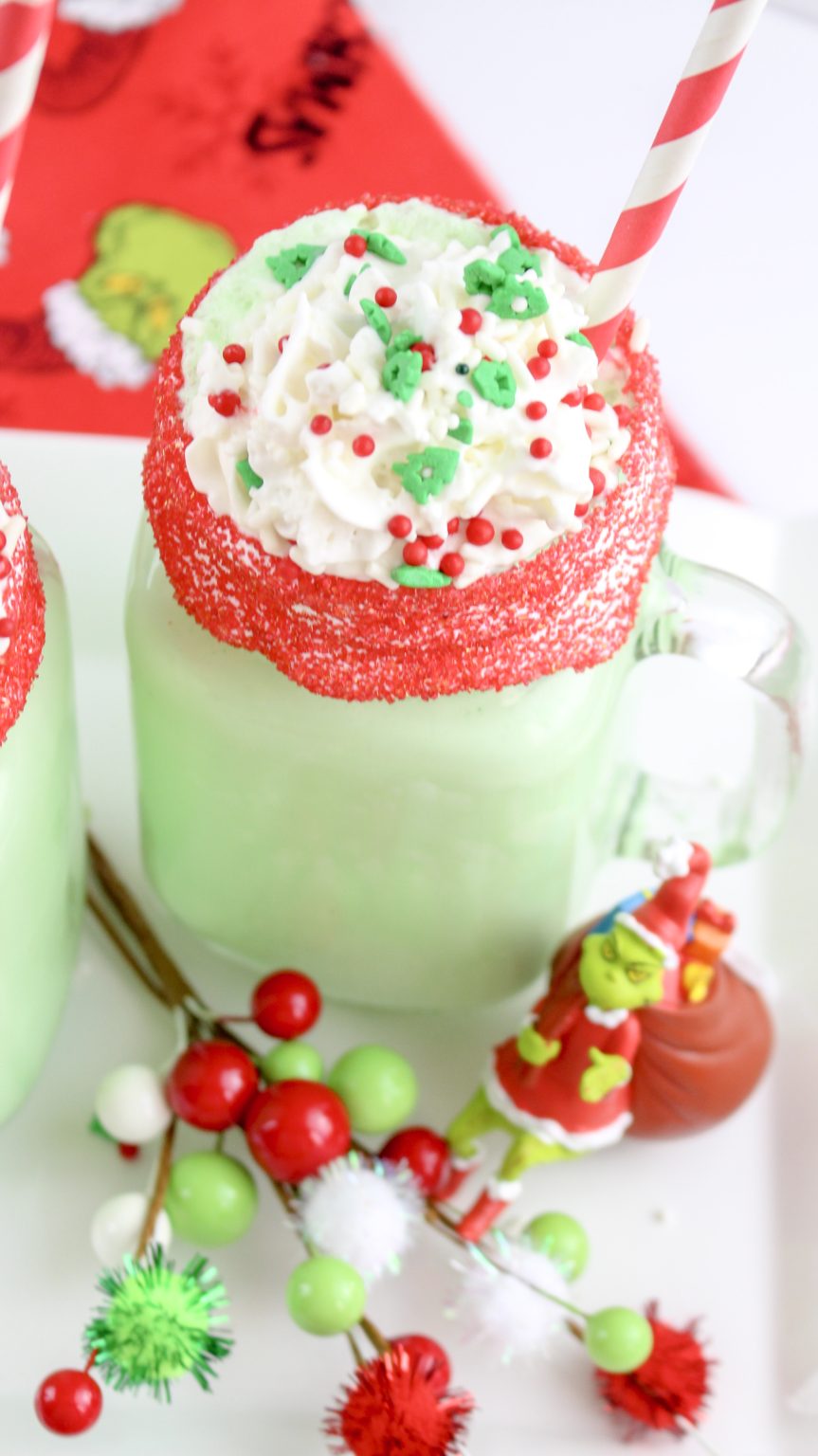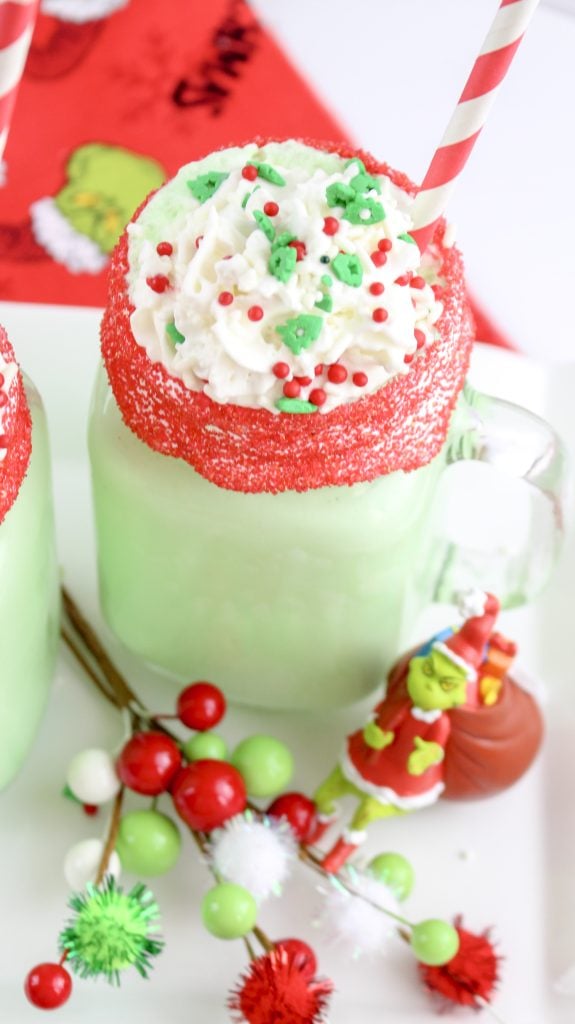 So now that we've covered choice of liquor for these boozy Grinch milkshakes, let's talk about how easy they are to make. Much easier than stealing Christmas! Don't let the fun red sugared rims trick you into thinking these shakes are difficult.
They're not.
All you need to do is roll the rims of two glasses in marshmallow cream and then red sugar crystals for the cutely decorated glasses. Then pop the ice cream, peppermint schapps, vodka, milk, vanilla, and food coloring in a blender and blend until it's perfectly creamy. Then pour the milkshakes into the glass and top with whipped cream and your favorite Christmas sprinkles.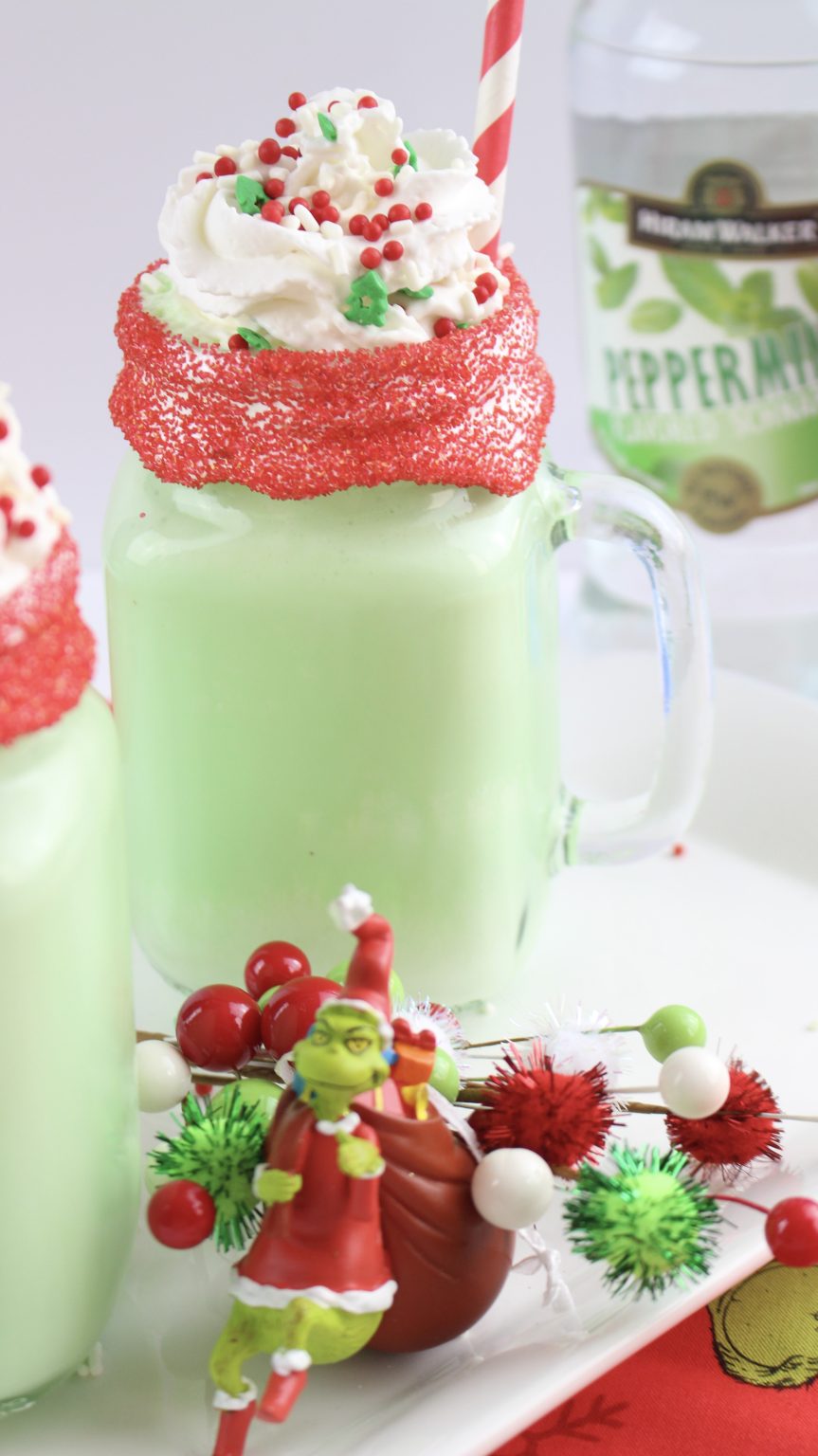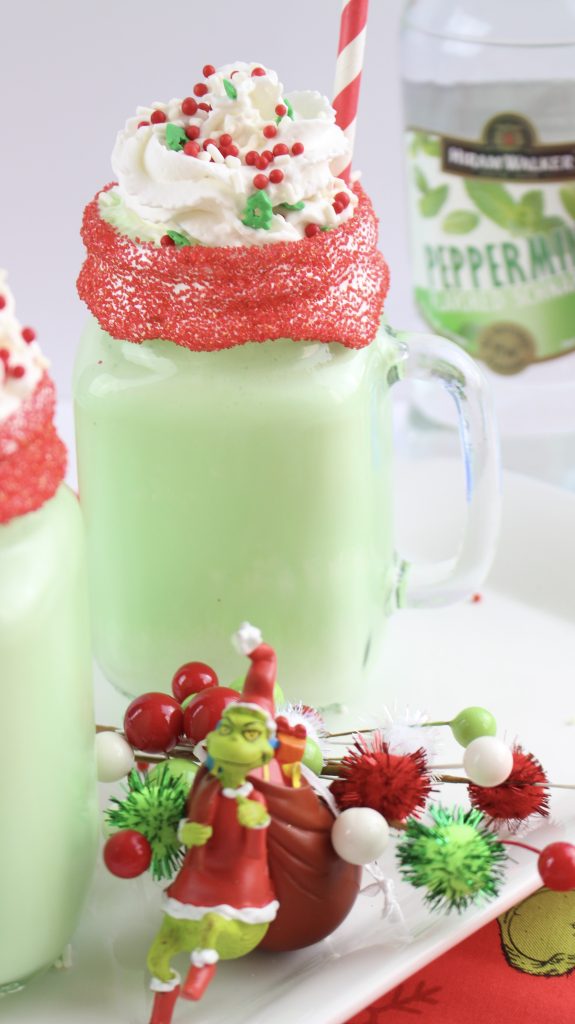 Before you know it you're enjoying a fun boozy Grinch milkshake and saving yourself from stealing Christmas.
Other Grinch Themed Ideas You Might Also Enjoy: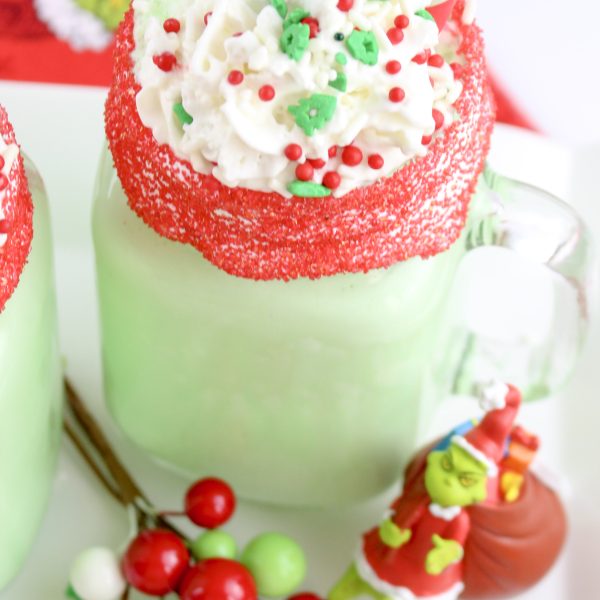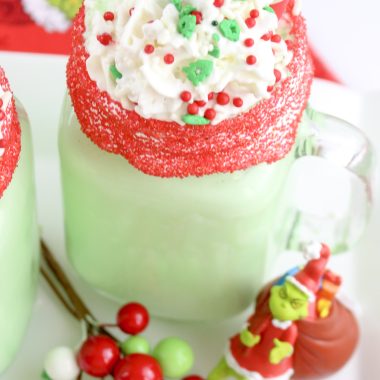 Boozy Grinch Milkshakes
A delicious, alcohol infused ice cream treat- these adult-themed milkshakes are Grinch themed making them perfect for Christmas parties.
Print
Pin
Rate
Ingredients
1/4

cup

marshmallow creme

Red sugar crystals

5

cups

vanilla ice cream

1/2

cup

milk

1/4

cup

peppermint schnapps

1/4

cup

whipped

or vanilla vodka

1

tsp

vanilla extract

2-3

drops green food coloring

Whipped cream

for garnish

Christmas sprinkle mix

for garnish
Instructions
Apply marshmallow creme all around the rims of your 2 serving glasses.

Pour the red sugar crystals onto a plate and roll the marshmallow-coated rims in it. Place the glasses in the refrigerator until ready to use.

Add the ice cream, milk, peppermint schnapps, vodka and green food coloring to a blender. Blend for 30 seconds and pour into your serving glasses.

Garnish with a generous helping of whipped cream on top of each drink. Sprinkle with a Christmas sprinkle mix.