Mini seasoned meatloaves sandwiched in between crisp white onion slices are what makes up these delicious onion bombs. They're a savory, flavorful dinner option that can be grilled, baked, and even cooked over a warm campfire. Quick & easy to assemble, they're also a great way to use ground beef.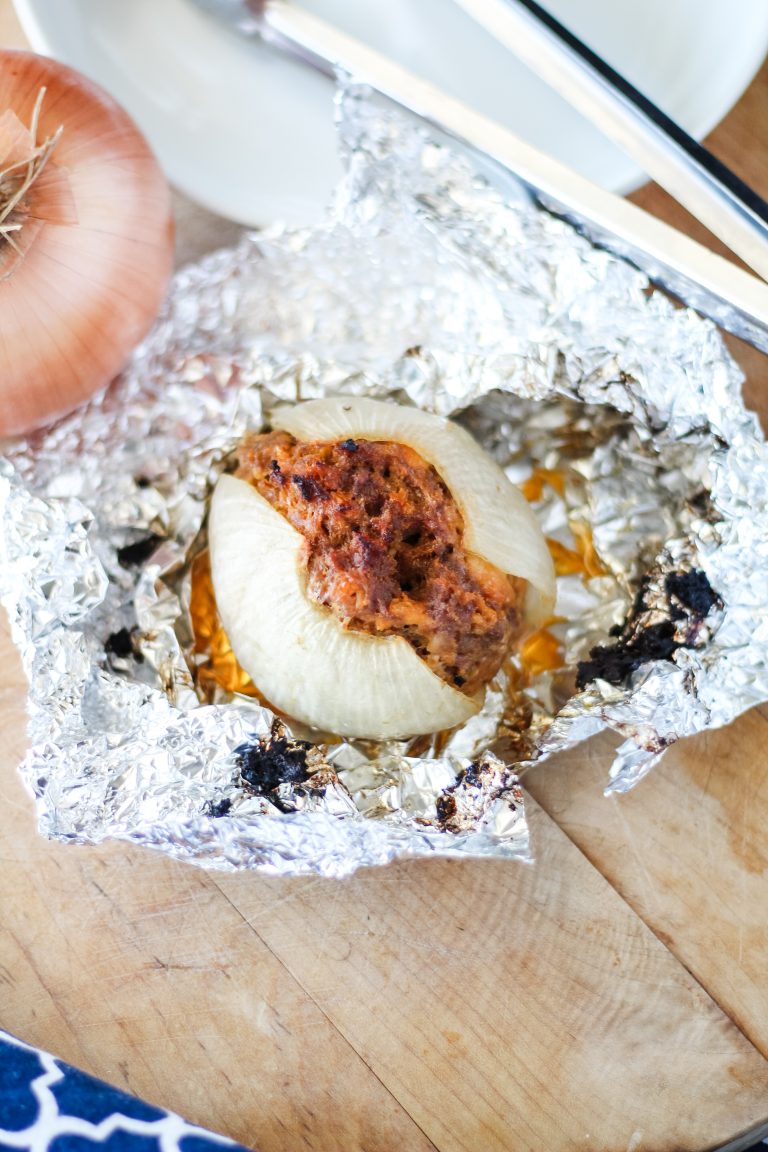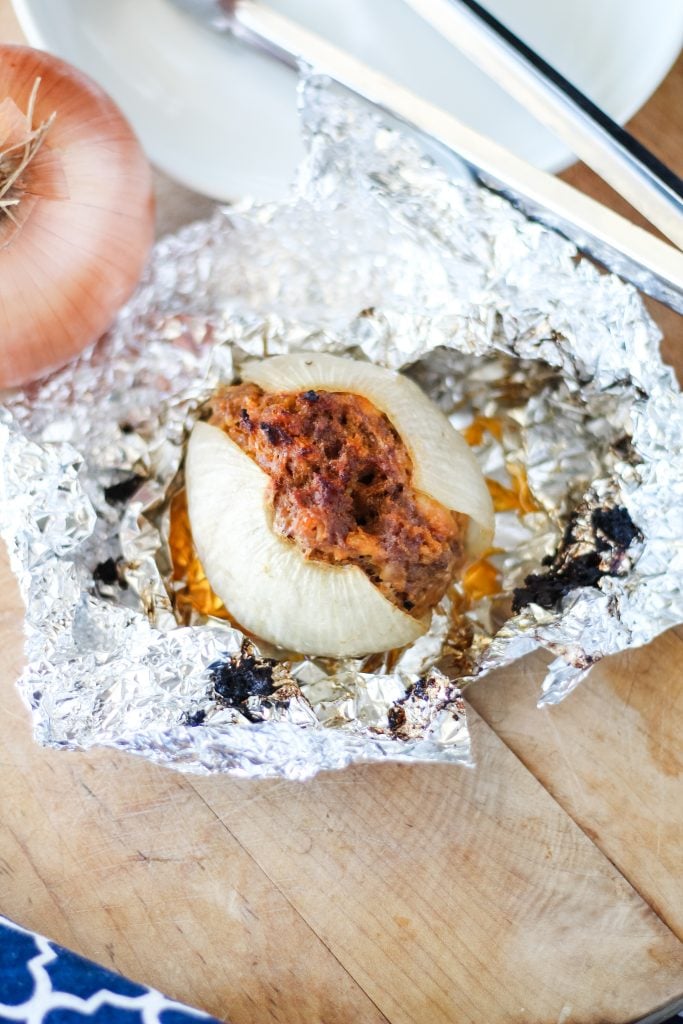 Virginia weather is weird, y'all.
Friday it was warm enough for sun-bathing. The next morning?
We woke up to freezing rain and whipping wind. It's nuts.
Like welcome to the state where you can get sunburn and frostbite in the same week, nuts.
But now that we're at least 'officially' in Spring, the weather should trend on the side of at least moderately higher temps, and around these parts that's all we need. We've got two wardrobes, winter and summer.
First warm day? Pull out the tank tops and shorts.
But it's only 67 degrees out you say? That's ok.
Another thing that makes its debut with the first Spring-like day?
Our grill!
Not to say we ever actually put it away, but it's a lot easier grilling out at a cloudy 67 than in sleet or snow.
So, sun's out … Grills out!
And these onion bombs are one of our favorites to make during grilling season.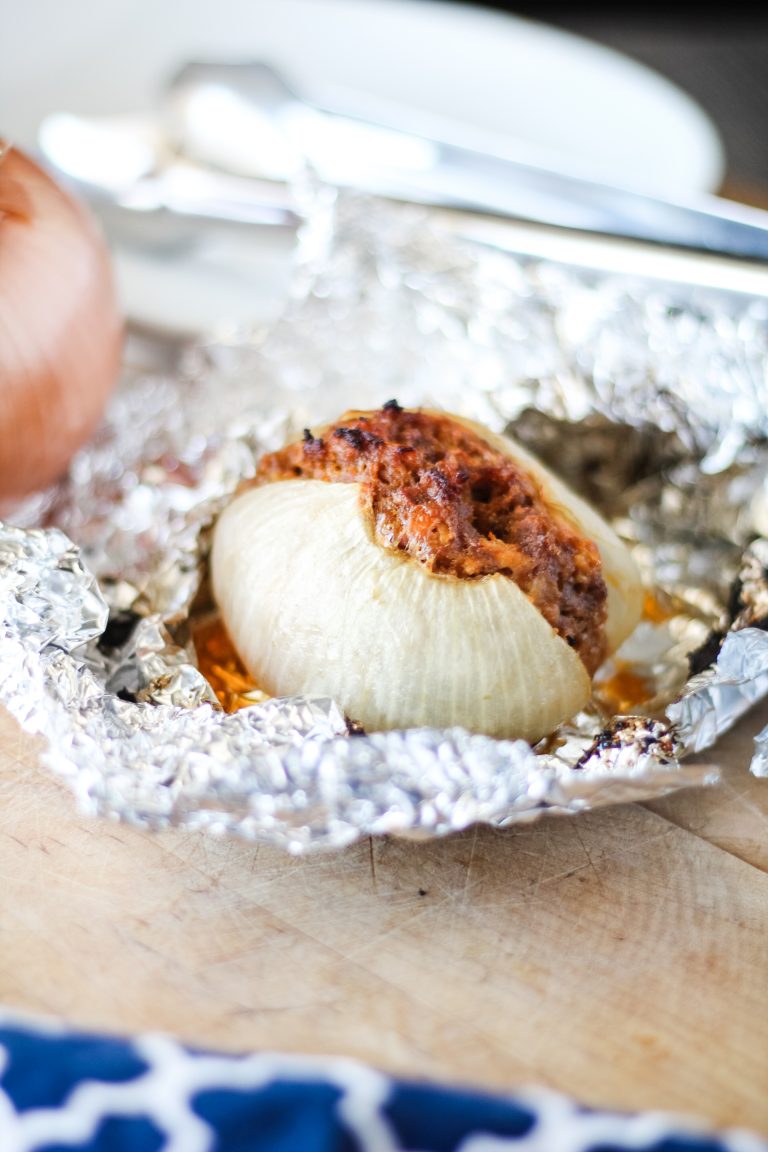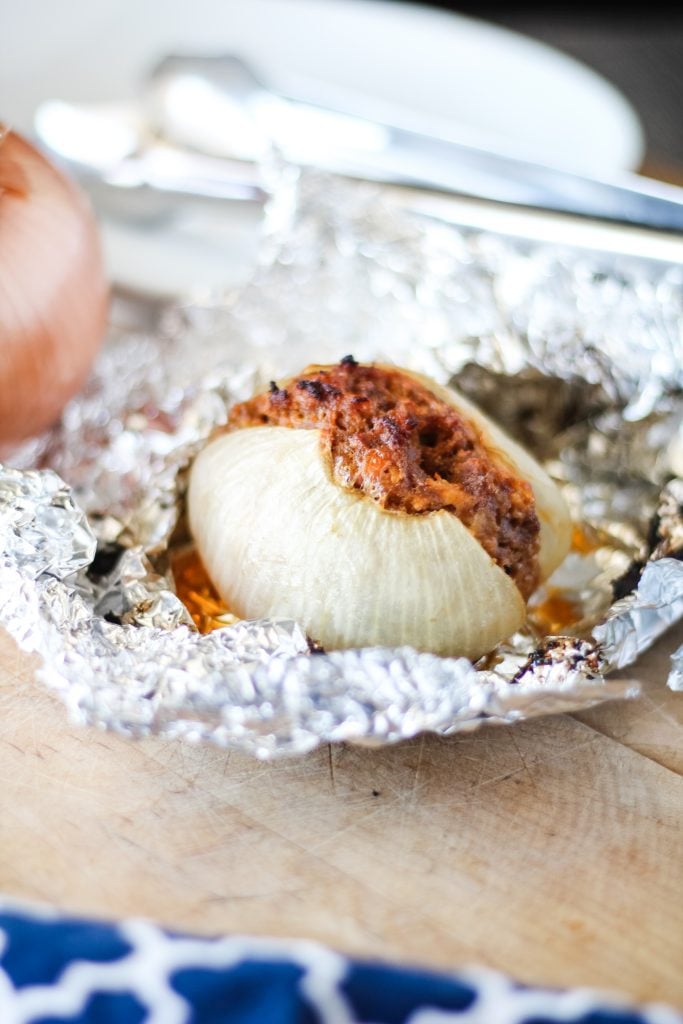 What's An Onion Bomb Anyway?
Essentially, an onion bomb is an onion stuffed with a seasoned ground beef mixture.
They can be smoked, grilled, or even oven baked. Sometimes they're even wrapped in bacon.
They key is the mixture being liberally sandwiched inside an onion layer, and cooked until the beef is done throughout.
Kind of like a little personal meatloaf, with all of the flavor of a caramelized onion infused in every bite.
If you haven't had the pleasure of enjoying one yet, let me tell you- they're truly tasty, and easier to make than they may seem.
Ingredients Needed
ground beef – I recommend using lean ground beef, the leaner the better especially since this will be cooking in a sealed foil packet
white onion – yellow onions will work as a substitute, but NOT red. Also, make sure the onions you're using are 'large' ones.
garlic
sauces – ketchup, mustard, and Worcestershire sauce
seasonings – Montreal steak seasoning, salt, & pepper
egg – while it may seem small, the egg is very important in this recipe, it helps bind the meat mixture together allowing it to hold it's 'meatball' shape instead of crumbling apart
cheese – while we used cheddar in this version, as usual the cheese is one of those areas that's great for experimenting with.
bread crumbs – just like with other similar recipes, like meatloaf, the bread crumbs add texture and body to the mix. You can use seasoned or plain.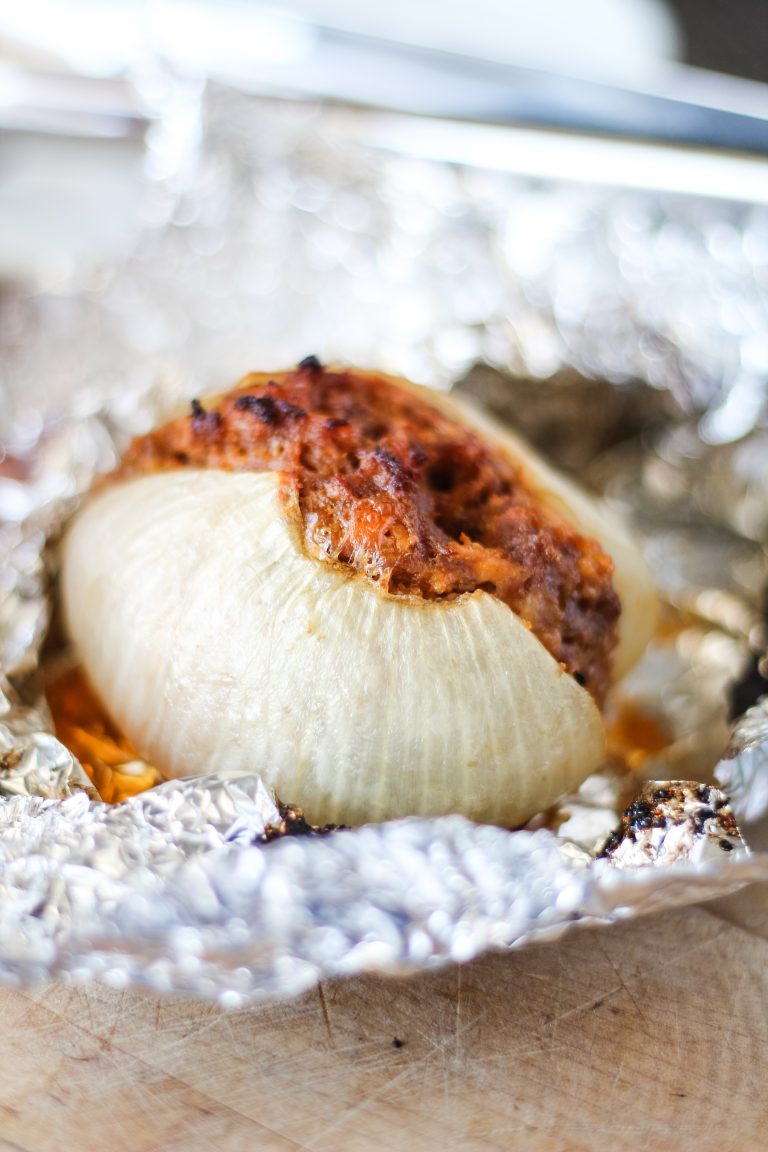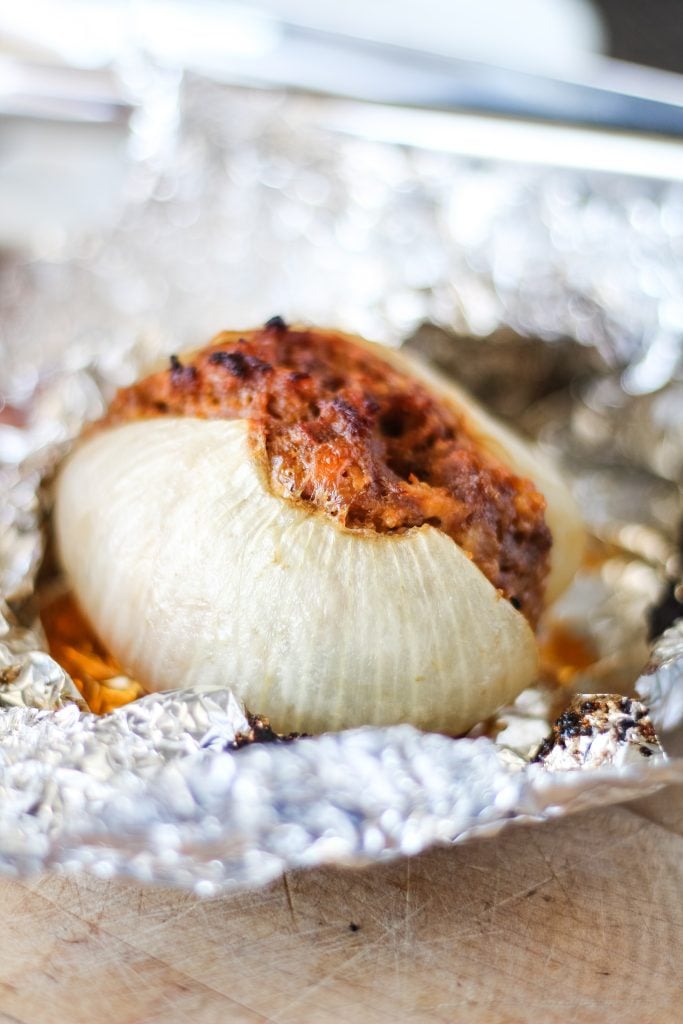 How To Make
These onion bombs couldn't be any easier to throw together and they taste incredible.
Cut a large white onion in half; from the top down to the bottom, right down the middle.
Again- top to bottom, NOT sideways.
Carefully separate the layers from both halves, matching up the matching halves when done.
Be extra careful not to break or tear the onion when separating, as this can happen easily.
Add all of the remaining ingredients to a large mixing bowl.
You'll want a large bowl because it's got room and easy to move around when mixing the meat together.
Mush and mash everything together until evenly incorporated into a seasoned meat-mixture.
I recommend doing this by hand. It may be cold, but with clean hands it's the quickest, easiest, and most efficient method.
If you're squeamish about your hands in raw meat, you can use a sturdy wooden spoon or you can mix it in the bowl of a stand mixer with the paddle attachment.
The end result should have a texture like meatloaf, slightly soft and evenly combined.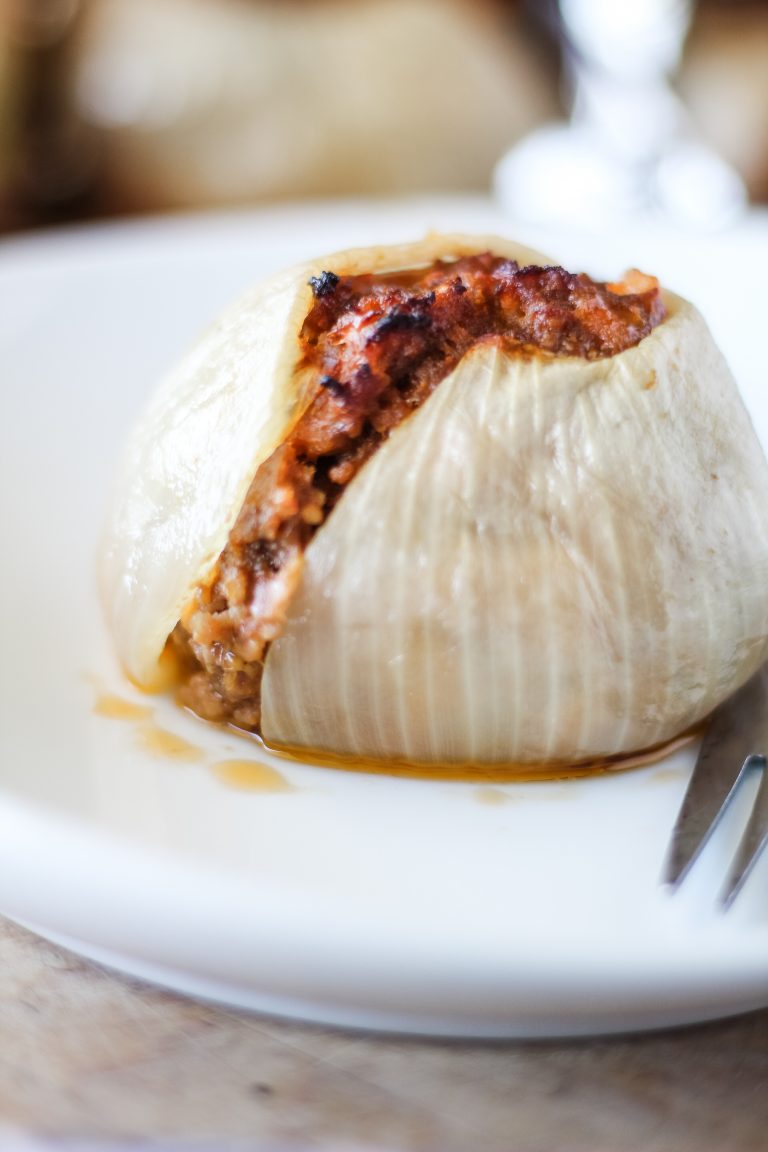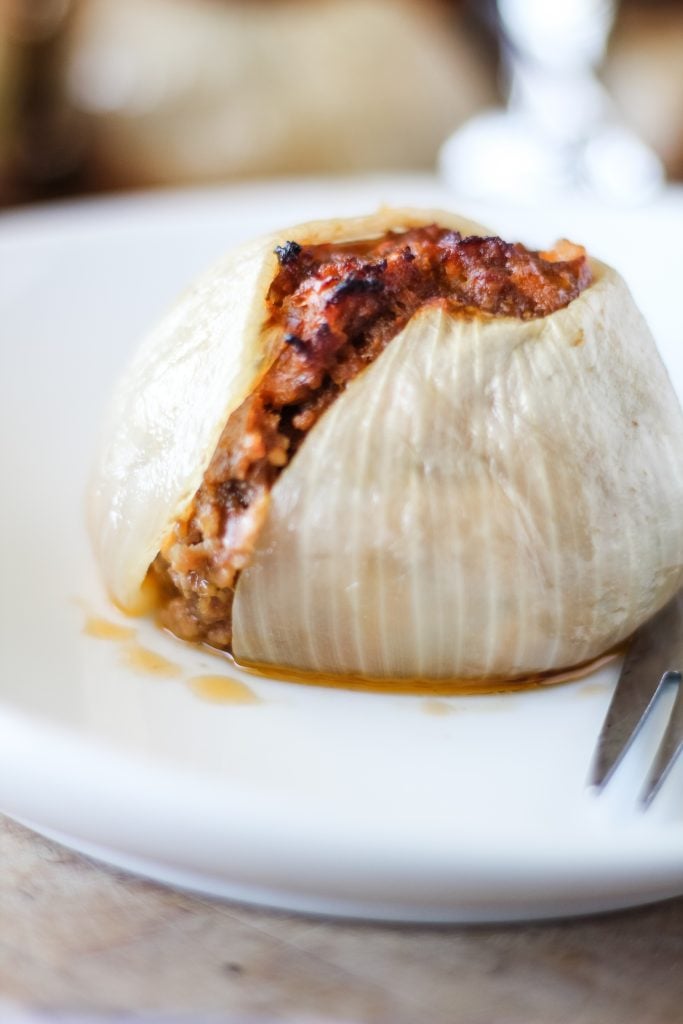 Now it's time to assemble the raw onion bombs.
Start by forming a large meatball in your hands. There's really no way around using your hands at this point.
See why I said hands were the best way all along?
Starting with the largest pair of onion halves, sandwich the meatball between them.
If it doesn't quite fill up the onion, add a little extra meat. Carefully press the onion halves around the meat to 'seal'.
Continue filling the rest of the onion halves with the meat mixture, until it's all been used.
Discard the smallest unused onion pieces.
Wrap each individual onion bomb tightly in aluminum foil, sealing closed.
Make sure to leave enough excess foil so that there's a little twist at the top.
They should resemble a Hershey's kiss in that way.
This little twist at the top will allow you to safely place them on the grill, and also safely remove them when they're hot.
Carefully add them to a hot grill, and let them cook for 8-10 minutes.
Flip them over onto their other side, and grill an additional 8-10 minutes.
Use a pair of sturdy tongs to remove the grilled onion bombs to a waiting plate or cutting board.
Let them rest 2-3 minutes before carefully pealing back the foil.
Pluck them from their foil baskets and transfer them to plates to serve.
Discard the grease filled foil when it's cooled long enough to be safe to do so.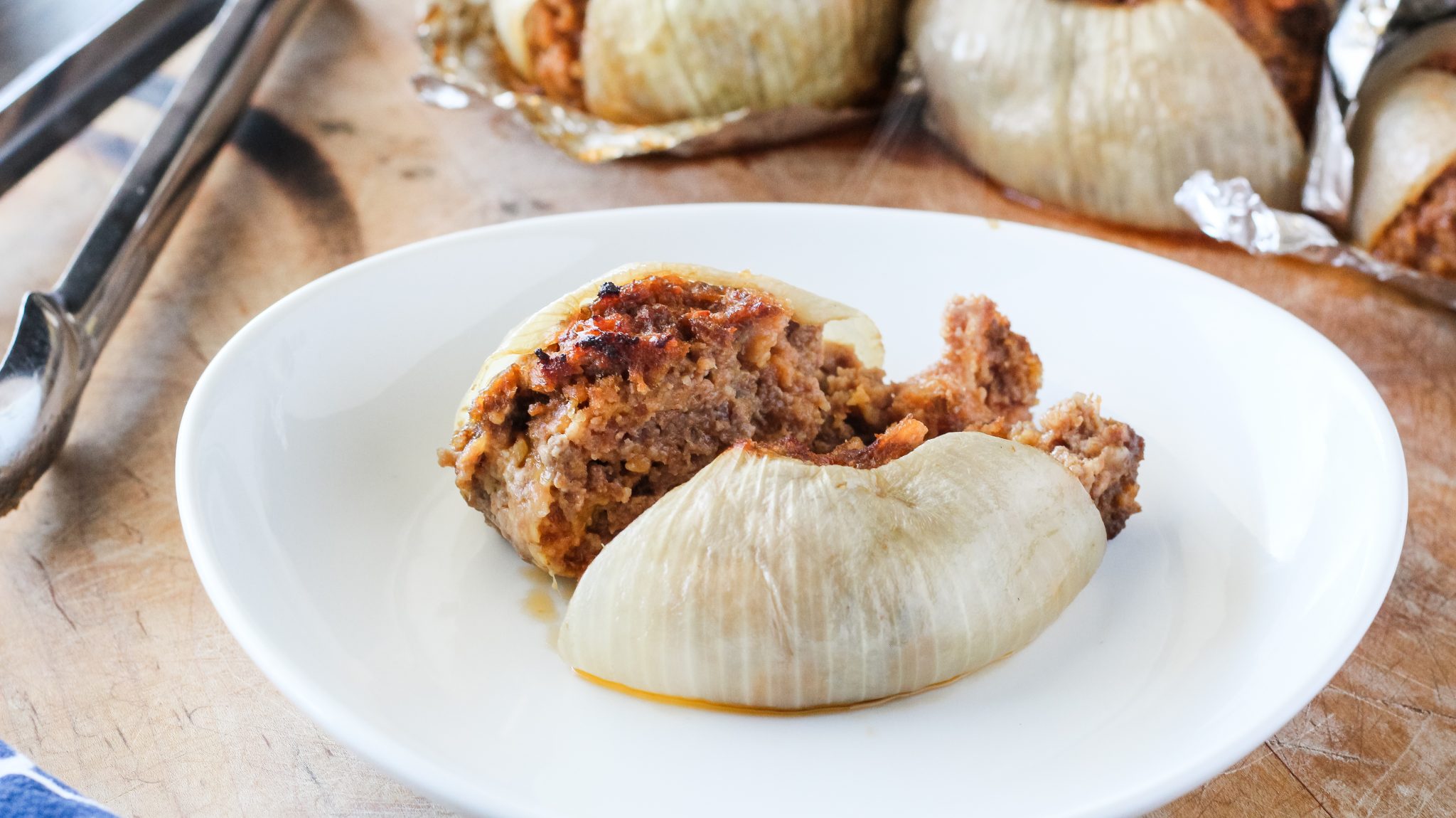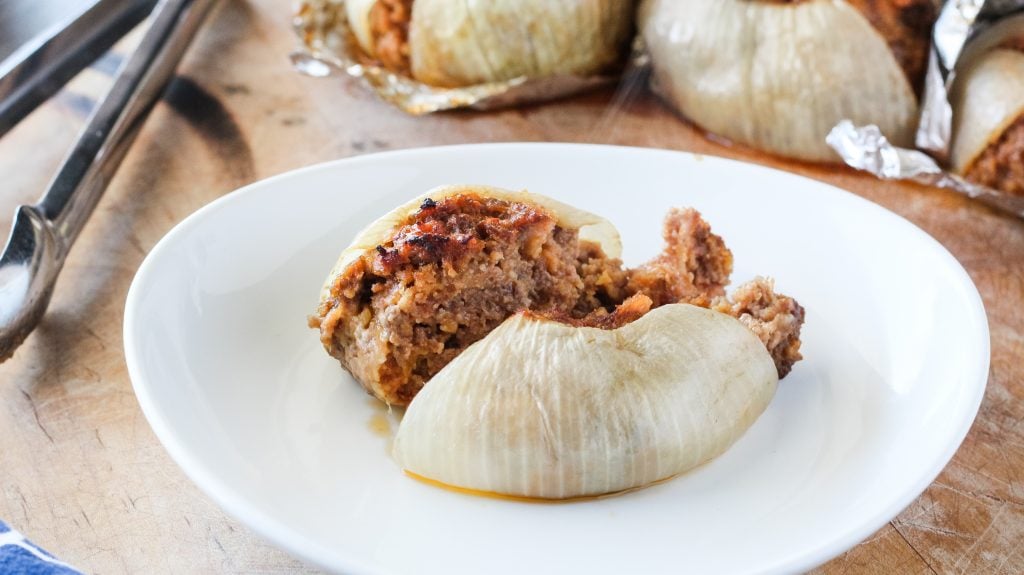 Can These Be Baked In The Oven?
These could just as easily be called meatloaf stuffed onions, and they're easily adapted.
I know the warmer weather hasn't reached everywhere yet, but that's OK.
These can just as easily be baked in the oven, at 400 degrees for about 45 minutes in a covered casserole dish, without any sacrifices in the flavor infusion dept.
Campfire Cooking
Do you enjoy camping?
We do, and usually we stick to the easy realm of hamburgers, hot dogs, sandwiches, and cans of soup.
But guess what makes a perfect meal cooked up over a camp fire?
Yep, that's right, onion bombs!
Stuff 'em just the same, wrap 'em up in tin foil, and cook 'em over the hot camp fire coals for about 45 minutes, flipping halfway through.
As always, be careful when unwrapping to avoid getting burned by the very hot steam waiting to escape.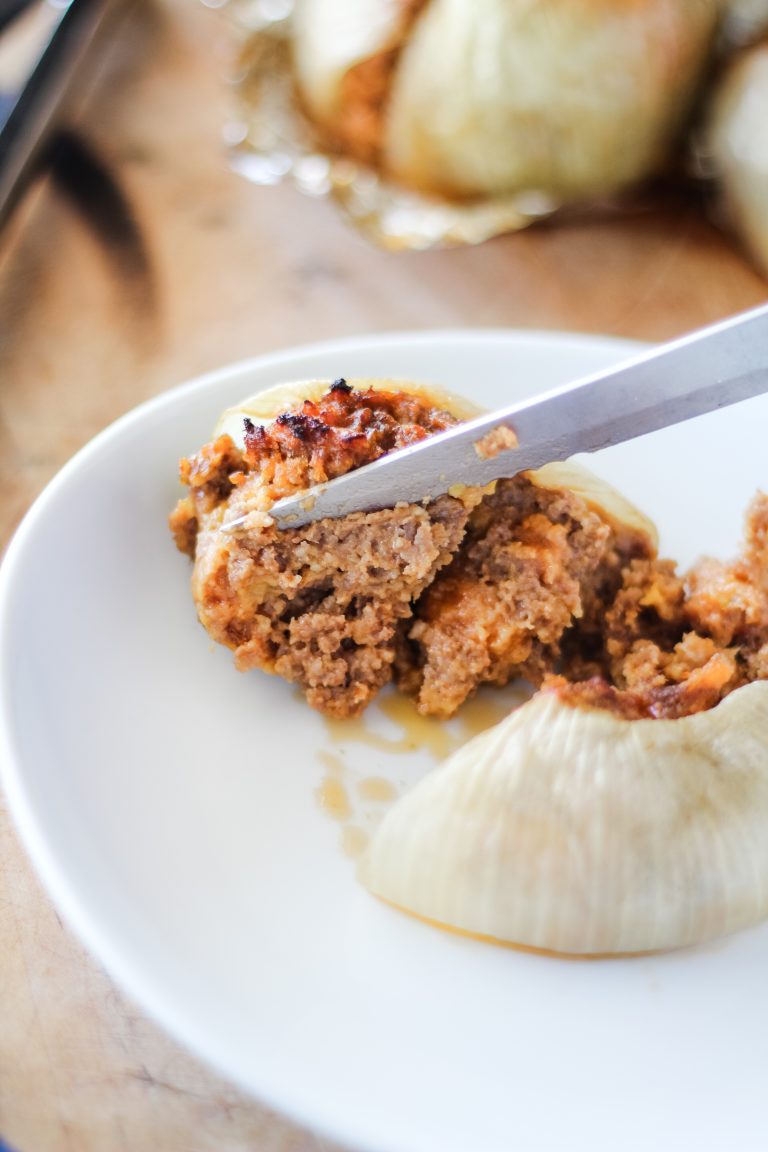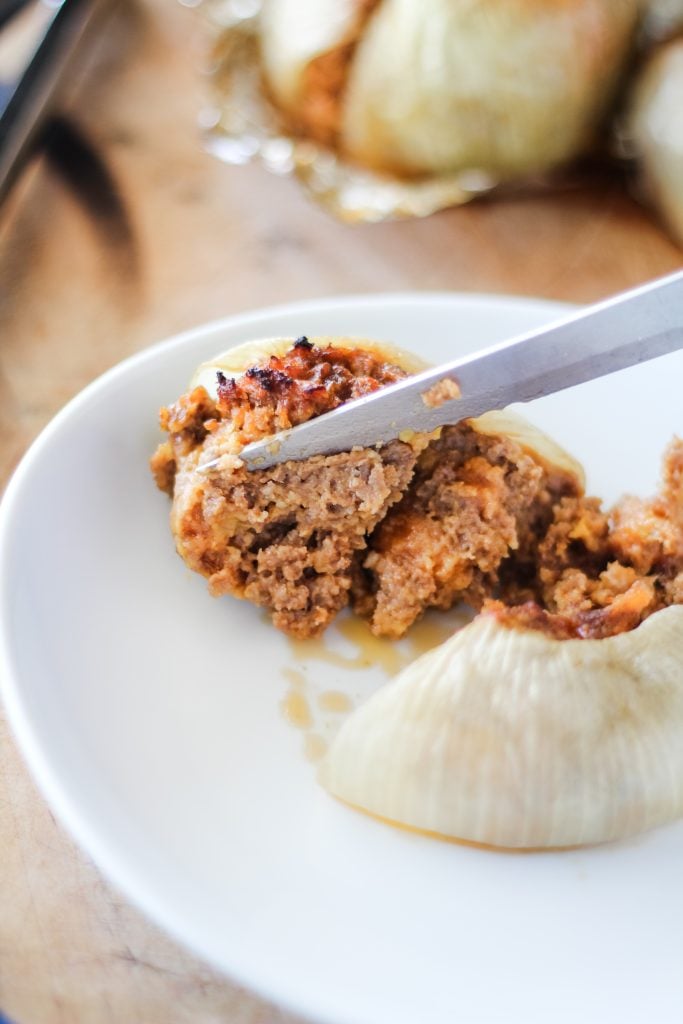 TIPS & TRICKS
Use lean ground beef (if possible) for this recipe, as it will yield less grease in your foil packets.
Want a more barbecued taste to your onion bombs? Mix a bit of barbecue sauce or dry rub seasoning in with your meat mixture. Liquid smoke or smokes paprika will help give it a bot of smoked flavor.
Take this recipe over the top by wrapping your onion bombs in bacon before cooking. Use tooth picks to help secure the ends of the bacon so that it stays wrapped around. As it cooks it will 'glue' together and seal. Remove & discard toothpicks before serving.
Don't have white onions? Yellow onions will work too, just make sure they're large in size. Do NOT use red onions- they won't work.
Other Grilled Recipes To Try
These onion bombs are a staple on our menu during all seasons. They're quick and easy to throw together, and fun for everyone involved.
While my kids may not enjoy the outer onion, they all agree that these are almost as good as Grandma's meatloaf and never have a problem polishing their plates when these are serve for supper.
Looking for other family-friendly grilling ideas?
Give any of these a try, and add a little pizzazz to your grilling game!
If you've tried these GRILLED ONION BOMBS, or any other recipe on my site, let me know in the comment section how it turned out, we love hearing from our readers! You can also follow along with me on PINTEREST, FACEBOOK, and INSTAGRAM to see more amazing recipes and whatever else we've got going on!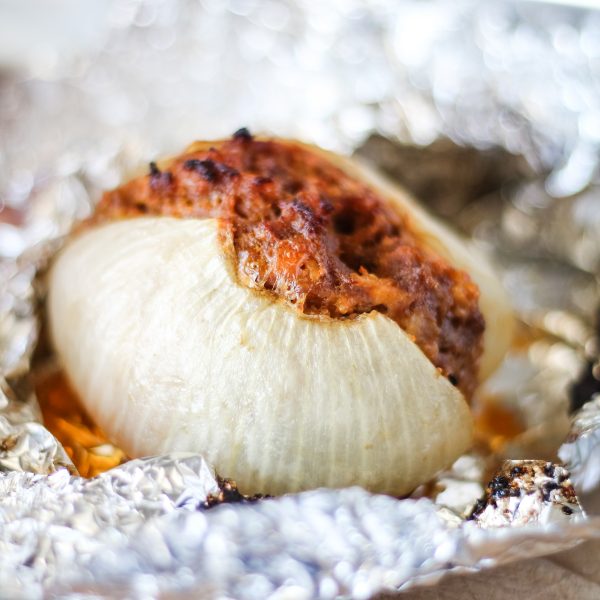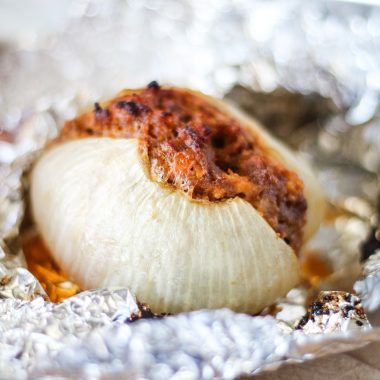 Onion Bombs
Mini seasoned meatloaves sandwiched in between crisp white onion slices are what makes up these grilled onion bombs. They're savory, flavorful dinner options that can be grilled, baked, and even cooked over a warm campfire. Quick & easy to assemble, they're a great way to use ground beef.
Print
Pin
Rate
Ingredients
1-1 1/2

lbs

lean ground beef

or you can do half ground beef and half ground pork

1

large white onion

peeled

1

tsp

minced garlic

3/4

cup

ketchup

1/4

cup

yellow mustard

1/2

tsp

Montreal steak seasoning

1

dash Worcestershire sauce

1

egg

salt and pepper

to taste

3/4

cup

of shredded cheese

any kind of cheese you like

1/3

cup

of Parmesan cheese

1/3

cup

of bread crumbs

or pulverized oatmeal, & 1 slice of bread torn into small pieces
Instructions
Cut, from the top to the bottom right down the middle, a large onion in half. You want to cut from top to bottom, right down the middle, not sideways. Then take each layer from each one and pair them together making sure to match each side with it's mate. Be careful when pulling the layers apart because they can tear easily.

Add all of the other ingredients to a large bowl. Mix all of this up with your hands, squishing and kneading everything together, as you would with meatloaf until all the ingredients are. You want almost the same texture like meatloaf too. If it seems too dry, just add a bit more ketchup or a tad more mustard. If it feels too wet, add a few more bread crumbs.

To assemble the onion bombs, start with the largest pair of onion halves. Make a large meatball and place it in one side of the onion half and place the other onion half over the top, filling up the onion cavity and squishing the meatball in between both halves. Continue to fill the rest of the onion halves up with the meat mixture.

Here, were grilling them, so wrap each onion bomb in aluminum foil. You want to have enough room so that you can leave a little twist at the top so you can easily pick them up off the grill because they're these things get hot! Now it's time to grill them. Put them on the grill and cook for about 8-10 minutes. Flip them over on their opposite side and cook an additional 8-10 minutes.
Notes
*Grilling times will vary based on how high you have your grill set.
Nutrition
Calories:
230
kcal
|
Carbohydrates:
10
g
|
Protein:
24
g
|
Fat:
10
g
|
Saturated Fat:
5
g
|
Trans Fat:
1
g
|
Cholesterol:
87
mg
|
Sodium:
509
mg
|
Potassium:
426
mg
|
Fiber:
1
g
|
Sugar:
6
g
|
Vitamin A:
293
IU
|
Vitamin C:
2
mg
|
Calcium:
154
mg
|
Iron:
3
mg
recipe originally published April 29, 2015