Green beans are a simple side dish fit for almost any occasion, give them an Asian-style flavor infusion though and then you've got something truly special that still only takes about 25 minutes from start to finish. These garlic ginger green beans get quick blanching and, after they've stopped cooking, a stir in a hot pan with some sesame oil, ginger, garlic, and some rice vinegar for good measure.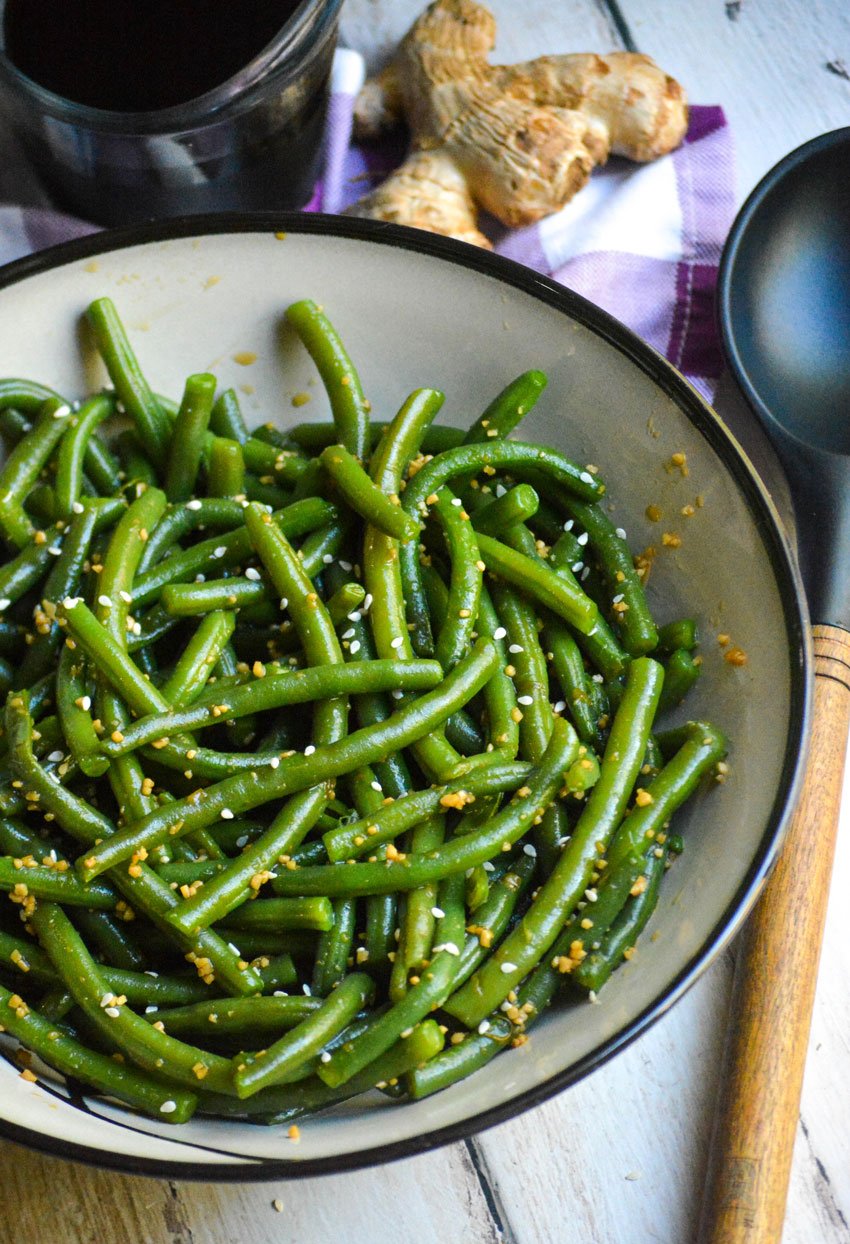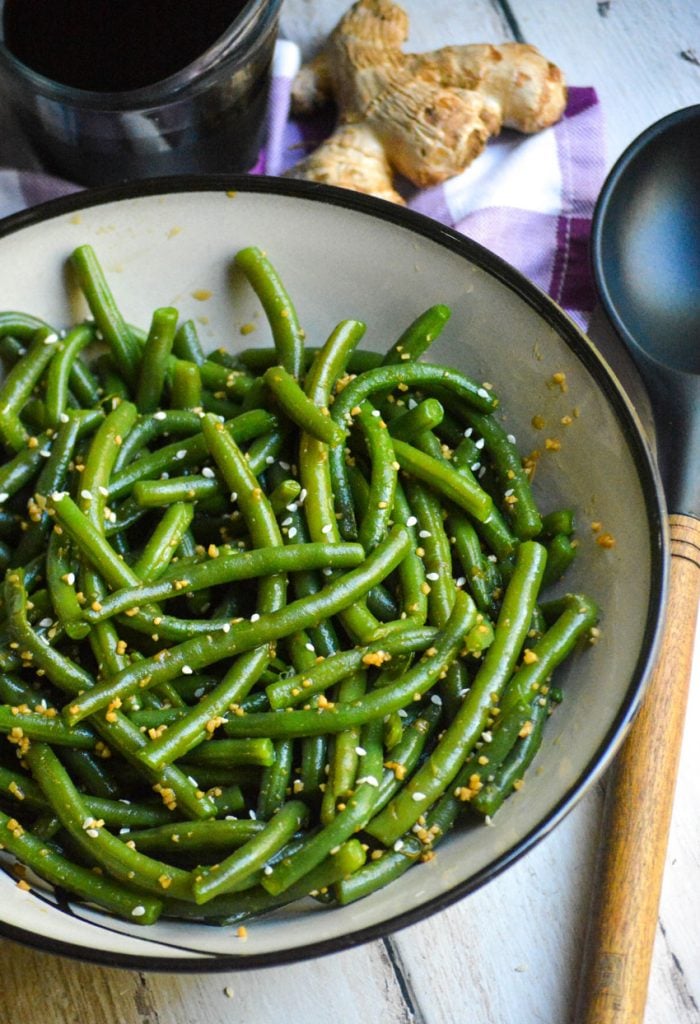 A well stocked pantry may not seem like a big deal, but it will enable you to take simple ingredients and enhance them with big flavor.
This may not seem that important, but when you've got picky eaters and you want them to eat their veggies- it can be vital.
My kids love take out, so being able to convince them they're getting those same flavors wins me many battles in the eat your vegetables department at supper time.
I keep garlic and ginger both on hand at all times.
For this reason, any many others.
A simple pound of fresh green beans, garlic & ginger, and we're in business- well on your way to infusing these garlic ginger green beans with big Asian style flavor.
Think of it like we're getting ready to have a simple green bean stir fry, but without any actual frying.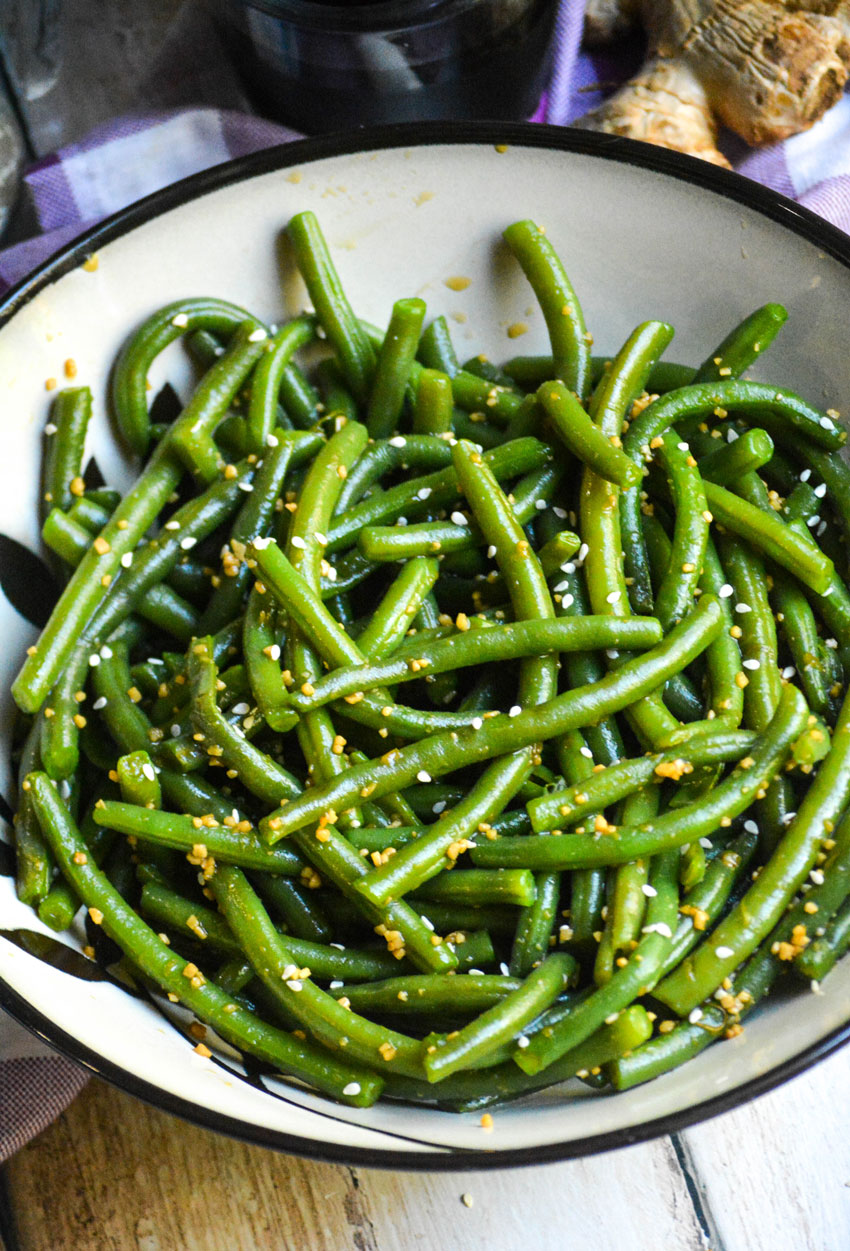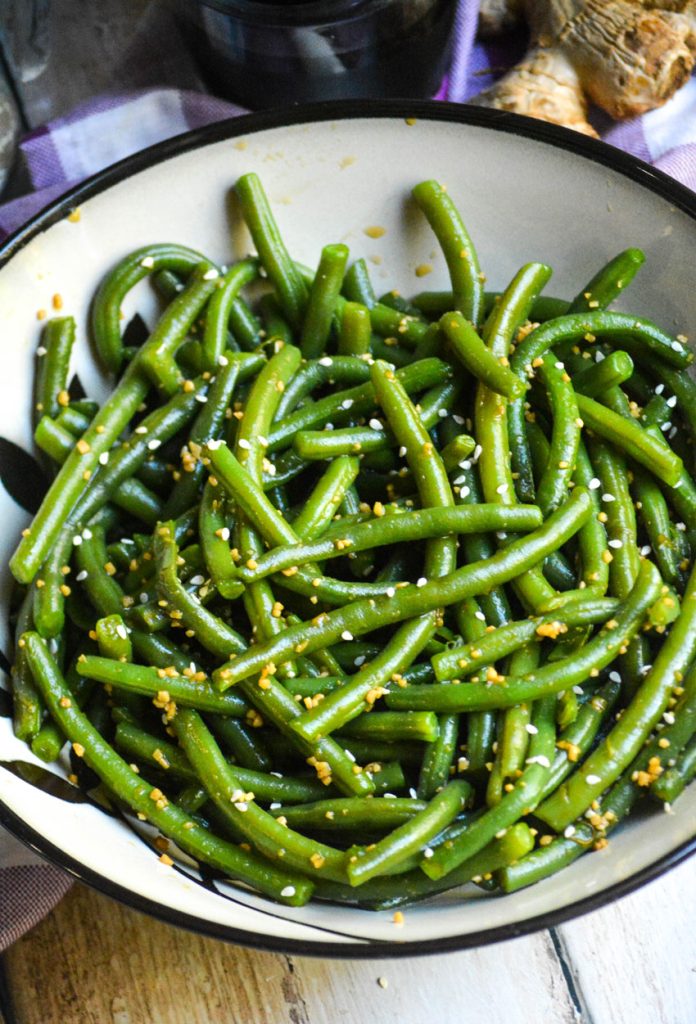 As soon as you've got your beans, you're ready to start in on these beans.
There's no extra prep work to be done, although several people have asked to double check if they do or do not need to soak the beans first.
Do You Need To Soak Fresh Green Beans Before Cooking?
Nope, not at all.
I'm not sure if it's an old wives tale, or just not something needed for skillet cooked green beans.
There's no soaking needed for this recipe.
However, fresh green beans always require a little bit of prep work such as a regular washing and trimming.
Wash and rinse your green beans just like you would any other fresh produce to remove any dirt or other debris.
To trim the green beans, cut away each end piece. Not much, just a snip.
We want longer beans, so leave them be at that point.
No snapping needed either.
Ingredients Needed
fresh green beans
garlic
soy sauce
ginger
rice vinegar
sesame oil
salt
sesame seeds
With this short list of ingredients, it's easy to give a traditional vegetable side dish a fresh infusion of flavor.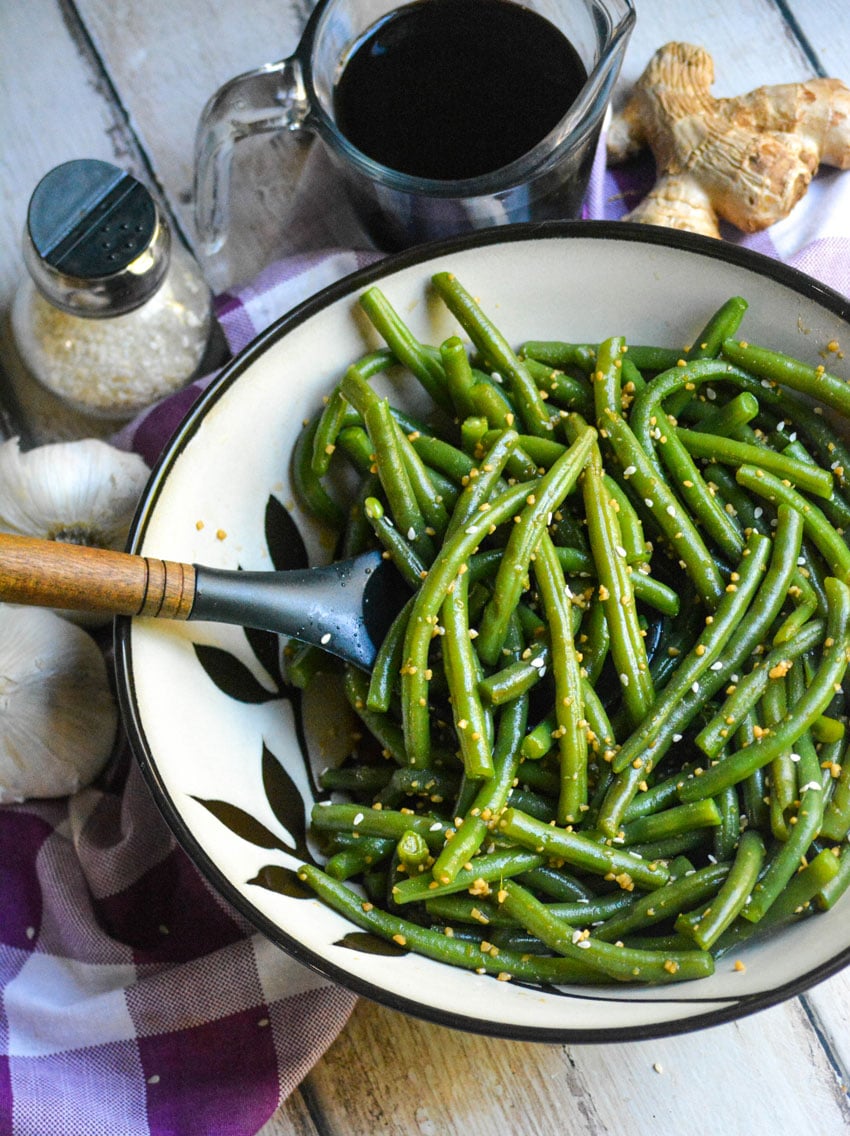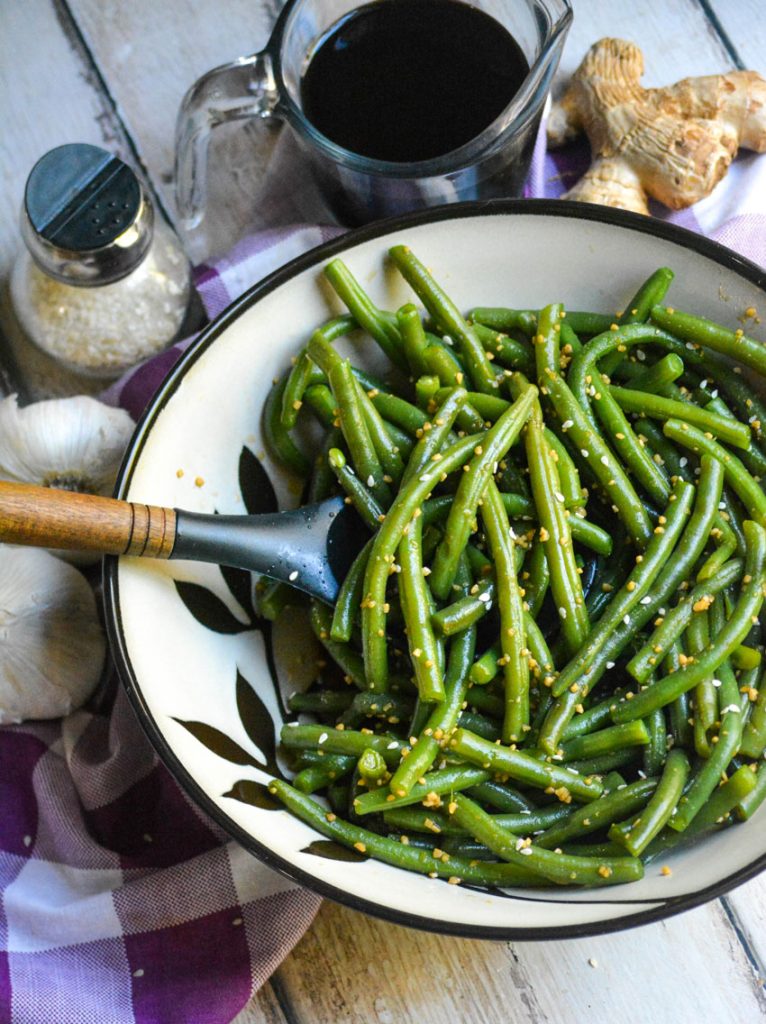 How To Make
Making these garlic ginger green beans is very easy; however, it does break down into two main steps.
Blanching & saucing. So let's break it down, y'all!
Blanching The Beans
Fresh beans require a bit of finesse.
You want them tender, but you don't want them mushy or crunchy.
To find that perfect sweet spot, these fresh green beans are blanched before being flavored.
Blanching is an easy enough thing to do.
It basically means to cook fresh, raw veggies in scalding hot water for a short period of time, and then rapidly cool them to stop the cooking process.
To do that, add the beans to a pot of boiling water and let them cook for roughly five minutes- just until they're tender.
Immediately, but carefully, pour the beans out into a strainer waiting in your kitchen sink. Then run them under cold water, tossing as needed, to cool them all.
Don't cool them completely though, you still want them warm!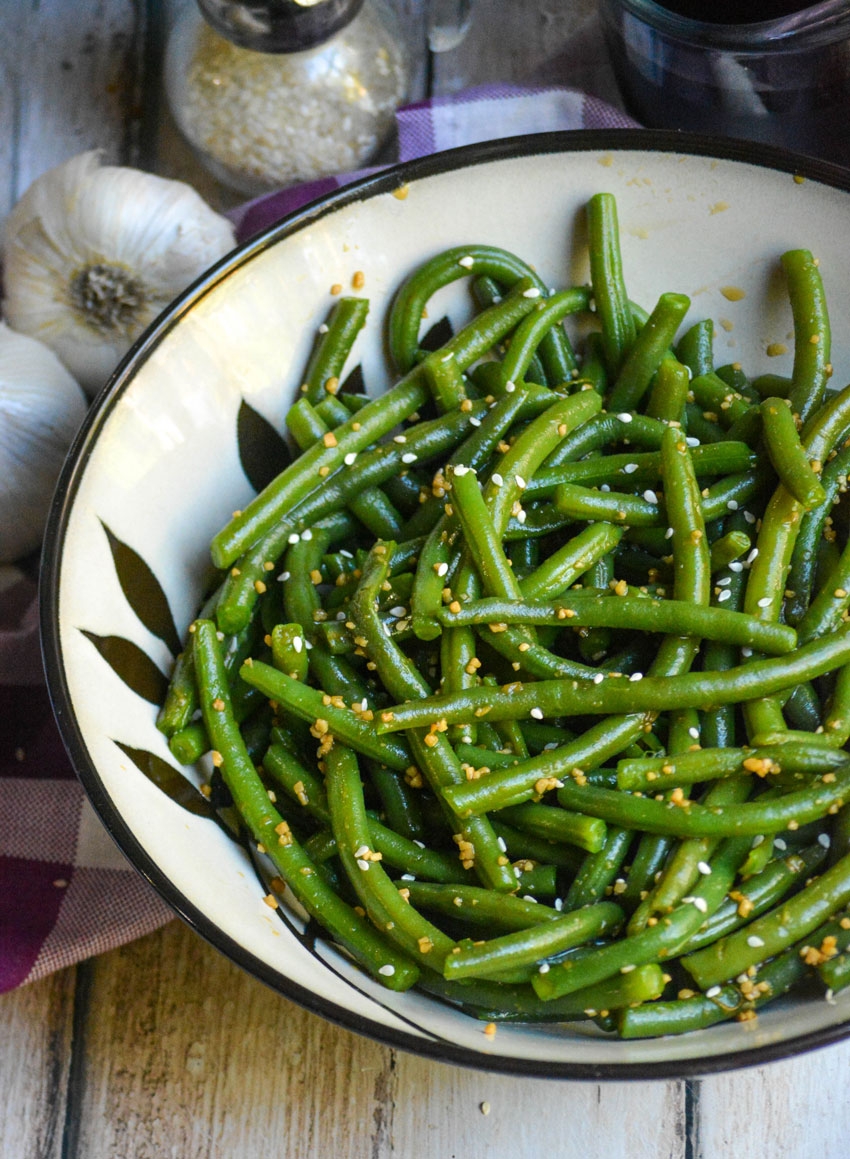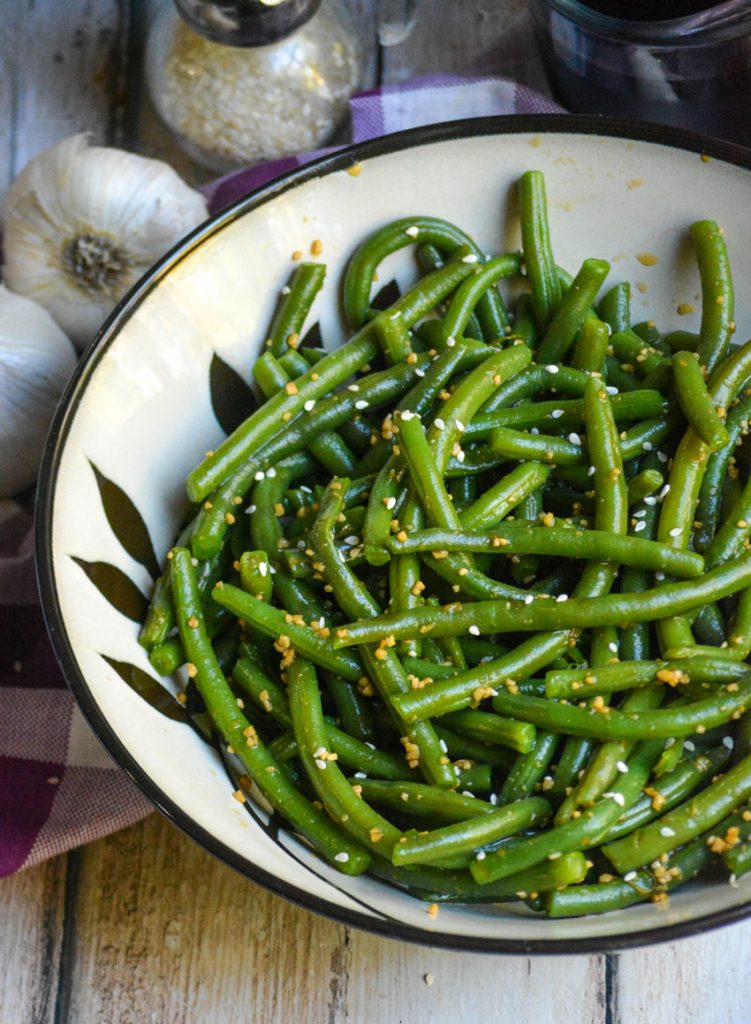 Saucing The Beans
Unlike a lot of green bean recipes, these aren't just seasoned or slow cooked all day in a pot with various ingredients that will flavor them as they simmer.
These garlic ginger green beans are 'sauced' instead.
I'm not really sure if that's a technical term when it comes to green beans, probably not. But it's how my Grandma would refer to them, so that's what I'm going with.
It's best to mix the sauce while the beans are cooking.
You don't have to, but it makes sense and will save you time.
This can be a big factor, especially when trying to get a side dish together for dinner that doesn't just involve dumping a can of vegetables into a pot to heat up!
In a small bowl, whisk together the garlic, soy sauce, ginger, vinegar, sesame oil, and salt until evenly combined.
Transfer the still warm beans to a mixing bowl, pour the sauce over top, and toss to coat.
Serve the beans topped with sesame seeds.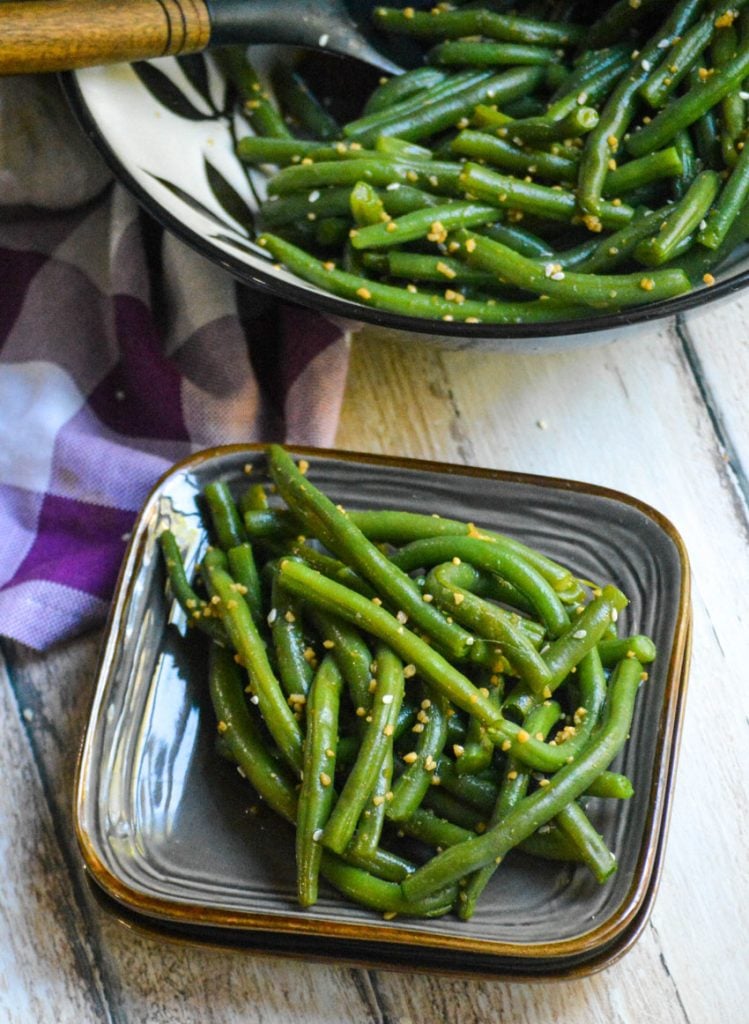 Special seasoned green beans are perfect for Holiday meals, but since these are done in less than 15 minutes- they're also great for busy weeknights
With these Garlic Ginger Green Beans, you've got a bright, fresh side dish that is sure to be gobbled up. Don't expect any leftovers, either since these are always devoured within a single serving.
Speaking of the holidays, these garlic ginger green beans are a nice option for anyone that's trying to watch what they eat, or anyone who appreciates change, and don't want to indulge in the more traditional, and heavier, green bean casserole.
I know that for me, as the primary cook in our household, it's so nice to have a few, less stressful recipes in the works during those busy times, and let me tell you it doesn't get much easier than these green beans!
Well, unless you give this recipe to someone else for them to make and just bring it to dinner (that would be really quick and easy for you).
Garlic ginger green beans get quick blanching and, after they've stopped cooking, a stir in a hot pan with some sesame oil, ginger, garlic, and some rice vinegar for good measure.
It's like a green bean stir-fry guys!! Who wouldn't like that as a side at your next big meal?
And for any sticklers who claim there's a strict holiday recipe schedule?
Like you have to have green bean casserole at the Thanksgiving and/or Christmas meal?
Remember your history.
America is a melting pot after all, and what better way to celebrate that diversity than at the symbolic table where we originally all first came together?!
Other Recipes Using Fresh Green Beans
If you've tried these GARLIC GINGER GREEN BEANS, or any other recipe on the site, let me know in the comment section how it turned out, we love hearing from our readers! You can also follow along with me on PINTEREST, FACEBOOK, and INSTAGRAM to see more amazing recipes and whatever else we've got going on!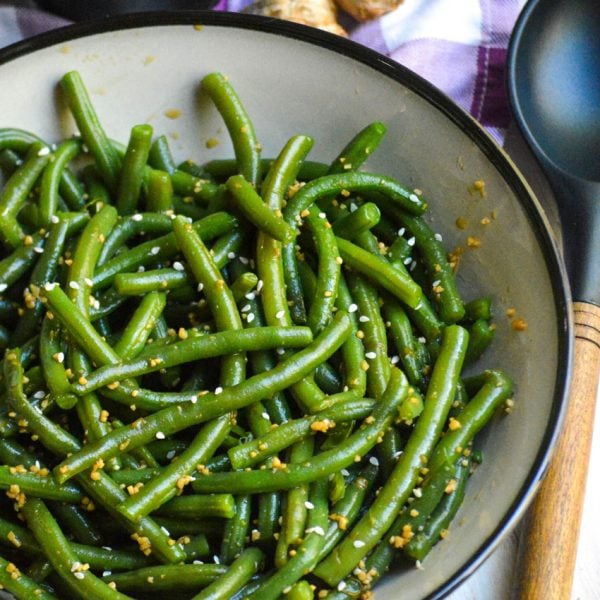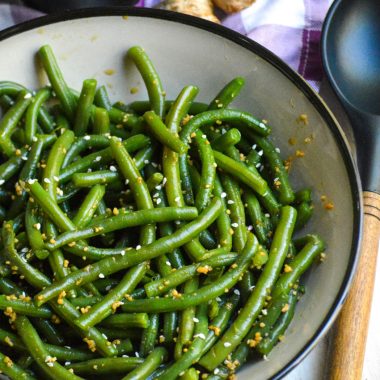 Garlic Ginger Green Beans
Green beans are a staple side dish, and this garlic ginger infused version is a perfect way to infuse dinner with a little more flavor without any extra work- skipping the can & using fresh beans instead.
Print
Pin
Rate
Ingredients
1

lb

green beans

washed and trimmed

4

cloves

of fresh garlic

minced

1

tbsp

soy sauce

½

tbsp

fresh

minced ginger

2

tsp

rice vinegar

½

tsp

sesame oil

⅛

tsp

salt

1-2

tsp

toasted sesame seeds
Instructions
Cook the beans in a pot of boiling water for about 5 minutes, or until beans are just tender.

Drain beans in a strainer and then run under cold water cold water to stop the cooking process

While beans are boiling, in a small bowl, mix together all of the other ingredients except for the sesame seeds.

Transfer the beans to a pot or bowl and pour the sauce over cooked beans and stir until everything is nicely coated.

Serve with sprinkled sesame seeds over top.
Nutrition
Calories:
51
kcal
|
Carbohydrates:
9
g
|
Protein:
3
g
|
Fat:
1
g
|
Saturated Fat:
1
g
|
Sodium:
332
mg
|
Potassium:
261
mg
|
Fiber:
3
g
|
Sugar:
4
g
|
Vitamin A:
782
IU
|
Vitamin C:
15
mg
|
Calcium:
52
mg
|
Iron:
1
mg
recipe originally published January 5, 2015