Have you ever wanted to snack on cookie dough with reckless abandon and not worry about any consequences? Us too. Thankfully this edible cookie dough is safe to eat in it's raw form, and tastes just like the real deal. It is the real deal, just without any of the unsafe ingredients. It's 100 % delicious, and makes the perfect stress-free snack or dessert to indulge in.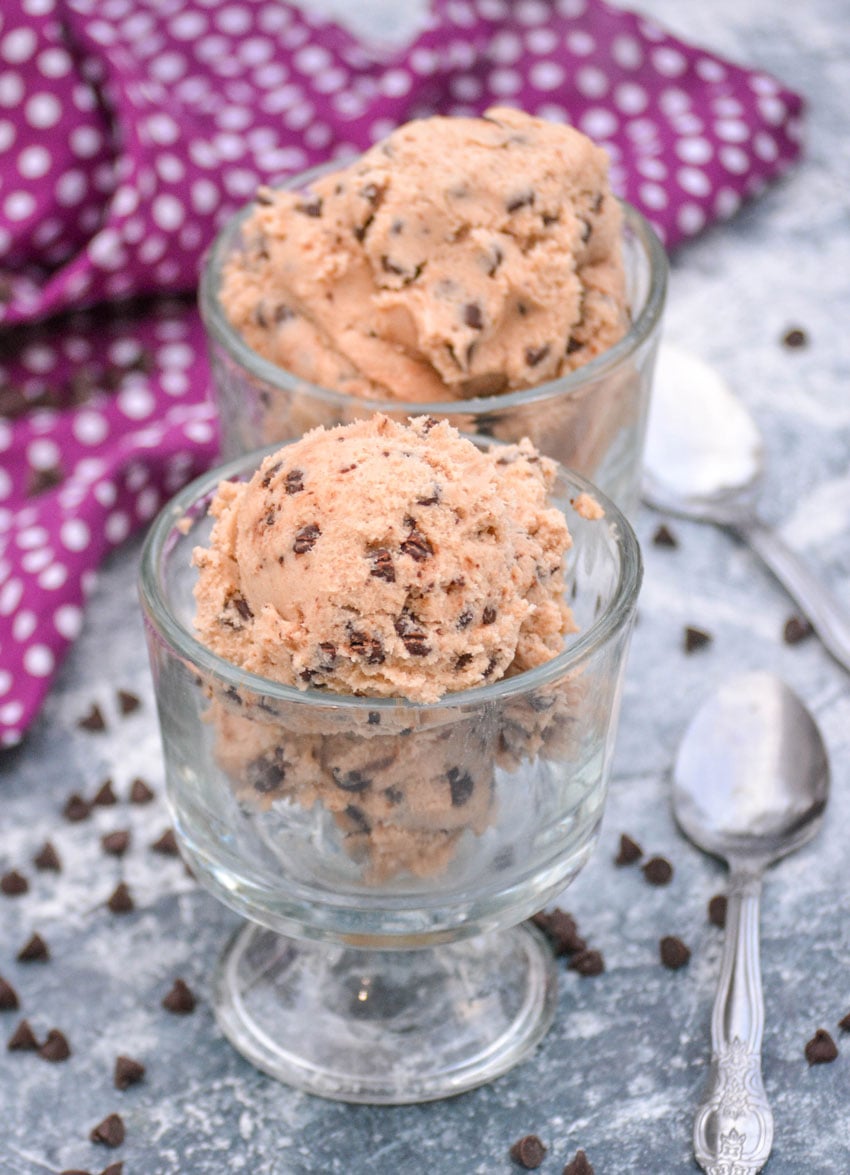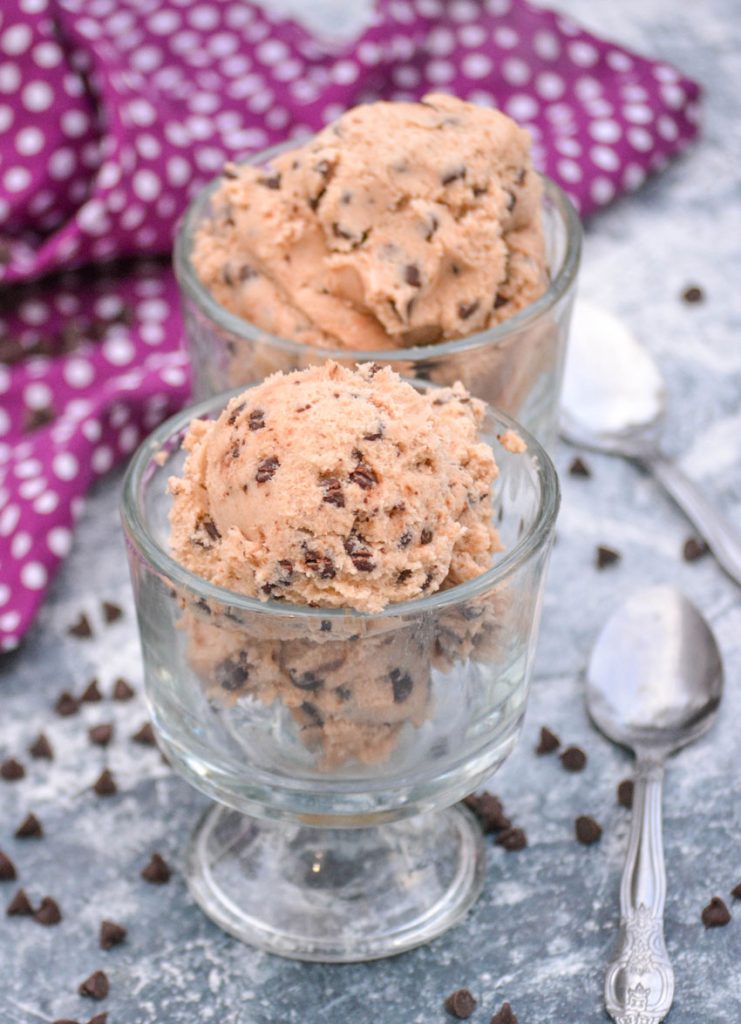 I love cookie dough, always have.
Before my wedding when my Mom was pulling out all the old baby pics (classic Mom move), there was a picture of me at two or three with the mixer beaters.
One clutched in each hand and me going to town licking the cookie dough bits off of each one with reckless abandon.
In college I used to buy logs of the ready to bake dough. I had every intention of using it to bake batches of cookies to enjoy with a cold glass of milk.
Instead I always ended up cracking them open and enjoying it by the spoonful for dessert.
A little late night pick me up until after a couple of days the whole thing was gone.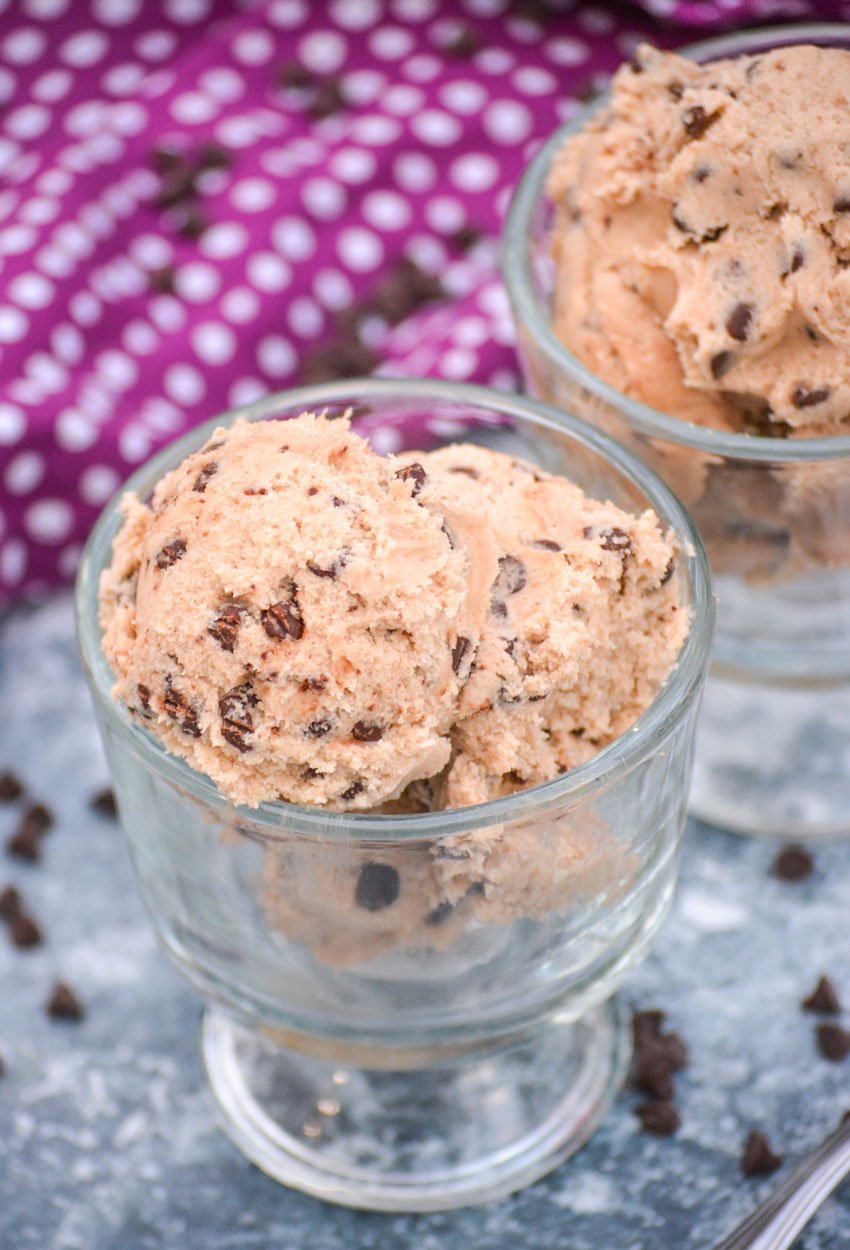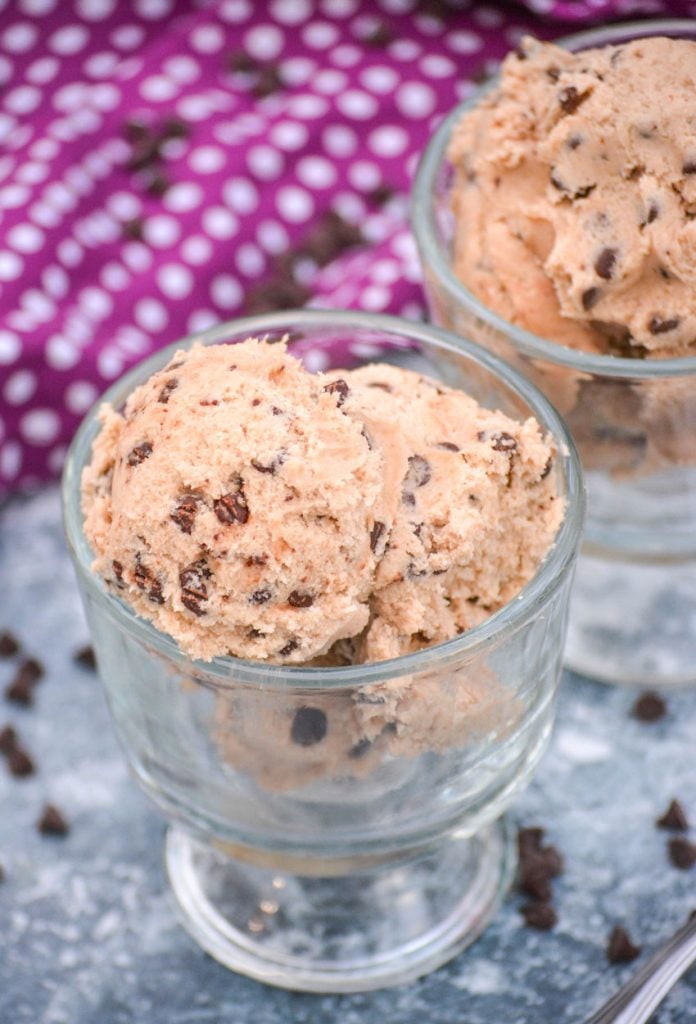 In my old age though, I realize this wasn't the smartest idea as raw cookie dough is a health gamble to consume. My craving for the stuff hasn't abated a bit though.
So I found a way to get my fix, in a totally safe way, with this edible cookie recipe.
Raw Eggs, The Hidden Offender In Traditional Cookie Dough
While I was willing to risk in my younger years, since having kids I've become a more aware adult and try to avoid harmful bacteria that could be lurking in the hidden corners of my refrigerator. Like in my regular cookie dough.
Both homemade and store bought cookie dough almost always contains raw eggs. Consider it an essential (traditional) ingredient.
One should never risk consuming raw eggs though because of the threat of salmonella poisoning. If it's present, cooking will effectively kill it.
Coming up with a healthy, safe edible dough that still tasted just as good as the real deal was a challenge- but we did it.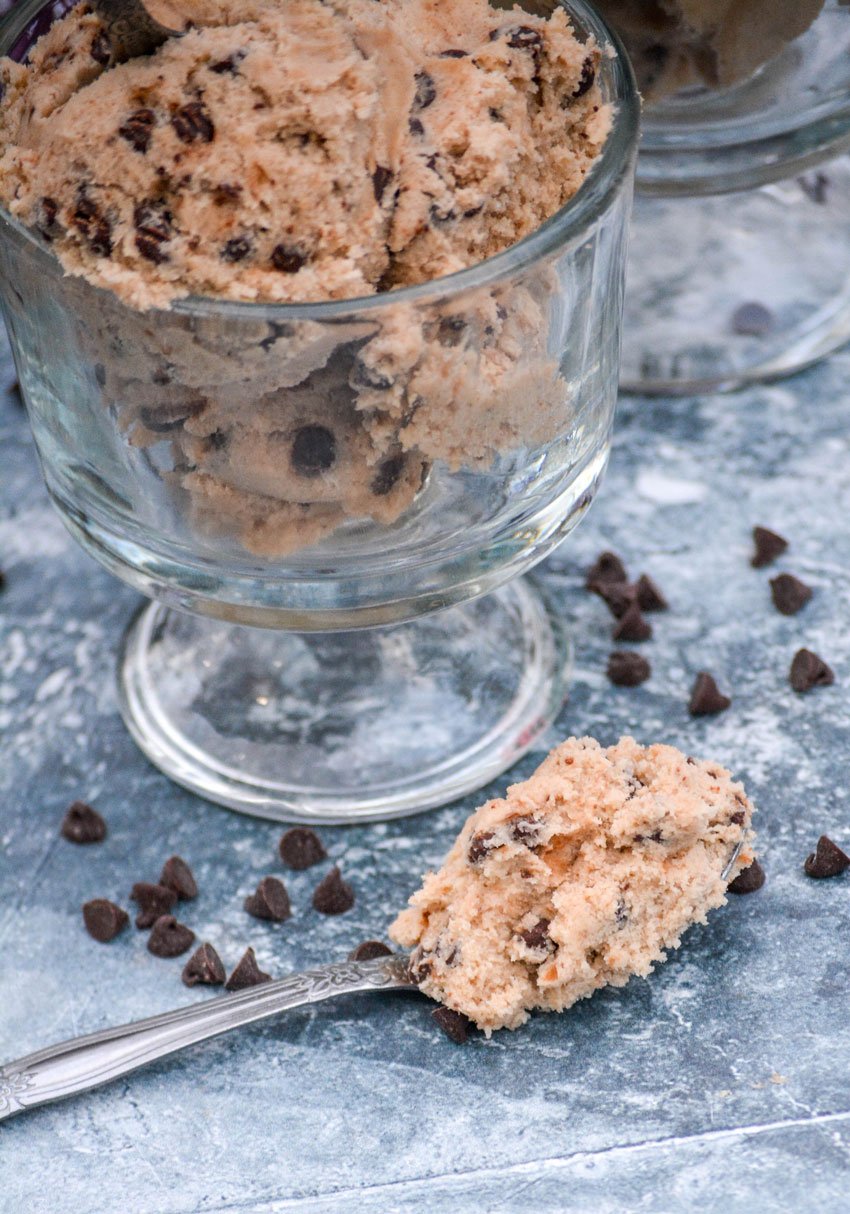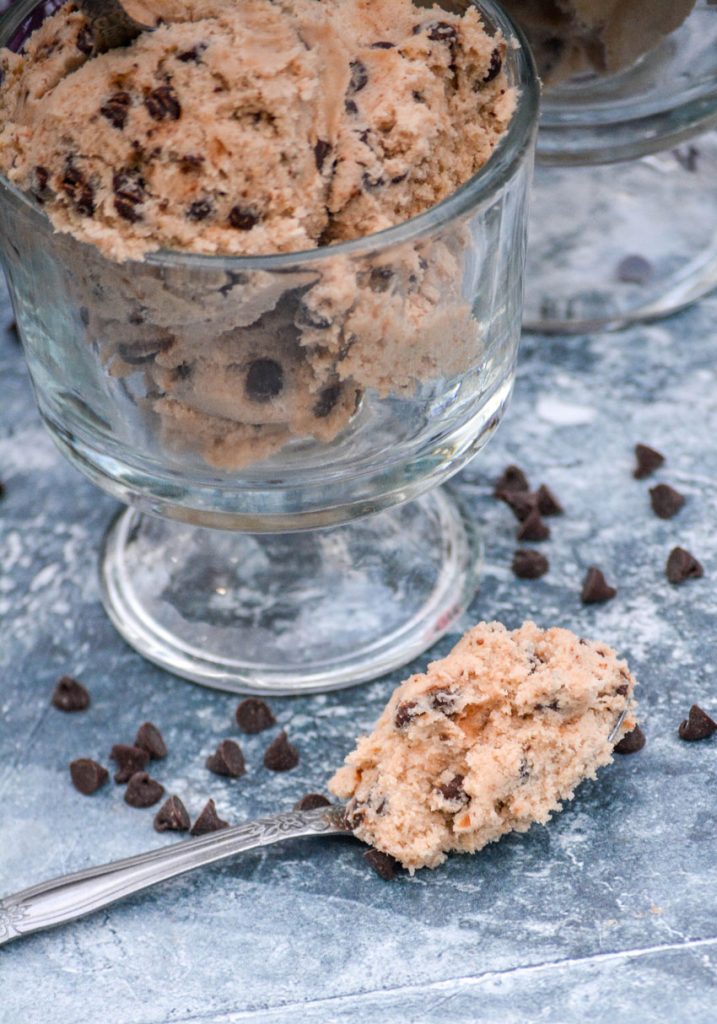 Flour Is A Raw Ingredient Too- And One You Probably Didn't Even Consider
Flour is also a raw ingredient, and one I hadn't really ever considered before. But it's true.
Before baking flour can actually contain a variety of harmful bacteria, including E. Coli. Since cookies are baked before enjoying them, the flour (just like the eggs) is rendered safe when they're done.
Since the whole point of this is to get our raw cookie dough enjoyment experience on- we had to find a way to make the flour 100% safe for consumption.
To do that, we didn't bake the dough (obviously)- but we did bake the flour before incorporating it into the recipe.
How To Bake Flour In The Oven To Make It Safe To Eat
Toasting the flour beforehand is easy to do, and a quick way to ensure it's safe enough to consume.
Spread the flour out into a thin even layer on a large rimmed baking sheet. The rimmed part being important so you don't accidentally let any slip over the edge when putting it in or pulling it out of the oven.
Bake the flour for five minutes at 350 degrees. Just watch it to avoid any burning. Shouldn't happen, but better safe than sorry. Take it ouf ot the oven when done and set the baked flour aside to cool completely.
That's it! Bacteria eliminated.
And as an added bonus for your extra effort- toasting the flour lightly gives it the barest hint of nutty flavor which really knocks your cookie dough out of the park with a little something extra.
Something you never even knew you were missing.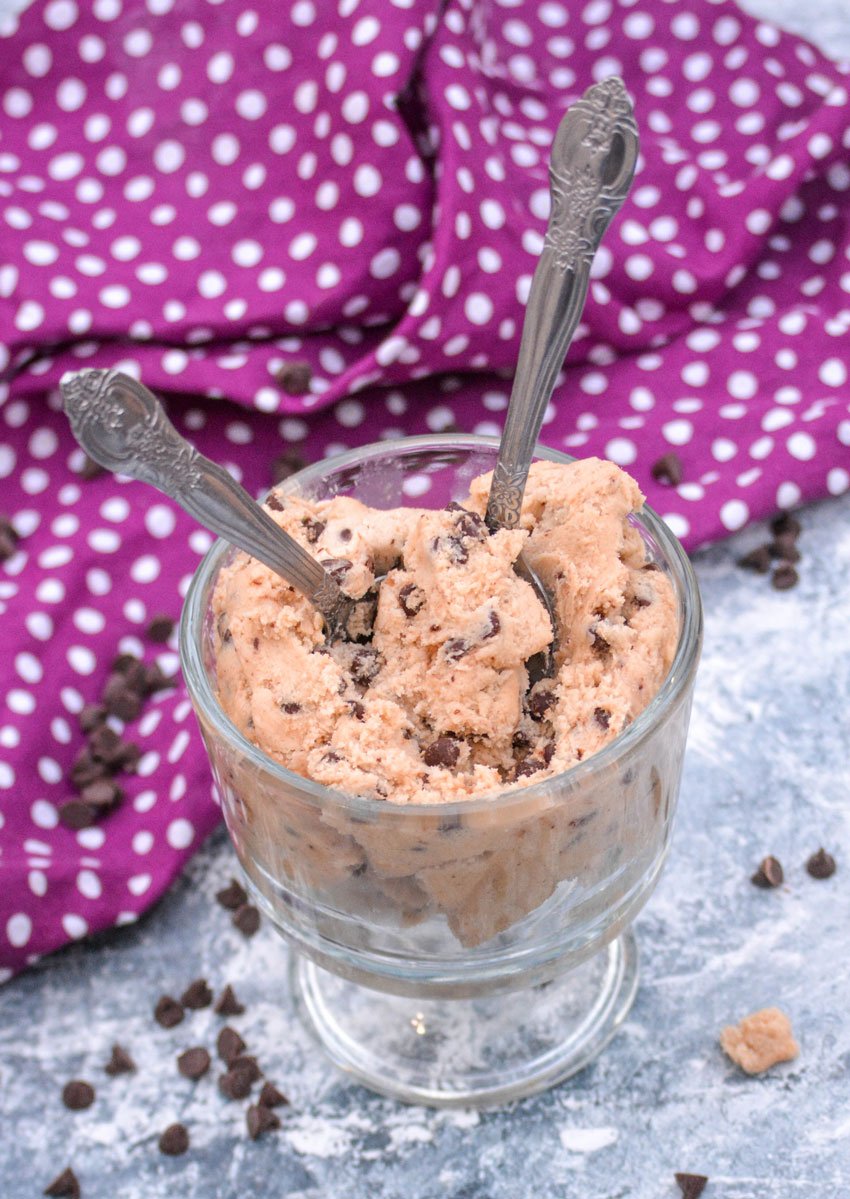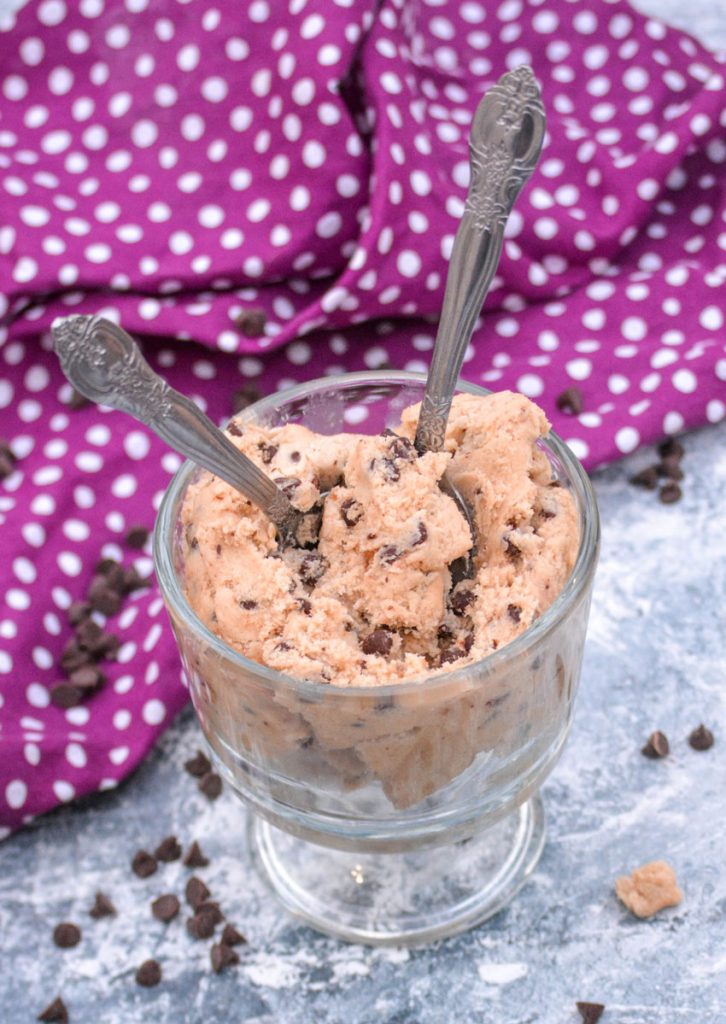 Mixing Up READY TO EAT Cookie Dough
Just like when whipping up cookie dough for baking, this recipe starts by adding ingredients to the bowl of your stand mixer.
Add the softened butter & sugars to the bowl. Beat them, creaming them together until they're smooth and fluffy.
Next add in the extracts. While many people only use vanilla, we also add a smidge of almond extract. It's something our family's always done to enhance the overall flavor of our dough- but it's also totally optional.
Do not feel obligated to rush out to the store to buy some, or let it keep you from indulging in this delicious dessert.
Add in the salt & milk, and then whip again until evenly incorporated. Add in the cooled flour, and whip together until the batter's smooth.
Using a spatula, fold in the chocolate chips, and that's it. The cookie dough is ready to enjoy!
Customizing Edible Cookie Dough- Traditional Mix Ins & Some You Haven't Thought Of
This recipe is for the most basic of edible cookie doughs. It's simple. It's delicious. It's also just begging to be customized with your favorite mix ins.
There's always the obvious nuts, raisins, toffee, and chocolate chips like here. There's also a whole slew of different flavored baking chips like peanut butter, butter scotch, or even caramel.
And while chocolate chips are our favorite- there's so many other candy based options that make so much sense. To name a few:
m&m's
chopped reese's peanut butter cups
Heath bars
Rollos
I could go on, but those are some of the great ones we've personally tried.
Then there's the untraditional mix in's that give you a glorious sweet and salt combo
potato chips
pretzels
crisp bacon crumbles
Don't knock it until you've tried it! Pick your favorites and go nuts!!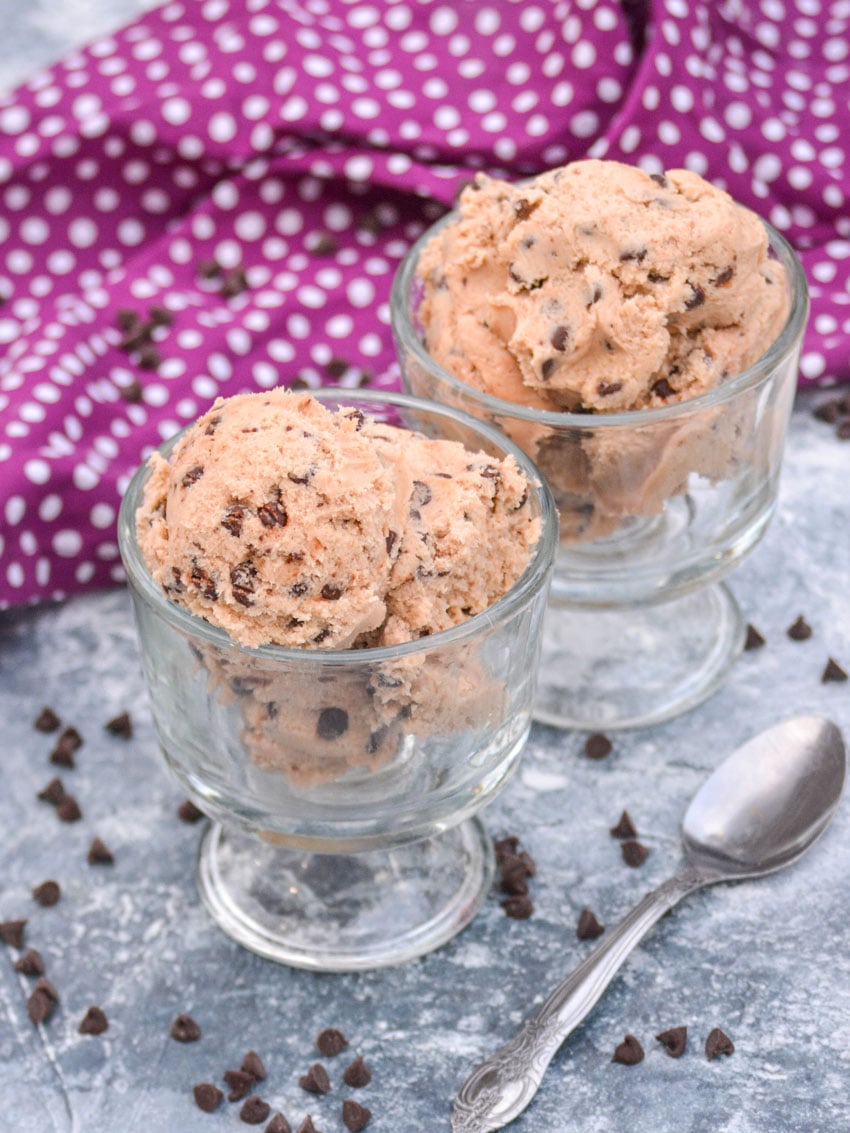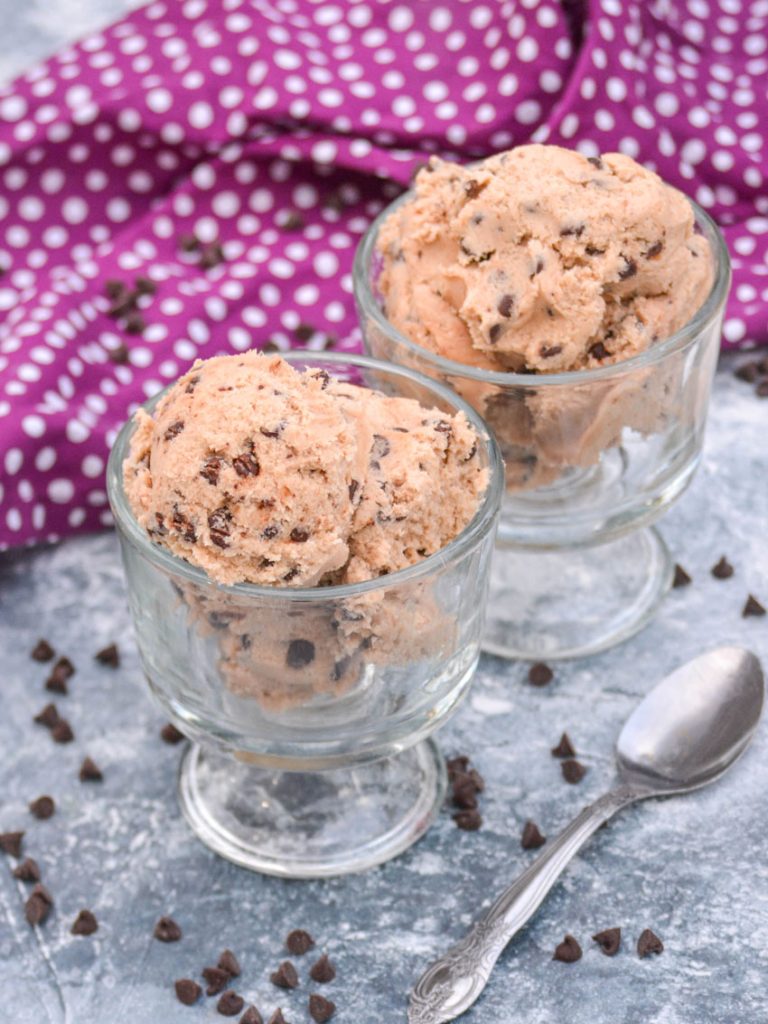 Whip up a batch of this easy edible cookie dough whenever the mood hits for a spoonful. Curl up on the couch, grab a spoon, and go to town while binging on your favorite show.
It's the best way to decompress when the stress is closing in.
If you've tried this EDIBLE COOKIE DOUGH, or any other recipe on my site, let me know in the comment section how it turned out, we love hearing from our readers! You can also follow along with me on PINTEREST, FACEBOOK, and INSTAGRAM to see more amazing recipes and whatever else we've got going on!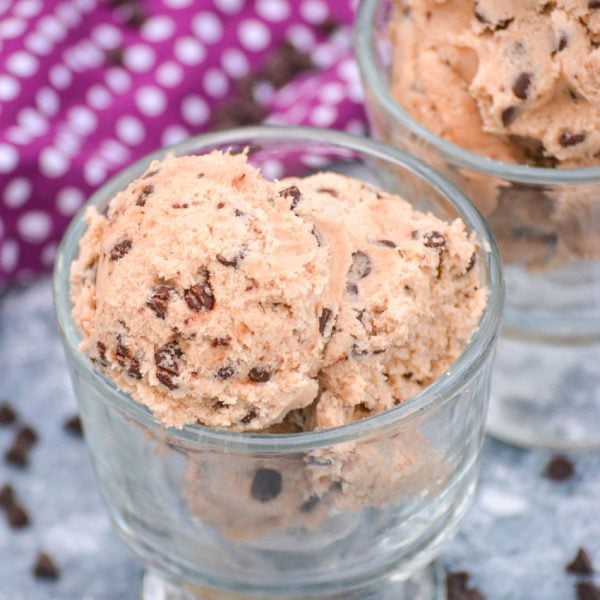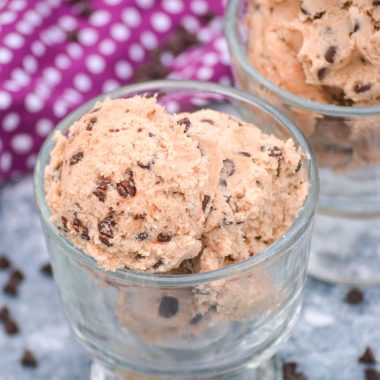 Edible Cookie Dough
This edible cookie dough is safe to eat in it's raw form, and tastes just like the real deal. It is the real deal, just without any of the unsafe ingredients. It's 100 % delicious, and makes the perfect stress-free snack or dessert to indulge in.
Print
Pin
Rate
Ingredients
3/4

cup

all purpose flour

1/3

cup

salted butter

softened

1/3

cup

packed brown sugar

3

tbsp

granulated sugar

1

tsp

vanilla extract

1/8

tsp

almond extract

optional

1

tbsp

whole milk

1/3

cup

mini chocolate chips
Instructions
Spread the flour out evenly on a rimmed baking sheet. Bake it at 350 degrees for 5 minutes. Watch it to prevent burning, then set it aside and let it cool completely.

Add the (really) softened butter to the bowl of your stand mixer. Add in the sugars, and beat them together until fluffy.

Add the extracts, salt, and milk. Beat again to evenly combine.

Add the now cooked & cooled flour and beat in until the batter's smooth.

Using a spatula fold in the chocolate chips until evenly incorporated.

Chill the dough for 10 minutes, if needed to solidify and get un-'greasy'. Otherwise serve, and enjoy!
Nutrition
Calories:
813
kcal
|
Carbohydrates:
111
g
|
Protein:
7
g
|
Fat:
38
g
|
Saturated Fat:
24
g
|
Cholesterol:
87
mg
|
Sodium:
305
mg
|
Potassium:
99
mg
|
Fiber:
2
g
|
Sugar:
73
g
|
Vitamin A:
1013
IU
|
Calcium:
90
mg
|
Iron:
3
mg