Fool proof carnitas are finally within your grasp, at home, with the help of your trusted slow cooker. These crockpot pork carnitas were literally made to be sandwiched inside soft corn tortillas and topped with your favorite veggies. It's healthy Tex Mex food you can feel good about enjoying!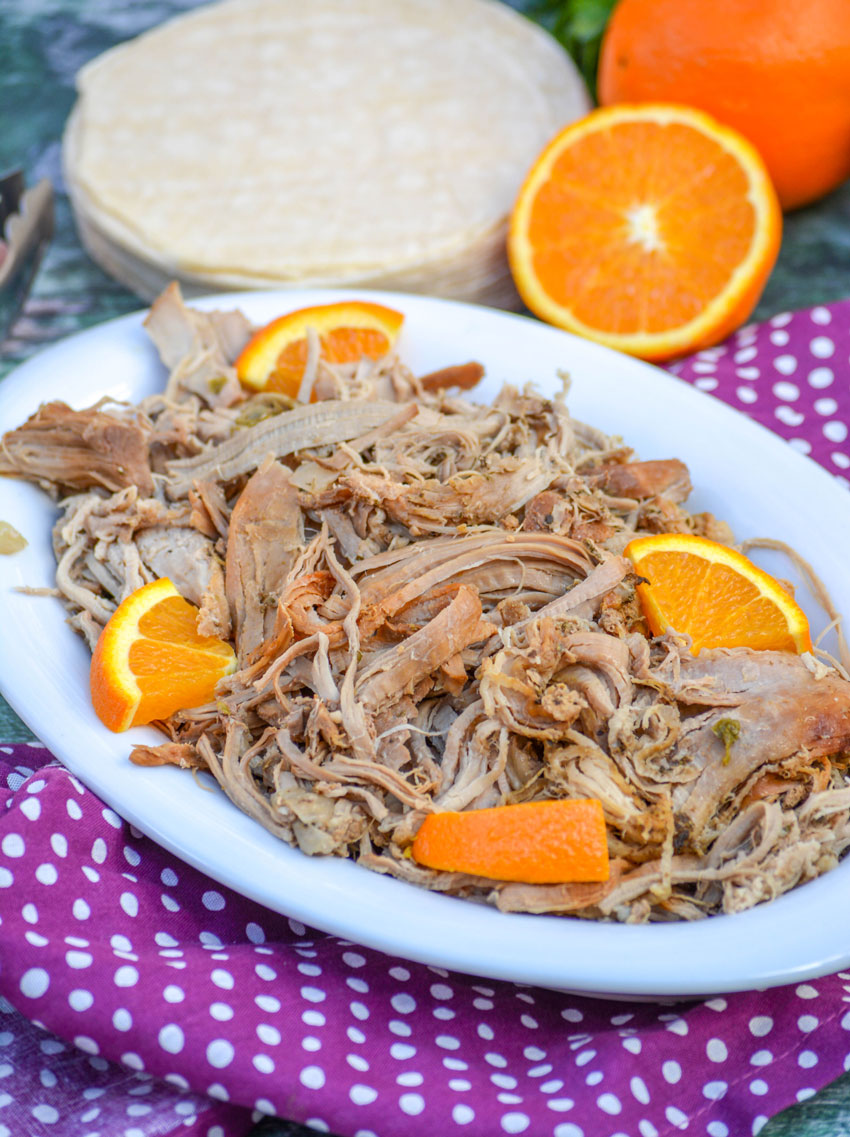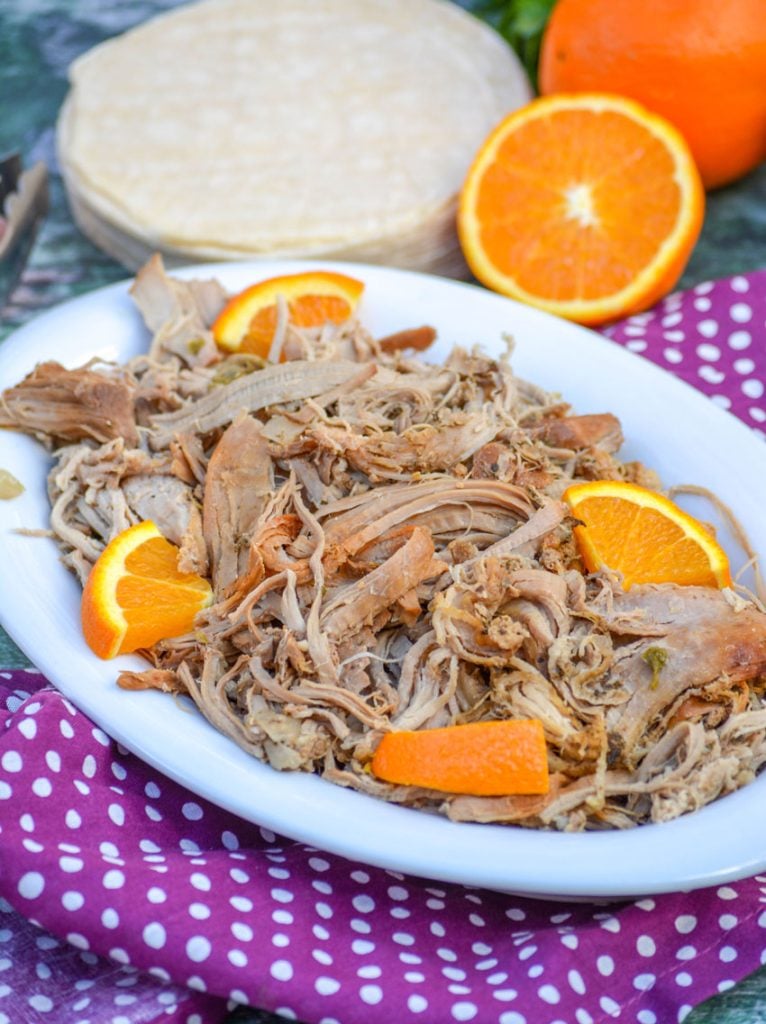 Got a bit of the blues?
Like the it's so cold outside you swear your eye lids are going to freeze open, and you can't feel your fingers cold weather blues?
If you're on the Northern East coast tonight you probably do.
But, we're here to help warm you up with today's delicious recipe.
One sniff, one bite and you'll immediately be re-living warmer memories with these feisty Crockpot Pork Carnitas.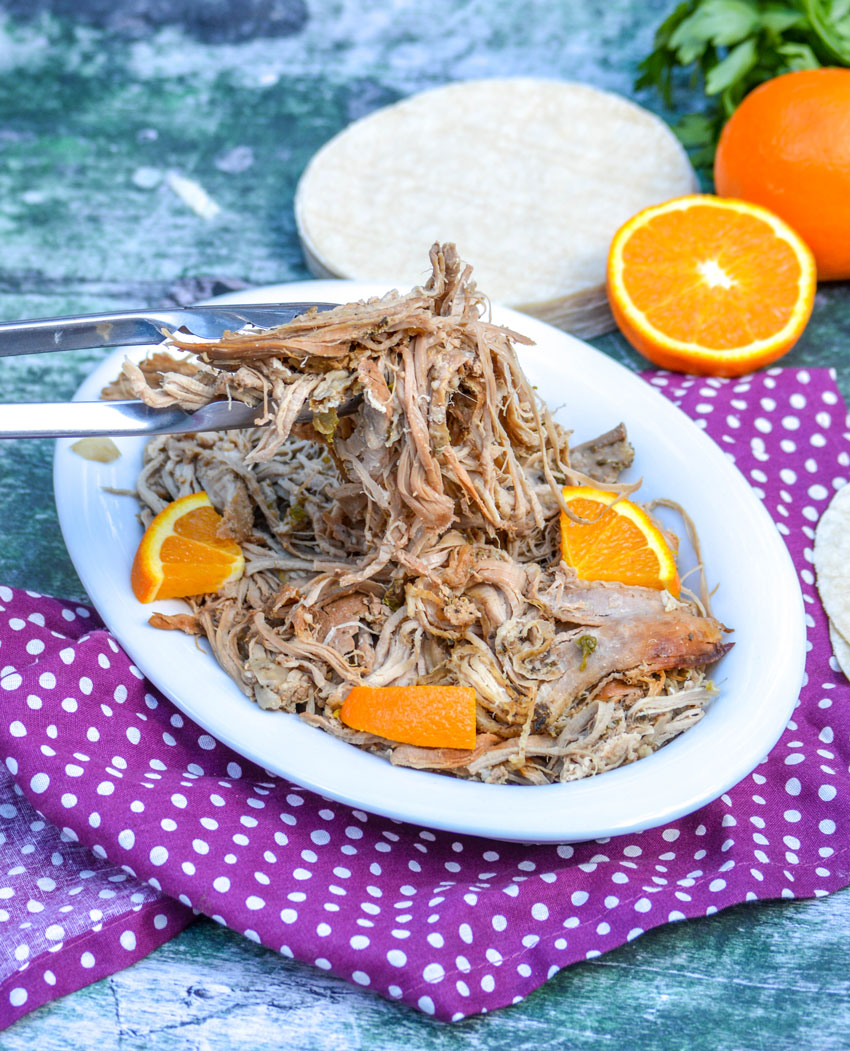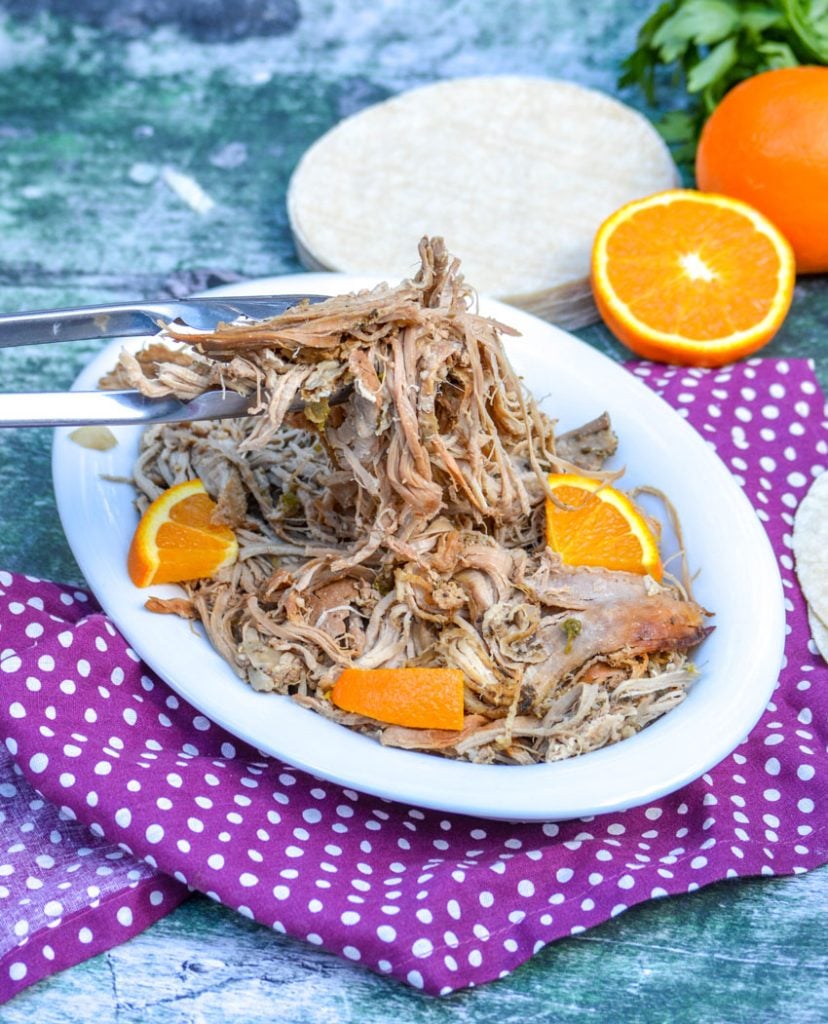 OK. A confession.
I love meat. Because … meat.
Obviously, vegetarianism is not written in the stars for me.
I know, I checked. (Aren't astrological charts super helpful?!)
I would die before giving up chicken, beef, or pork.
Ok, ok, you're right.
I probably wouldn't actually die, but it would feel like dying I'd imagine.
Now that we've got that out of the way, let's just focus on pork alone for a minute …..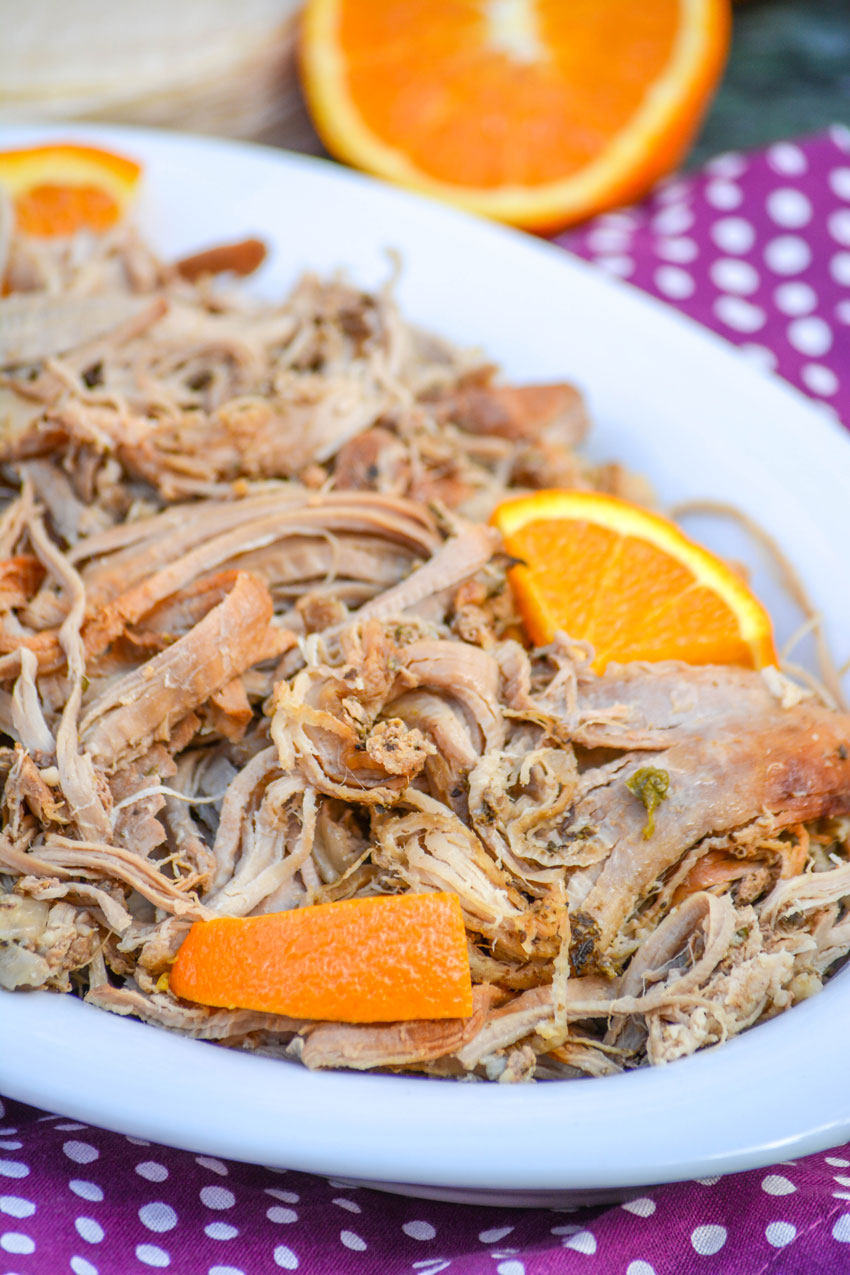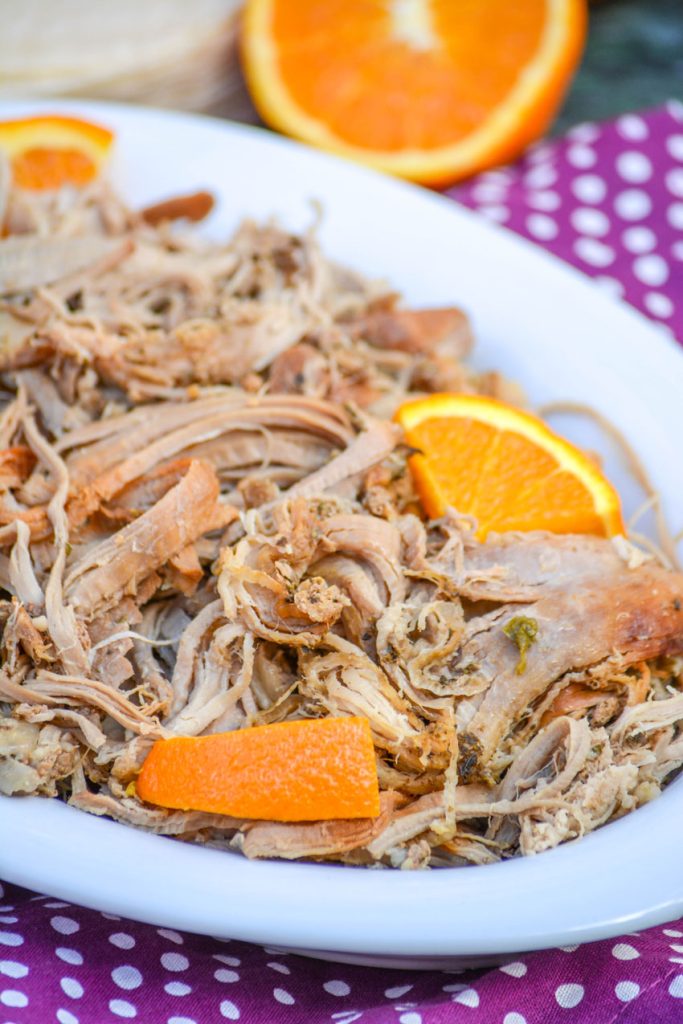 Hello! sausage, bacon, carnitas.
(Disclaimer: This is just me and my own little old opinion.
I have several wonderful vegetarian friends who I love and adore and who cook like rock stars)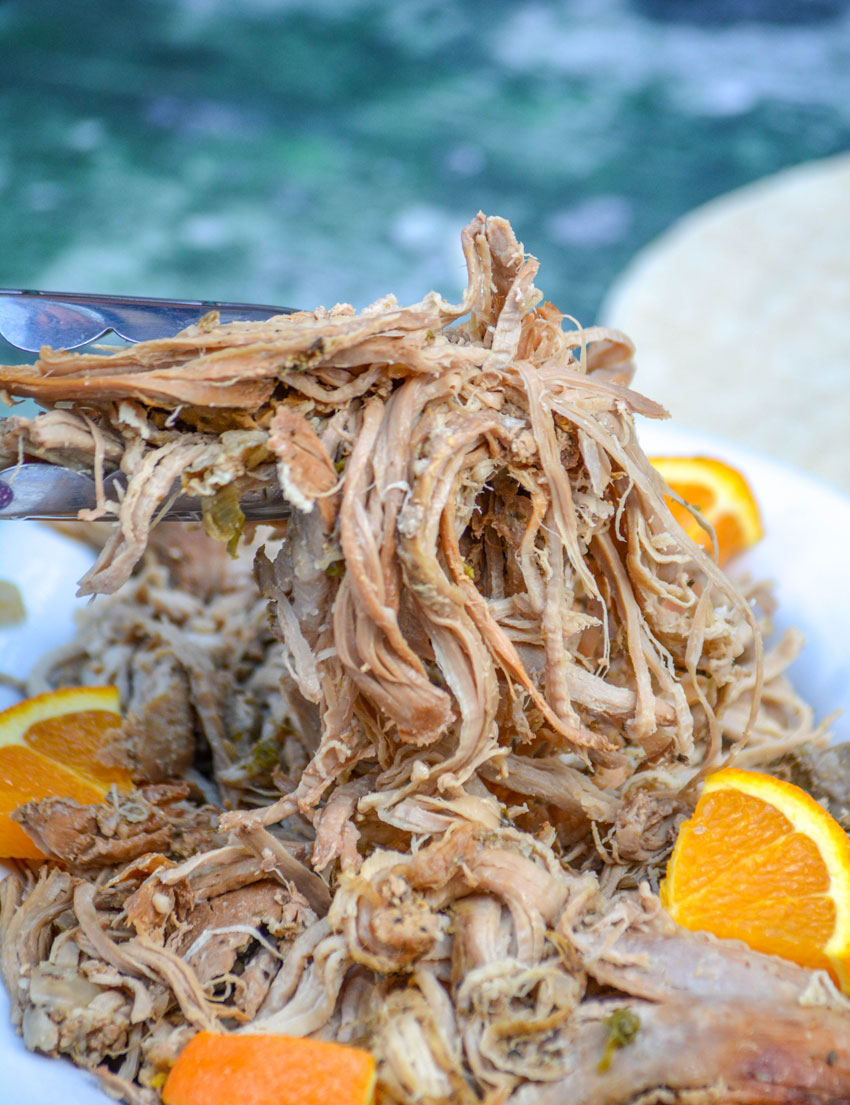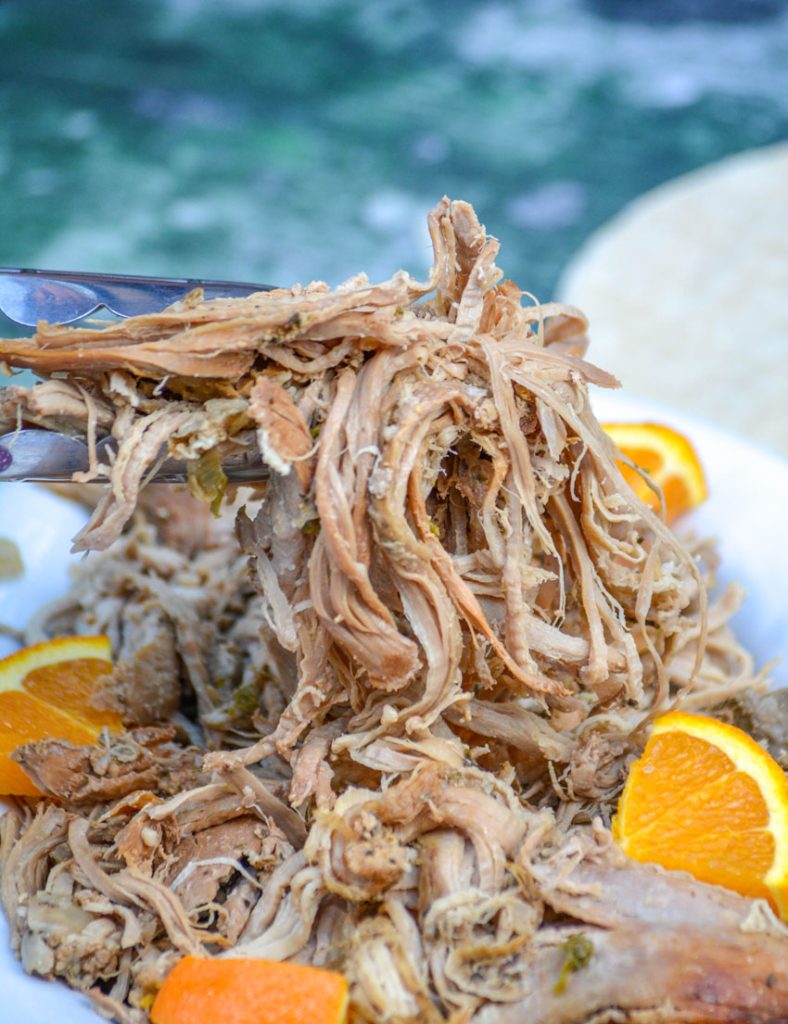 How would my life ever be the same again?
Carnitas, aka Mexican style shredded pork, are among the most flavor-packed taco fillings in existence.
I can't imagine never having had a taste of them before, or never having the joy of another bite in my future.
The amazing taste of these carnitas in particular is the result of slow cooking and the perfect blend of ingredients.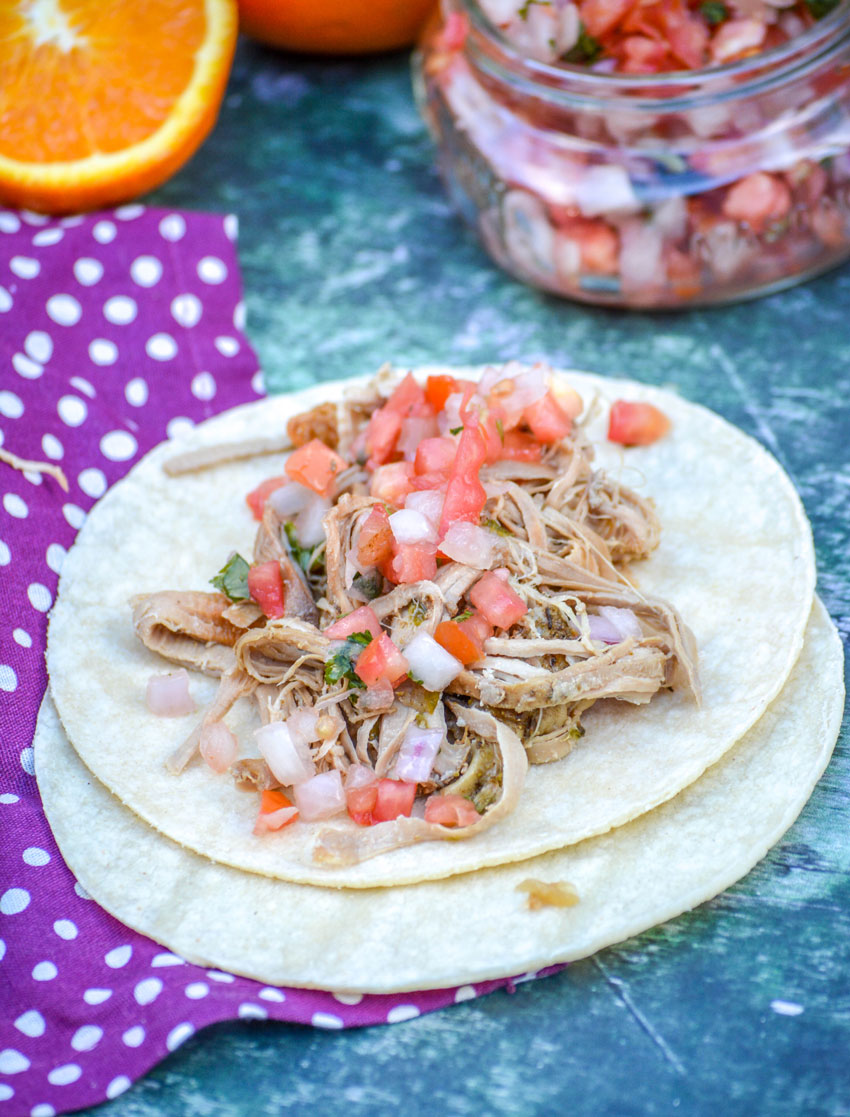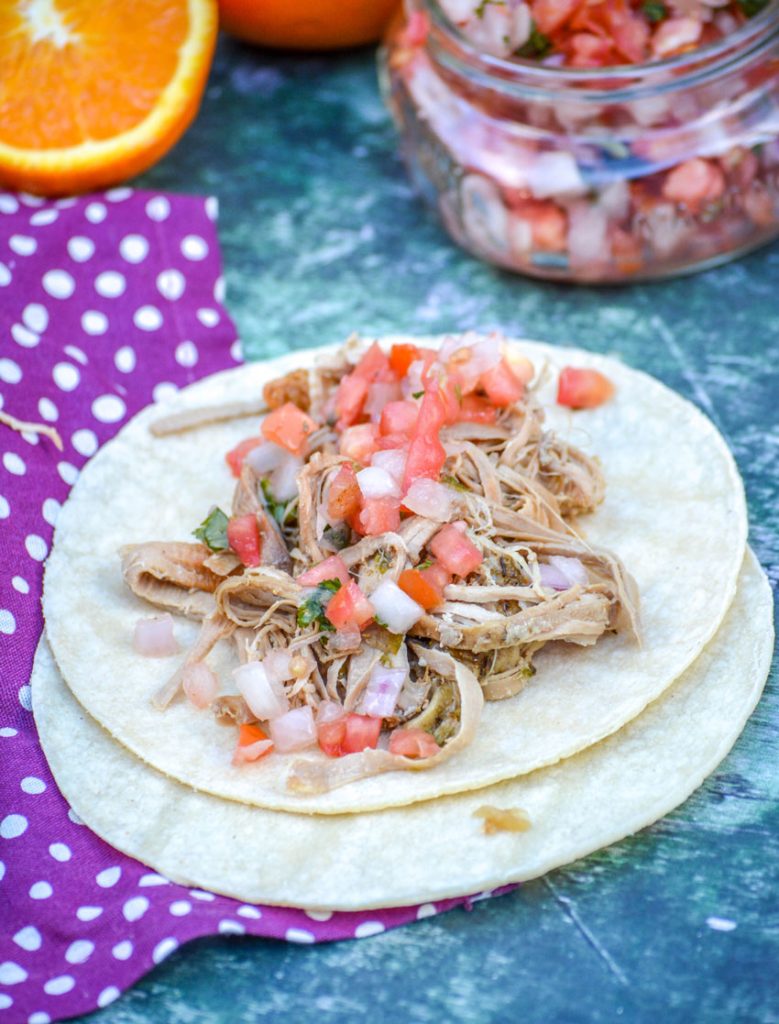 After several flavor melding, taste bud blowing hours cooking in the crockpot with the likes of seasoning like cumin & oregano, freshly sliced oranges, cloves of garlic, and sliced jalapenos- the 4-5 pound pork loin is cooked to glorious perfection.
Simple flavors, that when slow cooked meld together in an incredible edible symphony.
You can easily pull the meat apart using two forks, or if you're pressed for time give it a quick whirl in your stand mixer with the paddle attachment.
Think that's crazy? Check out the idea here.
You can also shred it right in the crockpot or slow cooker using a hand mixer.
That's truly the ticket, because one pot shopping (and no extra dishes to add to the sink later on!).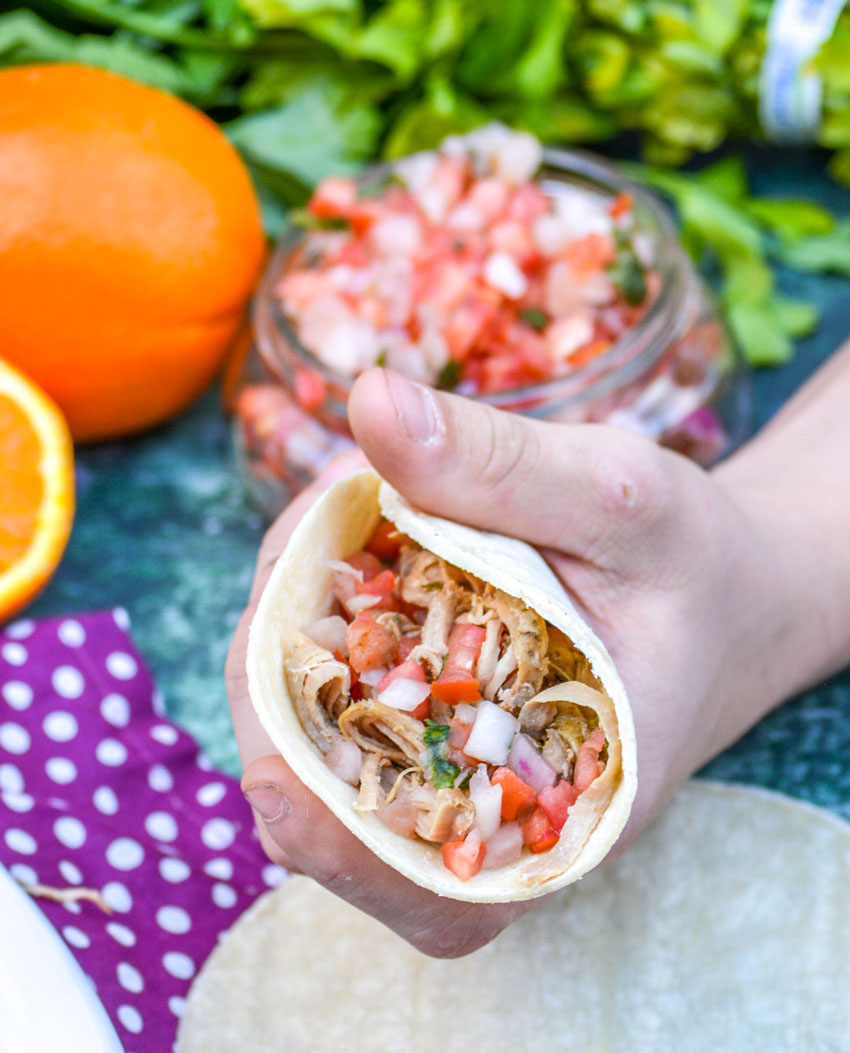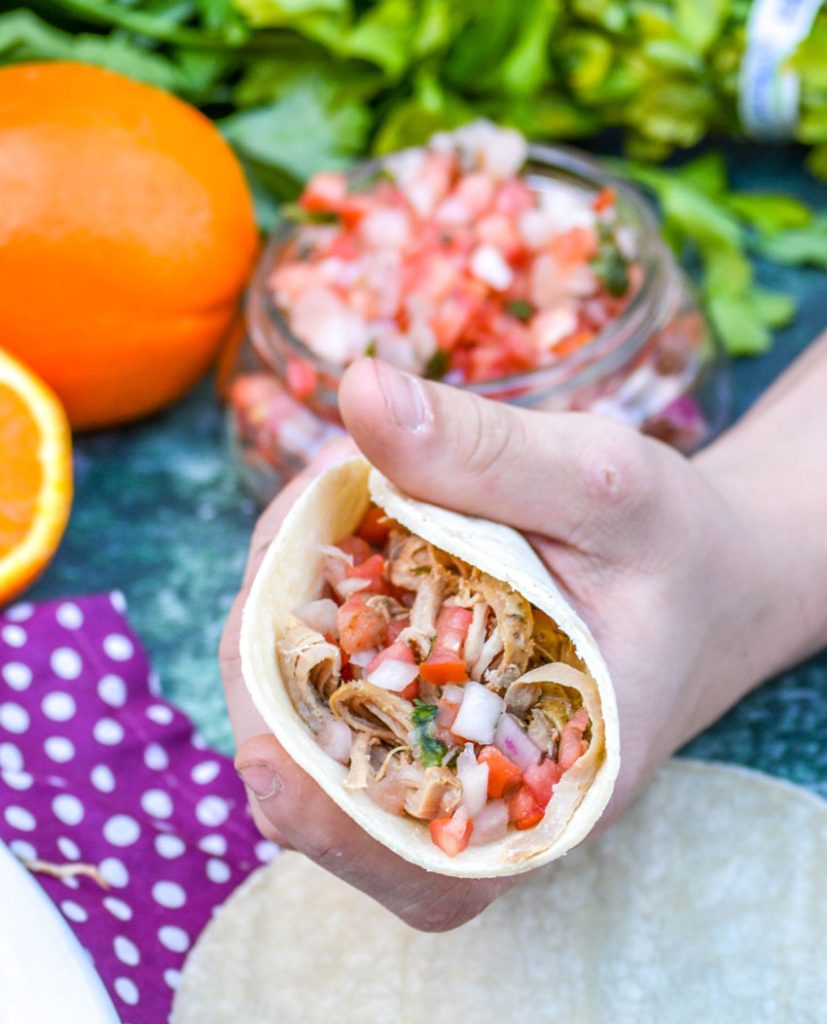 Skip Chipotle next time you get a craving, and make the more affordable choice to get your fix at home.
A few simple ingredients & standard spices, and the entire Tex Mex menu can be at your fingertips with these Crockpot Pork Carnitas.
Other Recipes You Might Also Enjoy:
If you've tried these CROCKPOT PORK CARNITAS, or any other recipe on my site, let me know in the comment section how it turned out, we love hearing from our readers! You can also follow along with me on PINTEREST, FACEBOOK, and INSTAGRAM to see more amazing recipes and whatever else we've got going on!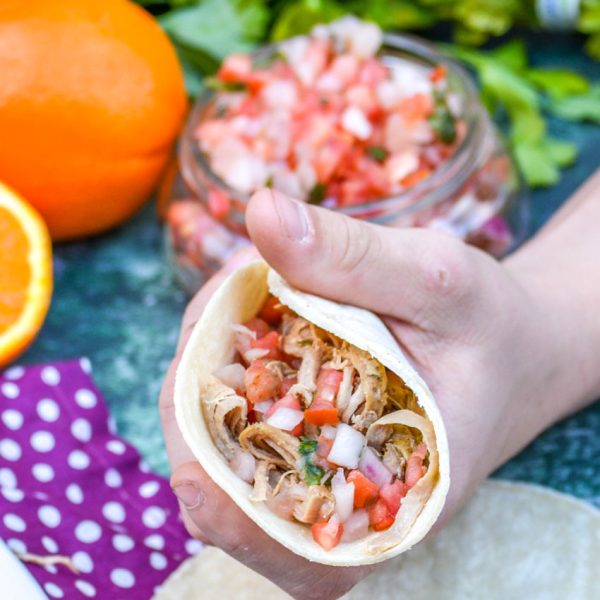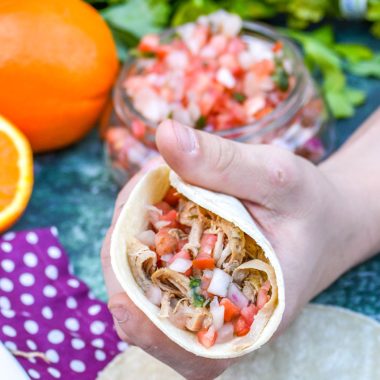 Crockpot Pork Carnitas
Seasoned with a simple homemade spice rub, a tender pork loin is slow cooked with garlic, onion, freshly sliced oranges, and sliced jalapenos. When shredded it makes the most delicious carnitas- at home!
Print
Pin
Rate
Ingredients
1 1/2 - 2

lbs

boneless pork loin

salt and pepper

2

tsp

dried oregano

1

tsp

ground cumin

1

tbsp

olive oil

1

onion

diced

4

cloves

garlic

minced

1

jalapeno

seeded and ribs removed, chopped (optional)

1

orange

cut in half

3

tbsp

vegetable oil

corn tortillas

pico de gallo
Instructions
Rinse and dry the pork loin. Salt and pepper it, liberally. In a small bowl combine the oregano, cumin, and olive oil. Generously rub the mixture all over the seasoned pork. Place the pork in the crockpot and top with the onion, garlic, and jalapeno. Squeeze over the juice of the orange and add in the two halves. Cover and cook on low for 8 to 10 hours or on high 4-5 hours.

Once the meat is tender, remove from slow cooker and let cool slightly before pulling apart with a fork. In a large saute pan, heat the vegetable oil over high heat. Press the corn tortillas into the oil and fry until crusty on one side. Serve the shredded pork over the carnitas with your desired toppings.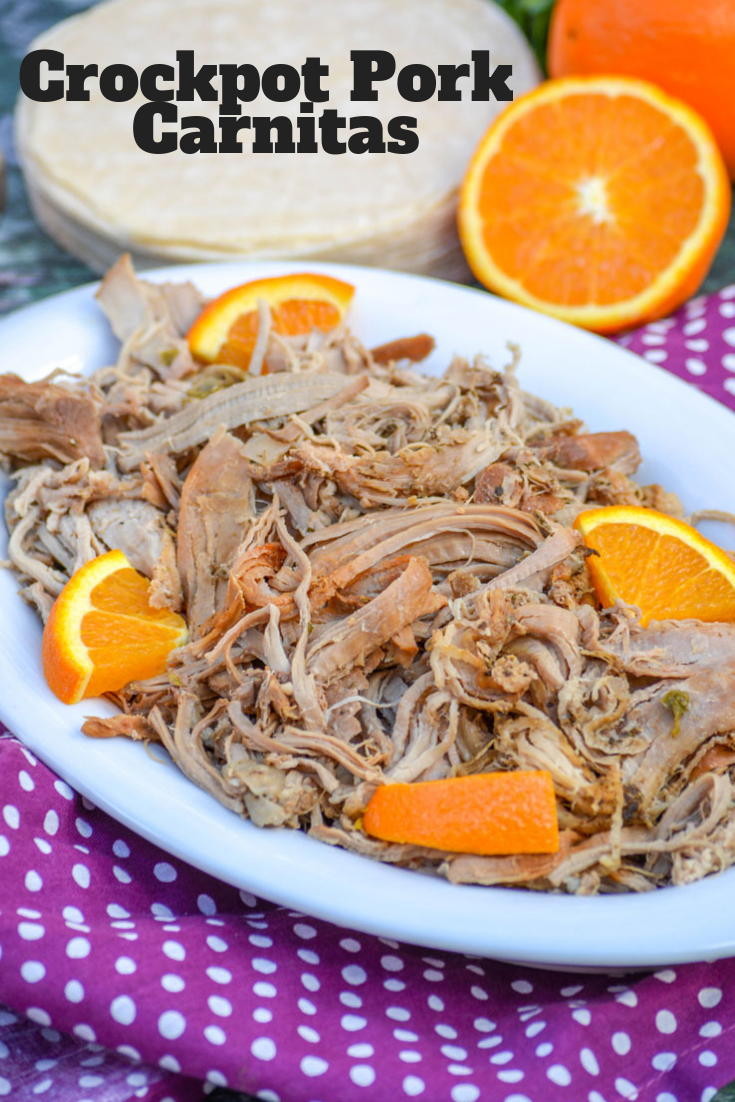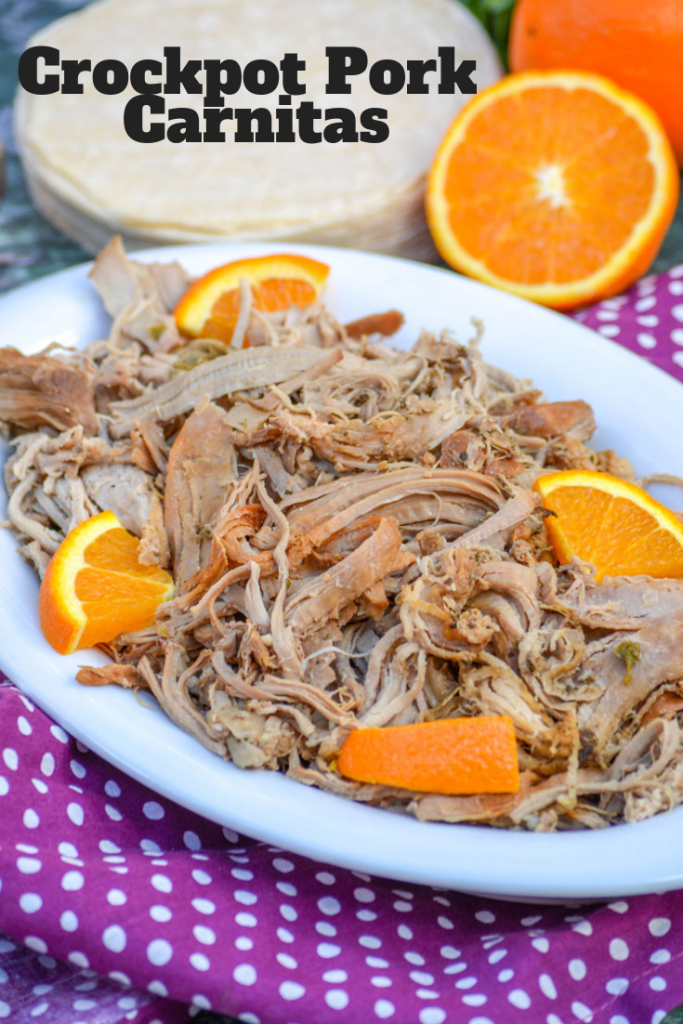 post & pics updated on 1/8/2019