Kung Pao Shrimp Po' Boys are a deceptively simple lunch or dinner idea, that are full of flavor and simply irresistible. It's a gourmet meal, made in your own kitchen, served on a plate in perfect form.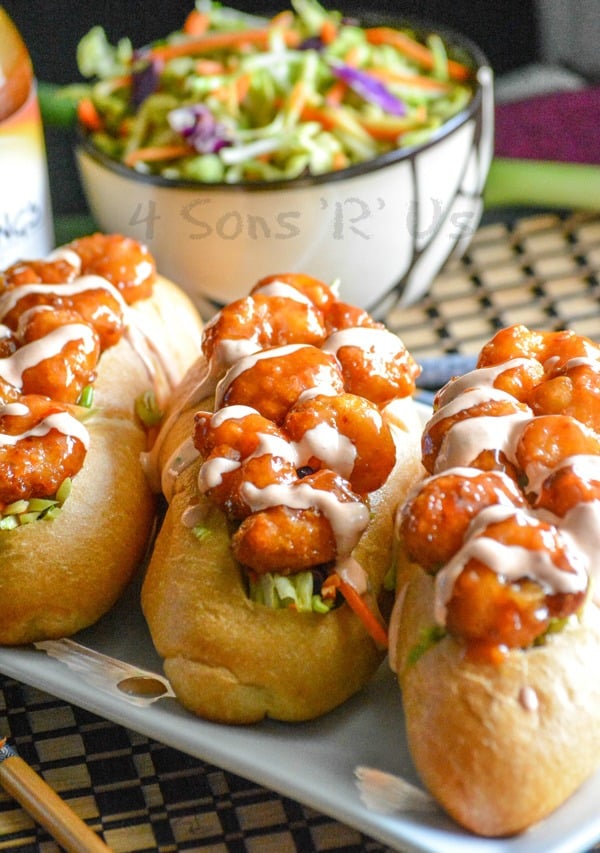 I don't know about you, but I sure do enjoy a good meal from my favorite Asian take out joint. I have to limit my indulgence though, simple because good gourmet Asian flavor isn't cheap.
And I will happily pay for great food with flavor profiles I'm not familiar with. A good meal is always a good investment in my book.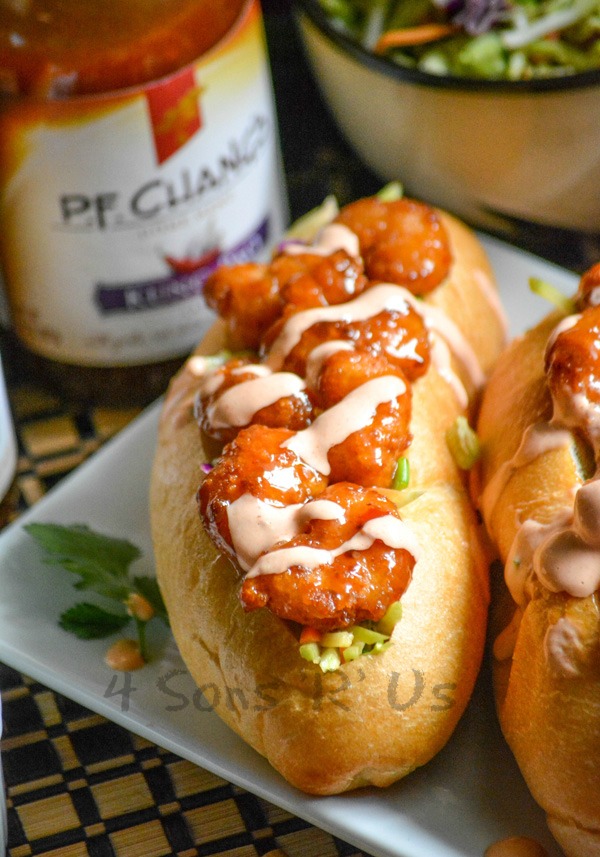 But, I'm human and also have to live by a budget. Paying the bills and keeping a roof over my kids' heads is a must. Obviously, keeping them healthy, happy, and safe is always my priority.
So it makes it an even more enjoyable treat when we get to splurge.
In the happiest of coincidences, I wandered down the Asian aisle at our local Walmart a few weeks ago– and noticed something NEW. Yummy looking NEW P.F. Chang's® Home Menu sauces.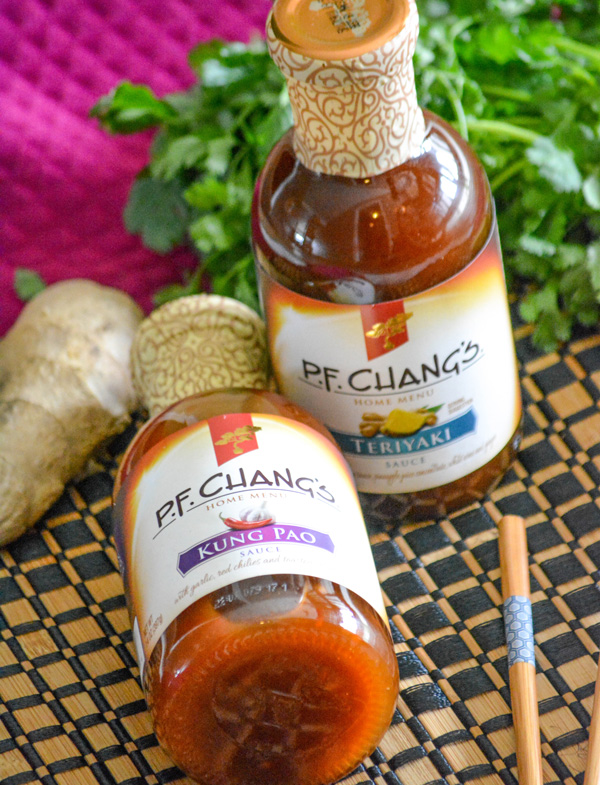 There were three flavors: Sesame, Teriyaki, and Kung Pao. I know you already know, but yep– all three went in my basket.
I actually had to keep a constant eye on my speedometer on the way home, because I was a little too excited to get home and make some magic with them in my kitchen.
This is what adulting looks like apparently; making sure you adhere to the posted speed limit because you're overly zealous to rush home and cook a gourmet meal without the gourmet price tag.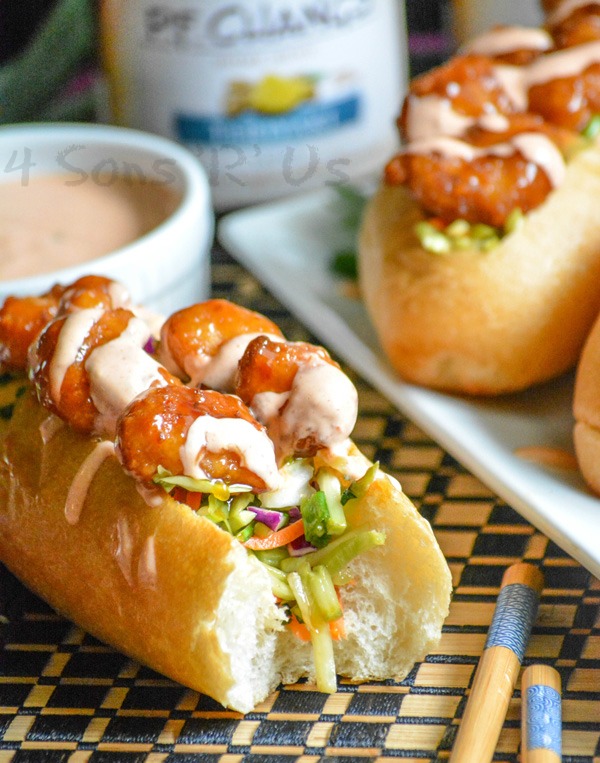 I feel like there's a common misconception that homemade meals are less flavorful than their gourmet counterparts.
Rest assured, that's just a myth. Using P.F. Chang's® sauces, you can get real, taste-bud blowing flavor on any budget, even on the busiest of evenings. They're the simple secret to extraordinary flavor
Now that the secret's out, so stock up on these savory sauces and let them do the flavoring for you. The choice, like the seriously incredible sauce, is simple.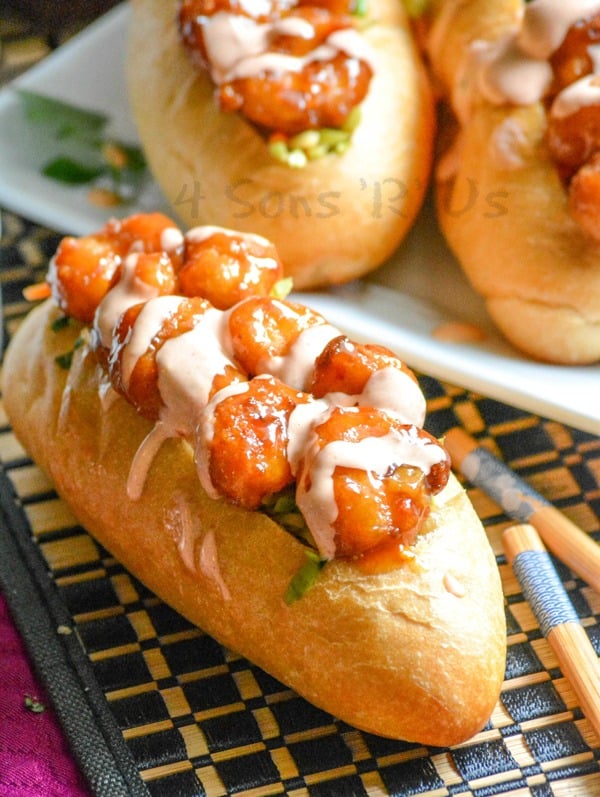 Crusty baguette rolls are stuffed with a tangy Asian-flavored broccoli slaw. Crispy, baked popcorn shrimp are tossed in Kung Pao sauce and piled high on top of the slaw stuffed buns.
Drizzled with a sweet Sweet Chili aoili– these Kung Pao Shrimp Po' Boys will leave you heading for the Asian aisle at the local Walmart, instead of the take out menu after one bite. And I can promise, you won't be disappointed.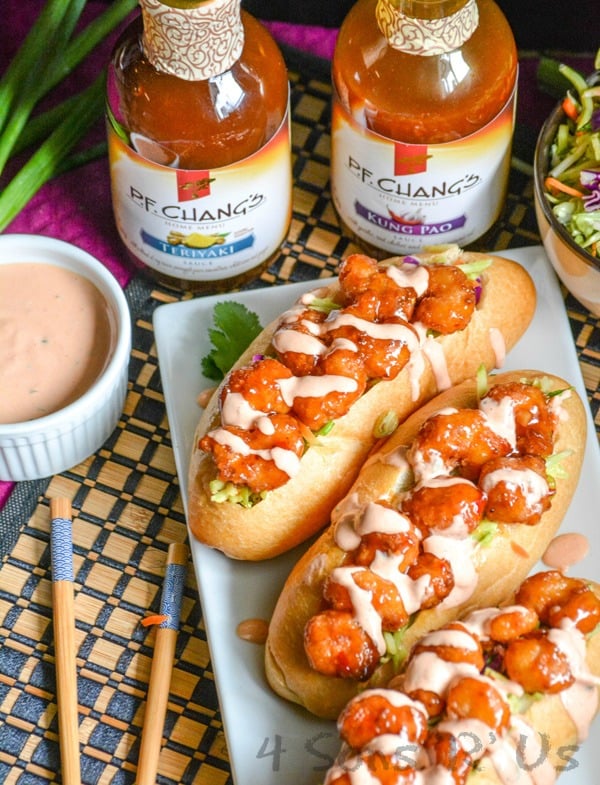 A solid Po' Boy is a Southern staple. Given an Asian spin, this version's a simple meal that will quickly become a new family favorite. No phone calls, no waiting, no expensive bill– just a quick spin in my pantry and this flavor bending sandwich is a go.
Don't you just love Asian cuisine that's made so simple?
If you've tried these KUNG PAO SHRIMP PO' BOYS, or any other recipe on my site, let me know in the comment section how it turned out, we love hearing from our readers! You can also follow along with me on PINTEREST, FACEBOOK, and INSTAGRAM to see more amazing recipes and whatever else we've got going on!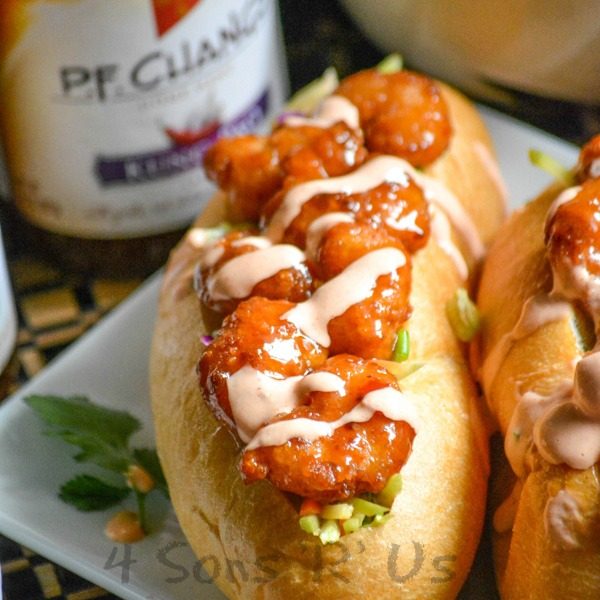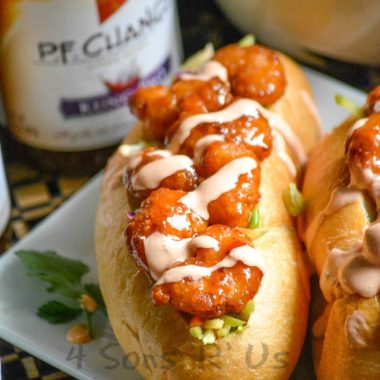 Kung Pao Shrimp Po' Boys
Crusty baguettes are stuffed with a tangy Asian slaw, topped with saucy Kung Pao shrimp, and drizzled with a sweet chili aoili.
Print
Pin
Rate
Ingredients
For The Sandwich
4

6" crusty baguette rolls

2

cups

cooked popcorn shrimp

1/3

cup

P.F. Chang's® Kung Pao sauce
For The Slaw
1 small bag (about 2-3 cups)

broccoli slaw mix

1

cup

thinly sliced Napa cabbage

2

green onions, thinly sliced

2

tbsp

soy sauce

2

tbsp

lemon juice

2

tbsp

minced fresh cilantro leaves

1

tbsp

fresh grated ginger

1

tbsp

rice wine vinegar

1

tbsp

brown sugar

1

tsp

sesame oil

salt and pepper, to taste
For The Aoili
1/2

cup

mayonnaise

2

tbsp

sweet chili sauce

1/2-1

tbsp

hot chili sauce

1

tbsp

minced fresh cilantro leaves

1

tbsp

lemon juice
Instructions
To Make The Slaw
In a medium-large tupperware, toss all of the ingredients together until evenly combined. Seal with a lid, and refrigerate until ready to use.
To Make The Aoili
In a small bowl, whisk together all of the ingredients until evenly combined and the sauce is smooth. Set aside.
To Make The Po' Boys
Cut a line down the middle of the top of your baguette, but don't cut the roll all the way in half. Use a sharp pairing knife to cut the sides of the slit into an oval shape. Use your fingers to pull out some of the bread in the middle making a nice pocket for the slaw and shrimp. Repeat until all the baguettes are ready.

In a small mixing bowl, toss the shrimp with the kung pao sauce until they're all evenly coated.

Pack each baguette pocket with the chilled slaw. Generously top with kung pao shrimp. Drizzle the shrimp with the aoili, and serve.