When the temperatures drop, there's nothing like a creamy, cheesy homemade casserole to warm you right on up. This Creamy Chicken Caesar & Wild Rice Casserole is a full meal, in one easy dish that'll quickly become a new family favorite.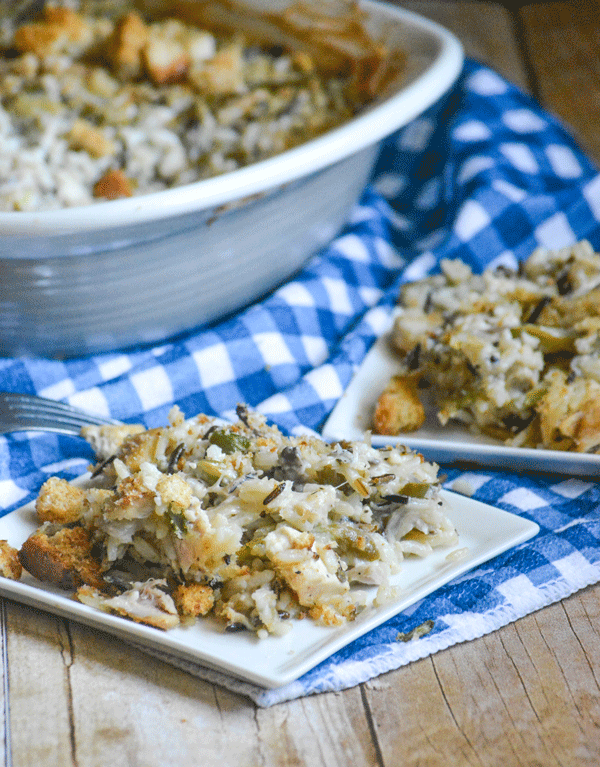 Rain, rain, rain, and more rain. That was yesterday's forecast, and it's today's too.
Hopefully things will clear up by tomorrow. Hopefully. But even if it doesn't, we're rolling with it. Fuzzy slippers, over sized couch throws, two batches of Slow Cooker Hot Chocolate later, and we're well into our family Harry Potter marathon.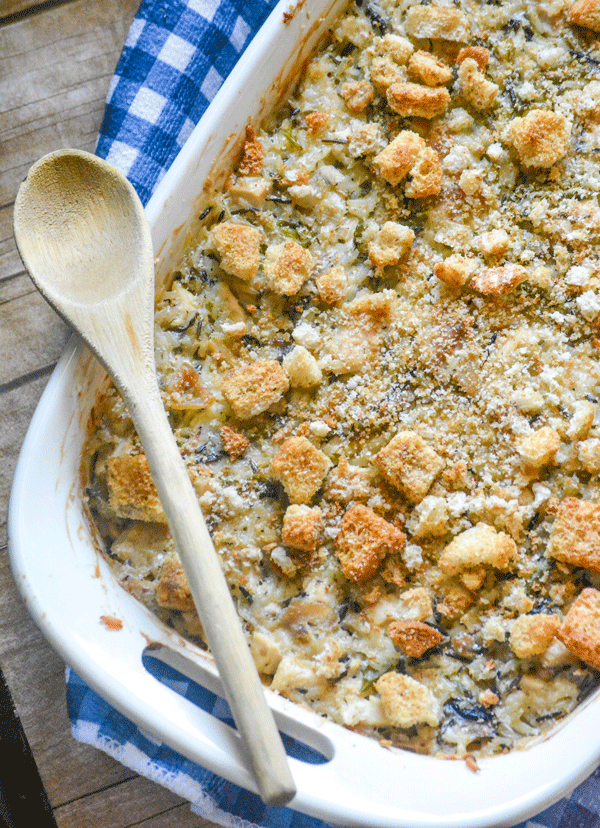 Harry Potter is a very serious, sacred franchise in our household. Which means, limited to no interruptions unless at previously scheduled, agreed upon intermissions.
Even then, you'd better handle your break time efficiently because if you're the last one back to the living room– everybody's gonna be staring you down in their urge to press 'play'.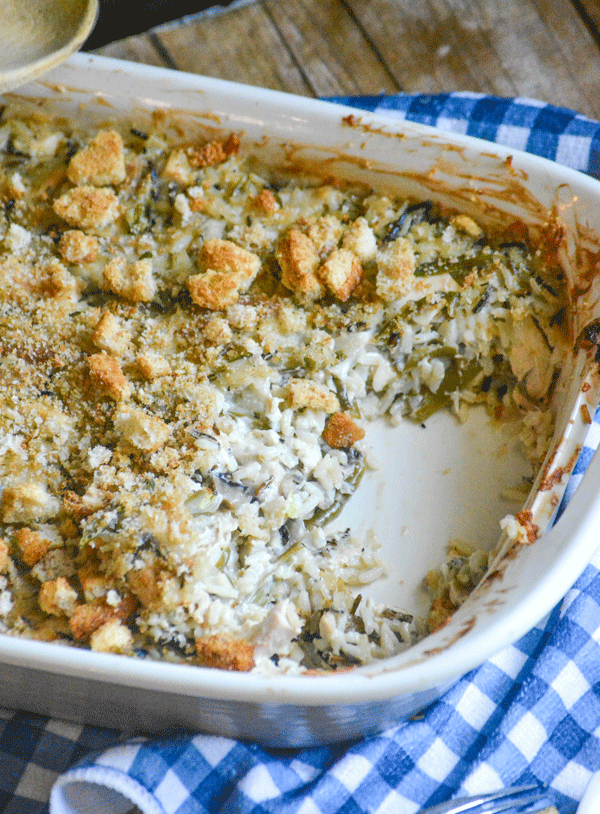 Even me having to make dinner isn't above the unspoken etiquette of family movie marathon days. But nobody wants to go hungry, so I embrace one of my favorite types of meals– the lovely, all in one dish– a casserole.
Not just any casserole though, because it's cold, and dreary, and wet so some sort of comfort food is definitely in order.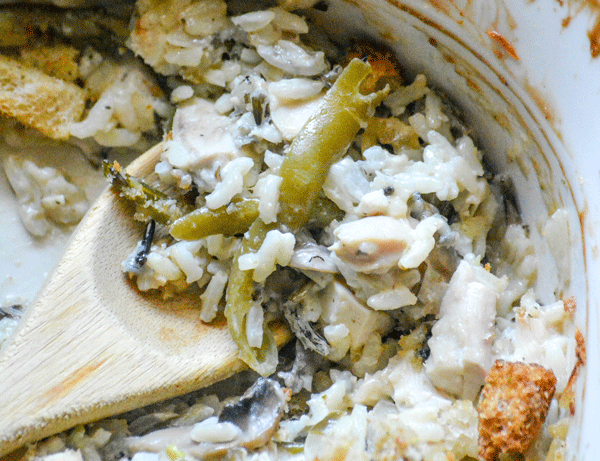 Luckily, this Creamy Chicken Caesar & Wild Rice Casserole dots all the i's & crosses all the t's.
I used pulled rotisserie chicken, for quickness and convenience of course. I used prepped veggies so no time was wasted there.
A quick sautee in the pan to get things going, and then dumped it into the casserole dish for a 30 minute bake in the oven. This casserole is super simple.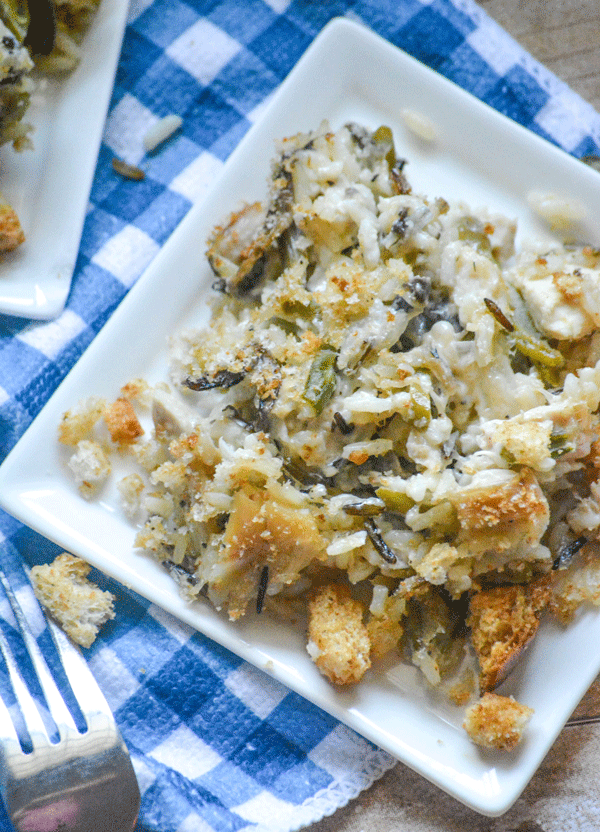 Perfect for getting me in & out of the kitchen, and back to our previously scheduled, temporarily paused program.
Filled with veggies your family will love, like green beans and sliced mushrooms, they're stirred into a bed of long grain wild rice. Studded with chicken, and bound together by a cream sauce featuring your favorite Caesar dressing and Parmesan cheese, Creamy Chicken Caesar & Wild Rice Casserole comes out of the oven with a gorgeous, golden brown crouton topping.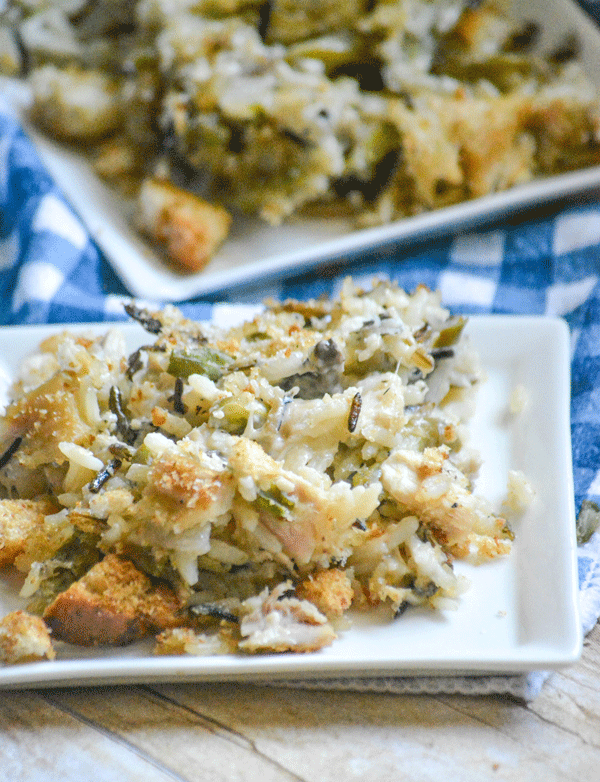 Uber creamy, served hot and bubbly- this easy Creamy Chicken Caesar & Wild Rice Casserole is pure, simple cold weather comfort food.
It pairs perfectly with side of Harry Potter and an over-sized throw the whole family can snuggle up under while watching.
Other Casserole Recipes You Might Enjoy:
Cheesy Ground Beef& Rice Casserole
Santa Fe Style Chicken & Lentil Casserole
If you've tried this CREAMY CHICKEN CAESAR & WILD RICE CASSEROLE, or any other recipe on my site, let me know in the comment section how it turned out, we love hearing from our readers! You can also follow along with me on PINTEREST, FACEBOOK, and INSTAGRAM to see more amazing recipes and whatever else we've got going on!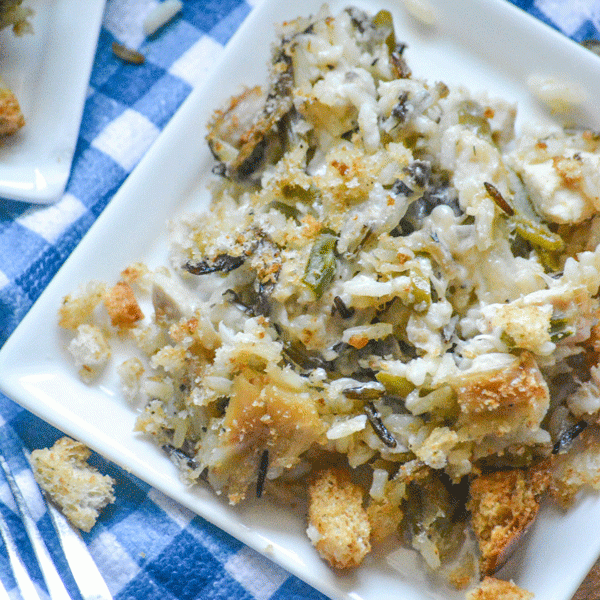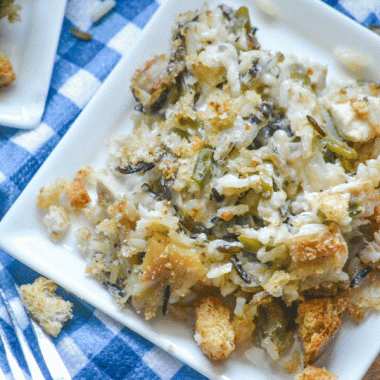 Creamy Chicken Caesar & Wild Rice Casserole
A creamy chicken & rice style casserole, this one's got the veggies added in so it's a complete family-friendly meal all in one dish.
Print
Pin
Rate
Ingredients
1/4

cup

butter

2-3

cups

rotisserie chicken, chopped

1

8 oz pkg

sliced baby bella mushrooms

1

cup

diced white onion

2

6 oz boxes

long grain and wild rice

2

cups

frozen french cut green beans, thawed

1 1/2

cups

creamy Caesar dressing

1 1/4

cups

grated Parmesan cheese

2

cups

garlic flavored croutons, crushed
Instructions
Melt the butter in a large skillet over medium high heat. Stir in the mushrooms and onions. Continue stirring, occasionally, just until the veggies are tender.

Turn the heat off and quickly stir in the chicken, rice, beans, dressing, and cheese. Stir until everything's evenly incorporated.

Lightly coat a 9x13 baking dish with non stick cooking spray. Scoop the skillet mixture into the dish. Sprinkle the croutons evenly out over the top of the casserole.

Bake at 350 degrees for 30 minutes. Remove the dish from the oven, and let it 'rest' for 10 minutes before scooping and serving.