A Creamy Dijon Ham Salad is the perfect thing to pack for lunch, or an easily prepped ahead of time dinner. Paired with fresh veggies and fruit, it's a wholesome meal the whole family will love, and a delicious way to use up those Holiday leftovers.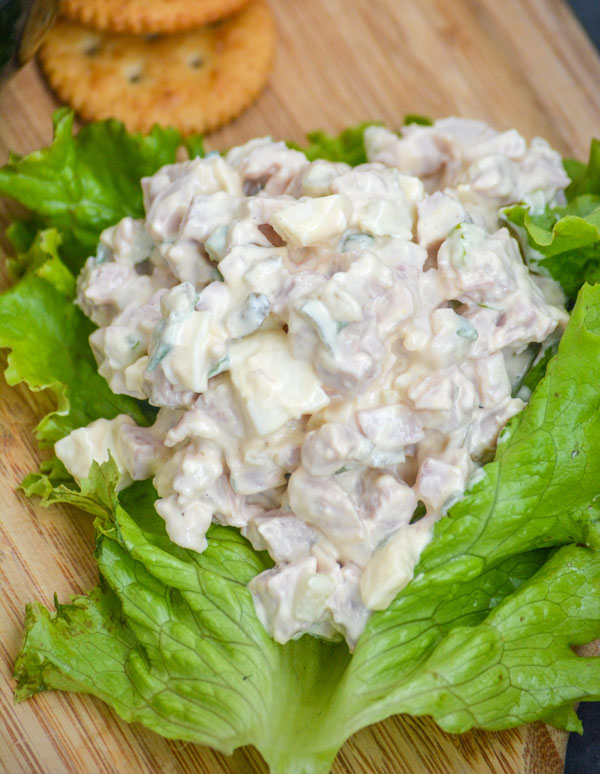 I know I've mentioned it before, but packing my husband's lunch is literally the bane of my existence.
I don't even know why I hate it so much. Seriously. There's no rational, or logical, explanation for why I should hate one simple task so much.
And, yet- I do.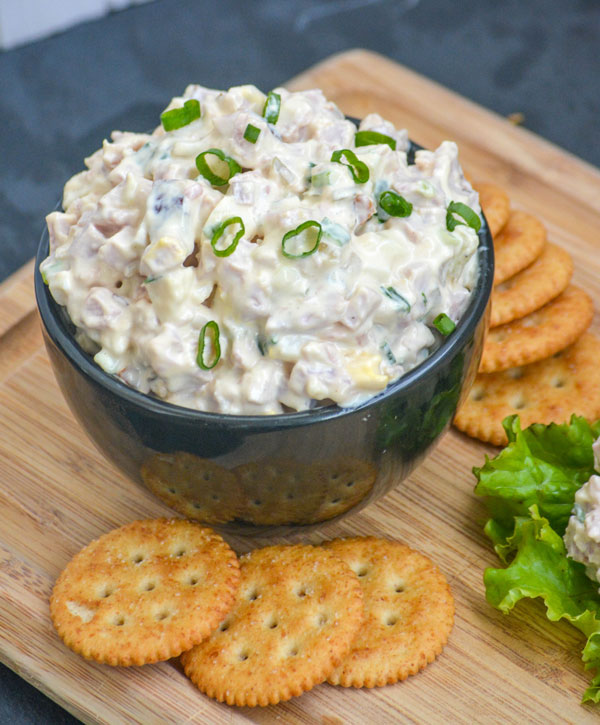 For the longest time, it was an all out tug of war for us. And the fall out was legendary. Then one day, my husband just decided it would be easier to pack his own lunch. That lasted about 6 months.
Now… it's back on me. No, in case you were wondering, I haven't grown a single iotta fonder of the task.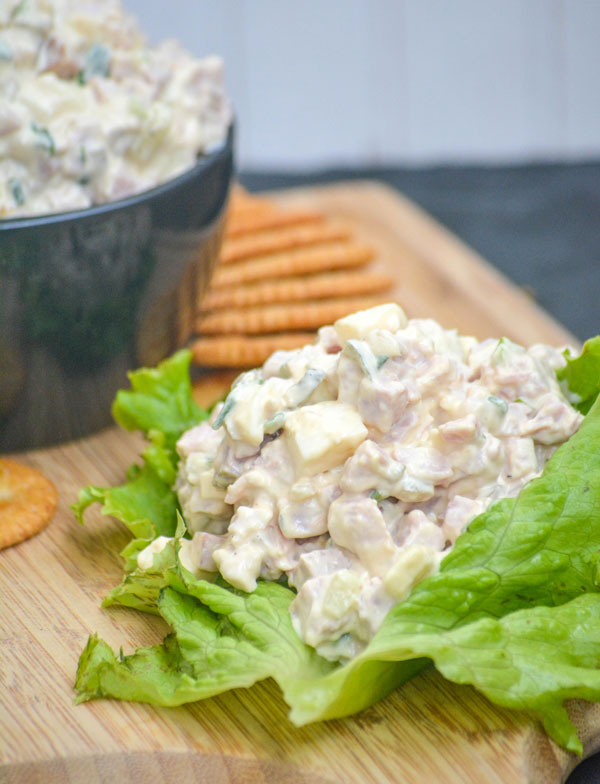 I used to get annoyed at having to run out to the grocery store to get the Hubs favorite cuts of meat and cheese, just for a dang sandwich.
Recently though, I've gotten more creative. Things I have on hand, I'll just defrost them and use those instead. Like some of that leftover Christmas ham.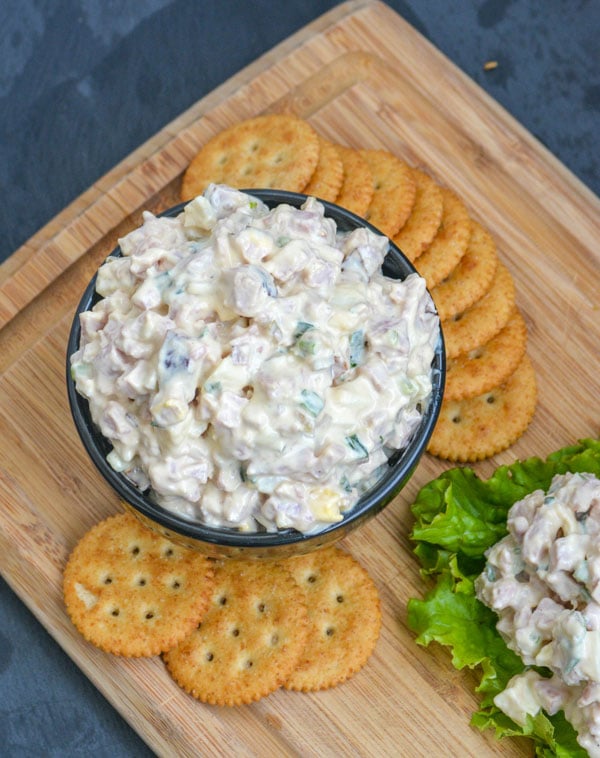 Christmas ham is amazing in leftover sandwiches, but about two days afterwards- I'm over it. So I freeze the remainder of the slices, because while I may be tired of it, I also can't have it go to waste.
That's when one of my friend's mentioned to me that ham 'salad' was a thing. I was shocked, then intrigued, and then hooked once I realized this meant I could prep the Hubs lunch stuff ahead of time, without a last minute store run.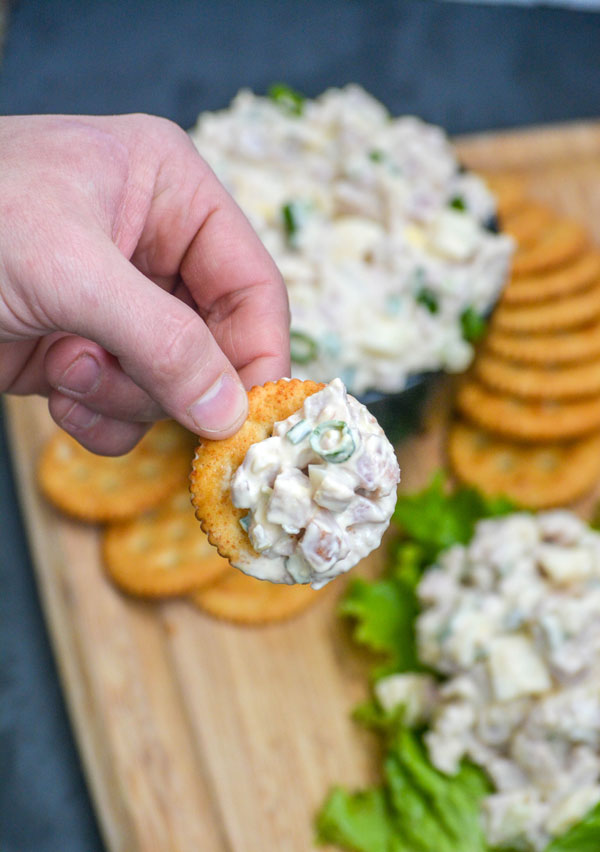 This Creamy Dijon Ham Salad is perfect for packing lunches. It's great sandwiched between two sliced of fluffy bread, or even those same slices but toasted, and also in a hoagie bun.
It can be packed in tupper ware and then enjoyed with buttery crackers. Or, if you're trying to be more carb conscience, add a couple of slices of leaf lettuce or even crispy romaine, and when lunch time rolls around pile them high with this yummy meat 'salad'.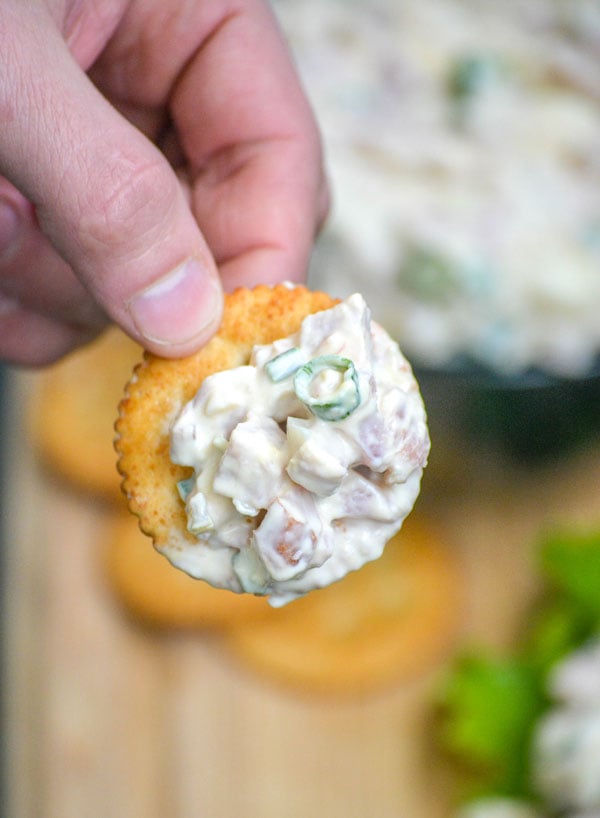 This quick & easy recipe for Creamy Dijon Ham Salad is the best way to use up your leftover Holiday ham. Whether it's leftover Christmas ham right now, or in a few weeks it's leftover Easter ham- this recipe is gonna be your go to.
As is typical with meaty 'salads', it does have a creamy mayonnaise base, but to that we've added two different types of mustard, a hint of relish, and black pepper for a flavor boost. For added crunch we stir in chopped celery, and diced white onion. A bit of hard boiled eggs round it out, for a filling sandwich-style meal, that can be made ahead, chilled, and waiting for you when you need it.
If you've tried this CREAMY DIJON HAM SALAD, or any other recipe on my site, let me know in the comment section how it turned out, we love hearing from our readers! You can also follow along with me on PINTEREST, FACEBOOK, and INSTAGRAM to see more amazing recipes and whatever else we've got going on!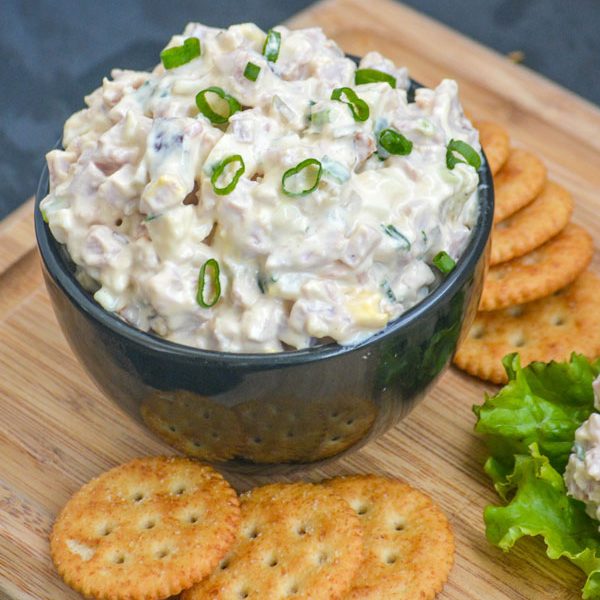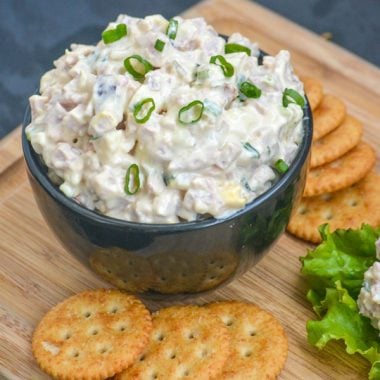 Creamy Dijon Ham Salad
A creamy, flavorful ham salad, this Dijon version can be made ahead of time- the perfect thing for an easy lunch or sandwich supper.
Print
Pin
Rate
Ingredients
6

cups

finely diced ham

4

hard boiled eggs, roughly chopped

1

small

white onion, finely diced

1/2

cup

celery, finely diced

1/3

cup

sweet pickle relish

1

tbsp

yellow mustard

2

tbsp

Dijon mustard

1 3/4

cups

mayonnaise

1

tsp

black pepper

salt, to taste
Instructions
In a large mixing bowl, stir together the ham, eggs. onions, and celery until just combined.

In a separate, small bowl whisk together the mayo, relish, mustards, and pepper until the mixture's smooth & evenly combined. Add this mixture to the bowl of ham and veggies. Stir just until evenly combined and everything's coated.

You can serve immediately, but I recommend chilling 1-2 hours first. Season with salt, to taste, just before serving. Remember ham is naturally salty, so you may not need any, and probably not much.

Serve sandwich style, with buttery crackers, or in a healthy lettuce wrap.