Half the work, but chock full of all the same great flavor these chicken cordon bleu pinwheels are a fun new spin on the classic dish. Golden brown, buttery crescent roll dough rises around pinwheeled layers of savory chicken, sweet ham, and tangy melted Swiss cheese. These handheld treats are a great appetizer for guests, but easily double as a quick meal for busy nights.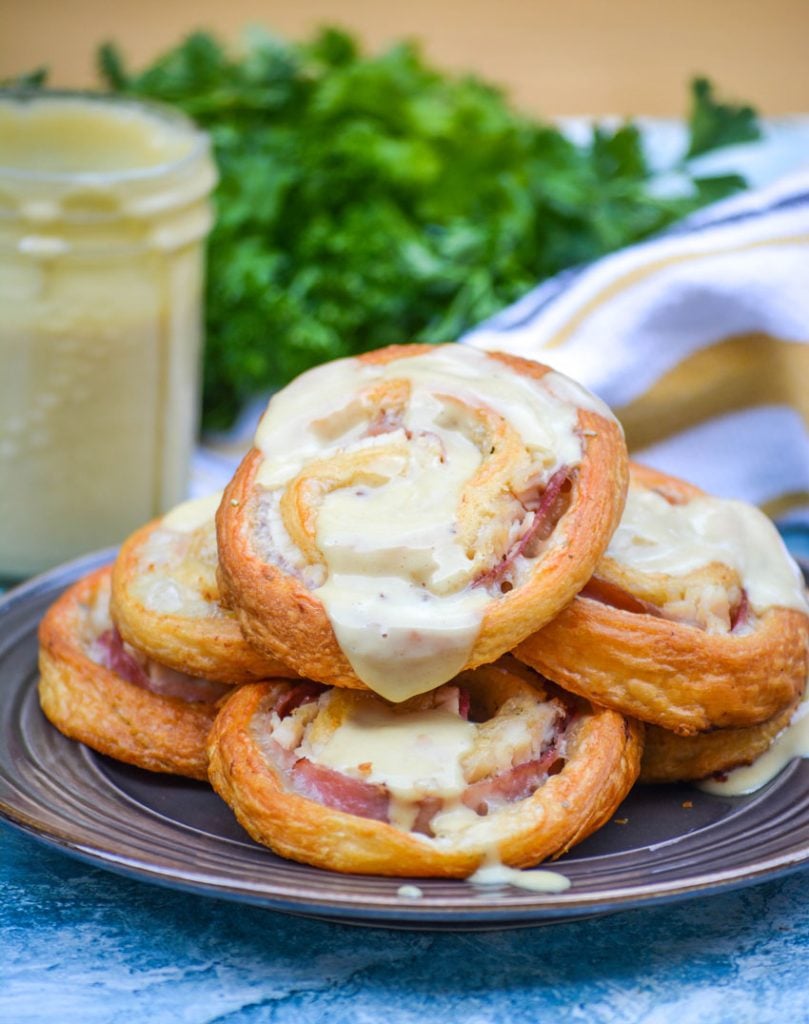 Chicken Cordon Bleu is one of our favorite "looks and sounds fancy, but it's really totally easy" standby recipes. A classic cordon bleu features chicken, ham, and Swiss cheese.
That's always a winning combination for me, because those are three things I'm almost always guaranteed to have on hand.
But what exactly is Chicken Cordon Bleu?
It's believe to have actually originated in Switzerland, making it 'Swiss'- despite it's name of French origin. It was a 'schnitzel', or breaded chicken cutlet, stuffed with cheese. Not sure when the ham got added into the mix, but it was a genius addition to the Swiss cheese & savory chicken.
The name actually has a pretty cool story too. In France the term 'cordon bleu' referred to wide blue ribbons bestowed upon the highest level of knighthood. The term eventually became synonymous with food cooked to the highest quality & perfection. Many think it's because the wide ribbons of a cook's traditional apron resembled the knight's sashes.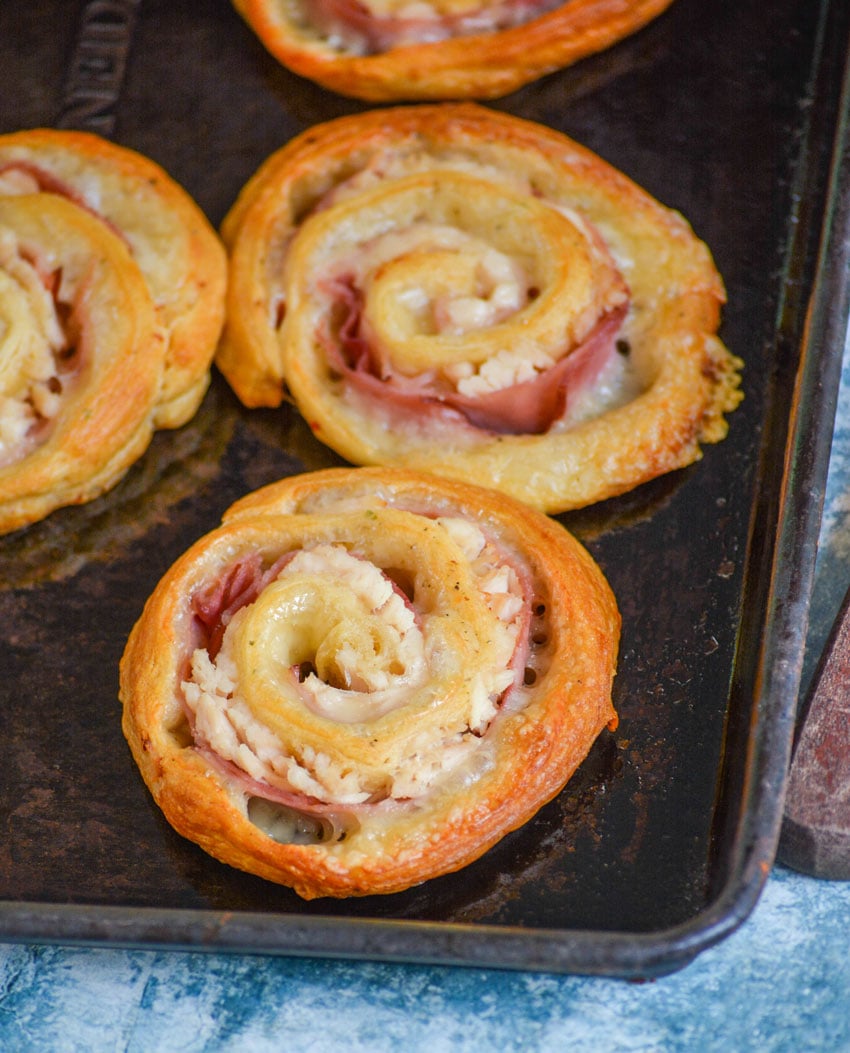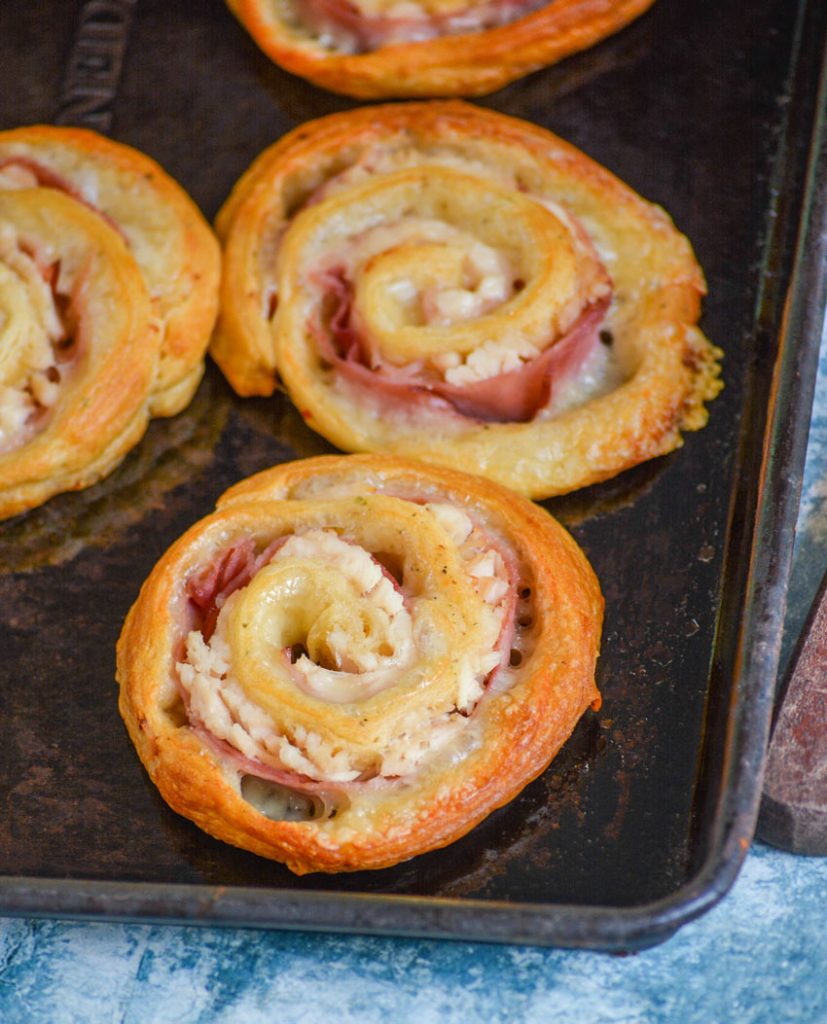 I wouldn't say making a cordon blue is too much work, but it's too much work for my average weeknight. Kids, busy schedules, running a business, you know- life & all.
Which meant it was just the thing I couldn't live without, who can live without meat & cheese?? But it was something I was excited to adapt to fit my needs, even on busy nights.
One night, as with so many others, I looked into the abyss of my stocked fridge and was at a loss. Even the deep freezer didn't offer any real inspiration. Dinner had to be served though, and that's when I called in reinforcements. It was that or scream, or cry out of sheer frustration.
I cook for a living. Why was coming up with a simple meal idea so hard?!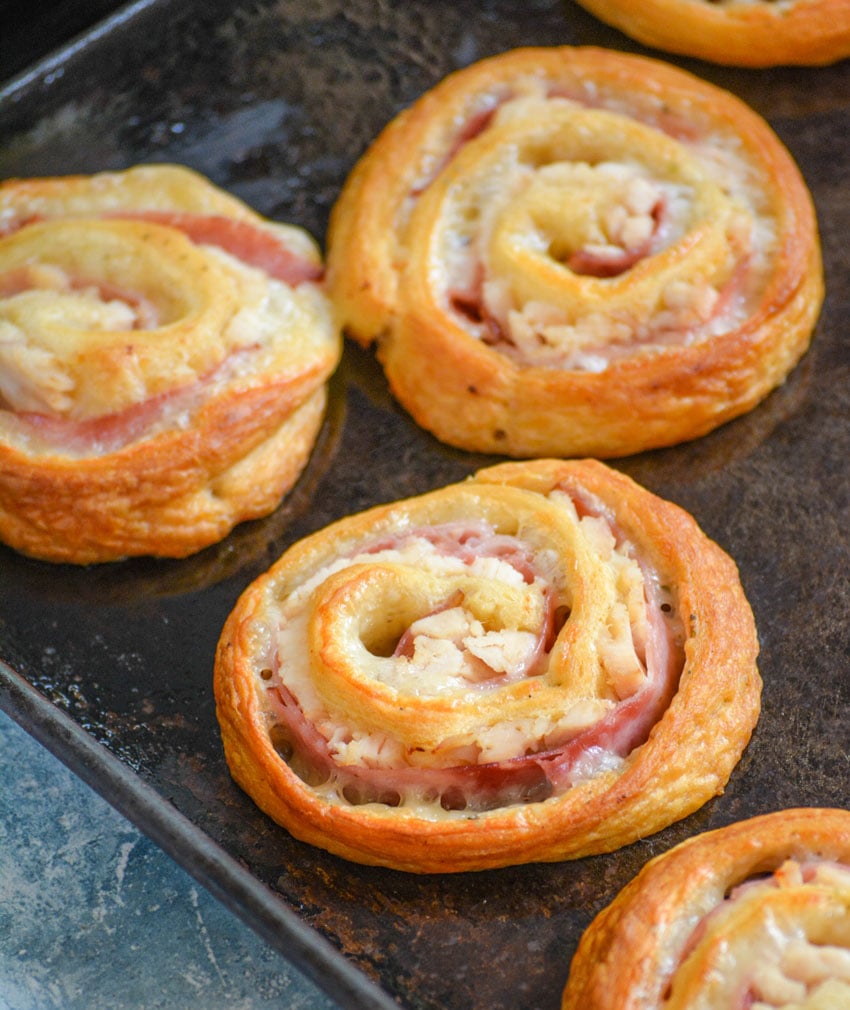 That's when the Hubs came in, and started pulling things out. He came up with some lunch meat that needed to be used. A tupper ware holding the last breast pulled from a $5 Costco rotisserie chicken. A handful of slices of Swiss cheese. And finally, a can of crescent roll dough that had been hiding in the very back of the overflow fridge. It must've been leftover from the last Holiday.
Ok, both our wheels were turning and we were on the same train. Chicken cordon bleu something. I initially was thinking some sort of pizza or hand pies, but the Hubs (Ever my saving grace in the sanity dept) suggested I go even simpler.
Chicken Cordon Bleu Pinwheels. Yes! We had a winner, and we were in business!! They're so simple, it made them an immediate hit in my book. My kids arguing over who got to have seconds & who didn't based on merit and pecking order made them an immediate addition to the family recipe box.
How Do You Make A Chicken Cordon Bleu Style Pinwheel?
It all starts with a can of crescent roll dough. Pop the seam, and remove the dough from the tube. Working on a flat surface, I suggest a large clean counter top, unroll the dough into a rectangle. Pinch & press all the seams together to seal and close them. Carefully transfer the dough to a large cutting board.
Sprinkle the dough lightly with Italian seasoning. You can omit this step if it's not to your liking, but we enjoy the little extra bit of flavor it gives.
Spread the sliced Swiss evenly out onto the dough. Spread the sliced ham evenly out on top of the cheese. Finish by layering with the thinly sliced chicken. Cover the dough with a dishcloth and refrigerate the whole kit & kaboodle for five full minutes.
Once the dough's had several minutes to chill, take it out. Remove the cloth, and pick an end to start with. I recommend one of the longer ends. Roll the dough up like a cinnamon/jelly roll, end to end. Keep it tight, but not too tight that you squeeze any ingredients out of the ends. Gently press the last line of dough in to secure.
Using a sharp paring knife, cut the dough into roughly 1/2 inch slices making 8-10 rolls. Transfer the cut chicken cordon bleu pinwheels to a baking tray sprayed with non stick cooking spray. Make sure to place them with enough room to spread out. They won't get huge, but they will stretch a bit as they cook.
Bake the pinwheels at 375 degrees for 18-20 minutes, or until golden brown and puffed. Remove them from the oven, and allow them to cool to the touch before using a spatula to release them from the pan.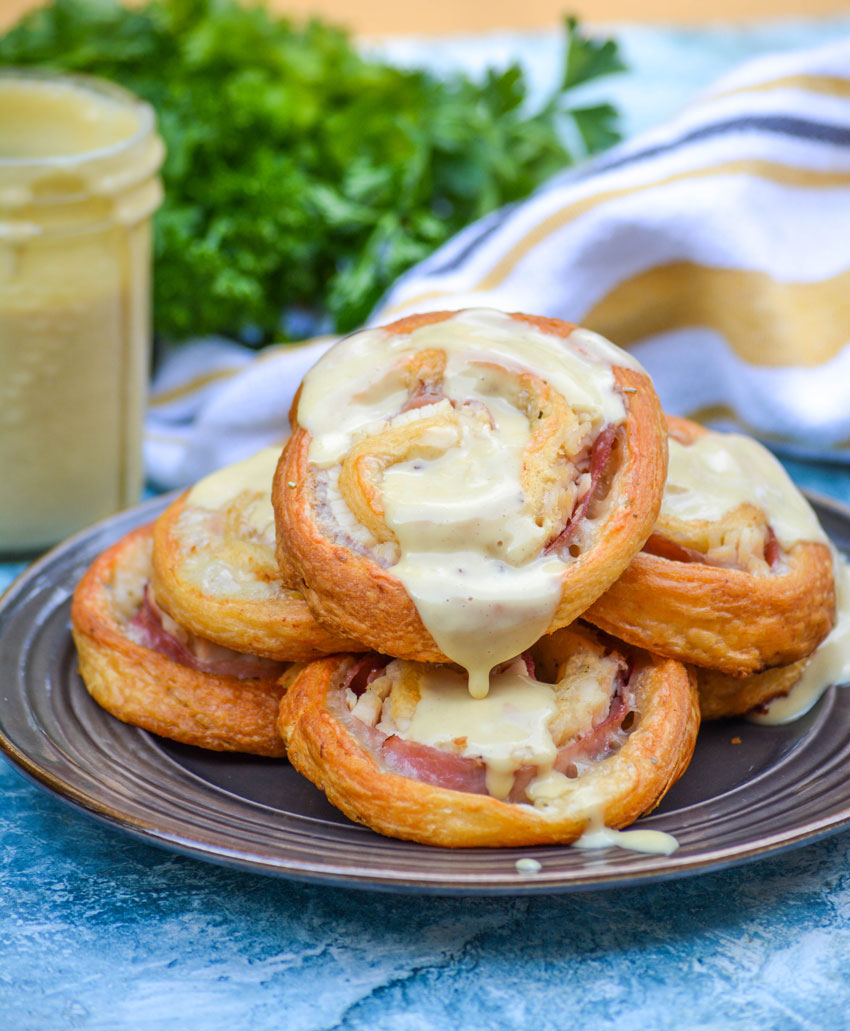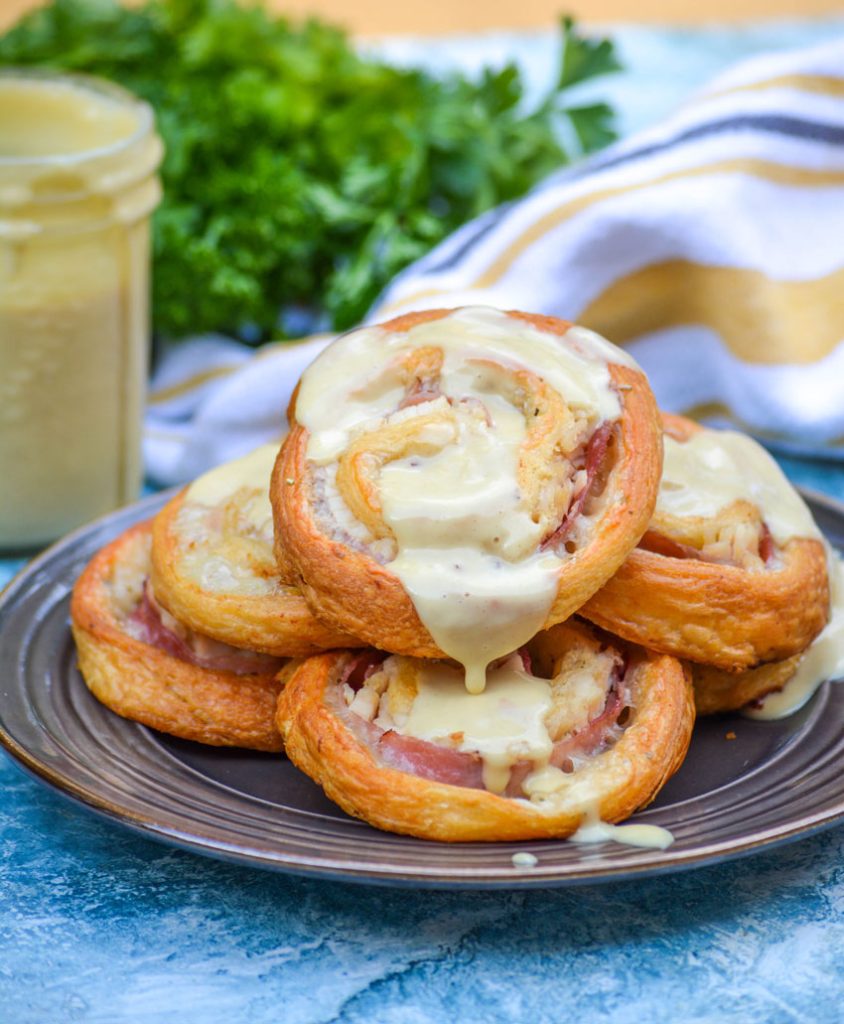 What should I serve with these chicken pinwheels?
We love to serve these as a snack or an appetizer on game days, and at get togethers. To turn them into a lighter meal option, I suggest a simple side salad. Light, refreshing, and filling and still an all around really easy meal.
I'm a sauce person. Not necessarily ketchup, although two out of the four sons would literally put ketchup on their ketchup. But just about everything can be enhanced when paired with a good sauce, at least in my book.
This chicken cordon bleu pinwheels are no exception. They're good all by themselves, but paired with a bit of honey mustard for dipping? Well then they go from good to great! The kind of honey mustard doesn't really matter. If you're a fan of the sauce you probably have your favorite brand on hand, and that will work just fine.
If it's not something you keep on hand, or you just happen to be out & really need some to pair with this- well I'm here to show you just how easy it is to whip up in seconds, from scratch!
How do I make a homemade honey mustard sauce?
These are even easier than our traditional version, and taste superb. They're perfect party food and make a really pretty presentation. A drizzle of honey mustard gives these chicken pinwheels that perfect bit of extra mmph.
So the real question, is how easy is it to throw a good honey mustard sauce together from scratch quickly- honestly. We keep it simple with only two ingredients, exactly as the name implies.
Yep, that's right. To whip up this sweet yet savory sauce you only need honey and some mustard. Not just any mustard though, it needs to be the tangy wine-based Dijon variety.
Add both ingredients to a small bowl, and whisk the two together until evenly incorporated. That's it. Serve the sauce with the pinwheels for dipping, or drizzle it over top of them for a prettier plate. However you serve it, both ways are equally delicious!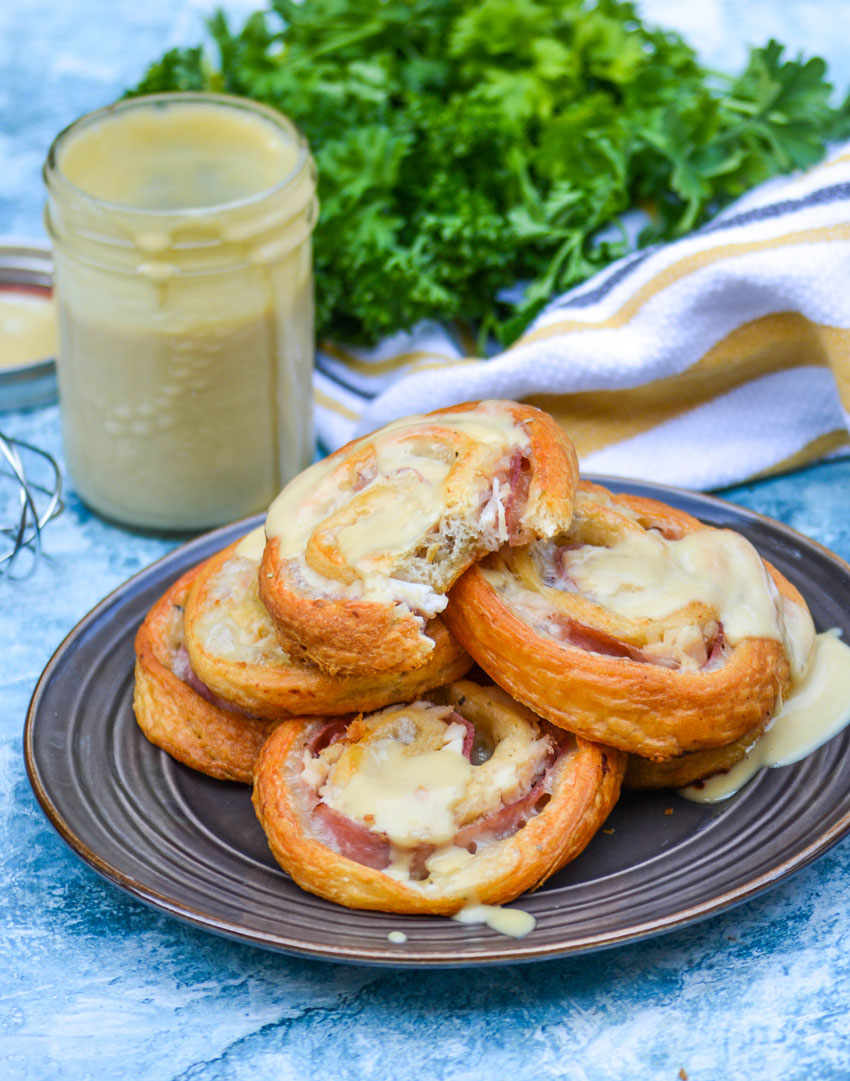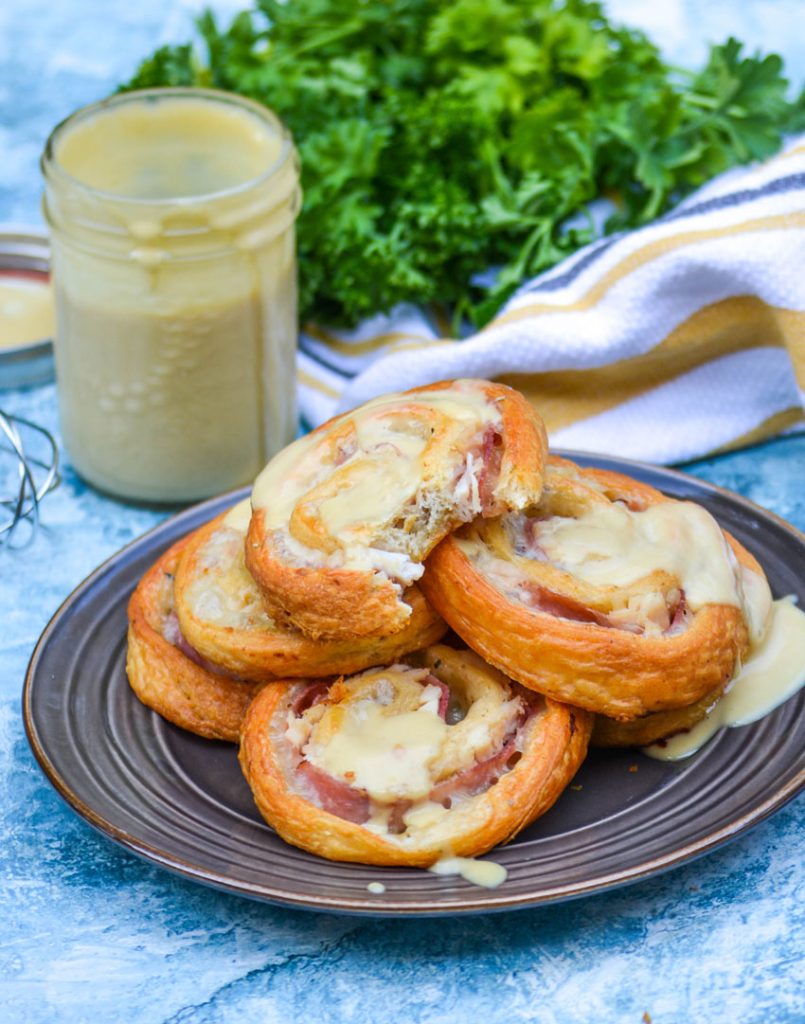 With or without the sauce, these pinwheels are perfect finger food fit for a crowd but easy enough to serve for a simple supper.
Other Tasty Spins On Chicken Cordon Bleu:
If you've tried these CHICKEN CORDON BLEU PINWHEELS, or any other recipe on my site, let me know in the comment section how it turned out, we love hearing from our readers! You can also follow along with me on PINTEREST, FACEBOOK, and INSTAGRAM to see more amazing recipes and whatever else we've got going on!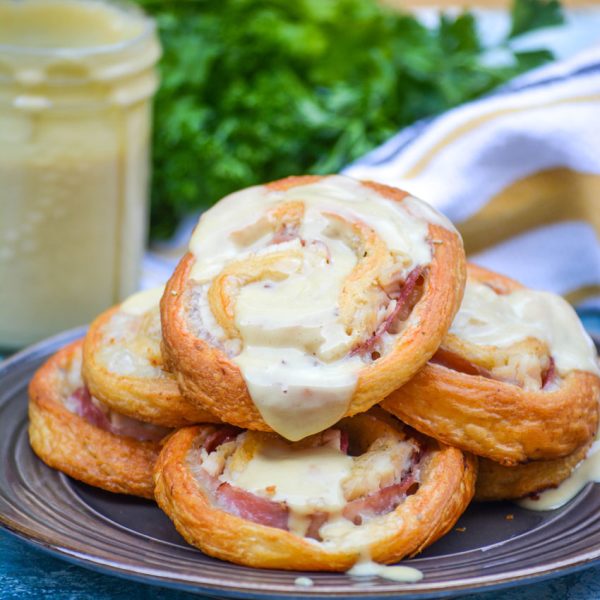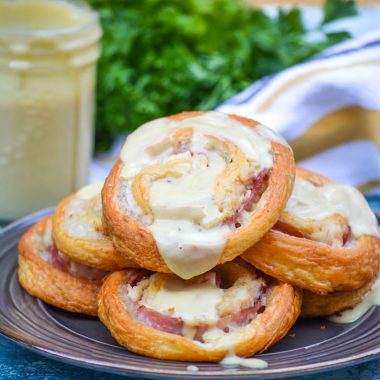 Chicken Cordon Bleu Pinwheels
Buttery golden brown crescent roll pinwheels are stuffed with sweet ham, roasted chicken, & melted Swiss cheese. They're paired with a tangy homemade honey mustard dressing for dipping and drizzling.
Print
Pin
Rate
Ingredients
1

can crescent rolls

6

slices

Swiss cheese

6

slices

deli ham

2

chicken breasts

cooked and thinly sliced

1

teaspoon

Italian seasoning

2

tbsp

honey

optional

2

tbsp

Dijon mustard

optional
Instructions
Remove crescent rolls from can and lay out in a long rectangle. Pinch the seams together making sure they're all 'closed'.

Sprinkle the dough with the Italian seasoning.

First layer the cheese onto the dough, then the ham, and finally topping it with the chicken. Set the prepared dough in the refrigerator for 5 minutes to allow it to get chilled again.

Remove from the fridge, and pick an end to start at. Roll the dough and it's contents up like a cinnamon roll and, using a sharp knife, cut into 8-10 rolls.

Place on a prepared baking sheet or in a baking dish and bake at 375 degrees for 18-20 minutes, or until golden brown.

If using, mix together the honey and mustard until evenly combined and serve with or drizzle over the rolls before serving.
originally published 8/22/14